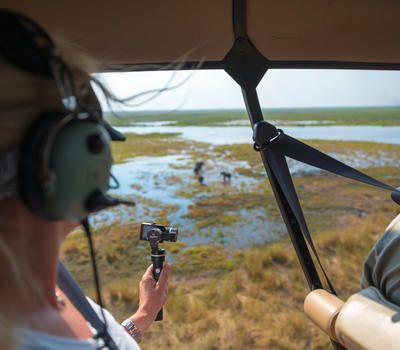 Scenic/ Photography Flights - One Hour / 45 minutes / 30 minutes
Our scenic/ photography flights are a not to miss opportunity. Moments after departing you'll enjoy the breath-taking views seen only from a helicopter. Experience the crystal-clear water channels meandering their way through lagoons, while journeying deep into the lush green floodplains to explore the abundant wildlife of the Okavango region.
We take the doors off for an even better photographic experience while flying over some of the most remote, uninhabited and wild areas of the Okavango Delta. Scenic flights are conducted any time of day, with keen photographers usually preferring the early morning or late afternoon. While some guests prefer flying during the siesta period in order to not miss other camp activities.
One-hour, 45-minute and 30-minute flights are available.
Show More
Show Less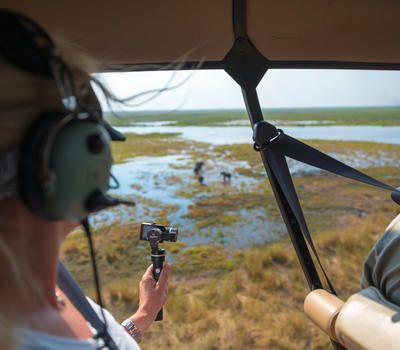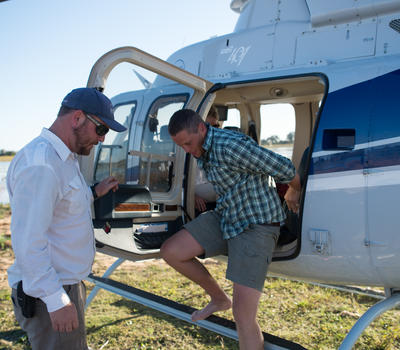 Private Helicopter Transfers
For those looking to skip the long road to your next destination, then a private helicopter transfer will be is right up your alley.
A helicopter transfer is a more exclusive option as well as a chance to make your transfers an unforgettable highlight of your safari experience. The flight is smooth, quick, and has the added bonus of being able to land virtually anywhere.
Helicopter Horizons offers private helicopter transfers from Maun to all camps and lodges around the Okavango region, as well as inter-camp transfers.
For group transfers, we utilise multiple helicopters which depart and arrive together so as to not split up groups. This often adds even more excitement to the journey.
Show More
Show Less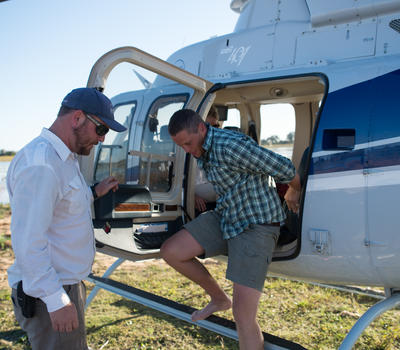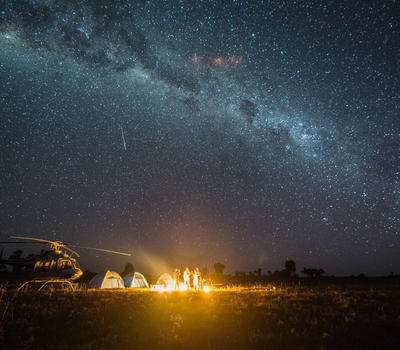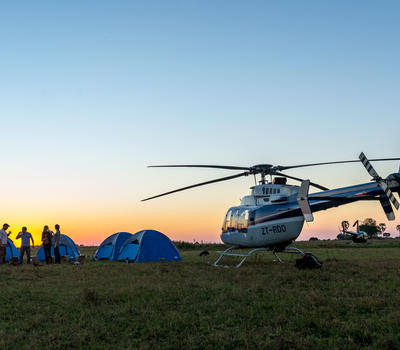 A Helicopter Horizons helicopter safari is an exclusive and personalised safari around the Okavango Delta, using a helicopter as the primary mode of transport. Helicopters have the unique benefit of being able to land virtually anywhere, making even some of the most remote and uninhabited areas accessible. Our helicopter safaris are highly adaptable, and can be planned around your exact needs and desires.
Available helicopter safaris include:
Double Okavango Delta - While it may go by one name, Okavango Delta, it is hardly one place, there are multiple places to explore in the region. If exploring the Okavango Delta a bit more than the usual stops is your mission, while still keeping your travel time and costs low, then a Double Okavango Delta tour is an excellent option. You can stop over in various 'land' and 'water' camps, affording an opportunity to view the different landscapes and wildlife.
Northern Botswana & Victoria Falls - The pull to go beyond the Delta is a force hard to resist. So, strap in and let's head north beyond the waters to the greater Chobe regions of Selinda, Linyanti, and Kwando. Home to a massive population of elephant, perennial rivers, and vast open woodlands, this area is a firm contrast to the water wilderness of the Delta. We'll then go a bit further, beyond Botswana's borders, for a stop at the mighty Victoria Falls.
Okavango Delta & Kalahari - Contrasting its lush neighbor, the Kalahari makes up most of Botswana's land area, playing seasonal host to a diverse population of species. It is also the ancestral home of the San people. A visit to these parts, paired with the Okavango Delta, will make for a holistic understanding of this magnificent country.
Show More
Show Less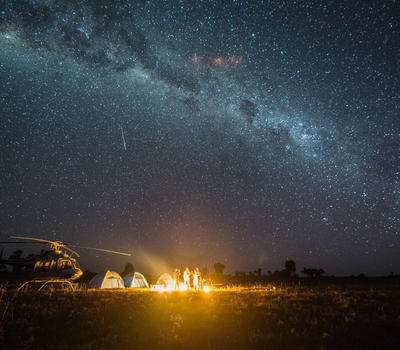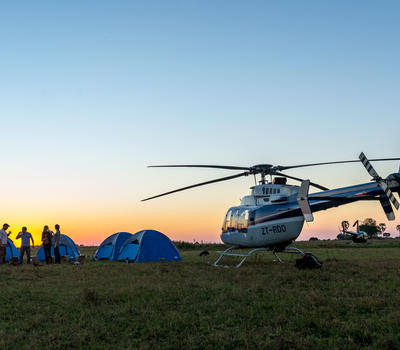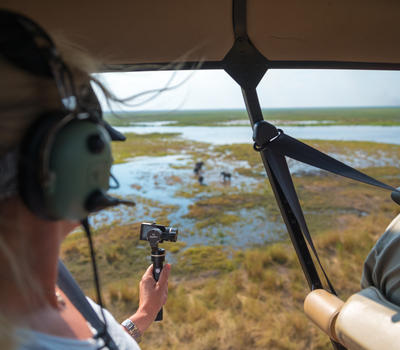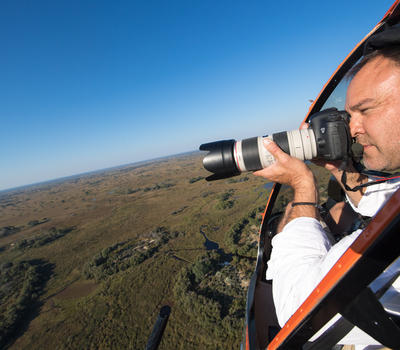 Helicopter Horizons provides a platform for specialized aerial photography and filming. We have worked with several international film crews. The Okavango Delta is a unique ecosystem that is one of the greatest destinations for viewing wildlife, offering endless photographic/ filming opportunities for good footage.
Show More
Show Less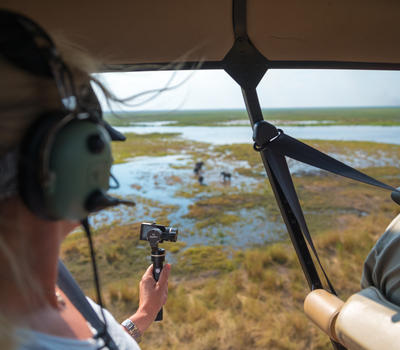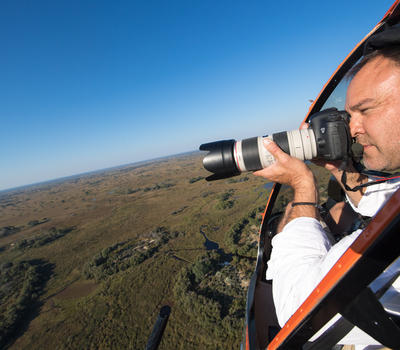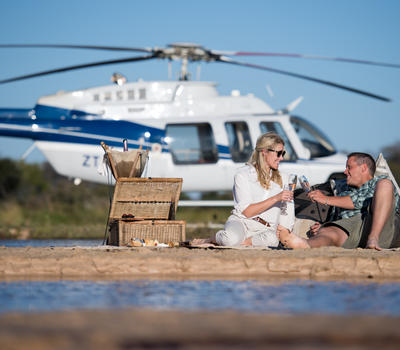 Exclusive Champagne Stops
For an even more unforgettable experience, you can add a champagne stop onto any flight with Helicopter Horizons.
We'll land on a remote spot for a few minutes to enjoy some French champagne.
Show More
Show Less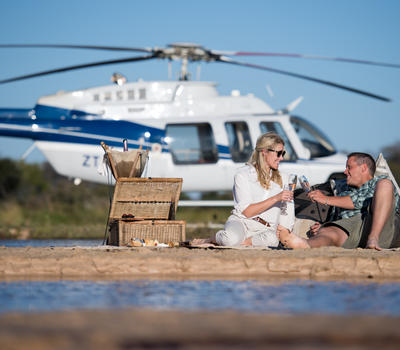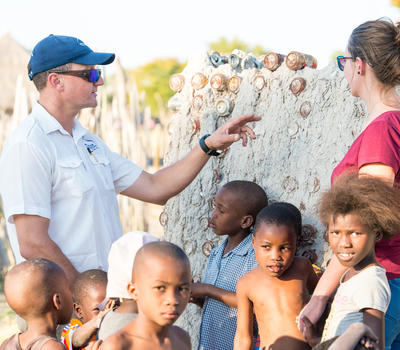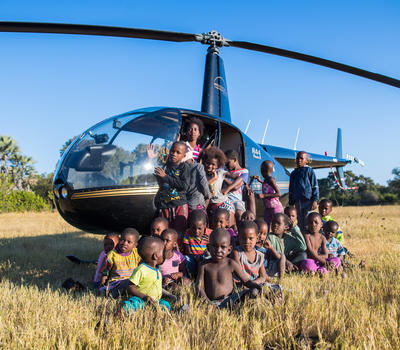 Authentic Village Experience
For those looking for a cultural experience in Botswana, we make some of the most remote villages in the Okavango Delta accessible. The excursion, which lasts approximately two hours, begins with guests being picked up from their camp for a scenic flight to the village to which we have been invited. The tour is led by a local guide who explains aspects of village life such as architecture, religious beliefs, hunting, and fishing. There is also the opportunity to meet local crafts-people.
This is also an excellent photographic experience both from the cultural aspects but also for the keen bird and landscape photographer.
Show More
Show Less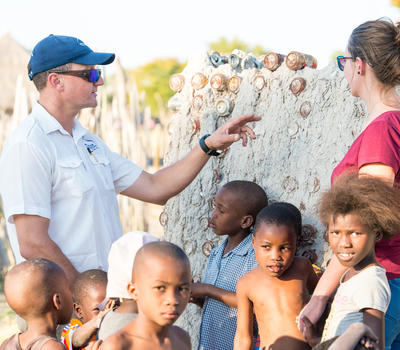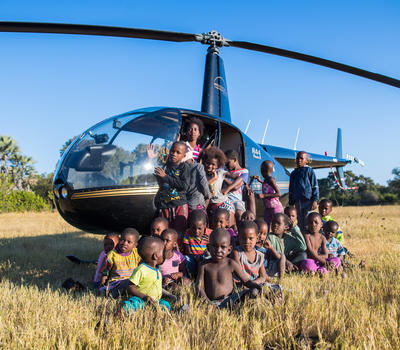 Half Day Trip to UNESCO World Heritage Site Tsodilo Hills
Helicopter Horizons is proud to offer a half-day experience to explore the prehistoric cliffs of Tsodilo, emerging out of the surrounding Kalahari Desert plains in the remote northwest of the country. This rocky outcrop, rising 1 400 meters is Botswana's highest point, and rarely visited.
There is evidence of human activity here dating as far back as 100,000 years. A sacred place for the indigenous San people who believe these rocks bring positive energy. Here you will also find one of the highest concentrations of ancient rock art on Earth, the prehistoric cliffs are beautifully decorated with, among other, rhinos, eland, and elephants painted in red.
As our guest you will have an unforgettable flight in a helicopter over the Okavango Delta, at Tsodilo we will be accompanied by a humble and ever smiling San guide, who will explain the fascinating artwork, presenting an ancient story about this land few tourists get to experience. There are lots of trails, one of them leading to the spot where the San ancestors believed their creator lowered all creatures from the sky, first people, then animals to help them survive.
This is an experience that will stir the soul and fill you with lifelong memories.
Show More
Show Less