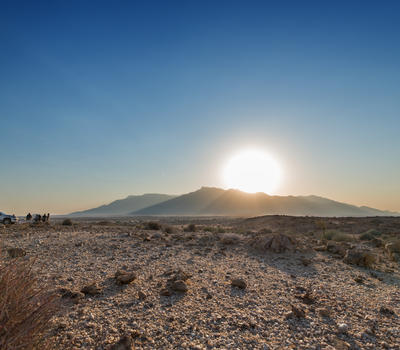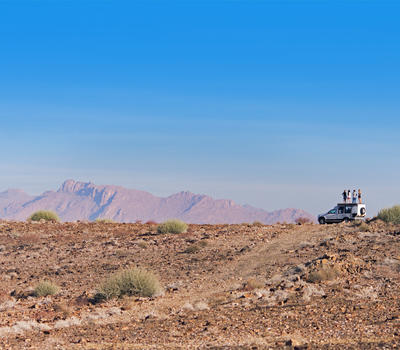 Full-day Brandberg Excursion - Min. 2 Pax
After an early breakfast, we set out completely cross-country through dry riverbeds due west towards the Brandberg mountain. We explore parts of the Ugab River in search of desert-adapted elephants and go for a quick swim in one of the permanent pools on the foot of the mountain.
Includes a picnic lunch, water, and soft drinks.
Show More
Show Less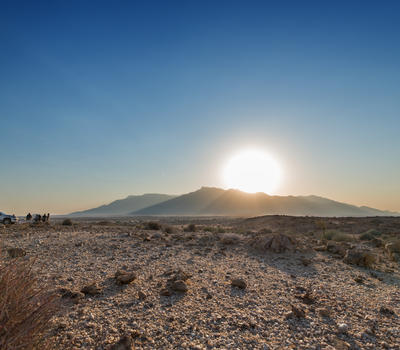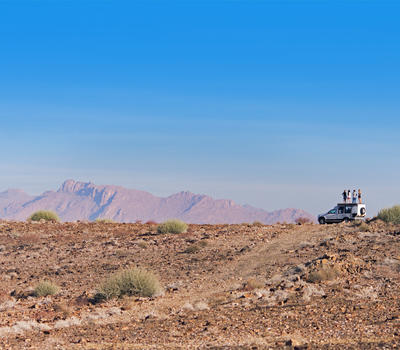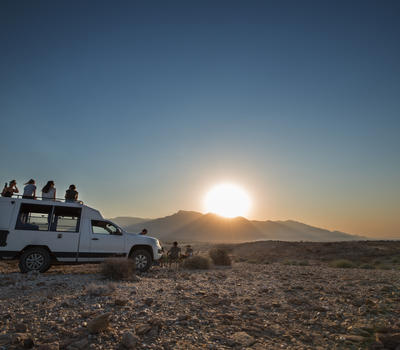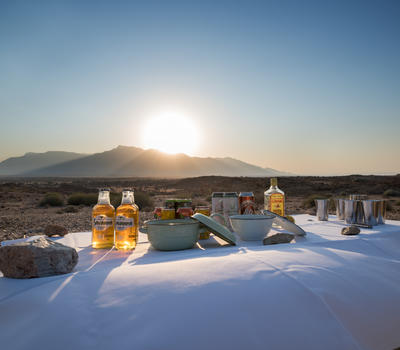 Sundowner Drive - Min. 2 Pax
We depart on a scenic nature drive in a 4x4 safari vehicle to a beautiful sunset spot. Here we relax and enjoy the breathtaking views, some sundowner drinks and snacks.
Some sundowner drinks and snacks are included in the drive.
Show More
Show Less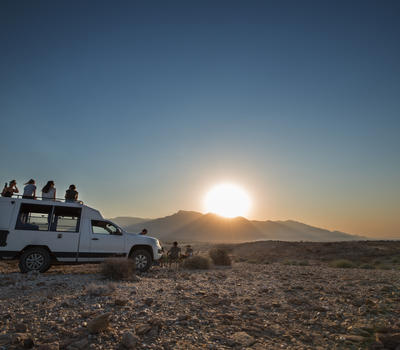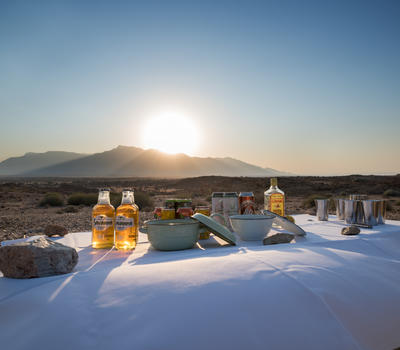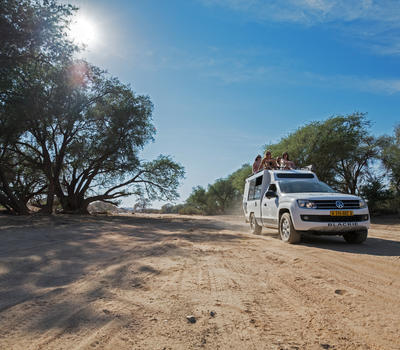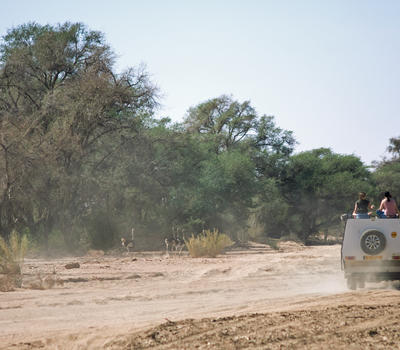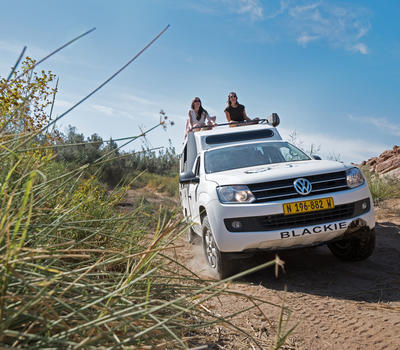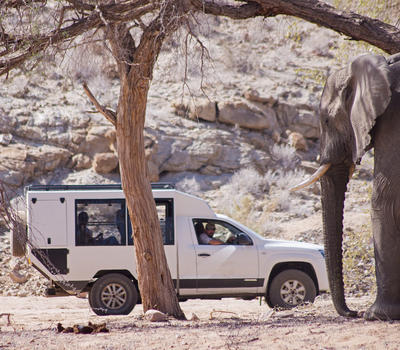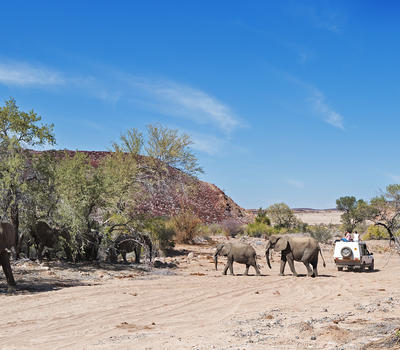 Elephant Drive - Min. 2 Pax
A morning or afternoon 3-4 hour game drive departing from the guesthouse towards the Brandberg Mountain. We explore the sandy riverbed in search of the elusive desert-adapted elephants.
The drive includes drinking water.
Show More
Show Less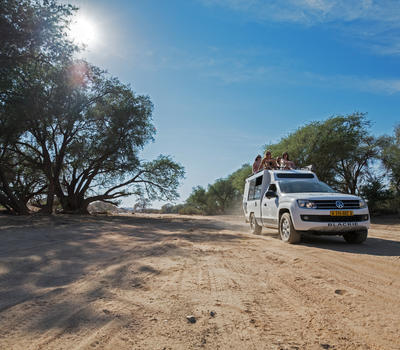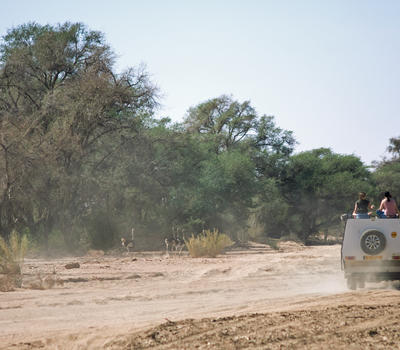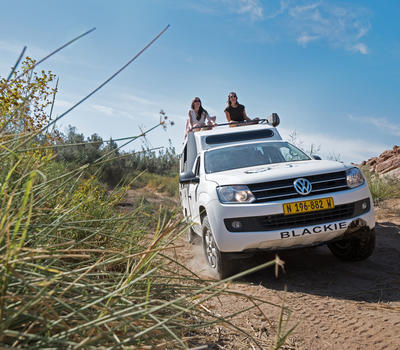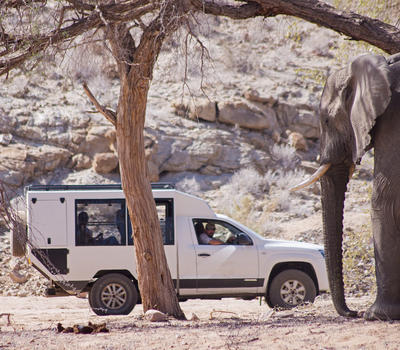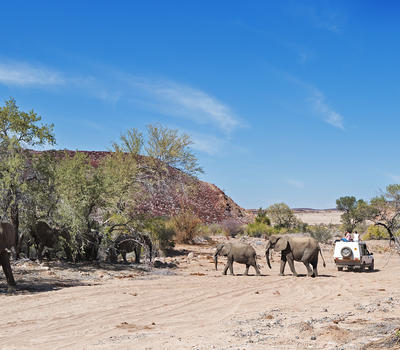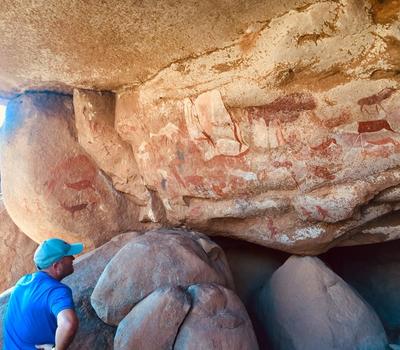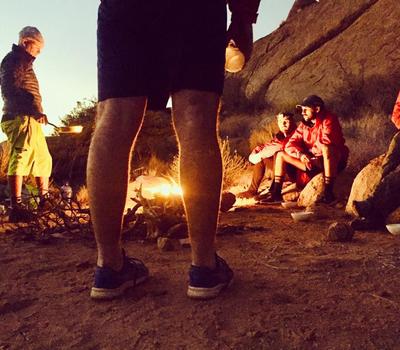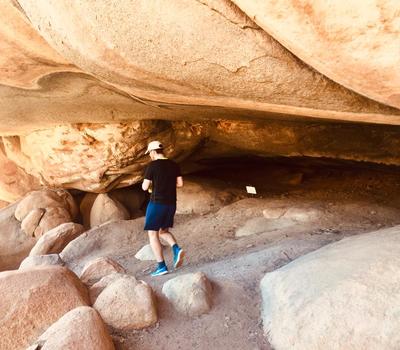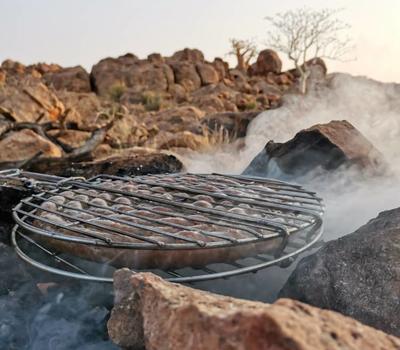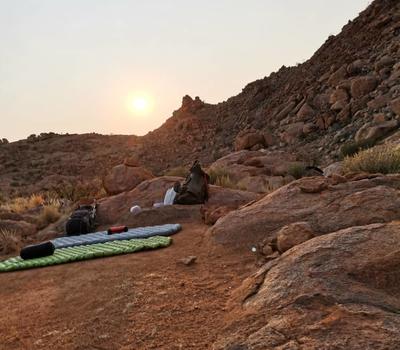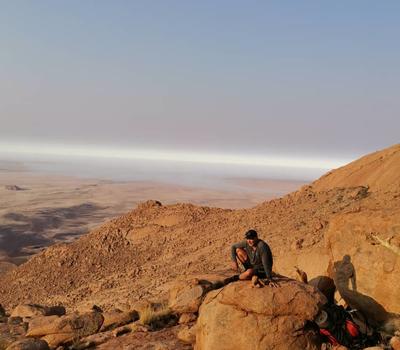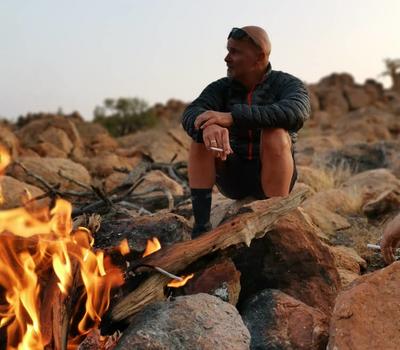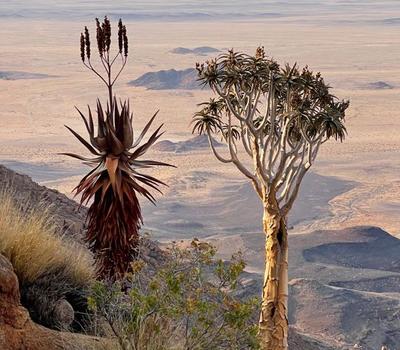 3 Nights Brandberg Hiking Experience Package
Our Brandberg hiking experiences are strictly subject to availability and need to be booked prior
to arrival (at least 4 weeks in advance).
Not recommendable from November to March due to the heat.
The package is only available to a group of min. 4 pax and includes the following:
1 night Uis Elephant Guesthouse (DBB).
1 night Brandberg hiking and sleep-out (DBB + lunch packs).
1 night Uis Elephant Guesthouse (DBB).
For the hike:
2 guides.
All necessary permits.
Backpack and sleeping equipment.
Food and water.
Required Fitness Level:
The terrain requires proper footwear, some balance, and hard work. The Brandberg is no easy climb and is taxing on the legs and body.
Brandberg Hiking Full Itinerary:
Day 01 - Arrive at Uis Elephant Guesthouse. In the evening, we will have a briefing in preparation for the big hike the next day. After the introduction, we pack our bags and allocate food and equipment.
Day 02 - After an early breakfast, we drive about 1 hour to the foot of the Brandberg on the western side. After a short briefing, we are off by 09h00 and enjoy a gentle introduction with ever-increasing slopes. Every half an hour or so we stop for a short breather. Depending on our group's fitness level we should reach our lunch spot by 13h00. Here we rest somewhat longer in the shade before we tackle the last 2 hours to camp. We should be at our overnight spot by about 16h00. We rest and explore the area. Dinner is prepared rather early, and we go to sleep as soon as it gets dark.
Day 03 - We wake up before sunrise to have some coffee and breakfast. As soon as it is light enough to walk, we depart. We should be on the edge of the mountain shortly before we start the
actual descend, just as the first light touches the horizon. We spend some time enjoying this
majestic spectacle. From here we continue downwards with regular stops. The entire journey today is about 4 hours. Once we are back at our vehicle the first drinks taste exceptionally good. We transfer back to Uis Elephant Guesthouse in time for lunch. The afternoon is at leisure. Overnight at Uis Elephant Guesthouse.
Show More
Show Less