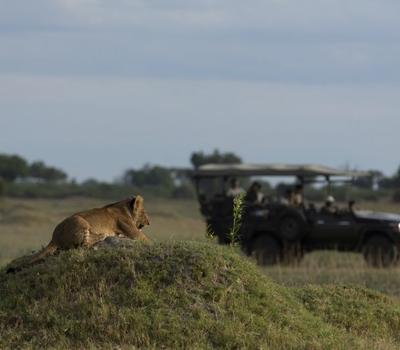 Game drives (day & night)
Game drives (day & night) take place in some of Botswana's best adapted vehicles. Duba Plain's Toyota Land Cruisers are aptly named 'Swamp Vehicles' due to their extra-high suspension and absolutely huge tyres uniquely designed to traverse the floodplains for us. These are, of course, open-sided, canopied and customised for photographers (fold-down screens, raised roofs, photographic bars, multi-plug inverters). Seating only four to six guests on each vehicle, the Cruisers are fully stocked with drinks and snacks. Each tent has the latest Canon camera and lenses as a package for guests to use or try out. Images are downloaded and presented for them to take away at no additional charge.
While the focus remains on the most comfortable times of day (early to mid-morning and late afternoon to evening) for drives, it is very common in Duba Plains to spend full days out in the field, having brunch delivered to the vehicles because the wildlife is so good and our focus is on finding and spending time with these extraordinary experiences.
Our schedule is flexible and guests are encouraged to create their own itinerary according to their interests. Very often, our safaris will continue into the night in search of nocturnal species. Great Plains guides are also keen trackers and birders and guests are encouraged to experience everything the camp has to offer.
Show More
Show Less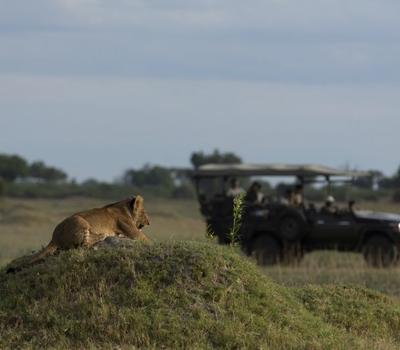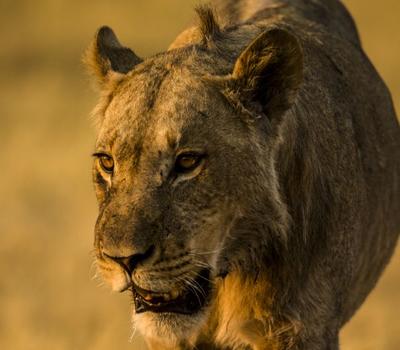 Another huge benefit of staying within the conservancies is the ability to appreciate the stunning landscape on foot, peacefully, without the noise of engines. Usually early morning or evening is the best time, as the middle of the day is too hot to venture out of the shade. Wear good walking shoes, a hat, and neutral coloured clothing so as not to alarm the wildlife, and take binoculars. Your guide will have water for you. Walks are led by licensed guides with firearm training.
Show More
Show Less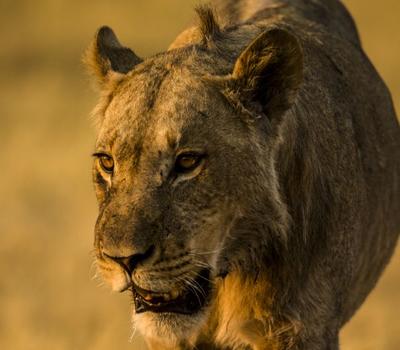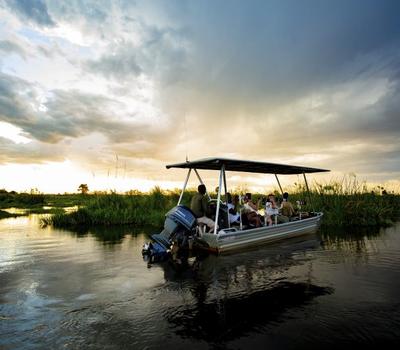 Zipping through the Okavango Delta's network of waterways is an invigorating way to get a sense of the scope of this huge wetland. You'll undoubtedly have wonderful birding and maybe even some hippo, buffalo and elephant sightings. (Boating is a seasonal activity, typically between May and October but varies seasonally).
Show More
Show Less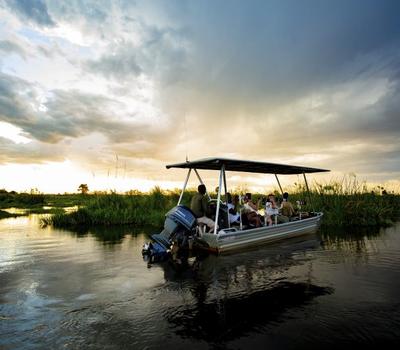 Catch-and-Release Fishing
This is a great activity during mid-day siesta. Make sure you're with a guide. During January and February there is a moratorium on fishing. Catch-and-release fishing only.
Show More
Show Less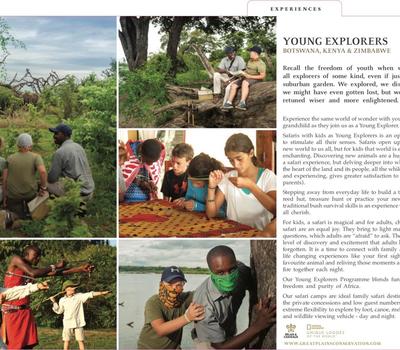 Duba Plains Camp offers a full syllabus of bush craft skills for our young explorers. This is a complimentary program that follows in the footsteps of National Geographic Explorers-in-Residence Dereck and Beverly Joubert. An extensive pack will be provided to eager children on arrival, so they can learn about animal calls, how to track wildlife, and other facts and figures about the wild. At the end of a child's stay, he/she will become a Young Explorer and Conservation Ambassador - ready to go out and tell the world about what they have learned and what they too can do to help protect this beautiful environment.
Show More
Show Less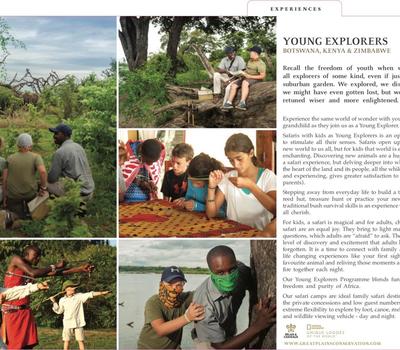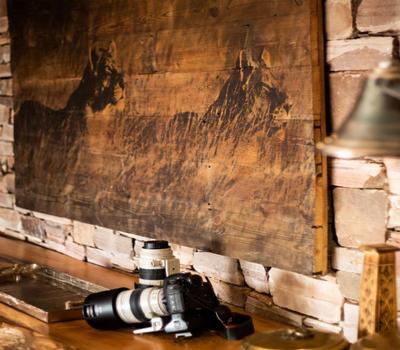 Each of Duba Plains guest tents comes with a pair of high-quality binoculars for guest use as well as a professional Canon camera set, including a Canon 5D camera body and Canon 100-400mm and 24-70mm lenses. Photos will be downloaded to a memory stick on guest's departure. Photographic tuition through the Great Plains Wild Studio can be arranged for guests (at an additional cost and booked in advance). Tuition can be either on company cameras or own guest's personal cameras.
Show More
Show Less