Sanbona Dwyka Tented Lodge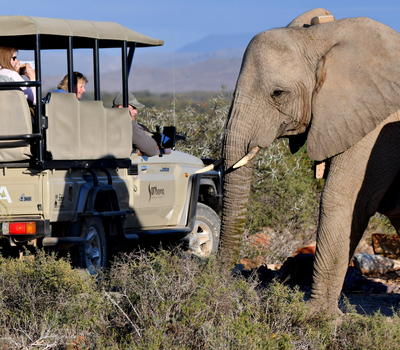 Interactive nature drives, lasting up to 3 hours, take place in the tranquil moods of sunrise and sunset. You are guided by your game ranger in an open game viewing vehicle and you are
asked to share any particular interests with your ranger who will try to incorporate these into your game drive. On game drives guests will enjoy a sundowner drink at sunset and coffee/tea at
sunrise. No persons under the age of 4 years are permitted to join game drives.
Show More
Show Less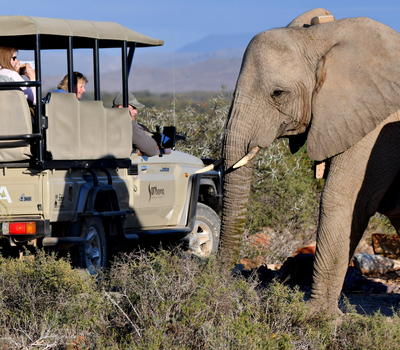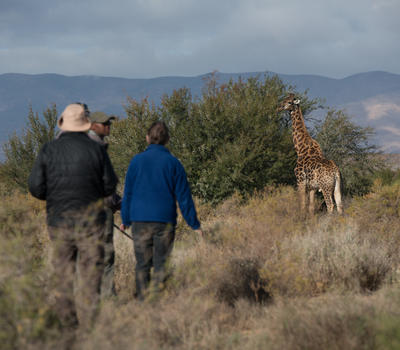 Discover the spirit of the Little Karoo on foot and see the many treasures on the Reserve.
An optional walk with the guidance of a ranger can be arranged to cater for individual needs. From gentle strolls, taking in the breath-taking beauty of the indigenous fauna and flora, to challenging trails discovering isolated vistas, reveal the beauty of Sanbona Wildlife Reserve.
Be it a gentle walk, or challenging trail to a secluded rock pool which invites one to submerge into its invigorating bliss and then returning to your lodge for a scrumptious meal, Sanbona Wildlife Reserve has all of this and much more to offer.
Show More
Show Less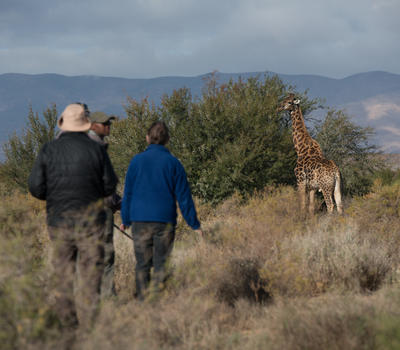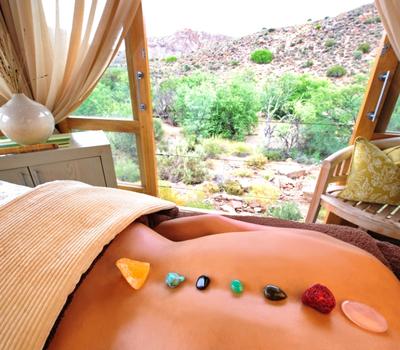 At our Relaxation Retreats, Mother Nature is brought indoors for indulgent pampering. Our body range draws on properties from the world famous indigenous "Fynbos" plant kingdom, eliminating toxins, soothing the soul and rejuvenating the body.
The Relaxation Retreats at Sanbona overlook ancient rock formations and undulating mountains and plains. While the rejuvenating forces of nature cradle you, we deliver a range of world-class treatments and holistic modalities to balance and energise your being. Step into the privacy of our tranquil retreats – let the gentle atmosphere envelop and embrace your body, mind and soul ...
Show More
Show Less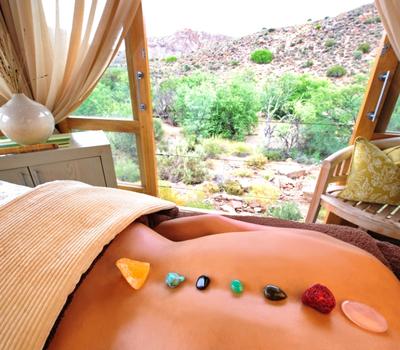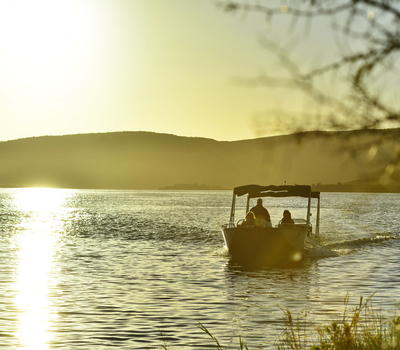 The Sanbona boat safari experience adds to the many other unique experiences on offer in this Karoo wilderness reserve.
The boat is called, Peregrine, named after the Peregrine Falcon, which is a bird of prey in the falcon family. Peregrine takes guests on a 'water safari' on the impressive Bellair Dam situated in the middle of this vast reserve in order to reach what has been, up to now, unchartered territory. It presents guests with a new experience and perspective of the Big 5 wildlife, marine and birdlife.
Peregrine is able to navigate through even shallow waters and offer access to most areas of the dam. It seats 12 guests in utter style while they enjoy either an early morning or a sunset cruise, which forms part of a game drive, weather permitting.
One of the highlights on the boat safari is to possibly get up close to a pod of hippo, which can be spotted bathing in the dam.
The Bellair Dam was built almost 100 years ago and bird watching is incredibly prolific as more than 40 species of birdlife flock to the dam alone. Guests get a chance to see the 'newly built' dam wall and on a hot summer's day swim whilst enjoying vistas that are only found in the Karoo.
Peregrine can also be booked for sole use, at an additional cost, for guests that may be celebrating a special occasion such as an anniversary or honeymoon or simply to enjoy some private time on the dam during their stay.
Show More
Show Less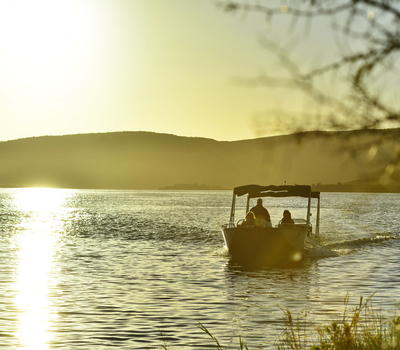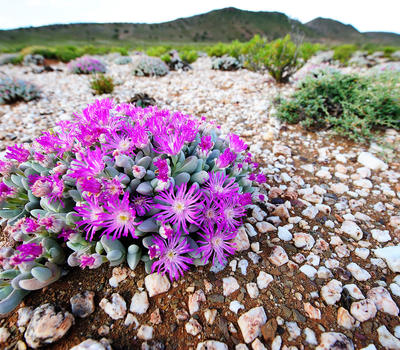 Sanbona Wildlife Reserve has about 600 species of plants and it is intriguing to know that various species are flowering at different times throughout the year, although some more prolific between August and September.
Approximately half of the reserve used to be livestock and agricultural farms and all aspects of farming are systematically being removed. There are various floral kingdoms that make up the Reserve. These include Acacia Thickets, Nama, Karoo, Renosterveld, Succulent Karoo and Central Mountain Fynbos. Succulents are especially varied and fascinating with names like Baby's Bottoms, Ostrich Toes and Pig's Ears.
Animals that roamed the area freely living amongst the San but were eradicated are being reintroduced. The Big 5 – Lion, Leopard, Buffalo, Elephant and Rhinoceros as well as various other species such as Gemsbok, Springbok, Hartebeest, Eland, Kudu, Black Wildebeest and Zebra will be seen on Sanbona Wildlife Reserve. Natural small game such as Jackal, Caracal, Aardwolf, Ant bear, Brown Hyena, Grey Rhebuck, Steenbuck, Klipspringer, Grysbok and Common Duiker continue to thrive.
Show More
Show Less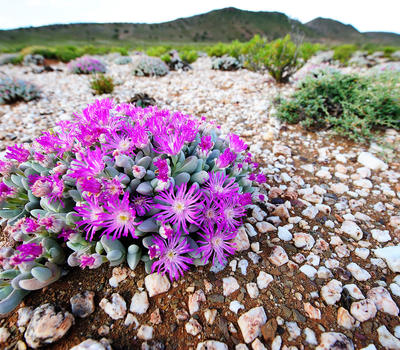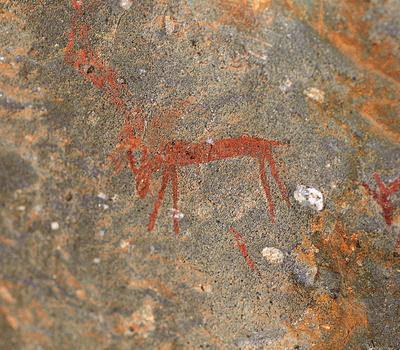 The San people of Africa roamed the area for thousands of years until 100 years ago.
The /Xam tribe, the nomadic hunter-gatherers living in harmony with nature realised then that man and nature together is sustainable.
There are 7 recorded sites throughout Sanbona Wildlife Reserve, however many more can be found. Rock art sites date back to more than 3500 years and depict the spiritual beliefs and lives of these fascinating people. During their travels, members of the group would congregate around a communal fire, weaving stories and celebrating the gift of life while the Shaman would meditate through rhythmic dancing, singing and clapping and while in a trance, receive visions and guidance. This medicine man or woman would ensure the well being of the tribe, protecting them from evil and sickness, predicting the future and ensuring good hunting and rains. Certain animals such as the Praying Mantis and the Eland were honoured and revered and were considered to have great spiritual powers.
The only evidence that remains of these little people is the delicate rock art found on Sanbona Wildlife Reserve, their indelible footprints left of their presence in this vast landscape for generations to come.
Show More
Show Less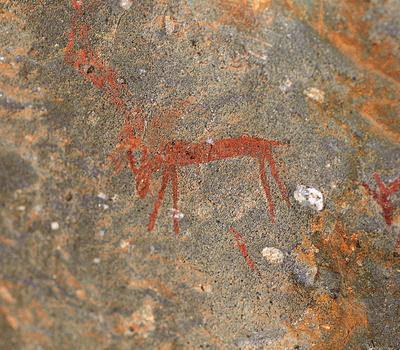 With the absence of artificial light, the stargazing at Sanbona Wildlife Reserve is phenomenal and amongst the best in Southern Africa.
Interpretations about the constellations of the Southern Hemisphere are given by knowledgeable guides. Romantic stories of gods and goddesses banished to the heavens are woven into astronomical facts and unfolds before one's eyes. Discover the ancient myths of the stories told by the San about their visions of the stars.
How better to end a blissful day at Sanbona but to sit reflecting under the star studded-canopy of African skies, the vastness of infinite galaxies stretching before one.
Show More
Show Less