Hoanib Skeleton Coast Camp
Hoanib Skeleton Coast - Nature drives
Nature drives showcase the magnitude of the landscape and offer the best possibilities of seeing desert-adapted wildlife. Morning or afternoon drives are available, as well as full-day excursions.
Show More
Show Less
Hoanib Skeleton Coast - Guided nature walks
Guided nature walks from camp are an exciting way to get up close and personal with desert-wildlife. As well as the possibility of spotting big game, it is also a good opportunity to study the smaller creatures and the fascinating plant life of the concession.
Show More
Show Less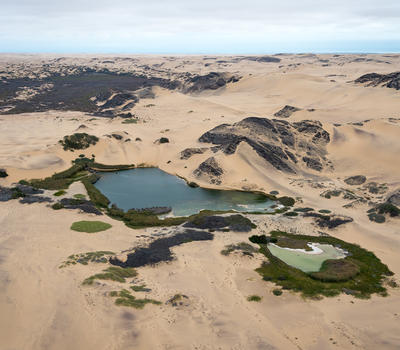 Hoanib Skeleton Coast - Excursion to the Skeleton Coast
On a stay of three nights (or more) full-day excursions to the Skeleton Coast are offered. The fascinating 4x4 trip to the coast takes you via the wilderness and wildlife of the Hoanib River and floodplain, which include Klein Oases Spring and driving through a dune field - while the Skeleton Coast itself reveals a rocky coastline with its huge Cape fur seal colonies and shipwreck remains. Following a picnic lunch, the return flight back to camp offers a magnificent perspective of your journey from the air.
Show More
Show Less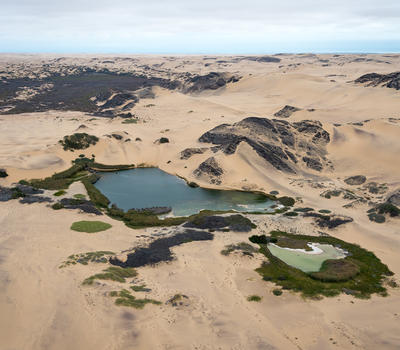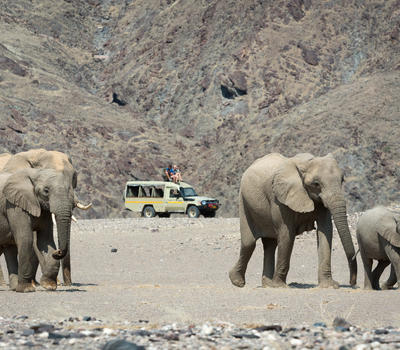 Hoanib Skeleton Coast - Day excursions
Operating within our concession area and on offer to all guests, these trips leave camp early in the morning, include a picnic lunch, and return to camp in the mid to late afternoon. It includes Mudorib Springs, exploring remote areas in the south of our allocated exclusive concession area, with the red basalt landscapes of the Damaraland. Amongst other general game species, guests have the chance of seeing Hartmann's mountain zebra and the desert-adapted rhino. In the northern and eastern area of the Hoanib, the valleys offer spectacular scenery.
Subject to private vehicle availability, to guarantee this excursion a private vehicle needs to be booked and paid for.
Show More
Show Less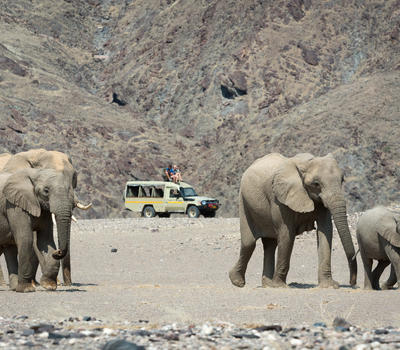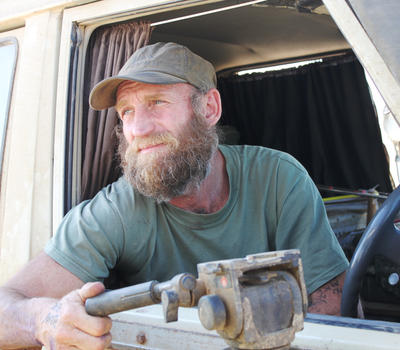 Hoanib Skeleton Coast - Interaction with wildlife researchers
Presentations and interaction with wildlife researchers are planned when researchers are in camp, or nearby. These include all current research, in particular the good work being done by Dr Flip Stander and his team on the unique desert-adapted lion.
Show More
Show Less