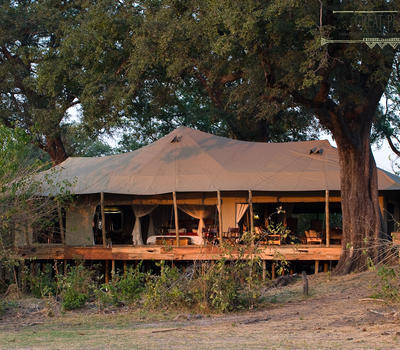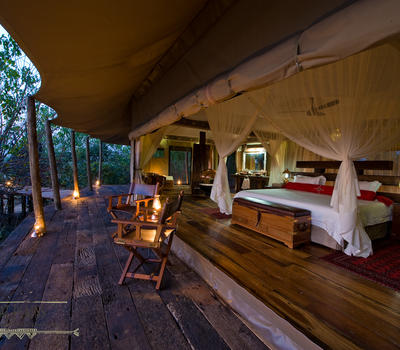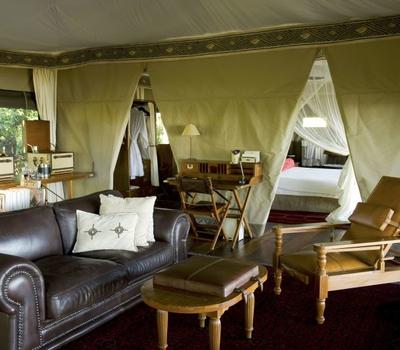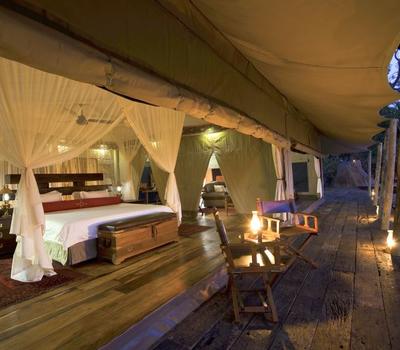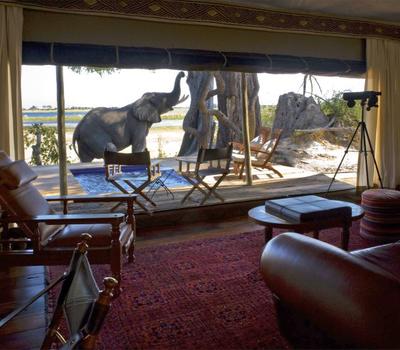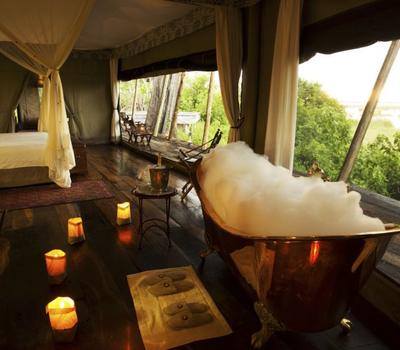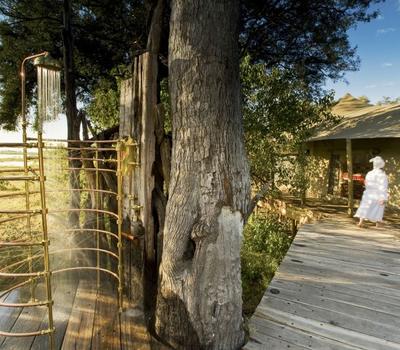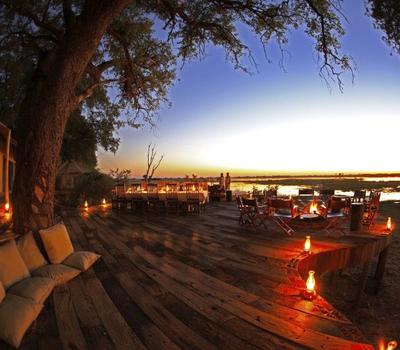 Zarafa Camp is designed with exclusivity and privacy at its core. Each tent is positioned on the forest's edge, rimming the shores of the floodplains and far from a neighbour. The 1,000 square foot 'marquis style' canvas tents are expansive and open-air without exposing guests to the elements. Each of the three "rooms" of the tent is decorated with custom-made furniture, handcrafted from recycled ancient hardwoods. The raised decks, constructed of recycled African railroad sleepers, form the tent's foundation.
Upon entry is a large lounge appointed with a leather sofa, armchairs, personal bar and writing desk. Adjoining the lounge is the main bedroom and dressing area, where the overhead fans and seductive mosquito nets set the ambiance. Exiting the bedroom, a beautiful copper gas fireplace is strategically placed between the bathroom and the bedroom to allay the chill of the winter months. The main bathroom is comprised of a copper bath and shower, double sinks and private toilet. Off the bathroom, the raised walkway leads to the outdoor shower, complete with wrap around showerheads! The private verandah, running the length of the front of the tent, offers a private plunge pool, outdoor lounge and sweeping view of Zibadianja Lagoon's waters.
Each tent comes with its own Canon professional camera including a Canon 5D body and 35-135 mm and 100-400mm zoom lenses for use during a stay. Photos are then burned to a DVD as a souvenir at the end of your stay.
Show More
Show Less