Croc Nest at Flatdogs Camp
CROCODILE (CROC'S) NEST – 1 tented house with 2 bedrooms
The Croc Nest has been set on a deck looking onto the banks of the Luangwa River, so has lovely river views. This huge tented structure has been split into two en-suite tented bedrooms at either end of the house, both with either one king or two twin beds, with space for a third bed inside each bedroom if required. The two bedrooms both have semi-open air bathrooms with hot showers, flush toilets and basin. The bedrooms both lead into the living room/dining area in the middle of the house, which has sofas, soft chairs and a dining table as guests in the tented house will be welcome to eat privately at the house if they prefer. If a group or family of six wish to take the house then the extra beds can also be set up in this large living area rather than in each bedroom, depending on their preference. The living room and both bedrooms open onto an outside deck and sitting area, with views onto the Luangwa River. There is a private swimming pool built into the deck too, just for the house guests, which also looks onto the river. The house is on mains electricity so easy for charging camera batteries and other items as well as having electric fans and a fridge for cold drinks. Guests staying in the tented house will also have a private guide and their own safari vehicle so they can plan their activities depending on their particular interests.
Show More
Show Less
Jackalberry Treehouse at Flatdogs Camp
JACKALBERRY TREEHOUSE - Open fronted treehouse with 2 bedrooms
Set in a private spot away from the rest of camp, the Jackalberry Tree House is a special treat indeed. The "house" is made up by three joined platforms built around three mature Mchenja trees (African Ebony or Jackalberry tree). There are two en-suite bedrooms with an open sitting/dining deck in-between them.
The bedroom platforms have romantic and rustic four poster beds (one queen and one king which can be split into two twin beds), open front walls and uninterrupted views of Africa. Each bedroom has an open air bathroom platform down a short flight of steps with hot shower, flush toilets and basin. A large sofa, armchairs and throw cushions are spread out on the middle deck for relaxing during the heat of the day and watching the game which wanders past the house, oblivious to your presence. There is also a dining table and chairs should guests prefer to dine at the house. A fridge and bar are provided in the Treehouse as well as tea and coffee-making facilities. A hand-held radio is provided, so that guests can call for a vehicle to bring them to the restaurant or bar, or in case there is a problem of any kind. Their safari guide will otherwise plan with them when they would like collecting from the house and their preferred activities.
The Tree-house is on mains electricity and has UK style 3-pin rectangular plug sockets for re-charging cameras or laptops. Giraffe, bushbuck, puku and elephant are commonly found all around the Treehouse and it is wonderful to wake to the sounds of elephant feeding below you or having a mud bath from the waterhole in front of the house.
Show More
Show Less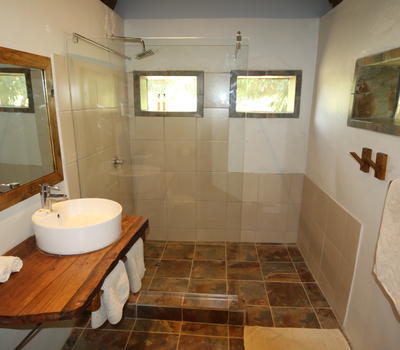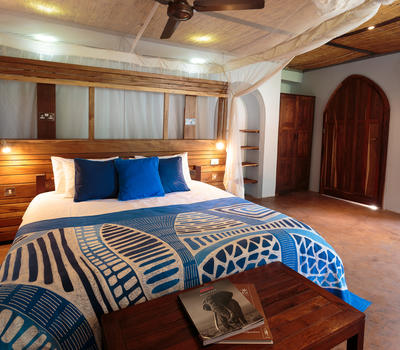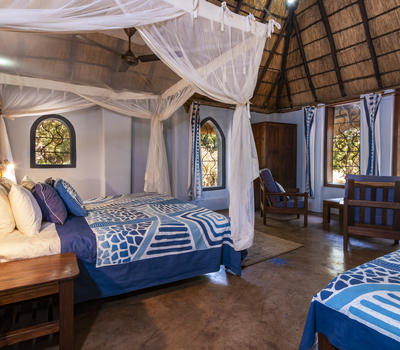 Chalet rooms at Flatdogs Camp
The six regular chalet rooms are found in three separate buildings. Each chalet building has a downstairs double room with ensuite bathroom and an upstairs twin or triple room with their own private bathroom just downstairs. There are four main chalet buildings, each of which has two separate guest bedrooms; the downstairs room is a double room with ensuite and a verandah, the upstairs room is a twin or triple room with bathroom and verandah downstairs from the bedroom but entirely private. In between the 2 bedrooms is the small "kitchenette" where there is a fridge, kettle and tea/coffee making things. This works as an inter-connecting door for families so that kids can walk through to their parents room without having to go outside.
At the far end of camp, there is a larger family chalet which has three bedrooms in total but just two ensuite bathrooms - the two downstairs bedrooms are both ensuite - one room has a king bed and a single bed, the other has a king and a single or three single beds. There is also a kitchen area between the two bedrooms. There is a spiral staircase from the kitchen leading up to the "loft room", sitting area and upstairs viewing deck. The viewing deck looks out towards the Luangwa river, the perfect place to relax and watch the sun set... The loft room has two more single beds but has no ensuite bathroom, guests sleeping here need to share the bathrooms downstairs. Outside this chalet is also an open sala sitting area with sofa and chairs.
Show More
Show Less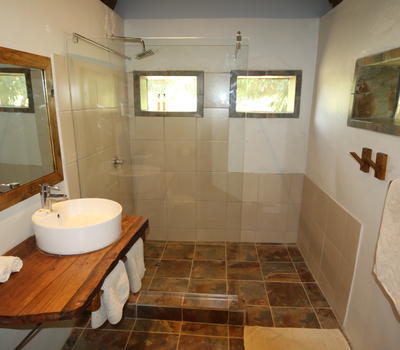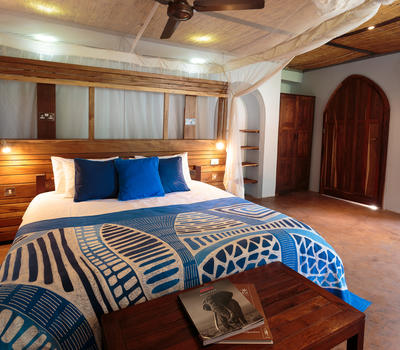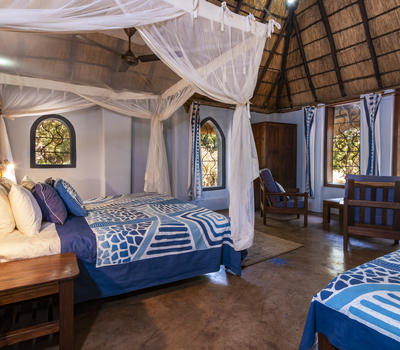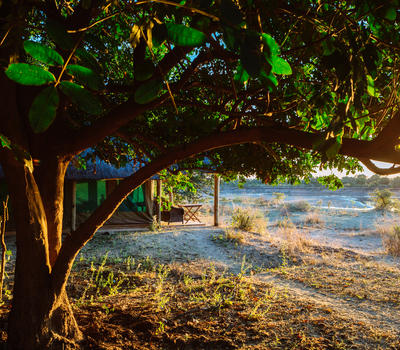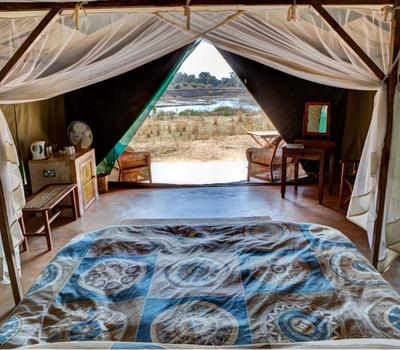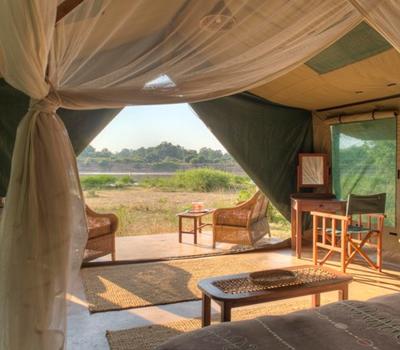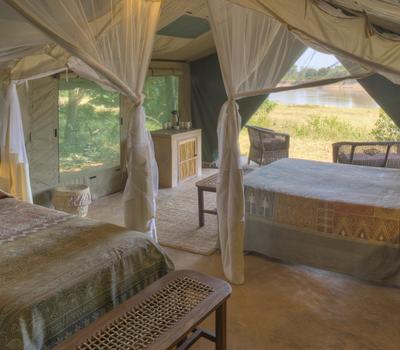 Luxury ensuite safari tents at Flatdogs Camp
There are seven Luxury ensuite safari tents, six of which are pitched permanently on the banks of the Luangwa. These made-to-order tents have a thatched roof for extra shade, ensuite facilities (hot shower, flush toilet and basin) with a canvas half roof over the bathroom, full-sized beds with sprung mattresses, large mosquito nets and all bedding and towels provided. The tents have electric lights, a fan and charging points for camera batteries. There is also a room safe and tea & coffee making facilities. Six of the luxury tents including the family tent look straight out onto the river, one tent (tent 11, the honeymoon tent) has plenty of privacy and looks out onto a pretty lagoon, which attracts plenty of birdlife as well as elephant for their daily mud baths and giraffe and bushbuck when they are thirsty.
The Family Tent (a luxury tent) is a little different to the others, this is a specially designed tent which has space for a double bed and two single beds, both with large mosquito nets and with a large bathroom at the back of the tent, shared between the family. The family tent is now to be found on the river bank, closer to the main area than it was, with lovely views of the river.
Show More
Show Less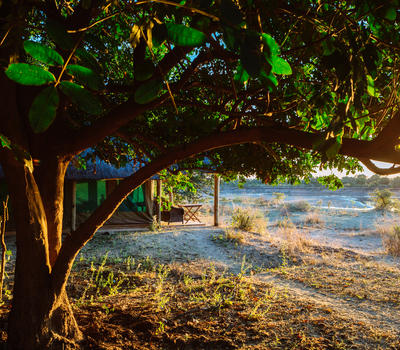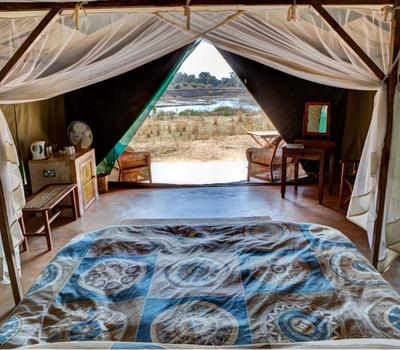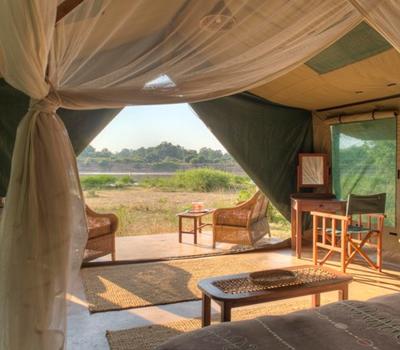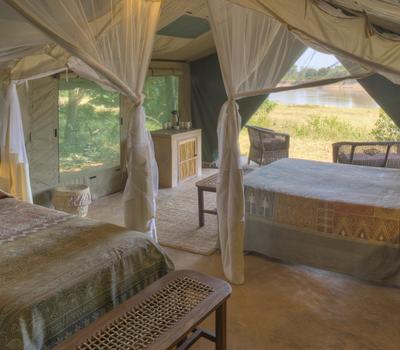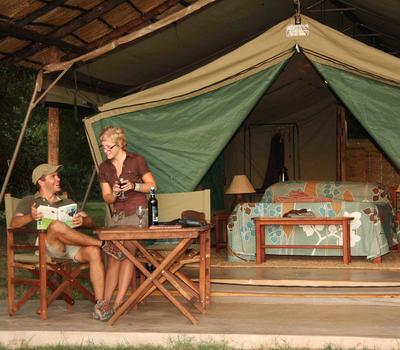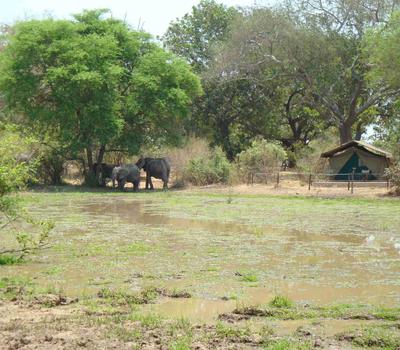 Flatdogs Camp Standard ensuite safari tents
There are also three "Standard" en-suite safari tents which are much smaller and simpler than the Luxury tents, but are still walk-in tents with ensuite bathrooms with open air shower, toilet and basin. Two of these standard tents are situated on the river bank, the other looks directly onto the same lagoon as tent 11. The standard tents also have full beds, bedding, mosquito nets, charging points and electric fans. The standard tents do not have tea and coffee making facilities or safes.
Show More
Show Less