Twelve Apostles Hotel & Spa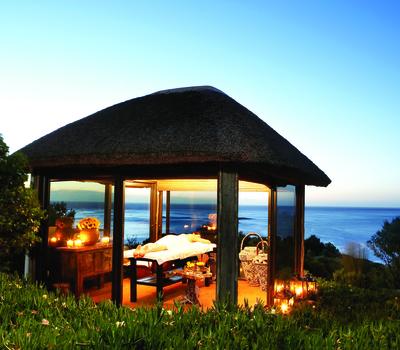 Surrender Your Senses
Our award-winning family-run hotel is nestled between the majestic mountains and the azure Atlantic Ocean, surrounded by a tranquil National Park, yet close to Cape Town's best beaches. Guests feel indulged and cared for with splendid luxury, passionate service, generous hospitality and exquisite cuisine. We offer the ideal escape where harmony and tranquillity gently restore body, mind and soul. We are dedicated to restoring beauty and balance through individual treatments and spa journeys, personalised for each of our guests by exceptionally skilled therapists. Our commitment to wellbeing focuses on holistic principles, combining ancient wisdom and modern expertise.
Hydrotherapy Pools:
WARM, COOL & FLOTATION
Incorporating water jets at the optimal temperature for rebalancing your body's metabolism, use of our warm and cold plunge pools is available to all spa guests inclusive of your treatment. In addition you may also like to try a complimentary session in our unique Salt Water Flotation Pool. Offering a liquid, reduced gravity experience, floating in the salty water eases jetlag and results in maximum relaxation - research has shown that just 20 minutes is equivalent to a full two hours of sleep.
Indoor Treatment Rooms:
7 DUAL AND SINGLE TREATMENT ROOMS
Our extensive spa facilities include seven superbly equipped indoor treatment rooms with rain showers, for dual and single treatments. The rooms have been designed to offer a serene, calming ambiance, with heated treatment beds, fluffy towels, scented candles and relaxing music. They are the perfect retreat for both hotel guests and day spa visitors wishing to enjoy a selection of personalised individual treatments or exclusive Spa Journeys.
Outdoor Mountain Gazebos:
2 GAZEBOS WITH ATLANTIC SEA VIEWS
While the interior of The Spa is exceptional, The Twelve Apostles' unique position on the mountains overlooking the Atlantic Ocean means that a sunset massage in one of two outdoor gazebos is an absolutely unforgettable experience. It is the perfect place for couples to escape and have a side-by-side massage surrounded by nature, with the Atlantic stretching into the horizon in front of you for as far as the eye can see. Please note that the gazebos cater for massage treatments only.
Rasul Chamber and Rain Shower:
TRADITIONAL ARABIC CLEANSING RITUAL CHAMBER
Our Rasul Chamber offers a traditional Arabic cleansing ritual through the use of gentle steam and mud. This relaxing skin-smoothing self-treatment blends mineral-rich mud, steam and heat to provide an experience that cleanses, releases toxins and rejuvenates. The self-applied mud hardens in dry heat, allowing the skin to draw out impurities from the body. As the mud softens again, its beneficial ingredients and natural minerals are further absorbed by the body. A gentle rain shower signals the end of the programme, leaving you with glowing skin. The ritual is recommended for enjoyment with a partner.
Health Bar Buffet & Menu:
Homemade healthy snacks
Spa guests may take advantage of our complimentary Health Bar buffet during their time at The Spa, with a selection of healthy homemade snacks, fresh fruit juices and still mineral water. For something more substantial we also offer an exclusive Spa Menu at an additional cost, featuring delicious, wholesome meals conducive to a healthy lifestyle.
Tranquility Lounge:
RELAX BETWEEN & AFTER TREATMENTS
To make the most of your time at The Spa, recline and relax on a comfortable lounge chair in our Tranquility Lounge, in-between and after spa treatments. Sip herbal tea, browse a selection of magazines, read a book or simply close your eyes and meditate. It's the perfect way to complete your spa journey.
Show More
Show Less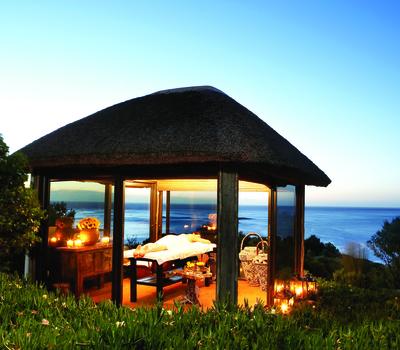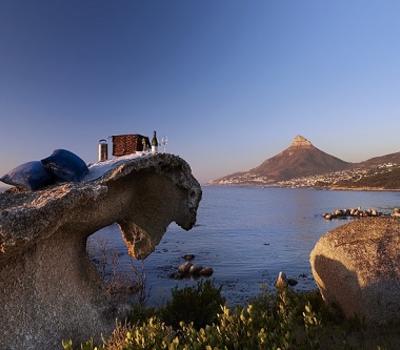 Mountain Walks and Picnic Sites
Venture into the mountains for the perfect picnic
Hotel guests are able to stroll straight from their rooms onto the mountainside to take in some fresh air and spectacular sea and mountain views. The Table Mountain National Park, a World Heritage Site, offers uninterrupted views and the hotel has created several packages for unforgettable outdoor experiences.
Have a delicious picnic on a specially laid out picnic site, toast romance while the sun sets into the Atlantic Ocean or simply let the kids run wild in the open space. And while you feast your tastebuds on the food and your eyes on the stunning natural environment, know that you're giving back to society, as all picnic baskets have been purchased from the Cape Town Society for the Blind.
Hotel guests are free to explore the various mountain trails – from 10 minutes to 45 minutes in duration - ask for a copy of the map below, from our Concierge desk. Or enquire about our complimentary Sports Buddies programme which allows for a staff member to join you as you hike through the Fynbos.
Show More
Show Less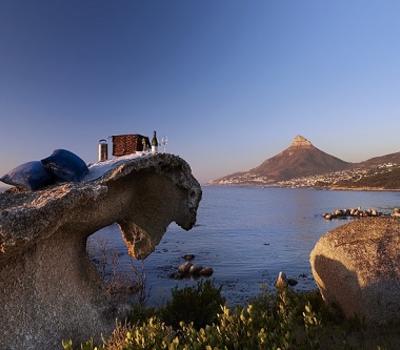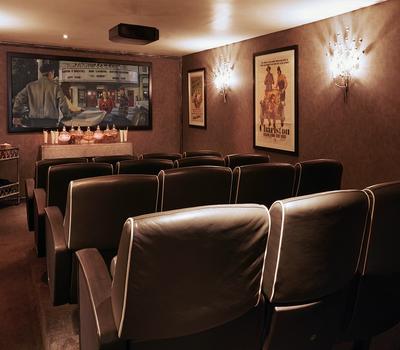 Classic favourites in our private cinema
The Twelve Apostles operates an intimate, 16-seater cinema/screening room available to both guests and non-guests, and also available for exclusive private hire. Each month a new schedule of movies is set, running five times a day and may be accompanied with breakfast (10h00), lunch (15h00) and dinner (17h30/20h30/22h30).
Our unique Dinner and a Movie package allows motion picture lovers to enjoy an evening of wining and dining in the award-winning Azure Restaurant with a specially-created movie menu, followed by a screening of a film in the private cinema. For those who would like to choose their own movie, we have a varied selection of classics, comedy, adventure, drama and foreign films. Sink into plush leather seats with state-of-the-art flat screen Dolby surround sound, and a lavish assortment of goodies, including popcorn, hot chocolate, milkshakes and candy.
Please note that selecting your own movie is subject to existing reservations and requests from other guests sharing the screening room. Note that screenings are not exclusive unless a group booking is made for the entire cinema.
Show More
Show Less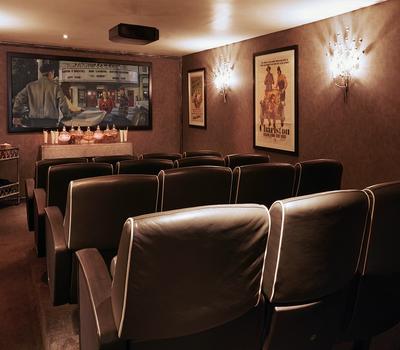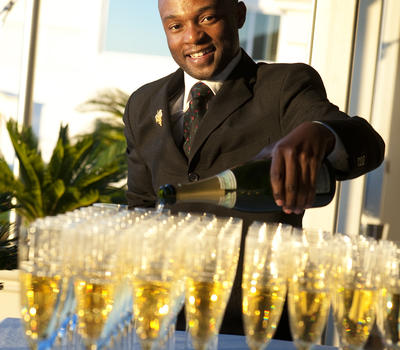 The diversity of world-class wine routes right on Cape Town's doorstep is staggering. Offering an irresistible combination of delectable wine tastings, informative winemaking tours, mouth-watering cuisine and magnificent scenery, they attract international and local travellers alike.
Most Cape wine farms are characterised by classic Cape Dutch-style buildings and expansive vineyards, with picturesque mountains as a breathtaking backdrop. Following the arrival of the French Huguenot, Dutch and German settlers during the 18th Century, many of them also show a distinctive European influence.
Our concierge and sommelier have selected some of their favourite wine farms in each region for you to explore!
Silvermist Organic Vineyards - 15 min (12.4 km) without traffic
Beau Constantia - 17 min (12.9 km) without traffic
Constantia Glen - 15 min (12.9 km) without traffic
Eagles' Nest Wines - 16 min (14.1 km) without traffic
Groot Contantia - 19 min (16 km) without traffic
Constantia Uitsig - 24 min (19.4 km) without traffic
Buitenverwachting - 25 min (19.1 km) without traffic
Klein Constantia - 26 min (19.3 km)without traffic
Steenberg Vineyards- 29 min (23.1 km) without traffic
Show More
Show Less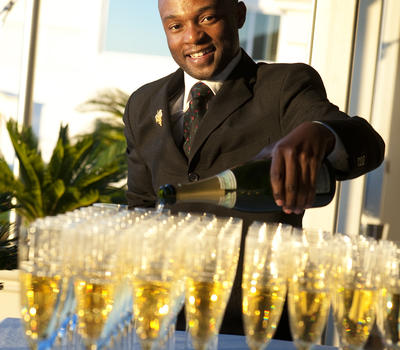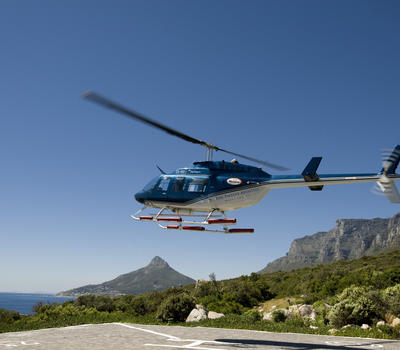 Kids will feel right at home at The Twelve Apostles Hotel and Spa, thanks to a range of in-house amenities and activities aimed specifically at little ones. Our concierge has recommendations for explorers of all ages, from mountain climbs, museum visits and park fun, to excursions to various destinations that include butterflies, cheetahs, birds, crocodiles…and not to forget, penguins! Children are sure to have the time of their life while staying in Cape Town.
Pools & Gardens:
Set in nature's paradise, between the Atlantic Ocean and The Twelve Apostles Mountain Range, the hotel is surrounded by breathtaking views of the Table Mountain National Park and a protected marine park, where kids can spot whales and dolphins playing in the azure waters.
Children can have fun splashing in our infinity or mountain pools, with pool toys provided during the summer holidays. Both pools have a special menu which is serviced by The Café Grill and includes delectable dishes for little ones; in addition, they can help themselves to water and fruit from our refreshment stations.
Show More
Show Less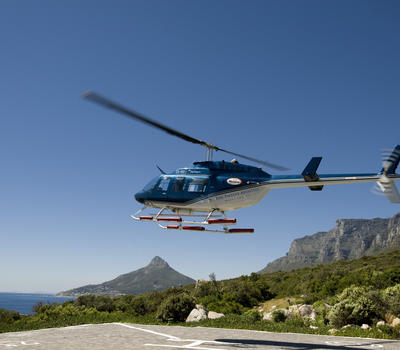 As another example of our passionate service and thoughtful attention to detail, we have introduced a new complimentary Sports Buddy programme, where staff at the hotel has their gym kit and shoes on standby, ready to train with guests who might be looking for a partner to play a round of golf, game of squash, attend a yoga class or take a hike in the pristine nature reserve behind the hotel.
Complimentary Activities
Biking - Take a scenic cycle from the hotel to Chapmans Peak along one of the world's most beautiful stretches of road. Admire endless views of the Atlantic Ocean and pass through the fishing village of Hout Bay.

Hiking - The Hotel offers hiking on the property in the Twelve Apostles mountain range. For more experienced hikers, a staff member can accompany you on mountain trails further afoot in the World Heritage Site.
Jogging - You have the choice of running to Camps Bay or Hout Bay, both along Victoria Road, with world-class views to inspire you. A staff member will keep pace with you and point out the sights such as Sentinel Peak and Hout Bay Harbour.
Yoga - Yoga mats are available at the hotel. There are superb locations in and around the hotel where you can become one with nature while practicing the ancient discipline, and energising your body and mind.
Chargeable Activities
Squash - A staff member will challenge you to a game of squash at the squash club. Pre booking is requested at least 7 days in advance.
Golf - The Hotel is centrally located to world class golf courses including the Metropolitan Golf Club, located next to the V&A Waterfront. Pre booking is requested at least 7 days in advance.
Terms and Conditions
The "Sports Buddy" service is offered on a complimentary basis excluding squash and golf. Third Party costs for equipment hire is chargeable at cost.
Bookings should please be made at least 7 days in advance, especially for sports that require booking a court or green.
Show More
Show Less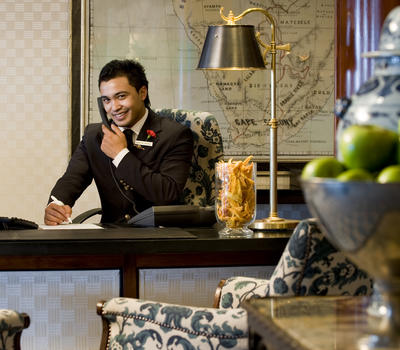 In Cape Town and surrounding areas
The Western Cape is one of the world's most spectacular and diverse golfing destinations. Many of these lush, beautifully maintained Golf Courses are in close proximity (20 – 40 minutes) from the hotel. These Golf Courses have captivated the global golfing community and boast both local and international awards for exceedingly high standards, quality, design and professionalism. The Twelve Apostles Hotel and Spa is the perfect base for your seaside relaxation combined with your golfing needs.
Show More
Show Less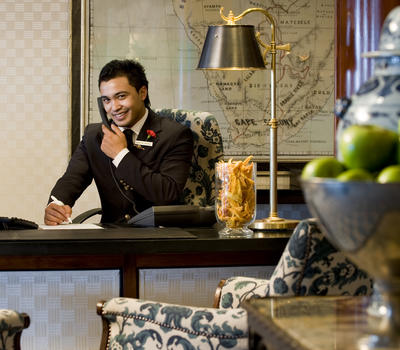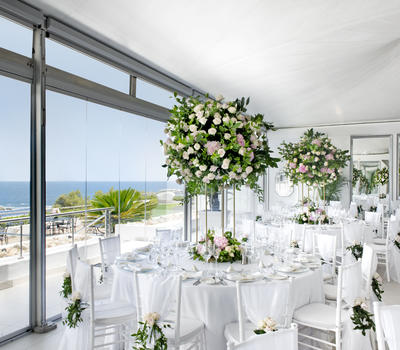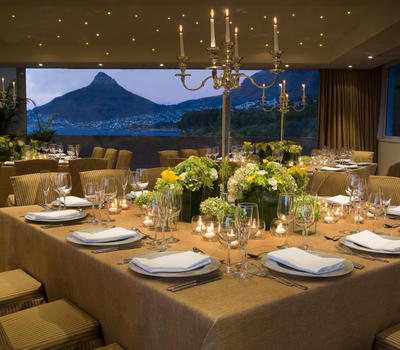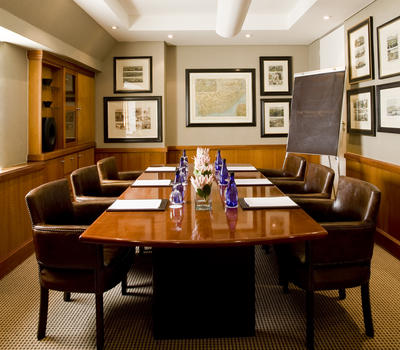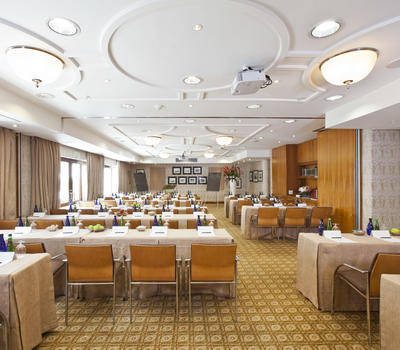 The Twelve Apostles Hotel and Spa offers an impressive collection of air-conditioned function spaces and meeting rooms, set in an inspiring location offering both ocean and mountain views.
Larger function rooms can accommodate up to 90 guests, and feature state-of-the-art audio-visual systems. Additional specialised presentation or entertainment equipment can be sourced from our technology partners on request.
Each event booking is meticulously managed by a dedicated member of our multi-skilled team of function organisers, who are on hand from the point of enquiry until the conclusion of the event. Working together with our team of talented chefs, look forward to an unforgettable menu of delicious dining options to transform your event into a truly memorable occasion.
Show More
Show Less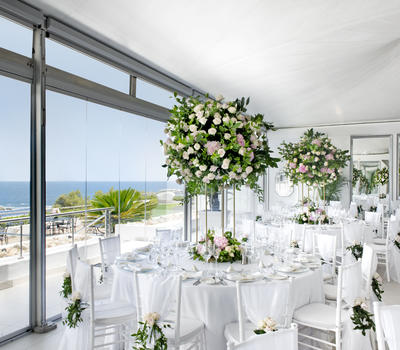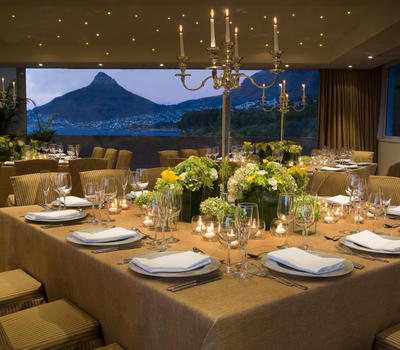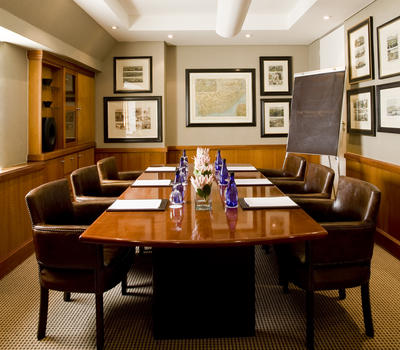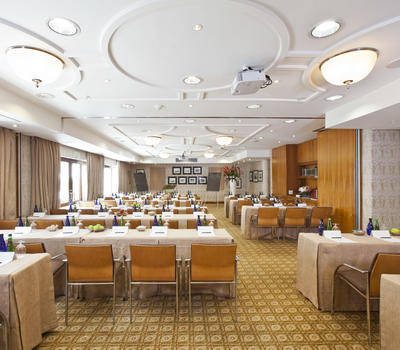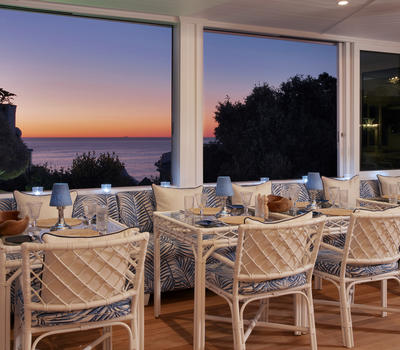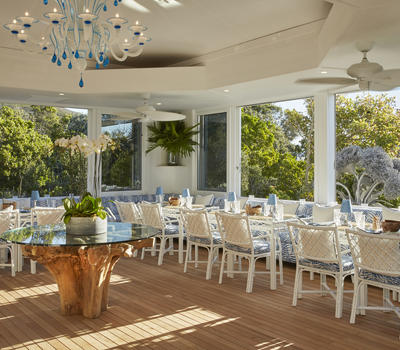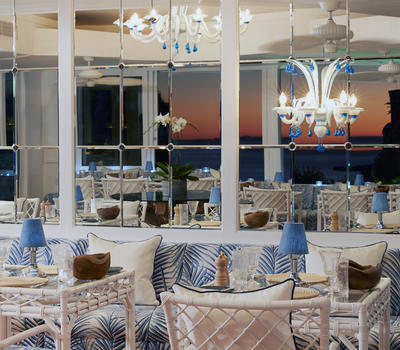 The latest addition to the menu of culinary experiences on offer at The Twelve Apostles Hotel & Spa is The Apostles Braai. Set amid lush indigenous gardens at the rear of the hotel, this beautiful light-filled events venue offers sea and sunset views, as well as vistas up to the rugged peaks in the Table Mountain National Park for which our hotel is named.
It's a striking space of mirrored walls and picture windows letting natural light and panoramic views wash in. A handcrafted Murano glass chandelier hangs above and handblown Biot glassware from Provence graces the tables.
The Apostles Grill can host up to 32 guests, and caters for private functions, themed events and unique culinary occasions, from a wine pairing dinner with our sister-vineyard Bouchard Finlayson to an intimate wedding or family gathering at the foot of Table Mountain.
Inspired by South Africa's love affair with barbecue-style cooking – a braai, as the locals call it – the menu at The Apostles Grill evolves with each unique event, but is built on a foundation of flame-grilled fare cooked al fresco on the terrace, celebrating seasonal produce and the Cape's bountiful seafood.
Show More
Show Less