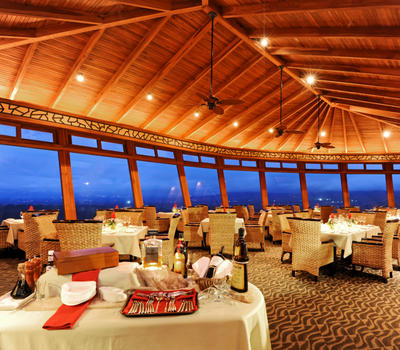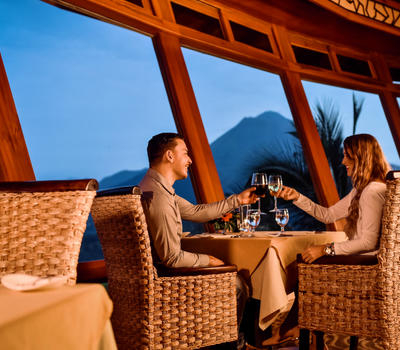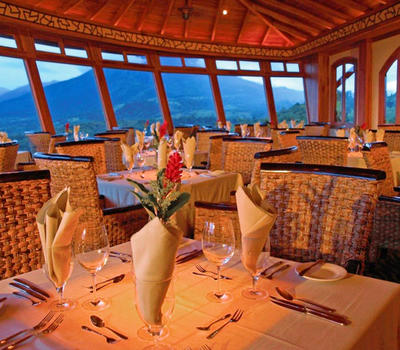 Dinner 6:00 PM to 10:00 PM
*Reservation Required
Enjoy fine dining, ambiance and world class service at our Las Ventanas Restaurant where the only thing better than the view is the food. Our award-winning Chef has created a menu blending the latest fusion concepts with the finest ingredients found on Costa Rica's farms and in its two oceans. The menu is a well-balanced selection of prime beef, seafood, pork, and homemade pasta as well as vegetarian fare. The heavenly desserts are prepared using traditional Spanish cooking methods with the natural fruit flavors of Costa Rica. Our Sommelier will be pleased to assist you in pairing fine wine selections with your menu choices.
Show More
Show Less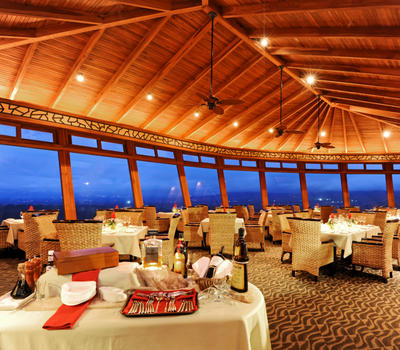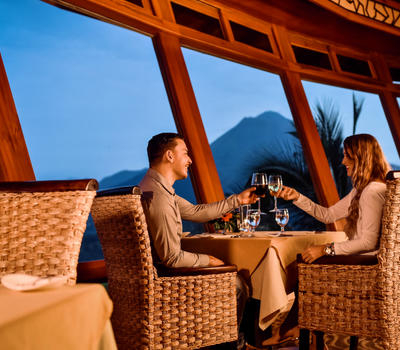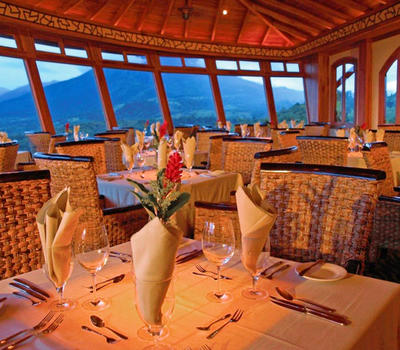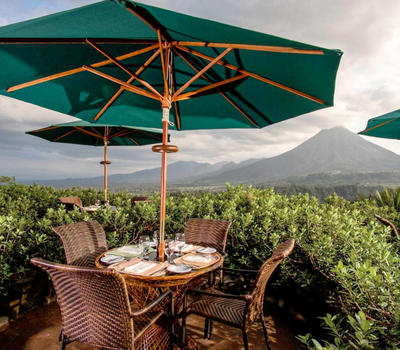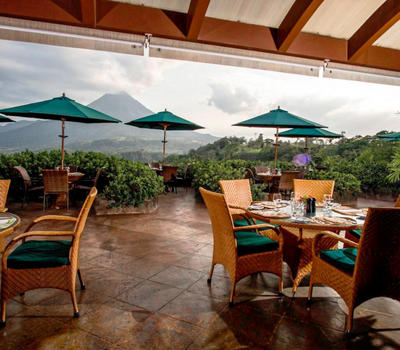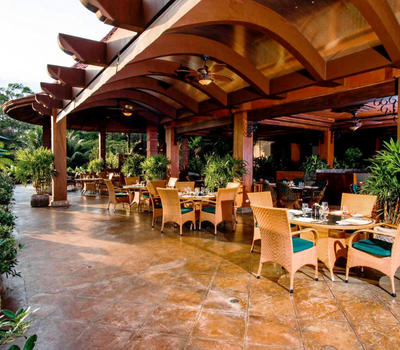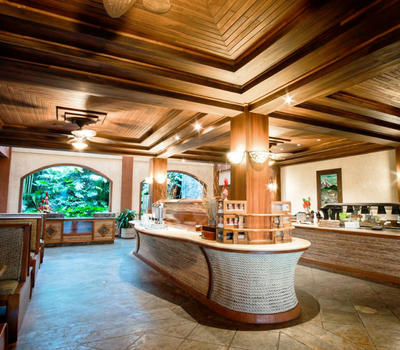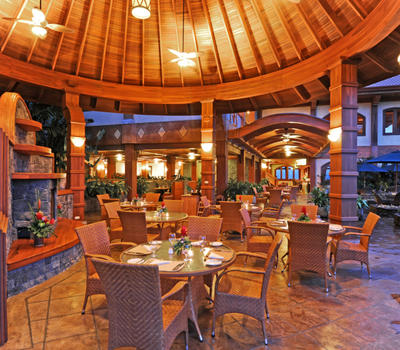 Breakfast 6:30 AM to 11:00 PM
Lunch 11:00 AM to 5:00 PM
Dinner 5:00 PM to 10:00 PM
Tres Cascadas serves breakfast, lunch and dinner and has an upscale Café-style menu with a casual open-air ambiance. During the day the terrace affords a fantastic view of the Arenal Volcano and the Arenal River Valley and at night the lights of the small towns can be seen twinkling on the mountains in the distance.
Our breakfast buffet includes traditional Costa Rican fare such as Gallo Pinto and Plantains as well as fresh-baked breads and bagels, an omelet and pancake station, a fresh juice station and a variety of seasonal fruits and cereals.
The lunch menu offers traditional dishes like Arroz con Pollo, Enchiladas, Tacos, and Quesadillas along with Sandwiches, Prime Burgers, Pastas and our expansive collection of Salads with signature house-made dressings and your choice of Seafood, Chicken or Beef.
For dinner the menu expands by offering more international flavors including Prime Steaks, House-Made Italian pastas, Pizza, Local Seafood and some Asian choices.
We offer a wide selection of Vegetarian, Vegan and Gluten Free options for every meal.
Show More
Show Less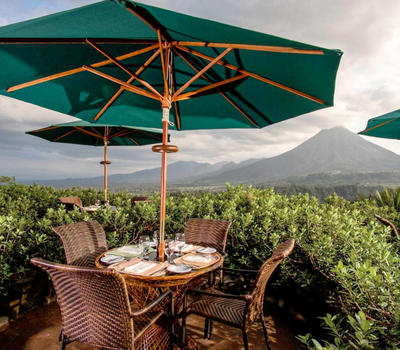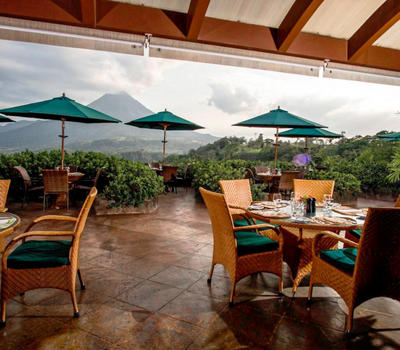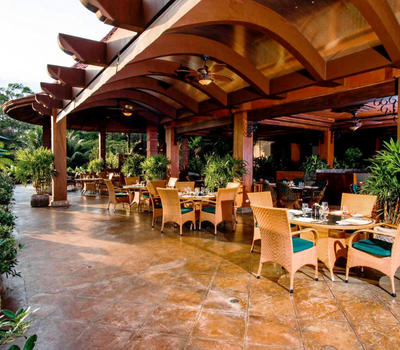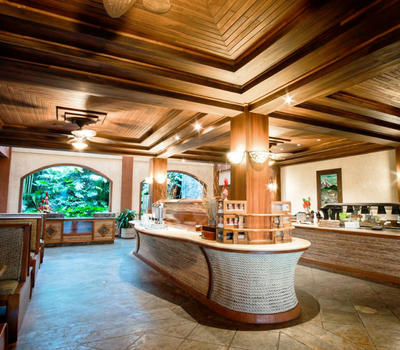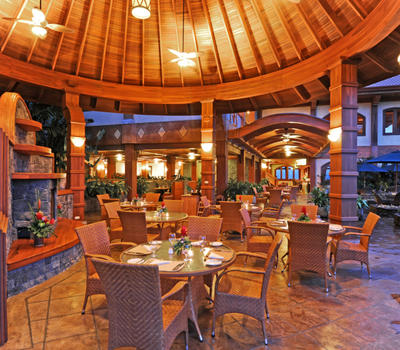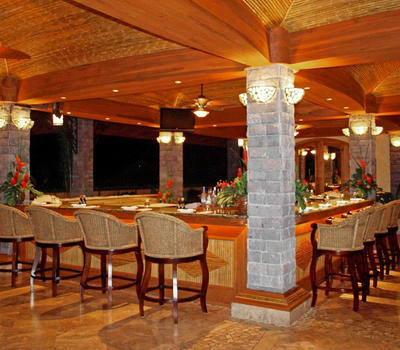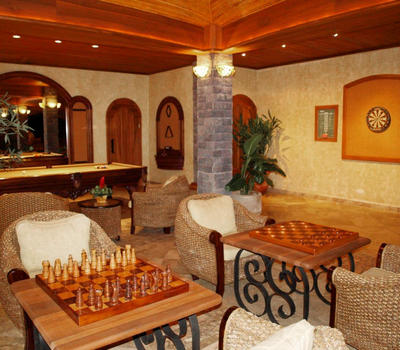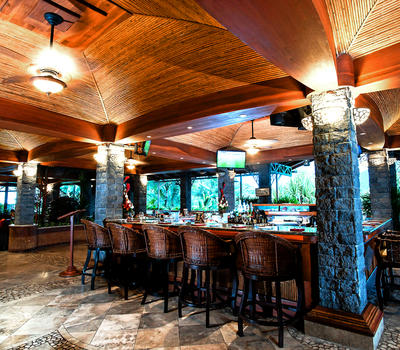 Open 3:00 PM to 10:00 PM
Menu Service from other Restaurants Provided
Our fresh fish arrives straight from Costa Rica's fertile fishing grounds on both the Atlantic and Pacific Oceans, where they consistently catch Yellowfin Tuna, Mahi Mahi, Wahoo, Sea Bass, Snapper and Shrimp. Our Sushi Chefs have redesigned some of the classic Japanese favorites by adding local tropical flavors and spices to their rolls, soups and salads. We are proud to say that our Ginger Sushi Restaurant is rated one of the best in Costa Rica. The bar at Ginger Sushi becomes the "Place to Be" after dinner when guests gather for cocktails and socializing while the kids enjoy the Game Room and Billiards Lounge on the same level.
Show More
Show Less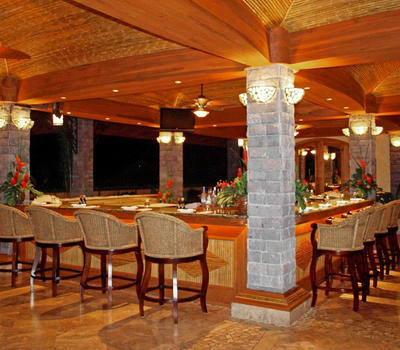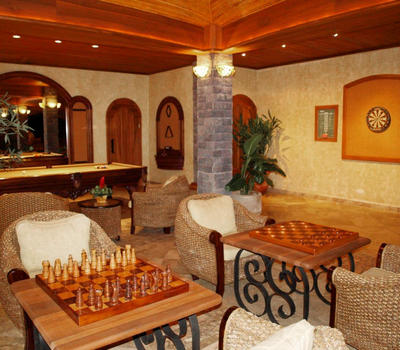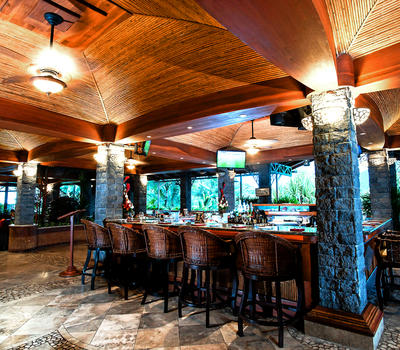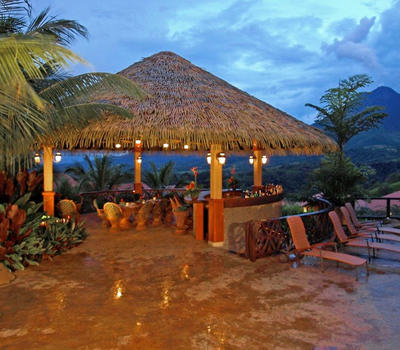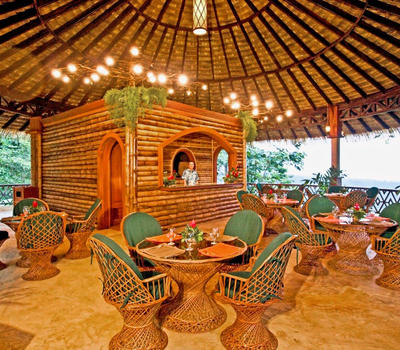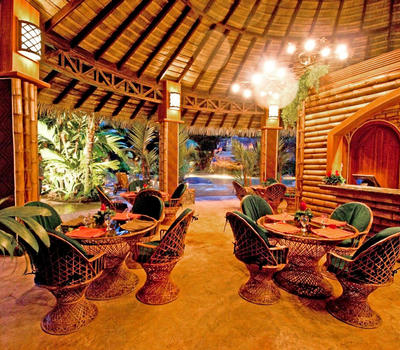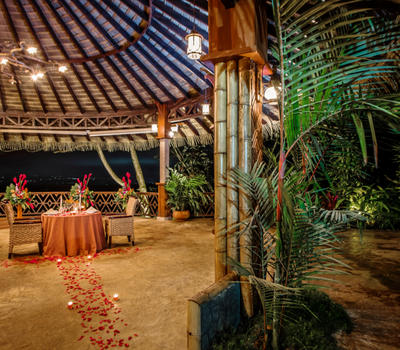 Open 11:00 AM to 4:00 PM
This poolside grill derives its name from its spectacular location perched on a cliff overlooking the tree canopy and the valley that falls thousands of feet to the river below. The prevailing breezes afford a comfortable temperature and the wildlife viewing is fantastic. It is just steps away from Cascadas Calientes Hot Springs with a great view of those waterfalls. Bathing attire is not only permitted, it's suggested. The Treetops menu is also served at Las Lagunas Swim-Up Bar and if you don't want to leave the comfort of your poolside chaise lounge, we will bring the menu and your meal directly to you.
The menu selection includes local favorites like Street Tacos, Burritos, Shish Kebab, fish, chicken sandwiches and burgers. There are also a number of appetizers like nachos that are perfect for a poolside snack.
Show More
Show Less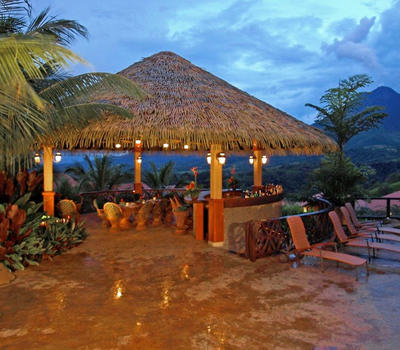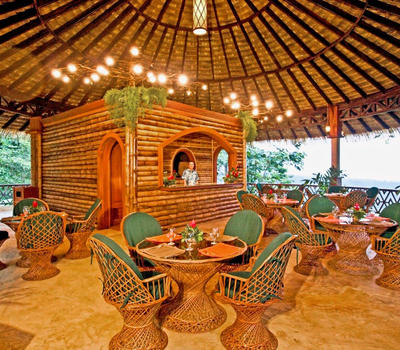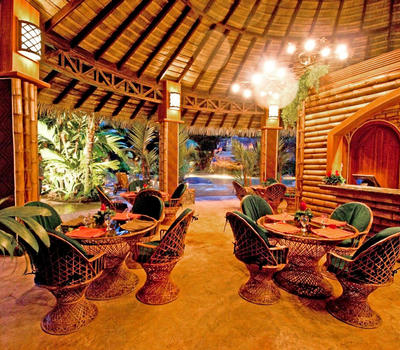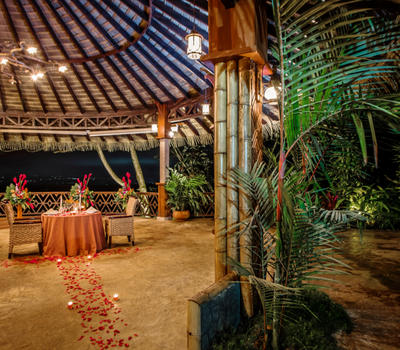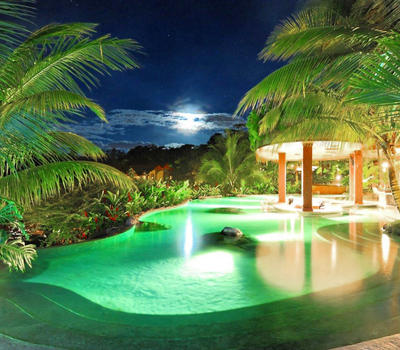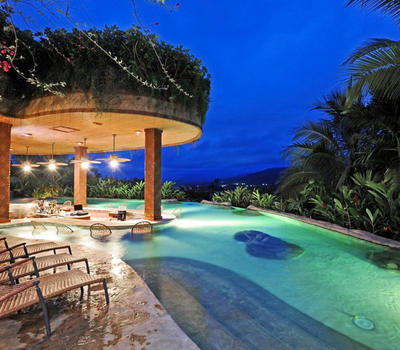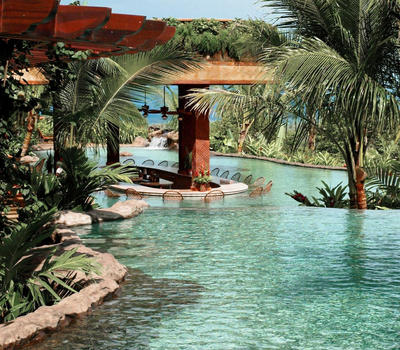 Open 10:00 AM to 10:00 PM
Located in the center of our largest pool named La Laguna (The Lagoon), this is our ever-popular swim up bar. This central pool is surrounded by lush landscaping and has infinity edge waterfalls fronting the volcano and multiple waterfalls. Another unique feature of this bar is the warm curtain of micro-bubbles emanating from its base that creates the sensation of sitting atop a flowing spring.
This bar features multiple TV's and is ideal for relaxing with a cocktail during major sporting events.
Show More
Show Less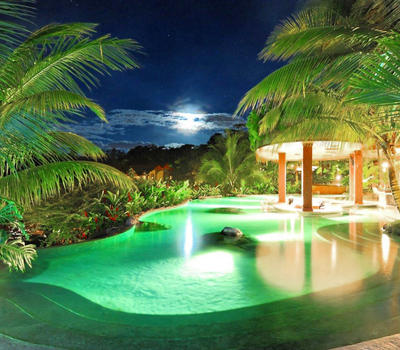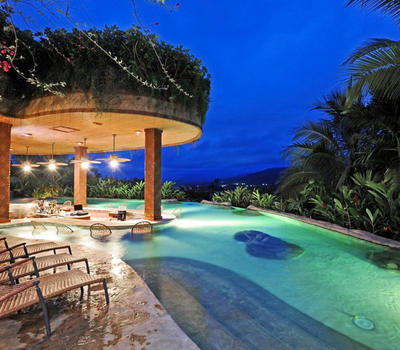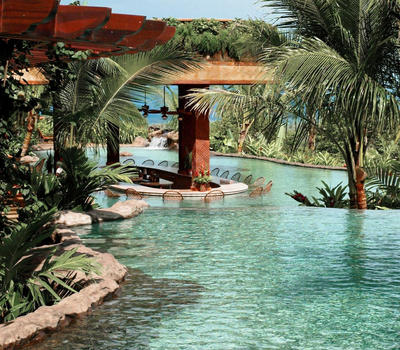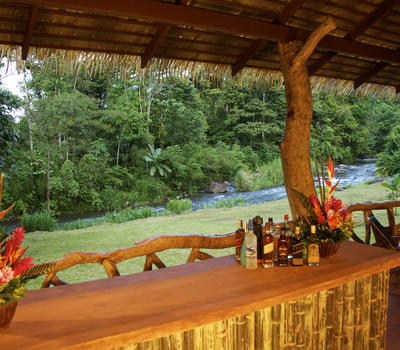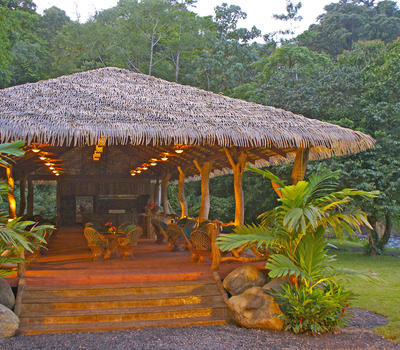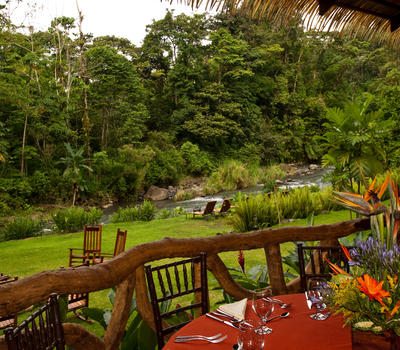 Rancho Club Rio Restaurant and Bar
Restaurant Hours: 11:00 AM to 4:00 PM Bar Hours: 10:00 AM to 4:00 PM
Rancho Club Rio is the restaurant, bar and function space for Club Rio Adventure Center so that you can grab lunch, a snack or a beverage before, during, or after your visit or activity. Dining areas with forested river views are very rare in Costa Rica, and this special location is blessed to be just steps away from the river, hot springs and beneath the towering canopy of rainforest that extends up the sides of the river canyon. This open air, palm-thatch rancho offers native specialty dishes such as Fresh Ceviche, Guava Churrasco Steak, and Arroz con Mariscos for a traditional Tico dining experience and burgers, sandwiches and snacks as well. There is nothing better than relaxing at this bar after an adrenaline-filled activity and enjoying the serene view of the river rapids and the surrounding forest.
Show More
Show Less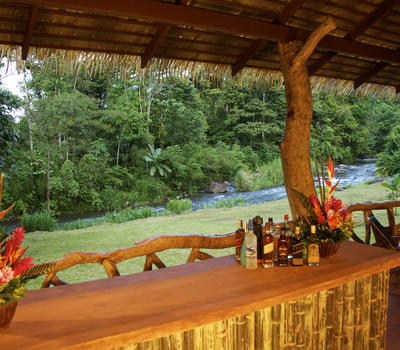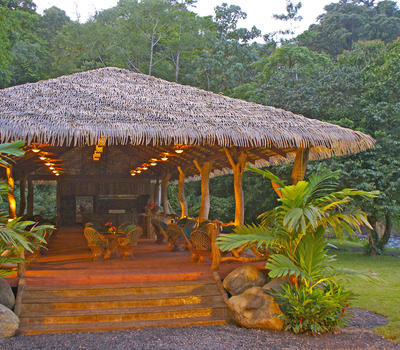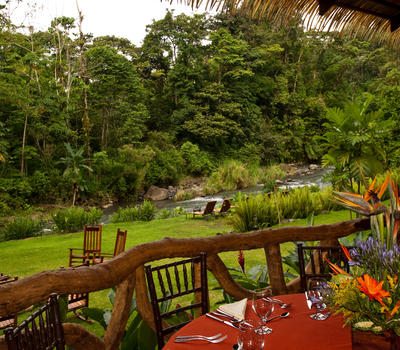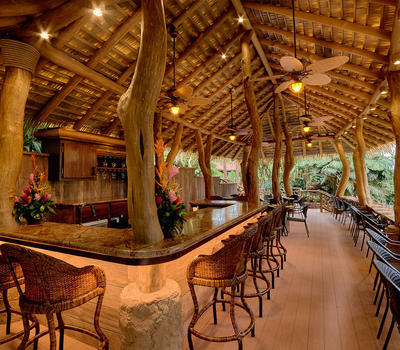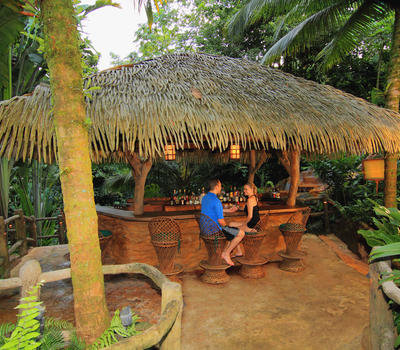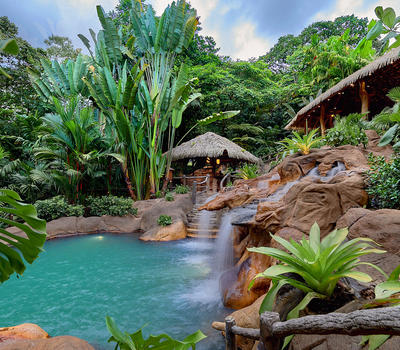 Los Perdidos and Los Palos Bars
Open 12:30 PM to 8:00 PM
Located at the nexus of the trails within Perdido Springs (Lost Springs), Los Perdidos is a rustic palm thatch jungle bar that is surrounded by hot spring waterfalls on three sides and rainforest on the other. Los Palos is a larger bar with a Volcano View and table seating overlooking the aquamarine waters of Piscina Celeste and the Monkey Slide. There is also waiter service to all seven of the Perdido Springs Pools from this bar.
Show More
Show Less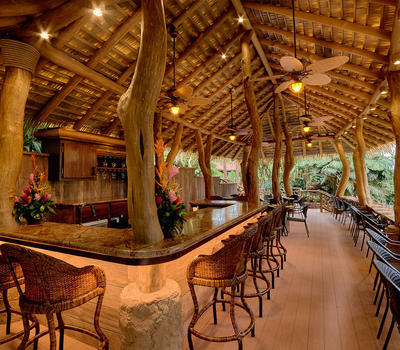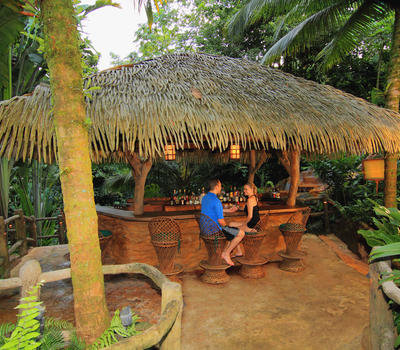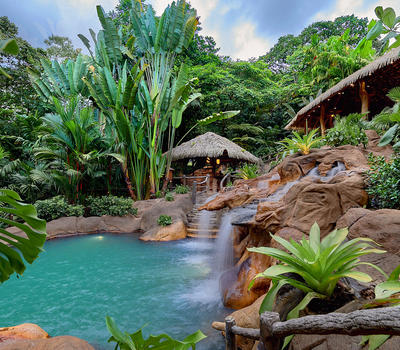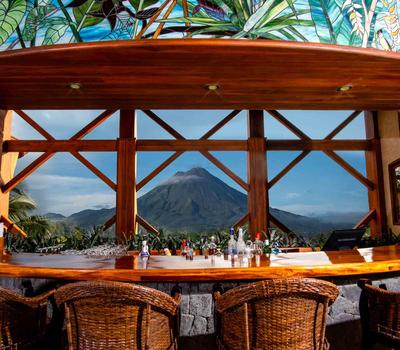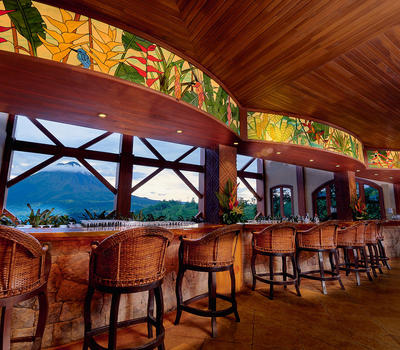 Open Noon to 10:00 PM
Located on the fourth floor of the reception between Las Ventanas and Tres Cascadas, this bar is perfect for a relaxing drink before or after dinner or for an afternoon cocktail. The seating presents a magnificent view of the volcano and please take the time to check out the beautiful stained glass art pieces above the bar featuring many of the species of heliconia flowers found on the property.
Show More
Show Less