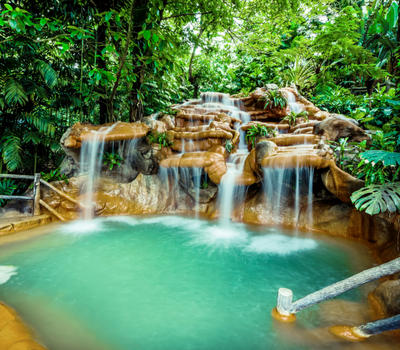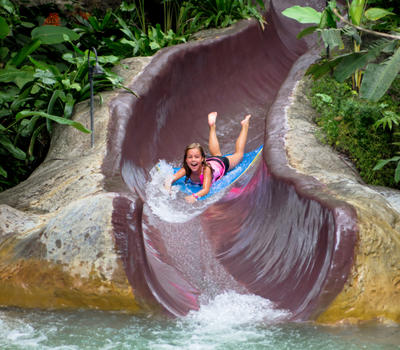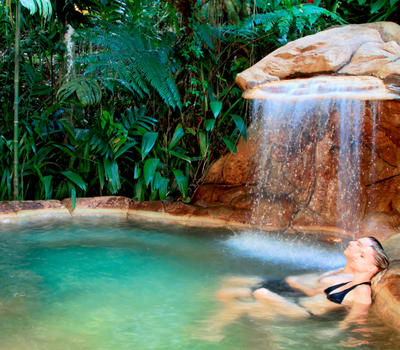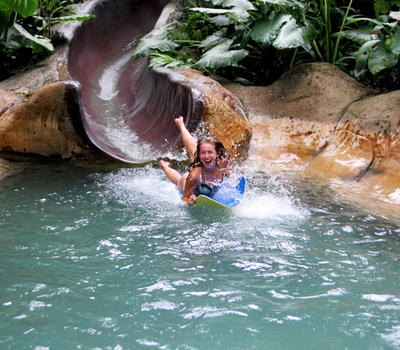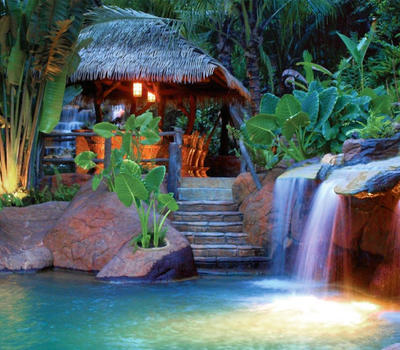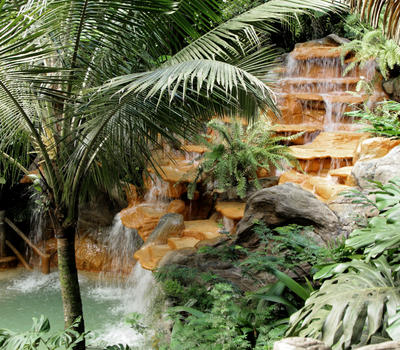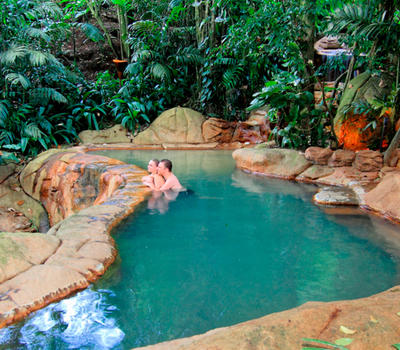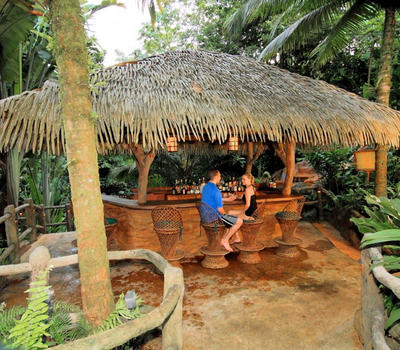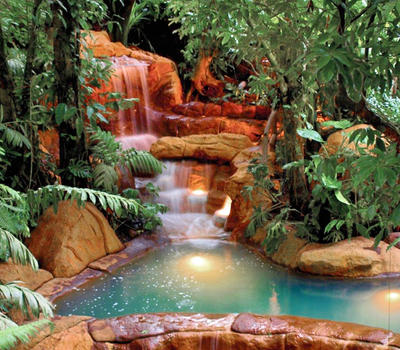 Perdido Springs
Open from 10:00 AM to 10:00 PM
Monkey Slide Open from 12:30 PM to 8:00 PM
Perdido Springs (Lost Springs) is an interconnected system of forest trails and seven spring-fed pools located within a forest canyon just a short 100-meter walk from the lowest level of the Las Lagunas pools. At the heart of these flowing pools you will find Los Perdidos Bar (The Lost Ones) and Rancho Perdidos Bar along with our thrilling water flume called the Monkey Slide. These pools range in temperature from 91˚F to 104˚F.
Show More
Show Less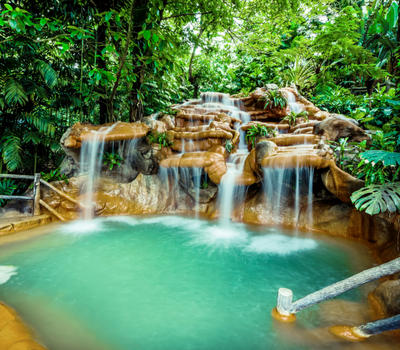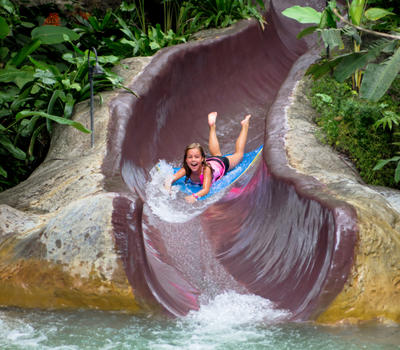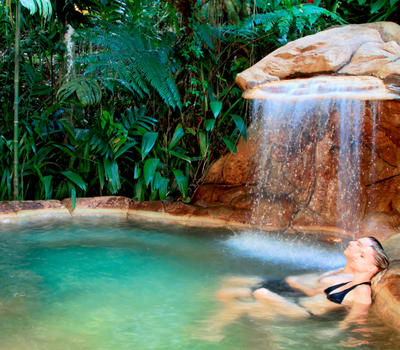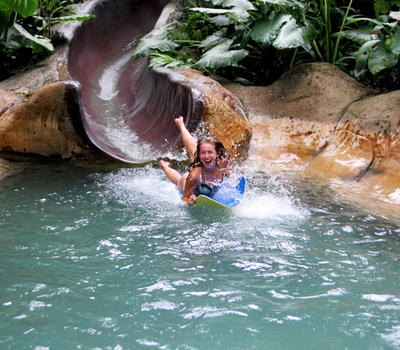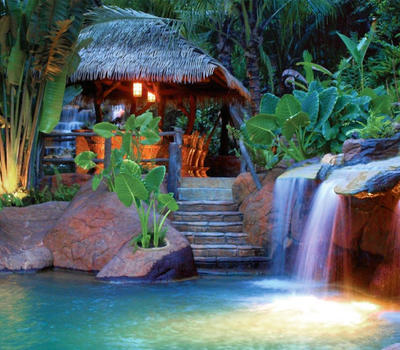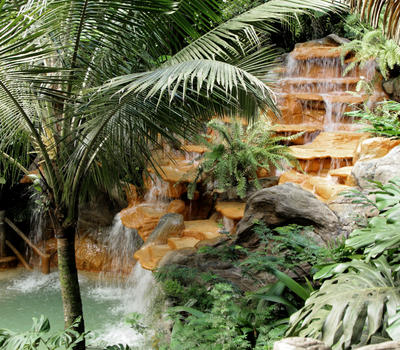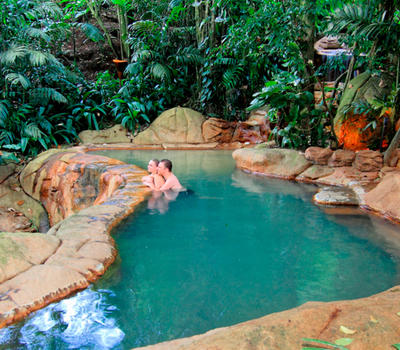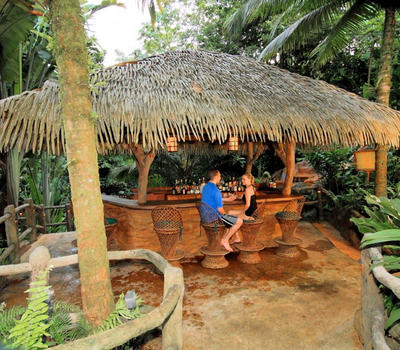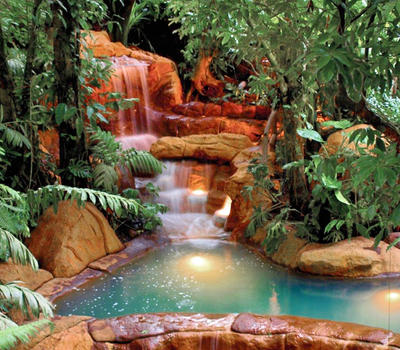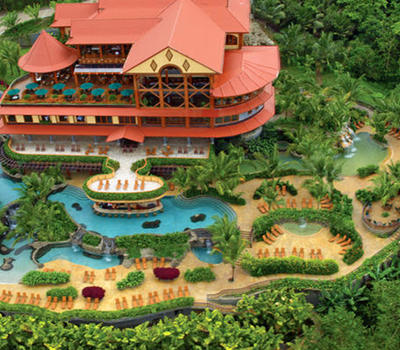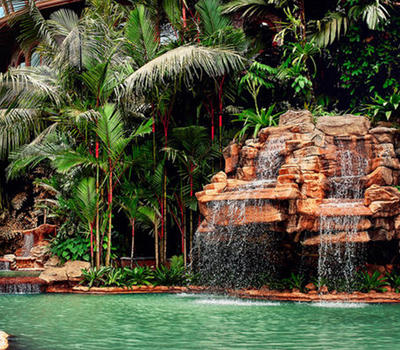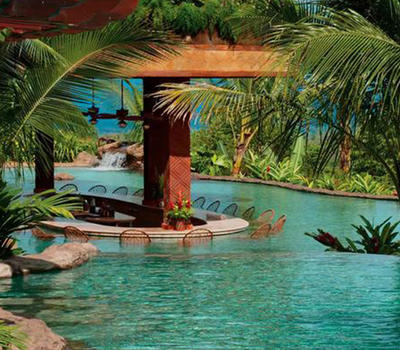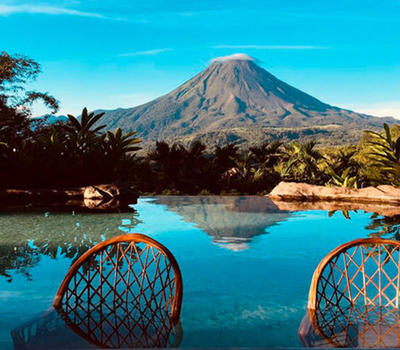 Las Lagunas Pools
Open from 10:00 AM to 10:00 PM
Located at the base of the reception building, this enchanting montage of hot spring lagoons and chlorinated pools hosts our ever popular Las Lagunas Swim-Up Bar where you can enjoy a delicious tropical drink and a great view of the Volcano. In this area you can explore two acres of lush landscaping and an assortment of multi-level sun and shade terraces surrounding twelve pools all with cascading waterfalls. Eight of the pools are fed directly by our hot mineral springs and the other four are chlorinated but heated to comfortable temperatures for those hot, sunny days. These pools range in temperature from 86˚F to 103˚F.
Show More
Show Less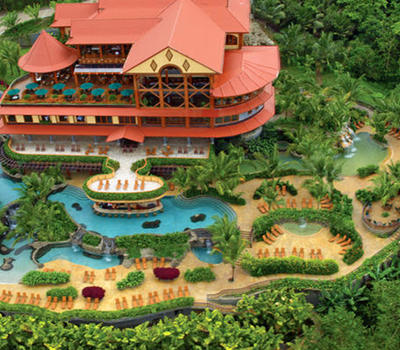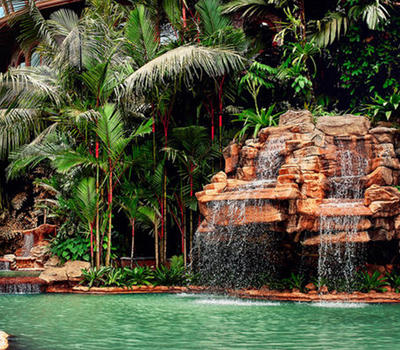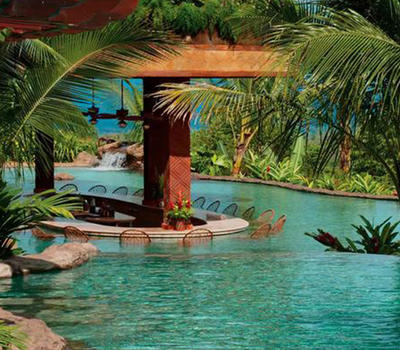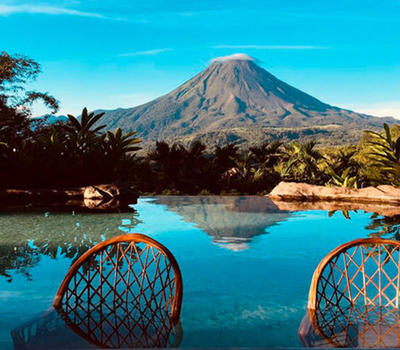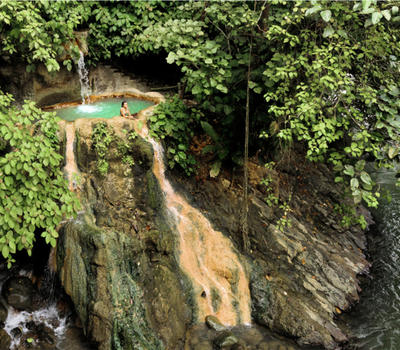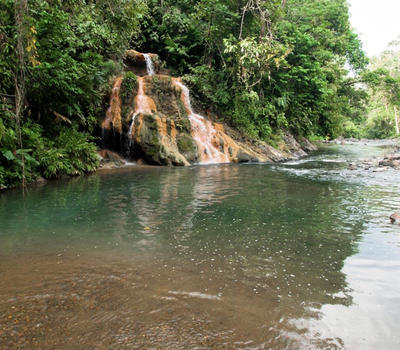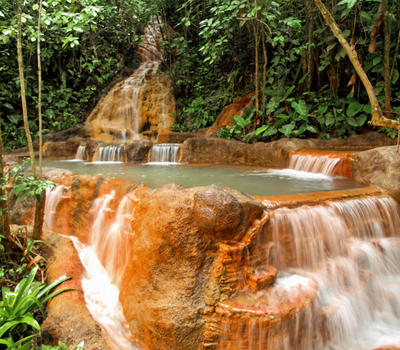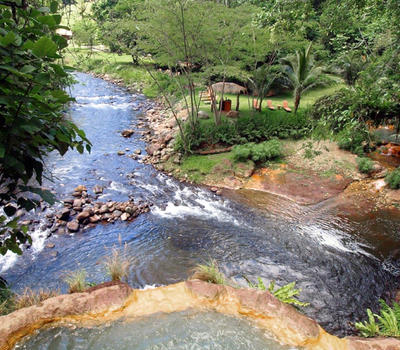 Club Rio Springs
Open from 10:00 AM to 4:00 PM
We highly recommend you visit the Hot Springs at Club Rio Adventure Center. They are truly some of the most beautiful spring pools in the world, and most of them border the river, allowing for amazingly scenic views of the flora and fauna of the river canyon. It is a spiritual event just walking through the towering rainforest by the river's edge and finding flowing hot spring pools around every turn in the trail. You don't want to miss the crystal blue water of our famous Ojo del Agua (Eye of the Water) spring where you can feel the hot mineral water and bicarbonate bubbles flowing through your toes from the depths of the earth beneath you.
Show More
Show Less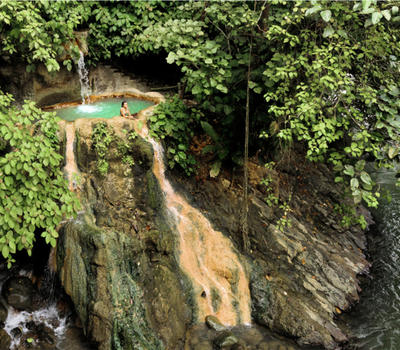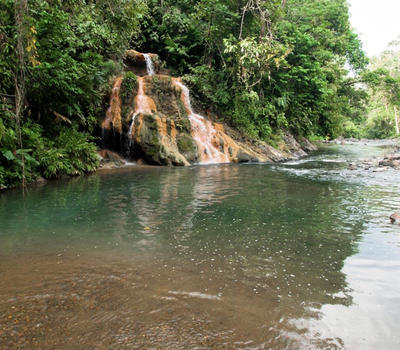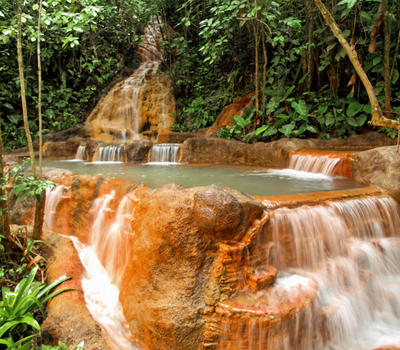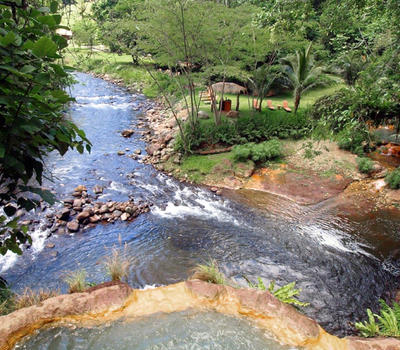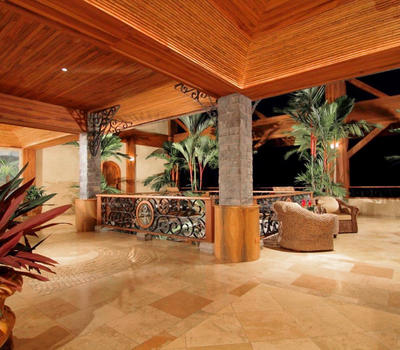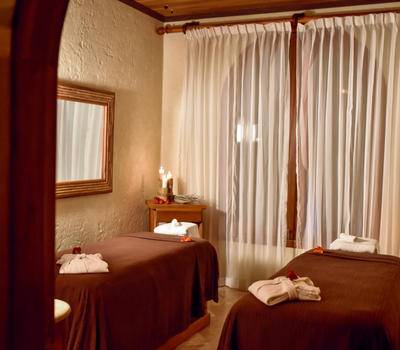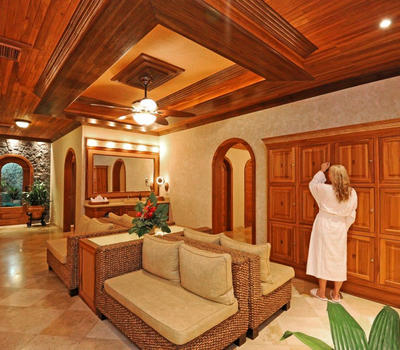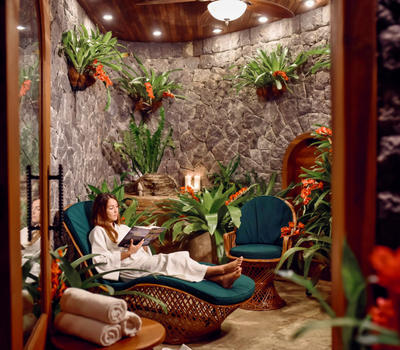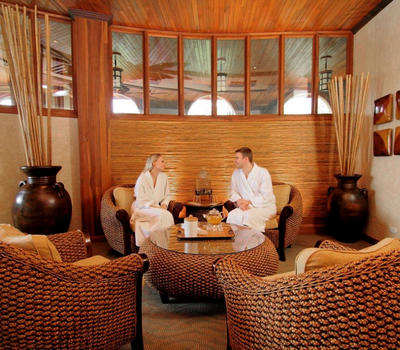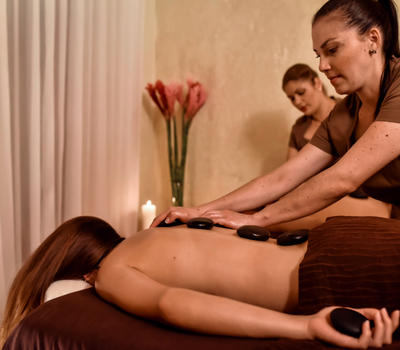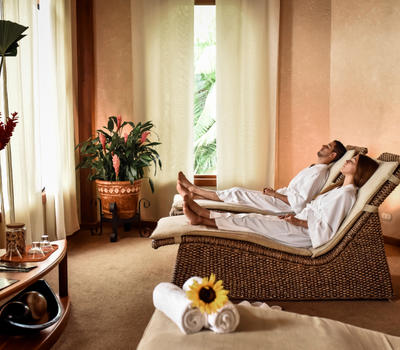 A Special Place that Connects the Elements of Life
Breathe deeply and feel the nourishing effects of the fresh oxygen exhaled from the thriving flora that surrounds you. These rainforests are the lungs of the planet and they cleanse and generate the essential life elements of air and water while deep beneath the earth's surface the fiery magma meets water and sends steam through the strata of rock, clay and minerals to bring the core elements of the planet to the surface for the first time right here on the property of The Springs Resort & Spa. At The Sanctuary Spa we take these natural gifts from our own thermal mineral springs and offer them to our guests through therapies designed to enhance beauty, energy, vitality and balance.
Our fourteen thousand square foot full service luxury Spa encompasses one entire level of our reception building and reflects our serious commitment to provide a complete treatment experience to replenish your mind, body and soul making us the leading spa retreat in Costa Rica. Massages, facials, body wraps, manicures and pedicures are offered in a luxurious and holistic setting administered by trained professionals with the latest technology.
Show More
Show Less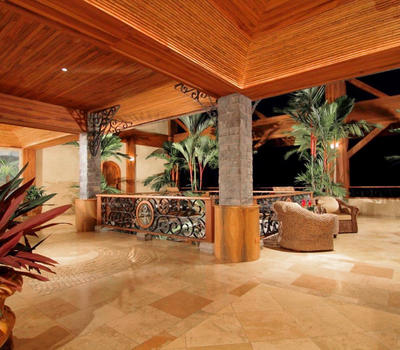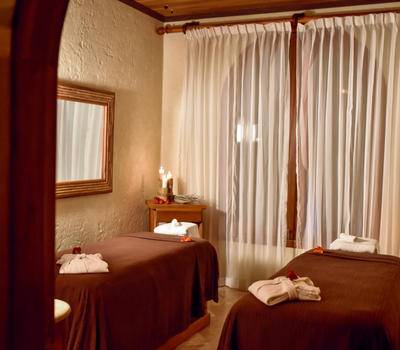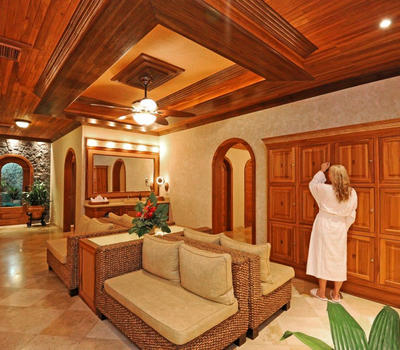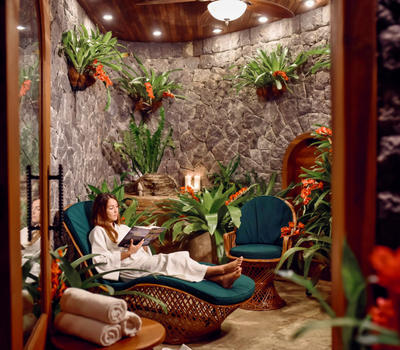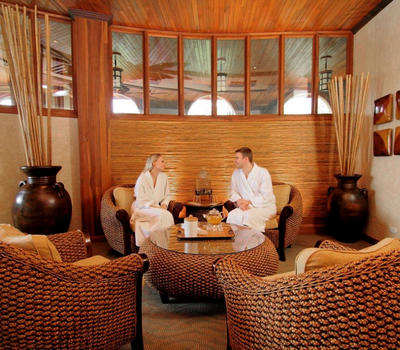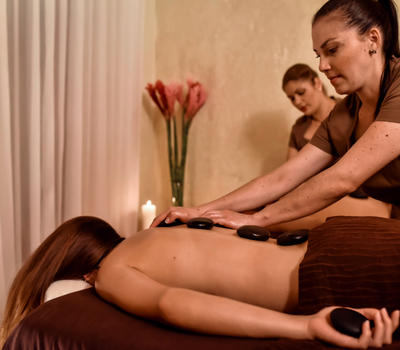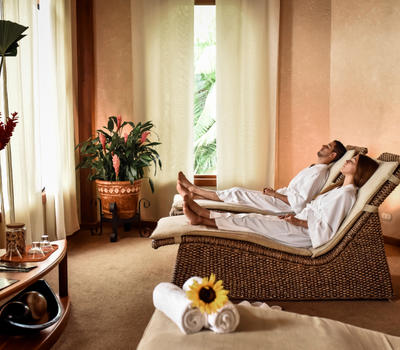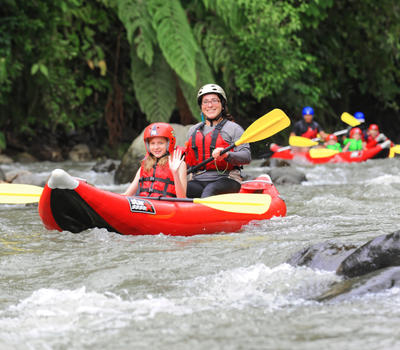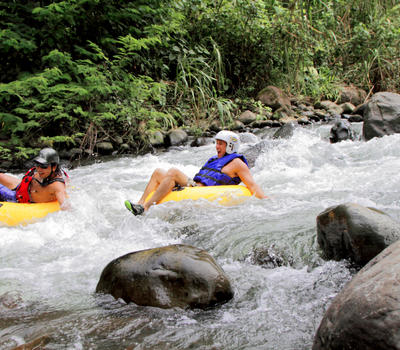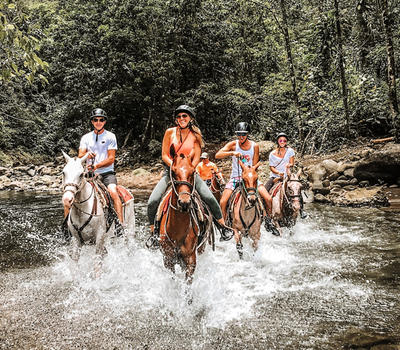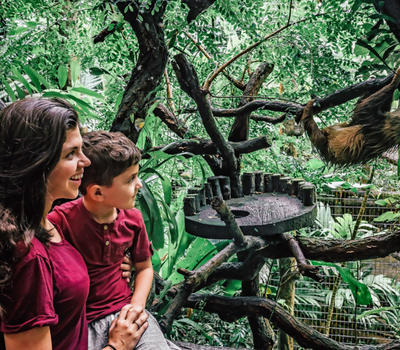 WELCOME TO CLUB RIO ADVENTURE CENTER
EIGHT INCREDIBLE ADVENTURE TOURS IN ONE PLACE
Only at The Springs Resort & Spa
Club Rio Outdoor Center is located directly below the resort along our beautifully forested, mile long stretch of Arenal River frontage. With its eight different soft adventure activities, Club Rio is perfect for all ages and is a "Must See" area of the resort. The fact that all of these activities are offered in one location and on-site is a fantastic amenity for our guests. Some of these tours and activities include River Tubing, Inflatable River Kayaking, Horseback Riding, Rock Climbing and Rappelling, Nature Tours, Hot Springs, and River Fishing. Before and after the scheduled tours, we encourage our guests to walk the hiking trails leading to secluded, natural hot springs just feet away from the river's edge.
Club Rio also features Arenal's finest animal sanctuary. In conjunction with the MINAE (Ministry of Environment and Energy) we operate a preserve for Costa Rican wildlife that have been confiscated from poachers or donated by other private reserves, rescue centers or individuals. Our Wildlife Sanctuary Tour gives our guests the opportunity to experience a large array of Costa Rican wildlife living in beautiful, natural habitats all in one easily accessible location.
EIGHT ADVENTURES, RIGHT ON-SITE, AND A "MUST SEE" AMENITY OF THE RESORT!
Located below the main resort on our private stretch of the Arenal River, Club Rio Outdoor Center offers River Tubing, River Kayaking, Horseback Riding, Climbing and Rappelling Wall, Animal Sanctuary, Guided Nature Hikes, Fishing and Hot Springs. We highly recommend that you take our shuttle bus and come see the beauty of this place. You don't have to book a tour to enjoy Club Rio because there is a lot to see and experience by just walking around and lounging in the Hot Springs, and then you can see the various tours in action. Please bring your bathing suit and horseback riding clothes when you come down because we are sure that you will want to book some of the tours while you are there. No visit to The Springs Resort & Spa is complete without the Club Rio Experience!
Show More
Show Less