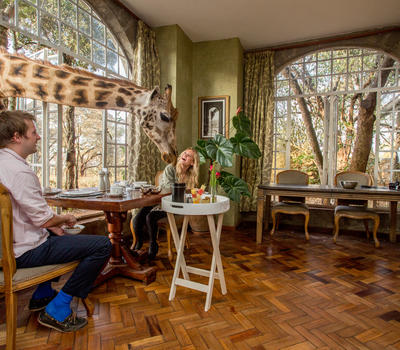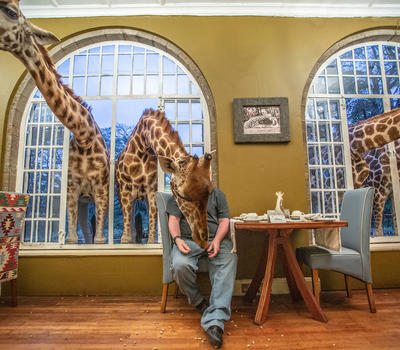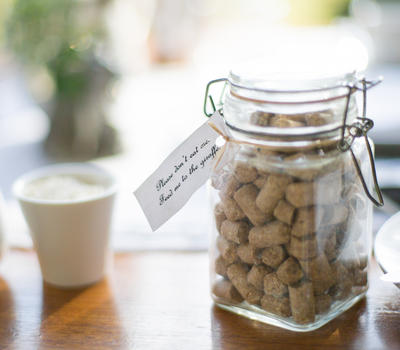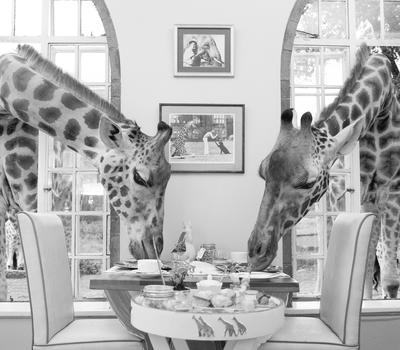 Waking up to breakfast with a giraffe is a unique and unforgettable experience. Depending on where you are staying, you will have breakfast either in the main manor or in the Garden Manor breakfast room, but don't worry, the giraffes know exactly where to find you! Watch out for their long inquisitive tongues as they investigate what's on offer; luckily, it's nutritious dried pellets of grass, molasses and corn that they're after, and not pancakes and bacon!
Show More
Show Less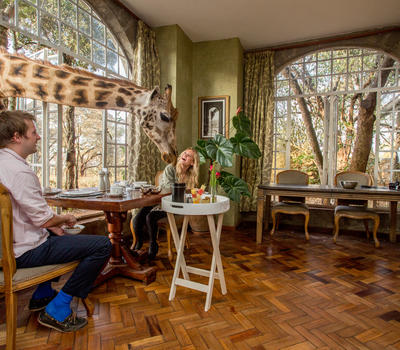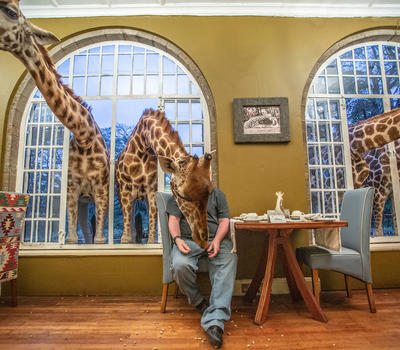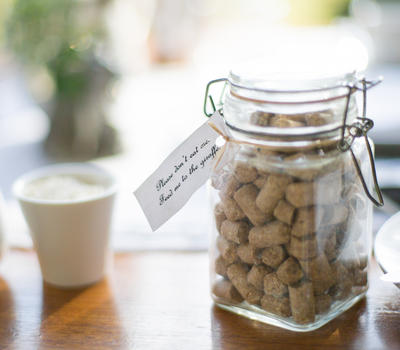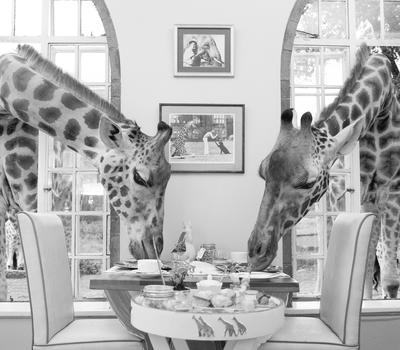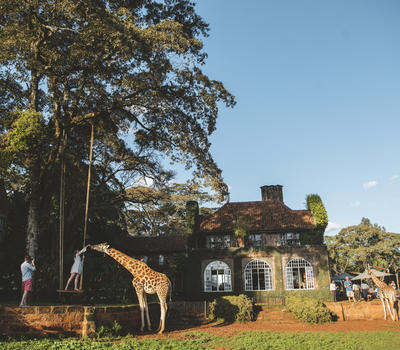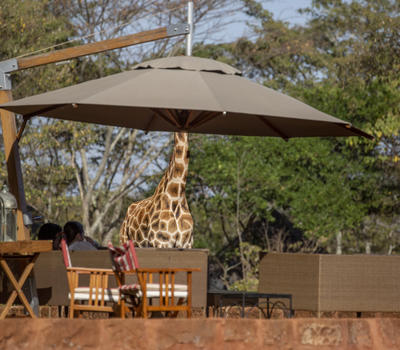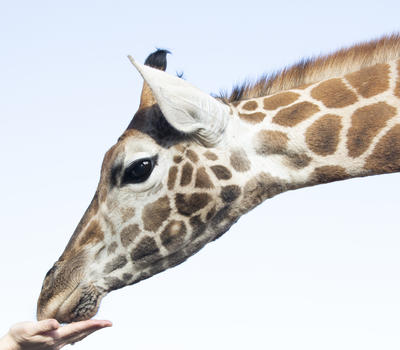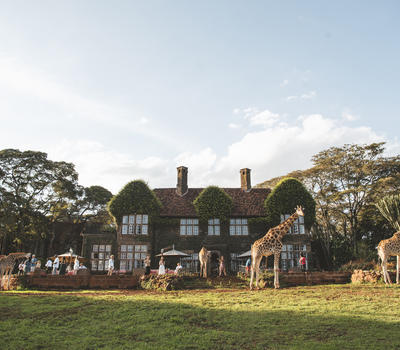 AFTERNOON TEA WITH GIRAFFES
A traditional afternoon tea at the manor is a delightful occasion not to be missed. Relax in the tranquil gardens with a giraffe or two in view, as you enjoy a tasty assortment of cookies, cakes, sandwiches, scones and fruit platters.
Show More
Show Less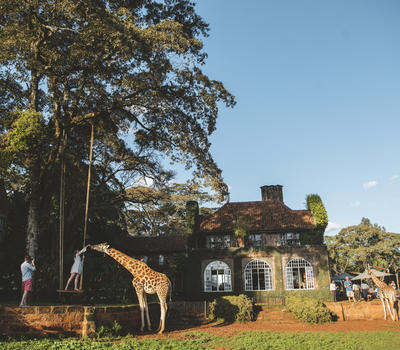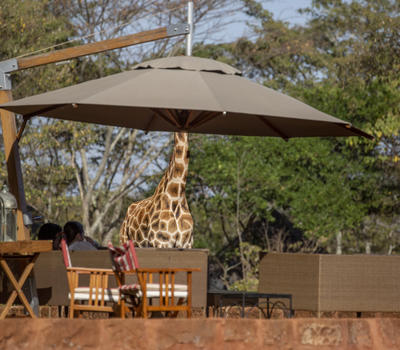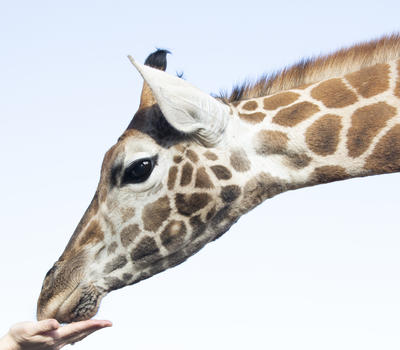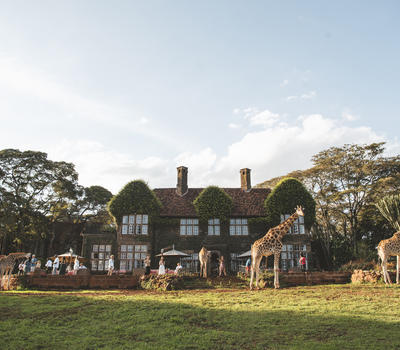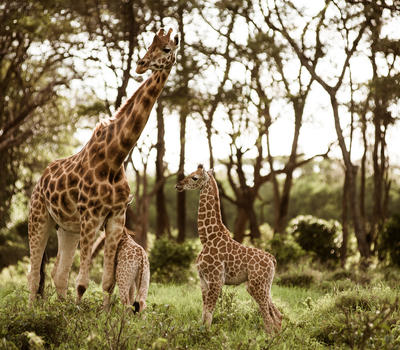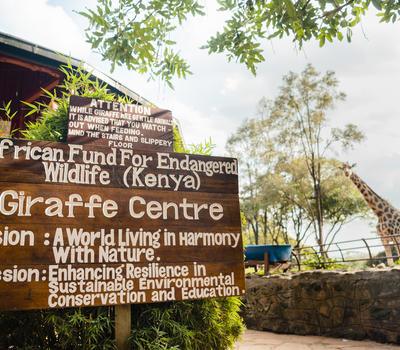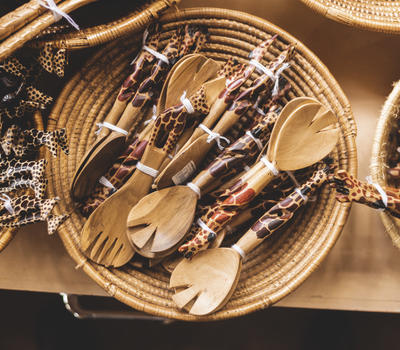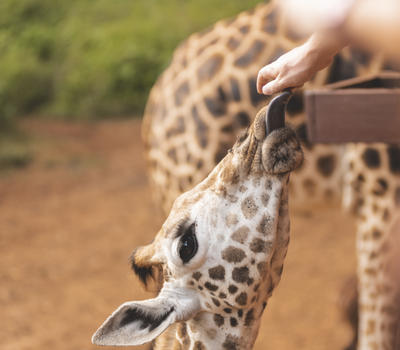 Included in your stay at the manor is access to the AFEW Giraffe Centre which is a gentle stroll across the front lawn of the house. The centre has some interesting background information about the rare Rothschild's giraffe and a small nature trail for stretching your legs.
Show More
Show Less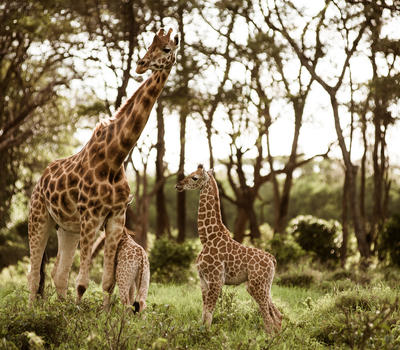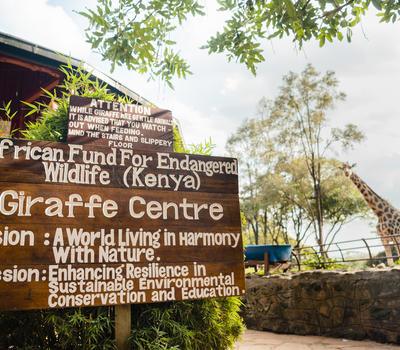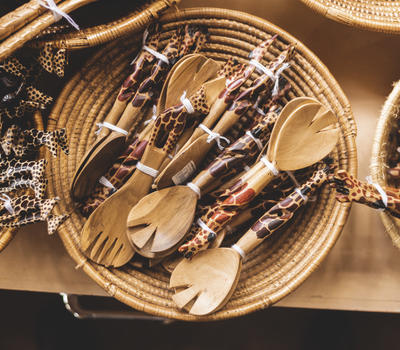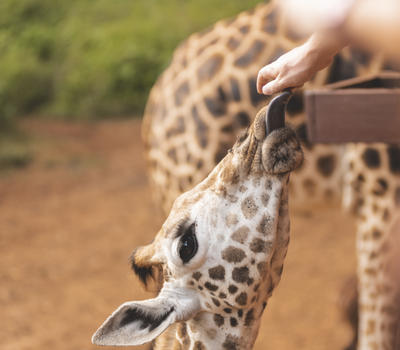 SWIMMING POOL AT THE RETREAT
Glide through our 21 metre infinity pool which looks out over the giraffe sanctuary. Our lovable herd of Rothschild's giraffes are able to wander up to the end of the pool, so you might have a long-legged spectator or two! The poolside deck with sun loungers is a lovely space for relaxation and listening to the birdsong floating down from the surrounding trees.
Show More
Show Less
SAUNA, STEAM, HOT TUB & GYM
Unwind after a long journey or at the end of an exciting safari adventure in our soothing spa area complete with a traditional sauna, steam room and bubbling hot tub for you to enjoy. You can also utilise the fully equipped gym that looks out onto the garden and has everything you need for a full-body workout.
Show More
Show Less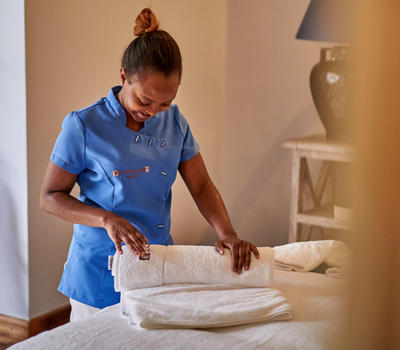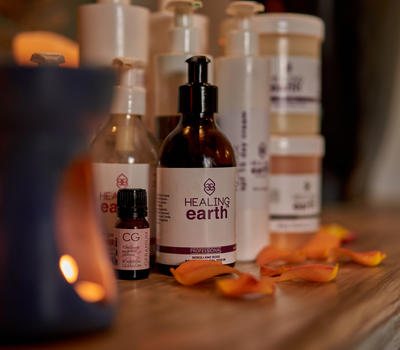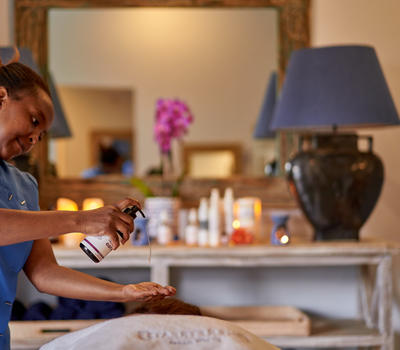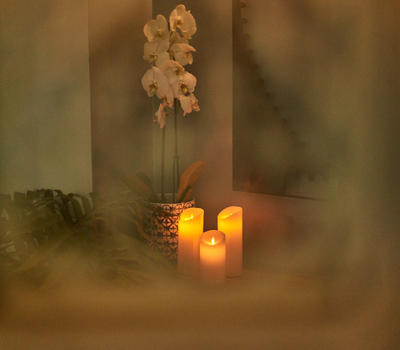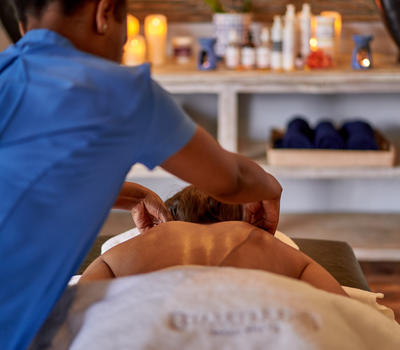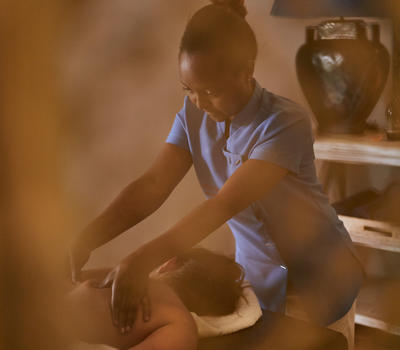 The Retreat's spa offers a range of massage and beauty treatments designed to restore your body's natural balance and soothe away your stress. We use products by Healing Earth, a premium organic brand inspired by ancient African healing traditions.
Show More
Show Less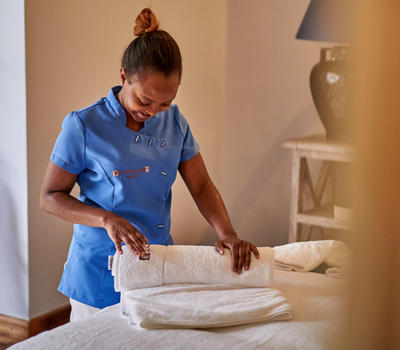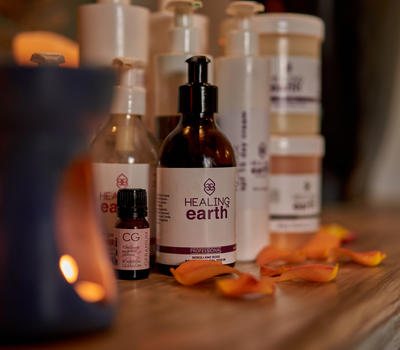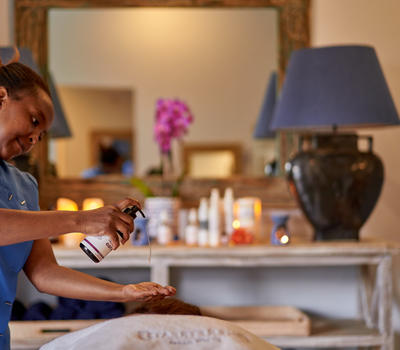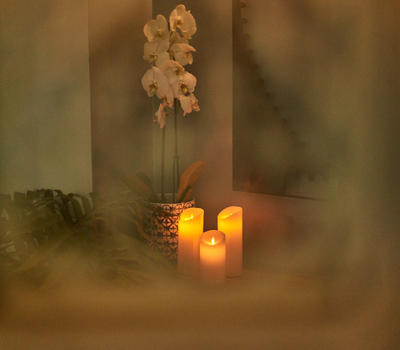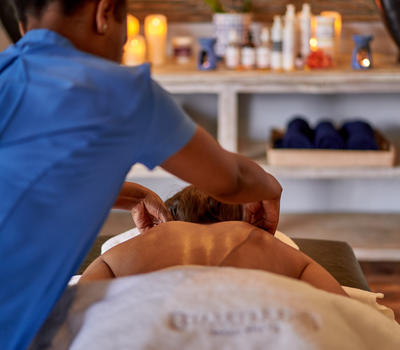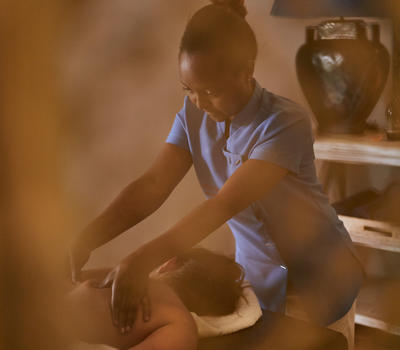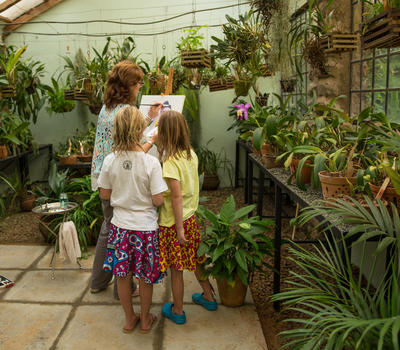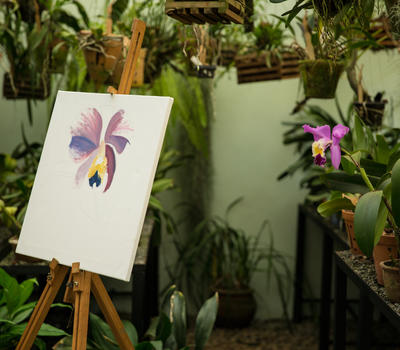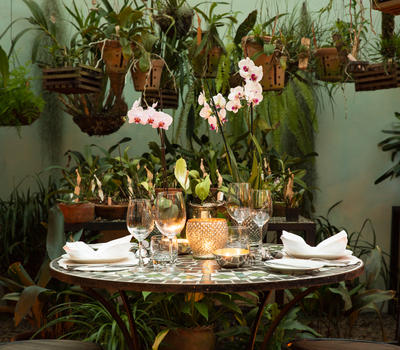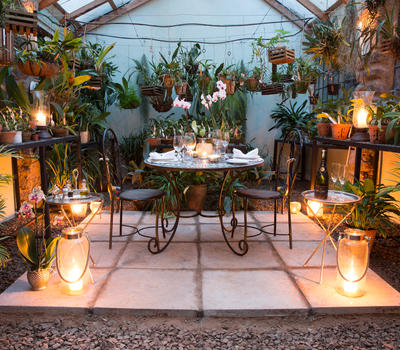 Fragrant and filled with light, the orchid house is a delightful hidden corner of the manor. Reading, meditating or sketching one of the 150 orchids that grow there can be a soothing escape. If a romantic, candlelit dining experience amongst the foliage appeals to you, then we would love to make it happen. Please note that this activity is subject to availability and may not always be possible.
Show More
Show Less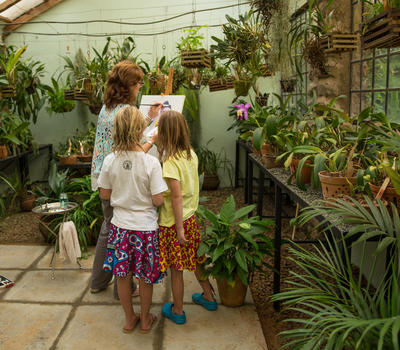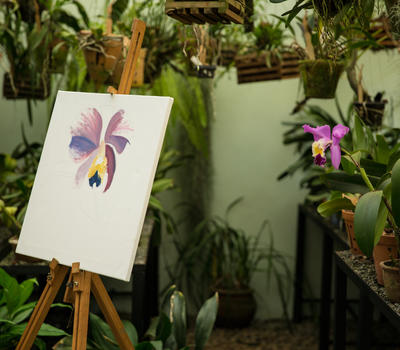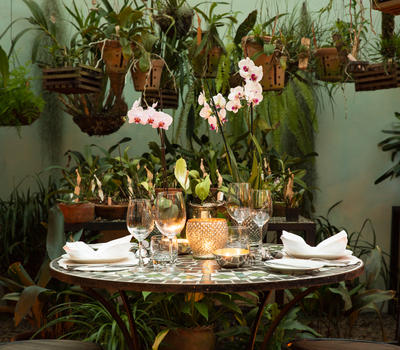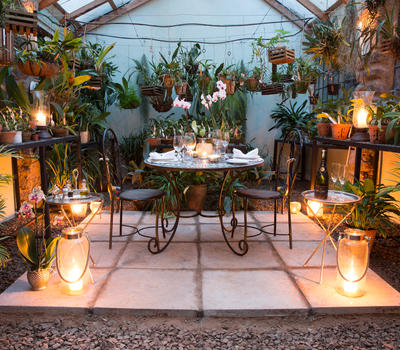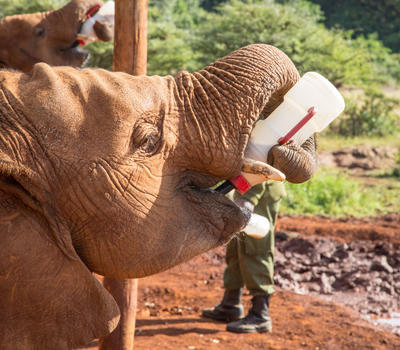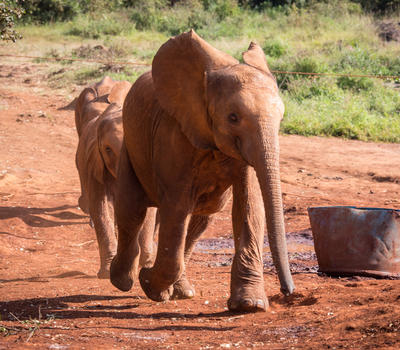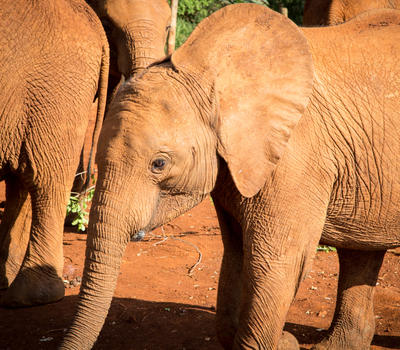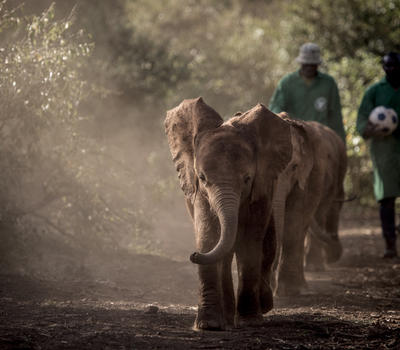 THE SHELDRICK WILDLIFE TRUST
Visit Sheldrick's Elephant Orphanage on the edge of Nairobi National Park where you can foster a baby elephant and watch the keepers feed and interact with them. Elephant adoption costs US$ 50 (per couple adopting) and foster parents are sent regular updates and photos of their elephant. Visiting hour takes place daily at 11:00 am and must be booked in advance via their website. Visiting requires a donation of US$ 15 per person over 12 years or US$ 5 for children under 12, payable on the day of your visit.
Show More
Show Less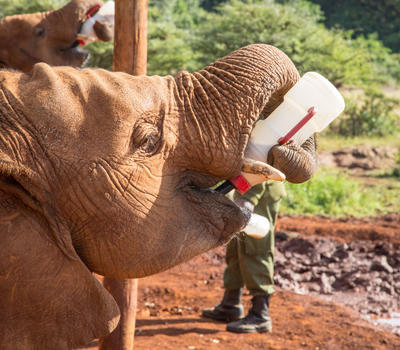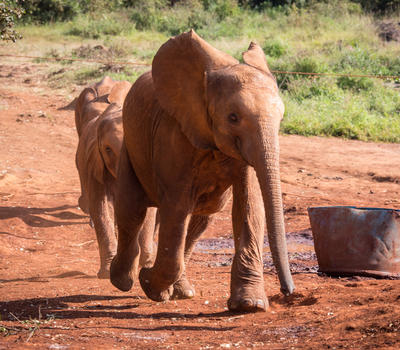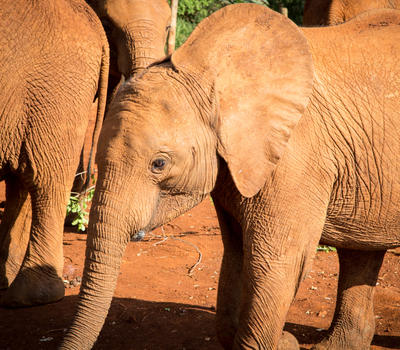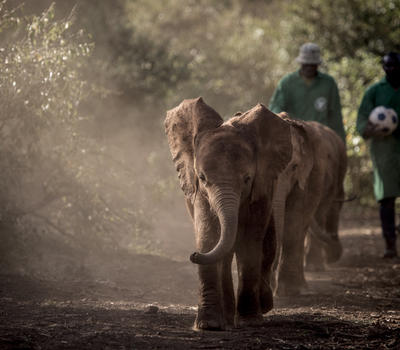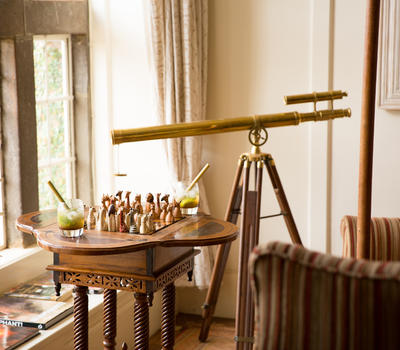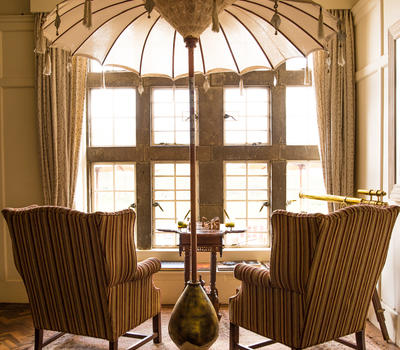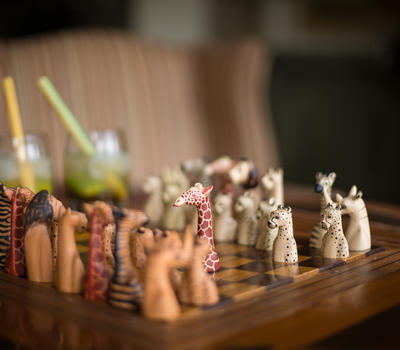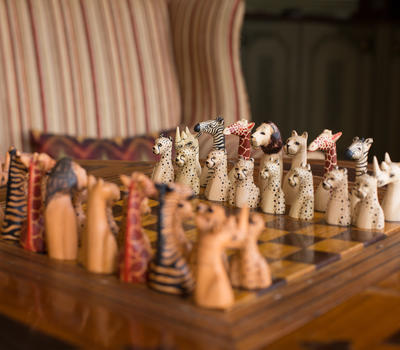 Enjoy a game of chess at any time. We have a lovely handmade chess board, which of course features giraffes, as well as lions, cheetah, zebras and rhinos in place of the traditional figures!
Show More
Show Less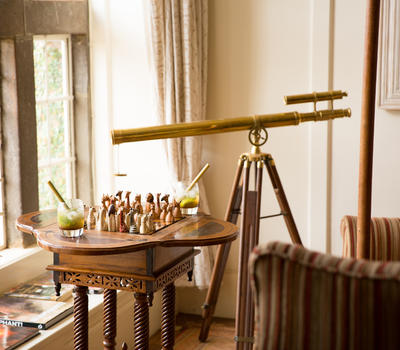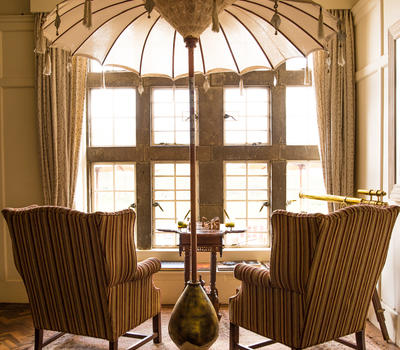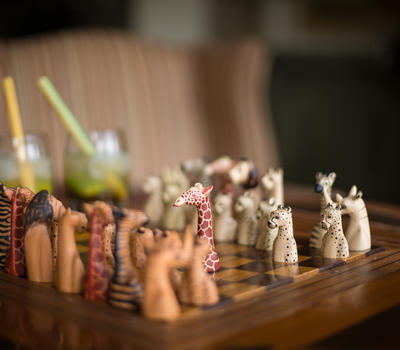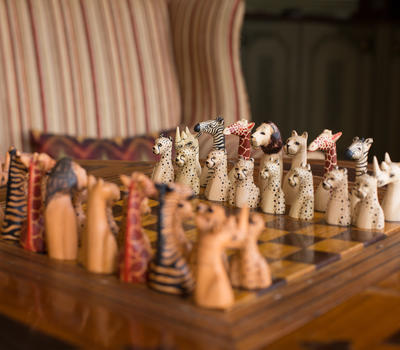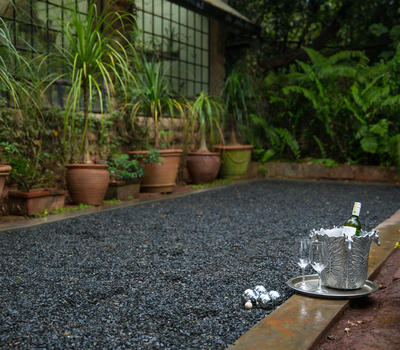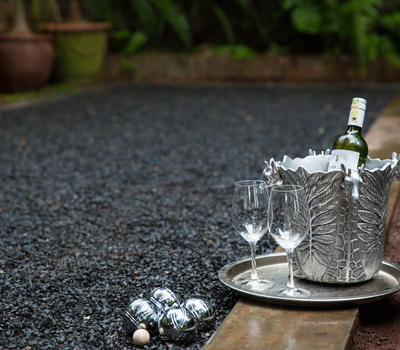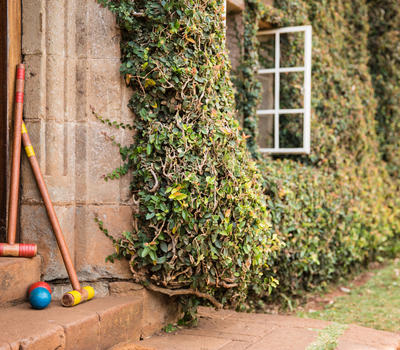 Our luscious lawns are perfectly suited to a leisurely game of croquet or boules, and we have both here at the manor. Our friendly staff will be happy to assist you in setting up either game. This is best enjoyed during the daytime, when the giraffes are out browsing in the sanctuary.
Show More
Show Less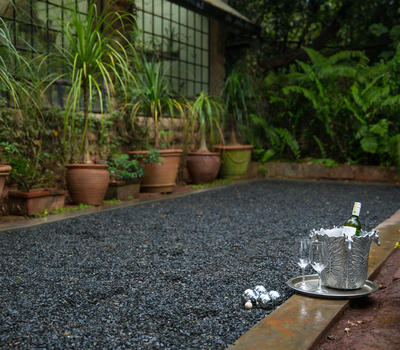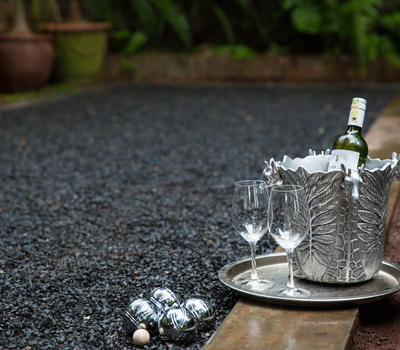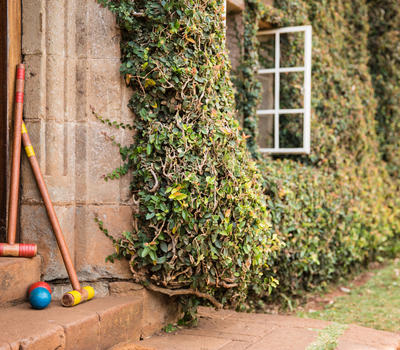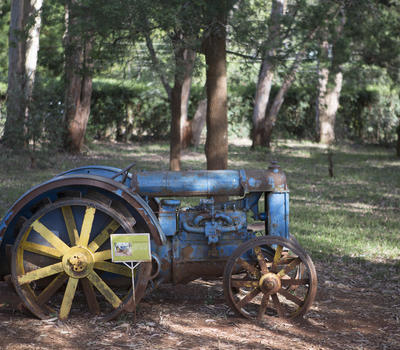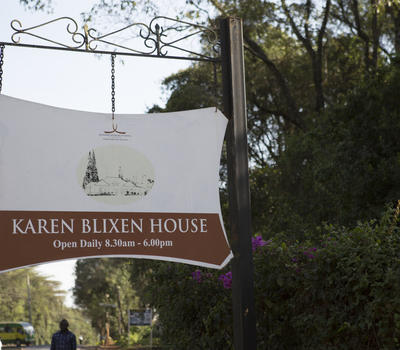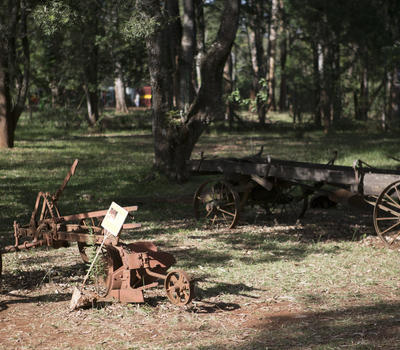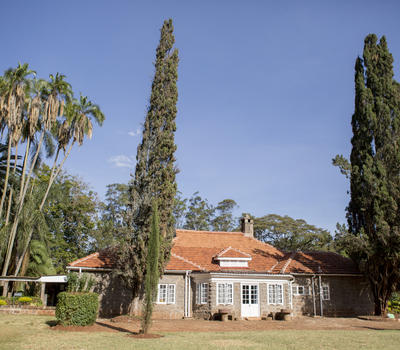 NAIROBI LOCAL CULTURE & HISTORY
KAREN BLIXEN MUSEUM
Step back in time at the Karen Blixen Museum, which offers a glimpse into Kenya's history. Once the farmhouse of Baroness Karen Blixen and her Swedish Husband, Baron Bror von Blixen Fincke, the house gained international fame through the Oscar-winning film 'Out of Africa' which is based on her autobiography of the same name. The museum provides guided tours of the house and beautifully serene grounds and gives you a sense of the style of Karen Blixen's home with a number of original pieces of furniture still in place. There is a small gift shop and stunning views over the Ngong Hills. This visit is short, but worth it if you have an interest in Kenya's past.
BOMAS OF KENYA
Bomas of Kenya offers a small-scale glimpse of the entire country and emphasises the wonderful diversity of culture, lifestyles, crafts, music and dancing found across the many tribes throughout the nation. There are model villages showcasing different styles of traditional African homes, as well as cultural artefacts and information about the way of life of different tribes. An enchanting traditional dance and acrobatic show takes place here from 02:30 pm to 04:00 pm every weekday and from 03:30 pm to 05:15 pm on weekends and public holidays. Bomas of Kenya is ideally located for a stop off at some of the local shops such as Utamaduni and Langata Link, either on the way there or on the way back.
NAIROBI NATIONAL MUSEUM
Visit the Nairobi National Museum for an education in Kenya's wonderfully rich heritage. Afterwards, you can take a stroll through the museum's botanical gardens. This activity takes up half a day as the museum is in a different area of Nairobi to Giraffe Manor, so travel there can take up to an hour depending on traffic. The museum contains a fabulous and extensive collection of stuffed birds, so worth a visit for any budding ornithologists.
Show More
Show Less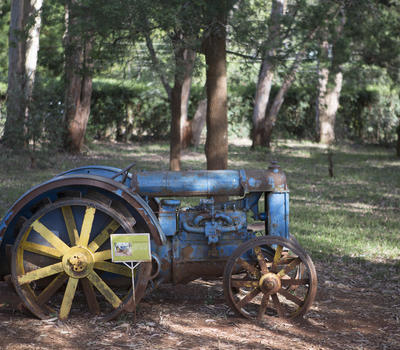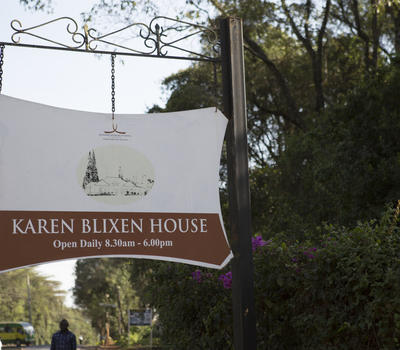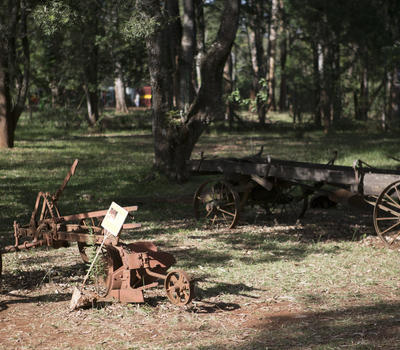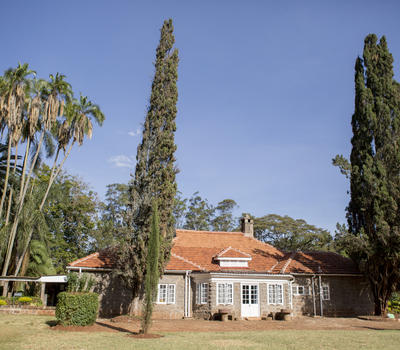 MATBRONZE ART GALLERY & FOUNDRY
Matbronze Art Gallery & Foundry features a display of over 600 hand cast bronze sculptures by wildlife artist Denis Mathews. From tiny lion cub paw prints to life sized crocodiles, the sculptures are impressive and fascinating to look at in their accurate representation of a diverse range of Kenya's wildlife. There is also an art gallery exhibiting a selection of local artists and a delightful garden café serving delicious homemade snacks and meals.
CIRCLE ART GALLERY
African art is hitting the global art scene in a big way. The Circle Art Agency is Nairobi's premier modern art gallery and offers a fantastic outing for collectors and enthusiasts alike. We recommend pre-booking your visit. Avid art enthusiasts can also book a private appointment to visit the gallery if the opening times are unsuitable, although this must be booked in advance and is subject to availability.
Show More
Show Less
SHOPPING IN NAIROBI
Indulge in some retail therapy and discover some of the talented local artisans creating beautiful handmade crafts in Nairobi. Shopping in Nairobi can be fun, especially if you're up for a little bartering. Most guests are interested in visiting some of the nearby curio (souvenir) markets where all manner of locally crafted goods can be found, from beaded leather belts and sandals to beautifully carved olive wood bowls and chopping boards, as well as jewellery, traditional masks, baskets and Maasai blankets.
There are a host of nearby shops with fixed prices, showcasing a diverse range of local designer clothing, jewellery, artwork and interiors, including Kazuri Beads, Langata Link Shops, MatBronze and Utamaduni. There are also several nearby shopping malls with large grocery stores, pharmacies and other shops. If you prefer to maximise your time at the manor, we also have our own gift shop with a range of carefully selected, unique items all handmade by talented local artisans.
Show More
Show Less
NAIROBI NATIONAL PARK DAY TRIP
This iconic park is the only national park within the limits of a capital city. It is home to a diverse array of wildlife including lions, leopards, buffalos, zebra, antelopes, giraffe and over 400 species of birds. Once inside the park, it really does feel like you have left the city far behind. Sunset over the Ngong Hills and vast vistas stretching down over acacia-dotted plains are evocative of the true spirit of Africa. Although fenced on three sides, the 117 square kilometre park is open to the south and teeming with wildlife. Game drives into the park can be arranged with a private vehicle and guide.
Show More
Show Less
Malo stables offer fantastic forest rides with views of the Ngong Hills. The horses are highly trained and the hosts extremely professional. There are a variety of riding options available that could include an alfresco lunch after a lovely ride through the forest at an extra cost. We recommend you book in advance and note that a 50% deposit is required to secure the booking.
Show More
Show Less
Daisy's Café is located at The Retreat, our wellness centre right next door to Giraffe Manor. Here you'll find a vibrant menu of freshly prepared snacks and meals as well as a fully stocked bar. Our expert chef loves to use nutritious, locally sourced ingredients to create nourishing farm to fork style dishes. Dine al fresco in the leafy surroundings of our garden terrace, or under the vaulted ceilings of the café. All food and drinks consumed at Daisy's are charged as extras to Giraffe Manor guests and are payable direct or can be added to your room bill.
Show More
Show Less