Augrabies Falls National Park
Days 1 - 4
Located in South Africa's Northern Cape Province, the Augrabies Falls National Park encircles the mighty Augrabies Falls. The Orange River plunges down 60 metres in absolute splendour, through the 18-kilometre ravine of the Orange River Gorge. The landscapes are characterised by rocky outcrops, scrub-dotted plains, and clusters of 'kokerboom', also known as quiver trees. This sanctuary provides a home for an array of animals including springbok, gemsbok, klipspringer, various bird species and the endangered black rhino. Other commonly spotted species include giraffe, steenbok, kudu, eland, leopard, African wild cat, jackal, and caracal.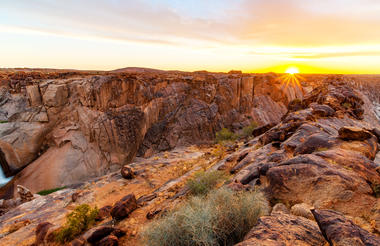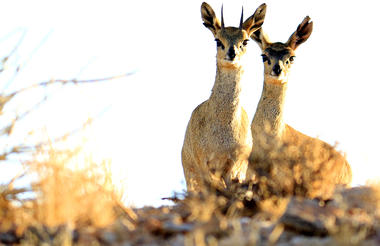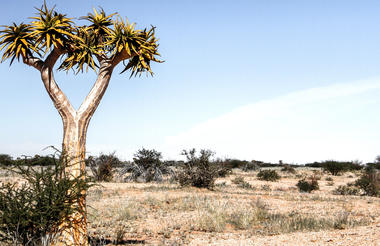 Kgalagadi Transfrontier Park (Botswana)
Days 4 - 6
Situated in the Kalahari Desert region of Botswana and South Africa, the Kgalagadi Transfrontier Park is an expansive wildlife preserve. One of the world's last unspoilt ecosystems, the arid landscape is characterized by vast grasslands dotted with thorn trees, shifting red dunes and dry riverbeds. Visitors can look forward to viewing an abundance of wildlife including gemsbok, black-maned Kalahari lions, blue wildebeest, and migrating herds of wildebeest and springbok. Known as one of the best places in the world to spot big cats, visitors can look forward to catching a glimpse of the ever-illusive cheetah. Highlights include: game-viewing drives, hiking, 4x4 trails, guided walks with park rangers and photographic safaris. Bird enthusiasts can look forward to spotting an array of bird species. Don't miss the incredible African sunsets over the quintessentially African landscape.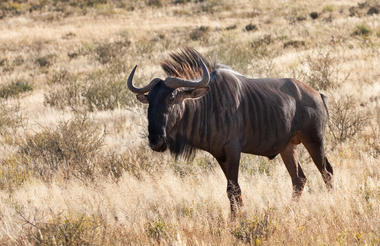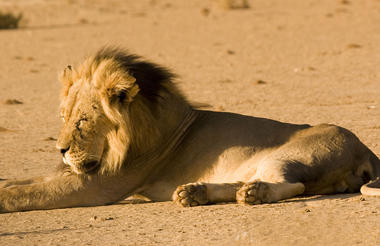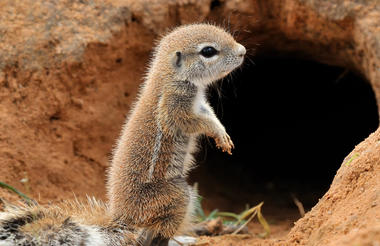 Kalahari
Days 6 - 7
The Kalahari is an exceptionally beautiful living desert boasting expansive semi-arid sandy savannah draped over a gently rolling inland sea of sand covering most of Botswana and large parts of Namibia and South Africa. It is also the last bastion of the San people with the modern world having enveloped all the other areas they once roamed. The endless sand dunes of the Kalahari compose the largest continuous expanse of sand on earth. Visitors can enjoy the clear night skies for a spot of stargazing, excellent game viewing, nature walks, horse riding and thrilling 4x4 adventures through this magnificent desert. Commonly spotted wildlife include water buffalo, black-maned Kalahari lion, antelope, ostrich, meerkat and countless bird species.