Namibia
Located in southwestern Africa, Namibia boasts a well-developed infrastructure, some of the best tourist facilities in Africa, and an impressive list of breathtaking natural wonders. Visitors can explore the capital of Windhoek and discover the lovely coastal town of Swakopmund boasting remnants of the country's German influence, reflected in the architecture, culture, cuisine and the annual Oktoberfest celebrations. To properly appreciate this extraordinary country, you will have to venture out of the cities to explore the remarkable natural landscapes Namibia has to offer. These include: the impressive Fish River Canyon; the vast Etosha National Park teeming with abundant wildlife, such as lions, desert-adapted elephants and the Hartmann's Mountain Zebra; the hauntingly beautiful Kalahari Desert; and of course the Namib Desert stretching for over 2000 km along the magnificent Atlantic Coast. Namibia is an ideal destination for travellers seeking an unforgettable African experience in a uniquely beautiful untamed wilderness.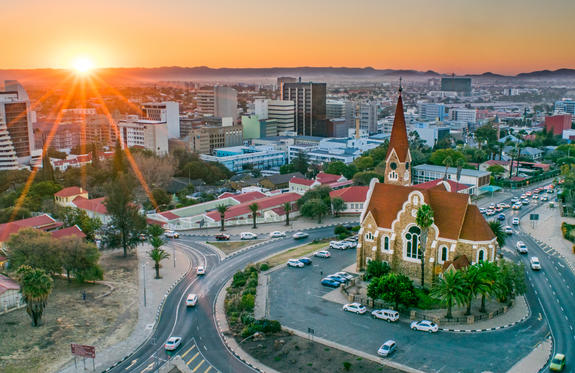 Windhoek is one of the most appealing of African capitals, surrounded by the Central Highlands with its rolling hills, acacia trees and dramatic ridges. The city is clean, safe and well-organised, with a colonial legacy that is reflected in its many German eateries and shops, and the widespread use of the German language.
You will almost certainly need one overnight stop here. It is a small city with a population of about 200,000 and thus the centre of the city can easily be explored on foot. A spare afternoon can be spent browsing the friendly street markets - perhaps buying jewellery, leather goods or African crafts. You also get to understand something of the cultural diversity of Namibia. As you walk the city streets, the different dress of passers-by gives a clue to the origins of each person.
Windhoek has an interesting mix of historical architecture and modern buildings, many of which are worth a look. Its Germanic roots are much in evidence with late 19th/early 20th century Germanic architecture such as the 1896 Christuskirche, the Tintenpalast, the Alte Fest (old fort) and the three castles of Schwerinburg, Sanderburg and Heinitzburg.
Located in Northwestern Namibia, Etosha East is a protected sanctuary in the eastern part of the world-renowned Etosha National Park, known as one of the most accessible game reserves in Southern Africa. Etosha East boasts vast open plains scattered with semi-arid savannah grasslands dotted with watering holes and secluded bush camps. An impressive 5000-square-kilometre Etosha salt pan makes up a large area of the eastern side of the park and can even be seen from space. This remote area teems with abundant wildlife such as lions, elephants, black rhinos and giraffes, as well as a variety of birdlife featuring flamingos, ostriches, eagles, hornbills, and owls.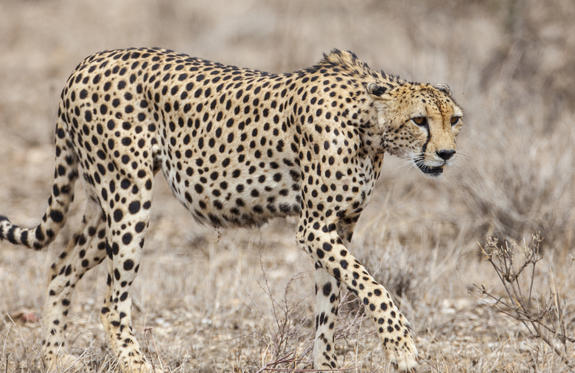 Located just south of the boundary of Etosha National Park in northwestern Namibia, Etosha South makes up the southern region of this wild paradise. Ongava Private Game Reserve shares the southern boundary with Etosha National Park and offers an array of luxury lodges overlooking picturesque landscapes dotted with abundant wildlife. The national park can be accessed via the southern entrance at Andersson's Gate. Visitors can catch a glimpse of a variety of wildlife including: lion, giraffe, elephant, white and black rhino, and a multitude of plains game. Popular activities include: game drives, tracking rhinos on foot, guided nature walks, or watching the sunset over the magnificent African landscape.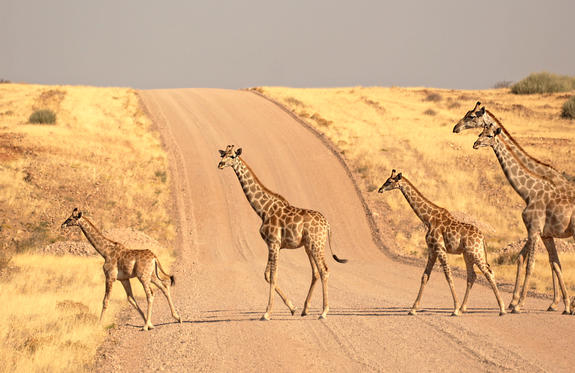 Palmwag is a nature reserve idyllically located along a palm-lined tributary of the Uniab River, halfway between Swakopmund and Etosha, providing an ideal base from which to see the sights of the Kunene region or embark on one of the many local hiking trails. Water is scarce in this area, so the river's presence often lures elephants closer to the camps. The reserve is notable for its unusual species of palm tree, the hyphaene petersiana, and for being home to the largest population of southwestern black rhinos in Africa. Animal lovers can also get a peek at leopard, lion, cheetah, mountain zebra, Angolan giraffe, springbok, kudu, and African bush elephant.
Erongo Mountains
Days 8 - 9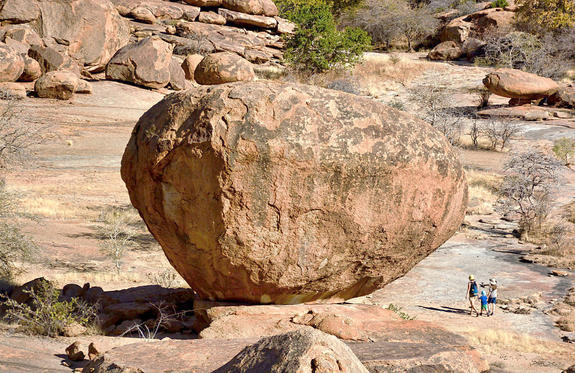 Conveniently located only a few hour's drive from Namibia's capital city of Windhoek, the Erongo Mountain Range stretches across the plains between the towns of Omaruru and Karibib, and is home to a remarkably rich natural heritage. This expanse of rugged wilderness serves as one of Namibia's most popular tourist drawcards, attracting visitors with its spectacularly scenic landscapes, magnificent caves and rock painting sites, and its impressive array of wildlife species. These include, among others: rhino, elephant, cheetah, leopard, giraffe, wildebeest, impala, blesbok, waterbuck, kudu, warthog, mountain zebra, oryx, eland, springbok and over 200 species of bird. Visitors can look forward to enjoying a variety of adventurous activities such as hiking, rock climbing, games drives, horse riding safaris and mountain biking.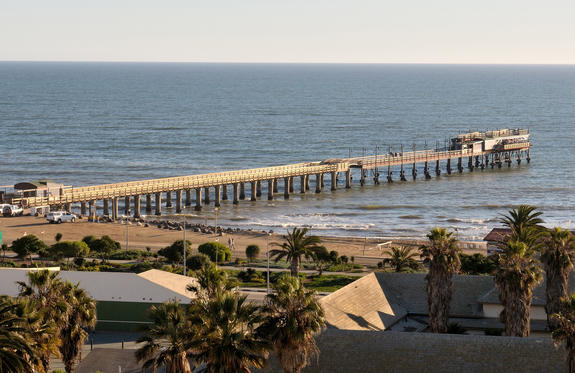 Swakopmund has a distinctive continental atmosphere and many picturesque reminders of the German colonial era, somewhat incongruous in the midst of the Namib Desert! (Founded in 1892 as the main harbour for Namibia, Swakopmund is often described as being more German than Germany.) Now this charming seaside town, with its palm-lined streets, provides a welcome resting place where you can stroll along the beach, enjoy superb seafood or marvel at the High German architecture. The quirky mix of German and Namibian influences, colonial-era buildings and the cool sea breeze contrast with the arid interior.
There's plenty to see in and around Swakopmund such as visiting the Seal Colony at Cape Cross, the flamingos at Walvis Bay and Sandwich Bay. Take a drive to the surreal landscape of the 'Moon Mountains', an area of deep chasms and interesting geological features, or perhaps try some sand-boarding, quad-biking or riding a camel into the desert. There are plenty of day excursions to choose from, even aerial flights over the Namib Desert.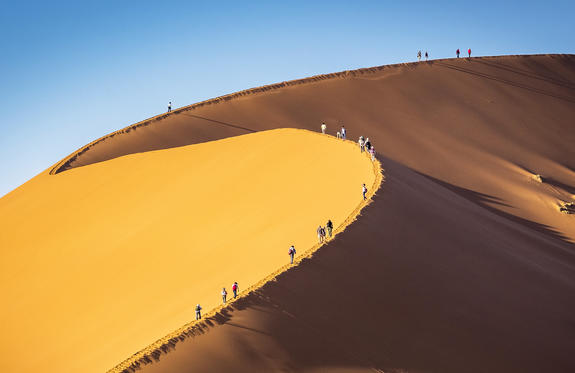 As there is no accommodation at Sossusvlei, visitors to this desert wilderness are likely to end up staying at Sesriem, 65 kilometres away, where camps and lodges serve as a base from which to explore the dunes. Sesriem Canyon, a deep chasm carved through the rocks by water, is a striking natural feature of the area that is best explored on foot. Stony walls rise up sharply on both sides of the canyon, while birds roost in its crags and lizards dart along the ledges. The canyon's name was coined when early settlers used it as a water source, using six lengths of leather ('ses riem – six thongs) tied together to lower buckets into the water at the base of canyon.)
Kalahari Namibia
Days 13 - 14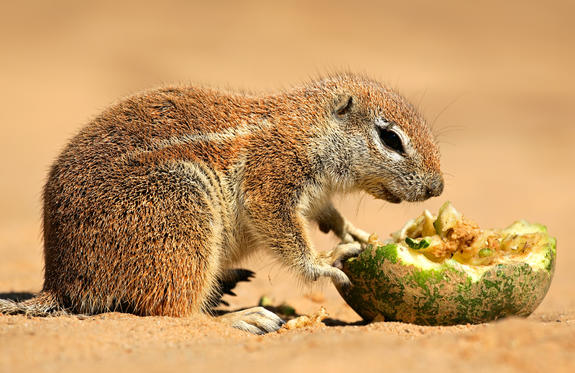 The Kalahari is an exceptionally beautiful living desert, a large semi-arid sandy covering most of Botswana and large parts of Namibia and northern South Africa.
The Kalahari is not actually a desert, however 100m of sand has created vast areas of waterless ground covered by its characteristic red sands. Despite wide spread cattle fencing, much of the Kalahari remains an area of nomadic antelope herds, such as gemsbok, kudu, eland, blue wildebeest and springbok. Carnivores are well represented with lion, leopard, cheetah, hyena, black-backed jackal and a variety of the smaller cats.
It is also the last bastion of the San (Bushmen) people who the modern world having enveloped everywhere else.
The bird life is prolific and includes a rich complement of raptors ranging in size from the pygmy falcon to the lappet-faced vulture. A prominent feature of the Kalahari is the vast communal nests of the Sociable Weaver built around the Camel Thorn trees. Other interesting birds include the ostrich and the kori bustard, the heaviest flying bird in Africa.