COVID-19: ACTIVITIES & SERVICES
1 night Windhoek
On arrival in Windhoek you collect your rental car and drive to your guesthouse for your overnight stay in the city.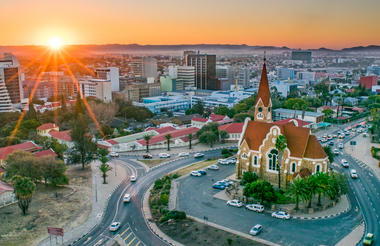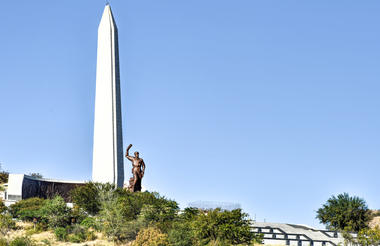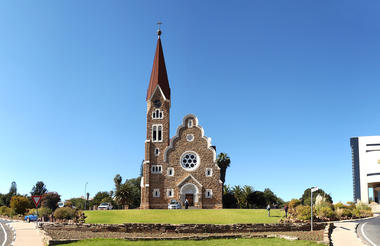 Activities and Services
Arrive at Windhoek Intl Airport and collect your Group C car and drive to Olive Grove for an overnight stay.
2 nights Eastern side of Etosha National Park
After an early breakfast you travel north to Mushara Bush Camp adjacent to Etosha National Park.
The Etosha National Park is one of the finest game parks in Southern Africa. It encloses a vast saltpan that becomes an immense, shallow lake in rainy periods, attracting great numbers of flamingos and other water birds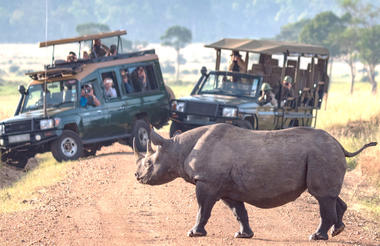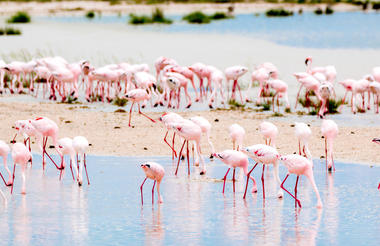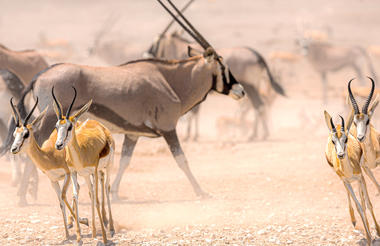 Activities and Services
Drive north to Mushara Bush Camp in Etosha to stay for 2 nights
Safari & Activities at Mushara
Etosha National Park in the north of Namibia is one of the finest game parks in Southern Africa. It's certainly one of Namibia's most iconic destinations. Etosha means 'Great White Place' in Herero, an apt description of this huge park that encloses a vast saltpan.
Enjoy guided game drives into the Etosha National Park.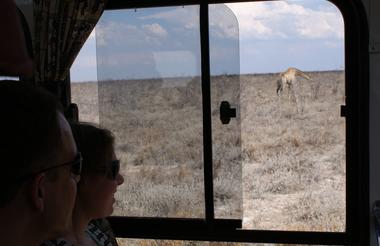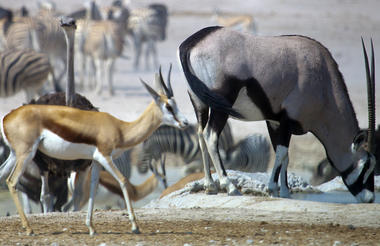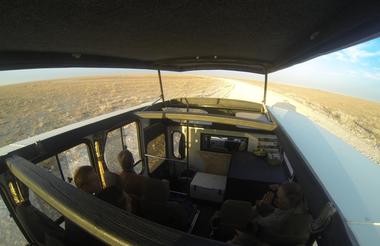 2 nights Central Highlands
Your next stop is an appealing wilderness retreat, Erongo Wilderness Lodge.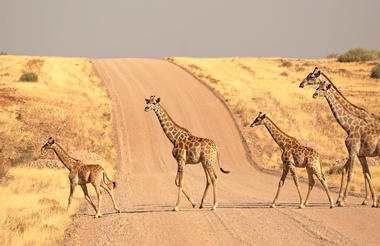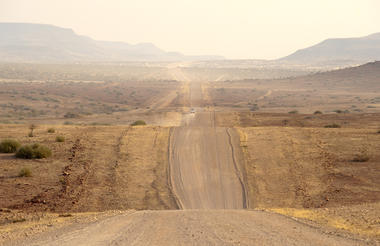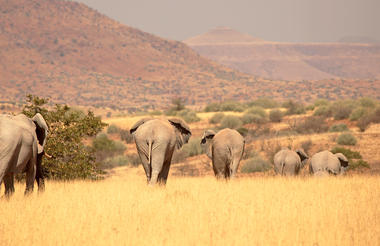 Activities and Services
Head south to the Erongo mountains near Omaruru
Activities at Erongo Wilderness Lodge
Erongo Wilderness Lodge offers nature drives and visited to Paula' cave. Guided walks on the walking area surrounding the Lodge is highly encouraged and is the best way to experience the beauty of the Erongo Mountains.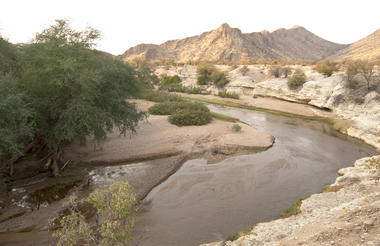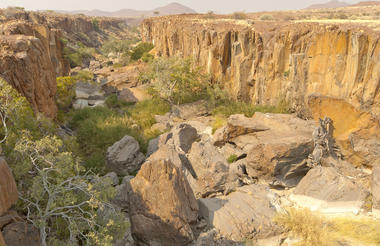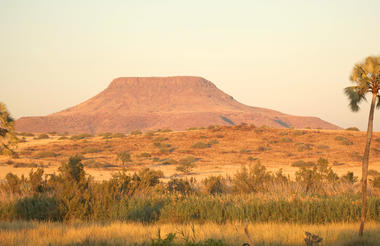 Activities and Services
Enjoy nature drives & hiking in the Erongo wilderness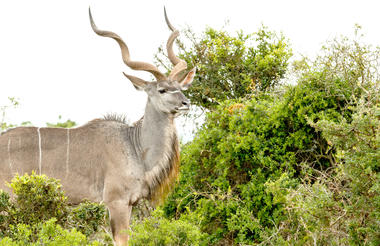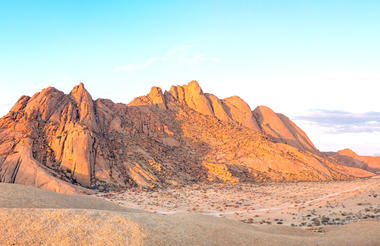 2 nights Swakopmund,
A relatively easy driving day today, mostly on tar, to the coastal town of Swakopmund for 2 nights.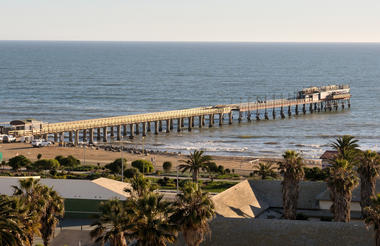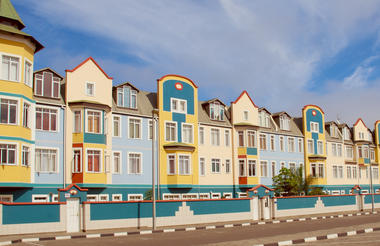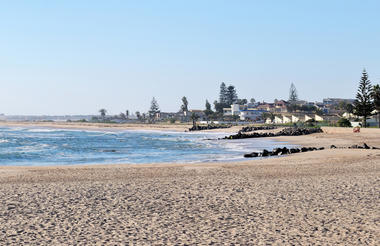 Activities and Services
Head to the Atlantic Coast for 2 nights in Swakopmund
Exploring Swakopmund
The appeal of Swakopmund lies in strolling about admiring the High German architecture, perhaps stopping at one of the several good seafood restaurants or coffee houses. There's plenty to do and see such as the Seal Colony at Cape Cross, the flamingos at Walvis Bay or the Welwitschia "forest". Visit the surreal landscape of the "Moon Mountains", an area of deep chasms and interesting geological features, or perhaps try some sand-boarding, or quad-biking over the desert dunes.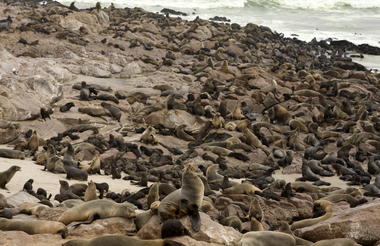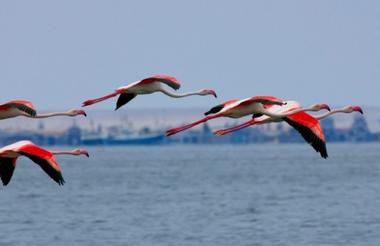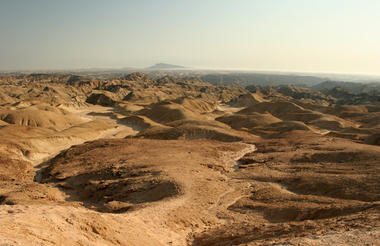 Activities and Services
Time at leisure to explore Swakopmund and the surrounding area...
2 nights Namib Desert near Sossusvlei
Today you head across the gravel plains into the Namib Desert to Kulala Desert Lodge.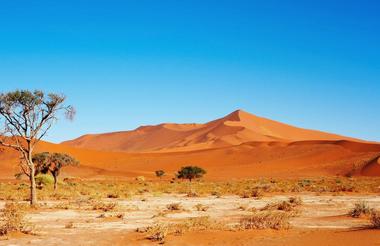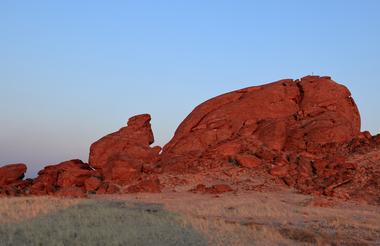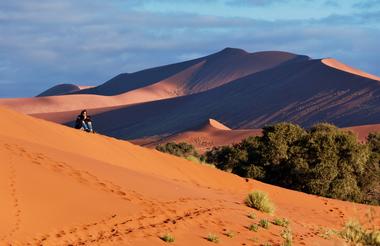 Activities and Services
Head inland across the Namib Desert to Sossusvlei
Exploring and activities at Sossusvlei
Enjoy early morning excursions to the famous pan of Sossusvlei, the scorched trees of the Dead Vlei and the gorge of Sesriem Canyon.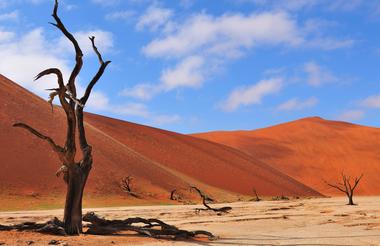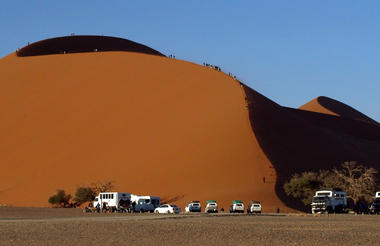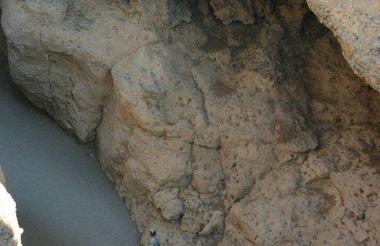 Activities and Services
Optional early morning excursion to Sossusvlei & Sesriem Canyon
Overnight in the Kalahari Desert,
Set off early northwards to Bagatelle Ranch in the Kalahari Desert where you stay overnight. Here you can experience the unique Kalahari with its magical sunsets, stunning landscape and dramatic colours. Although classified as desert, the Kalahari has abundant tree and grass species which results in plentiful wildlife. Optional afternoon game drives are on offer from the ranch. (4 hours, 310km)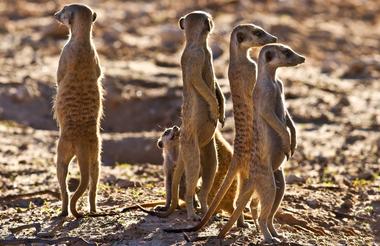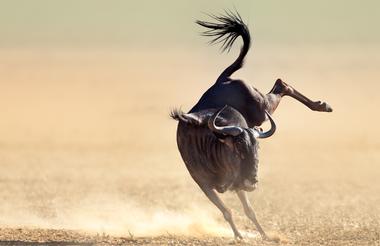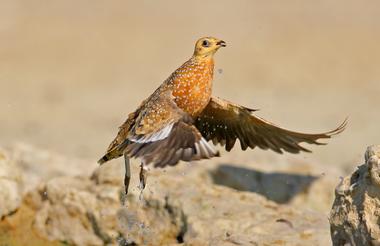 Activities and Services
Head east to the Kalahari Desert to Bagatelle Ranch
Return to Windhoek for onward flight
This morning you return to Windhoek (approx 2½ to 3 hours drive) where you have some time at leisure before you need to drive to Windhoek Airport. You return your rental car at the airport prior to your onward flight.
Activities and Services
Enjoy early morning game drives or cheetah interaction
Return to Windhoek to return your rental car