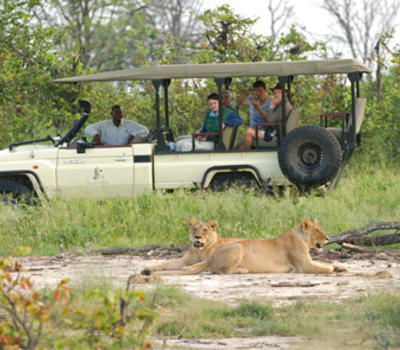 Famed for its big cat and bird population, the Okavango Delta is a peaceful haven where animals have been protected for decades and know they will not be disturbed. At Baines' Camp, you have the opportunity to see animals up close with your expert guide on morning and evening game drives in open 4 x 4 vehicles. A night game drive is the perfect means to see some of the nocturnal animals one wouldn't see during the day time. The concession also boasts a diversity of landscapes with desert, dry savannah, lagoon and swamps all in close proximity. During higher water levels game drives will be combined with motorised boating excursions. (Night drives are seasonal, depending on water levels.)
Show More
Show Less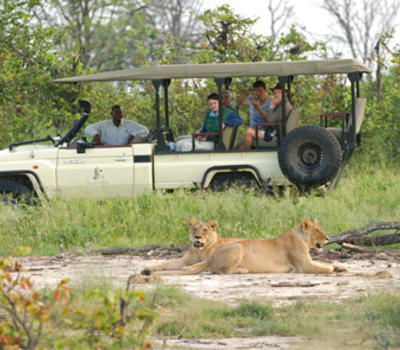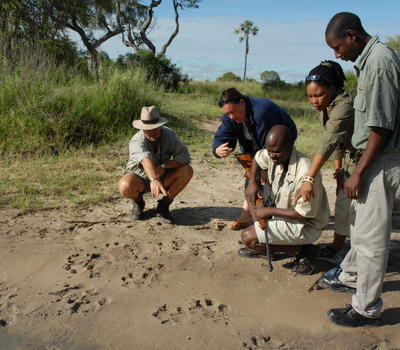 Find out how to track and follow even the most elusive of animals in the Okavango. With the camp being set in a private concession, there is the opportunity to get very close on foot in perfect safety with one of our guides. This is an exciting activity and a little nerve wracking for first-timers who have only ever driven around in a safari vehicle and enjoyed sitting above lion, elephants and other animals. On foot, one cannot approach these animals, obviously, but learning about them, walking their walk and seeing the bush at their level is a wonderful and educational experience.
Show More
Show Less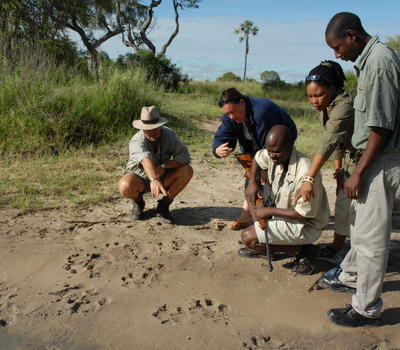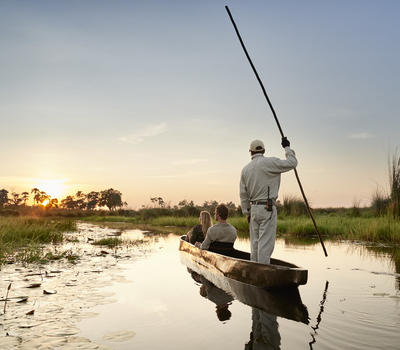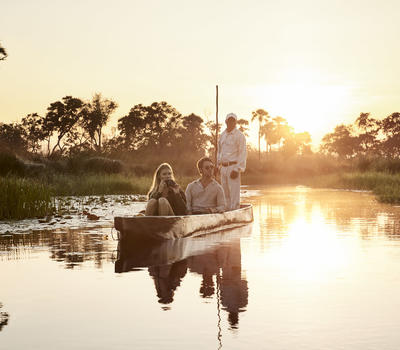 Mokoro & Motorised Boat Excursions
One of the best ways to see the wildlife around Sanctuary Baines' Camp is in one of the locally made dugout canoes, known as mokoros. These used to be carved from ebony but are now made from commercially grown wood and fibreglass to protect the fragile environment of the Okavango. In one of these traditional crafts it is possible to float around the waterways and lagoons that make up the delta, looking for crocodiles in the water, but also getting a remarkable view of the plains game from a new and exciting angle. This gentle and informative mode of safari is unique to the river Bushmen, comprising three different tribes who made the Delta their home. For the less intrepid, the camp also has motorised speedboats that can be used when the rivers are in flood. (All water based activities are seasonal and based on the water levels of the delta)
Show More
Show Less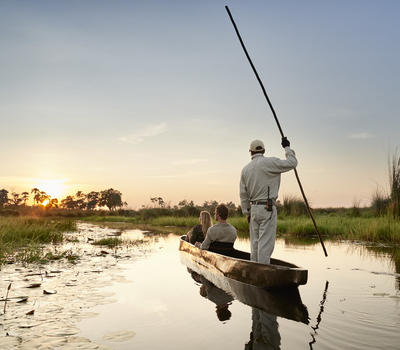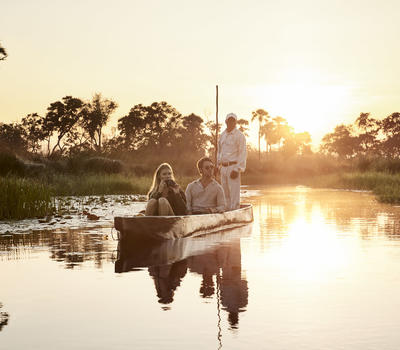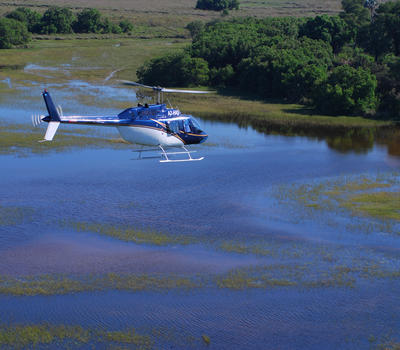 Scenic Helicopter Flights
These scenic flights involve flying west towards the permanent delta, exposing areas which are unreachable by vehicle or boat and showcasing the sheer enormity of the Okavango Delta. There is the option of the doors being removed for unrestricted photographic opportunities. Choose between 30, 45 or 60 minute tour in a one turbine Bell Jetranger helicopter with 3 seats. This activity is offered on a year round basis. Being a personalised activity, it's up to you what time of day you would like to do the activity, however we would recommend early morning and late afternoon as this time usually provides the best light for photography. Preferred flight times can be requested on booking.
Show More
Show Less