Victoria Falls Safari Lodge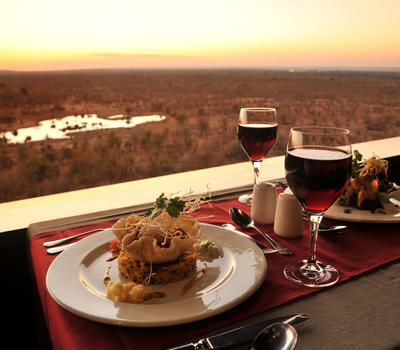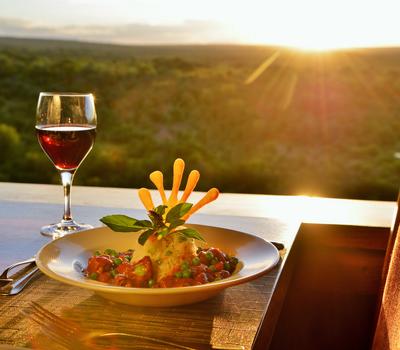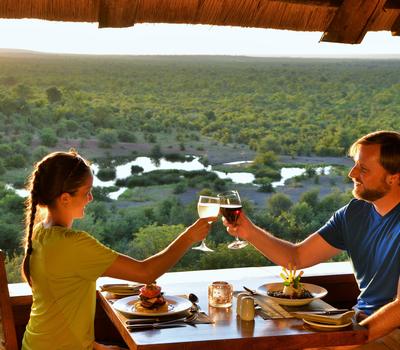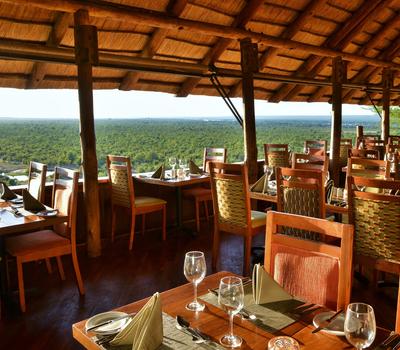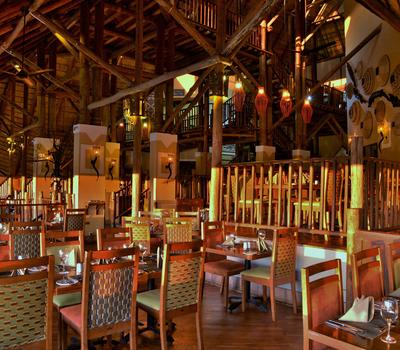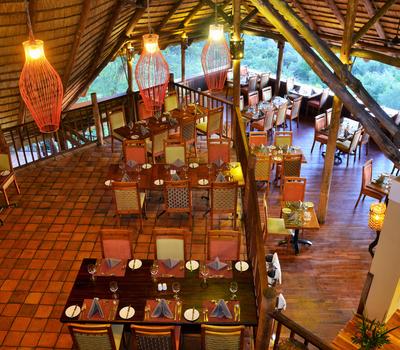 The award-winning MaKuwa-Kuwa Restaurant at the Victoria Falls Safari Lodge is not to be missed. The restaurant is widely-known for its impeccable service, exquisite meals and fine selection of South African wines.
The restaurant is decorated with an African safari flair and just the right atmosphere in which to relax and relive the day's animal sightings.
The international a la carte menu also includes popular dishes with a local flair like Warthog Fillet and Impala Loin as well as Kudu fillets, and for the more adventurous, smoked crocodile pasta. Meals are all beautifully prepared with only the freshest ingredients.
The split-level restaurant overlooks the lodge's on-site watering hole that is often frequented by buffalo, elephant, warthog, antelope and colourful birdlife - the views alone guarantee a memorable meal. The view over the African bush at sunset is one not to be forgotten.
As the restaurant is very popular bookings are essential.
MaKuwa-Kuwa is open every day for breakfast (06h30- 10h00), lunch (12h30 - 14h00) and dinner (19h00 - 22h00). The dress code is smart-casual. Summer evenings are warm, so light clothing is ideal, but winter evenings (June - August) can be chilly, so patrons are advised to bring a warm layer or two.
Dinner guests are encouraged to be seated by 19h30 to enjoy MaKuwa-Kuwa's resident acapella group's beautiful African songs.
MaKuwa-Kuwa is also available for private parties of no more than 100 guests, provided that most of the guests are resident at either the Victoria Falls Safari Lodge, Victoria Falls Safari Club, Victoria Falls Safari Suites or Lokuthula Lodges. All bookings for private parties can be done through the functions manager or reservation office.
Show More
Show Less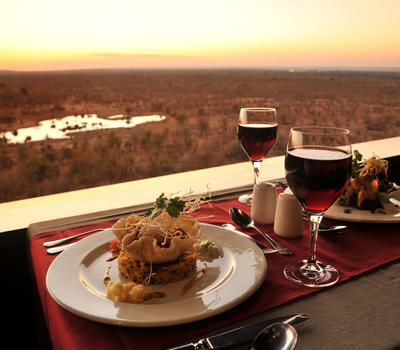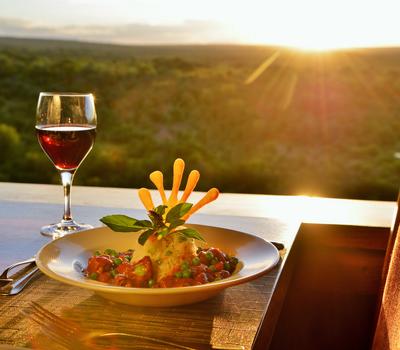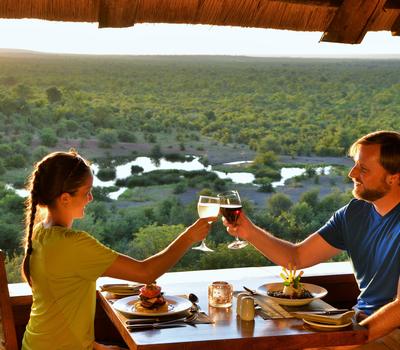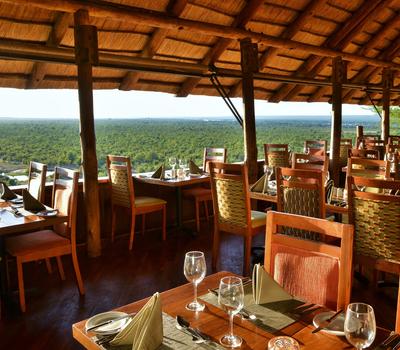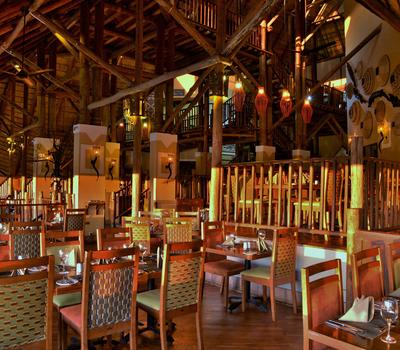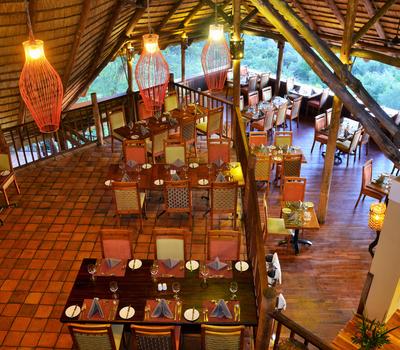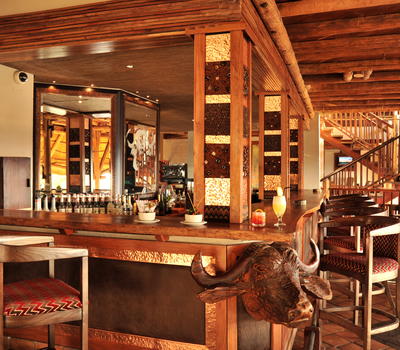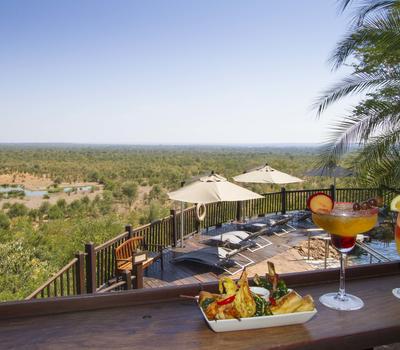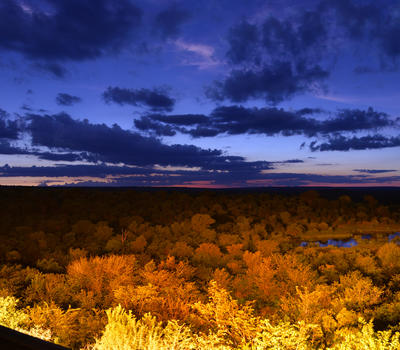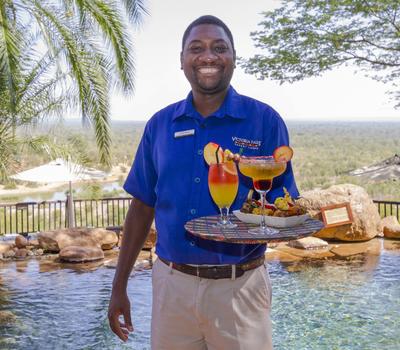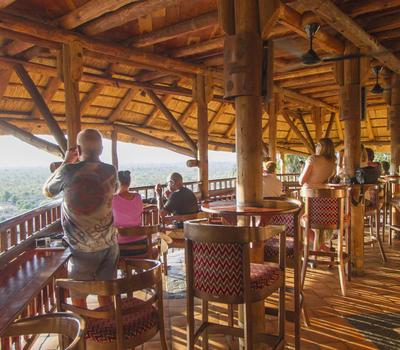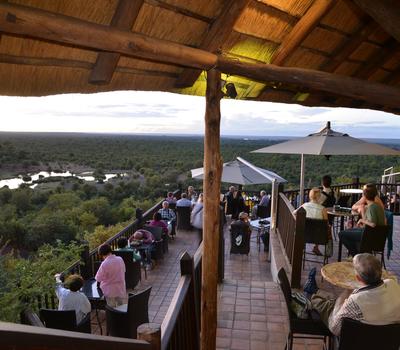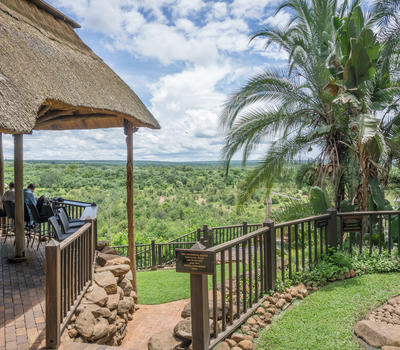 Bask in the last few rays of sun from the Buffalo Bar balcony, as you watch the animals at the waterhole from your barstool.
Situated below the MaKuwa-Kuwa Restaurant at the award-winning Victoria Falls Safari Lodge, the open- plan Buffalo Bar is the perfect spot to unwind after a fun-filled day with a sundowner.
Like the waterhole itself, Buffalo Bar is the central hub of the area, with guests enjoying themselves all throughout the day and the evening. Enjoy cocktails here before going to dine at the Makuwa-Kuwa Restaurant upstairs, and come back down after dinner for drinks in the warm, convivial environment. The bar is also a convenient place to grab a light lunch in between your scheduled activities. Choose from a variety of salads, sandwiches and pasta dishes. Top beer brand Heineken named Buffalo Bar one of the Great Bars of the World, and as well as the magnificent views of the Zambezi River and pristine bushveld, you will find the staff to be warm, hospitable and professional. Buffalo Bar also has a wide drinks selection and fantastic house specialties and cocktails.
Show More
Show Less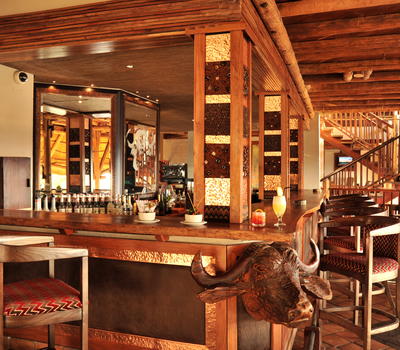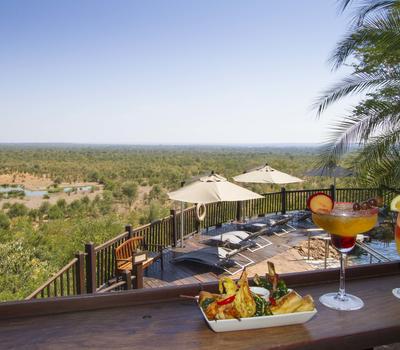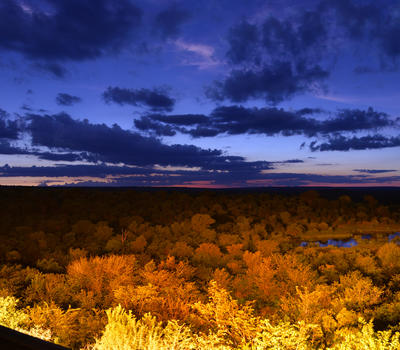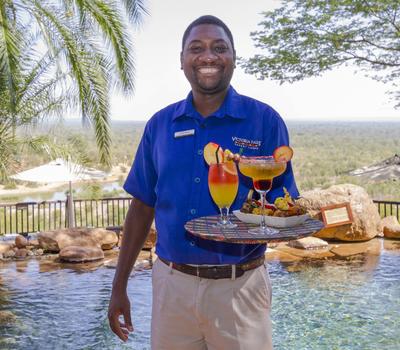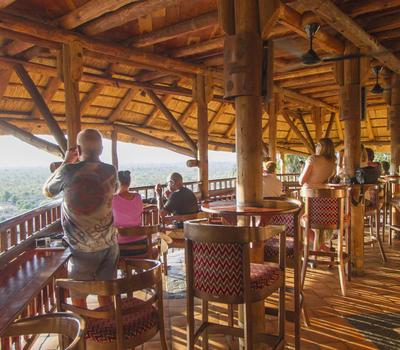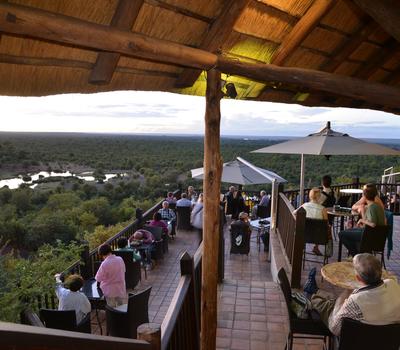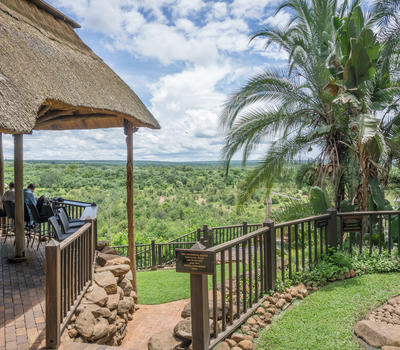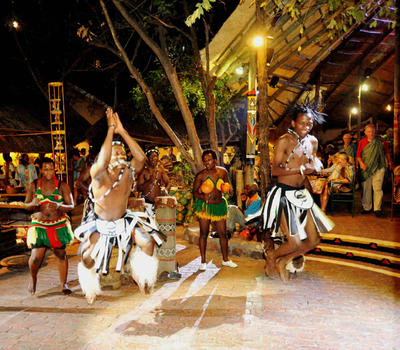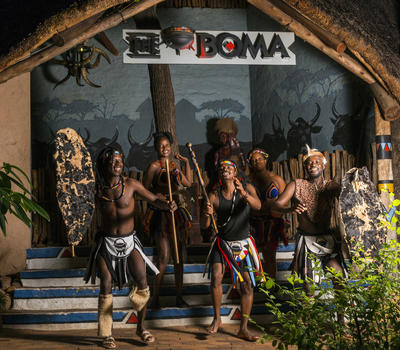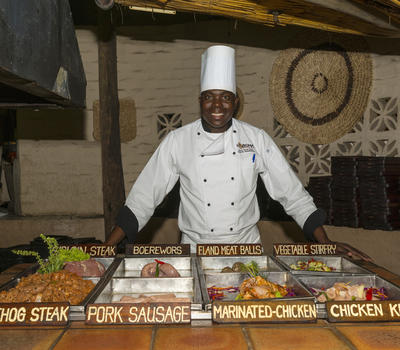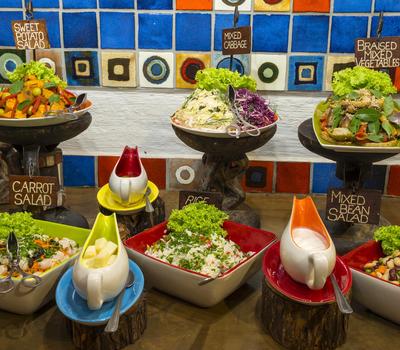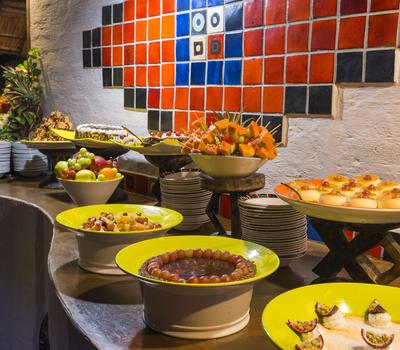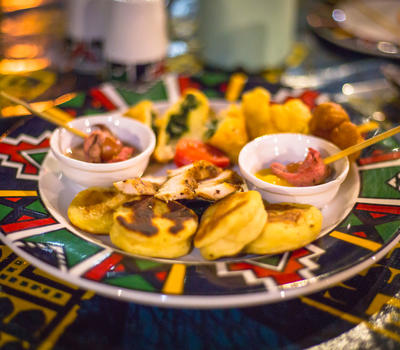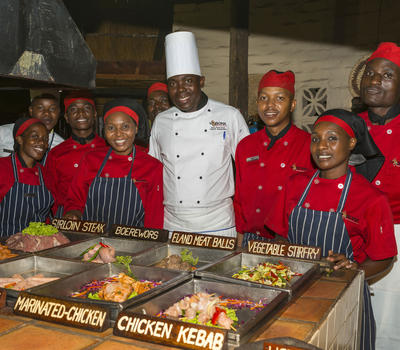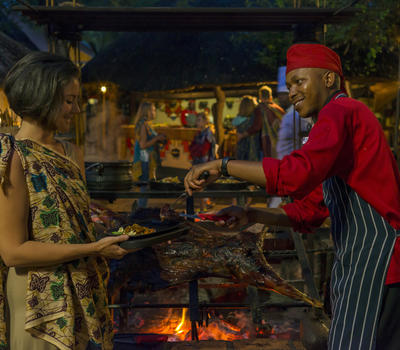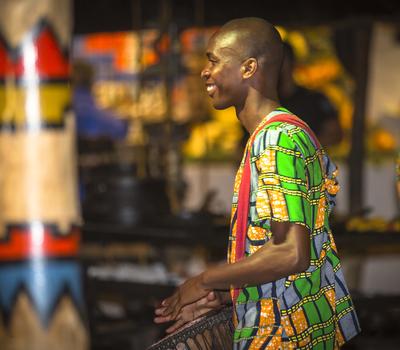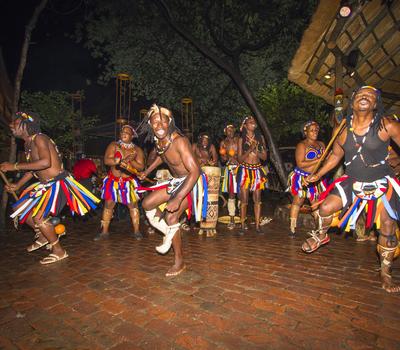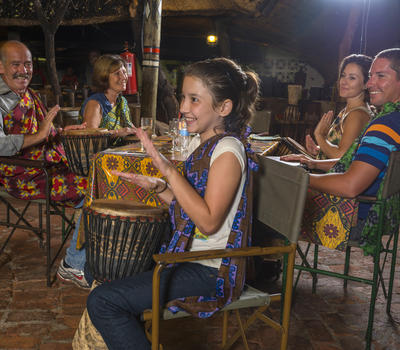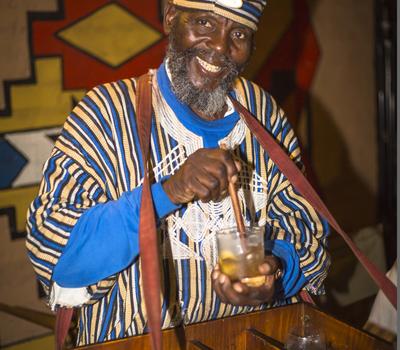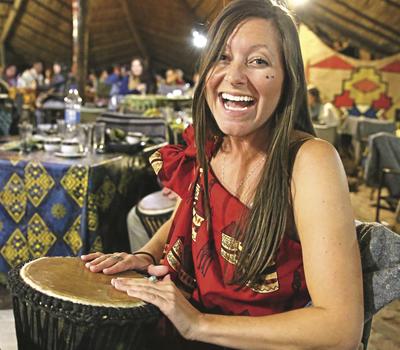 The Boma - Dinner & Drum Show
When you're planning the itinerary for your Victoria Falls holiday be sure to include an advance reservation at the often fully-booked restaurant, The Boma - Dinner & Drum Show.
From the moment guests arrive at seven o'clock, they are immersed in the vibrant atmosphere. Tantalising aromas of local dishes and game meat on the barbeque fill the restaurant, which is partially open to the surrounding forest and the night skies. Staff members are warm and hospitable, offering traditional delicacies to guests as they enjoy the warm African evening.
The starter menu is influenced by local ingredients and offers a unique selection of dishes, including Nyimo Beans, groundnuts, Kariba Bream (Tilapia) with smoked crocodile, and deep-fried Kapenta (Tanganyika sardines from Kariba).
The Boma specialises in traditional African food, and the main course buffet offers mouth-watering grilled ostrich, buffalo curry, suckling pig on the spit, guinea fowl, game stew, kudu steak and even warthog fillet! There are also good vegetarian options, with bush and garden vegetables galore. There is something for everyone. If you are brave, you can try out a dried Mopane Worm on offer, and don't forget to claim your certificate as proof.
Diners are treated to outstanding performances by traditional singers and dancers, and thrilled by a dramatic medicine man who will throw bones for you and tell your fortune. There is also traditional storyteller who entertains guests with folklore tales.
The food is cooked and served in the style and quantity of a lavish feast, including irresistible desserts, so prepare to eat your fill! If you've overindulged, though, don't worry – you can work it off in the energetic drumming circle that starts at nine o'clock, which usually turns into an even more energetic dance party. If that isn't your cup of tea, the restaurant also has a lively bar, and a relaxed lounge area for you to while away the rest of your evening chatting away.
Show More
Show Less