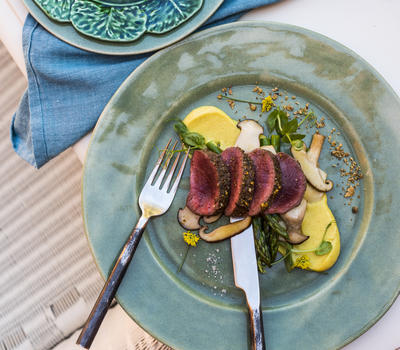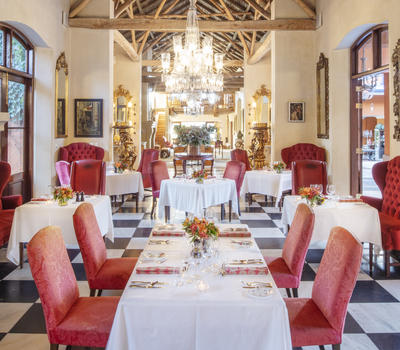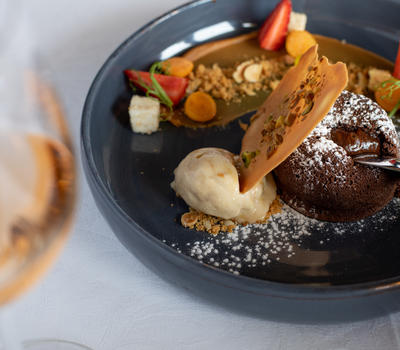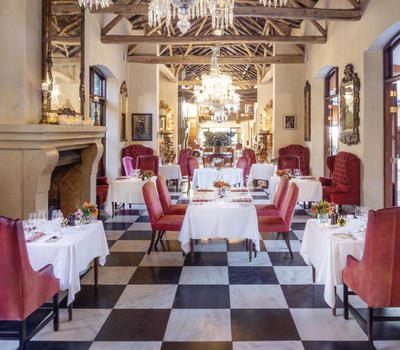 Executive Chef Lennard Marais oversees the dining experience at La Residence. His cuisine emphasises fresh, local ingredients, many of which are grown on the estate. Because the cuisine is such an integral part of the experience at La Residence, our guests will often sit down with the chefs to discuss their preferences and dietary requirements with menus being tailored accordingly. Enjoy breakfast, lunch, afternoon tea and dinner in The Great Hall or in the Loggia overlooking the glittering pond.
Franschhoek is known as the 'Food and Wine Capital of South Africa' and for good reason. Although the list varies year-to-year, up to 8 of South Africa's 'Top 100' restaurants are based in Franschhoek! Despite its tiny size, the town boasts an incredible range of snug cafés and stylish restaurants with every style of food on offer. From traditional English pub food to classic bistro fare, superb wood-fired pizzas to sumptuous sushi, this gourmet dining town has it all.
As befits the town's Huguenot heritage, Franschhoek restaurants frequently feature French cuisine, alongside plenty of traditional and contemporary South African restaurants. Some of the country's leading chefs create innumerable dishes using only the freshest produce from the valley, complimented by a host of delightful loval wines. All in all, this is an opportunity to taste a kaleidoscope of exciting flavours in a variety of Franschhoek restaurant settings.
So, if you feel like venturing out into the village, a complementary transfer service from La Residence can be arrange to take you to one of the many award-winning Franschhoek restaurants for a dining experience to remember.
Show More
Show Less