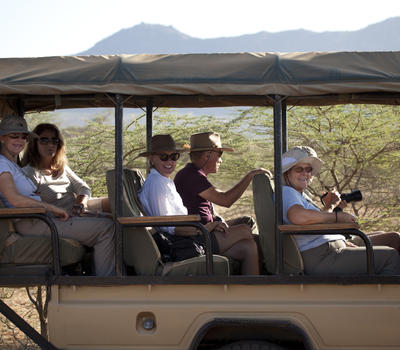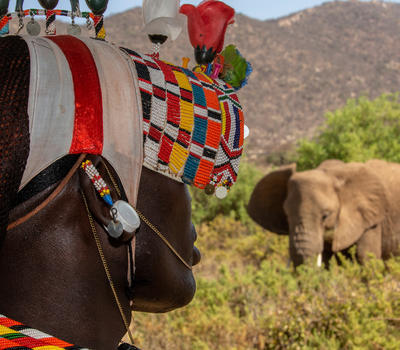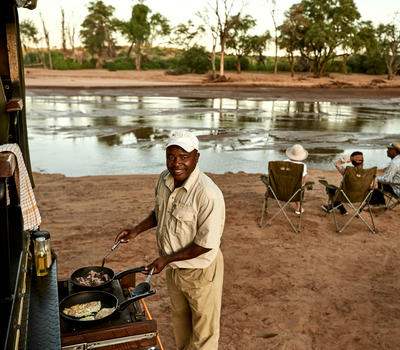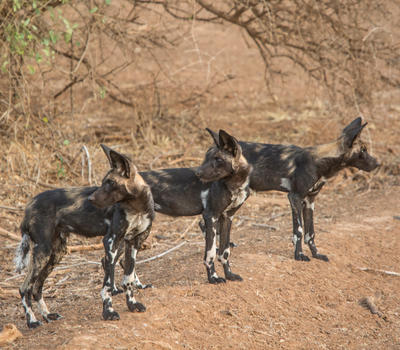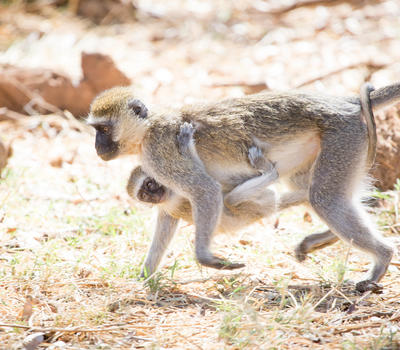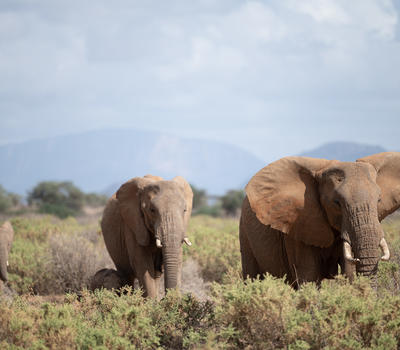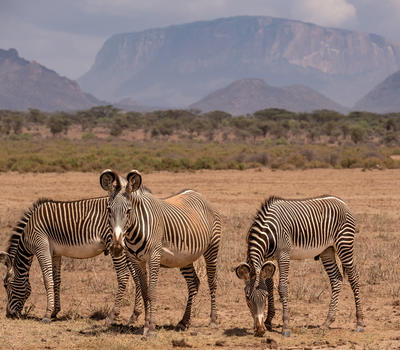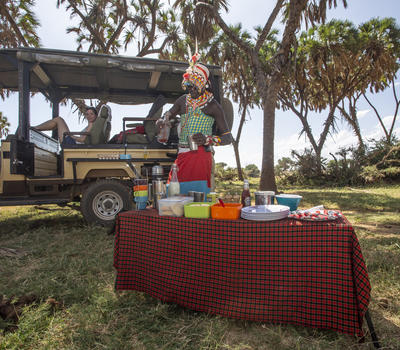 Sasaab is located in an area of rich natural diversity with an astounding number of animals, from majestic elephant herds to predatory lion, leopard and cheetah. The bird life in Samburu is exceptional with high concentrations of different species. This area of Kenya is also home to the 'Samburu Special Five', a group of animals endemic to this area of northern Kenya and not found elsewhere. They are the Beisa oryx, reticulated giraffe, Grevy's zebra, Gerenuk antelope and Somali ostrich. There are two areas to explore whilst out on a game drive: Westgate Conservancy (which is where Sasaab Lodge is located) and the Samburu and Buffalo Springs National Reserves which are a short drive away. Sasaab has a fleet of specially designed open-sided safari vehicles to ensure maximum game viewing and comfort. They are kitted out with suncream, a selection of hot and cold drinks, books and sweets - everything to keep you happy during a game drive! Our professionally trained guides are local Samburu people with an in-depth knowledge of the area, its wildlife and culture.
Show More
Show Less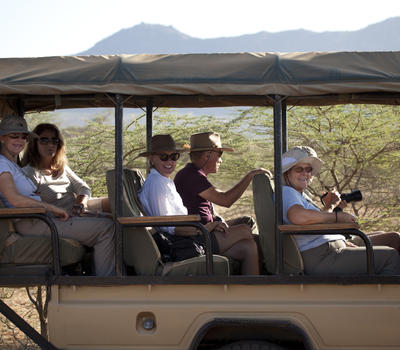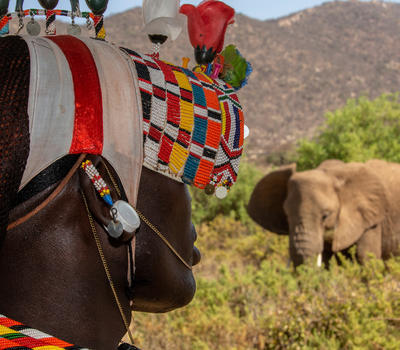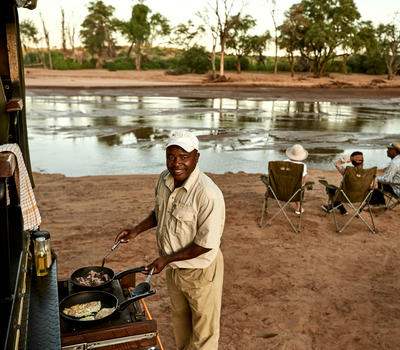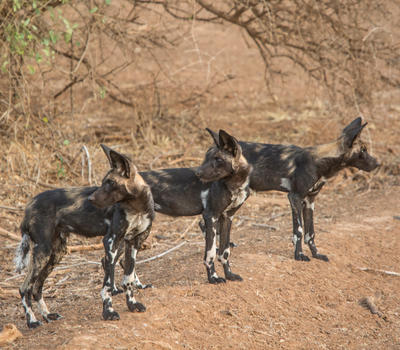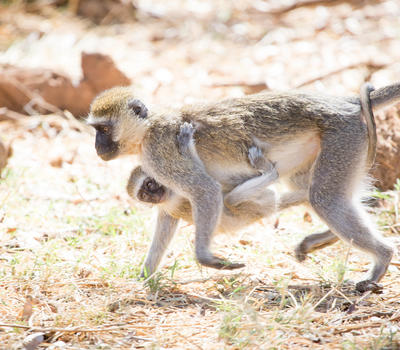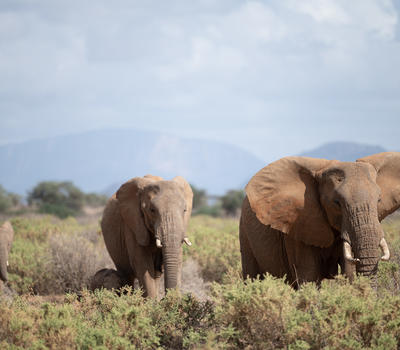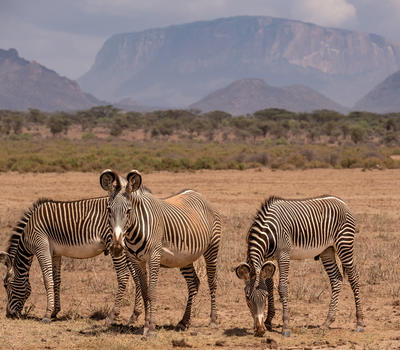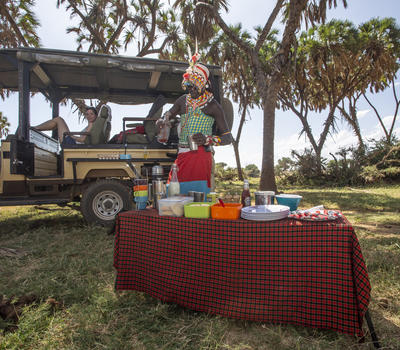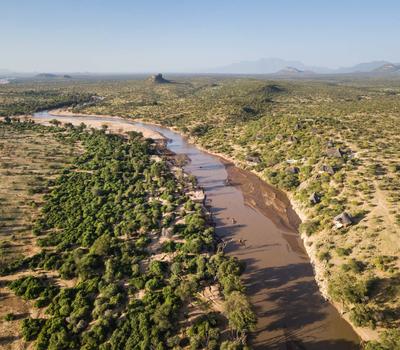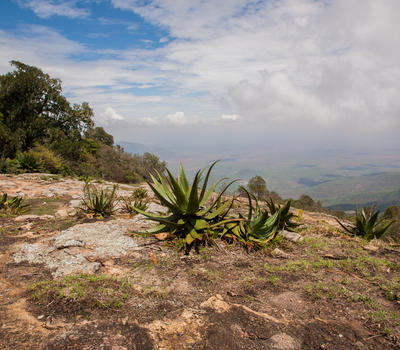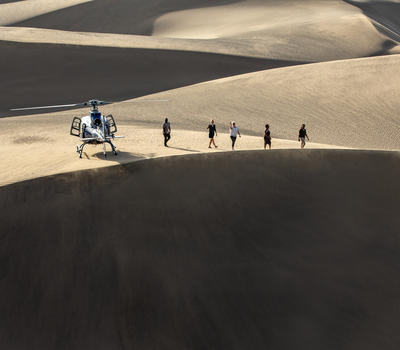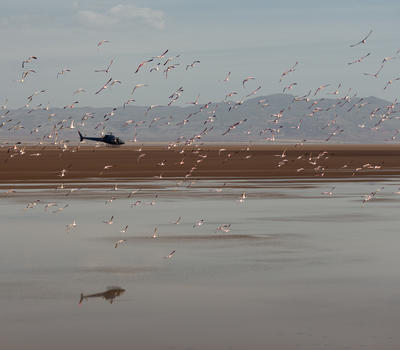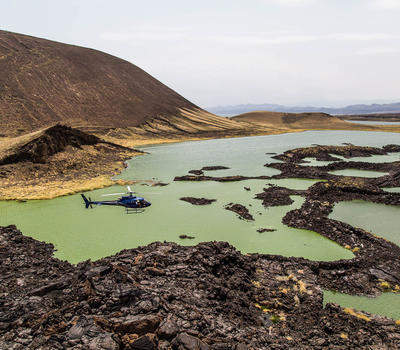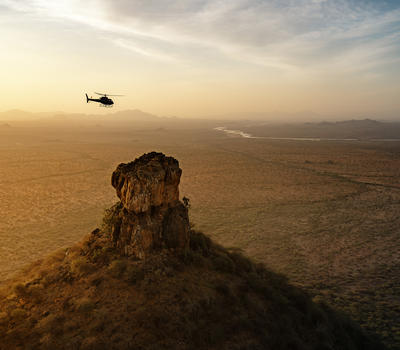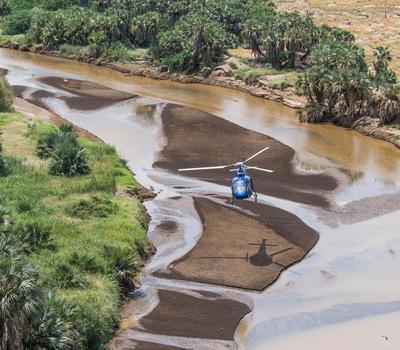 Experience the ultimate freedom and explore northern Kenya's remote wilderness with your own set of propellers. Get ready for jaw-dropping views, awe-inspiring landscapes and an unforgettable adventure.
Our Eurocopter AS 350 B3 helicopter is based at either Sasaab or Solio and is on standby to whizz guests off on a variety of excursions to the most remote destinations in Kenya. With five passenger seats, sliding doors and proven superior performance in extreme conditions, our AS 350 is perfect for low level cruising with optimum viewing.

Please refer to the Helicopter Excursions Document in the Documents section for more details.
Show More
Show Less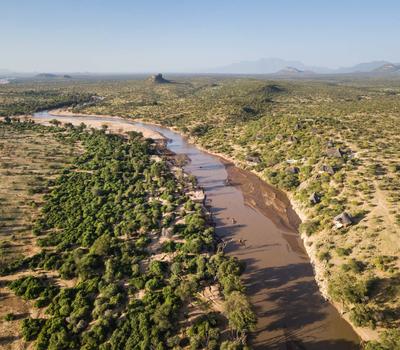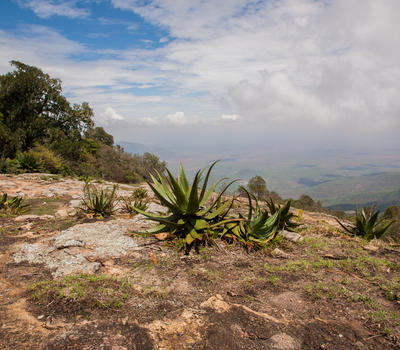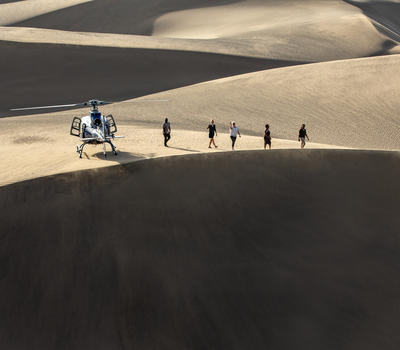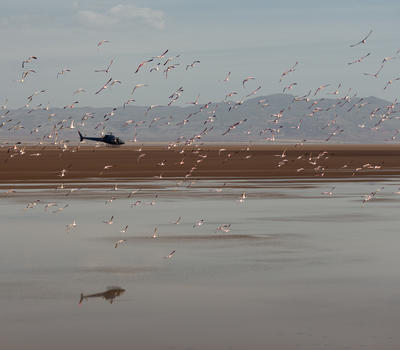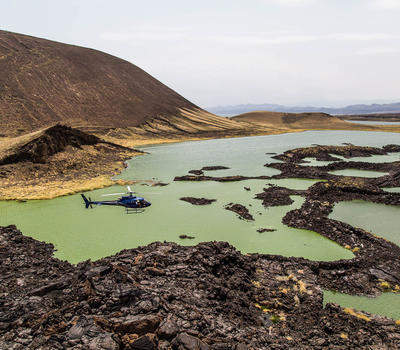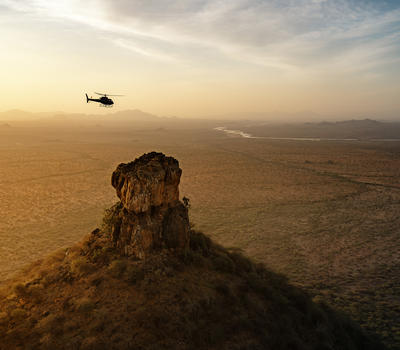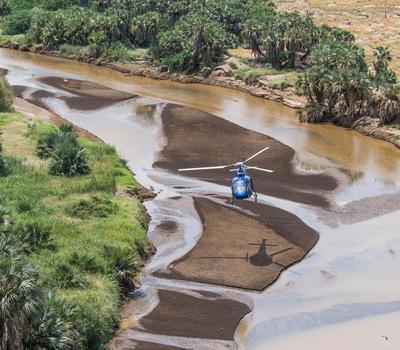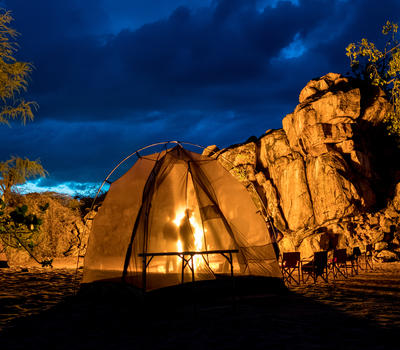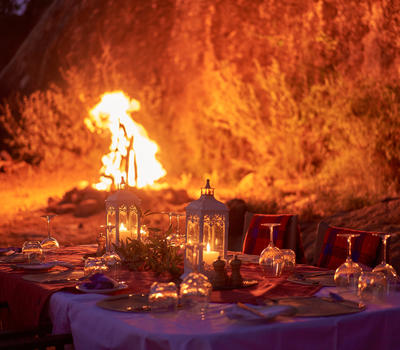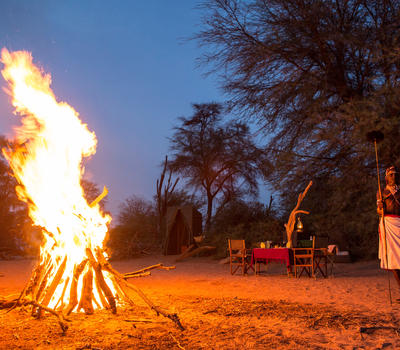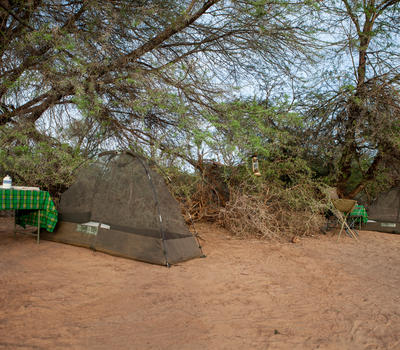 For the adventurous, we can set up a mobile expedition camp in which you sleep out under the stars, so guests have the chance to experience something truly wild. Advanced notice is required and this activity must be pre-booked.
Show More
Show Less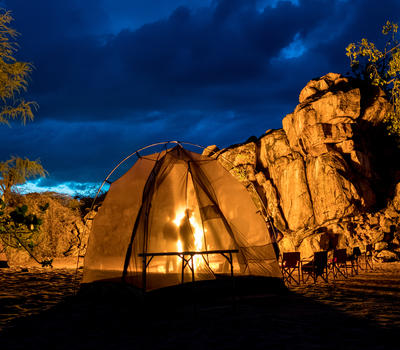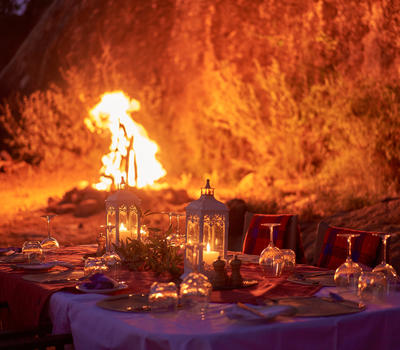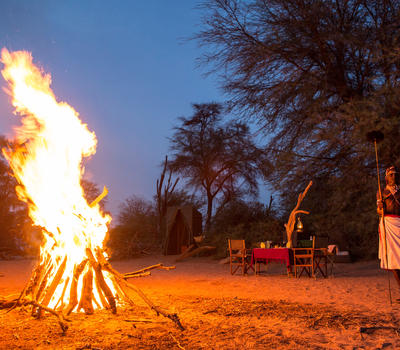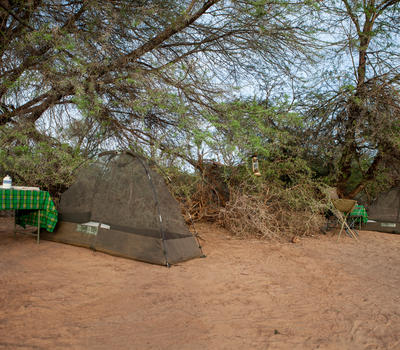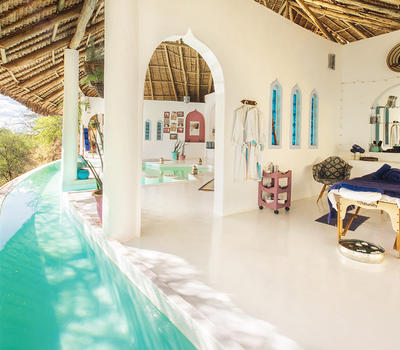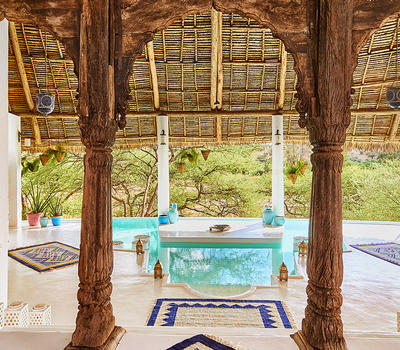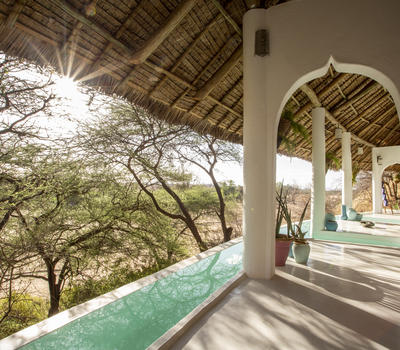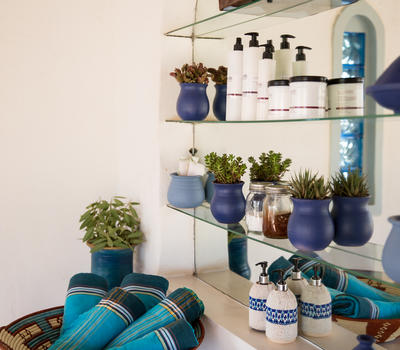 Our tranquil spa offers a selection of massage and beauty treatments designed to restore your body's natural balance and soothe away your stresses. We use products by Healing Earth, a premium organic brand inspired by ancient African healing traditions. All our treatments make use of the most luxurious Healing Earth oils and balms.
Show More
Show Less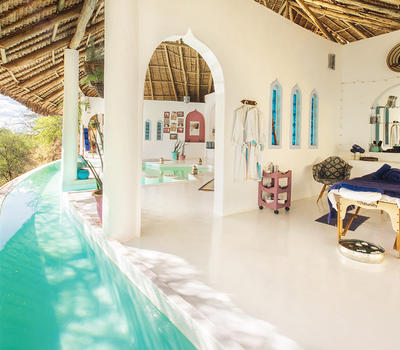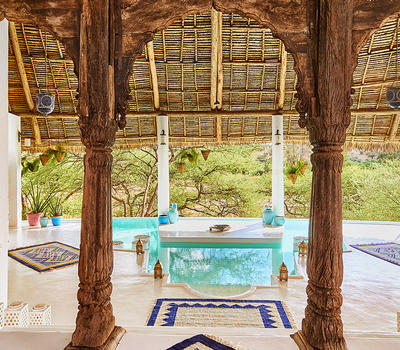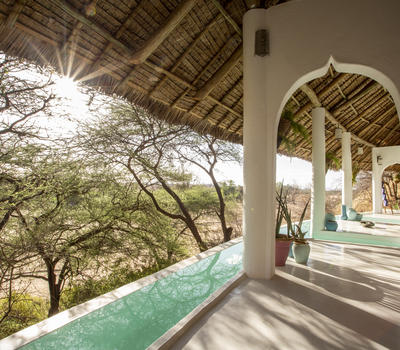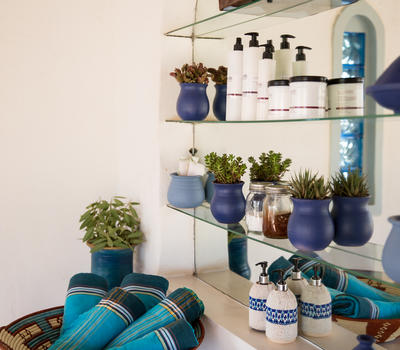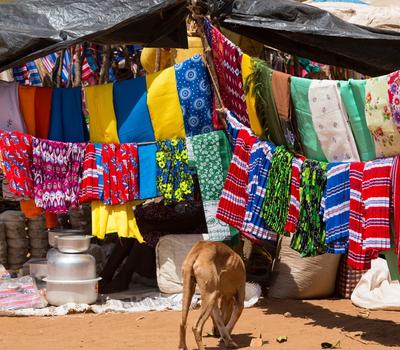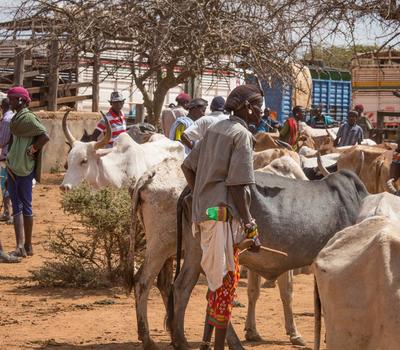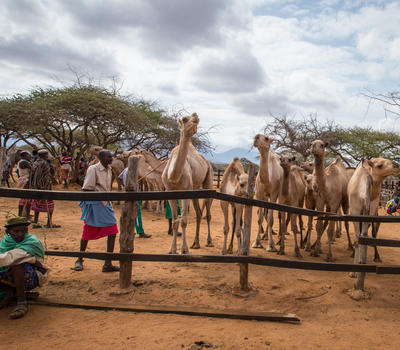 Experience a colourful assault on all the senses at an authentic Samburu market. From bleating livestock to household goods and beaded jewellery, local Samburu people meet here to trade, sell and buy all sorts of goods. Market days usually happen on Wednesdays and Thursdays but can vary, please check with our team if you're interested in doing this.
Show More
Show Less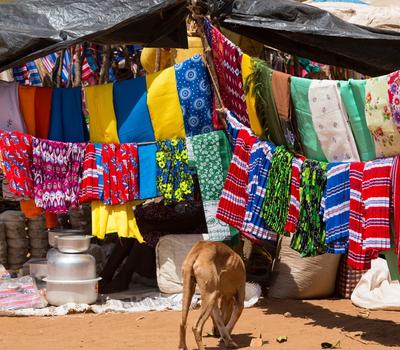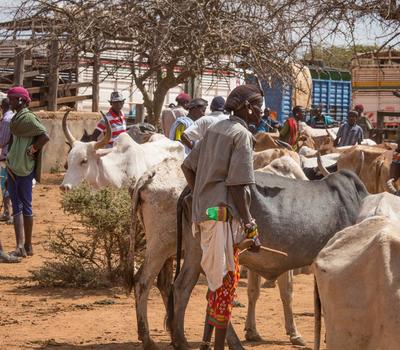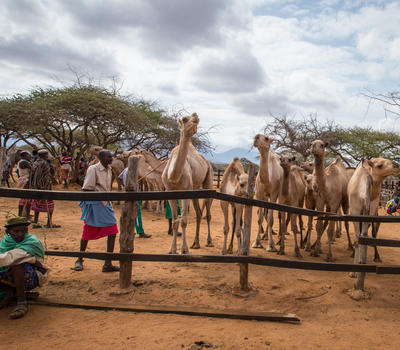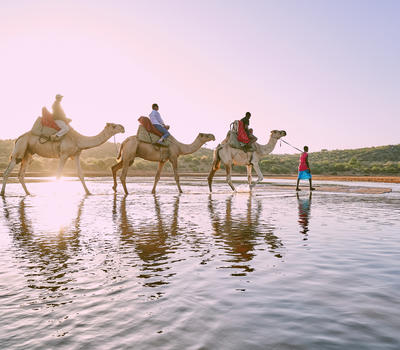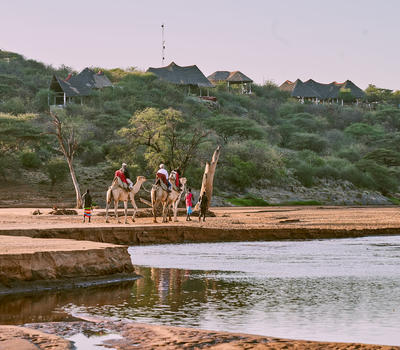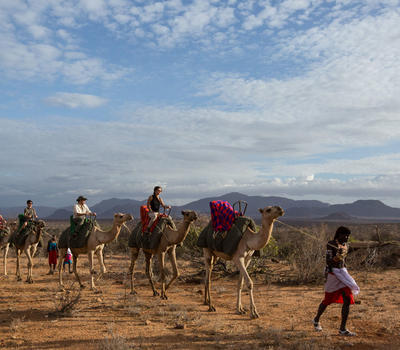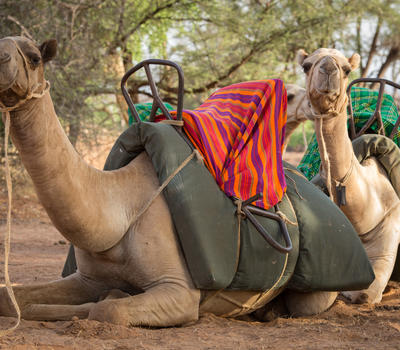 Sasaab has five resident camels. Guests usually enjoy camel rides in the cooler late afternoon hours. A popular choice is to embark on a leisurely walk down by the river and end up at our sundowner spot in time for an evening drink, which is around a 45 minute ride.
Show More
Show Less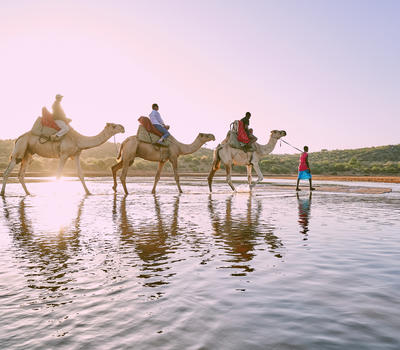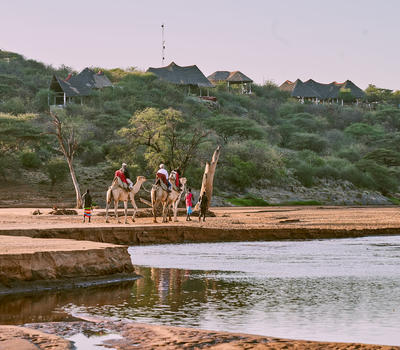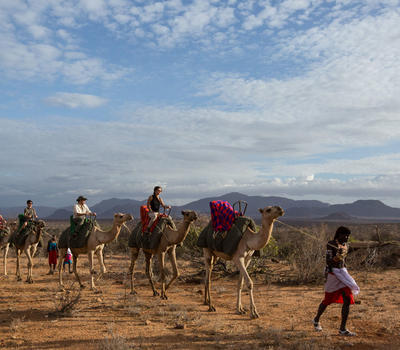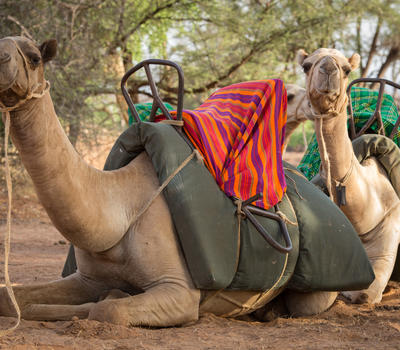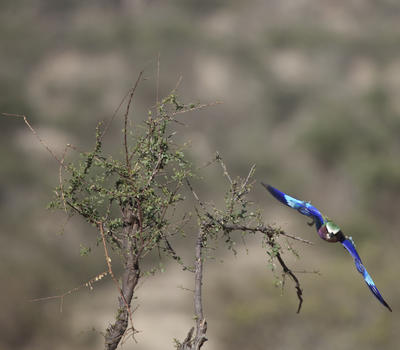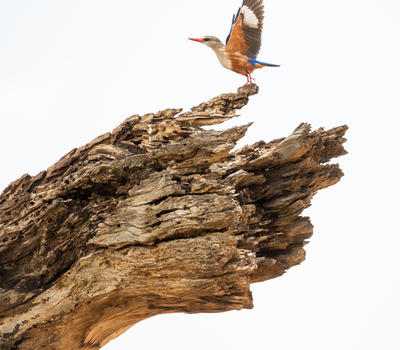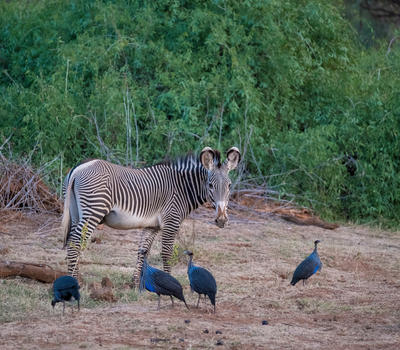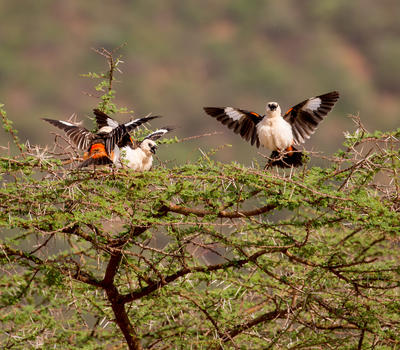 NATURE AND BIRD WALKS / RUNNING
Stretch your legs and take the time to appreciate the beautiful, flora, fauna and birdlife. It is possible to enjoy morning bird walks, late afternoon walks with sundowners or half day walks. If you are feeling energetic, one of our spotters will be happy to escort you on a riverside run!
Show More
Show Less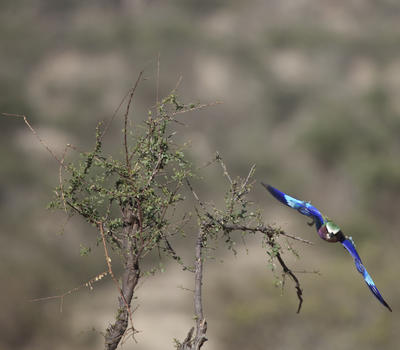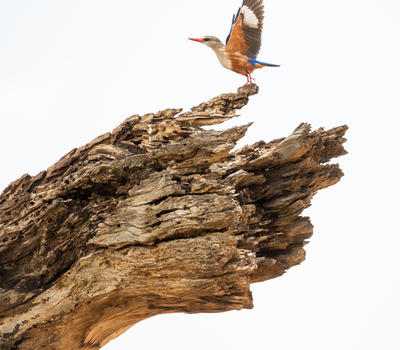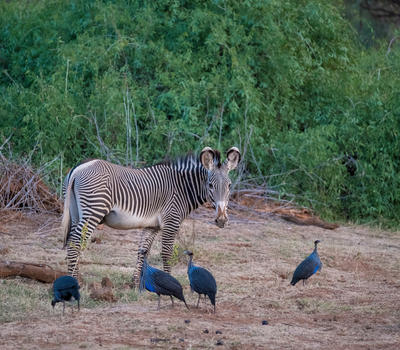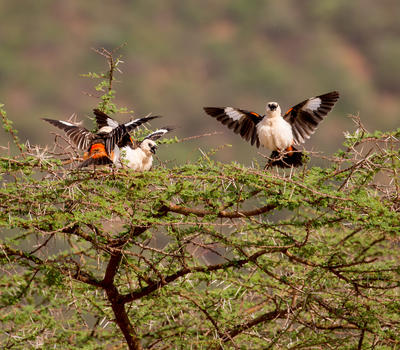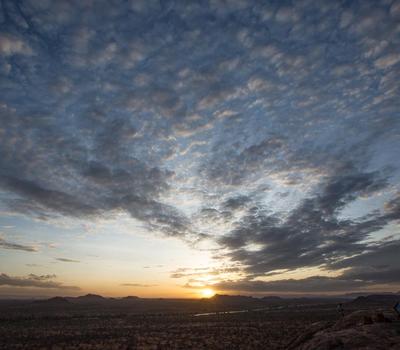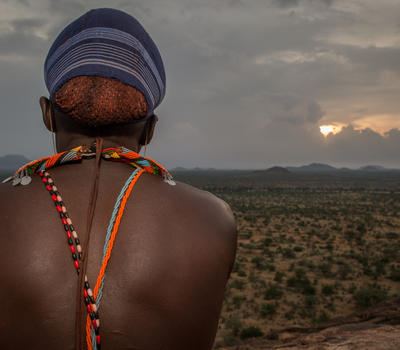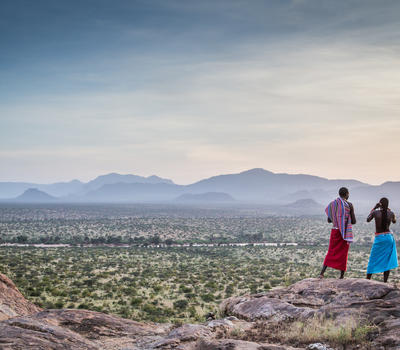 Sundowner Rock in Westgate Conservancy has become somewhat of a legendary spot due to its phenomenal panoramic views stretching as far as the eye can see. Scramble up the giant rock boulders to be blown away by the scenery. This is likely to be one sundowner which will leave a lasting memory.
Show More
Show Less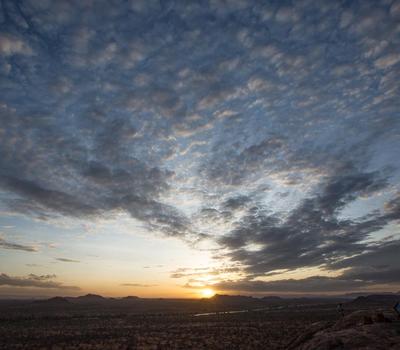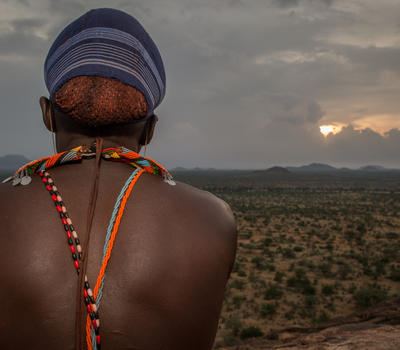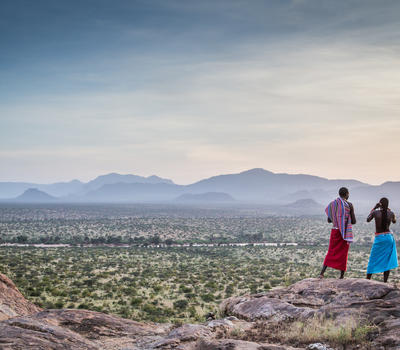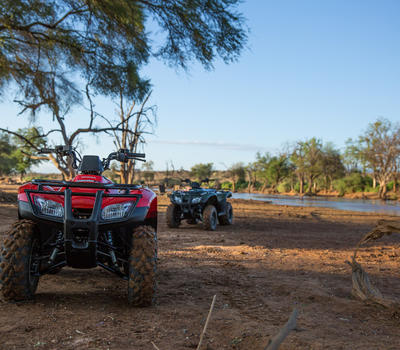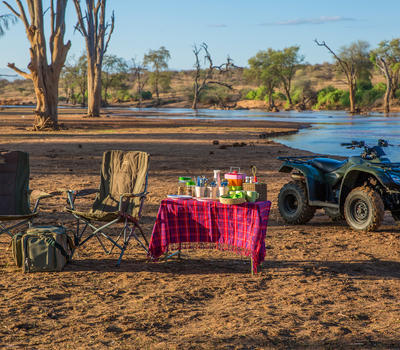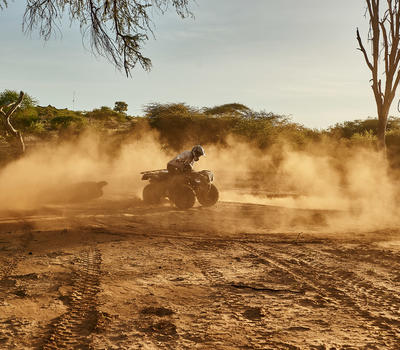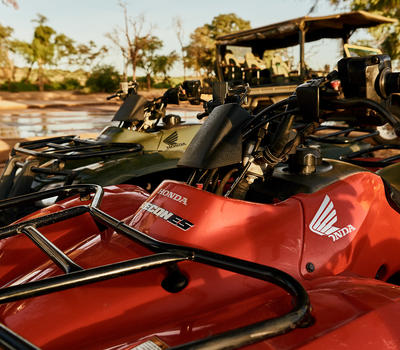 For the adrenaline junkies among you we have four quad bikes available to use. Enjoy the freedom of exploring Westgate Conservancy at your own pace. We can even tailor a quad bike excursion complete with an overnight fly-camping expedition for the ultimate wild adventure (advance notice is required). Helmets and a guide are provided and there is a minimum age limit of eight years, depending on the child's height and abilities. For children, we can take the bikes down to the beach by the river and set a course for them there. Quads can be enjoyed starting from US$ 35 per person per hour.
Show More
Show Less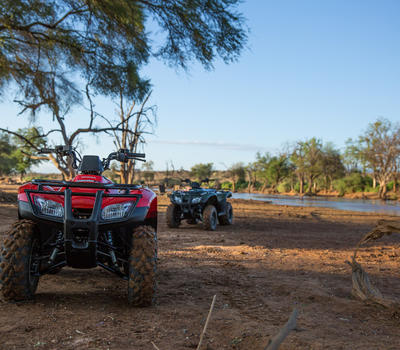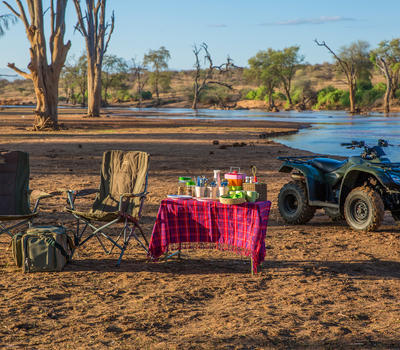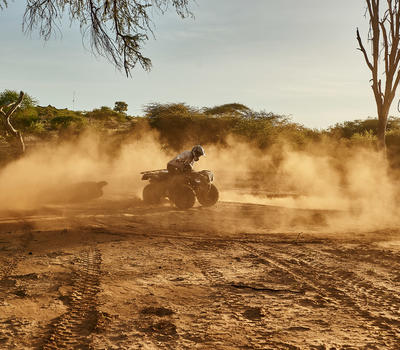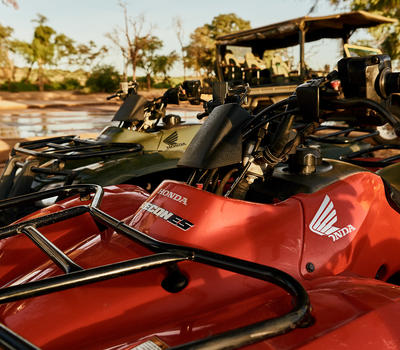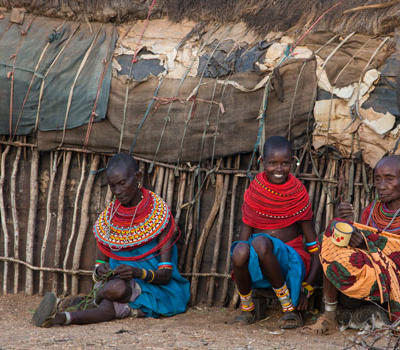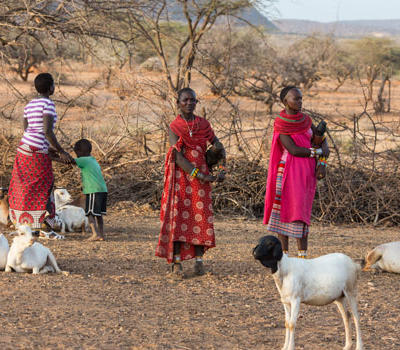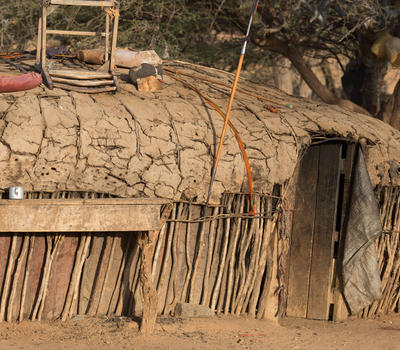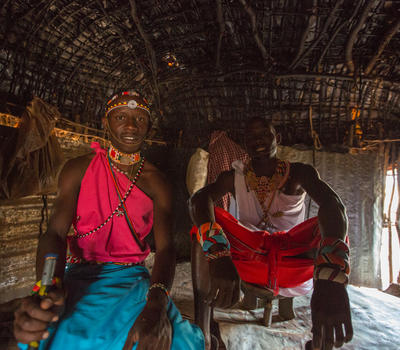 A 'manyatta' is a Samburu (or Maasai) settlement, formed by a group of huts within a fenced compound. If you are interested, we can arrange a visit to one of our neighbouring villages to gain an insight into the fascinating culture of the Samburu people and how they survive in this harsh, arid environment. This excursion is dependent on the Samburu elders and each visit must be individually arranged with the lodge during your stay.
Show More
Show Less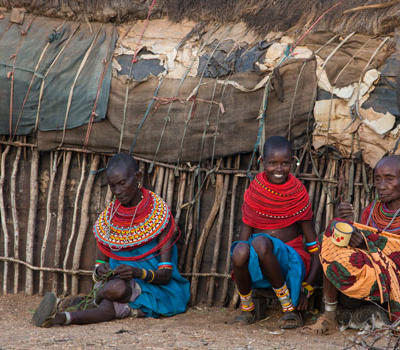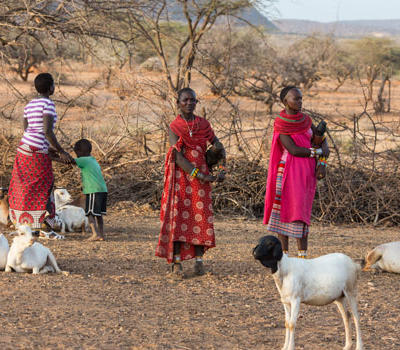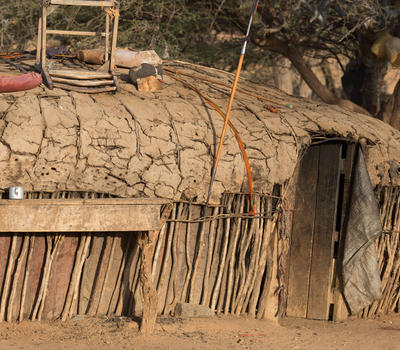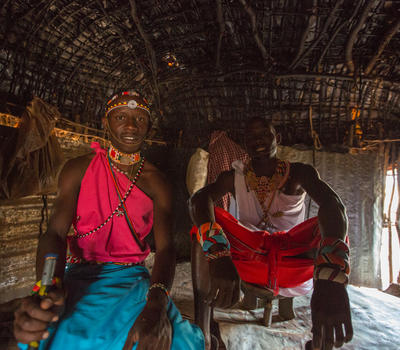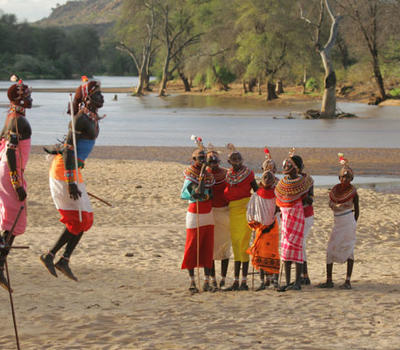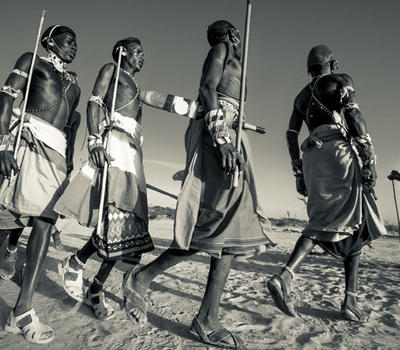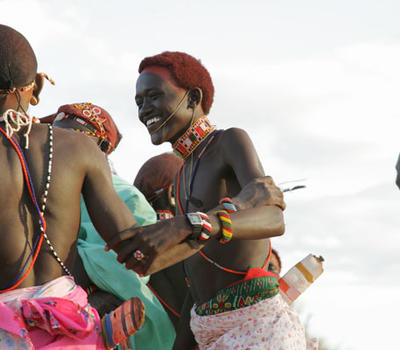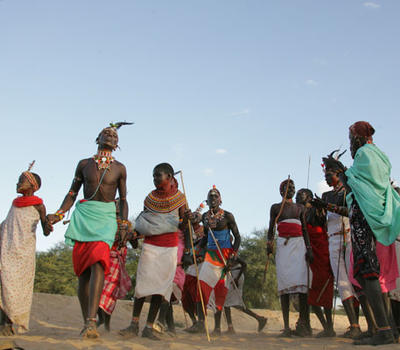 It is possible for us to organise a traditional dance with the local Samburu community for guests to watch and even participate in. It is a real assault on all the senses and an unforgettable experience that many guests say is a highlight of their time at Sasaab. The dance is a spectacular display of the Samburu warriors and girls clapping, singing and jumping, dressed in elaborate headdresses and brightly beaded necklaces. It usually takes place on the dry riverbed close to the lodge and is enjoyed with a sundowner. At the end of the dance the warriors, as per their tradition, slaughter a goat. Our guests are welcome to participate in this ceremony if they wish. This activity is subject to availability and is preferably booked prior to your arrival at Sasaab as we need at least 24 hours to organise the dance with the warriors. This activity costs US$ 200 per group (subject to confirmation) which is given to the community.
Show More
Show Less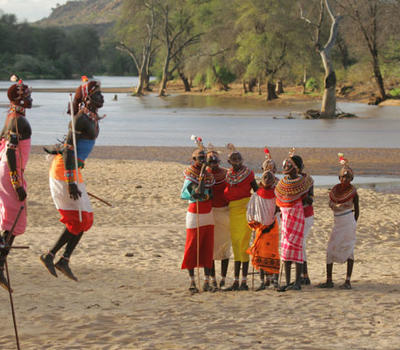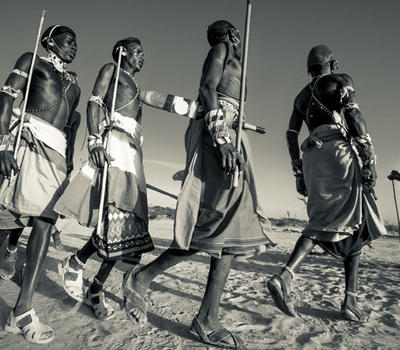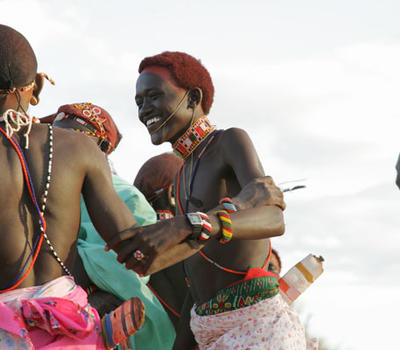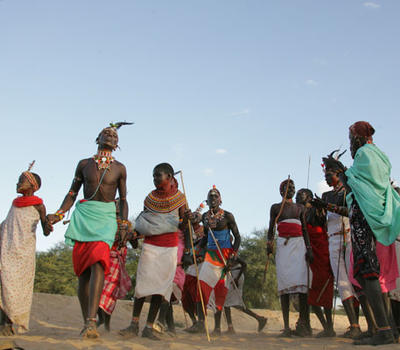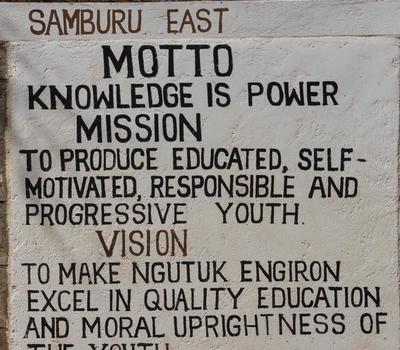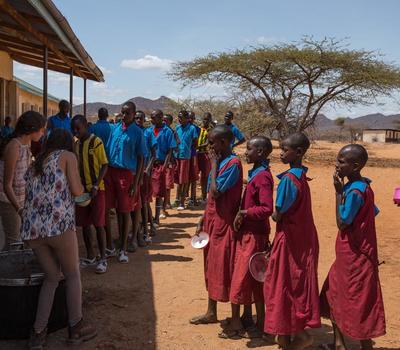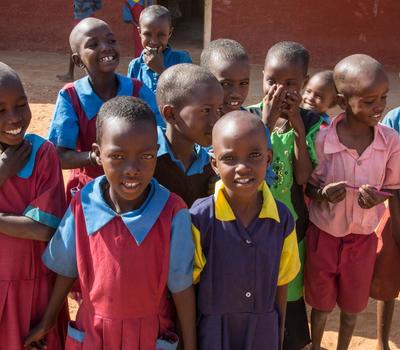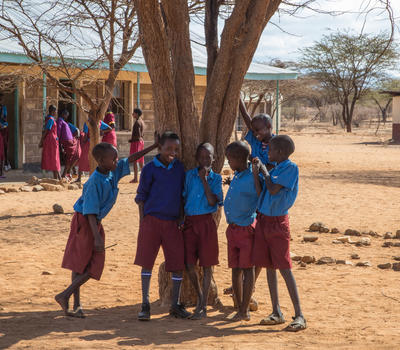 Sasaab is involved in a diverse variety of health and education projects in the local Samburu communities, from kitting out school libraries to supporting clean water boreholes and building classrooms. You are welcome to visit one of the local primary schools that we support near to the lodge to meet the children and teachers. (Not available on weekends or during school holidays.) Visit our Footprint page to find out more about the initiatives we support at Sasaab and how just by staying with us, you're making a positive impact on the people and wildlife.
Show More
Show Less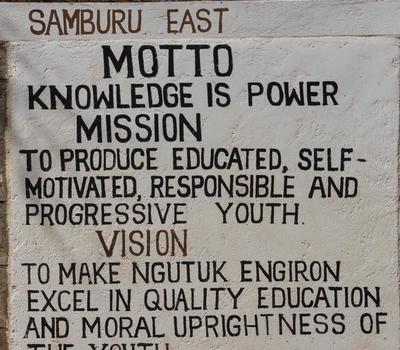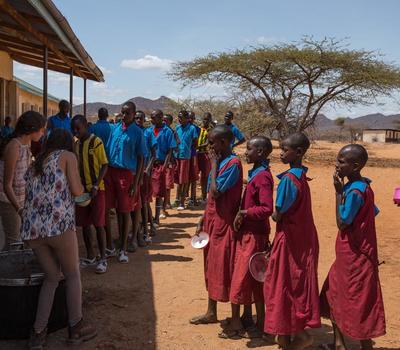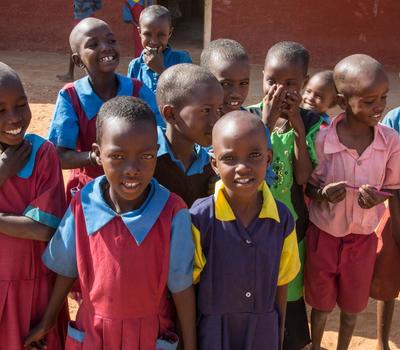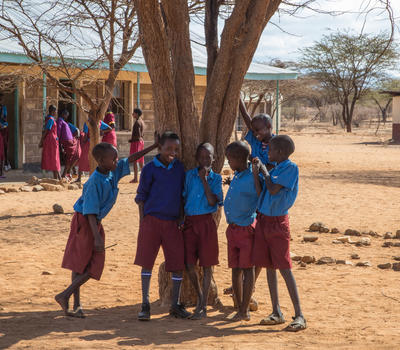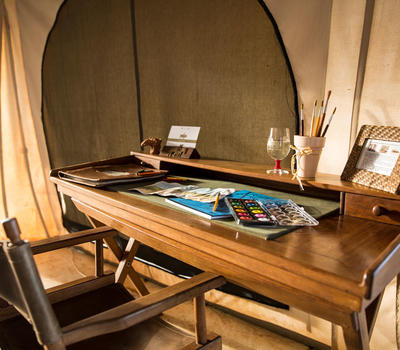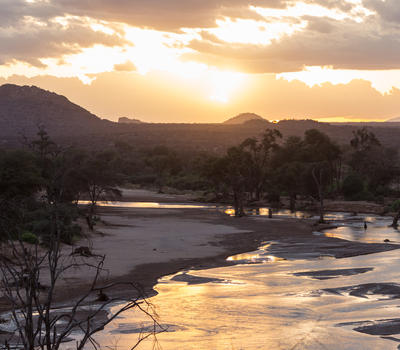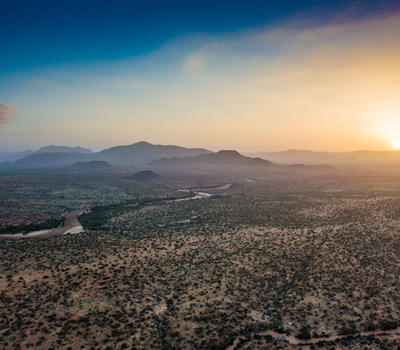 Each room has a watercolour set and artist pad for you to use during your stay. Get creative in Sasaab's idyllic, artistic surroundings and paint the unique scenery, wildlife, flora and fauna.
Show More
Show Less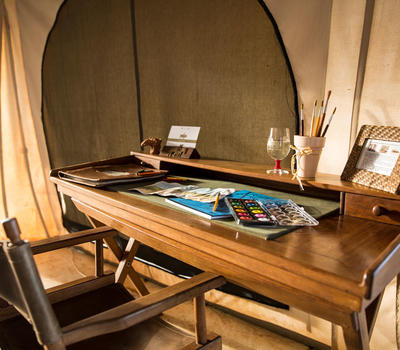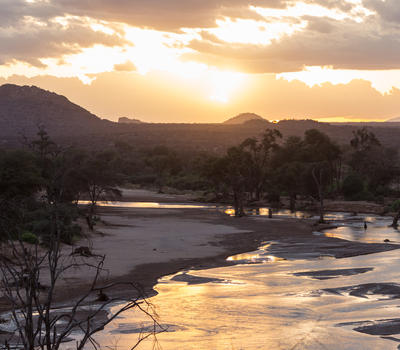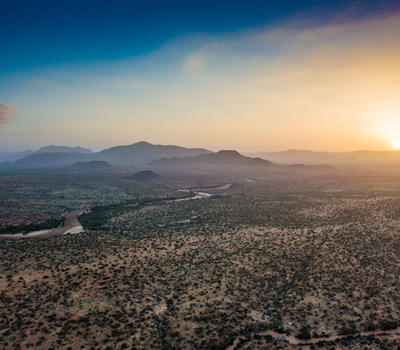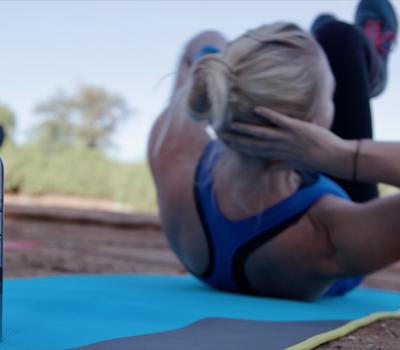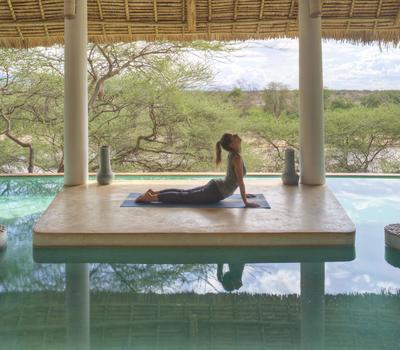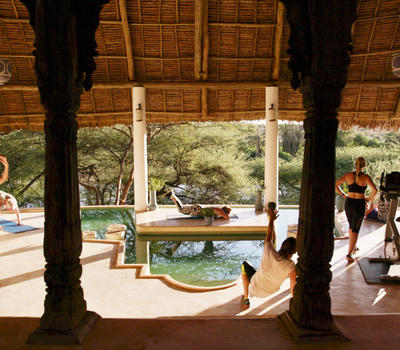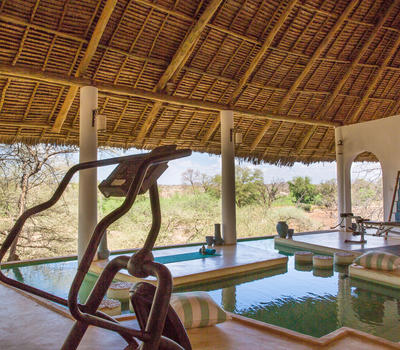 Sasaab has a compact but fully functioning gym complete with free weights, an elliptical trainer, exercise bike and TRX, so you can really work up an appetite for our scrumptious cuisine. With a fabulous view out over the Ewaso Nyiro River, you might even be able to do
a spot of elephant watching whilst working out. You'll also find a yoga mat and skipping rope in your tent, perfect for use on your veranda whilst taking in the view. Make the most of your private plunge pool for a refreshing post-workout dip. If you're feeling energetic and would like to go out jogging, you can request for one of our spotters to accompany you on a run. This is best done very early in the morning to avoid the heat.
Show More
Show Less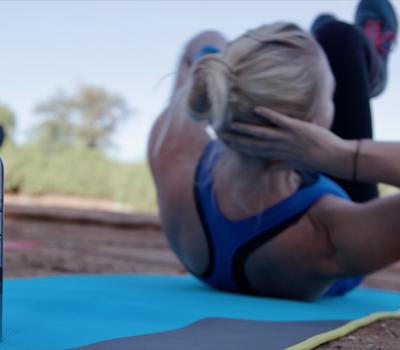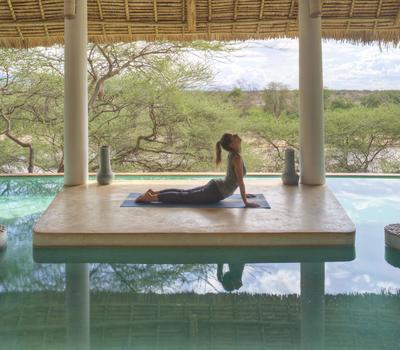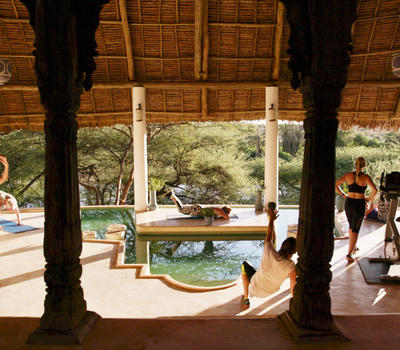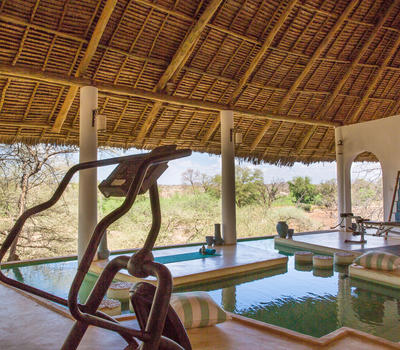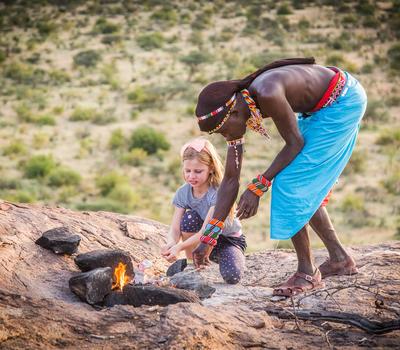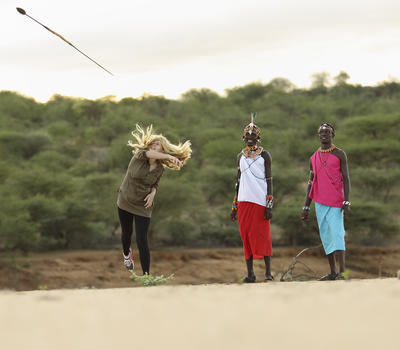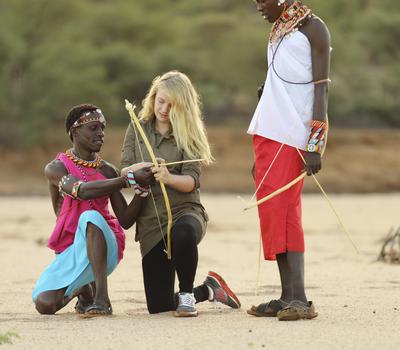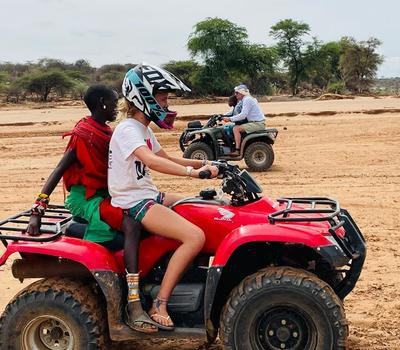 In additional to exiting game drives, camel adventures, quad bikes and time spent splashing around in the pool, there is lots on offer at Sasaab to delight younger guests. Children often love to spend a few hours with one of our friendly Samburu warriors who will guide them on a nature trail specially designed for little ones. They can learn to make a traditional Samburu bow and arrow and also how to make a toothbrush from the Samburu toothbrush tree (don't throw your toothpaste and floss away too quickly). This is fun for big kids too! If there are a group of children, our guides can organise a mini 'Samburu Olympics' for them to show off their warrior skills against one another. Sundowners are a sticky treat for children: marshmallows grilled on a small bush fire while you enjoy a grown-up drink and take in the spectacle of the setting sun over the vast African plains.
Show More
Show Less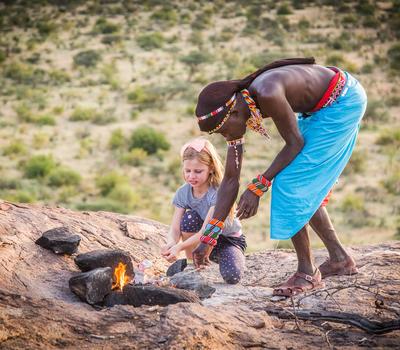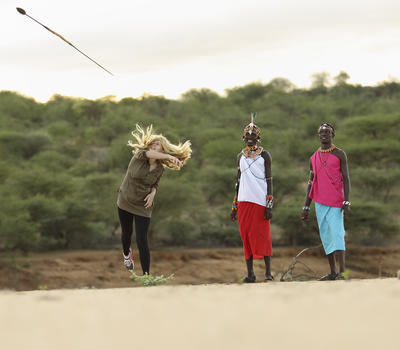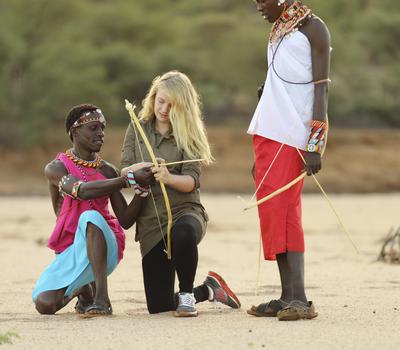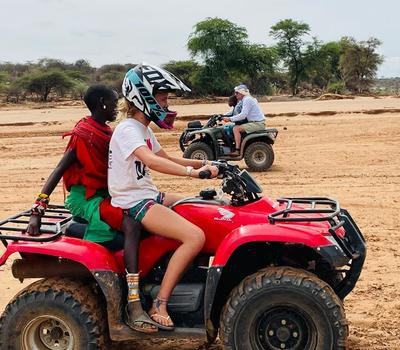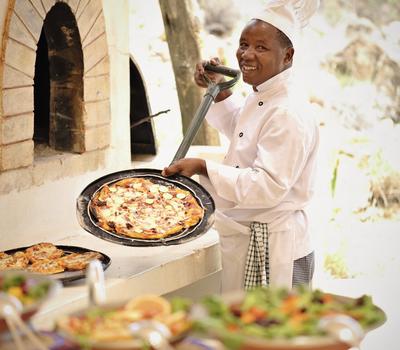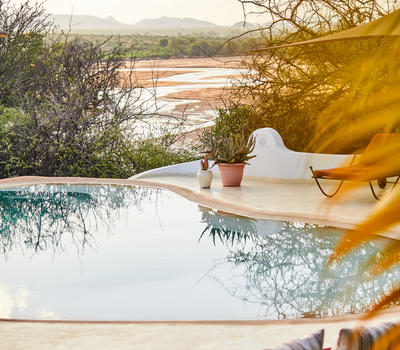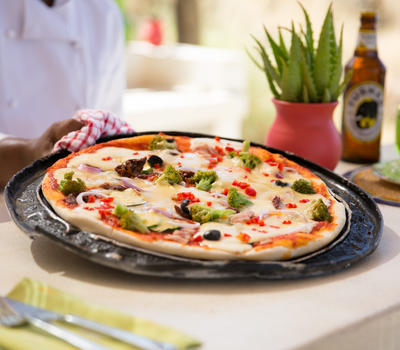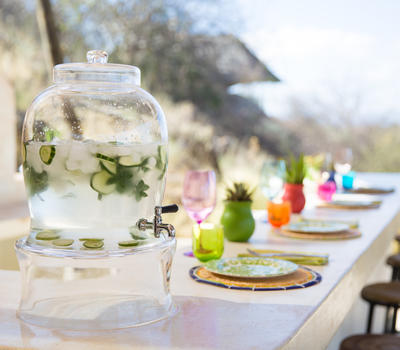 In addition to the private plunge pools available in each room, the lodge boasts a stunning infinity pool on the edge of the cliff, overlooking the river below. Its water is heavenly in the heat of the day and it is a great spot from which to watch the wildlife coming and going along the river. The pool is always open, but please note that there is no lifeguard on duty, so children must be supervised at all times. We also have a poolside pizza oven for guests to enjoy lazy lunches and delicious homemade pizza. You can even design your own pizza toppings if you like. This is usually part of our menu for guests staying several days, but if you're only with us for a short stay and are interested in this, please let a member of our team know.
Show More
Show Less