Bushmans Kloof Wilderness Reserve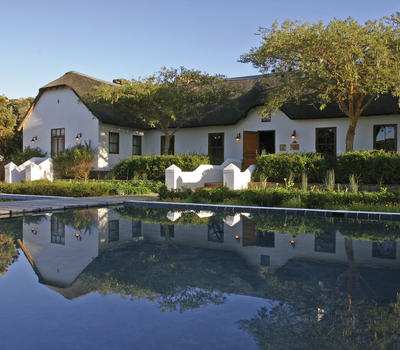 The Homestead is the heart of the lodge; the dining room and terrace area is a haven of old-world charm and elegance, augmented by our outstanding private art collection. This formal dining room has an air of warmth and splendid luxury. A full complement of attentive staff present specialities offered from the Executive Chef's table d'hôte menu. Dishes are a feast for all the senses, served in an atmosphere of conviviality and true South African hospitality.
Mingle with other guests at the congenial bar, or sink into relaxation in one of the two relaxing lounges. One invites intimate fireside chats, while the other is equipped with a flat-screen TV where you might take in a live sports match or enjoy a film or documentary. Here you'll also find our well-stocked library, filled with novels, non-fiction and a fascinating selection of Africana, as well as a comprehensive collection of wildlife films.
Show More
Show Less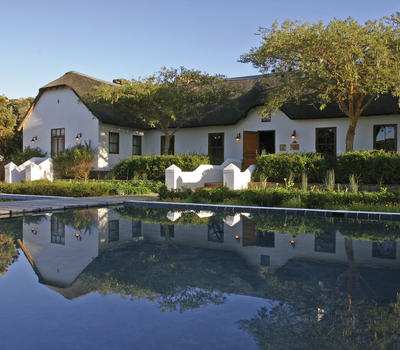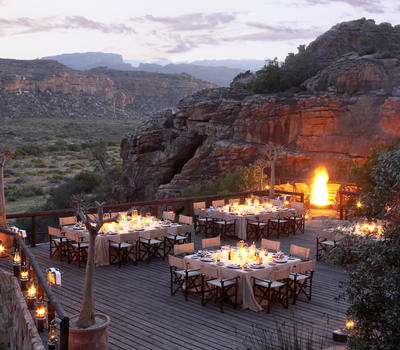 Embers provides an extraordinary and breathtaking dining experience. Revel in the experience of dining under the billion stars of the Milky Way in this singular and jaw-dropping location. Built into a natural sandstone amphitheatre, Embers is perched on a dramatic cliff and overlooks the spectacular valley below. It is lit by a roaring fire, and a myriad candles and lanterns create a truly magical atmosphere.
Diners are spoilt for choice with a South African salad buffet and home baked breads, a choice of grills, including Karoo lamb, traditional boerewors sausage, succulent steaks and chicken kebabs, and of course delectable desserts.
The vitality of the Cederberg pulses through giant boulders around you, while you enjoy an exceptional meal under the light of the moon.
Show More
Show Less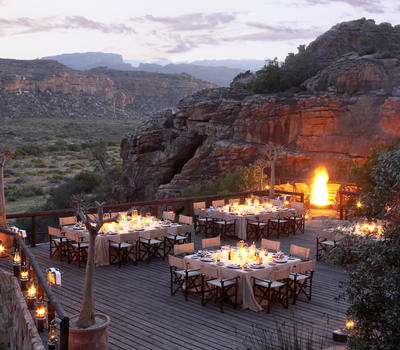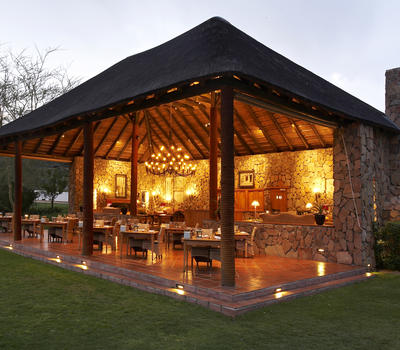 In the ancient San language the word 'Makana' means 'to feast', and this dining area was designed to emulate the sheltered ambience of an open-fronted cave. Natural stone walls enclose an elegant and luxurious lounge with twin fireplaces. The al fresco dining area overlooks sweeping lawns to the babbling Boontjies River and the wilderness beyond.
Makana is also the ideal venue for a leisurely, traditional high tea. On warm evenings enjoy a candlelit dinner, with choice of succulent grills and organic vegetables. Complement your meal with our consummate wine selection and let your spirit drift over the gentle sounds and magnificent views of an African dusk.
High Tea at Bushmans Kloof:
A delectable selection full of sweet and savoury treats.The Tea Chef is always on hand to explain what has been prepared and to slice a piece of delicious homemade cake for you. Enjoy:
Sandwiches with delicious fillings
Mini pies and quiches
Beautifully decorated freshly baked cakes and tarts; delectable chocolate brownies and mini tartlets
Freshly baked scones served with whipped cream, strawberry and apricot jam
Variety of fresh fruit
Organic items are sourced from the Walled Garden for High Tea. Served for an hour before the evening nature drive departs.
Show More
Show Less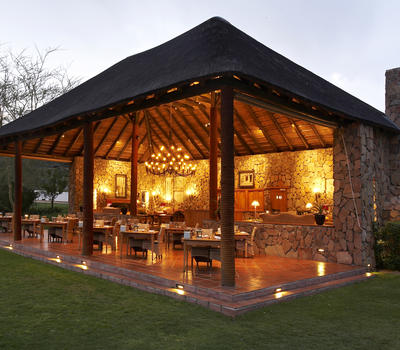 A rustic secluded dining experience
'Kadoro' means 'tinderbox of stories', a poetic and fitting name for this rustic, secluded cottage in the heart of the reserve. Originally an old shepherd's house, the structure has been renovated and furnished, but not modernised. Kadoro has no electricity; outside, the starlit Cederberg Mountains wend their way into the distance under clear night skies. Ideal for romantic private dining and intimate groups; a dinner by candlelight will give you a glimpse into a bygone era. Enjoy this rural setting alongside an exquisite culinary experience of delicious braaivleis (barbecues) or wholesome soups and stews.
The Kadoro Extraordinary Dining experience is offered at R1 000 per person, and is available on request only and does not include any cultural entertainment experiences.
Show More
Show Less
Bushmans Kloof's Extraordinary Dining experiences are a variety of venues and eating styles created here for an utterly unforgettable experience of food, wilderness and life. Whether it's a picnic on the banks of a sparkling river, or a lavish dinner at a secluded cottage deep in the reserve, our passionate staff will ensure your meal is a special experience.
Extraordinary Dining Experiences come at an additional cost and are available on request only. Our staff will be happy to advise you of options during your stay.
Walled Garden:
Enjoy private dining for couples or groups in the gorgeous walled garden near the lodge at Bushmans Kloof. Amongst the heady scent of ripening vegetables and herbaceous fynbos, let yourself laze and enjoy a sumptuous spread prepared especially for you.
This Extraordinary Dining experience comes at an additional cost of R350 per person and is available on request only.
Reserve Picnic:
Picnicking has been honed to a fine art here at Bushmans Kloof, and we pride ourselves in creating lavish packed lunches, chock-full of mouth-watering surprises and delicious treats. Order an energy-packed midday meal to accompany you on your hike or bike ride in the reserve. Find a rocky overhang near a crystal-clear waterfall, and dig in. For a more formal event, a gourmet spread can be laid out amongst the spring flowers, on riverbanks or rocky outcrops for a luxuriant meal under a wide azure sky.
Picnic Extraordinary Dining Experiences are offered at R400 per couple, and are available on request only.
The River Boma:
The River Boma is an extraordinary and romantic location for exclusive, private dining. Your table awaits in this low-walled, circular structure while our staff attend to your every need. Listen to birdsong and murmuring waters of the Boontjies River as you enjoy a full a-la-carte dining experience.
The River Boma Extraordinary Dining Experience is offered at R350 per person, and is available on request only.
Show More
Show Less