Bushmans Kloof Wilderness Reserve
Here at Bushmans Kloof, we know that a deep and ancient pulse of life connects the earth and the plants and animals that thrive here. Our spectacular location and exceptional conservation efforts ensure a nature and wildlife getaway unlike any other
Rock Art Excursions
Guides are available to take you on walking tours or drives of our spectacular nature reserve. Explore the wilderness in all its diversity. Enjoy ever-changing landscapes and some of the Cape's most rare species that we pride ourselves in protecting. Sundowners and picnics are ever-popular, served at scenic spots throughout the drive.
In this extraordinary environment, there is much to be seen (and heard) after sunset. You may want to explore this dark world on an after-dinner drive under a canopy of stars. Enjoy unparalleled stargazing and spot elusive, nocturnal wildlife highlights such as the Aardwolf, African Wildcat, Bat Eared Fox, Cape Fox and Porcupine.
Flora at Bushmans Kloof - The World of Fynbos
The Cape Floral Kingdom (of which fynbos makes up over 80%) is the smallest of all plant kingdoms and yet has the highest concentration of species in the world.
The area sees 1,300 plant species per 10,000 km². To put that into perspective, the Amazon rainforest (fynbos' closest rival) has a concentration of only 400 species per 10,000 km².
Nature Drives & Walks
Guides are available to take you on walking tours or drives of our spectacular nature reserve. Explore the wilderness in all its diversity. Enjoy ever-changing landscapes and some of the Cape's most rare species that we pride ourselves in protecting. Sundowners and picnics are ever-popular, served at scenic spots throughout the drive.
In this extraordinary environment, there is much to be seen (and heard) after sunset. You may want to explore this dark world on an after-dinner drive under a canopy of stars. Enjoy unparalleled stargazing and spot elusive, nocturnal wildlife highlights such as the Aardwolf, African Wildcat, Bat Eared Fox, Cape Fox and Porcupine
Organic Garden Tours
For gardeners, gastronomes and plant lovers, take a tour of our marvellous organic gardens. Abundant fruit trees, herbs and vegetables are grown seasonally and under scrupulous sustainable farming practices.
Our kitchen gardens are augmented by our Bushman gardens of indigenous species. Learn about the culinary and medicinal uses for these rare and unique treasures.
Botanical Highlights
The natural botanical richness of Bushmans Kloof includes more than 755 indigenous plant species.
These plant species are representative of three major vegetation types namely: Fynbos, Forest and Karoo biomes.
Bird life & Bird Watching
Avid birdwatchers will find themselves in a paradise of twittering, feathered creatures. Novice birders will enjoy the easy gratification of spotting many wonderful bird species on nature drives or from the comfort of the lodge or your own patio.
A huge diversity of birdlife is thriving once more, with 150 species from the great African Fish eagle to the jewel-like Sunbird. Keen birders may even spot a Black Harrier. A number of dams have been established around the lodge, and have been successful in attracting resident waterfowl.
Wildlife on the Reserve
Bushmans Kloof is a malaria and predator free area, ensuring guests are safe to experience our wildlife and herds. Only the rare and secretive Cape Leopard roams the most remote of our mountains.
Bushmans Kloof today protects one of the largest private herds of Cape Mountain Zebra in the world, an animal saved from the brink of extinction. The Cape Mountain Zebra is identified by its bold black and white stripes, as opposed to its savannah-dwelling cousin, the Burchell's Zebra, which has brown 'shadow' stripes, and a creamy undercoat.
The wildlife reintroduction programme has also seen the return of the magnificent Bontebok, Red Hartebeest, Grey Rhebok and the Ostrich.
Smaller creatures such as the Bat-Eared Fox, African Wildcat, Cape Fox, Caracal (African Lynx), Cape Clawless Otter, Baboon, Rock Hyrax (Dassie), Klipspringer, Aardwolf and Aardvark also roam the plains and rocky outcrops of the reserve.
Show More
Show Less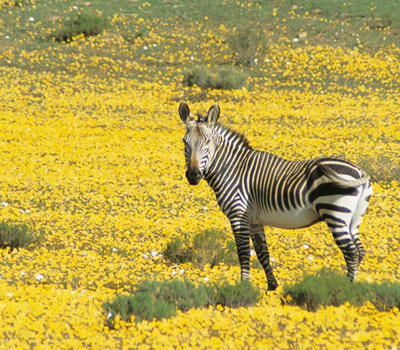 Bushmans Kloof provides a host of activities in the predator and malaria-free reserve; guests are free to explore the breath taking landscape on their own. It is a place to reconnect with yourself, and to reconnect with the earth. Roam over wide-open spaces, explore the sculpted rocks, crystalline waterfalls and abundant flora and fauna. Fill your lungs with the purest air, feel the pulse of the natural world and go wild!
Hike & Bike:
The best possible way to get up-close-and-personal with the fynbos, animals, flowers and rock formations is to enter the wilderness on two feet or two wheels.
You can certainly take it easy on one of our undemanding trails, or challenge your endurance and balance on rougher terrain across the reserve; an experience of solitude and adventure.
We provide backpacks filled with delicious goodies, maps and other useful items. Guides are also available on request.
Mountain Trail - An easy 1 to 2 hour hike close to the lodge
Ravine Trail - An adventurous 2 to 3 hour hike. We do not recommended for anyone who suffers from vertigo as it winds over steep ravines
Crystal Pools Trail - For the seasoned walkers, and we recommend you take an experienced guide with you. Of course you'll want to take a swim in the exquisite waters, surrounded by towering rock formations and the spray of a cascading waterfall nearby. This magical setting is the ultimate picnic spot to relax and savour the natural beauty around you.
Canoeing & Swimming:
Tributaries of the Olifants River system flow through the Bushmans Kloof reserve, cutting through the sandstone and creating crystal-clear pools.
Canoes are available at the dam, where you can experience the calm waters and ancient rock formations under the high, wide, African sky.
Fly-Fishing:
Enjoy the art of fly-fishing at Bushmans Kloof's beautiful dams.
Outwit the endemic Clanwilliam Yellowfish, though strictly on a catch-and-release basis.
All fishing equipment is provided.
Guests may also opt to journey out on a day excursion to the Biedouw River for fishing and fun.
Archery & Croquet:
Practice your skills as a bowman with archery equipment available from the lodge.
An ancient art and a hugely enjoyable recreational activity.
Alternatively, put your hand to the genteel pastime of croquet on immaculate lawns near the lodge.
Perfect for a group of friends and family on a long afternoon at Bushmans Kloof.
Show More
Show Less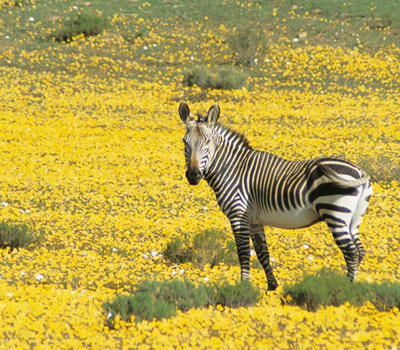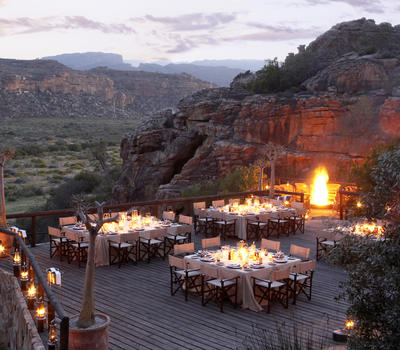 Some guests may prefer alternative activities to expand the mind and feed the soul.
Enrich your mind
Guests may wish to spend some time learning about the environment, the rich cultural history of the ancient Bushman, or about the starry night sky.
The area offers many crystal clear nights perfect for stargazing. The inky sky is dusted with planets and shining constellations to be discovered. Hear talks on the subject and let one of our expert guides take you on a journey through our galaxy.
Learn about the Bushman and the ancient rock paintings they left as their legacy. Guided tours of rock art sites, talks, discussions and books are all available for you to make the most of this fantastic opportunity to gain insight into these cultural treasures.
If you have an interest in kitchen gardens, you'll enjoy a tour of our organic vegetable gardens, walled orchard and unique San medicinal and herb garden.
Learning about wildlife and flora has never been so enjoyable. Listen to special interest talks on a wide and fascinating range of subjects, including birding, entomology and rare and protected species.
Private guides and tours are available on request for an extra fee. Please enquire as to availability. Note, some activities are seasonal and weather dependent.
Creative Pursuits
Bushmans Kloof offers a range of pursuits for the creative mind and soul. Opulent luxury contrasting with a rough and wild panorama beyond makes for an ideal writing or painting retreat; water colour sets are available in all rooms. Photographers will find themselves in a world of opportunity, with shadow and light creeping through rock formations and fynbos grasses.
You might wish to choose a book from our well-stocked library and read either in the lodge or in the tranquillity of our landscaped botanical gardens. Feel free to choose a wildlife DVD, and watch from a lavish sofa on the large screen TV in the lounge area.
Meditation & Healing
Experience the healing waters of these 500 million year old mountains, take in a restorative crystal healing session at the spa, or enjoy a yoga session on mats provided.
The opportunity for meditation and quietude is yours for the taking. In this exquisite and remote landscape you'll find space to be still and to reconnect with the timeless natural world. Walk the ley lines, or simply meditate to birdsong and the gentle rustling of fynbos grass
Wine Tasting
Cross the threshold of our award-winning wine cellar. Our beverage manager will help you to pick out a selection of the special wines featured on our Diner's Club Diamond Rated wine list.
Sample, and learn about the viticulture of Bouchard Finlayson. A hugely enjoyable afternoon activity.
Culinary Weekends
For a truly memorable gastronomic break, book a culinary weekend or an epicure's special-interest package. Our generous hospitality, and magnificent menu and wine cellar are in keeping with our standing as a Relais and Chateaux Property.
Your day begins with a light continental breakfast, served in the splendid luxury of your room or patio. You might prefer a bush-breakfast beside a cascading waterfall, before setting off on a guided tour of the Bushmans Kloof rock paintings.
Show More
Show Less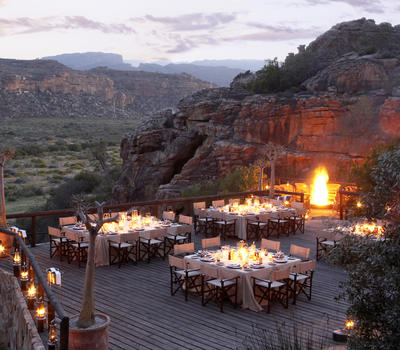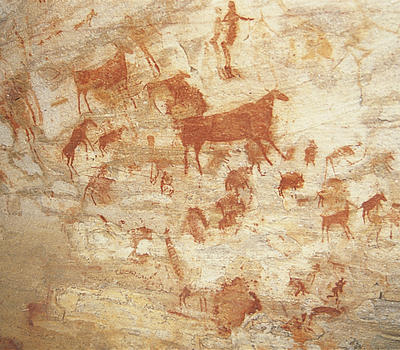 Bushman tribes have lived in these antediluvian mountains for 120,000 years. They are mankind's oldest nation. Here, in their ancestral home, the Bushman stained the rocks with oxide pigments, depicting a cultural and spiritual legacy that we at Bushmans Kloof are honoured to preserve and protect today.
Bushmans Kloof is the custodian of over 130 unique rock art sites, some as old as 10,000 years. The sites on the reserve may be viewed by guests, archaeologists and researchers. Since its founding, Bushmans Kloof has been dedicated to protecting this extraordinary treasure. Accordingly, we have been awarded the status of a South African Natural Heritage Site.
In 2004, the Bushmans Kloof Heritage Centre was opened, featuring an extraordinary collection of priceless artefacts, jewellery, dancing sticks, hunting kits, musical instruments, digging sticks and magical paraphernalia. The centre is a wonderful source of insight into the lives and culture of the ancient Bushman people.
Rock Art Excursions
We offer a range of rock art excursions to gain insight into the deep and rich spiritual culture of the Bushman who lived for millennia here in the Cederberg Mountains. These tours are available daily, the most popular of which is our early morning tour that will have you on a glorious drive and a short hike to some of the most outstanding rock art sites in existence.
The heady fragrance of fynbos is intoxicating as you follow in the footsteps of mankind's oldest culture. A walking guide will enlighten you with insights about the images on rocky overhangs, many dating back over 10 000 years. Enjoy a delicious bush breakfast and hear the folklore of an ancient spirit world.
This is an astonishing opportunity to connect with the ancient messages in the rock, a living portrayal of stone-age culture, and of our own origins in Africa. The Bushman used natural pigments such as ochre, animal blood and plant juices to make their paintings. While some colours have been lost over time, numerous clearly discernible pictographs have survived to serve as cultural markers, revealing shamanistic visions, tribal dances, and other spiritual rites.
One of the more important sites is Bleeding Nose Shelter, where the paintings stand out in chiaroscuro against white Sandstone. This was probably a ceremonial site, and subjects include eland, small antelope, and rare paintings of birds.
A variety of human figures are depicted standing, dancing and shooting with bows. This site takes its name from a painting of a man in the shamanistic 'trance' state, with blood pouring from his nose, joined to his companions by mystical lines of power.
The massive slab that gives Fallen Rock Shelter its name is dramatic in its own right, but it also houses one of the largest and most well preserved collections of images known in the entire Pakhuis region. It is thought to have been a dwelling site, due to deposits of ash, sand and grass left behind by Bushman occupants. It shelters the largest painting of a Bushman cave-dwelling group known in the Western Cape.
Sonya's Cave holds series of ledges filled with tall, elongated, male figures painted red. Nearby, figures in black depict giraffes and antelope.
Research
The rock art of South Africa is an enduring textbook to the most ancient of human nations. Images on rocky overhangs and in hidden caves are slowly being translated, thanks to renewed research on the subject. They are a roadmap to the knowledge and the soul of ancient man, his botanical and medicinal expertise, spiritual beliefs and language.
Here in the Cederberg Mountains, amongst mystical ley lines and rock paintings, we know that it is imperative to learn more about these lost messages, and are actively involved with many research projects in the area.
The Living Landscape Project is a permanent research facility affiliated with the University of Cape Town (UCT), based in Clanwilliam. It is a community-centred heritage and education project, aimed at returning the archaeological archive to the Clanwilliam area. A set of teaching curricula has been established for local and visiting school groups. A job creation programme was also designed, built around the local archaeological record.
The renewed Klipfonteinrand Excavations in 2011 saw a group from the Australian National University set up camp on the northeastern edge of Bushmans Kloof. This thrilling dig unearthed occupational debris such as hearths, bones, stone tools and beads, as well as human remains.
The reason for the renewed interest in the site, originally excavated in the 60s, is largely due to modern improvements in chronometric technology and dating methods.
Samples collected during the first phase of 2011 excavations will be analysed over the coming 12 months, with results expected in 2012. These dates will provide an important context for understanding technological advancement throughout the Stone Age.
Recovered artefacts suggest the presence of an industry known as the 'Howiesons Poort', which in other sites has been dated to between 65,000 and 60,000 years ago. It is quite possible, and very exciting, that the oldest parts of the site exceed 100,000 years in age.
The Heritage Centre
The Heritage Centre at Bushmans Kloof provides an opportunity to gain wonderful insight into the distinctive and fascinating history of the Bushman in the Cederberg wilderness area. South Africa's rich heritage is a great source of pleasure for our guests, who may enjoy the permanent exhibits, photographs, specialist talks and nearby medicinal herb garden.
The centre houses a collection of artefacts established by the late anthropologist, Jalmar Rudner, and includes jewellery, hunting equipment, dancing sticks, musical instruments and magical paraphernalia. Photographic portraits depicting Bushman culture and customs are accompanied by informative texts. Guests are welcome to participate in enlightening discussions about rock art, bushman histories, the ley lines of the reserve and social commitment projects.
Adjacent to the centre is a superb medicinal herb garden, where guests can learn about a host of botanical remedies used by Bushman and Khoi people in the area.
The Heritage Centre brings a deep appreciation of many fascinating aspects of the reserve, the Cederberg area and its history.
The Rudner Collection
This extraordinary collection encompasses a range of cultural artefacts of the Bushman. In 2003 the collection was acquired by the Tollman family for Bushmans Kloof, and is exhibited in the Heritage Centre.
Jalmar Rudner and his wife, Ione, were passionate recorders and collectors of San rock art and history, undertaking some fifty field trips in the 1950s and 60s. These expeditions took them across Southern Africa, as far north as Angola and Zimbabwe, where they would trace ancient images on rocky overhangs at hundreds of sites, and work them into life-size watercolours on their return.
Though born in Sweden, Rudner was passionate about South African heritage, and was appointed honorary archaeologist at the South African Museum in 1956. He was instrumental in establishing the Rock Art Recording Centre at the museum to coordinate the preservation of these national treasures.
The Rudners' life's work culminated in the publication of their book "The Hunter and His Art; a Survey of Rock Art in Southern Africa". Published in 1970 this seminal volume was one of the first comprehensive studies on the subject.
The Rudners sourced artefacts during their pioneering fieldwork, as well as by acquiring smaller collections from various Christian missions in Cape Town during the 1950s.
Now, deep in the heart of the Cederberg wilderness area, this beloved treasury has finally found a fitting home at Bushmans Kloof.
Show More
Show Less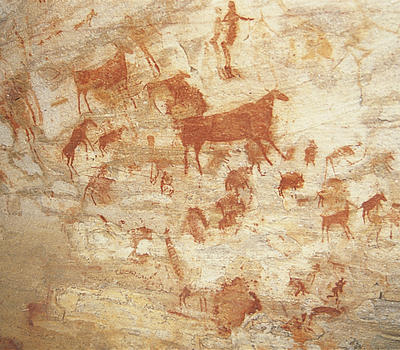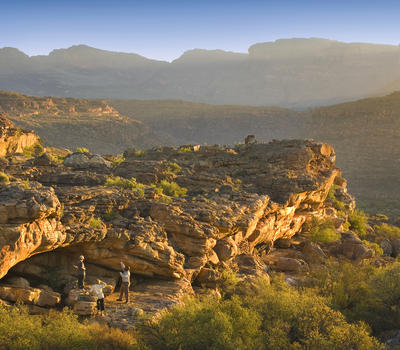 The Cederberg & West Coast
Guests may like to go further afield, and enjoy a day trip to nearby towns and attractions.
Wine Routes of the Cederberg
The region is fortunate to have three excellent wine routes available for tourists.
The Darling Wine Route boasts world-famous cellars like Cloof, Grootte Post and Darling Cellars.
The West Coast Wine Route in the Olifants River Valley incorporates the whole river area, the splendour of the Cederberg and the unspoilt West Coast. One of the giants on the route is Namaqua Wines in Vredendal, producing in excess of 35 million litres of wine annually.
Bushmans Kloof in the Cederberg
Enjoy a complete wining and dining experience in fantastic restaurants with expansive views of vineyards and the Maskam Mountains. Look out for South Africa's most uniquely situated wine farm, the Cederberg Private Cellar. Here, among the fynbos and spectacular rock formations, you'll find the highest altitude vineyards in the Western Cape.
The Swartland Wine Route covers a large area stretching from Paardeberg in the South to the Bergrivier in the North. The large geographical diversity makes for wines with a distinctive character, carefully handcrafted by local vintners, showcasing the best of the area's cultivars.
Clanwilliam Museum
The Clanwilliam Museum can be found at the end of the town's Main Road in "Die Ou Tronk" (the old prison) and is a fascinating look into Clanwilliam's Voortrekker history.
The museum also chronicles the growth of Rooibos Tea industry of the area.
The museum is open weekdays from 8am to 12pm. It contains Voortrekker wagons and a variety of artefacts from the time of the pioneers.
Biedouw Rivier Valley
The beautiful, fertile Biedouw Valley lies just 32 km from Clanwilliam. Fantastic fly-fishing is available here under the epic slopes of the TraTra Mountains.
The area becomes a canvas of colour just after the rains, when it is endowed with an astonishing array of spring flowers.
Local farmers restrict their herds from grazing in the valley during flower season to preserve the glorious scene and help with annual pollination.
Rooibos Factory & Elandsberg Farm
If you find yourself in Clanwilliam, why not visit the Rooibos Tea Factory? Though the factory itself can be visited by previous appointment only, the shop is always open for business, and stocks the tea itself, tannin-free and high in vitamin-C, as well as soaps, souvenirs and acclaimed skin-care products.
If you are keen to increase your knowledge of the Rooibos industry you can take a Tea Farm Tour at Elandsberg. Elandsberg Farm offers guided Rooibos safaris throughout the year. Enjoy the specialised eco-safari, which incorporates the Rooibos plantations, fynbos and the unique rock formations of the Cederberg.
Wupperthal Mission Village
Wupperthal is a small and picturesque Moravian Mission Village 75km from Clanwilliam, in the remote TraTra valley. Take a stroll around pretty streets with traditional thatched, whitewashed cottages.
Perhaps enjoy some lunch at Lekkerbekkie coffee shop. Activities in Wupperthal centre on the mission station, Rooibos farming and the velskoene (leather shoe) factory where you can buy a pair of traditional, hand-made walking shoes. You can easily combine your outing to Wupperthal with other nearby attractions.
Wilderness Area & Heritage Route
The Cederberg Wilderness Area lies some 200km north of Cape Town, stretching from the Middleburg Pass at Citrusdal to north of the Pakhuis Pass at Clanwilliam and encompasses some 71,000 hectares of rugged, mountainous terrain.
The Cederberg is renowned for its spectacular landscapes and rock formations, as well as its namesake, the rare Clanwilliam Cedar.
It was proclaimed a wilderness area in 1973 and has grown into a popular destination for hardy hikers and mountaineers.
The Cederberg Heritage Route provides three multi-day 'slackpacking' trails where you're only required to carry a small daypack.
Accommodation is in simple but comfortable guest cottages. All meals are provided as well as transport for your bags.
Donkey Cart excursions are an exhilarating way of enjoying a pristine part of the Cederberg Mountains whilst creating jobs for local people.
Lamberts Bay
Lamberts Bay is a fishing village, and famous the world over for its surfing beaches. Bird Island is a popular attraction here, linked to the shore by a breakwater connected to the harbour, making it easily accessible to the public.
Bird Island includes a state-of-the-art sunken hide, designed to blend in with the rocks of the area. It is an important breeding site for Cape Gannets and supports impressive flocks of many coastal bird species.
Show More
Show Less