Kagga Kamma Nature Reserve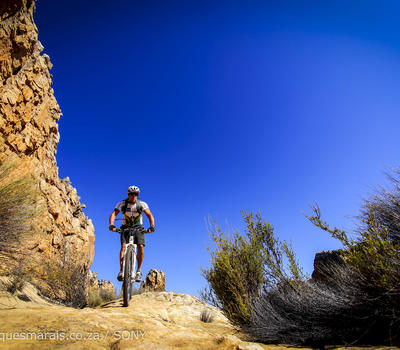 Mountain bikers can choose between the 10km or 30km route within the Nature Reserve.
Both the 10km (Red) and the 30km (Black) start from the Main Lodge area. The circular trails start at the Reception area and wind through the bush. The route comprises mainly of a jeep track and the terrain is varied. The route winds through beautiful rock formations, with spectacular views across the dramatic mountain fynbos plains.
The 30km route can be a bit sandy in patches but is suitable for the average rider. The total ascent for this route is 300m. Riders can expect to complete the 30km route in two to three hours.
Packing a camera is a good idea as wildlife and beautiful scenery can be enjoyed along the way.
Show More
Show Less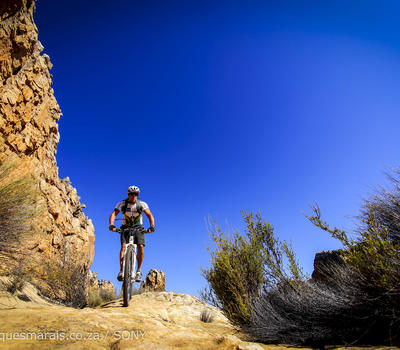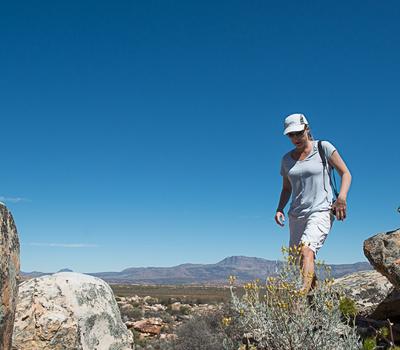 To see the Cederberg's interesting ecological features in all their glory, guests are welcome to use the self-guided hiking trails and walks on the Reserve. The rock formations and plant life that have been in the area for centuries will inspire, delight and surprise nature lovers. There are three routes, 4km (Blue), 7km (Red) and 9km (White) that will regenerate your soul as you escape between the surrounding towering rock formations.
Show More
Show Less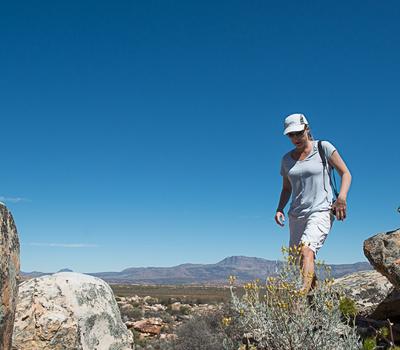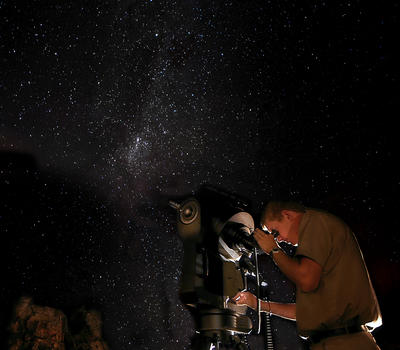 The clear, dark skies, relatively high elevation and the lack of light pollution makes Kagga Kamma the perfect stargazing spot. At the Mini Observatory, guests can enjoy spectacular views of the moon, stars, satellites and planets, along with deep sky objects like the Whirlpool Galaxy and Hercules Globular Cluster through our eight-inch Celestron Nexstar 8SE Telescope. This fascinating experience is facilitated by an expert who will assist and guide guests to ensure that they experience the wonders of the sky as clearly and closely as possible.
Show More
Show Less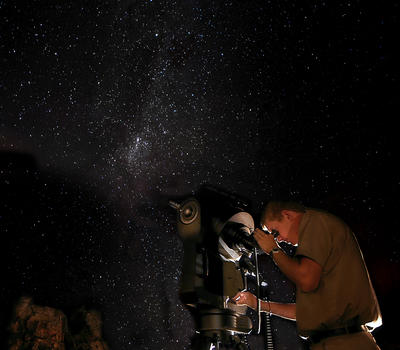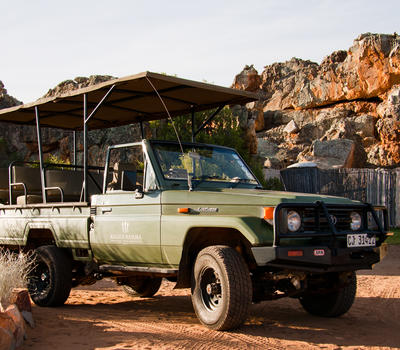 Early Morning and Late Night Nature Drives
Dry Mountain Fynbos and Succulent Karoo plants provide grazing for animals in this Western part of South Africa. Kagga Kamma's qualified guides take guests on Nature Drives where breath-taking views of the Ceres Karoo, Tankwa Karoo and Cederberg can be enjoyed. Morning and Late-Night Drives cross the 15 000ha Reserve to spot resident animal species such as antelope and ostrich. Guests may also spot Lynx, Jackal and the spectacular, but very rarely seen, Cape Mountain Leopard. On the drive the guides will also point out interesting bird and reptile species and share fascinating facts about the plants of the area. This experience between the magnificent rock formations will leave guests with a deep appreciation for Kagga Kamma's unique environment.
Sundowner Trips
The Sundowner Trip takes you to one of the most beautiful viewing points on Kagga Kamma. Sip on a drink and quietly contemplate the spectacular unpopulated landscape with mountain ranges unfolding and a light wind the only sound. Look out for the Elephant Shrew which, as tradition would have it, often pays a visit.
Show More
Show Less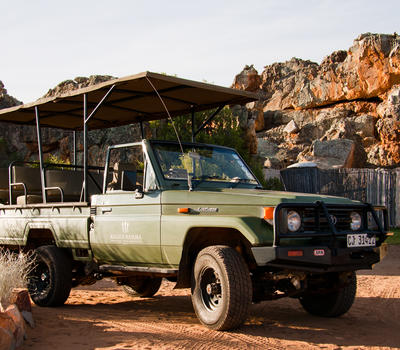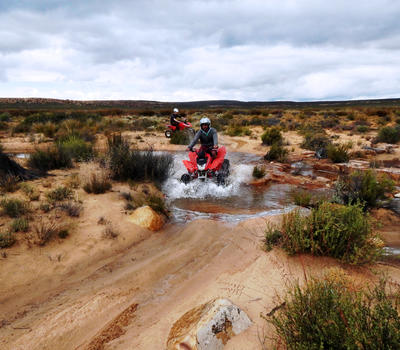 Guided Quad Bike Adventures
For more adventurous guests the Reserve offers this unique nature viewing experience. Quad Bike Adventures take place on parts of the Reserve that would otherwise be inaccessible and allow guests to enjoy not only the beautiful environment but also the excitement of riding a quad bike over the area's terrain. The Tour lasts one to two hours and is arranged on request.
Show More
Show Less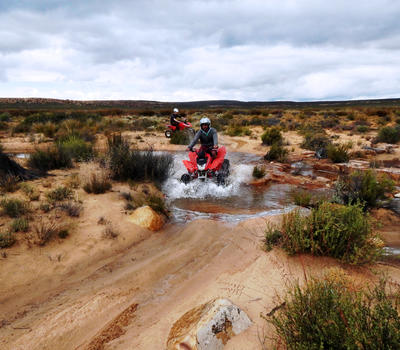 Explore Kagga Kamma in your own off-road 4x4 vehicle. The trail offers 4x4 enthusiasts' spectacular views, unfolding mountain ranges and interesting wildlife. Birds and reptiles can be seen along this trail as well as some antelope species.
The route is more than 100km long in total and it is best to travel with more than one vehicle. The route is quite difficult and has some very steep sections.
Show More
Show Less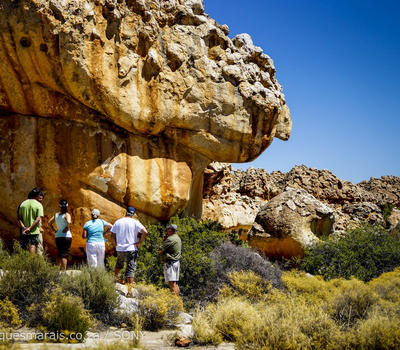 Take a journey back in time with our Rock Art Tour of paintings dating back 6000 years. Ancient rock art sites can be found all over Kagga Kamma Nature Reserve. These paintings were made with different colours of stone which was ground up and mixed with fat to form paint. The Reserve has expertly trained rangers who can help guests find and understand these paintings and provide more information on this fascinating culture. Guests can also expect to discover some paintings themselves along the hiking and walking trails.
Show More
Show Less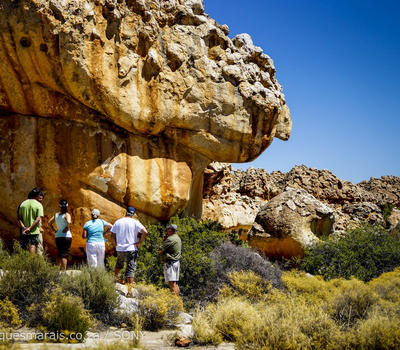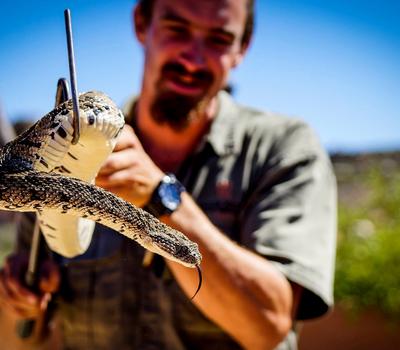 Educational Talks about snakes and reptiles are presented every weekend at Kagga Kamma. Our Guides are qualified snake handlers and have a great amount of knowledge about snakes and a passion for sharing interesting facts with guests.
A variety of snakes can also be seen on our Guided Tours. Get to know these fascinating creatures better in a completely safe environment.
Show More
Show Less