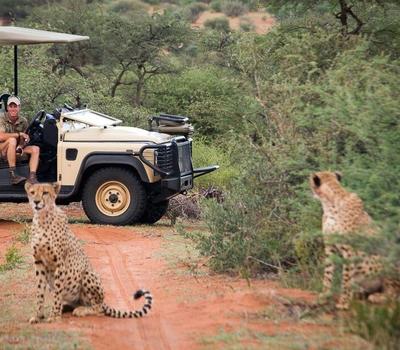 With your own dedicated guide and vehicle, you can experience Tswalu exactly the way you want to. There are no fixed schedules or time limits at special sightings – during your stay, the dunes and grasslands are yours to explore the way you want to, and each wildlife encounter can unfold at its own pace.
Just like the sands of the Kalahari, we understand that your priorities can shift during your time at Tswalu. That's why we'll never try and shoehorn your experience into a fixed schedule.
Tswalu is unquestionably one of the best places in southern Africa to see cheetah in the wild – the vast open spaces and antelope herds of the Kalahari readily lend themselves to high-speed pursuits. Visiting Tswalu also gives you front-row seats for sightings of species that prove elusive elsewhere, from aardvark and pangolin to Hartmann's Mountain Zebra.
Tswalu's ecotourism ventures have a notably low ecological impact while also contributing significantly to the sustainability of the reserve and its achievement of its conservation and community upliftment goals. By remaining honest to our guiding principles, we can deliver a safari experience of startling authenticity.
Mehr anzeigen
Weniger anzeigen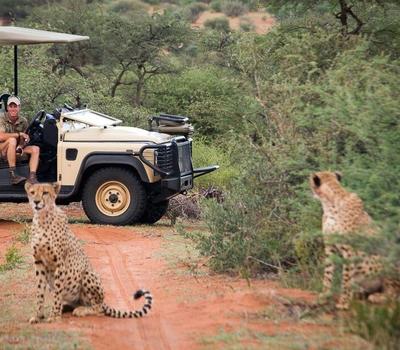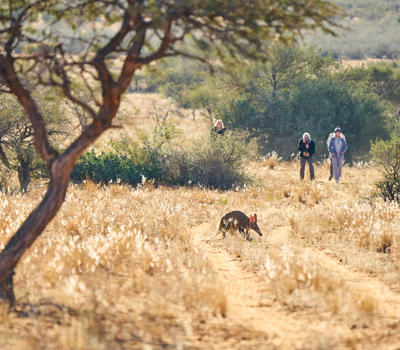 Much of Tswalu's beauty can be found in the smaller details: the ripples left by the wind on the crest a sand dune, a yellow flower opening to face the sun, or the tracks of a porcupine digging for roots. Walking at Tswalu gives you the opportunity to see these and other signs of the abundance of the southern Kalahari, as well as following the tracks of larger species.
Mehr anzeigen
Weniger anzeigen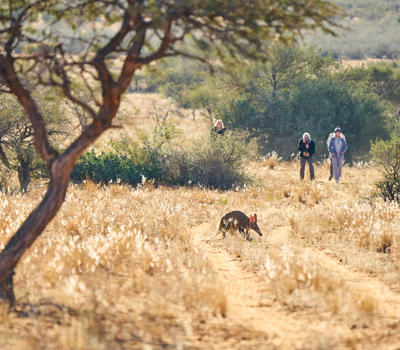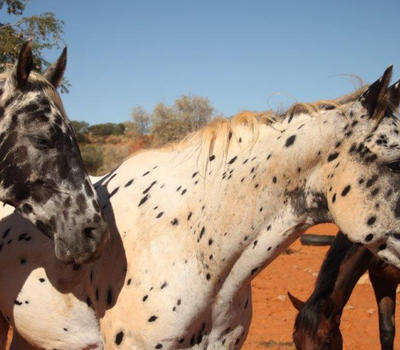 Another exciting game viewing option at Tswalu is a horseback ride
Horseback safaris allow guests to explore the dunes and savannahs on our well-schooled and well-mannered horses, which are suitable for all ages and all levels of experience.
There is no better way to get close to nature and the wildlife. On a horse safari in at Tswalu, you become part of the landscape and many of the animals react differently to your presence. No-one who experiences this kind of closeness with wildlife ever forgets it.
Our equestrian guides are well trained in the Kalahari ecology, and will lead you on a true safari where you can ride alongside antelope, buffalo, zebra and giraffe, or watch them from a distance without detection.
Children are welcome on horseback safaris. Both trail and English saddles are available and every piece of necessary equipment is provided, in every imaginable size.
Mehr anzeigen
Weniger anzeigen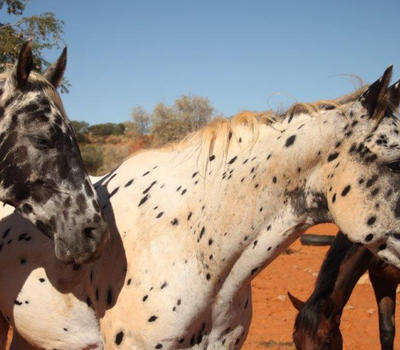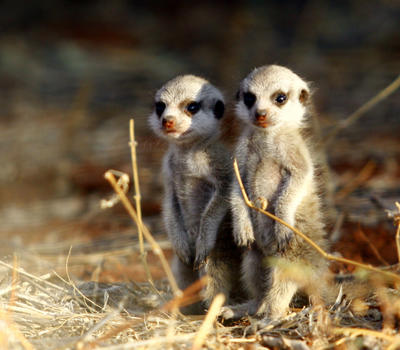 Junior Ranger's Programme
Children are welcome at Tswalu and the reserve is well equipped to cater for them. Tswalu believes that they too can be part of the conservation vision.
The youngsters will be introduced to the Junior Ranger programme and given a backpack with guides and tools to help them learn about the Kalahari. During their stay they will make their own bow and arrow for archery, learn how to identify spoor, and track game on foot.
In between game walks and drives there are activities at The Motse specially designed to occupy the kids while mom and dad relax. Tswalu's stables will create a special "pony camp" for any child who shares their passion for horses. There is no malaria in this part of the Kalahari and the pool is a big attraction. They can chat to the rangers, decorate cup cakes and even cook their own bush dinner in the special children's boma. A separate children's menu caters for their individual tastes.
Babysitters can be arranged for younger children if parents want time alone.
Mehr anzeigen
Weniger anzeigen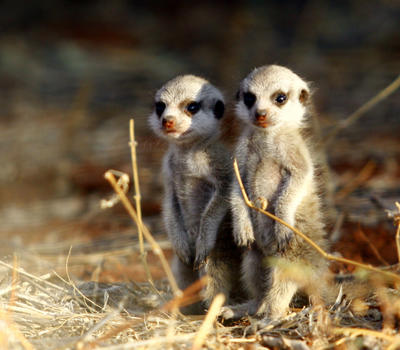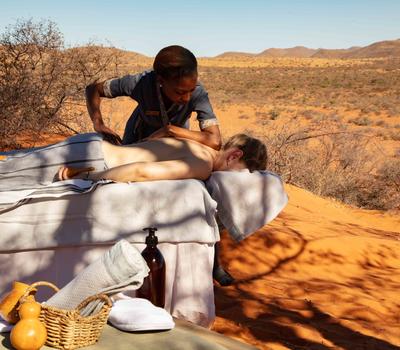 The Spa and Gym at The Motse provide both relaxation and stimulation for body and mind, with inspiration coming from the savannah views and the use of organic materials both in the construction of this space, and in the spa treatments.
Mehr anzeigen
Weniger anzeigen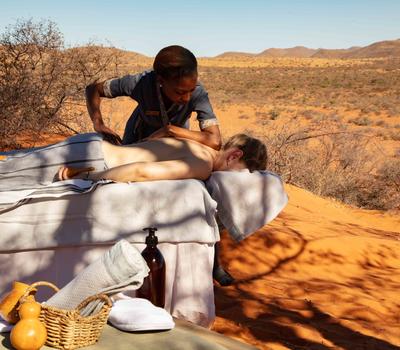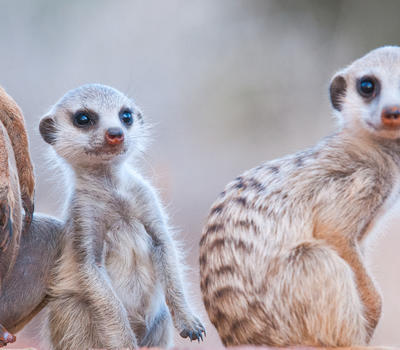 Join a group of habituated meerkats as they emerge from their burrows and warm themselves in the rising sun or meet up with them as they return home at the end of the day and groom and play at dusk.
Their gregarious nature and amusing antics (think early morning sunbathing and playing chicken with scorpions) have made meerkats extremely popular as subjects of wildlife documentaries. Our two habituated colonies have accepted the presence of humans without letting it disrupt the important business of grooming and foraging.
Meerkats are just one of the smaller predators which abound at Tswalu: aardwolf, African wild cat and caracal are also frequently seen.
Mehr anzeigen
Weniger anzeigen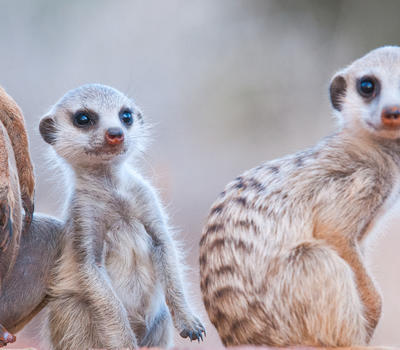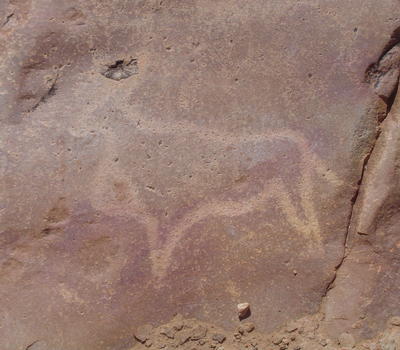 Join your guide in trying to puzzle out the hidden meanings in millennia-old rock engravings of animals, birds and abstract shapes. Today, no one knows whether they were created as memories, prayers or maps, but their beauty and mystery endure.
Mehr anzeigen
Weniger anzeigen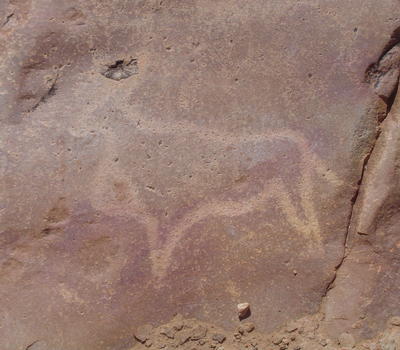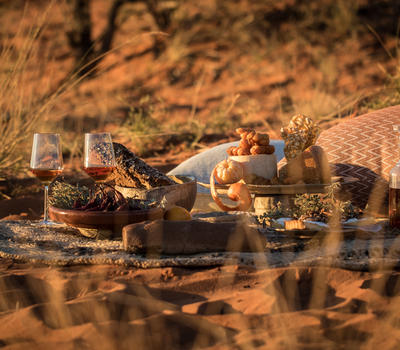 Every moment of every meal at Tswalu reflects the culinary heritage of South Africa and is carefully designed to be as inclusive as possible. Sustainability is key: we forage for Kalahari ingredients and work with local suppliers who share our low-impact ethos.
We believe that luxury is found in contextual, relevant flavours rather than wasteful over-abundance. Our food offering helps tell the story of Tswalu – it's inspired by and captures the essence of the Kalahari.
Mehr anzeigen
Weniger anzeigen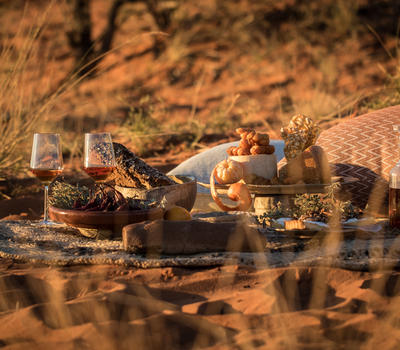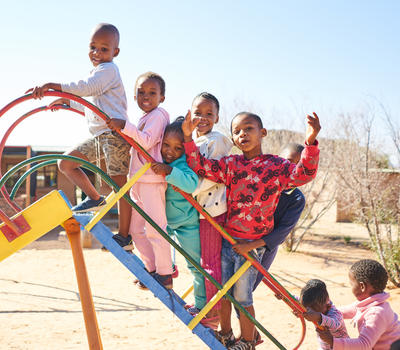 As well as being an incredible community of flora and fauna, Tswalu is also an extended human family of people from the Kalahari and beyond. We find strength in our diversity, and because we all share the same vision for the future of Tswalu, we can combine our energies and passion to make Tswalu's vision a reality.
The Tswalu community consists of our staff members and their families, researchers, visiting doctors that support the healthcare centre, visiting artists in residence, and each of our guests, alongside a wider community of neighbours, conservationists and everyone who cares about the restoration of the Kalahari.
Mehr anzeigen
Weniger anzeigen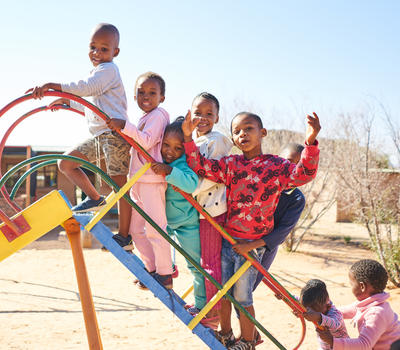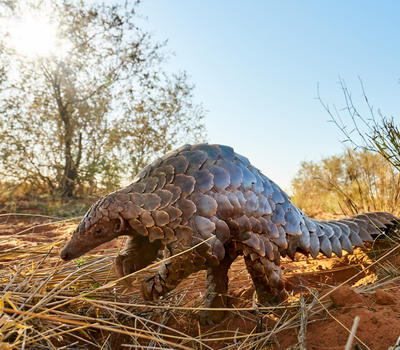 The Tswalu Foundation exists primarily to support ecological research at Tswalu. Through accumulating a growing body of quality output on the fauna, flora and the unique habitat of the southern Kalahari we have been able to make informed conservation management decisions to better support our shared vision.
This information has been made freely available to our neighbours and other interested parties so that, as we seek to add to our shared understanding of this rich and diverse landscape, they too can care for their land in the best long-term interests of the wildlife and people of the Kalahari.
During your stay at Tswalu, you'll have the opportunity to interact with researchers studying both iconic and more obscure species and witness scientific conservation in progress.
Mehr anzeigen
Weniger anzeigen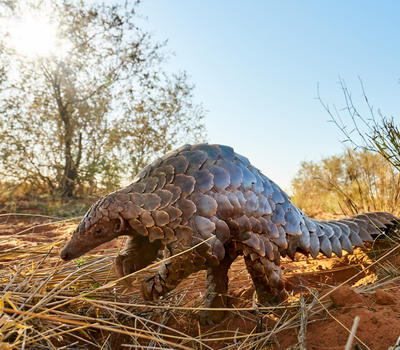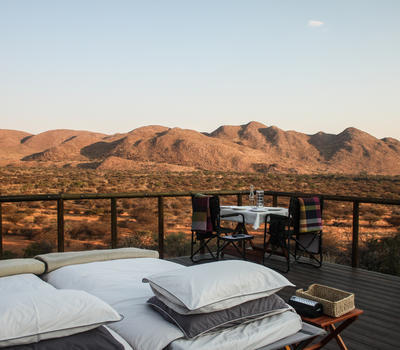 Naledi, which means 'star' in the local Tswana language, is Tswalu's back-to-nature star bed experience in the Korannaberg mountains. Elevated above a valley with wraparound views, Naledi is for the true adventurer who yearns to sleep beneath the southern Kalahari's brilliant blanket of stars in safety and seclusion. Spending a night in a star bed, with nothing between you and the night sky, has become increasingly sought after as travellers search for authentic, unfiltered experiences immersed in nature. Naledi has purposely been kept very simple so as not to detract from its private and remote setting in the southern reaches of the reserve. Sleeping in the open, under the stars, is as old as time.
Mehr anzeigen
Weniger anzeigen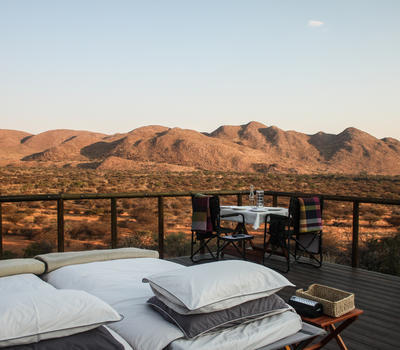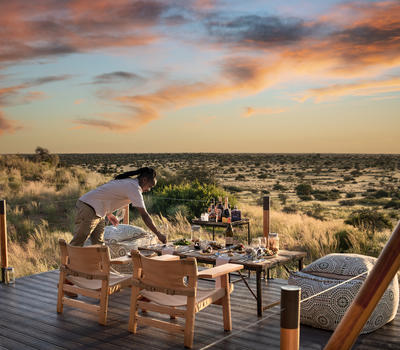 A balmy summer night is a perfect time to sleep under the stars in the middle of the Kalahari. The Malori is Tswalu's under canvas experience with comfortable beds, an open-air bathroom and a spacious deck area for dining, dreaming and stargazing. ⁠
⁠
⁠Whether reserved for romance or for family bonding time, a Malori sleep-out is about tuning out so that you can soak up the solitude, tune into the silence and count shooting stars.⁠ With comfortable beds, an open-air bathroom and a spacious deck area for dining, dreaming and stargazing, the tent is perfect for two but spacious enough to invite the family. The Malori sleep-out is one of those once-in-a-lifetime experiences you will never forget.⁠
A night at Malori needs to be booked in advance, carries an additional cost, and is offered subject to availability and prevailing weather conditions.
Mehr anzeigen
Weniger anzeigen