Introduction
The Isabela II is a luxury mega yacht with 20 guest cabins, for a comfortable yet intimate Galapagos experience.
One expert naturalist guide per 11 to 14 passengers surpasses National Park standards, and ensures a tailored individual attention throughout.
Delicious cuisine and choice of indoor or al fresco dining ensure you will never go hungry.
Excellent facilities include: hot Tub, fitness room, bar/lounge, large sundeck, elegant dining room, observation area, reading room / library, boutique/shop, and games room.
The onboard medical officer provides free consultations if required.
The Isabela II includes sea kayaks and glass bottom boat, be sure to reserve in advance if interested.
The excellent 7 Days itinerary around the western islands Isabela and Fernandina is especially attractive.
For more technical details, please visit: https://www.happygringo.com/galapagos-tours/galapagos-island-cruises/isabela-ii-yacht/
Short Itinerary:
THU Baltra: Transfer from the airport, Puerto Ayora and the Charles Darwin Research Station
FRI Bartolome Island, Sullivan Bay (Santiago Island)
SAT Dragon Hill (Santa Cruz Island), Buccaneer Cove (Santiago Island)
SUN Punta Vicente Roca (Isabela Island), Punta Espinoza (Fernandina Island)
MON Baltra: Transfer from the airport
Full itinerary map here: http://bit.ly/isabella-ii-5-days-b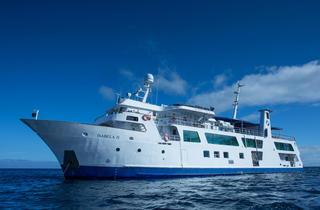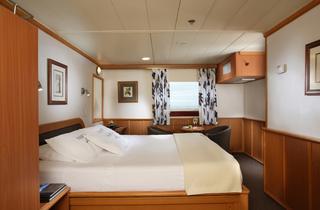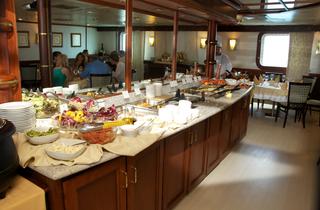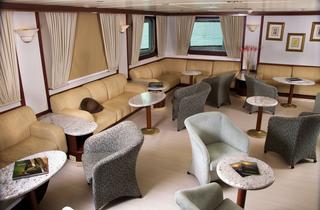 | Start | Day | Accommodation | Type | Destination | Duration | Basis | Start |
| --- | --- | --- | --- | --- | --- | --- | --- |
| Day 1 | day 0 | Yacht Isabela II | | | 4 nights | FB | Day 1 |
| Day 1 | day 0 | Galapagos Islands | day stop | Galapagos Islands | day | | Day 1 |
Key

FB: Full Board - Dinner, Bed, Breakfast and Lunch
Fast Facts
5 Days / 4 Nights