Uganda
Uganda, or the 'Pearl of Africa', as it was famously dubbed by Winston Churchill, is characterised by relatively dry and flat savanna in the north, with verdant mountains in the West, and vast dense and remarkably lush forests in the central region. The nation is home to an astonishingly diverse range of African wildlife including the highly endangered mountain gorilla which can be found in the Bwindi Impenetrable Forest. A popular spot for wildlife watching is Queen Elizabeth National Park, which hosts four of the Big Five, a flock of flamboyant flamingos and the rare tree-climbing lions of Ishasha. Outdoor enthusiasts can get their adrenaline fix with plenty of whitewater rafting, kayaking, hiking, quad biking and horse riding facilities on offer. Add to this some friendly locals, a burgeoning cultural scene, and a capital city full of lively bars, clubs and restaurants, and it is easy to see why Uganda has gained itself a reputation as 'Africa's friendliest country'.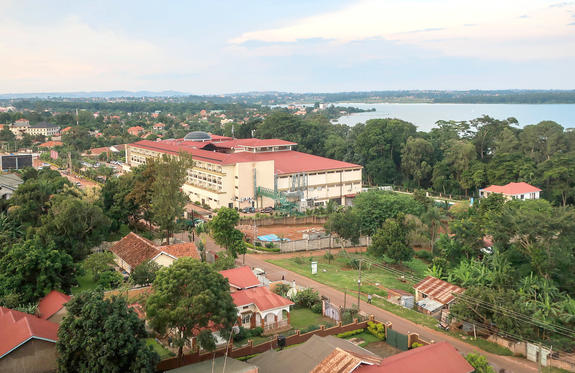 Situated on a peninsula in Lake Victoria, the former seat of Uganda's government, Entebbe is just a short drive from the current capital and offers plenty to keep visitors amused. This charming town features tree-lined streets and serves as an excellent base from which to explore the surrounding area. Tourists can look forward to spending days on beautiful beaches along the banks of Lake Victoria, stroll through the fields and forests of the magnificent Botanical Gardens, or pay a visit to Ngamba Island Chimpanzee Sanctuary, a haven for country's orphaned chimps.
Murchison Falls National Park
Days 2 - 4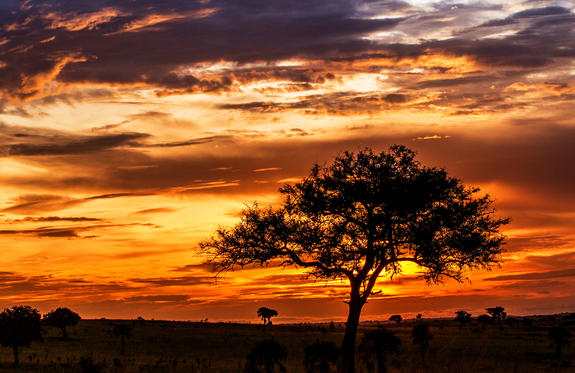 Stretching from the shores of Lake Albert, Murchison Falls National Park is Uganda's largest National Park. The Nile River flows through the middle of the park creating the impressive Murchison Falls which is the park's major attraction. The landscape features dense rainforest, undulating savannah and a diversity of abundant wildlife. Visitors can enjoy prime game-viewing along the Buligi Circuit. The forests are home to numerous primates, including Chimpanzees, and near the river, buffalo, elephants and Rothschild-Giraffes can be seen. Other commonly spotted wildlife include: lions, antelope, waterbucks, hippos and crocodiles.
Kidepo Valley National Park
Days 4 - 6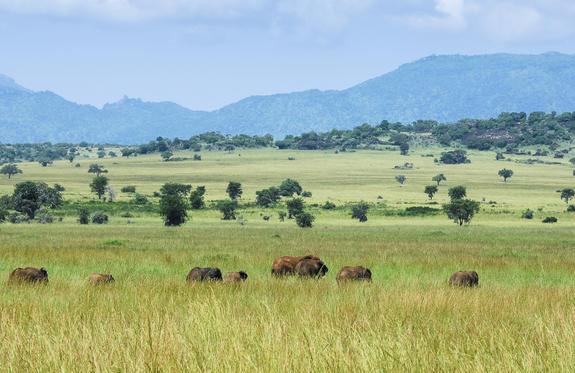 One of Uganda's most stunningly beautiful reserves, the remote Kidepo Valley National Park stretches across broad swathes of savannah studded with hills and rock clusters, and is traversed by the forest-flanked Lorupei River. It is home to roughly 80 mammal species, 28 of which are found at no other park in the country, and is particularly well known for its rich population of raptors and over 450 species of bird. Visitors can look forward to excellent wildlife sightings including greater and lesser kudu, eland, lion, leopard, cheetah, elephant and a variety of plains game.