NamibRand Nature Reserve
Days 1 - 3
With an area of 172,200 hectares spread across four distinct ecosystems, NamibRand Nature Reserve is among the largest privately owned game parks in southern Africa. Established with the aim to conserve the unique environment and wildlife species of the south-western Namib Desert, the park's mix of dunes, mountains, rocky outcrops, sandy flats and gravel plains provides habitats for a variety of mammals – including hyenas, jackals, foxes, wildcats and antelopes – as well as countless bird species, reptiles, frogs, insects and plants.
Activities: Discover the mysterious 'fairy circles' on grassy plains; sip on sundowners while watching the sunset over this unspoilt ancient landscape; revel in the magnificent night sky – NamibRand is Africa's first International Dark Sky Reserve, i.e. one of the least light-polluted areas in the world.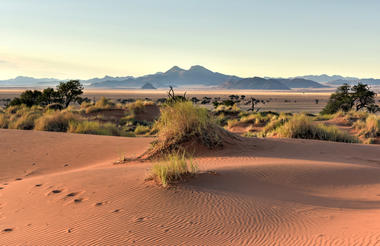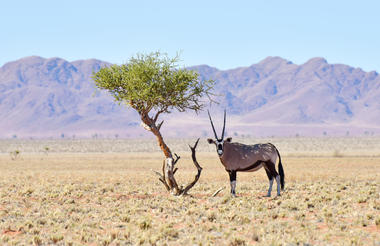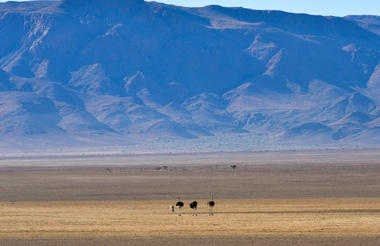 Hoanib River
Days 3 - 5
Where Kaokoland meets the Skeleton Coast, in western Namibia, the 270-kilometre-long Hoanib River is one of the last water oases in the country, providing a haven for numerous animals. Home to 75% of Namibia's endemic species, including the largest numbers of desert-adapted, free-roaming elephants, lions, and rhinos in the world, as well as zebra, kudu, and giraffe, this is a truly exceptional and awe-inspiring place. Visitors can enjoy taking a wonderful four-wheel-drive route, going on adventurous hiking trails, running down enormous sand dunes, or climbing massive, strangely shaped rock formations as well as several guided nature walks.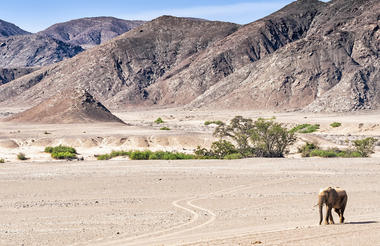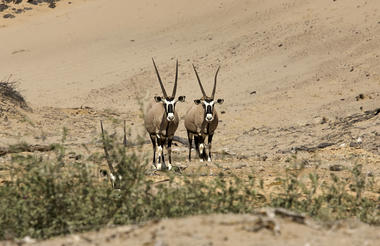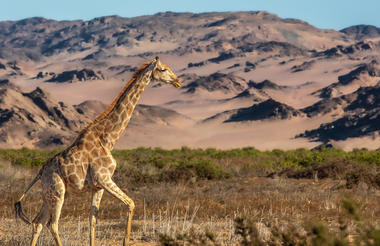 Skeleton Coast
Days 5 - 7
Skeleton Coast National Park extends from the dry Ugab River all the way north to the Kunene River, Namibia's border with Angola. The inhospitable Skeleton Coast is known as the 'Land God Made in Anger'. It is desolate but breathtakingly beautiful – remoteness at its best. Fogs, caused by the cold Benguela Current, roll in from the roaring ocean and sustain an amazing array of fauna and flora that have adapted to this harsh but intriguing environment: colonies of seabirds and Cape fur seals, zebra, gemsbok, desert-adapted elephant, lion and more.
The name Skeleton Coast was coined because of whale bones washed ashore and the many ships that met their fate in these turbulent waters. The bleak desert environment along the entire coastline meant almost certain death for those who were shipwrecked.