Huab River Valley
Days 1 - 2
Fringing the Torra Conservancy in northwest Namibia, the Huab River Valley is renowned for its spectacular panoramic vistas over pristine wilderness defined by stark plains, ancient valleys and the distant peaks of the Brandberg Mountains. Nature lovers and adventure seekers alike can spend their days' exploring the exquisite terrain of the Huab River Valley, catching a glimpse of the rare desert-adapted elephant on an afternoon safari, taking a guided nature walk, or learning about the unique local cultures of the area. A diverse variety of wildlife can be spotted in the valley, including springbok, gemsbok, greater kudu, springbok, lion, zebra, giraffe, cheetah, and black rhino. Don't miss the famous Twyfelfontein rock engravings.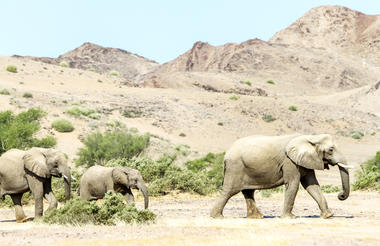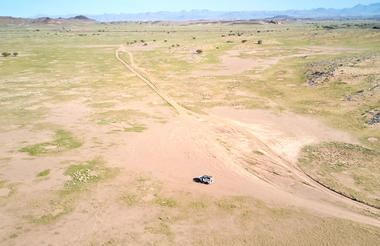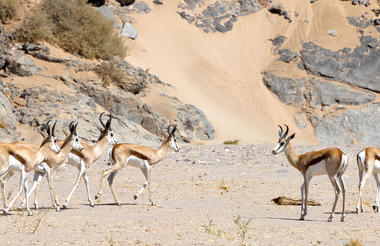 Purros
Days 2 - 3
Situated in the wild north western Kunene region in Namibia, the Purros area, also known as 'Puros', features arid semi-desert terrain characterised by a blend of undulating hills, wooded river valleys and vast plains covered in sparse savannah, dotted with acacia and tamarisk trees. This remote area is a 4X4 enthusiast's dream, lying deep in the heart of the Kaokoland wilderness. It is home to an array of unique desert adapted wildlife such as elephant, lion, black rhino and giraffe. Visitors can stay overnight at several lodges and camps and enjoy numerous activities including: game drives, Himba cultural tours or guided tours of a local village.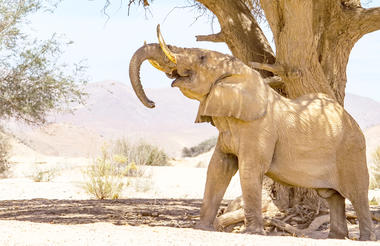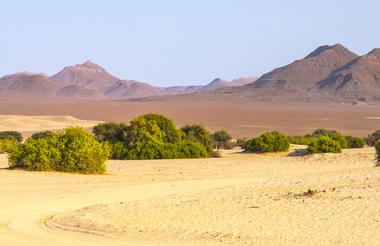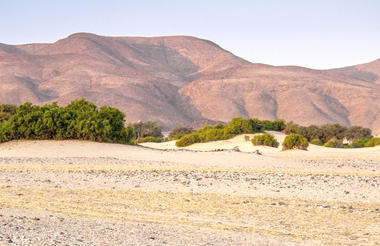 Kunene
Days 3 - 4
Bordering Angola in the far north, Kunene is an administrative region named after the river which is one of just five perennial rivers in Namibia. The Kunene River is an invaluable source of water for the local Himba people, and it has been the mainstay of their existence ever since their arrival several hundred years ago. In terms of tourism the river's most striking feature are the magnificent Epupa Falls, a series of cascades over a distance of more than a kilometre, with an impressive vertical drop of around 60 metres.
Activities: White-water rafting, kayaking, canoeing, sundowner cruises, game viewing, bird watching, hiking. Take time to visit a Himba village and learn about local culture.