South Africa
One of the most culturally and geographically diverse places on earth, South Africa, fondly known by locals as the 'Rainbow Nation', boasts 11 official languages, and its inhabitants are influenced by a fascinating mix of cultures. Discover the gourmet restaurants, impressive art scene, vibrant nightlife, and beautiful beaches of Cape Town; enjoy a local braai (barbecue) in the Soweto township; browse the bustling Indian markets in Durban, or sample some of the world's finest wines at the myriad wine estates dotting the Cape Winelands. Some historical attractions to explore include the Zululand battlefields of KwaZulu-Natal, the Apartheid Museum in Johannesburg, and Robben Island, just off the coast of Cape Town. Above all else, its untamed wilderness is astonishing: wildlife roams freely across massive unfenced game reserves such as the world-famous Kruger National Park.
Cape Town
Days 1 - 5
Resting at the confluence of the Indian and Atlantic oceans, situated between the slopes of the iconic Table Mountain and the glistening sapphire waters of the Atlantic and Indian oceans, the exceptionally scenic city of Cape Town is in a class of its own. Some cities boast rich culture, vibrant nightlife, a cosmopolitan atmosphere and extraordinary architecture, while others boast breathtaking landscapes and extraordinary natural wonders. Cape Town is fortunate to be blessed with all of these attractions and so much more. With its bustling harbour, world-class beaches, top-notch vineyards, and its mountainous surroundings brimming with diverse flora and fauna, Cape Town consistently captivates the hearts of all who visit.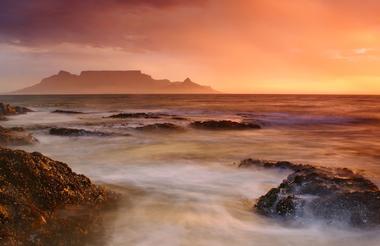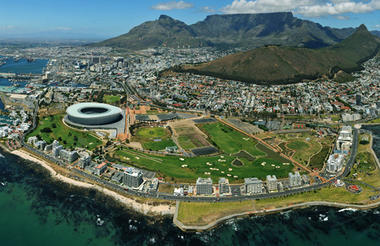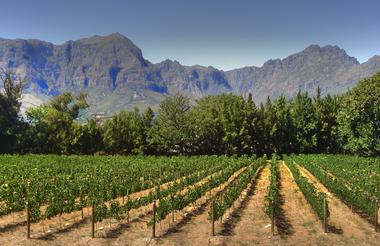 Manyeleti Private Game Reserve
Days 5 - 8
The Manyeleti Private Game Reserve shares its borders with Kruger National Park, Timbavati Game Reserve and Sabi Sands Game Reserve, forming part of a huge area of land in which wildlife roams free. It is managed by the Mnisi people, who have lived on this land for many generations. In Shangaan, the language of the most dominant tribe in the area, Manyeleti means 'Place of Stars' and in the evenings, when the sun's light is replaced by that of the moon and countless bright stars, one can understand why. A dry area for most of the year, Manyeleti offers spectacular scenes of wildlife as they gather at water holes. Aside from the spectacular game viewing opportunities, the reserve also offers insight into the culture and traditions of the Mnisi people.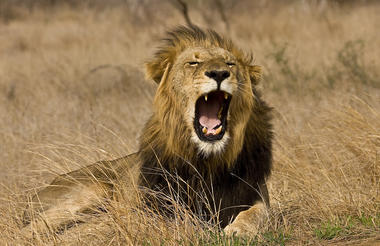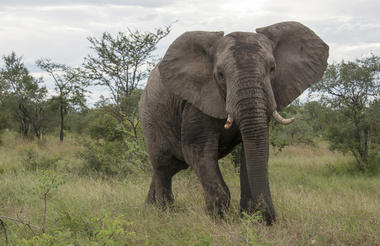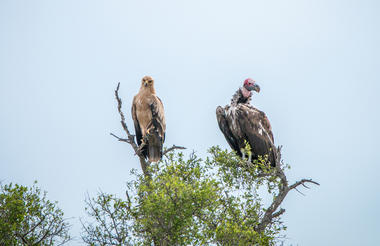 Zambia
This unique, peanut-shaped country, once known as Northern Rhodesia, offers visitors an authentic African experience complete with adrenalin pumping adventure sports, a variety of fascinating cultural activities, and an abundance of indigenous wildlife, which finds refuge in Zambia's vast national parks. Spend your evenings enjoying the spectacular site of the world's largest waterfall, the Victoria Falls, while sipping on sundowners after an exhilarating day of whitewater rafting down the rapids of the mighty Zambezi River. If that sounds a little too adventurous for your taste, take a houseboat cruise along the exquisite Lake Kariba while watching wild elephants drink at the riverbank as you try your hand at catching the elusive tiger fish. However you choose to spend your time in this unique country, you are bound to leave with a heavy heart and a desire to return again soon to this exceptionally beautiful Southern African country.
Victoria Falls (Zambia)
Days 8 - 11
One of the original natural wonders of the world, the Victoria Falls is a World Heritage Site and an extremely popular tourism attraction. Known locally as Mosi-oa-Tunya which means 'smoke that thunders', this spectacle is accessible from both Zambia and Zimbabwe and it is an ideal place to combine game viewing and water sports. There is excellent fishing, a terrifying bungee jump and arguably the best commercial white water rafting in the world.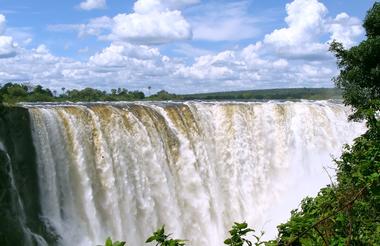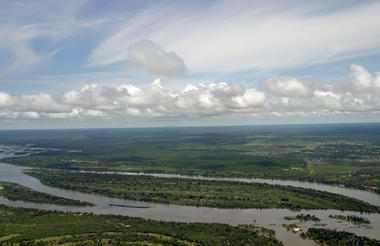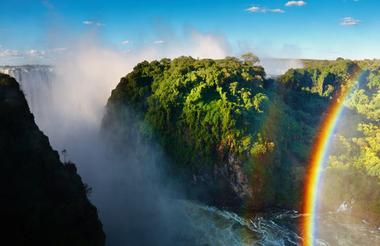 Botswana
Situated in the southern reaches of Africa, Botswana is renowned for its pristine wilderness areas characterised by deep lagoons, wetlands, lush palms, rugged hills and desert plains. The country's primary tourist drawcard is undoubtedly the vast red expanse of the Kalahari Desert and its remarkably beautiful Okavango Delta, the largest inland delta in the world. These natural wonders provide a tranquil haven for an abundance of African wildlife to thrive. Other highlights include the impressive Makgadikgadi Salt Pans, where visitors are privy to massive zebra migrations during the flood season; the Savuti plains, which host a significant pride of lions; and the Tsodilo Hills, where 4500 rock paintings form a unique record of human settlement over many millennia.
Okavango Delta
Days 11 - 14
Situated in the northwestern corner of Botswana, the Okavango Delta is a World Heritage Site as it is the largest inland delta in the world. The magnificent Okavango River sprawls out over the dry sands of the Kalahari Desert forming this flourishing waterlogged oasis featuring countless meandering waterways and crystal clear lagoons studded with water lilies, as well as fertile floodplains and reeded islands inhabited with abundant wildlife. The Okavango Delta stretches over an impressive15000 square kilometres. Visitors can enjoy a number of wonderful activities such as game viewing, fishing, bird watching or taking an authentic guided Mokoro excursion through this wetland paradise in a traditional dugout canoe. Commonly spotted animals include: lion, rhino, leopard, giraffe, hippos, elephants, crocodiles and countless species of bird.