Eastern Hwange National Park
Days 1 - 4
Located in western Zimbabwe, Hwange National Park (formerly Wankie Game Reserve) is the largest natural reserve in the country and is famous for its rich diversity of wildlife. Home to one of the biggest elephant populations in the world, as well as around 100 mammal species, the park is a wonderland for animal lovers. Several protected animals inhabit the awe-inspiring open landscapes, including the endangered wild dog, critically endangered black rhino, and rare roan and sable - along with lion, cheetah, and around 500 bird species. Adventurers can look forward to guided bush hikes, game drives, and horse riding safaris, all of which offer excellent photographic opportunities. Hwange boasts several unique natural features, most notably the natural seeps such as Nehimba and Shakwanki animals dig for water.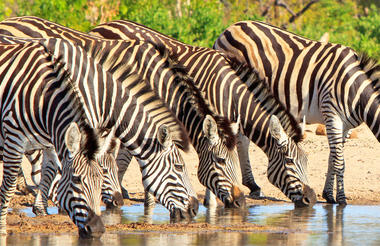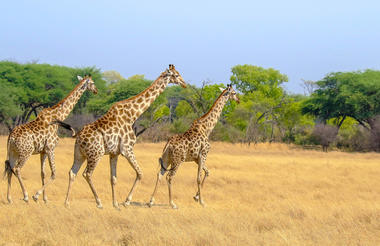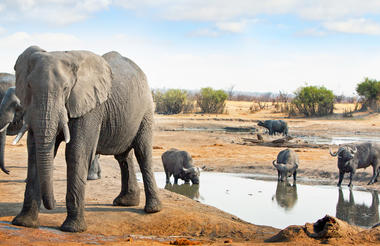 Victoria Falls (Zimbabwe)
Days 4 - 6
The iconic waterfalls in the Zambezi River are one of the Seven Natural Wonders of the World. About two-thirds are visible from the Zimbabwean side. While the spectacle of masses of cascading water is undoubtedly the star attraction, the area also offers adventure and sightseeing opportunities which certainly warrant a longer stay. Victoria Falls, the tourist town at the western side of the falls, is easy to explore on foot. It has some excellent accommodation and restaurants and, of course, an eclectic variety of African curios and authentic art sold by friendly locals who are wonderfully welcoming and eager to help visitors enjoy the experience.
Activities: Scenic flights over the falls by helicopter or microlight; bungee jumping off the Victoria Falls Bridge; white-water rafting (seasonal); day trips to Chobe National Park.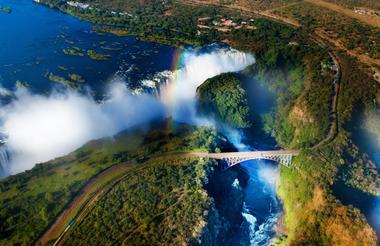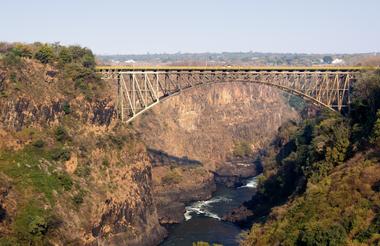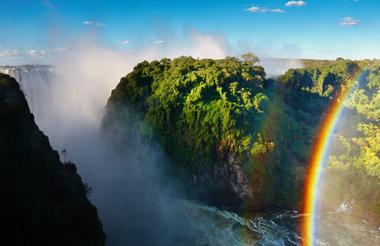 Chobe River Front
Days 6 - 9
The Chobe River forms the northern boundary of the Chobe National Park which is renowned for its diverse and abundant game viewing opportunities. This section of the park is best known for its dense concentration of wildlife, including elephant and hippo populations, but the waters attract all manner of game including large herds of buffalo and the lions that prey on them - a visit to the Chobe River Front guarantees close encounters with an array of African wildlife. Visitors can look forward to a range of exciting activities such as 4WD along the banks; motorboat cruises; and rare birdlife spotting. For a unique, luxury safari experience, hire a houseboat.