Day 1:
Arusha
Wed. 19 Apr 2023
DAY 1
Arrive Arusha usually via the Kilimanjaro International Airport. Here you will be met by Abby Olemisiko and a driver to help with your bags. You may have a lot of bags if you are making donations to the school and or orphanage. Rest assured we will have enough space to accommodate your donations!
Typically flights arrive at night and you are taken directly to your hotel to rest after a long couple of days of traveling. If you happen to arrive earlier we will come up with a different plan.
Your Hotel offers amazing ambiance, food, service and comfort. You will be very happy in this Tanzanian-owned hotel that uses farm-to-table practices!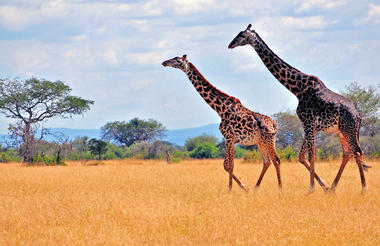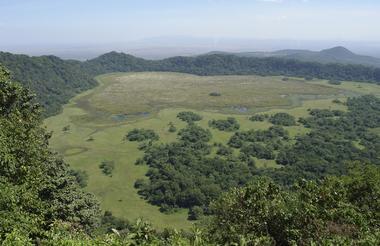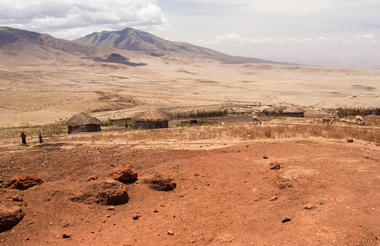 Day 2:
Arusha
Thu. 20 Apr 2023
DAY 2
A full day in Arusha awaits you! We will let you ease into your new time zone and have a later start on the day. There will be lots of early mornings over the next 10 days but today we will get rolling around 10 am.
The first stop is CRADLE OF LOVE http://cradleoflove.com/
CRADLE OF LOVE is an interim care facility for vulnerable babies, a safe place of love, where babies in need find a loving refuge before they are reunited with extended family or adopted. It provides love, nutritious food, medical care, and a much-needed safety net for babies. Your visit will provide you with a chance to lend support to the community. Donations are welcomed as well as tangible donations like play items and clothes. We will discuss before your departure date things you can bring from home to help the kids Expect to be touched and emotionally moved by the incredible spirit and hope of children.
Next, we head to Arusha's bustling main market. This is a highlight for many guests - the colors, interactions with the "market mamas" and a chance to experience the main food/supplies market is a superb introduction to Tanzania and its people.
Depending on your personal interests other stops may include the Coffee Plantation and the Tanzanite Museum
Be sure to take time and explore the actual grounds of Lake Duluti. The garden is simply divine and the farm-to-table concept impressive!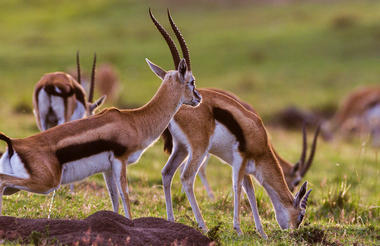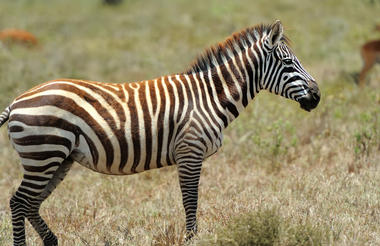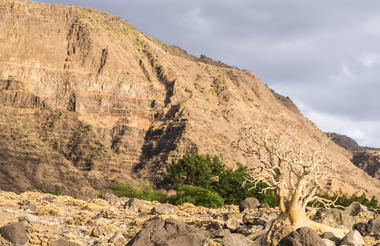 Day 3:
Tarangire National Park
Fri. 21 Apr 2023
DAY 3
Enjoy a warm goodbye from your Lake Duluti staff.
You will be heading into Safari territory.....en route, there is a Westernized grocery store with familiar snack items. Although the camps offer AMAZING food.... if you like the comfort of snacks in your room be sure to stock up.
As you enter the Tarangire National Park it is VERY exciting. Seeing the animals for the first time is quite something.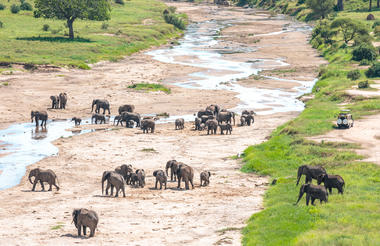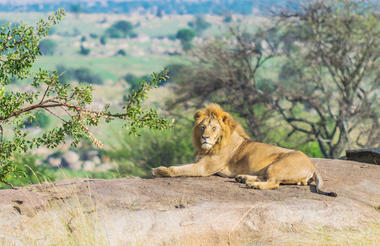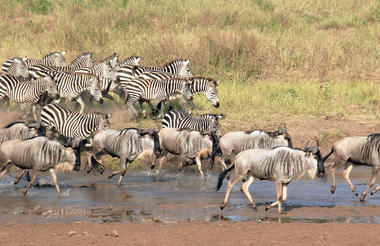 Day 4:
Tarangire National Park
Sat. 22 Apr 2023
DAY 4
All-day Safari with a special lunch overlooking the marsh area. If you are a bird lover you will really enjoy this as lunch is right under the weaver trees!
If the weather permits, we will try to get a bit of a walking safari in. Walking brings a whole new element to the safari experience.
Pre-dinner we will watch the sundown with gin and tonics (or whatever you please). Be sure to have your cameras as it will be quite magical.
After dinner enjoy the campfire if the weather allows.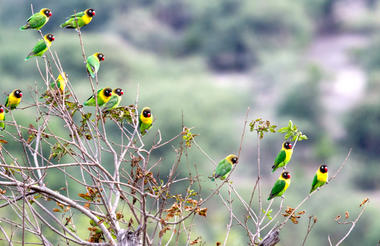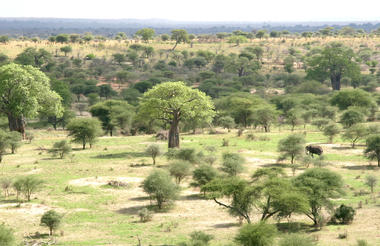 Day 5:
Ngorongoro Conservation Area
Sun. 23 Apr 2023
DAY 5
You have seen the smiles, you have likely followed the school efforts online and you have been waiting for this moment and it's finally arrived!
Today you will arrive at EEMPS Engaruka English Medium Primary School! To think in 2017 the school idea was passed..... that every brick was built here on site out of surrounding termite mounds..... and that the school now holds and helps around 200 students is unbelievable! It's simply amazing what happens when passionate people come together for a common goal.
Enjoy the children and engage in everything possible as you will never forget this moment in time!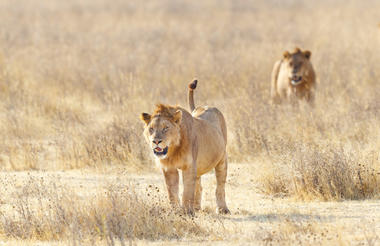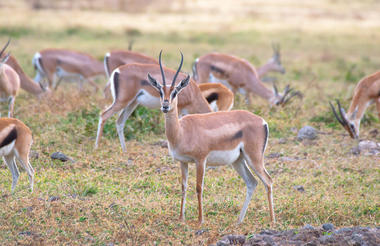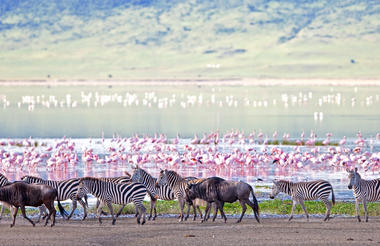 Day 6:
Ngorongoro Conservation Area
Mon. 24 Apr 2023
DAY 6
Enjoy a full day at the school. It's also a great area to go for a hike and or bike ride!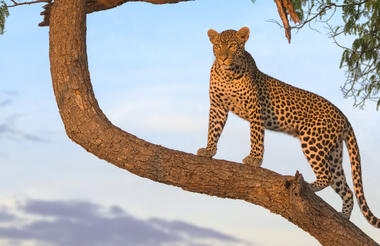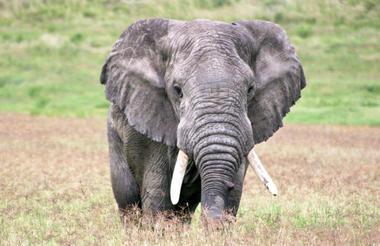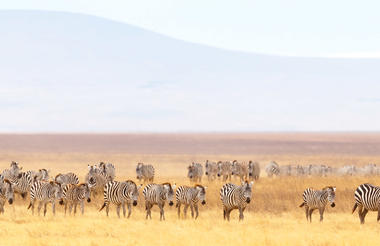 Day 7:
Karatu
Tue. 25 Apr 2023
DAY 7
Hold back your tears and say "Until Next Time" .... no goodbyes in Tanzania! Be sure to plant a tree before you go!
As sad as it is to leave... you really are up for some special adventures.
Check into the Kitela Lodge. The grounds of this place are fabulous! SO SO much color. The landscape is drastically different from Engaruka almost rainforest-like... mixed with the volcanic red soils... just gorgeous! The day-to-day culture photos that can be taken in Karatu are unreal. There is a tourist shop if you want to stock up on any gifts and or snacks before heading back into camp life!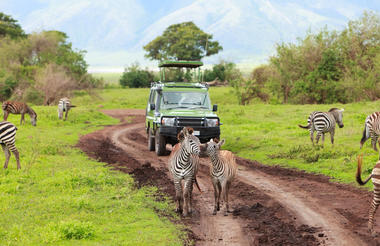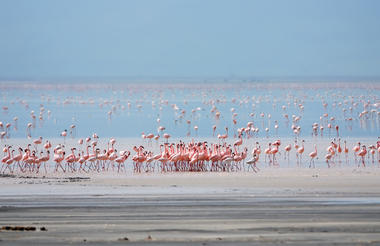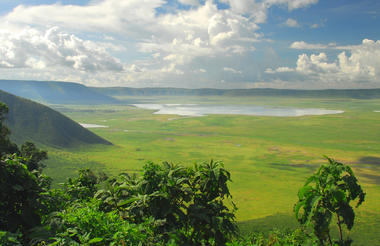 Day 8:
Ndutu
Wed. 26 Apr 2023
DAY 8
Make your way over to Lake Masek in Ndutu. Via the Ngorongoro Crater.
You will depart very early from the lodge in order to be the first at the crater descent gate. The descent to the floor of the crater is roughly 8000 feet and it will be the experience of a lifetime! You will literally watch the thousands of animals that Africa has to offer. The unique eco-system of the crater supports the delicate balance of predator and prey in the endless quest for survival. The crater is a spectacular stalking ground to around 20000 to 30000 wild animals at any given time; the most densely packed concentration of wildlife in Africa. These vast numbers mean the crater holds a microcosm of East African wildlife within its boundaries... hence achieving the renown 'eight wonder of the world' title as it attracts a growing number of visitors each year.
In order to preserve the quality of the experience and the environment, measures have had to be taken to limit the number of people inside the crater at any one time, the safaris are now limited to one per day for each vehicle either as a morning or an afternoon adventure. You chose a morning trip as the game is very active in the morning and this also gives us a chance to have a lovely breakfast in the hippo pool!
After breakfast, you will depart the crater for Ndutu. Although you have left the crater... the viewing does not stop! Your journey to Lake Masek is full of opportunities to view. HOWEVER... distance does need to be covered in order to get to Lake Masek at a decent hour. So few stops will be made.
Lake Masek is one of our favorite tented camps. The Hippo's come out at night and you can hear them loud and clear! This is another Tanzania-owned hotel .... even the placemats are made by Maasai women!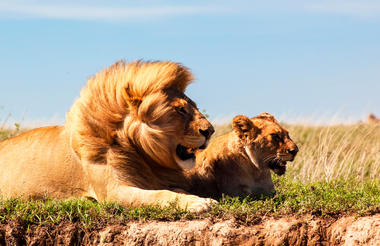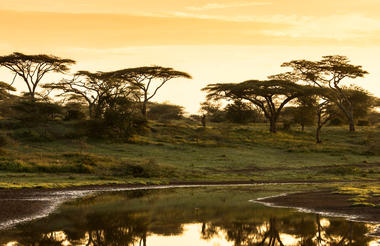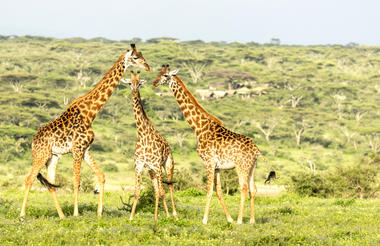 Day 9:
Ndutu
Thu. 27 Apr 2023
DAY 9
We will have an early morning game drive today! AND if the weather permits a bit of a walking Safari!
You will notice the variety of animals is different than in Tarangire National Park. The great thing about Ndutu is you can go off-road Safari! It's a whole new experience being able to drive wherever you want. Make sure you are very familiar with the traditional clock and can call out "Cat or Gazelle at 1 o'clock" type thing! And get ready to see a lot of A.L.T's! Don't worry Abby will get you up to speed on the lingo!
Try to finish up early and enjoy the pool at the camp today as it really is a special gem.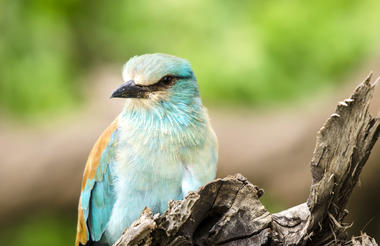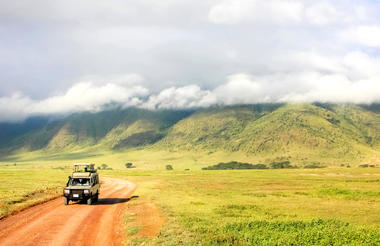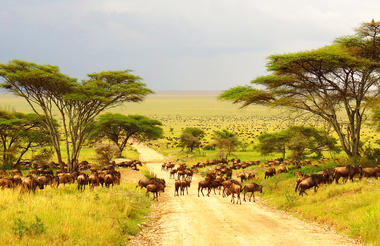 Day 10:
Seronera
Fri. 28 Apr 2023
DAY 10
Today you leave Ndutu and enter the Serengeti!
Serengeti National Park. Tanzania's oldest and most popular national park, also a world heritage site and recently proclaimed a 7th worldwide wonder, the Serengeti is famed for its annual migration, when some six million hooves pound the open plains, as more than 200,000 zebras and 300,000 Thomson's gazelles join the wildebeest's trek for fresh grazing. Yet even when the migration is quiet, the Serengeti offers arguably the most scintillating game-viewing in Africa: great herds of buffalos, smaller groups of elephants and giraffes, and thousands upon thousands of elands, topis, kongonis, impalas and Grant's gazelles.
There are no words to express how vast the Serengeti is. You simply have to see it. By now you might be a bit of a pro at spotting animals and in the Serengeti, it won't be hard!
You will be camping at Kubu Kubu.
The views are postcard perfect, the pool incredible, the staff not notch. Lions are known for sleeping under tents and can be very vocal. It you are lucky enough to experience this... you will have a story to tell fursure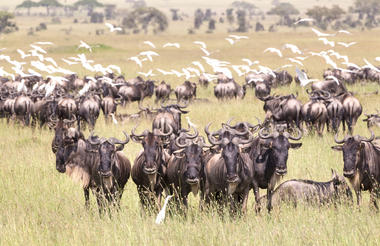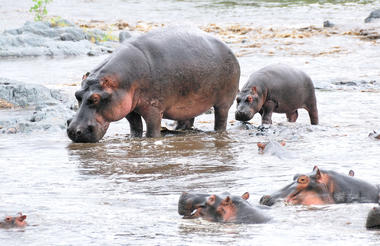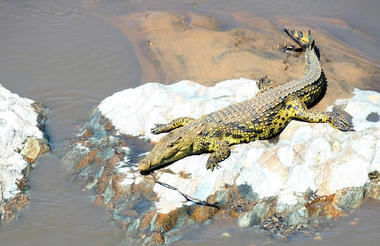 Day 11:
Seronera
Sat. 29 Apr 2023
DAY 11
If you want to do a hot-air-balloon ride today would be the day!
If weather permits go for a breakfast game drive. It's hard to beat fresh coffee in the Serengeti served by your wonderful guides.
This will be your last day of Safari... enjoy!
Have an amazing dinner tonight and share your stories....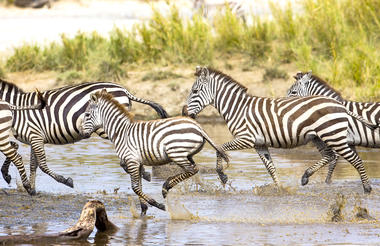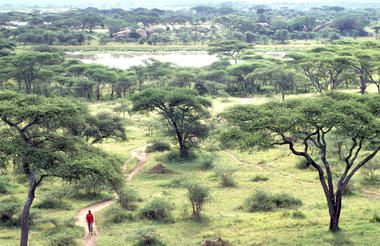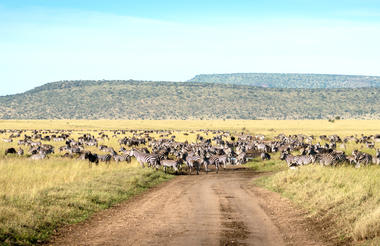 Day 12:
End of Itinerary
Sun. 30 Apr 2023
DAY 12
Try not to cry as it is time to part ways. Remember no goodbyes only 'Until Next Time"! Think of all the stories you will soon be able to tell your family and friends. Guaranteed they are anxiously awaiting your arrival and cant wait to see your pictures.
Depart via bush plane from the Seronera airstrip to Arusha airport.
Transfer to a hotel for a dayroom/overnight or head onto your next destination.