Day 1:
Moremi Game Reserve
You will meet you at Maun International Airport, where you will be shown to your light aircraft for your flight to the Moremi Game Reserve.
Upon arrival at the Xakanaxa airstrip, you will be met by your guide. A large variety of game can be found along the rivers and floodplains of the Okavango, herds of red lechwe, buffalo and hippo are commonly seen. During midday, we may encounter some breeding herds of elephants coming to drink along the rivers. Moremi is well known for its wild dog population; lions, leopard, and cheetah are also frequently seen. We are in our camp in the late afternoon, in time to be shown to tents. Time to shower before dinner served in the dining tent.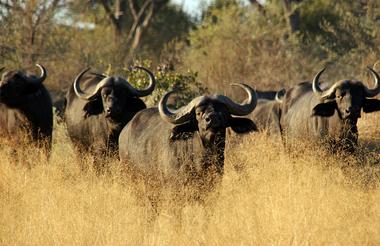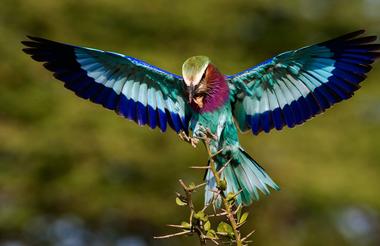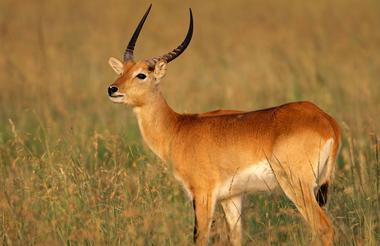 Included
Game drives, scenic light aircraft flight over the Okavango Delta
Day 2:
Moremi Game Reserve
Early morning coffee or tea, and we set off on a full morning's game drive to return to camp at about 11h00 for a delicious brunch. The time now to shower, rest, and relax in camp. After tea, we set off on our afternoon game drive through Moremi with its wilderness of rivers and lagoons. We take a motorboat cruise on the Xaxanaka lagoon or Mboma waterways to visit the famous heronries of the eastern Okavango. Return to camp and relax around the campfire. Dinner served in the dining tent.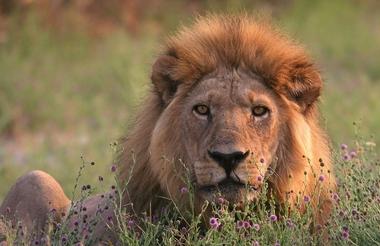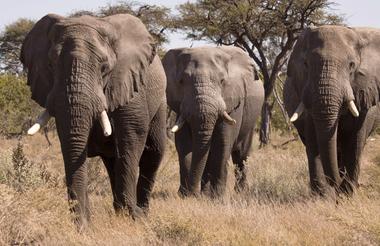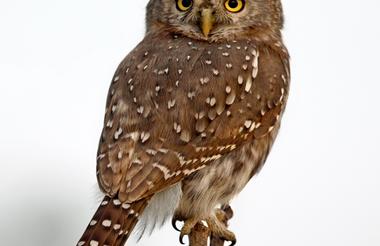 Included
: Game viewing, motorboat cruise on the Xakanaxa Lagoon
Day 3:
Khwai Community Area
Having had breakfast we leave Xakanaxa and continue on an interesting riverine route through Moremi to arrive and set up camp within sight of Khwai River at Moremi's North Gate. Camp near Khwai River in exclusive wilderness area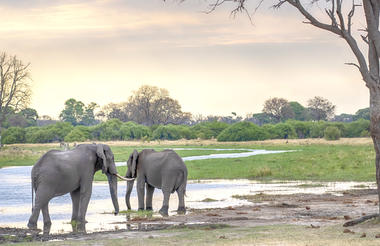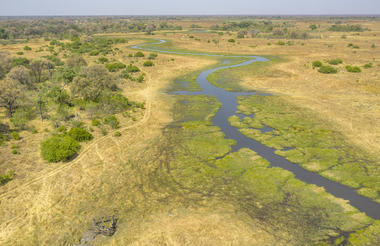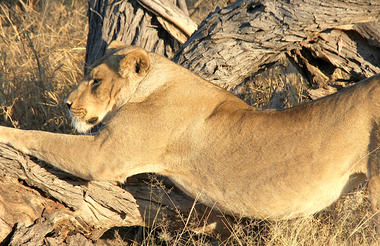 Day 4:
Khwai Community Area
Early morning and afternoon game drives exploring the Khwai River area should reveal a variety of game. Dombo Hippo Pools offer beautiful sunsets and plenty of Hippo. During the heat of the day you will have a chance to read, relax and enjoy the sounds of the wild, followed by afternoon tea and a sunset game drive. Camp near Khwai River in exclusive wilderness area.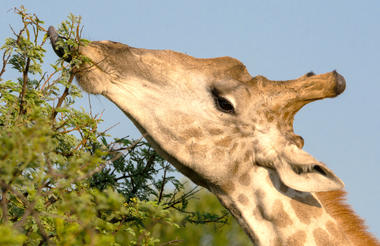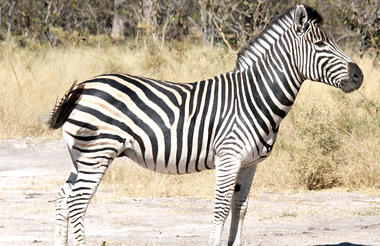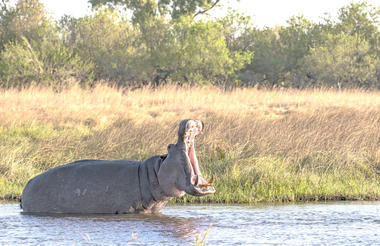 Day 5:
Savuti - Chobe National Park
An early morning game drive to have one last look at the Khwai, before returning to our camp for breakfast. We leave Moremi and our route takes us on an interesting day's drive northwards to Savuti. We stop en route for lunch. On the way to Savuti, we pass over the Mababe depression, once a vast lake, here in summer months the zebra migrates from the Northern Chobe via Savuti and Mababe to Makgadigadi Pans. Approximately 20 000 zebras make this annual migration. The Savuti channel and marsh have been dry since 1980 and finally received water again in 2009. The marsh is now partially covered in water and attract large concentrations of game and birds. Time will now tell how the water will influence the famous Savuti bull elephant population which it is well known for.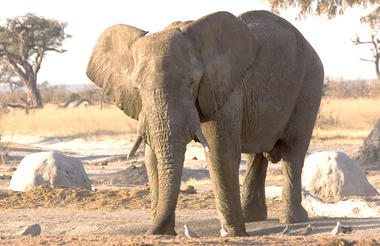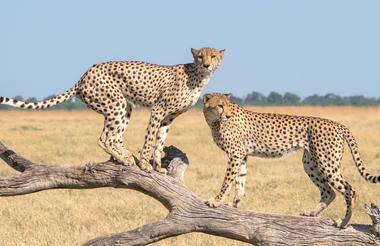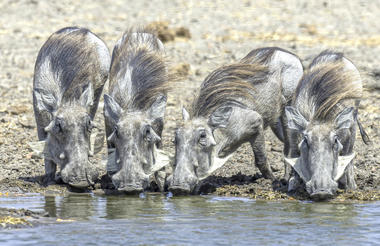 Day 6:
Savuti - Chobe National Park
We depart on an early morning drive in search of the Savuti predators. Savuti has been host to most of the amazing wildlife documentaries filmed in the last 25 years. Many about the merciless competition between the different predators. Savuti also have a few rocky outcrops enabling us to see the Klipspringer antelope. There is also a small collection of Bushmen rock art. Morning and afternoon game drives with leisure time to relax during the heat of the day.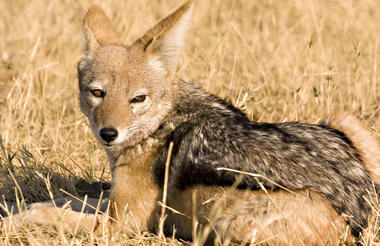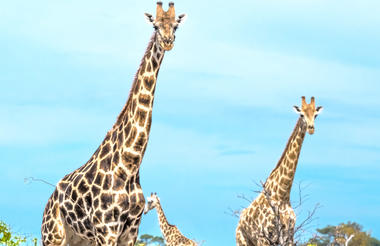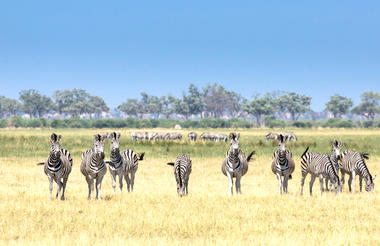 Days 7 - 8:
Chobe River Front
After breakfast we leave for the Chobe River and we should see the breeding herds of elephant and large herds of buffalo for which this park is famous. Chobe riverfront is without a doubt one of the best game viewing spots in Southern Africa. In a afternoon it is possible to see more than a thousand elephants and buffalo. Shy antelope species like the Chobe bushbuck, Roan and Sable antelope can also easily be seen. Along the Chobe floodplains is also a small population of Puku antelope common on the floodplains of Zambia. If you are a keen birdwatcher, Chobe will not disappoint, huge amounts of water birds congregate here especially in the summer months. In the afternoon on the second day, a boating excursion on the Chobe River offers a new dimension to game viewing. Camp along Chobe floodplains in exclusive wilderness area.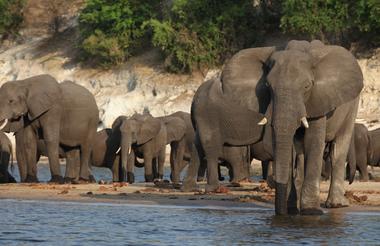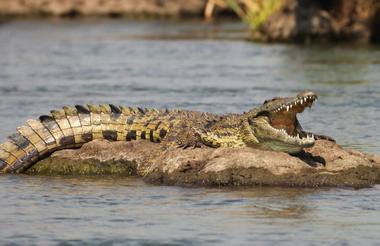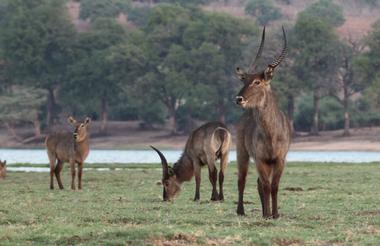 Included
Game drives, Chobe River sunset cruise
After a leisurely breakfast, we pack up and slowly make our way out of Chobe National Park towards the town of Kasane, from here it is time to bid farewell and get transferred to Livingstone. (A 90 minutes transfer by road) Your transfer company will drop you off at the Airport in time for your international flight.