Our expert local tour guides will meet with you on your arrival at the Kotoka International Airport Accra, which is situated on the beautiful gold coast of Western Africa. Look out for the African Star Tours sign when you leave the main terminal building after passing through customs. Make yourself known to your guides who will be accompanying you for the duration of your time in Ghana and they will take care of you from here.
After boarding our vehicle, which will be your mode of transport for the duration of your tour, we transfer you to your accommodation which is situated in Accra. Once we have checked you in, our experienced guide will offer you Akwaaba (welcome) and brief you on all aspects of your trip. You can enjoy your evening meal at the hotel restaurant whilst acclimatising yourself to West Africa.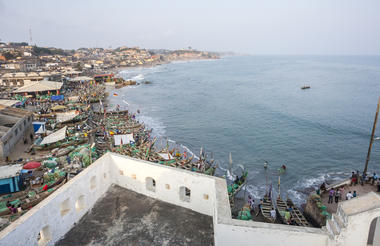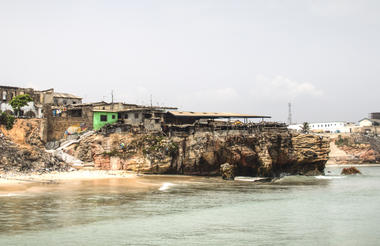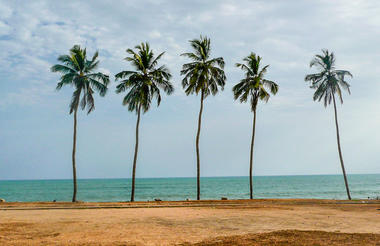 TK Beads, Shai Hills Reserve, Volta River Cruise and Akosombo Dam
After breakfast we depart Accra and start our journey towards the Volt region of Ghana, passing over the magnificent Volta River on route. Before we head out of this bustling city
we stop first at TK beads, experts in making beautiful traditional beads using ancient methods. Your guides will talk you through the skilled process of making the beads. Beads are culturally a symbol of wealth and beauty here in Ghana and are still used during traditional durbars and festivals. After the demonstration we can admire and buy a wide selection of beads that have been made here in the onsite shop.
Our next stop during our journey will be to visit the Shai Hills Reserve, an expanse of Savannah grassland and woodland dominated by large rock formations. large numbers of olive baboons, antelopes, green and spot nosed monkeys have been recorded in this protected area. Formerly the home of the Shai people who were ejected by the British in 1892, granite inselbergs dominate the landscape and house many active traditional shrines. We collect our wildlife guide and hike to the Obonu Tem caves searching for wildlife during our walk. There is a large colony of Egyptian Tomb Bats here not a common species to find in addition to wonderful colourful birds that include Turacos, Rollers and Bee-eaters. A wonderful morning at Shai Hills we then continue our journey towards the Volta region stopping at a hotel in Akosombo for our lunch. The hotel is situated in a perfect location on the banks of the Volta River overlooking this spectacular landscape. After lunch and only if time permits we will enjoy a short river cruise in local canoe enjoying the scenery as we head down river.
After our cruise we take a short tour of the Akosombo Dam, an amazing piece of engineering producing power for most of the country. This hydro-electric dam was built by Ghana's first president Dr Kwame Nkrumah in 1965 and created what was then the largest manmade lake in the world. Today the Volta Lake is believed to be the third largest manmade lake in the world. An informative and interesting tour that offers excellent photographic opportunities of the outstanding views across this lake and habitat. We then continue our journey and transfer to our accommodation in Hohoe, the second largest city in the Volta region of Ghana.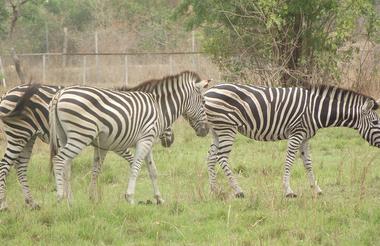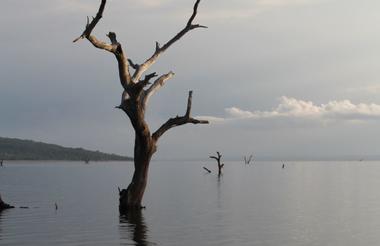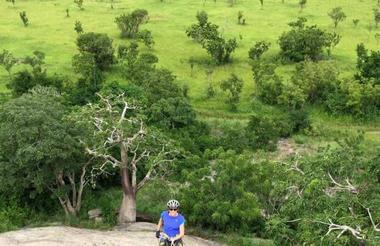 Wli waterfalls, Tafi Atome Monkey Sanctuary and Tafi Abuife Kente Village
A beautiful setting as we enjoy our breakfast before we set off for the Wli (Agumatsa) Falls found in the Agumatsa wildlife sanctuary in the Volta region of Ghana. The Wli Falls are believed to be
the highest waterfall in West Africa, set in a beautiful location the surrounding flora and fauna make this an idyllic setting. On our arrival we will trek through the thick semi deciduous forest leading to the falls from Wli village. As we near the falls we can hear the enormous colony of Straw-coloured Fruit Bats found on the adjacent cliffs mixed with the powerful flow of the river. We can relax and enjoy a paddle in the pool beneath the waterfall which is safe for swimming if you are feeling adventurous, before setting off to the town of HoHoe for our lunch.
The afternoon is spent with the locals from the village of Tafi Atome, a wonderful community protecting a population of endangered True Mona monkeys. The community here perceives the Mona Monkeys to be sacred messengers from the gods and have been protecting the monkeys and their habitat for over 200 years. Quality time is dedicated here learning more about the history behind their protection from the local traditionalists during our time in the village. We venture into the surrounding forests to see these beautiful primates and during the walk our local guide will identify the many medicinal plants that grow here and explain how the locals use them to make traditional herbal remedies. The local ethnic group here are Ewe. A short distance from Tafi Atome we find the community of Tafi Abuife who have been weaving traditional Ewe kente cloth for generations. Kente cloth design here in the Volta Region of Ghana differs from the kente cloth found in the Ashanti Region at Bonwire. Colours and designs vary and during our time here we learn the history behind each design and how the community started producing this beautiful cloth. An ideal opportunity to purchase quality kente at very reasonable prices before we return to our accommodation to relax.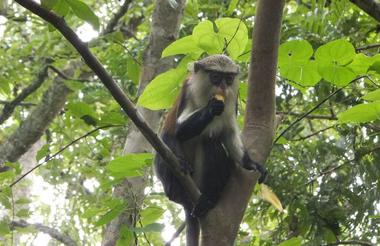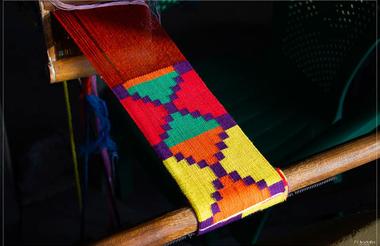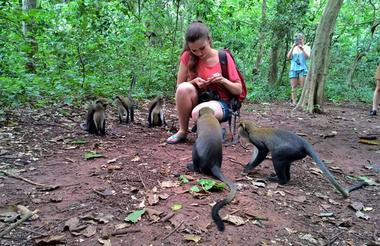 Hiking Mount Afajato, Aburi Botanical Gardens and Craft Village
An early start this morning after breakfast as we set off to Mount Afajato. Our morning will be dedicated to hiking Ghana's highest mountain Afajato which is an elevation of approximately 885 meters. Our guides are experts in butterflies, birds and all of Ghana's flora and fauna and during your walk they can share with you the exceptional nature that occurs in this part of Ghana. The views are wonderful with excellent opportunities for photography during our walk. A wonderful morning stretching our legs and enjoying the fresh air and environment, we enjoy lunch prior to setting off to Aburi. Our journey today will take us into the beautiful Akuapem hills with outstanding views across Accra and Tema in the distance. At the top of the range we find the Aburi botanical gardens, set in a beautiful location that were founded by the British in 1890. The gardens are home to a wide variety of indigenous and exotic flora, offering outstanding views to Accra on a clear day. As we walk around the gardens our guide will identify the many trees and plants found here, some with medicinal properties and explain how they benefit the locals. A short distance from the gardens we find the relaxed and friendly Aburi craft village, where traditional African drums, sculptures and other crafts have been carved for generations. As we watch the skilled craftsmen at work it is worth noting that prices here are amongst the lowest in Ghana, making Aburi an ideal place to pick up some souvenirs. Your guide will talk you through the meaning and local beliefs connected to many of the sculptures that have been made the same way throughout history. After a wonderful action-packed day, we check into our accommodation with the remainder of the evening free leisure time to relax.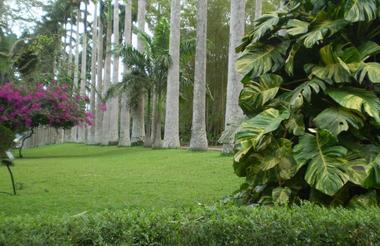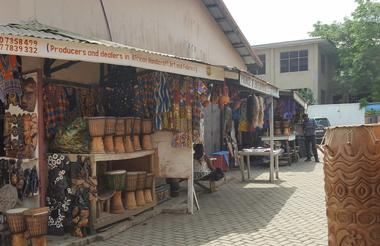 Economic districts, James Town, Independence Square and Kwame Nkrumah Memorial Park
An early start as we set off through Accra on our way to Cape Coast and Elmina. As we are travelling through Accra we will take this opportunity to visit some of the main attractions in this big, bustling city as we pass through the economic and administrative districts on our way to James town. A walking tour of this old community taking in some of the historical structures that predate the colonial era. The locals are committed to conserving these buildings and have made significant efforts to maintain them, our time here gives us an excellent idea of what it was like during the colonial era. The 30-meter-high lighthouse built by the British in 1871 and the attractive colorful fishing boats on the beach are also wonderful to see. We continue to Fort James that was built by the British as a trading post in 1673, before it joined the Dutch Fort Crêvecœur, and the Danish Fort Christiansborg. Fort James gave its name to the Jamestown neighborhood in Accra. These areas give us a perfect picture of old Accra, distinguishing between British Accra and Dutch Accra. Of interest are the Brazilian stone houses, built by free enslaved African's who reside in Brazil, they made their way back to Africa after the slave trade was abolished and their descendants have now integrated with the locals of James Town.
Lunch will be taken at a local restaurant (Country Kitchen) serving a selection of West African and continental dishes. In the afternoon we pass by Black Star Square which houses the independence monument and continue to Independence Square which is our main ceremony grounds and where we find the enclosed flame of African liberation, which was lit by Kwame Nkrumah himself in 1961. A short distance away we find the Kwame Nkrumah Memorial Park, final resting place of Ghana's founder. Set in attractive gardens, there is an adjoining museum, which contains photos, artifacts and an insight into this incredible man's life. The center was designed by a Ghanaian architect and built using Italian marble. Time to leave this busy city behind as we set off Westwards towards Cape Coast and Elmina for the next part of our Ghana adventure. On our arrival in the early evening we check into our accommodation and relax for the evening.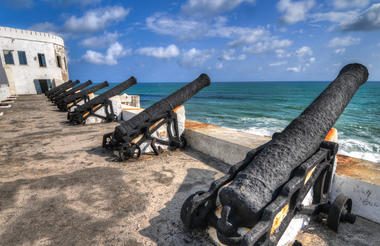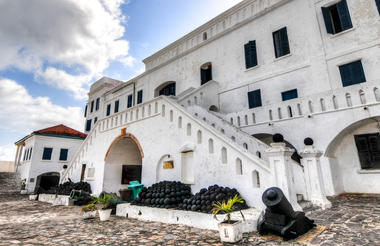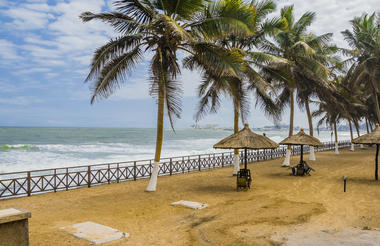 Cape Coast Castle, Posuban Shrines, Elmina and Cape Coast Towns and Traditional Batik Making
A busy day ahead as we set off for walking tours of the ancient towns of Cape Coast and Elmina learning about the foreign colonial influence and the reason Cape Coast, our former Capital when we were known as the Gold Coast was relocated to Accra during independence. Cape Coast is known as the cradle of education here in Ghana with the best performing schools still located here. Students from all of Ghana and West Africa travel here to study. It will soon become apparent why this is during our tour as we visit prominent schools here in addition to Cape Coast University. Two wonderful towns to experience everyday life in these coastal communities as we walk the markets and old colonial streets learning about the many cultural edifices of these ancient towns. Posuban Shrines are dotted around these communities and have a combination of symbolic and mythical importance to locals here. Asafo are traditional warrior groups within Akan culture and were formed to protect the local community during the colonial period of rule. Fante's the local ethnic group here in Elmina and Cape Coast developed complexed social and political structures based on martial principles and used Posuban shrines to fortify themselves prior to going into battle. There were many Asafo companies believed to have been established by the wards in the 17th century with little early significance, however this changed in the early 18th century when they became much, more of a prominent force locally. Today with no battles to fight the Asafo companies have become more ceremonial and undertake community service to improve their respective areas.
During our time in Elmina we visit the local fishing market and walk the short distance to visit the boat builders in this community. Almost all the fishing boats used in this bustling fishing community are traditional wooden boats. Their design has not changed in centuries and neither have the tools and methods used to build them. We will also enjoy the sights of the many colourful fishing boats bringing their daily catch into the harbour and take this opportunity to mix with the locals enjoying the atmosphere of a West African fishing community. Next, we visit the nearby Cape Coast Castle which has been designated as a world heritage site by UNESCO. The castle is a thought provoking monument to a harrowing period in the region's history. Quality time will be spent in the afternoon on an emotional journey touring this castle which held more enslaved Africans captive than any other in West Africa, viewing the dungeons and the infamous "Door of no return". There is a historical museum inside, which explains the entire history of the castle and Cape Coast itself, as well as a souvenir shop selling literature on all of Ghana's forts and castles, as well as the cultural history and traditions of Ghana.
Lunch will be enjoyed at a local restaurant selling a wide selection of international and local dishes. This restaurant is run by a local organization that helps deprived children in the Cape Coast area improve their lives through education and advocacy. Our afternoon is dedicated to immersing ourselves into true African art during a traditional batik making workshop with Global Mamas. An excellent organization empowering local women to learn artistic skills selling their finished products in the fair-trade market enabling them to support their families. There is no better way to get to know locals and hear how life is daily than by working side by side with them and making our own traditional batik garment. Joining a local artisan in his/her workshop to learn the traditional techniques of batik making and production from the wax heating, stamping and drying makes for an interesting afternoon. You will be given a piece of cloth for you to produce your own garment to take back home, a wonderful souvenir of your time in Ghana and one that will hold fond memories every time you wear it.
After another wonderful day here in Ghana we return to our accommodation to relax before we have the option of heading out into town to enjoy and experience some traditional highlife music at a local bar and restaurant. If you would prefer to relax at your accommodation this would not be a problem.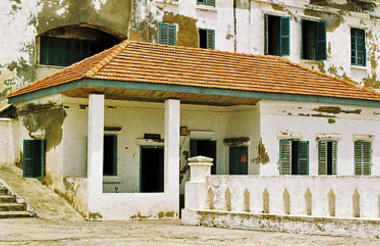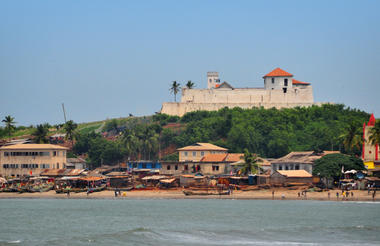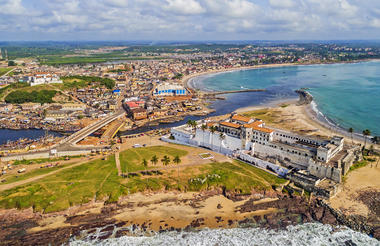 Kakum National Park, Canopy Walkway, Stingless Bee Centre and Elmina Castle
An early start as we set off for Kakum National Park in the morning, after breakfast and Africa's world-famous rainforest canopy walkway. This is a truly beautiful, tropical guinea rainforest and the canopy walkway is sure to be a highlight of your time in Cape Coast. This national park protects the original habitat that was found in this location and was the locals home and major source of food. The walkway consists of 7 bridges, attached to 7 emerging trees, 40 metres above the rainforest floor. Prepare to take a deep breath as you walk the suspended bridges. You will marvel at the outstanding views that stretch for miles across this breathtaking rainforest as you rest on the viewing platforms that are attached to the emerging trees between the bridges. We are sure you would agree that this is an exciting excursion never to be forgotten.
We return to the park headquarters where we find an excellent information center that offers a very informative overview of the parks flora and fauna. Over 40 different mammal species have been recorded within the park, which includes forest elephants, leopards and 6 primate species to mention just a few. As short distance from Kakum and on the border of the forest we find the International Stingless Bee Project. There have been approximately 9 species of stingless bees identified here in Ghana and their importance to our eco system is paramount. Our tour of the center teaches us about the importance of bees locally, their medicinal qualities and we get to see their hives, taste and buy quality stingless bee honey. There is a stingless bee walkway and butterfly garden where many of the forest butterfly species come to feed.
We stop for lunch at Han's Cottage Botel near Kakum, Han's is built over a lake containing Nile crocodiles and set in a beautiful location surrounded by tropical guinea rainforest. It is an original and comfortable establishment, which is teeming with bird life and an excellent place to enjoy lunch before setting off for Elmina. During our time in Elmina town we will visit the castle of St. George in Elmina. This is the oldest extant colonial building in sub Saharan Africa dating from 1482. This castle is steeped in history and played a prominent part during the tragic transatlantic enslaved African trade era. There is an informative museum inside which concentrates on local history and it is designated a world heritage site by UNESCO.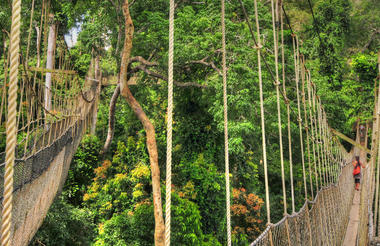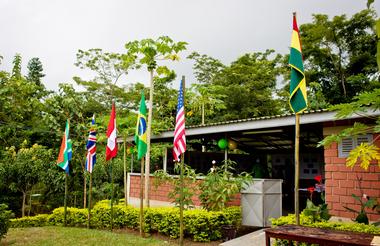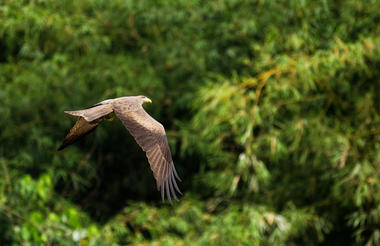 Brenu Akyinim School visit and traditional drumming and dance lessons
A wonderful day lies ahead as we enjoy a relaxing breakfast before setting off to visit one of the schools our company has been able to build through responsibly minded travelers like yourselves booking tours through us. It is a major part of our company giving back to communities in need that we visit during our tours and this is the perfect time to meet the children you are helping. If you have any donations or school supplies, you would like to give out during your time in Ghana then this is a good opportunity to do so. If you don't no problem as you are already helping locals just by booking a tour with Ashanti African Tours. Our time here is spent meeting the children and teachers and maybe participating in a class or sporting activity. The school is also located on one of Ghana's finest beaches and we can enjoy our lunch overlooking the beautiful Gold Coast of Western Africa. An afternoon of traditional Djembe African drumming and dance lessons have been arranged for us to enjoy. Our expert teacher will take us through the rhythms and moves of some local classic music. It is surprising how quickly you can improve your drumming skills and sound with a few hours of dedicated lessons. After a wonderful day we head back to our hotel and tonight you have the option of heading into town with your guide to experience local nightlife and traditional high life music. Alternatively, you can choose to relax at your hotel.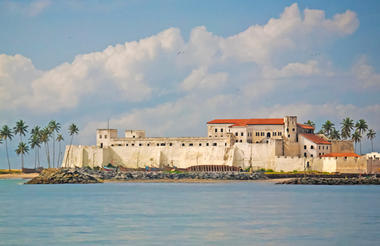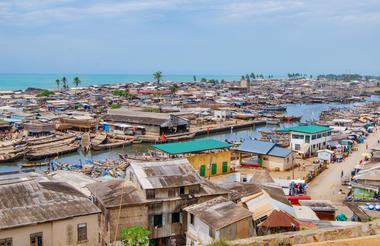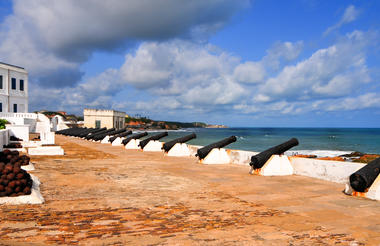 Nzulezu Stilt Village, Fort Apollonia and Ankasa Forest Reserve
An early start this morning as we set off Westwards after breakfast heading through Takoradi the capital of the Western Region. Our aim is to reach Beyin in time for lunch prior to setting off through the beautiful Amasuri wetlands in traditional dugout canoe to find the community of Nzulezu Stilt Village. Legend has it that the community here migrated from Watala part of the ancient Ghanaian Empire 600 years ago after being driven from their homes during conflict. A snail led them to this remote location where they would be safe, and the community decided to build their homes over the lake for additional protection. The snail is now sacred to this community and is not eaten here as it is in other parts of Ghana. Surprisingly enough the main occupation of the community here are farmers and not fishermen as you would expect. The boat ride is a major highlight as the wetlands are beautiful, marshy swamps now recognized as globally important wetlands for birds. In 1766 the Nzema Chief Amenihyia granted the English committee of merchant's permission to build a fort at Beyin. Permission was granted to facilitate trade in the area and ward off Dutch Colonial ambitions as they had been involved in intermittent warfare within the Nzema country. During our time here, we will visit Fort Apollonia whose construction was completed in 1768 and now houses the Museum of Nzema Culture and History. An informative museum focused on the history of the local ethnic group here Nzema.
Finally, we set off towards Ankasa Reserve which is connected to the Nini-Suhien National Park and protects an area of over 500 square kilometers of mostly pristine wet evergreen upper guinea rainforest. This habitat played an important role in the life of Ghanaians historically as it was their main source of water and food. By far Ghana's finest remaining rainforest habitat this area protects many endangered mammals and is home to so many wonderful birds and wildlife. On our arrival we check into our accommodation and there will be an option for a night walk inside the forest. Alternatively, you can relax at your accommodation.
Your stay in Ankasa will be camping.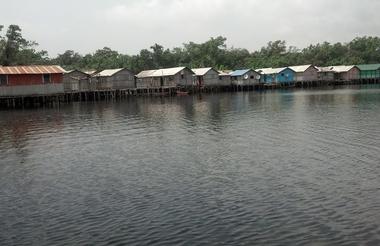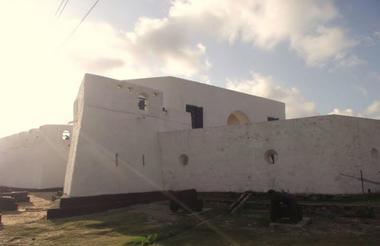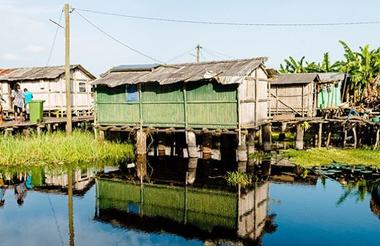 Biking to the bamboo cathedral in Ankasa forest Reserve (20km ride)
More fun today as we dedicate the next two days to getting around on mountain bikes which is a wonderful way to experience life, landscapes and the African breeze here in the Western Region of Ghana. A totally new experience as we enjoy riding inside Ghana's only pristine Upper Guinea wet evergreen rainforest at Ankasa Reserve. After breakfast we set off on the short journey to the entrance gate of this forest habitat. There is a road that runs through this beautiful forest that protects many mammal and bird species that include forest elephants amongst others. The road was constructed by the Volta River Authority to service the electricity pilons that run through this forest to service and sell electricity to the Ivory Coast. The road is not in the best condition which is why mountain bikes are essential. Our day is dedicated to riding in this protected area and we may also do some hiking to see the beautiful bamboo cathedral and forest swamps. We return to our accommodation for a late lunch before an afternoon of biking around the remote roads and tracks in this area that service small villages and hamlets.
Your stay in Ankasa will be camping.
Optional bike ride from Ankasa to our beach hotel in Axim (65km)
Depending on how we feel this morning there is the option of riding to our next location at Axim for the beach relaxation part of our holiday. It is approximately a 65km ride and we have the entire day to get there at our own pace. As our vehicle will also be taking our bags to the hotel there is the option to ride part of the way or alternatively, we can drive only. On arrival in Axim we head to our beautiful beach front hotel located in a private bay with its own private island. The remainder of the day is free time to unwind and relax at this beautiful spot.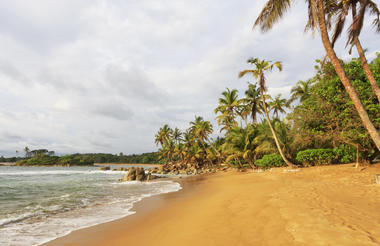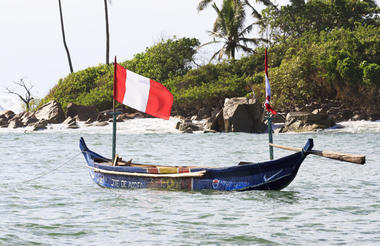 Full day relaxing at the beach
Today is dedicated to recharging our batteries from the excitement of the previous few days touring Ghana. Axim is the perfect location to unwind and relax overlooking the beautiful Gold Coast of Western Africa.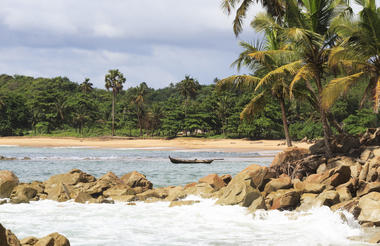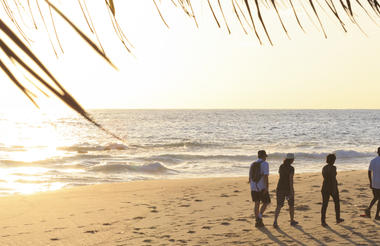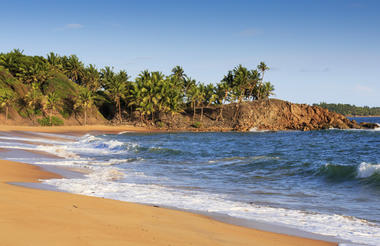 Morning relaxation on the beach and transfer to Accra after breakfast
A relaxing time on the beach prior to breakfast. Today is mostly a travel day as we load up our vehicle and set off eastwards after breakfast to Accra stopping for lunch on route. On our arrival we check into our hotel with the remainder of the evening being free leisure time.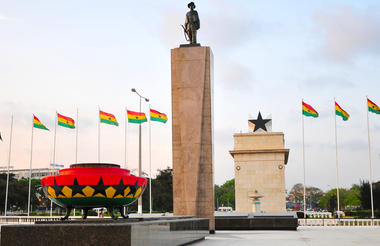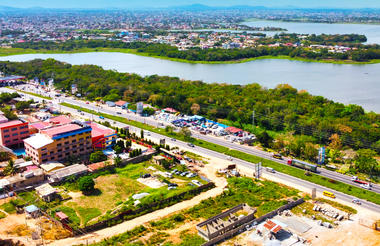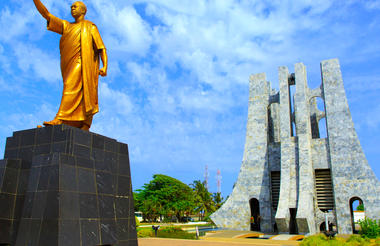 National Museum, Independence Square, Kwame Nkrumah Memorial Park, Fantasy Coffins of Teshie and departure
Your final day in Ghana, after breakfast at our hotel, we set off for our tour of Accra, passing through the economic and administrative districts on our way to the National Museum. Almost all the displays here are ethnographic in nature and the museum gives us an excellent overview of West African culture. The displays in the museum are not only from Ghana but most West African countries. There is an adjoining garden which is home to various sculptures which talk about West African tradition and customs and gives an overview of West African history. During our time here, we also get the chance to view and purchase some wonderful examples of traditional fabrics and crafts. From here we pass by Black Star Square which houses the independence monument and continue to Independence Square which is our main ceremony grounds and where we find the enclosed flame of African liberation, which was lit by Kwame Nkrumah himself in 1961. A short distance away we find the Kwame Nkrumah Memorial Park, final resting place of Ghana's founder. Set in attractive gardens, there is an adjoining museum, which contains photos, artifacts and an insight into this incredible man's life. The center was designed by a Ghanaian architect and built using Italian marble.
Lunch will be taken at a local restaurant (Buka or Afrikiko) serving a wide selection of West African and continental dishes. "Fantasy Coffins" of Teshie Nungua is next on our to visit list. Funeral and burial ceremonies in Ghana are very solemn occasions, but after the burial a celebration follows. Ghanaians believe that the departed move on into another world, the coffins made here may represent the occupation of the deceased or depict something that was important to them. There is all manner of coffin designs which one could be buried in from cars, cocoa pods, cigarette packets and airplanes to crocodiles, shoes, bottles of beer and boats. After this excursion we may have time to head to the Accra Mall to give you an insight into modern day Ghana. An opportunity to also purchase some last-minute souvenirs before heading home. Our early evening meal will be taken at a locally owned restaurant serving an excellent selection of local and international dishes which gives us an ideal opportunity to say our goodbyes and reflect on a wonderful time together. After your meal our team will transfer you to the airport for your departure.