Day 1:
San Antonio de Areco
Welcome to the Argentine pampas: The cradle of tradition
Upon arrival in Buenos Aires you will be greeted at Ezeiza International Airport by an experienced guide who is just waiting for you. After a warm welcome, a vehicle will transfer you to your selected "Estancia".
The typical landscape of the Argentina humid Pampa, one of the most fertile natural prairies in the world,may be appreciated by you in this tour that includes a reception with typical food and good Argentinean wines, a show with folk songs and dances and an exhibition of the gaucho's abilities.
After a quick tour of the Estancia to explore the property, you are invited to enjoy a delicious asado lunch served under the shade of hundred year old trees.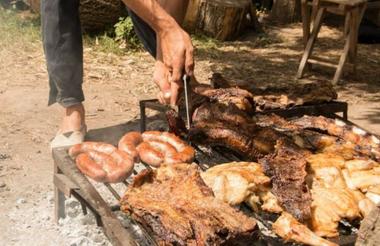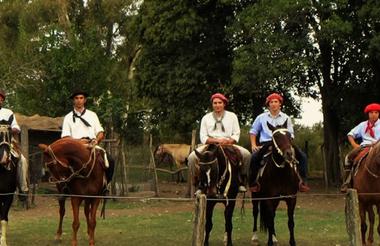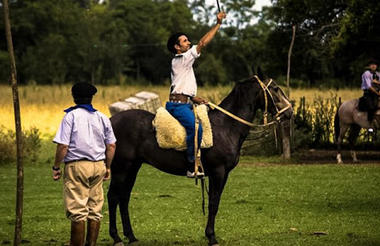 ESTANCIA FULL DAY
You'll share different outdoor activities at the farm: Enjoy a delicious asado, the authentic gaucho barbecue prepared on an iron cross over the fire, accompanied by the best wines of the country and the typical empanadas(meat pies) as a starter. Today you will enjoy an unforgettable riding ancient carriages which will drive you through the gaucho history. For horse-riding lovers of all ages, the best docile horses are offered to enjoy a nice trot or a quick gallop.
You'll then have the chance to watch and admire the Estancia's gauchos' performance of equestrian dexterity, as well as listen to and watch traditional Argentine music and dance.
Included
* Transfer airport or Buenos Aires downtown / Estancia
* Accommodation with full board
Goodbye, we are looking forward to welcoming you again in the Pampas!
Today you'll have breakfast while enjoying a relaxing morning at the Estancia. After breakfast, you will have some time at leisure to stroll around or just to relax and enjoy the nature and the peaceful enviroment.
You will have a well-deserved traditional lunch in the Estancia with asado and empanadas, and of course, the best wine!
Make sure you take plenty of photos and you and take your last breath of fresh air, because after lunch, a private vehicule will pick you up and drive you to your next destination.

And remember, the gauchos will wait for you anxious and happy with a mate tea every time you come back!
Included
* Activities at the farm
* Transfer Estancia / airport or Buenos Aires downtown