Upon arrival to Ezeiza International airport in Buenos Aires (B.A.) you will be met by our agents from Gateways Travel and transferred directly to the domestic airport (Jorge Newberry) which is about one hour away. You will then connect to the first available flight to either San Martin de los Andes (Chapelco) or San Carlos de Bariloche airports. Since San Martin is located just 45 minutes from San Huberto lodge, we will always do our best to fly you there. Most times you will arrive to San Martin from B.A. around 1:15pm. This will give you time for lunch and a nap before fishing the late afternoon. If we must fly you to Bariloche, the drive to San Huberto is about three hours and will be done from comfortable vans and mostly on paved highways. While the drive from Bariloche is long, the scenery is fantastic. Ronnie and Gustavo Olsen, along with their staff will be your host on this exciting trip.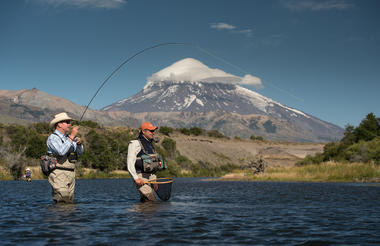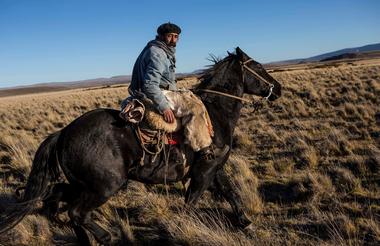 Expert tips
All U.S. citizens must have a valid passport to enter Argentina. There are no visas required for U.S. citizens, provided you are traveling with us for leisure travel and not longer than 30 days. Citizens from other countries will need to check our office as to what special requirements may be needed for your entry to Argentina.
Departure times for internal flights in Argentina often change so we highly suggest you allow our office to book your flights so that you can be updated real-time.
Each of the following five days you will be up for a full breakfast 8:00 AM with your companion and guide who will confirm and discuss your day on the water. You may choose for a full day adventure with pack lunch or a return to the lodge for lunch and then back on the water around 3:00 PM for the afternoon hatch. Rivers like the Malleo, Chimehuin, Alumine as well as Lake Tromen are all proven waters to take rainbow and brown trout.
The Malleo River
Like most Patagonian trout streams, the Malleo originates in a lake, high in the Andean Mountains. Nestled in the folds of dormant Lanín Volcano (12390 feet) and surrounded by millenary monkey puzzle tree forests, Lake Tromen spills its waters to form the Malleo which then flows east for 30 miles to join the Aluminé river. Beginning in a densely wooded canyon inside the Lanín National Park, it meanders through a beautiful valley populated with "araucarias" (monkey puzzle trees), willows and poplars. San Huberto Lodge and our Estancia offers easy access to the upper reaches of the Malleo and provides outstanding accommodation for fishermen in pampered surroundings. Built by the Olsen family in the 1970´s, it now caters almost exclusively to the fly fisherman, providing catch-and-release only waters. Barbless hooks are a kindness to Malleo trout. The river contains both rainbows and browns. It is easily wadeable for most of its course with pebbled bottoms and sandy shoals. The stretch from the first fishable pools near the area of Tres Picos down to the Lodge offers some of the best and most scenic trout waters in the world.
The Upper Pools – This stretch of the river is a typical meandering stream through low gradient meadows in an open valley on the piedmont of the Andean ridge. The river bottoms are of gravel or pebbles providing for easy wading. The water flows smoothly offering superb dry fly fishing. The majestic Lanín volcano provides a breathtaking sight as a backdrop to the riverine vegetation of willows, wild rosebush and knurled evergreens that create pockets, shade and cover for big trout. Rocky bluffs and sandy banks line the river along the shores where red stags and wild hares can often be seen as the peek curiously upon the fisherman.The Red Gate is a particular famous pool as there is a great photo spot along the road where the Lanín in the background provides for a worthwhile picture of this fine pool.
After the Red Gate, the river begins to change its character as the gradient increases somewhat and the pebble bottoms give way to the rocks, ledges and boulders of a mountain freestone river. Wading is some more difficult and felt soles or cleats become a must for fishing here.
The Lower Pools - Below the Yellow Bridge, we find the beginning of the Lower Pools. Here starts one of the loveliest and least fished areas of the river due to the fact that there is no easy access to the narrow canyon at this pristine section. The river picks up its tempo and signs a bit louder through this stretch that offers great varieties of waters. Following downstream the river runs less of a meandering course on a lower gradient but remains mostly freestone with occasional gravelly areas. The riparian vegetation becomes denser and willows provide plenty of cover for the fish and challenges the casting abilities of fishermen. This area is a bit more protected from the wind and is a good choice on days when the upper pools are more exposed. The Malleo is without a doubt one of the great trout streams of the world.
Lake Tromen
Located a 30 minute drive from San Huberto, within the Lanin National Park territory, Tromen is the nearest lake to the lodge. In fact, our 10 thousand hectare ranch abuts this protected area. Along with the Malleo river, Tromen Lake is one of our prefered environments for fishing. Its peculiar hand-like shape differs completely from the rest of the lakes in the area. This unique structure results in quiet bays and secluded corners where anglers of all abilities will be delighted with the quality of fishing. With the Lanin Volcano as an ever-present backdrop, vast vertical basalt walls and a pristine sorrounding forest we are always excited to share this beautiful location with our anglers.
The temperature and clarity of Lake Tromen's waters offer wonderful conditions for brook trout, as well as rainbow and brown. At points, land-locked salmon may be caughed, but this is not typical. Sight fishing will surely enrich your fishing experience as well as produce less impact on the environment.
Cocktails and appetizers are served around 8:00 PM and dinner at 9:00.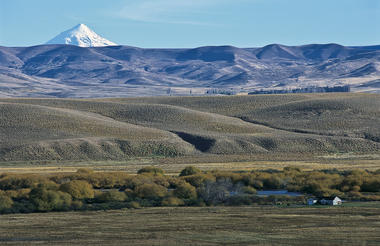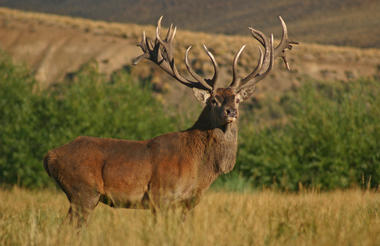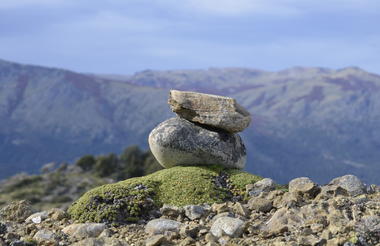 Expert tips
The season for trout in Argentina is mid-November through April, which are their summer months. The climate is much the same as summer in the Rocky Mountain States here in the U.S. November and December are cooler months, as this is late spring and early summer. The temps will be from a low in the 40's to a high in the 70's with some sporadic showers. The months January and February are warmer and drier. Temps will range from the 50's to the high 70's and low 80's. You can expect some wind in this region primarily from the west. Guides will always use their best judgment in determining fishing spots based on weather conditions.
It is important to know that the lodge has all rods, reel and waders available to rent for $40.00 a day should you wish to just show up and fish. For those who wish to bring your own fly tackle we suggest you try and bring at least two fly rods. One rod to be a 5wt or 6wt with two spools loaded with sinking tip line on one spool and WF floating line on the other. The second rod needs to be either #3 wt or #4 wt depending on your personal preference and spooled with WF-floating line. If you have a third rod it would be nice to have a back-up in case one rod breaks.
Non Anglers- Those who do not fish or wish to break a day can enjoy hiking the property with its majestic views of Lanin Volcano, relax along the Malleo River, take a horseback ride at a nearby ranch, venture on a shopping tour in the town of San Martin de los Andes or reserve some time in the massage cabin. The Olsen's will discuss these options and more during your visit.
You will have time to fish the Malleo one last morning before transferring back to San Martin to meet your flight back to Jorge Newberry Airport in Buenos Aires, followed by a crosstown transfer to Ezeiza International and your overnight flight back to the U.S.