WINDHOEK - NA'ANKUSE LODGE (approx. 55 km / 1:00h)
After arriving in Namibia at the Windhoek Airport you will be greeted by one of our supplier representatives. You will be directed to the selected vehicle hiring company where you need to collect your rental camper van. After a quick overview and explanation on the workings of the vehicle and the provided camping equipment you can depart and pick up some essential groceries and other vital items at one of the supermarkets in Windhoek. It is important to stock up on some beverages, foodstuff and possibly toiletteries that you might need in an environment that is not always in the close vacinity of a town.
After your preparation is completed you start your short drive to the Na'an ku se Lodge. You can participate in some of the many activities offered at the lodge where everything revolves around animal welfare and conservation. One recommendation is the 'Carnivore Feeding Tour', where you can visit the wild cats of the lodge and view their feeding up close and personal.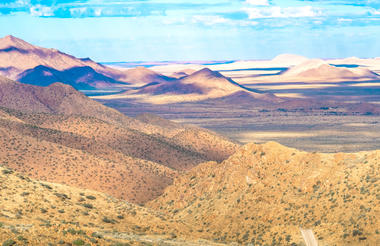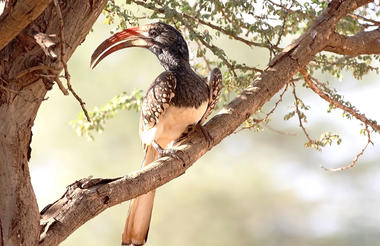 Activities and Services
N/a'an ku se Wildlife Sanctuary Carnivore Feeding Tour
Day 2:
Okonjima Nature Reserve
NA'ANKUSE LODGE -OKONJIMA PLAINS CAMP (approx. 320 km / 4:15h)
After breakfast you will continue north through the country on dirt roads flanked by farms on either side of the road. Keep an eye on these sides as there is a lot more to see than just cattle along the route. For instance you will most certainly be able to see animals such as antelope, giraffes, zebras, warthogs and many more wild species. At Okanhandja you take the national road (B1) and continue to the Okonjima Nature Reserve - this will be your destination for the night. Here, too, they are committed to nature conservation and take care of the animals that have fallen into conflict with the neighbouring farmers. Sightings of leopard and cheetah are possible during some of the game drives and in addition to the big cats you will also find plenty of other animals that are native to the region..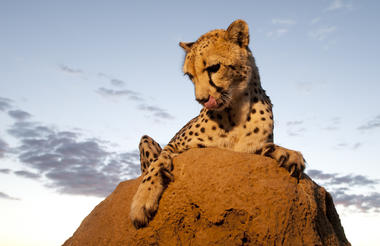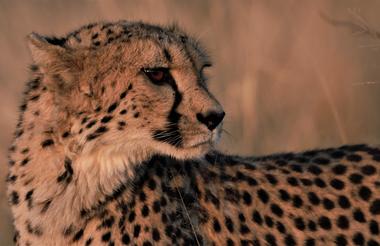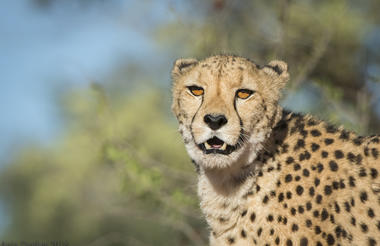 Day 3:
Etosha National Park
OKONJIMA PLAINS CAMP - HALALI CAMP ETOSHA (approx. 317 km / 4:30h)
Today you can decide if you want to spend the early morning in Okonjima and participate in one of the many activities on offer, or wether you feel like a morning drive via Otjiwarongo and Outjo to the next highlight of your trip: the famous Etosha National Park. Here an afternoon game drive will be your opportunity to look for elephants, lions, rhinos and a variety of other elephants. By sunset, you must have reached Halali Camp, which is located in the middle of the national park. Here, for the first time, the roof tent is unfolded and you will spend your night in the bush.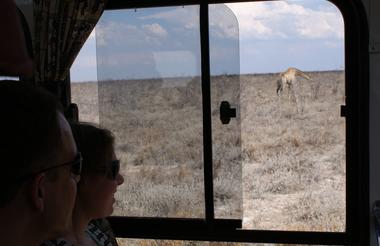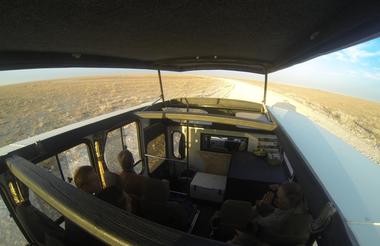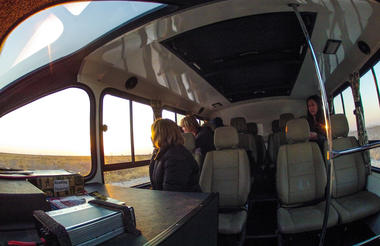 Day 4:
Etosha National Park
HALALI CAMP ETOSHA - OKAUKEJO CAMPSITE (approx. 70 km / 1:15h)
Today the whole day is dedicated to the stunning wildlife of Etosha. With your off-road vehicle you can visit the numerous waterholes. In the evening, the tent is pitched again, this time at Okaukejo Camp.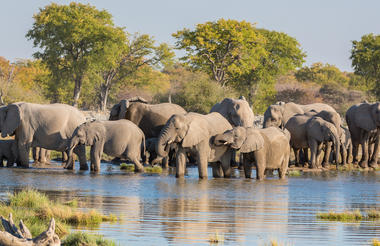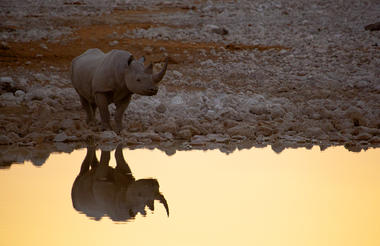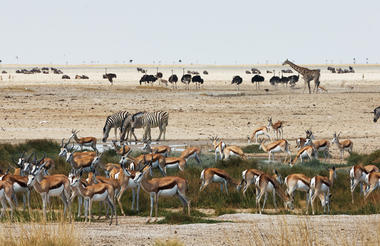 OKAUKEJO CAMPSITE - MOWANI MOUNTAIN CAMPSITE (approx. 350 km / 5:00h)
Today it's time to get up early. You will continue through the Etosha National Park in search of more animals to cross of your list. Leave the park and drive via Outjo towards Damaraland. On the way there you will find many worthwile attractions, such as the Vingerklip rock, a petrified forest, and much more. In the afternoon you will reach your camp where you will stay overnight. Here you will experience a magical night, surrounded by large red rocks in the midst of breathtaking nature.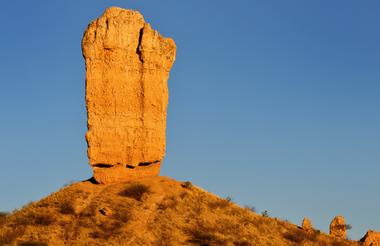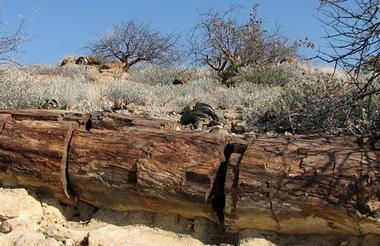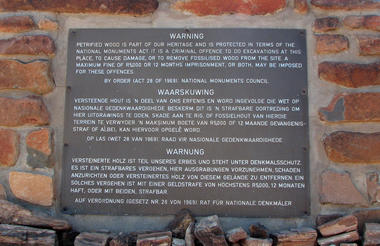 MOWANIN MOUNTAIN CAMPSITE - SWAKOPMUND (approx. 460 km / 6:00h)
On the way to the coast you will drive through some of the interesting landscapes of Damaraland. A worthwhile stop is at the Spitzkoppe, the Matterhorn of Africa. The red rocks rise steeply out of the plain and can be seen from afar. This location offers a wonderfull opportunity to stretch your legs and walk around a bit. Then you will drive to Swakopmund, the Germanic city of Africa. Here you can still see many relics of the German colonial era from over one hundred years ago. German is still spoken almost everywhere in the city.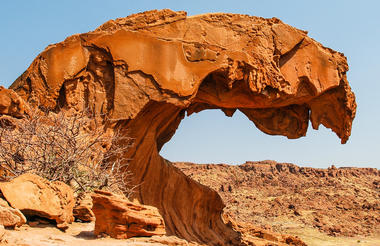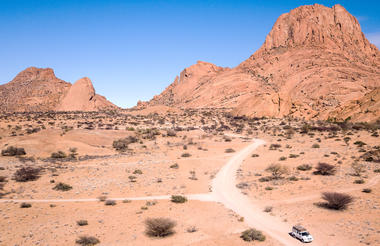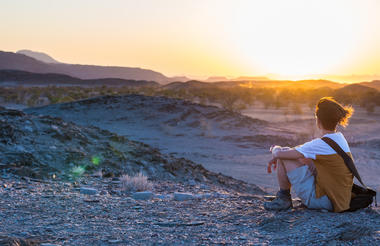 SWAKOPMUND
Two full days to enjoy the fresh sea air and to unwind with the ocean views. Culinary Swakopmund has a lot to offer: you can enjoy fish everywhere, which is not that common in Namibia. Why don't you hire a bicycle ( 'big bikes' ) and cycle over the dunes and on the beach? It is a great experience!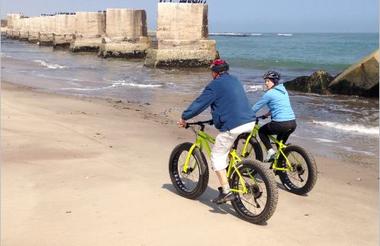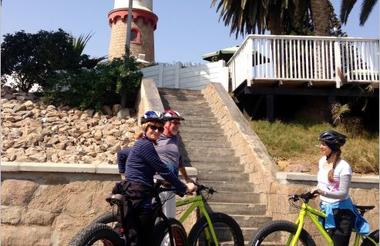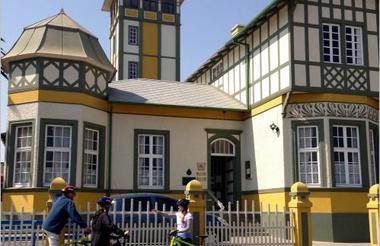 SWAKOPMUND
Another day at the coast. We highly recommend taking a boat excursion to observe the dolphins and seals. You can book a variety of offers and ,if you feel like it, you can also see the animals up close by with eco-friendly canoes. Alternatively, you can take guided expeditions into the desert and admire the amazing diversity of life in this rugged environment. Or how about a parachute jump? There is a lot to do in Swakopmund.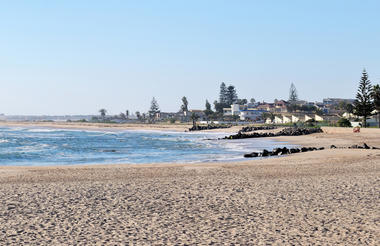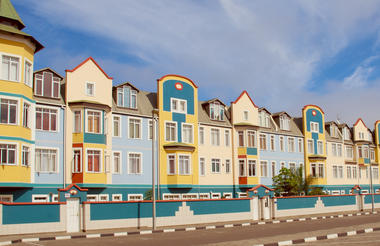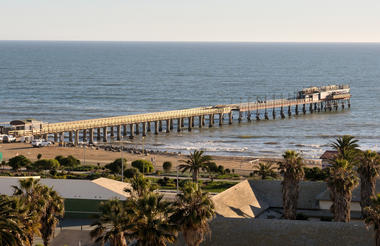 SWAKOPMUND - SESRIEM CAMPSITE (approx. 350 km / 4:30h)
Time to leave the coast. At Walvisbay you will turn inland and drive into the desert. For the next 100km you will think you are in the Sahara as you will see sand as far as the eye can see. The greenery will appear quickly again. You will pass Solitaire, a small collection of buildings and a petrol station. A good place for lunch before going on to one of Namibia's most famous sights: the red dunes at Sesriem with the Sossusvleij. World-famous are the images of a majestic oryx antelope in front of the deep red dunes. Today and/or tomorrow you have the opportunity to see this with your own eyes. You might even find some time to see the Sesriem Canyon?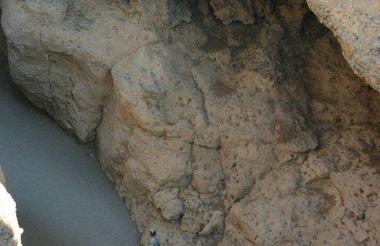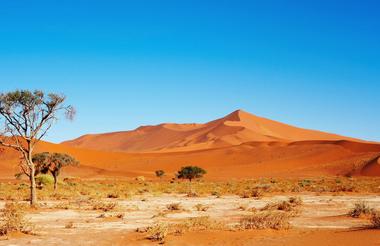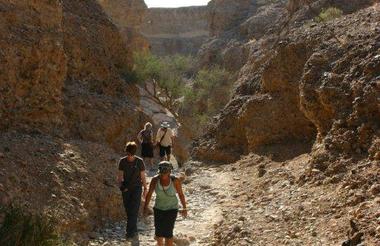 Day 10:
Naukluft Mountain Zebra Park
SESRIEM CAMPSITE - NAUKLUFT CAMPSITE (approx. 95 km / 1:40h)
Your roadtrip takes you to Naukluft Mountain Zebra Park today which will be your destination for the evening. In this game reserve hiking is the main activity. A variety of tours is possible here, from relaxing walks to multi-day hikes. Refreshing waterfalls and rockpools invite you to cool off.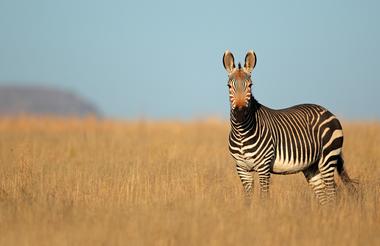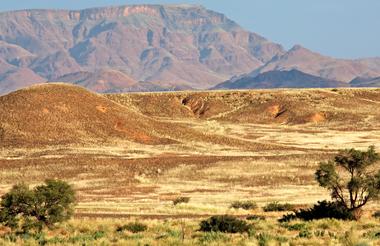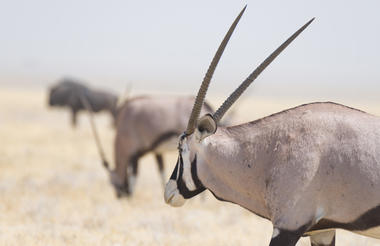 NAUKLUFT CAMPSITE - WINDHOEK (approx. 260 km / 3:30h)
Today you have two options - get up early to experience another walk on the beaten tracks of the secluded mountain, or taking it easy and admire the panorama of the surrounding mountains in the morning sun from your camp.
Today, you have to prepare for a longer drive.
Depending on your chosen route you will climb the Windhoek plateau over isolated dirt roads and once again drive through unique landscapes with your off-road vehicle. In Windhoek, depending on the time of the day, you still have the opportunity to make some final purchases and explore the city and its German heritage.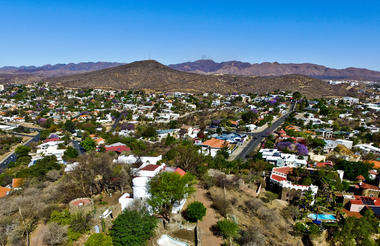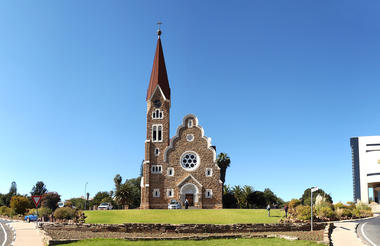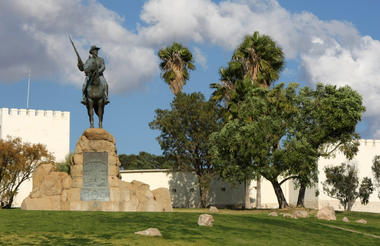 Upon your arrival at Windhoek airport, return your rental car. If you have not booked a follow-up programme, your holiday is already over. We are sure that you have experienced a lot and collected unforgettable impressions.