Day 1 :
Maharajas' Express
INDIAN PANORAMA (6 NIGHTS/7 DAYS)
(Delhi – Jaipur – Ranthambore and Fatehpur Sikri – Agra – Orchha and Khajuraho – Varanasi – Delhi)
Day 1 (Sunday) –DELHI – JAIPUR

07:30 Welcome and Check in at Delhi Safdurjung Railway Station
08:00 Breakfast onboard
08:30 Maharajas' Express proceeds to Jaipur
12:45 Lunch onboard
14:00 Tour Briefing onboard.
14:30 Arrive into Jaipur
15:00 Proceed to visit City Palace Galleries followed by dinner at Rambagh Palace Hotel
20:30 Return to the comforts of Maharajas' Express. Overnight on train at Jaipur.

Day 2 (Monday) –JAIPUR

07:30 Breakfast onboard
08:30 Visit the Amber Fort
12:45 Return to the Maharajas' Express for lunch onboard. After lunch you may choose the Optional Activities - Spa at a hotel or a Local City Tour
19:30 Dinner onboard
23:00 Maharajas' Express leaves for Sawai Madhopur (Ranthambore)

Day 3 (Tuesday) –RANTHAMBORE – FATEHPUR SIKRI

06:00 Proceed for an exciting Game Drive at Ranthambore National Park
09:30 Return to the comforts of Maharajas' Express
09:45 Breakfast onboard
10:15 Maharajas' Express proceeds for Fatehpur Sikri
13:30 Lunch onboard
14:30 Arrive into Fatehpur Sikri
15:30 Visit the deserted Mughal City of Fatehpur Sikri
18:00 Return to the comforts of Maharajas' Express
19:00 Enjoy an Indian Evening onboard.
20:00 Dinner onboard. Overnight on train at Fatehpur Sikri

Day 4 (Wednesday) –AGRA

06:30 Arrive into Agra and proceed to visit the Taj Mahal
09:30 Champagne Breakfast at Taj Khema
11:00 Return to the comforts of Maharajas' Express
13:00 Lunch onboard. After lunch you may choose Optional Activities such as Spa at a Hotel or Agra Fort or a Local City Tour or Mohabbat the Taj Show(live Dance Drama)
19:30 Dinner onboard
03:00 Maharajas' Express proceeds to Orchha.

Day 5 (Thursday) –ORCHHA – KHAJURAHO

06:30 Breakfast onboard
07:15 Deboard at Jhansi to reach Orchha by Road. Visit Orchha Fort and Village Tour by Tuk Tuks
10:00 Return to the comforts of Maharajas' Express as it proceeds to Khajuraho
12:00 Lunch onboard
15:30 Arrive into Khajuraho and proceed to visit the Western Group of Temples
18:00 Return to the comforts of Maharajas' Express
You may choose Optional Activities – Spa facility at a hotel or Light and Sound Show or Dances of India Show
20:00 Dinner Onboard
23:10 Maharajas' Express proceeds to Varanasi

Day 6 (Friday) –VARANASI

08:00 Breakfast onboard
12:00 Arrive into Varanasi. Proceed for Lunch at Taj Ganges Hotel
14:30 Visit Sarnath ruins followed by visit to silk weaving centre
16:30 Proceed for Boat ride on the Ganges to witness Evening Aarti
19:00 Enjoy an exclusive vegetarian Dinner with Kathak Dance at Brij Rama Palace at Ghats
21:00 Return to the comforts of the Maharajas' Express
21:15 Maharajas' Express proceeds to Delhi

Day 7 (Saturday) –DELHI

07:15 Breakfast onboard
13:00 Lunch onboard
15:00 Disembark and bid farewell to the Maharajas' Express as your journey comes to an end!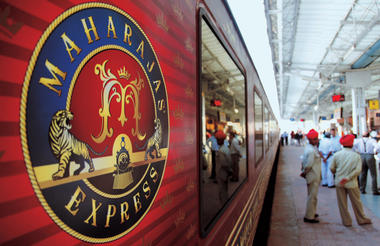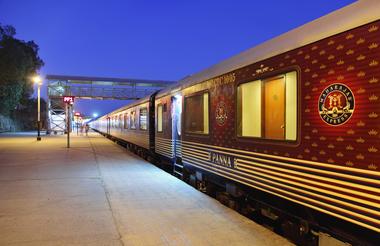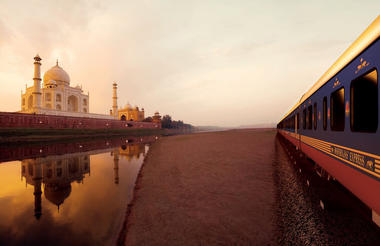 THE ROYAL TRAIN JOURNEY
Day 1 - Wednesday - Board Palace on Wheels - Delhi - Jaipur
Palace on Wheels royal tour start from the Safdarjung Railway Station Delhi . After check- in formalities there is a traditional Indian welcome by the train staff with garlanding, tikka and turban. Afterwards, you will be escorted to your luxurious cabin. The journey will begin in the evening. Enjoy a sumptuous dinner and overnight stay onboard while the train moves towards its first destination – Jaipur.
4.00 PMWelcome on arrival at Safdarjung Railway Station.
6.30 PMDeparture for Jaipur
8.00 PMDinner on Board
Day 2 - Thursday - Jaipur - The Pink Paradise
The first destination of the trip is Jaipur, city of the Maharajas (Kings), splendid palaces and impressive forts. Jaipur, the capital of Rajasthan, was established in 1727 by Maharaja Jai Singh II and is among the most beautiful cities of India. Jaipur owes the surname "pink city" to the colorfully painted houses in the old city. In Jaipur, you visit the city palace and the Jantar Mantar, the largest of the six observatories. The highlight of the tour is the symbol of Jaipur: The "Palace of Winds", a five-story pageant construction with a honeycombed facade made of red and pink sandstone.
3.45 AMArrival at Jaipur
7.00 AMBreakfast on Board
8.00 AMWelcome with Shenai & Garland
8.30 AMDeparture by coach for Sight Seeing
1.30 PMVisit to Hawa Mahal, Jantar Mantar, City Palace, shopping,Elephant ride and Lunch at Amber Fort
3.00 PMVisit of Amber Fort
6.00 PMReturn to train
8.00 PMDinner on Board
11.30 PMDeparture for Sawai Madhopur
Day 3 - Friday - Sawai Madhopur - Feline Bounty & Chittorgarh - Resplendent Pride
Ranthambore National Park, a wild sanctuary with innumerable animal and plant species. Here you witness Chinkara (Indian Gazelle), Spotted Deer and Sambar Deer (also known Swamp Deer), Hyenas, Crocodiles and of course Tigers in the wild. The former hunt district of the Maharaja of Jaipur was declared in 1980 a national park. After the game safari in the Ranthambore National Park, the "Palace on Wheels" leaves for Chittorgarh.
Chittaurgarh Fort which is said to be India's largest fort is another place of interest that we will visit. You must make it a point to see the Rana Kumbha palace and Padmini Palace in the fort.
5.30 AMArrival at Sawai Madhopur
6.00 AMDeparture for Ranthambhore National Park (Sanctuary visit)
9.15 AMBreak Fast on Board
10.30 AMDeparture for Chittourgarh Lunch on Board
4.00 PMArrival at Chittorgarh
4.30 PMDeparture for Sight Seeing, Evening Tea at Fort.
6.00 PMEvening Tea & Light & Sound Programme at Fort
7.30 PMReturn to Train
8.00 PMDinner on Board
Day 4 - Saturday - Udaipur - Picturesque Royalty
Udaipur, on the bank of the spectacular Pichola Lake, is the economic and cultural center of the region Mewar and one of the most romantic cities of Rajasthan. and is designated also as a "Venice of the East" . In the town of Udaipur we will visit the imposing City Palace the largest in Rajasthan with a wealth of Mughal architectural styles. Added to that inside the museum is the Mor Chowk (peacock courtyard) with elaborate inlays and mosaics of Rajasthan's beloved bird, the peacock. After lunch, it is time for one of the most memorable moments of your itinerary in Rajasthan. We will go on a private cruise on the amazing Lake Pichola, where you will pass by the famed Taj Lake Palace Hotel and the unbelievable Jag Mandir Island that rises from its waters.
2.00 AMDeparture from Chittorgarh
8.00 AMArrival at Udaipur
8.15 AMBreak Fast on Board
9.00 AMDeparture for Sight Seeing by coach Sahalio Ki Bari, shopping andCity Palace & Crystal Gallery
1.30 AMLunch at Palace Hotel (Fateh Prakash)
2.45 PMBoat Ride
3.00 PMArrival at Station
3.30 PMEvening Tea on board
3.30 PMDeparture for Jaisalmer
7.30 PMDinner on board
Day 5 - Sunday - Jaisalmer - The Golden Ecstasy
In the heart of the Thar Desert lies Jaisalmer – the "golden city". Jaisalmer fort, with 5000 inhabitants, is the only living fort of the world.
Some of the havelis that are on the top of the list to see are the Patwaon-Ki-Haveli, Nathmalji-Ki-Haveli and Salim Singh-Ki Haveli of which the Patwon-Ki-Haveli is the most extravagant. This palace was constructed by a wealthy fabric merchant Patwa for five of his sons and is made up of a group of five houses.
After a short rest, you will go to the Sand dunes of Jaisalmer for a camel-Safari. On the back of the desert ships, you cross a piece of the endless expanse of the Thar-desert.
7.30 AMBreak Fast on Board
9.15 AMArrival at Jaisalmer
9.15 AMDeparture for Sight Seeing
Visit of Gadsisar Lake, Fort, Havelies and City
1.30 PMArrival to train for lunch
3.30 PMDeparture for Sam duns and camel ride & tea
7.00 PMArrival on train
7.45 PMDinner & Cultural Programme at 5 star Hotel (HRH Gorband Palace)
11.45 PMDeparture for Jodhpur
Day 6 - Monday - Jodhpur - Glory Yonder
Jodhpur, the former capital of the Marwar Empire in the East of the desert Thar, resembles a green oasis with trees, plants and artificially designed lakes. The color of the houses gives Jodhpur the surname "blue city". The historic fort enclosure of Mehrangarh Fort falls in the eyes, which was built on a 360-foot-high sandstone hill.
Jodhpur, the second largest city of Rajasthan, was founded in 1459 by Rao Jodha, the chief of the Rathore clan of the Rajputs. The entire city is surrounded by a mighty ten kilometers long stonewall, having eight gates leading to the inner part of the city. After an extensive city tour, a princely lunch waits for you in the Heritage Palace hotel. In the afternoon, the "Palace on Wheels" travels on to Bharatpur, which is a haven for twitchers.
7.00 AMArrival at Mandor Jodhpur
7.30 AMBreak Fast on Board
9.00 AMDeparture for Sightseeing
1.30 PMVisit of Meharangarh Fort, Jaswant Thada, Visit of Umaid Bhawan Musium & shopping
Lunch at 5 Star Hotel (Hanumant Palace)
2.45 PMReturn to train
3.30 PMDeparture for Bharatpur
7.30 PMDinner on board
Day 7 - Tuesday - Bharatpur - Unbound Magnificence and Agra - Royal Romance
After the safari in the Keoladeo Ghana national park, you will travel to Agra, the capital of mighty Mughals.
We will visit the magnificent Agra Fort when we arrive in Agra. One feature of Agra Fort that will forever linger in your memory is the coveted view of the white marbled "wonder of wonders" the Taj Mahal.
After lunch, you will visit the Taj Mahal, the world's first wonder. It is the symbol of love, built by Shajahan for his beloved wife Mumtaz Mahal. The mausoleum is a feast for the eye and a pilgrimage site for the hearts of all lovers. Enjoy a super sunset and take some memorable photographs.
5.00 AMArrival at Bharatpur
6.00 AMDeparture for Keola Deo National Park (Ghana Bird Sanctuary)
7.30 AMBreakfast on Board
8.30 AMReturn to Train
8.45 AMDeparture for Agra
10.30 AMArrival at Agra Fort Railway Station
11.00 AMDeparture for Sightseeing-Visit to Fort of Agra.
1.30 PMLunch at 5 star Hotel (Mughal Shereton)
3.00 PMVisit to Taj Mahal
5.30 PMShopping
8.00 PMDinner on Board
11.00 PMDeparture for Delhi from Agra Cantt.
Day 8 - Wednesday - Disembark Palace on Wheels in Delhi
4.00 AMArrival at Safdarjung Railway Station
7.00 AMBreakfast on Board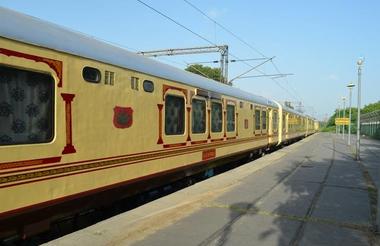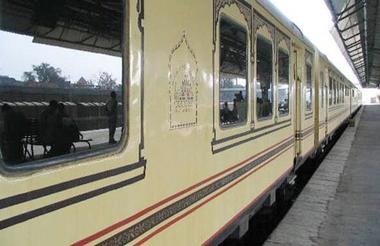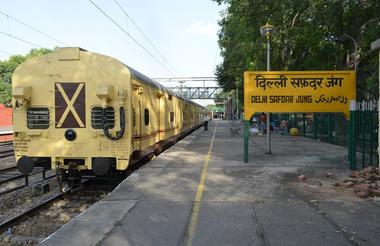 Day 3 :
The Deccan Odyssey Train
JEWELS OF THE DECCAN JOURNEY
Day 01 Mumbai
Early evening, guests are expected to assemble at Chhatrapati Shivaji Terminus at 1530 hours, and complete their registration and check-in formalities. Enjoy the royal and traditional Indian welcome by the staff followed by a refreshing drink. Later, you are taken to your respective cabins. Settle and relax as the Deccan Odyssey as the train leaves for Bijapur in Karnataka. Dinner and overnight stay.
Day 02 Bijapur
Today morning enjoy your breakfast, as the luxury train rolls into Bijapur. Established by Kalyani Chalukyas between 10th and 11th centuries, Bijapur is a popular city in Karnataka. It is the historic capital of Sultans of Deccan. When Bijapur was under the support of Adil Shah dynasty, the city was one among the renowned cities of the country surpassing great cities like that of Agra and Delhi. In fact, with the generous support of Adil Shahi Sultans, Bijapur was majorly flocked by scholars, poets, painters, dancers, calligraphers, musicians and Sufi saints. Later, the place was also titled as the 'Palmyra of the Deccan'. Begin your trip with a visit to the first attraction, Gol Gumbaz; the second largest tomb in the world and mausoleum of Adil Shah, the Sultan of Bijapur. As the name suggests, the Gol Gumbaz is a round dome, the structure of the dome celebrates the success of Deccan architecture. The dome constitutes of a circular gallery, which has an amazing aspect of echoing, every little murmur. Later, you proceed ahead to Jumma Masjid (one of the first mosques of India), Malik-e-Maidan (the largest medieval canon in the world), Mehtar Mahal (it is a 17th century ornamental entrance to a mosque), Ibrahim Rouza (one of the Islamic monuments comprising of a 24 m high minarets). Get back to the comforts of Deccan Odyssey for lunch. While you savor delicious lunch, enjoy the striking passing landscape from your cabins. The luxury train further heads to Aihole and Pattadakal. Dinner and night stay onboard.
Day 03 Aihole – Pattadakal
Third day is set out to explore the holy shrines and age-old attractions of Aihole and Pattadakal. Here, you get to see temples built by Chalukyan kings. Proceed to Pattadakal, which boasts of a mélange of South Indian (Dravidian) and North Indian (Nagara) construction styles. Return back to relish lunch onboard. After lunch, you can opt for a short trip to impressive weaving village of Guledgudda, where you can see hand and power looms of Ilkal and Khan. Get familiarize with the weaving process. If not this, you can enjoy sightseeing at Badami, its rock-cut caves and beautifully sculptured temples. Dinner and night stay onboard Deccan Odyssey and continue your journey to Hampi.
Day 04 Hampi
Today morning, have your breakfast as the train reaches Hospet. Visit the well-known World Heritage Site- Hampi, which is extremely popular for its brilliant constructions of ancient monuments. First you visit the most important attraction of Hampi, Narasimha statue. Later, you head to Mustard Ganesh. Here, you can see an elephant God statue. Enjoy the architectural splendors around and take a long walk along the banks of the Tungabhadra River. After visiting Virupaksha Temple, you proceed to visit Vittala Temple, which exhibits the architecture of Vijayanagara Empire. Travel back to Hospet for lunch on the luxury train. Take rest and again get ready to explore Royal Center at Hampi. The center constitutes of courtly and military structures that were once the citadel of Vijayanagara Kings. Thereafter, you visit Queen's Bath (ancient-royal stepped tank), Mahanavami Dibba or great platform, Hazararama Temple, Queens Enclosure along with its Lotus Mahal and the Elephant stables. As soon as you are done with exploring in and around Hampi, get back to Hospet Station to board Deccan Odyssey. Dinner and overnight stay onboard as Deccan Odyssey progresses for Hyderabad.
Day 05 Hyderabad
On day five, Deccan Odyssey enters Hyderabad, which is famed as the royal city of Nizams. Formerly, Hyderabad was named after Bhagmati, who was the Hindu wife of Muhammad Quli Qutb Shah, later changed to Islam religion with a name Hyder Mahal. Take your breakfast and proceed to visit Golconda; the epitome of Nizami culture and grandeur. It is a mud fort which became the seat of Qutub Shahi dynasty. Return to the comforts of the luxury train for lunch and some rest. You may also stroll around the vibrant bazaars of Hyderabad, where you can put your hands on shopping articles such as pearls, lace bangles and ittars. During lunch time, savor the popular food of Hyderabad, mouth-watering Biryani. Later, you head to explore the Falaknuma Palace.
Day 06 Aurangabad – Ellora Caves
The Deccan Odyssey arrives Aurangabad this morning. The city has been named after the last Great Mughal emperor, Aurangzeb. Because of the same, one can spot major Mughal influences in every nook and corner of the city. Aurangabad is home to a UNESCO World Heritage Site, Ellora Caves. Have your breakfast and then drive towards the exceptional Ellora Caves. The caves are considered one of the finest examples of cave-temple architecture in India. The site includes 34 rock-cut caves that represent Hindu, Buddhist and art that dates back to the 4th to 5th century AD. There are 12 Buddhist caves to the south, 17 Hindu caves in the center, and the 5 Jain caves to the north. The most important attraction of the caves is the Kailash temple. The temple is believed to be a replica of Shiva's celestial abode on Mt. Kailash. Get back to the Deccan Odyssey for lunch. Have a look at the picture perfect landscape of Maharashtra and its surroundings. Sit back and relax for the evening. Savor your favorite cocktail along with luxurious dinner. Take some rest as Deccan Odyssey proceeds towards Jalgaon. Dinner on board & Overnight stay on Deccan Odyssey.
Day 07 Ajanta Caves
As you enjoy your breakfast onboard, the Deccan Odyssey arrives at the Jalgaon station. Disembark and drive to the Ajanta Caves, another UNESCO World Heritage site. The site of Ajanta Caves includes 30 rock-cut Buddhist caves that have been beautifully carved. All the caves feature sculptures and paintings of Buddhist religious art. Savor lunch onboard the Deccan Odyssey. After having your lunch, disembark and pay a visit to a Mahatma Gandhi's memorial, who was one of the most important leaders of the country. There is much to learn at the Gandhi Teerth that pays honor to the man who walked on the path of non-violence. The man who quoted "My religion is based on truth and non-violence. Truth is my God. Non-violence is the means of realizing Him." In the evening, enjoy a sun downer while watching the real beauty of rural India. Have dinner onboard the Deccan Odyssey as the train leaves for the last stop, Mumbai.Dinner on board.Overnight stay on Deccan Odyssey Luxury Train
Day 08 Mumbai (Departure)
This early morning, have your breakfast and then disembark at Chhatrapati Shivaji Terminus, Mumbai. Say goodbye to the Deccan Odyssey as your luxurious journey comes to an end.
I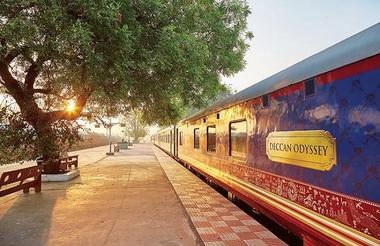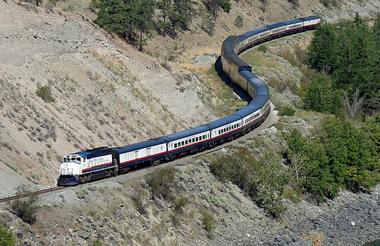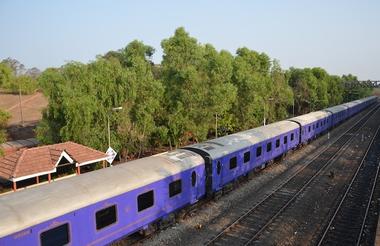 Day 4 :
The Golden Chariot
PRIDE OF KARNATAKA
GOLDEN CHARIOT TRAIN - 06 Nights / 07 Days Detailed Program

Day 1 : Sunday Morning: Bangalore Depart
Report At Yashvantpura Railway Station by 0830 hrs in the Morning .After Traditional Welcome & Check In Formalities, Guests are Escorted to respective cabins & Golden Chariot Train soon departs. Brunch served On-board.
Day 1: Sunday Afternoon: Bandipur Jungle Excursion
Deboard at Nanjangud Town Railway Station by 1400 Hrs. For Jungle Safari to Bandipur Tiger Reserve, Former private hunting grounds of Maharajas of Mysore & home to Bengal Tigers, Leopards, Elephants & number of other animals. Return to train by 1830 hrs & Train Departs for Mysore, where it is Stabled Overnight. ;Dinner Served Onboard.
NOTE:
Guests unwilling to proceed for Jungle Excursion , can stay back.
Day 2: Monday Morning : Mysore Palace Visit
After Breakfast ,visit Early 20th Century rebuilt Amba Vilas Mysore Palace, of Wadiyar Dynasty ,whose architecture style is a mix of Hindu, Muslim, Rajput & Gothic structure. View the Durbar Hall Wing & Personal Art Gallery Of Former Royalty.
Return to Golden Chariot Train for Lunch.
Day 2 : Monday Afternoon : Optional Excursion
Afternoon Option to Either Relax Back in comforts of The Train Or Proceed for excursion to 18th Century built Srirangapatnam Fort, On a river bank-Which witnessed many a skirmishes between Popular King Tipu sultan & British Colonial rulers. After Visiting Dariya Daulat & Tipu Mausoleum drive back to Mysore & board the Train. Dinner Onboard.
Day 3: Tuesday Morning: Halebidu Temples Visit
After Early Breakfast ,Proceed by 0800 hrs from Banavar Railway Station for excursion to 12th Century Built Hoysaleswara Temple Complex in Halebidu ,which are an architectural marvel & renowned for their intricate carvings which portray the golden age of Hoysala rule. Every sculpture is different from the other & the granular details of the postures are amazing. Return to the Train by 1130 hrs & It soon departs. Lunch Served Onboard.
Day 3: Tuesday Afternoon : Coffee Plantation Visit
Deboard at Kadur Railway Station at 1500 hrs. & proceed for Excursion to Coffee Plantations in Chikmagalur, followed by Coffee tasting & Dinner.
Return to Railway Station by 2200 Hrs & Train Departs.
Day 4: Wednesday : HAMPI Palace Ruins
After Early Breakfast , Proceed From Hospet Railway station at 8.30 a.m. ,to visit Ruins of 15th Century Built Palace Complex , Once Capital of Mighty Vijayanagara Empire . It is said that Hampi-Vijayanagara was the world's second-largest medieval-era city after Beijing, and probably India's richest at that time. Return to Train for Lunch .Afternoon at leisure & Indian Evening Onboard.
Day 5: Thursday Morning: OPTIONAL Visit
After Breakfast ,Option to either relax back in the Train Or Visit Badami Caves Temple Complex , Carved out of Sandstone Hills way back in 7th century& dedicated to Hindu & Buddhist Religious Sects.. Highlight of the cave sculptures is a 18 armed Lord Shiva In Tandav Dancing Pose. Keep in mind that it takes Uphill 200 Steps to reach.
Day 5: Thursday Afternoon : Pattadakal & Aihole Temples
After Onboard Lunch, Proceed by 1415 hrs to Visit Aihole Temple Complex, Built by Chalukya Dynasty & dating back to 6th Century. The artisans of the period cut the rocks in order to build the temples. Also visit 8th Century Built , Pattadakal Tempe Complex said to be "a harmonious blend of architectural forms from northern and southern India" and an illustration of "eclectic art" at its height.. The friezes in the Hindu temples display, depict stories from the Ramayana, the Mahabharata, the Bhagavata Purana etc. Later Return to Train & it departs, Dinner is served onboard.
Day 6: Friday Morning: Goa Churches
After Breakfast ,Visit UNESCO World Heritage of 16th Century Built Portuguese Churches & abandoned due to Plague in 18th Century.Return to Train for Lunch .
Day 6 ;.Friday Afternoon Goa Beaches
Late Afternoon proceed to Beach Resort to enjoy Bollywood Evening Cultural Program ,followed by Dinner. Return to Railway Station by 2145 hrs & Train Departs.
Day 7: Saturday Morning : Bangalore Return
Breakfast Onboard & Check-Out on Arrival by 1100 hrs.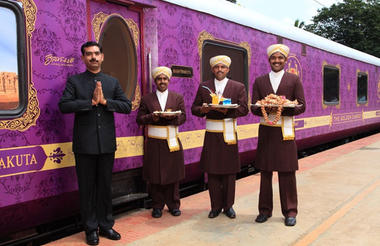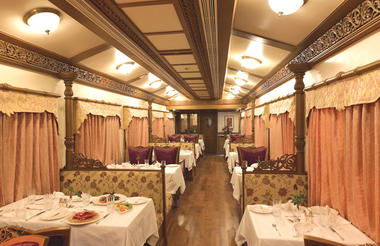 Day 5 :
Royal Rajasthan on Wheels