Make your own way to Hobart.
You are met on arrival to Hobart and transferred by private car to Macq01 Hotel .
What remains of the day is at your leisure.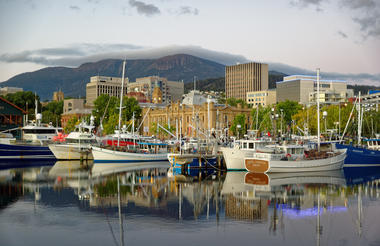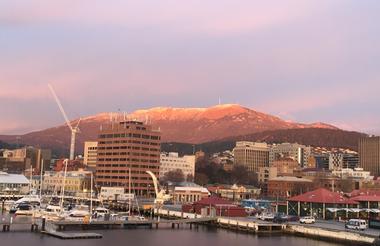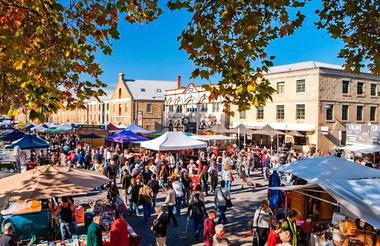 Today you embark on your four day hike of Maria Island.
Please ensure you have breakfast this morning prior to your pick-up.
7.30 - 7.45 am: You are met by Maria Island Walks and are transferred to Hobart's Salamanca Arts Centre. Here you meet your guides for the next four days, You undergo a gear check and complete any required paperwork before departing for Maria Island.
Maria Island is divided in to North and South Maria, linked by a ribbon of sandy isthmus. Maria Island is a former penal settlement off the south-east Tasmanian coast. The island is a National Park and a sanctuary for Tasmania's endangered species. Human visitors are asked to tread carefully and respect the natural environment at all times. This consideration is rewarded not only with extraordinary wildlife experiences and gorgeous landscapes (the beaches are some of Tasmania's loveliest), but with an understanding of the island's prehistory, its fascinating French connections, and its troubled past as a convict settlement.
You travel through the lush east coast farmland to the historic town of Triabunna. Here you board a charter boat and whet your appetite for adventure by exploring Mercury Passage en route to the isthmus on Maria Island where you land on an untouched beach. You embark on your walk from here and follow the footsteps of the French explorer Nicolas Baudin. Your guides will recount his encounters of 1802 with the Tyreddeme Aboriginal people of the island.
Following lunch you can choose to visit the dramatic Haunted Bay with its magnificent granite outcrops and fairy penguins or alternatively relax wandering along the beautiful beaches or take a dip at a sheltered bay. Today you walk for at least 2 hours and cover around 2 miles.
This evening you are treated to the finest Tasmanian wine and fresh produce at Casuarina Beach Camp.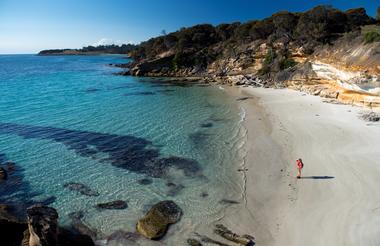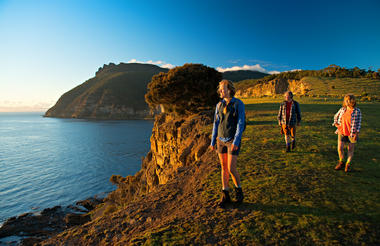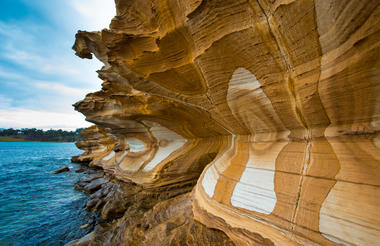 Wake up to the busy chattering of the wattle birds and, from the comfort of your bed, watch the morning sun sparkle through the forest. This is one of the truly great guided walks of Australia! After a delicious breakfast, it's time to start your journey along five beautiful beaches. Watch dolphins play in the surf and sea eagles soaring overhead as you walk past the carpet of exotic shells lining the water's edge. By late afternoon you arrive at White Gums camp for a refreshing swim. After the perfect day, you can relax with your fellow walkers, before enjoying a candlelit dinner of the finest Tasmanian food and wine.
Distance: 13 kms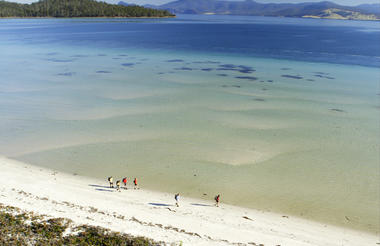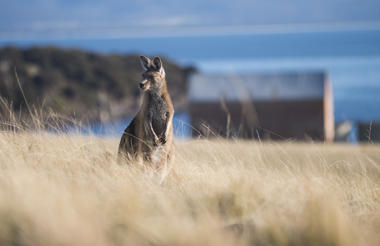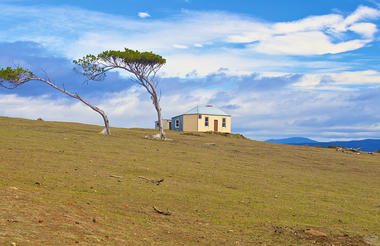 Today your Tasmanian Walking Guides will take you inland to the heart of the Island to discover the rich greens of the grand forests. You'll wander through the world's largest stand of giant Tasmanian blue gums and can choose to climb the peaks of Mt Maria or Bishop and Clerk. It's a 700 metres climb through rare "cloud" rain forests. As you can imagine, the views are simply breathtaking. That evening you arrive at Tasmanian's fascinating World Heritage listed settlement of Darlington where you'll stay at the elegant colonial Bernacchi House and enjoy a final night banquet with fine wine and conversation.
Distance: 9-17 kms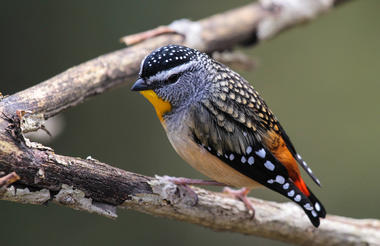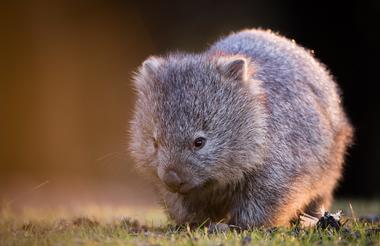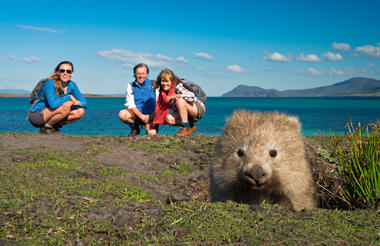 The final day begins with a delicious breakfast followed by a walk around the northern tip of Maria Island. The walk takes you through a variety of spectacular woodlands and forests with rare endemic birds, wallabies and wombats on show. You continue on to the dramatic sea cliffs of Fossil Bay and then head down to the remarkable fossils at Fossil Cliffs. Arriving back at Darlington we enjoy a celebratory farewell lunch before boarding the boat to go back to the mainland Tasmania and Hobart taking with you incredible memories and stories of an amazing four days, walking in Tasmania, spent in a very special place. Distance: 4 kms
At the conclusion of your walk you are transferred to Saffire by private car.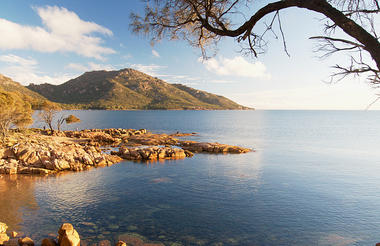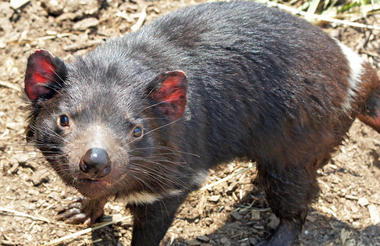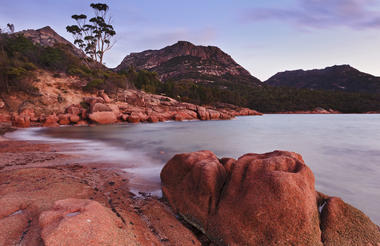 This morning there will be time to explore the unsurpassed beauty of the Freycinet Peninsula. Take a walk to the world famous Wineglass Bay lookout for some stunning photo opportunities. The crystal clear waters and white sandy beach of Wineglass Bay are a tremendous sight.
In the afternoon enjoy an oyster tasting with some of Tasmania's freshest seafood.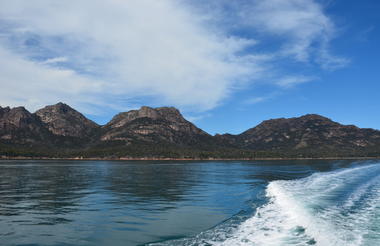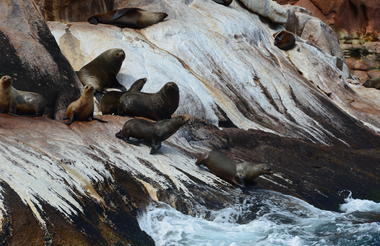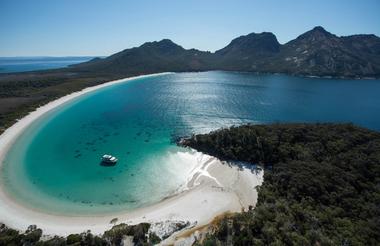 Today, enjoy a half day shared cruise to Schouten Island - one of the exclusive experiences available to guests of Saffire.
Step aboard Schouten Passage II for an unforgettable 4 hour cruise.
Let the experienced and friendly crew guide you through the sights and history of the Freycinet Peninsula; taking you from the gentle shores of Coles Bay, to one of the world's most beautiful beaches. Stop for lunch at Wineglass Bay and enjoy some of Tasmania's finest fresh produce, selected by the head chef at Freycinet Lodge.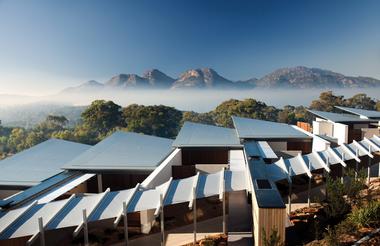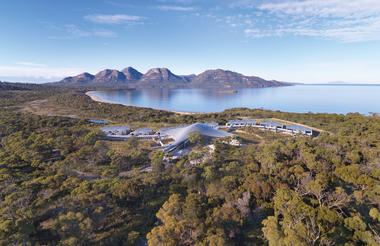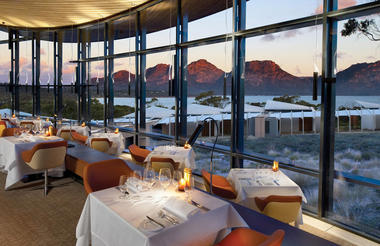 This morning you are transferred by private vehicle back to Hobart (a 3 hour drive) and connect with your onward flight.
END OF ARRANGEMENTS