COVID-19: ACCOMMODATIONS

Sossusvlei Lodge
| Sesriem
Luxury right at the entrance gate to Sesriem Canyon and the famous Sossusvlei
Situated at the Entrance Gate to the Namib Naukluft Park, Sossusvlei Lodge offers direct access to the towering red sand dunes, the famous pan of Sossusvlei, the scorched black trees of Dead Vlei and the remarkable depths of the Sesriem Canyon.
The Superior Accommodation units at Sossusvlei Lodge feature a patio to enjoy views over the Desert landscapes, a spacious air-conditioned twin-bedded room and a full en-suite bathroom. The Standard Family Units feature two rooms back to back connected by a lockable inter-leading door between the two private bathrooms. An elegant Junior Suite boasts a spacious bedroom, living area, patio with a splash pool, large bathroom and inspiring views.
Experience the true art of Hospitality with the thoughtful touch of attentive staff to contribute to a truly memorable experience. Facilities include a sparkling pool, bar, sundowner deck, beer garden and an al fresco terrace where one can enjoy exquisite food, award-winning wines and magnificent views of the floodlit waterhole.
The Sossusvlei Lodge Adventure Centre provides a range of activities including Guided Excursions to Deadvlei and Sossusvlei, Elim dune walks, Sundowner Trips, Quad Buggy Nature Drives, Hot Air Ballooning, Scenic Flights and much more to explore the area's natural beauty.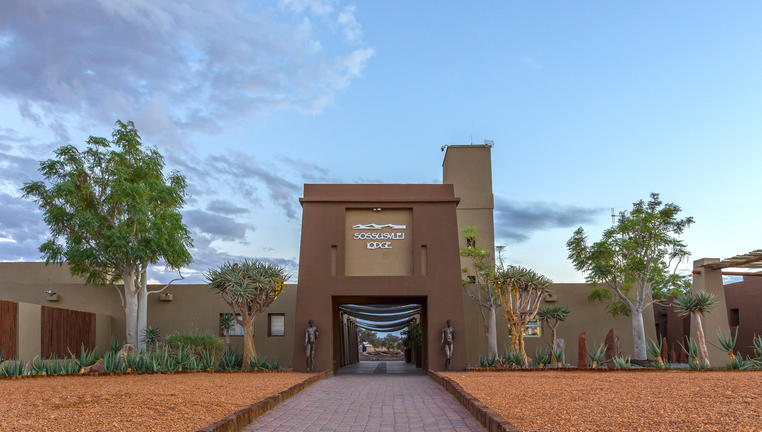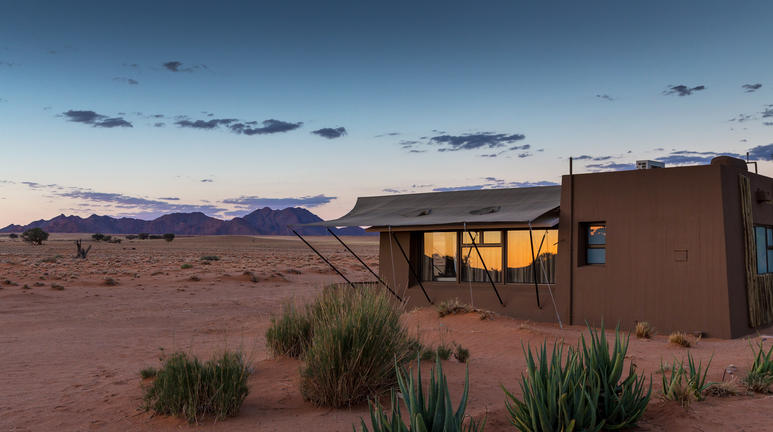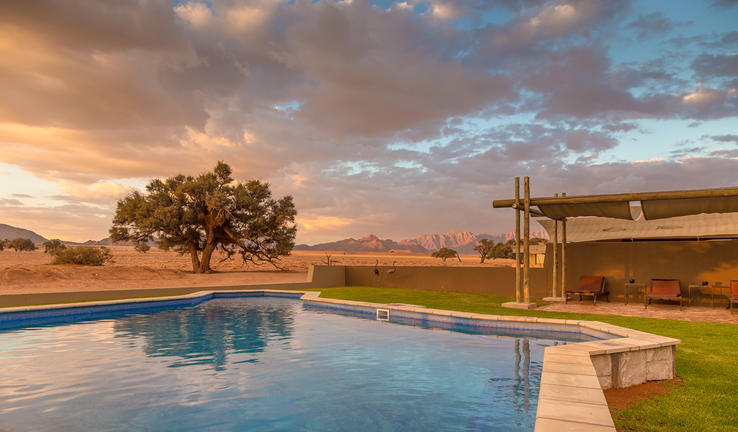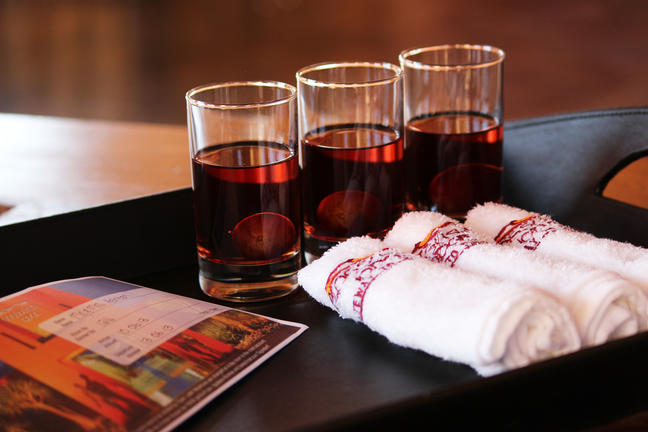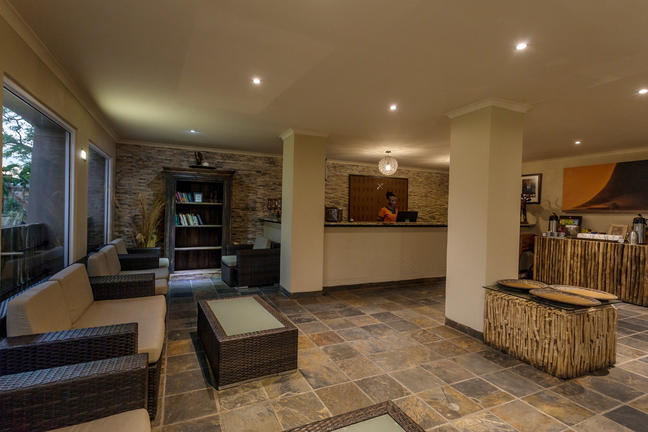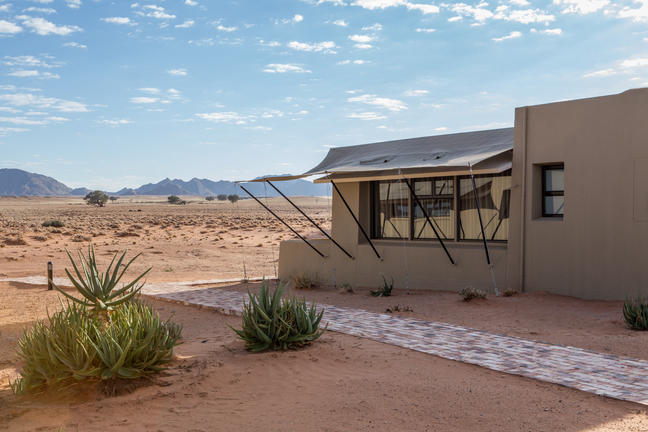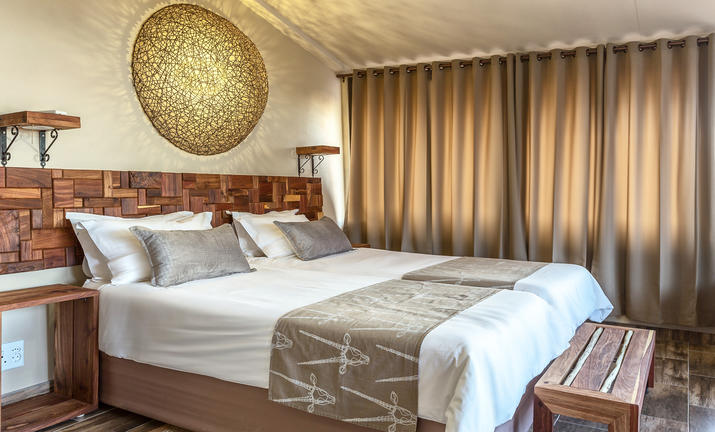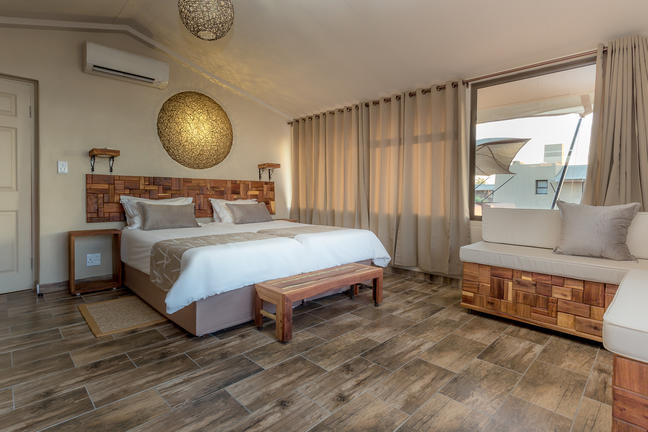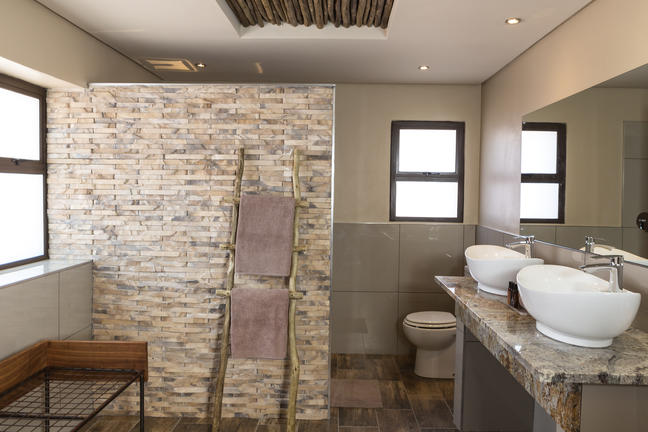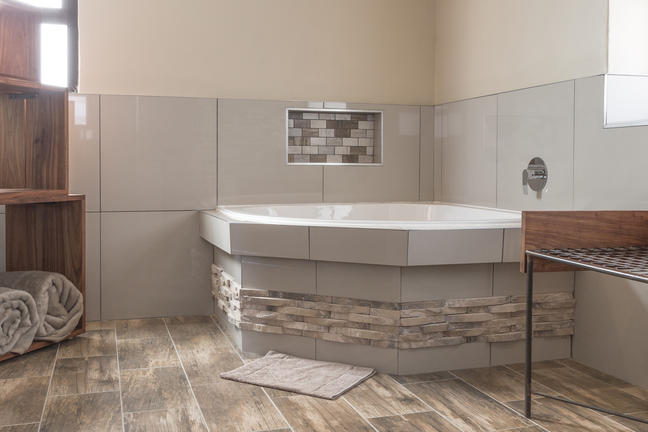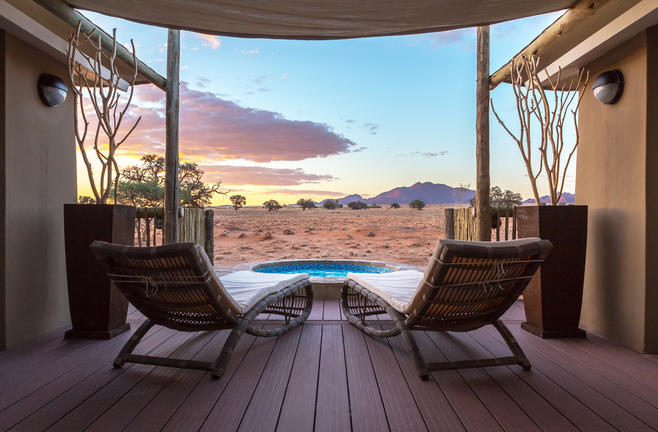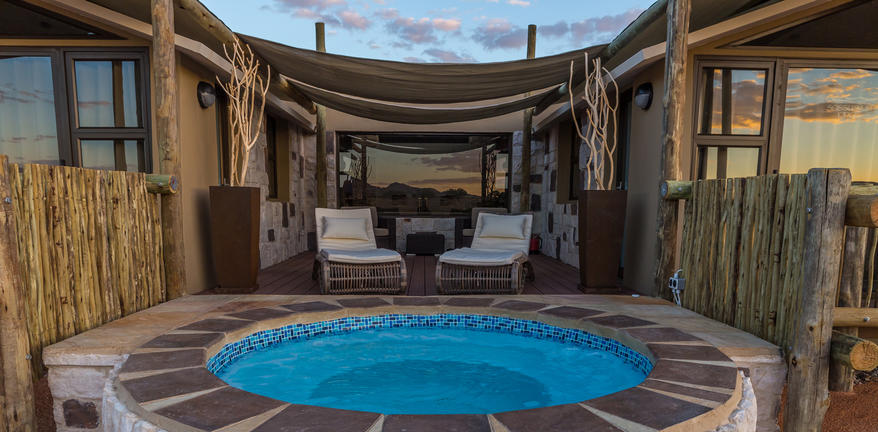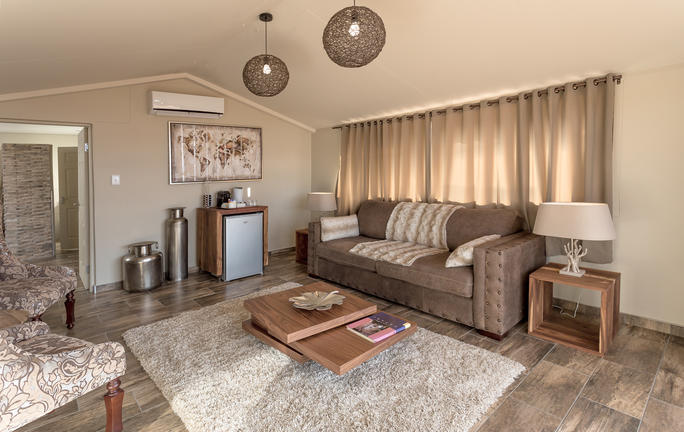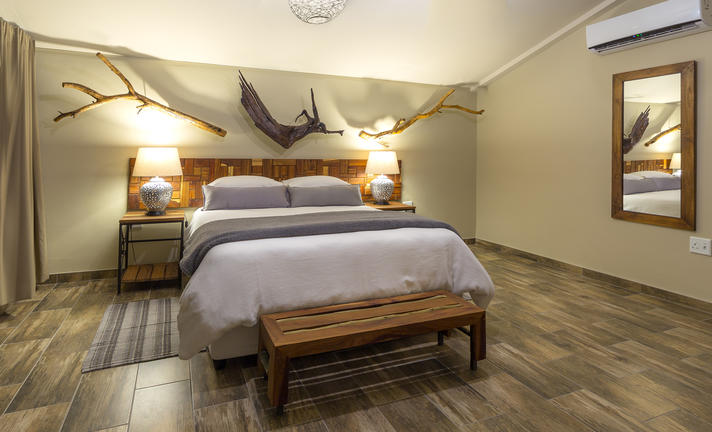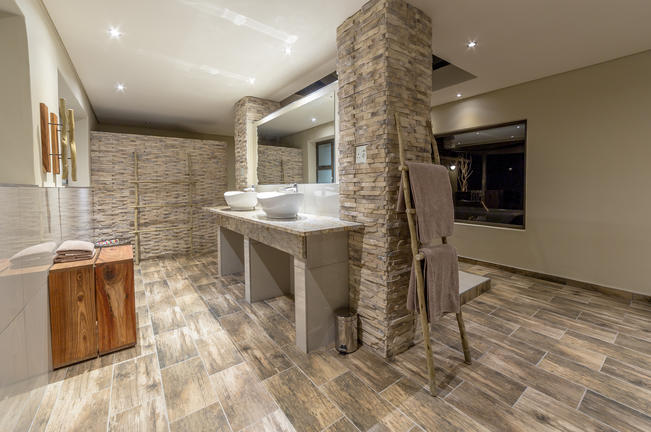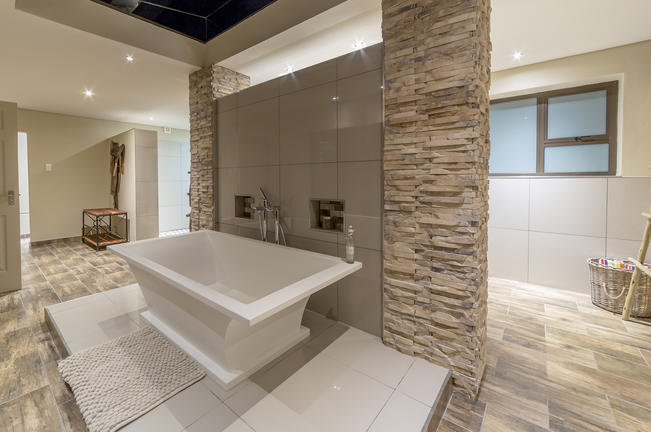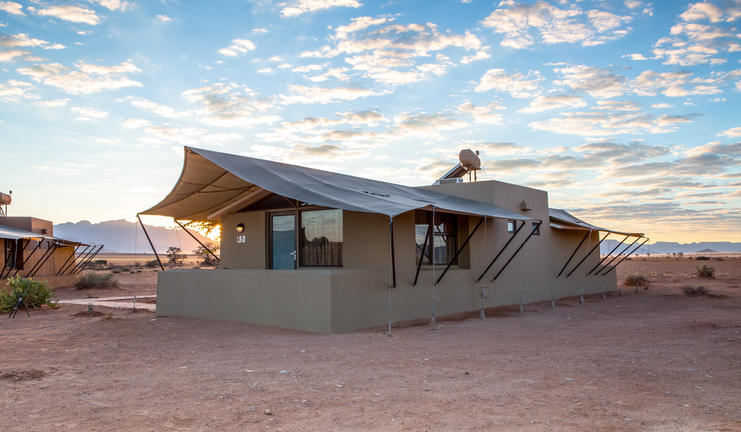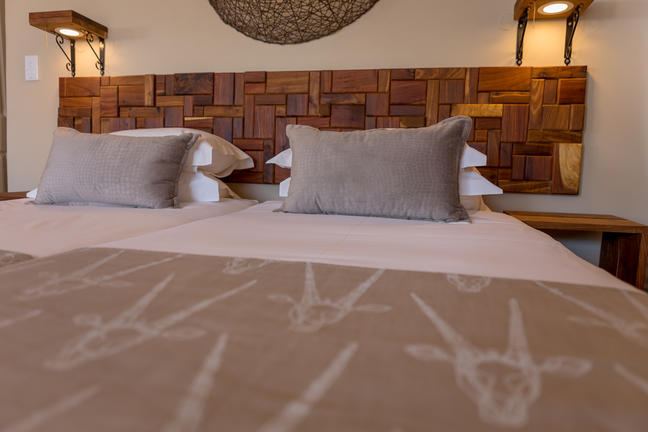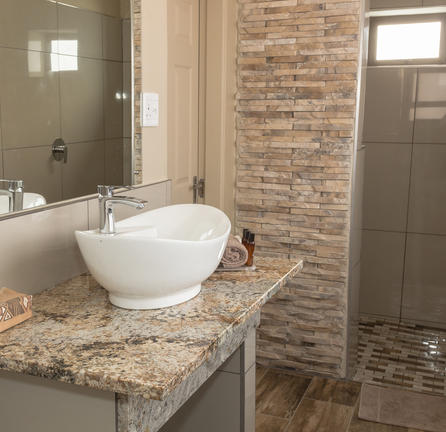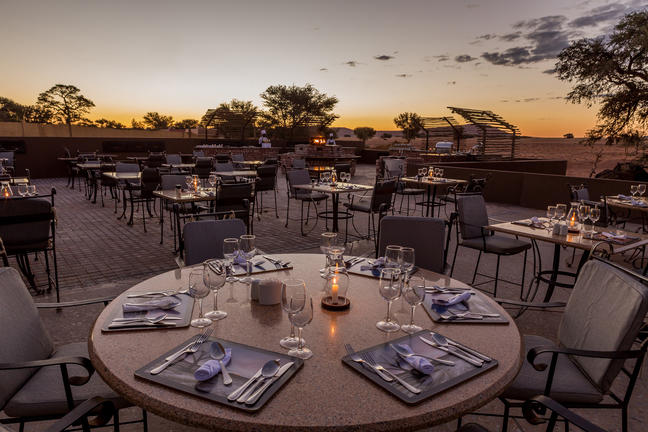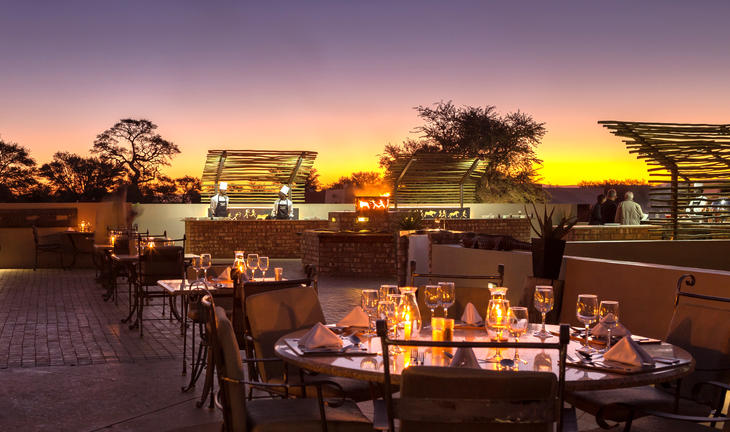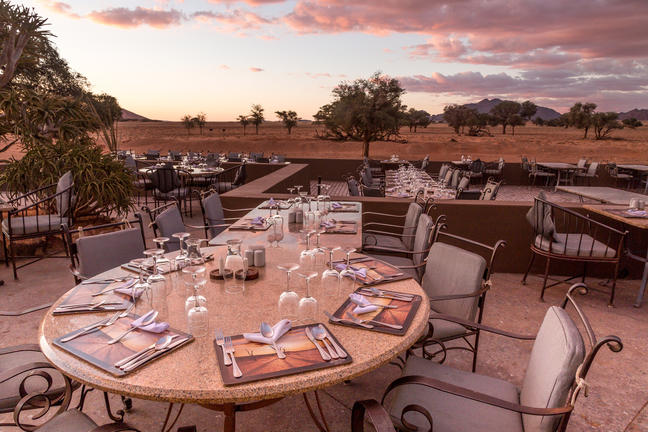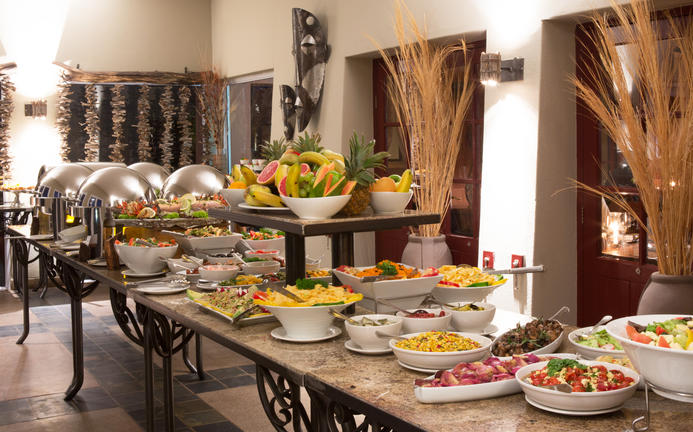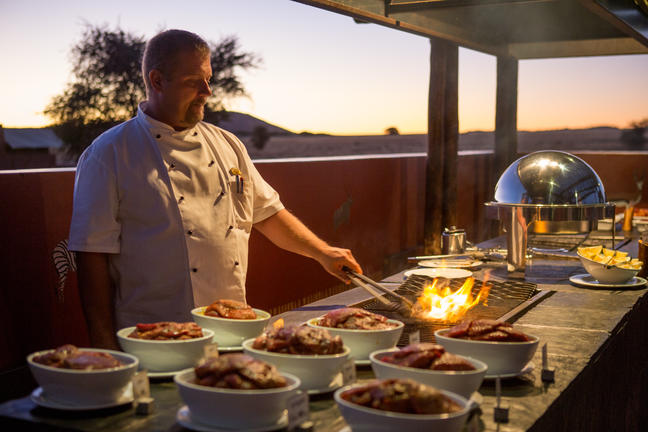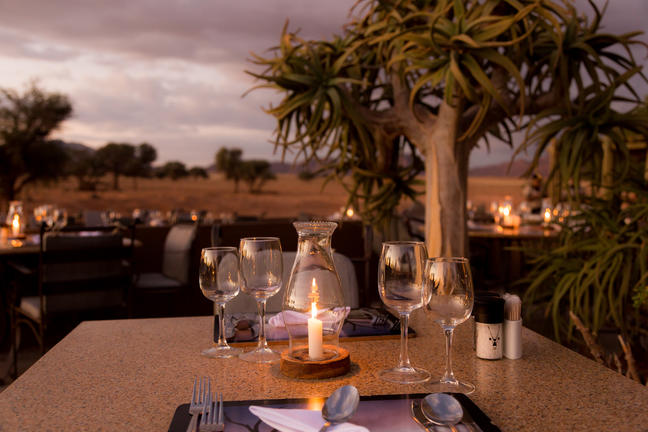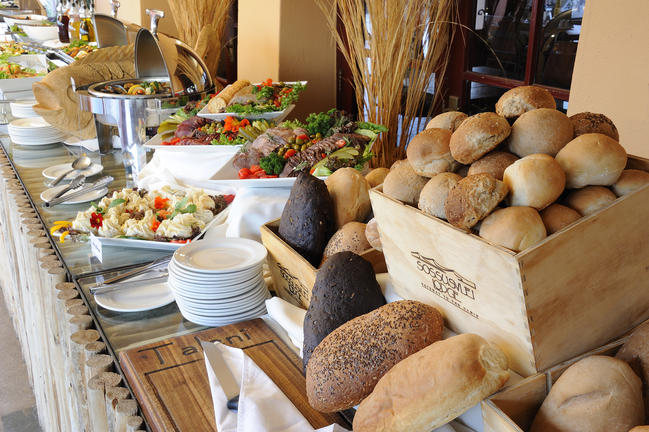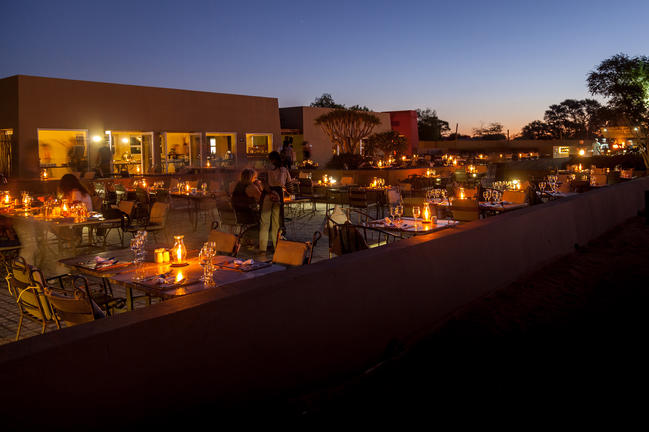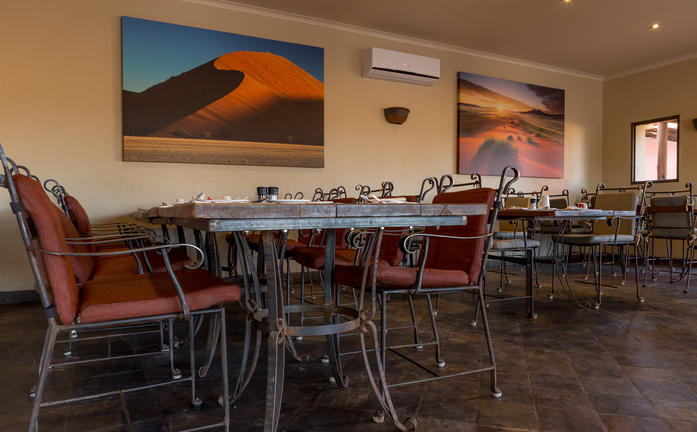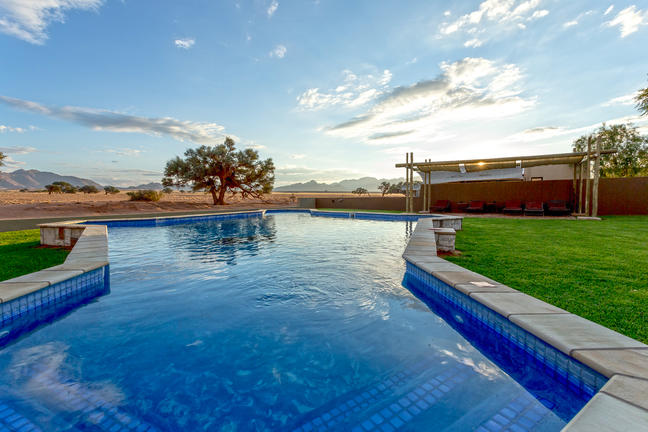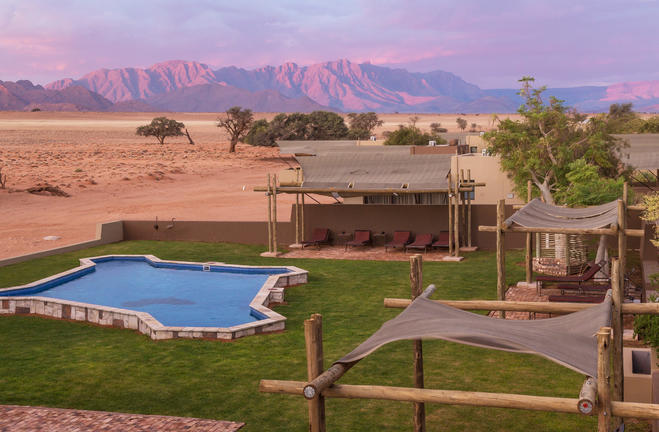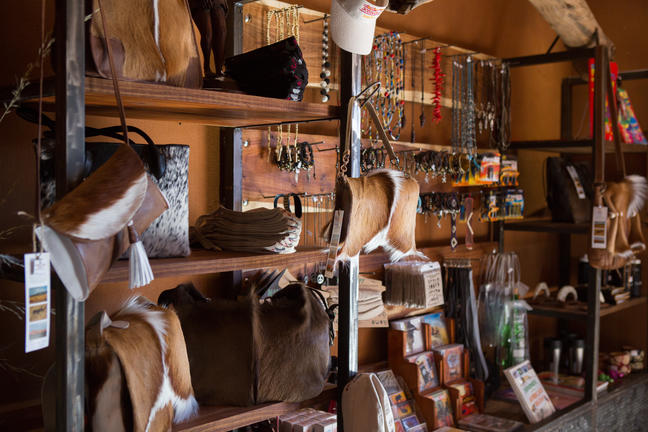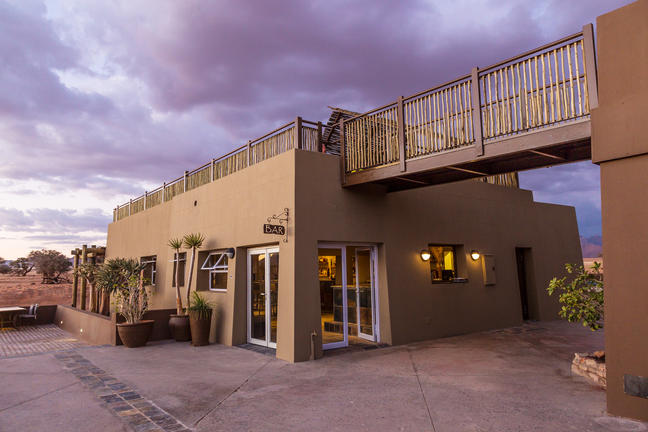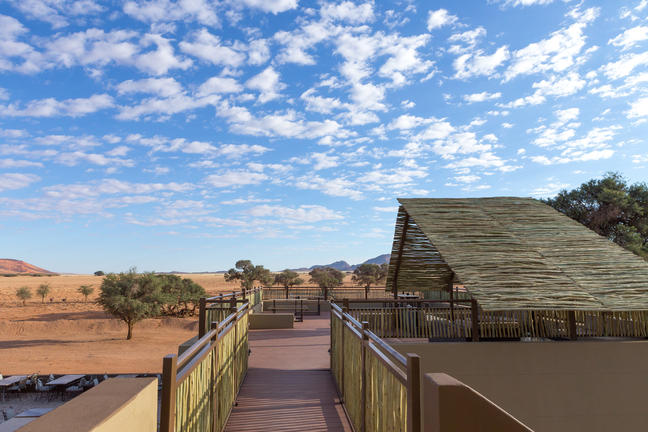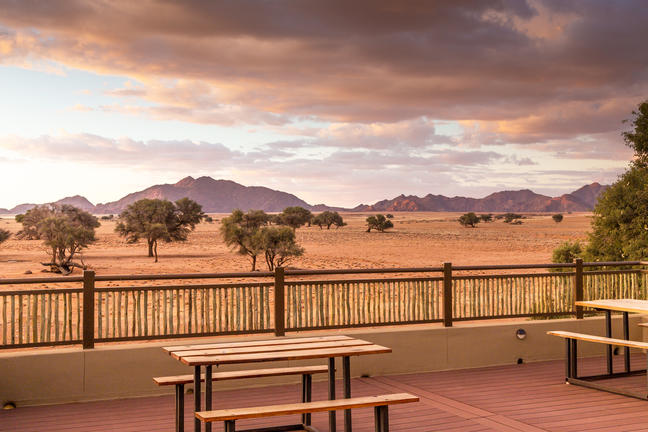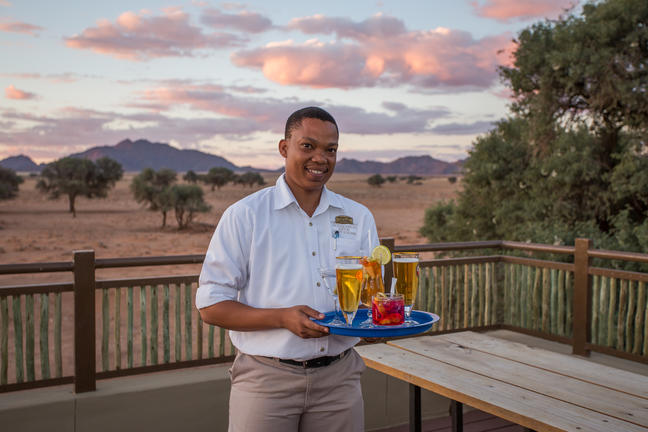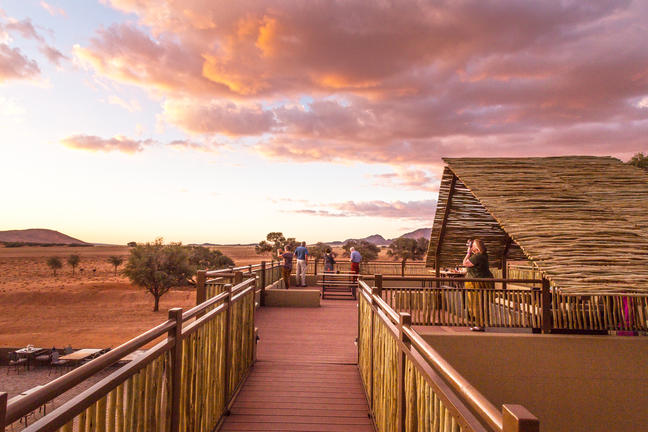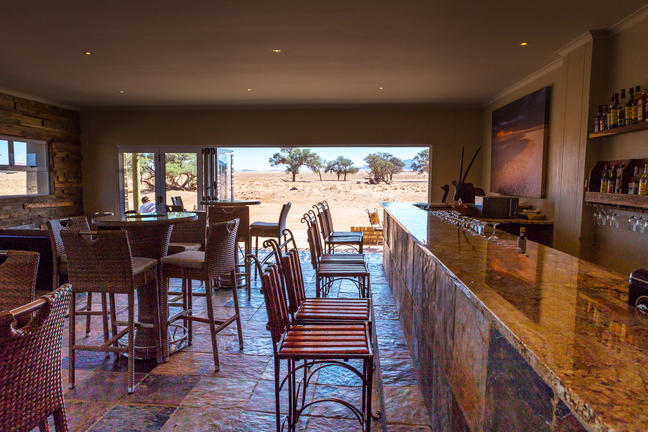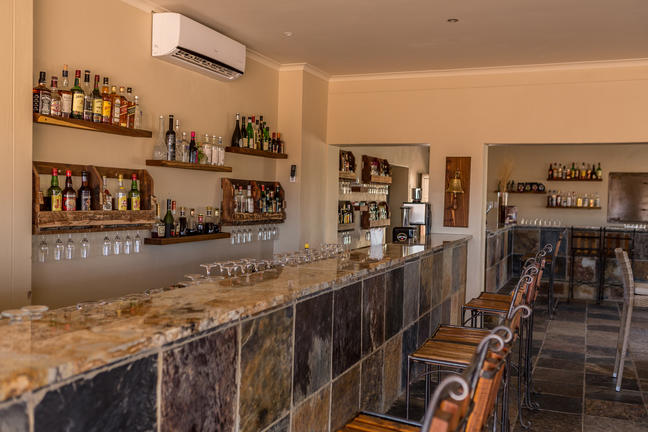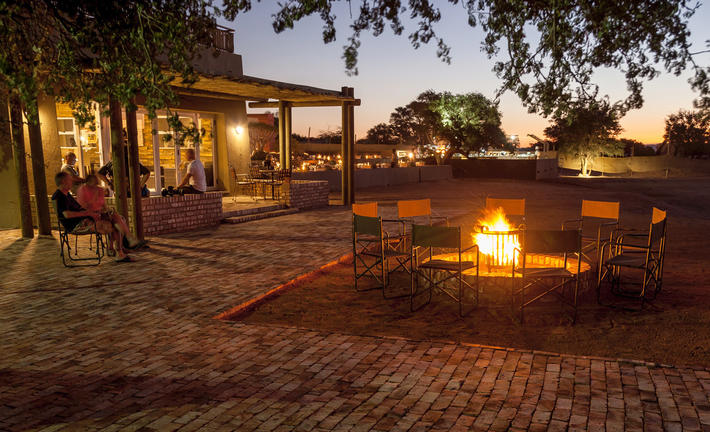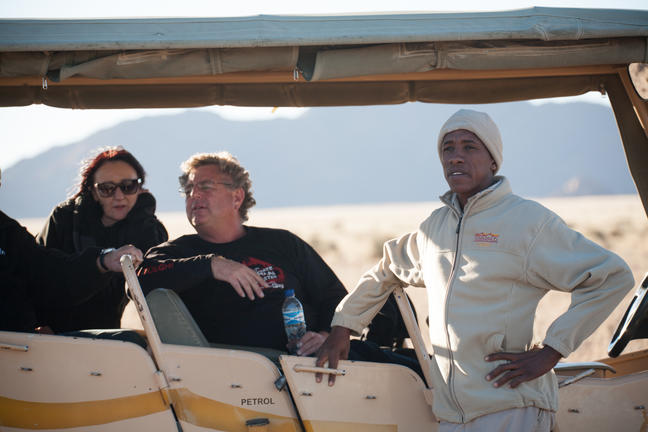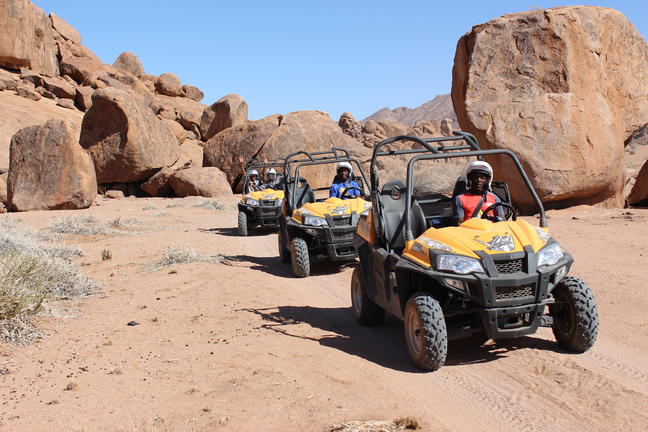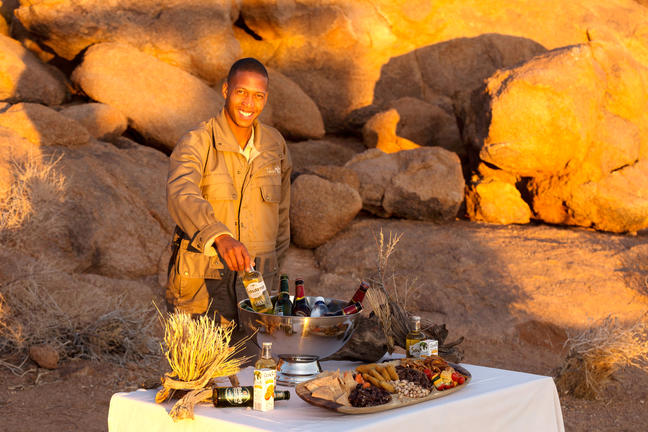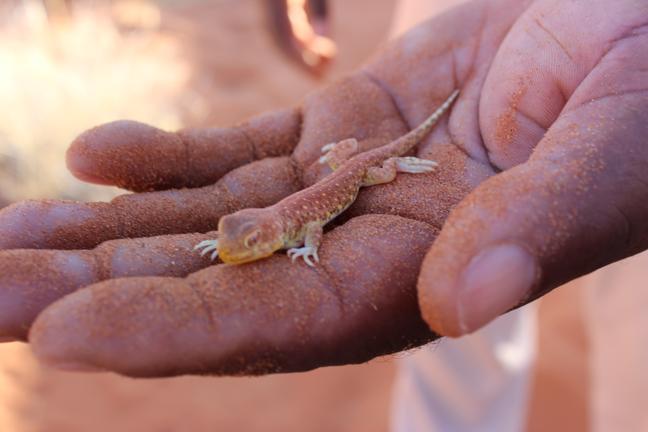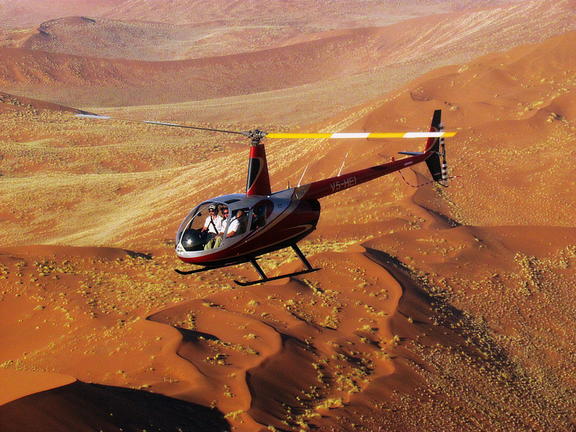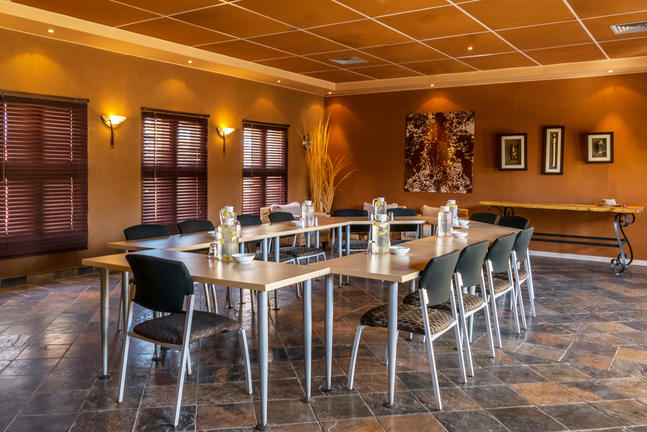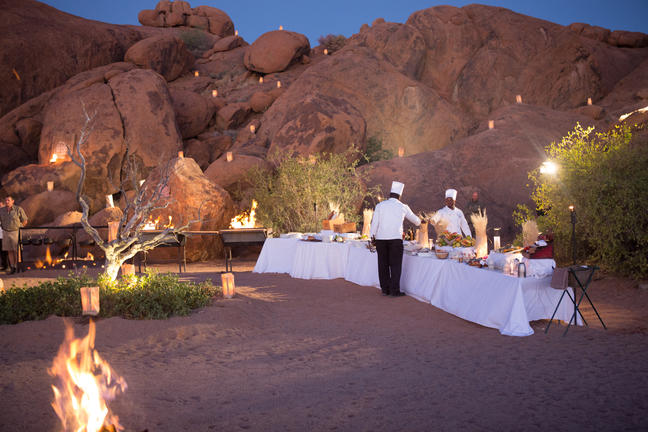 Your Stay
2 Nights
Half Board - Dinner, Bed and Breakfast
Fast Facts
Lodge
Spoken Languages: Afrikaans, English, German
No. Rooms: 51
Special Interests: Adventure, Nature, Relaxation

Hotel Zum Kaiser
| Swakopmund
Perfectly positioned on Sam Nujoma Avenue in the picturesque Swakopmund, the luxurious Hotel Zum Kaiser offers direct access to the beach and the town's vibrant street life, quaint architecture, shopping and fine dining. This exclusive hotel houses 21 fully air-conditioned bedrooms, each featuring a full en-suite bathroom, television, coffee-and tea making facilities, bar fridge, electronic safe and wireless internet.
The tastefully decorated hotel offers a combination of Court Yard Suites, Front Facing Suites and 3 family rooms with inter-leading doors. Each of the Front Facing Suites is equipped with a private balcony to enjoy splendid views of the historic town and partial views of the nearby Atlantic seaboard. Uniquely combining modern furnishings with a touch of classic elegance, the Hotel Zum Kaiser creates a truly authentic and intimate ambiance.
Enjoy delectable cuisine at the on-site Bistro Zum Kaiser and sip sun-downers whilst experiencing the spectacular sunsets over the Atlantic from the hotel's idyllic Roof Terrace. The Hotel Zum Kaiser is fully equipped and offers the ideal setting for conferences, banqueting and celebrations. Exciting activities in the area can be booked directly at reception.
Let our attentive team welcome you to our kingdom and make you feel like an Emperor.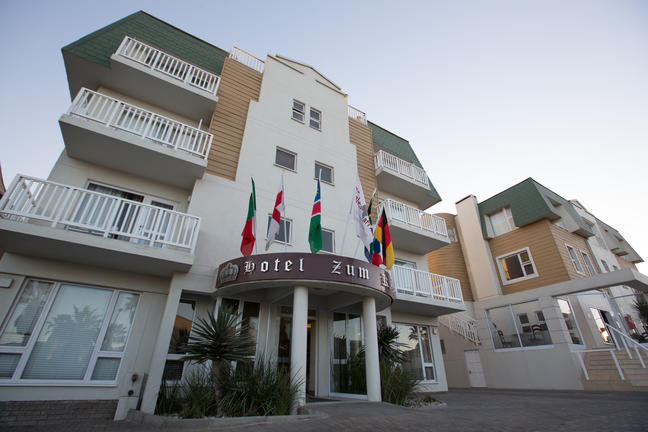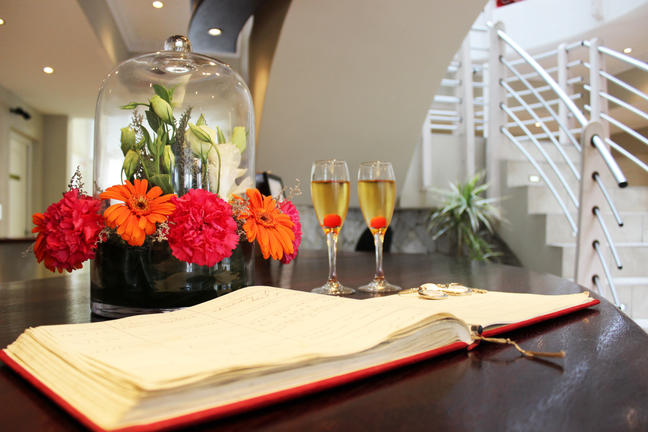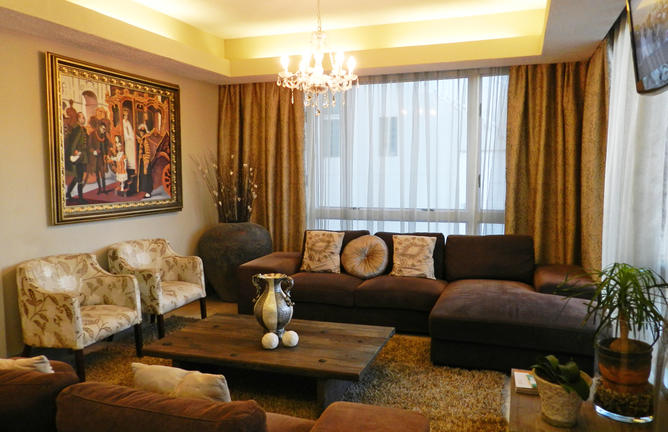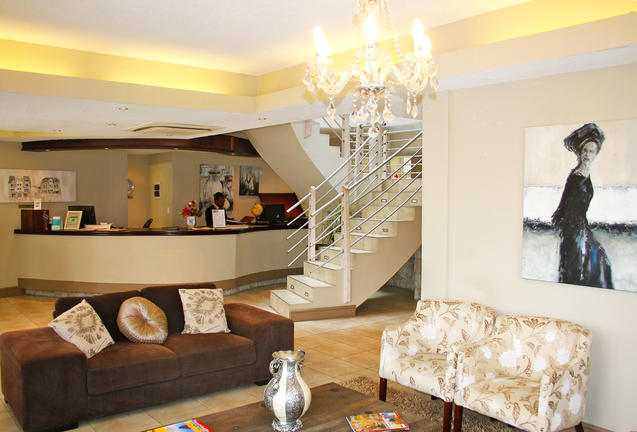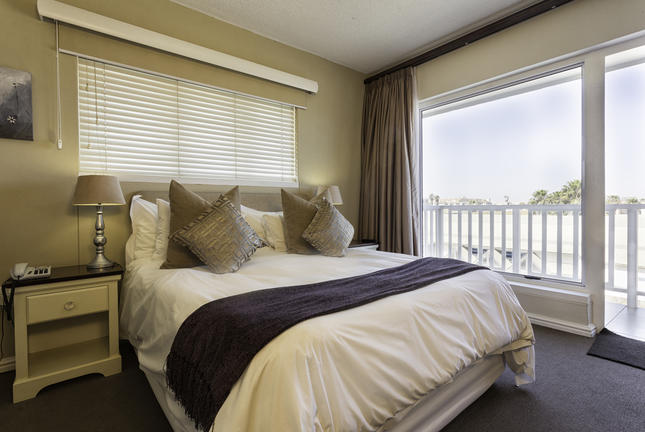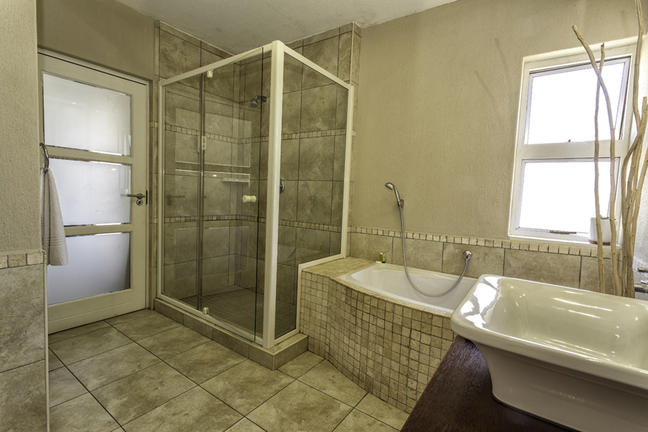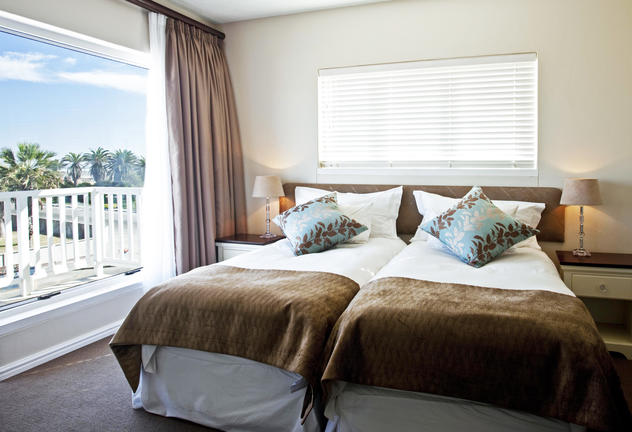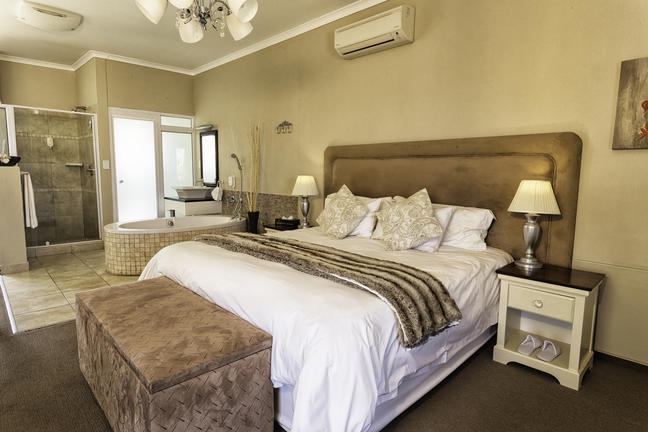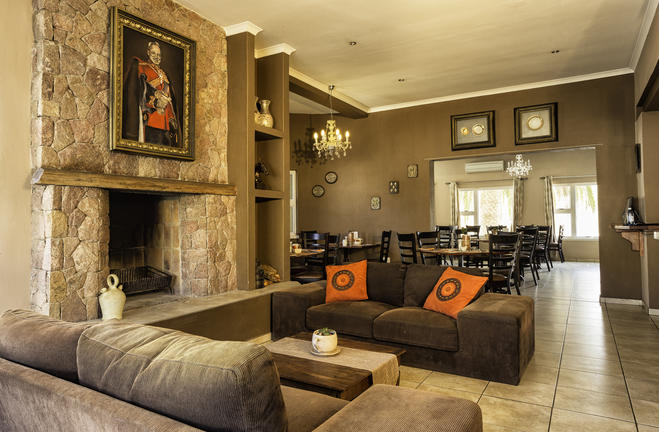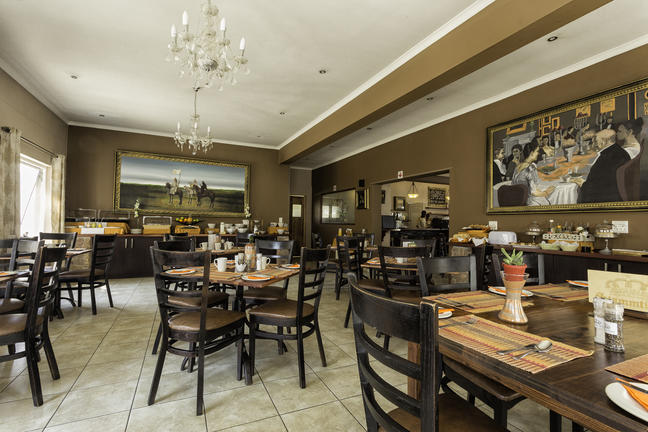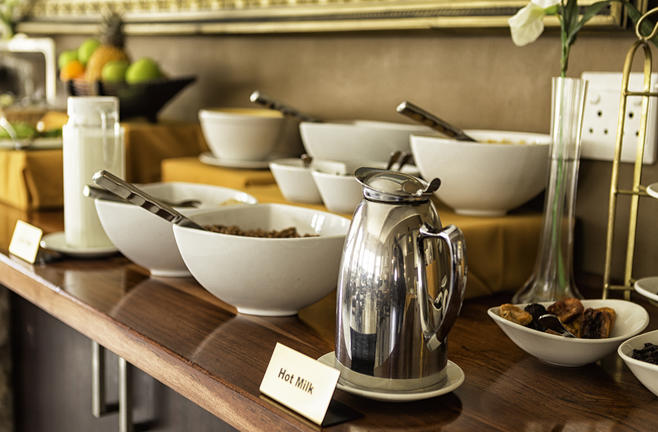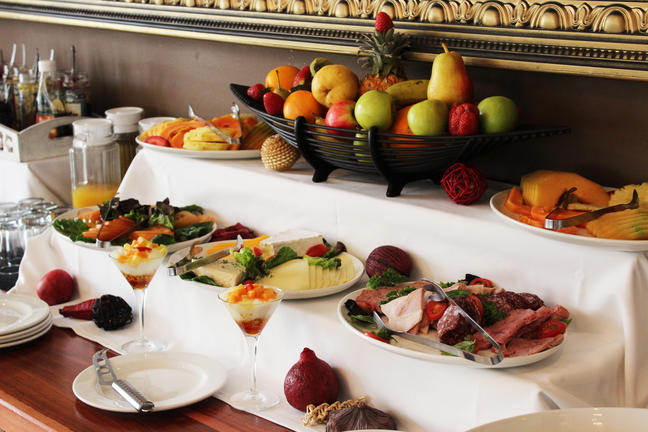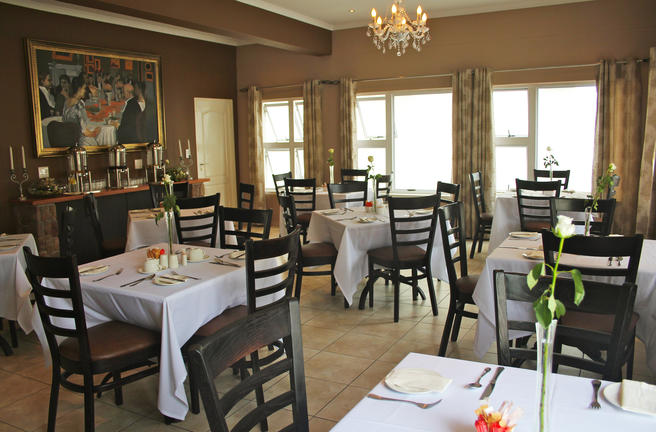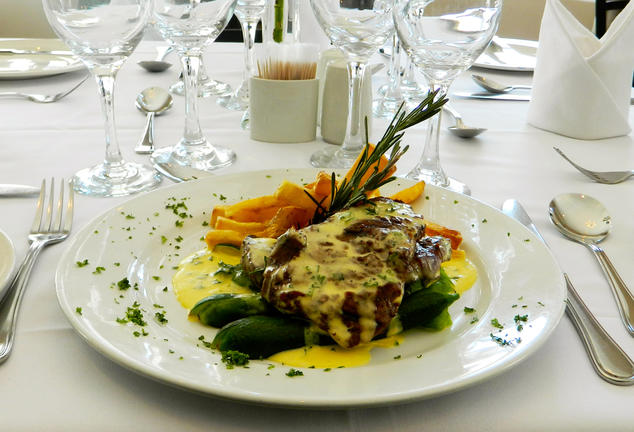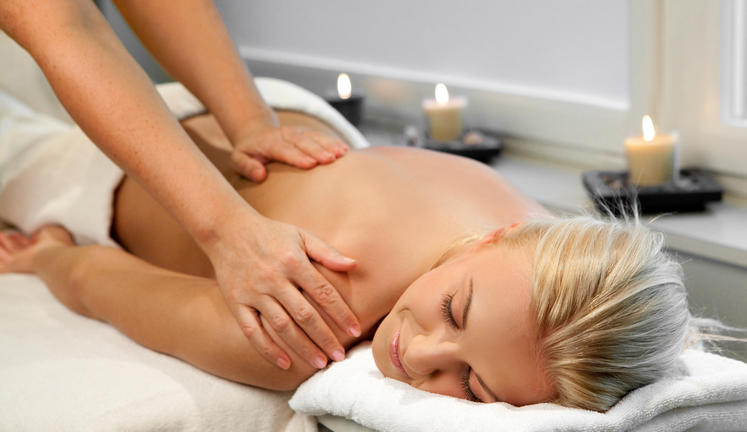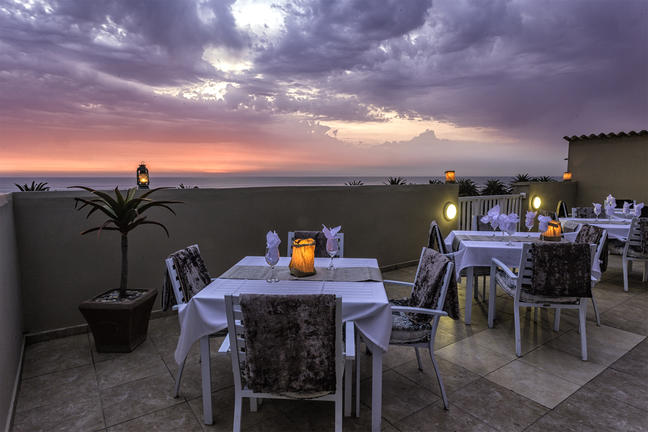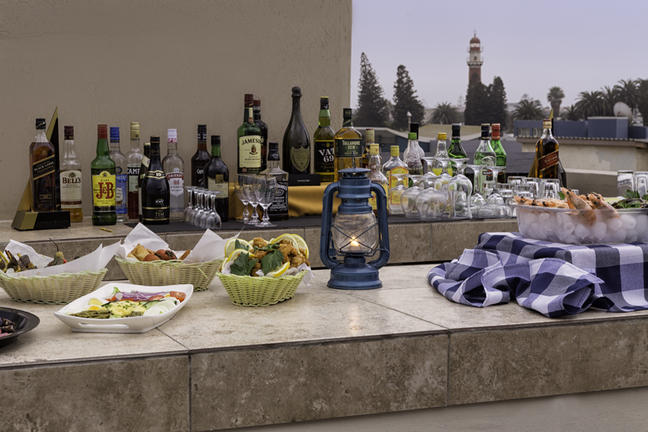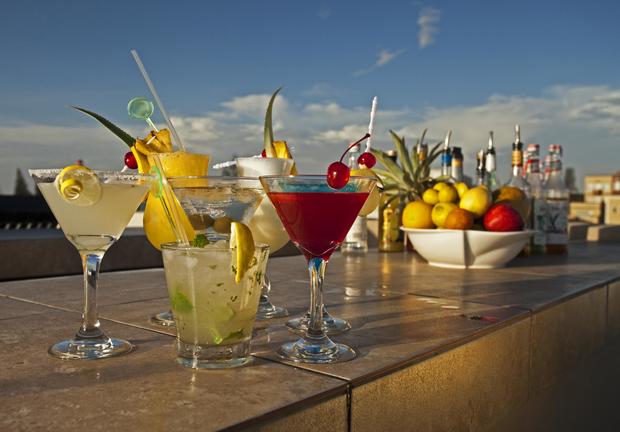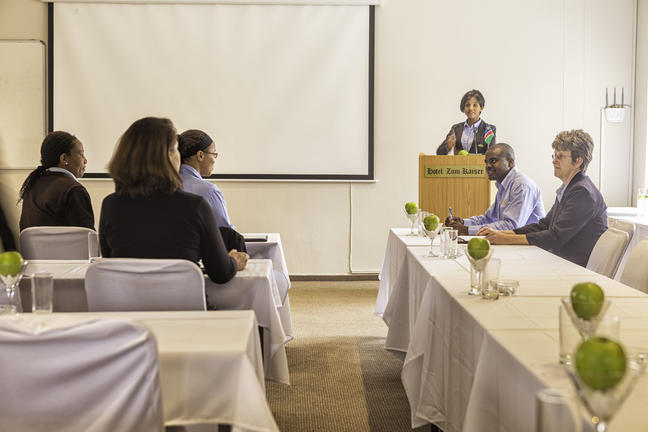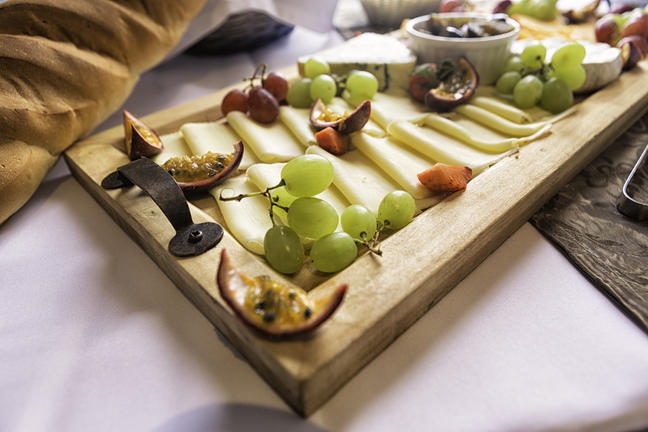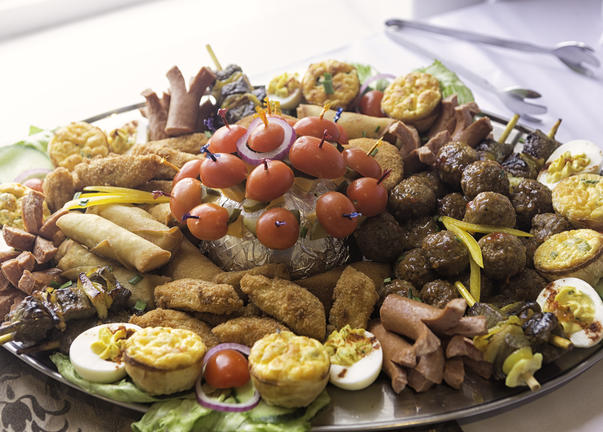 Your Stay
2 Nights
Bed and Breakfast
Fast Facts
Boutique Hotel
Spoken Languages: Afrikaans, English, German
No. Rooms: 21
Special Interests: Adventure, Beach / Coastal, History & Culture, Leisure, Relaxation, Shopping
Camp Kipwe
| Twyfelfontein
Camp Kipwe is an intimate and remote bush lodge located in Namibia's arid yet starkly beautiful Twyfelfontein region, home to many ancient Bushman etchings. The 9 specially-designed rooms are unique and private, with an outdoor bathroom, thatched roofs and spectacular views over the surrounding area. A luxury thatched suite with a lounge equipped with air-conditioning, a satellite television, a double room with en-suite bathroom, laundry service and a mini-bar.
Camp Kipwe offers guided nature walks around the Twyfelfontein Conservancy, as well as trips to see the Bushman etchings, the mysterious Organ Pipes and Burnt Mountain. For a very special experience, an Elephant Nature Drive is a must-do; explore the terrain in search of these elusive desert-dwelling elephants who have adapted to the dry and sandy conditions of northern Namibia.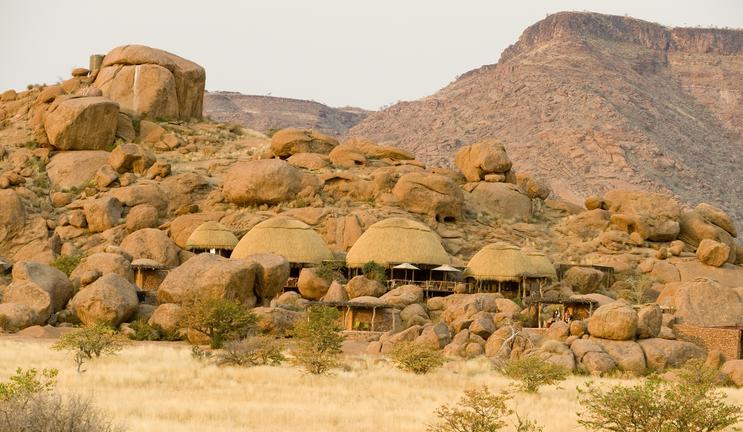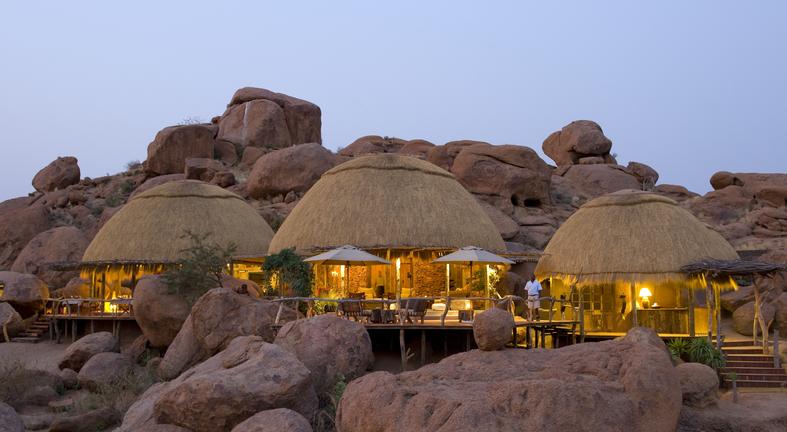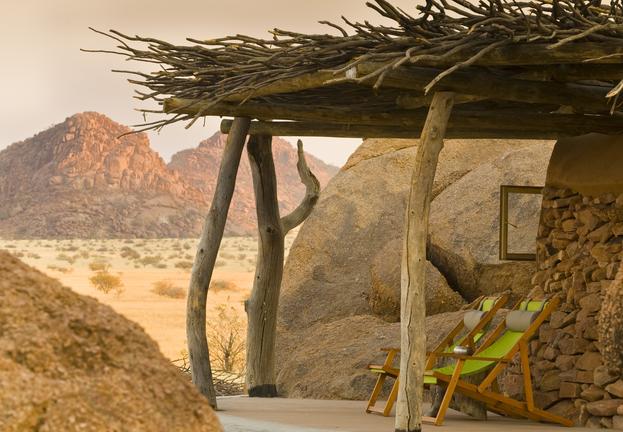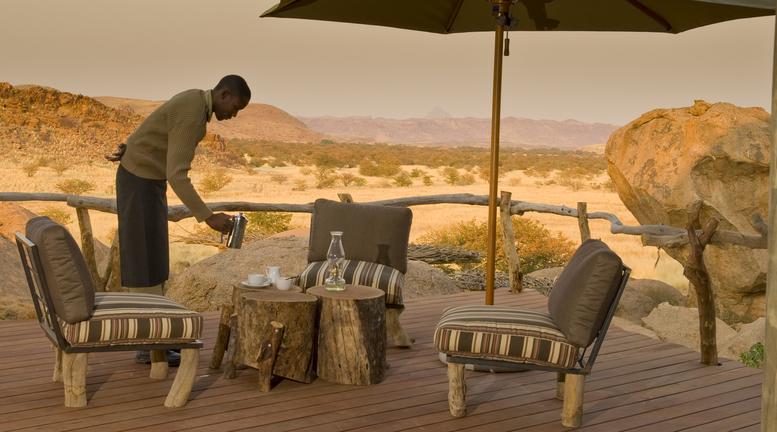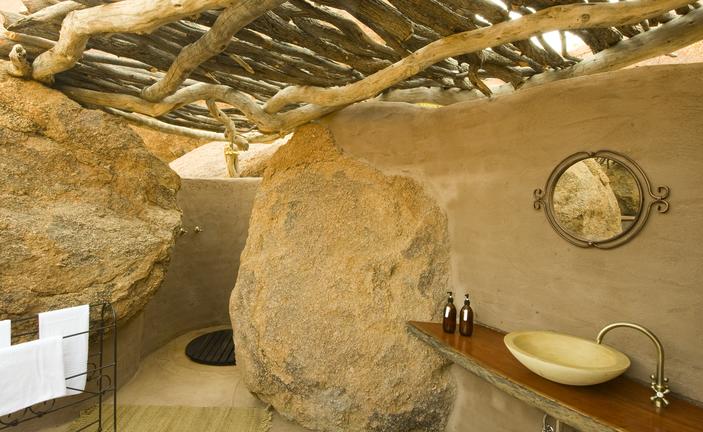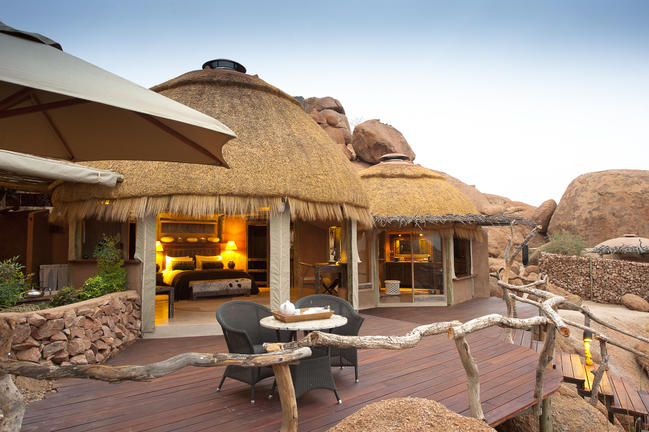 Your Stay
1 Night
Dinner, Bed and Breakfast
Fast Facts
Lodge
Spoken Languages: Afrikaans, English
No. Rooms: 10
Special Interests: Adventure, Birding, Flora, Hiking, History & Culture, Indigenous Culture / Art, Leisure, Nature, Relaxation, Wildlife

Taleni Etosha Village
| Etosha South
Affordable Luxury at Etosha National Park near Okaukuejo
Situated only 2km from the Andersson entrance gate to Etosha National Park, Etosha Village uniquely combines affordability with comfort, style and exquisite cuisine.
The 45 luxury individual suites offer a fully air-conditioned bedroom with an en-suite bathroom and a patio to enjoy the beauty that surrounds you. Two small children (under 12) can be accommodated with their parents on a fold-out sleeper couch in the unit.
Facilities include an open-plan bar with big screen television, 2 sparkling pools plus a kiddie pool, a restaurant serving delectable cuisine as well as a fully stocked utility and curio shop.
Explore Namibia's animal kingdom with a morning or full day Guided Game Drives to Etosha National Park.
Enjoy the Walking Trails on our reserve where various small game can be spotted from the lookout decks and hides.

Sundowner Drives and Stargazing Sessions allow guests to experience the magic of our sunsets and famous star studded skies.
Let our team whisk you away to an enchanted venue in the Mopane Forest for a magnificent Boma Dinner Experience for your special function or private dinner.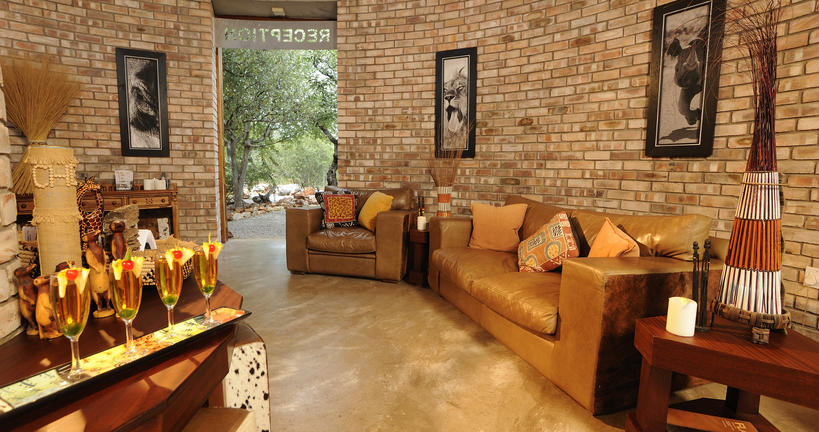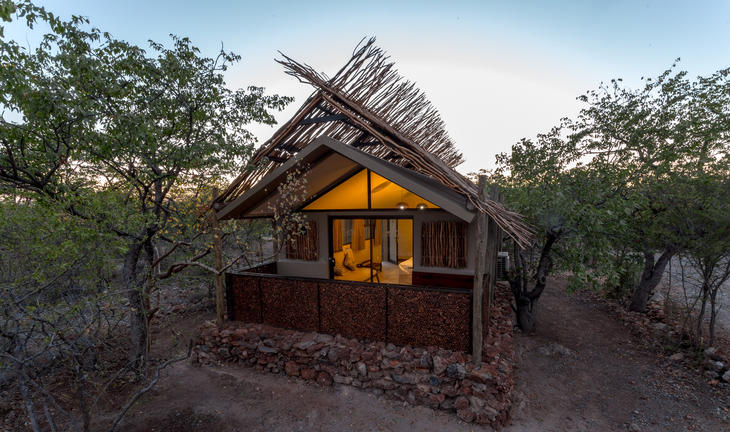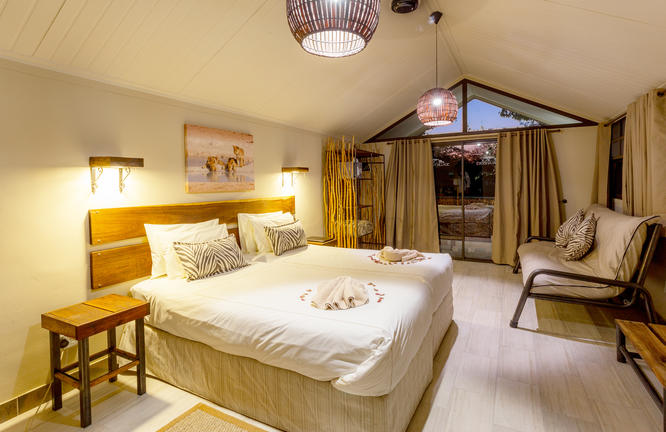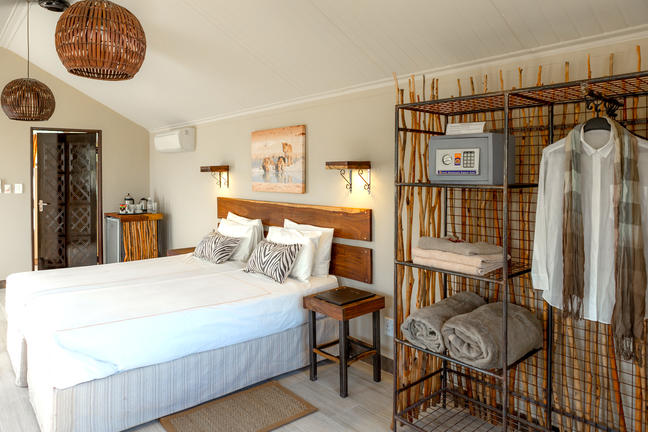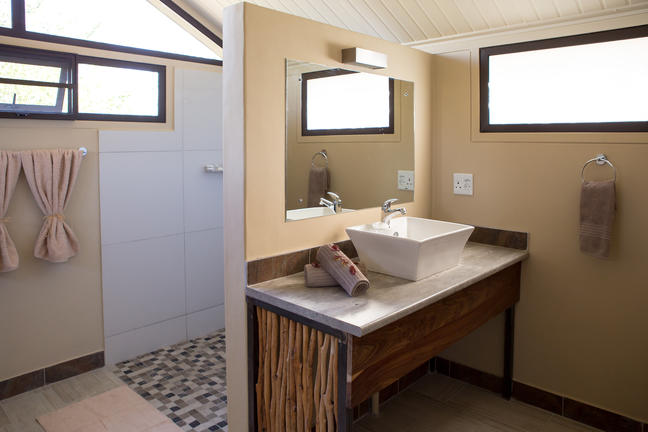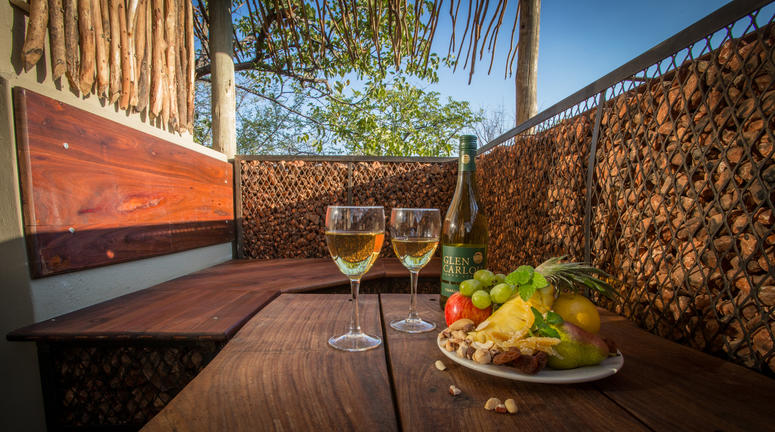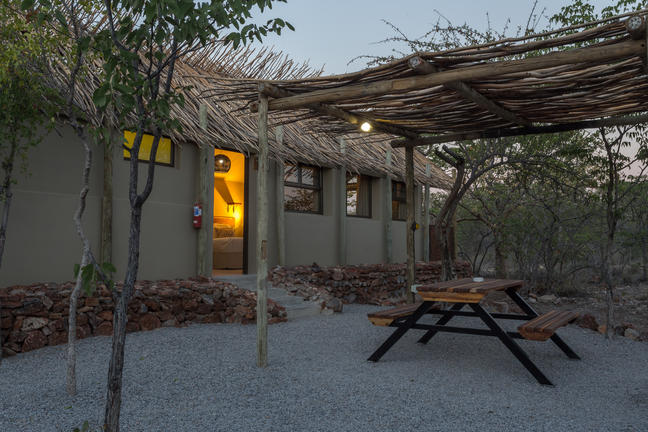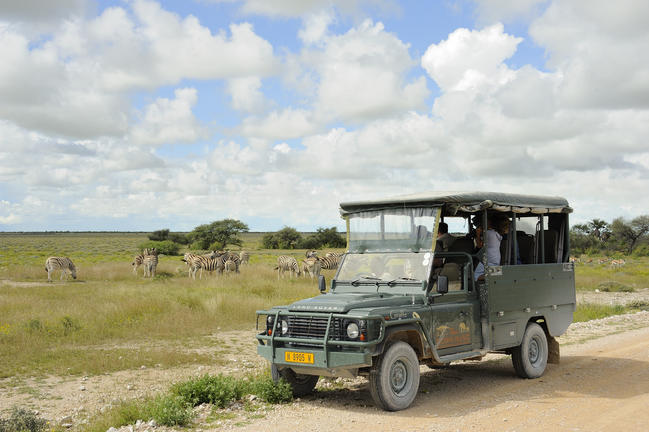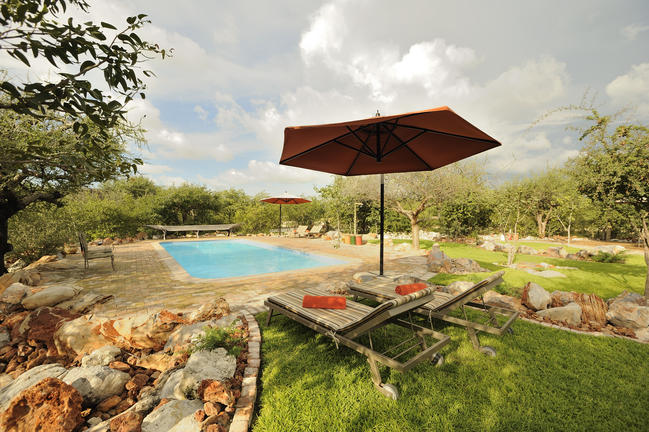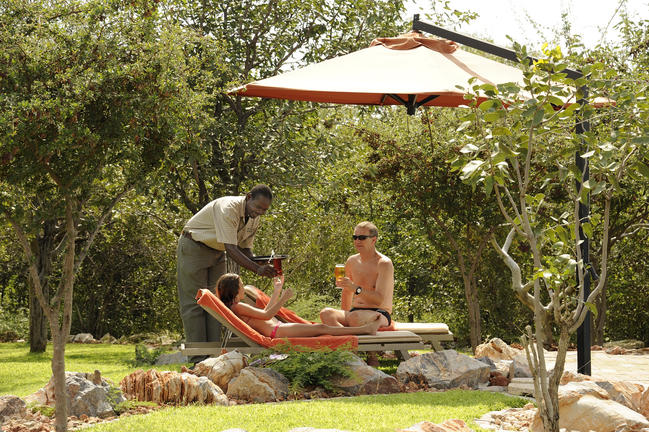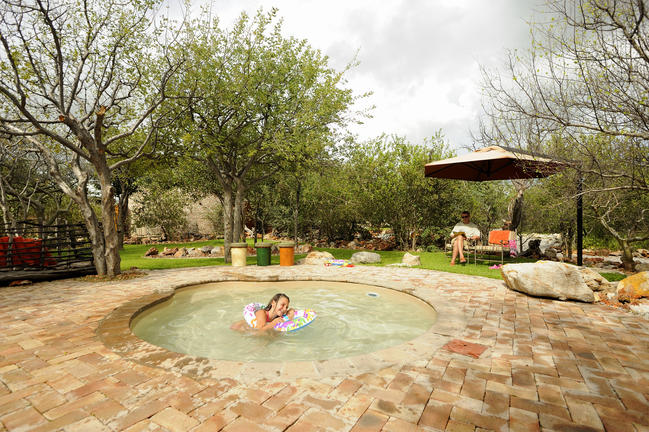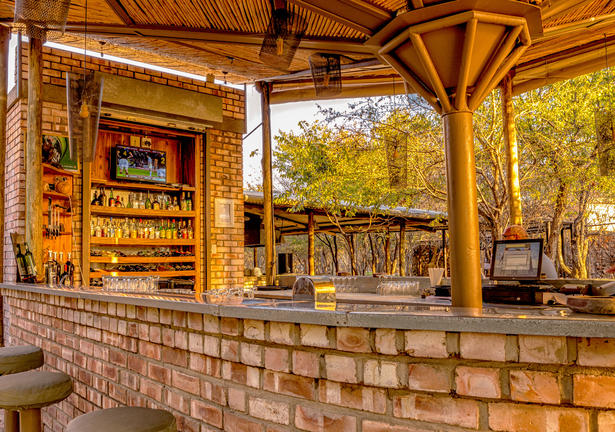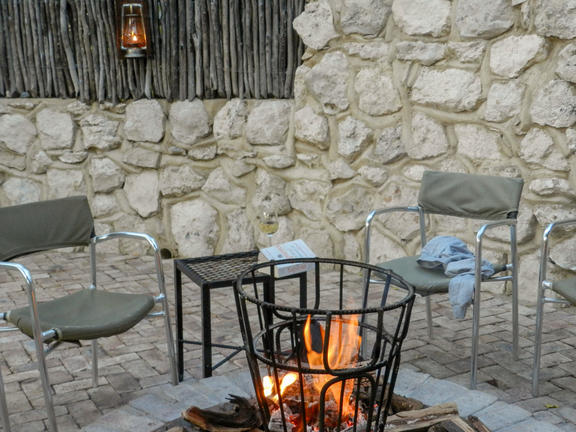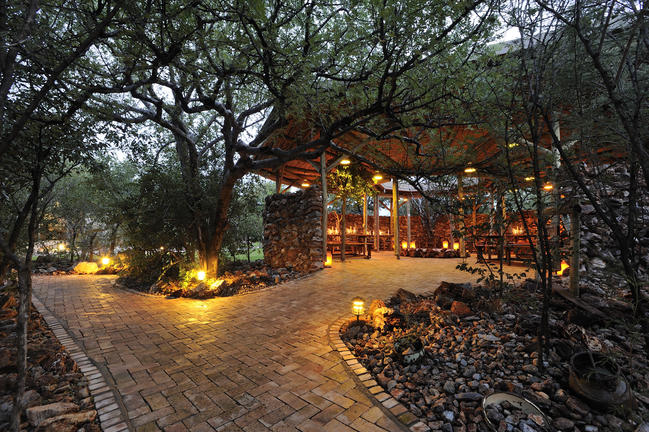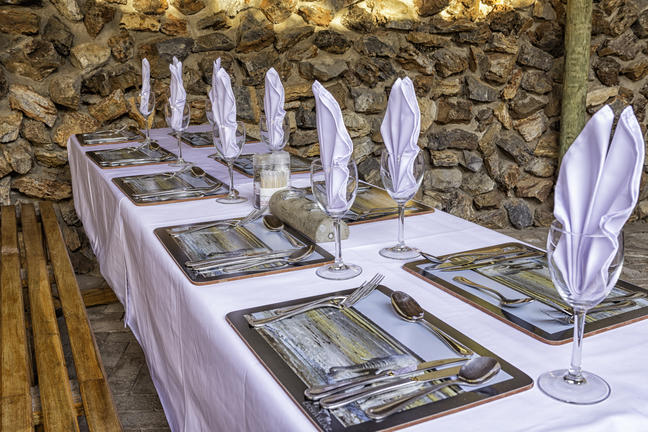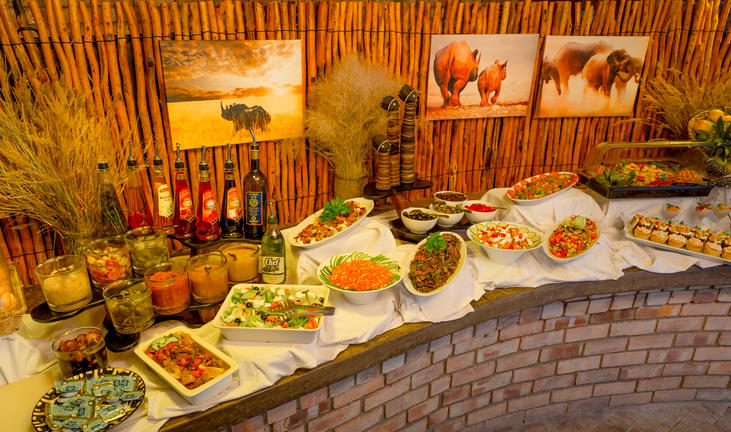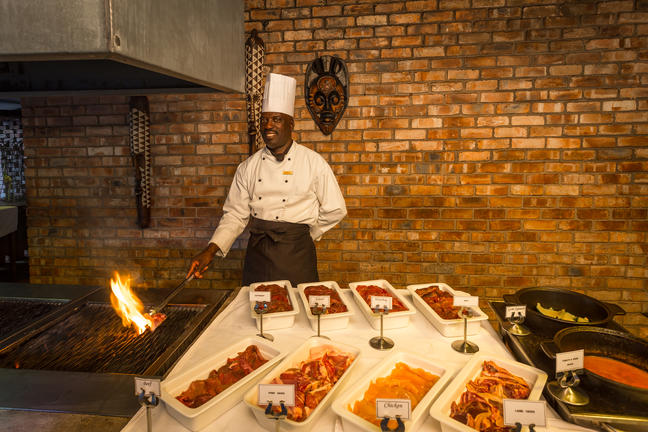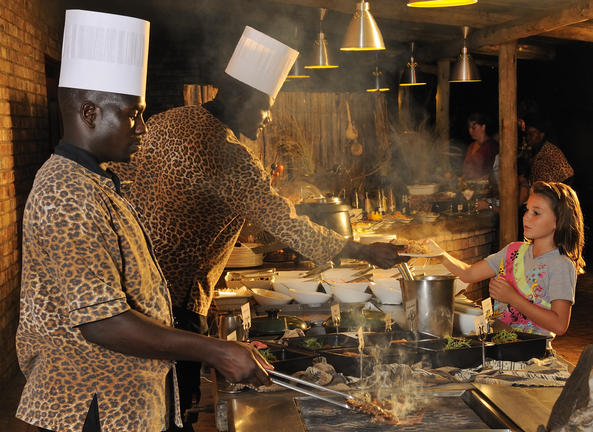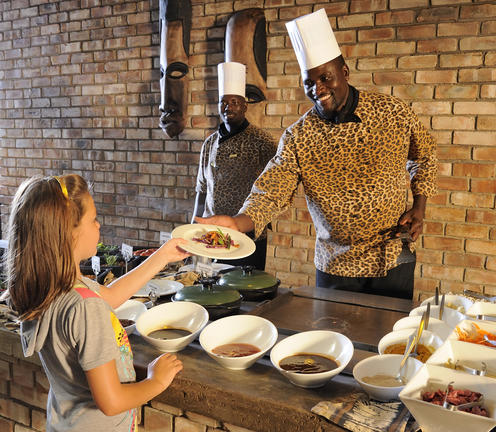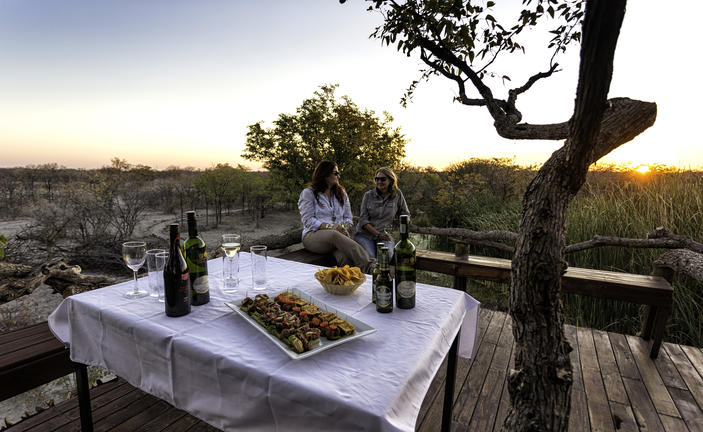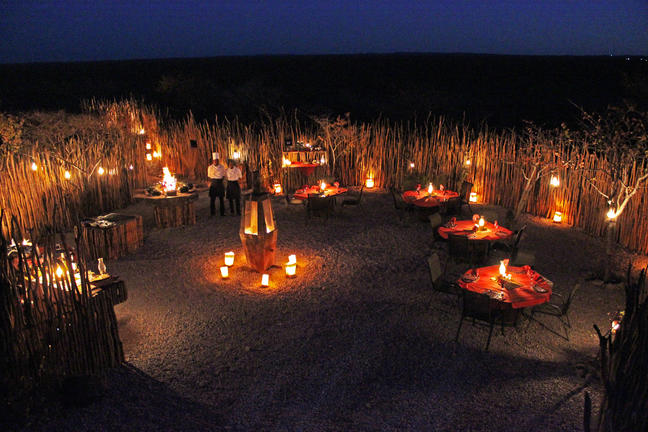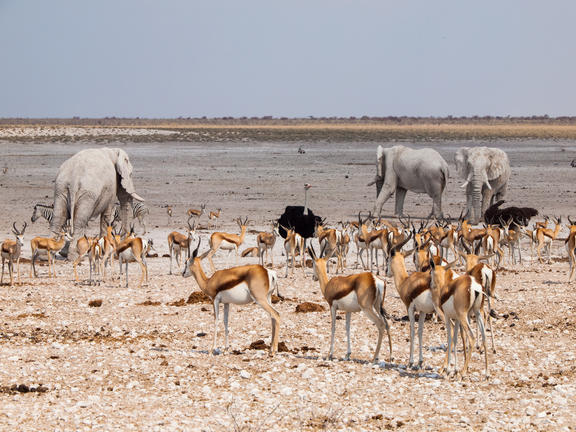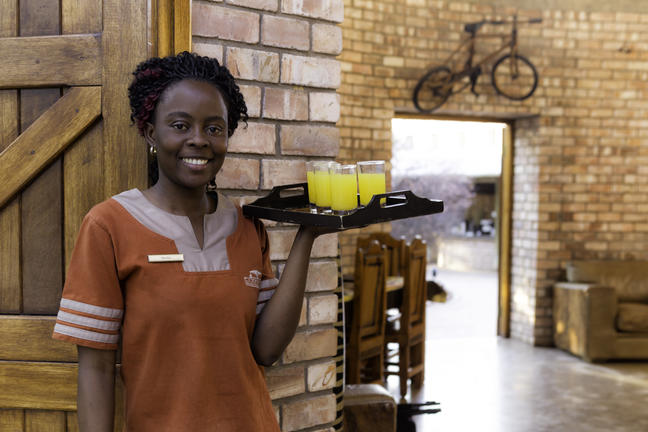 Your Stay
2 Nights
Dinner, Bed and Breakfast
Fast Facts
Lodge
Spoken Languages: Afrikaans, English
No. Rooms: 55
Special Interests: Adventure, Big 5, Birding, Nature, Relaxation, Star Gazing, Wildlife
Erindi Old Traders Lodge
| Erindi Game Reserve
Erindi Game Reserve is a jewel in the heart of the wild Namibian landscape. The reserve of 70 000ha is situated 40km east of the town of Omaruru.
Old Traders Lodge provides the accommodation at Erindi Private Game Reserve. This impressive lodge comprises the main dining room and viewing deck as well as 35 well appointed suites that all have views of a water hole. The spacious suites include; comfortable double or twin single beds with crisp linen and warm blankets, air-conditioning, en-suite bathroom with bath and shower, in-room safe, satellite TV, hairdryers, fridges and kettles.
Erindi falls within the Nama Karoo biome and is arid to semi-arid characterized by scattered low dwarf shrubs interspersed with grasslands. Erindi consists of an amazing array of diverse landscapes including mountains, riverine thickets, inselbergs ("island mountains") and grassland savannahs for as far as the eye can see.





Your Stay
1 Night
Dinner, Bed and Breakfast