The Boma Hotel Entebbe
| Entebbe
The Boma Hotel is Entebbe's original and most exclusive hotel, set in tropical gardens in a leafy suburb, a few minutes drive from Entebbe International Airport. Our rooms combine the modern comforts one expects today with the charm and character of the original 1940's home. The Boma is an ideal stopover for all travellers and airline passengers, and we will arrange all your airport transfers. Our staff and management team ensure guests receive a personable service and enjoy hospitality standards which are in keeping with the tradition of this charming lakeshore town.
The residents-only bar and dining area overlooks the pool area and provides a delightful and relaxed country house experience. The main house includes a private dining veranda and living room for overnight guests. Other hotel facilities include the swimming pool, Gym, Free WiFi, 24-hour security and car parking. We offer a laundry service for overnight guests and there is a small craft shop on site. We can organise local taxi hire and day trips to the nearby attractions.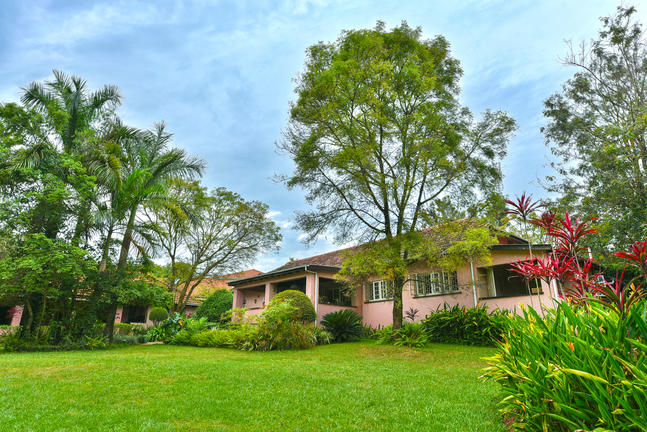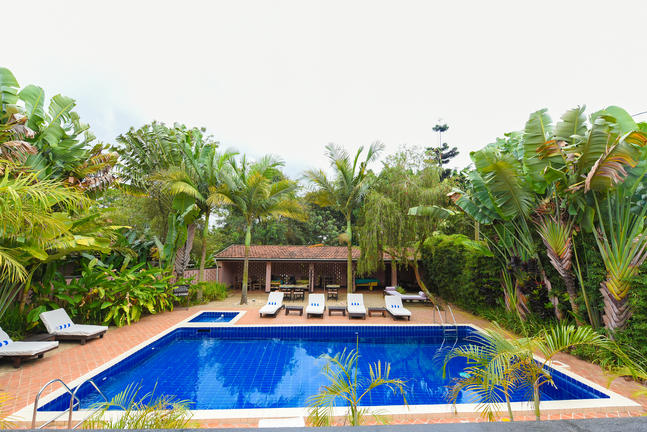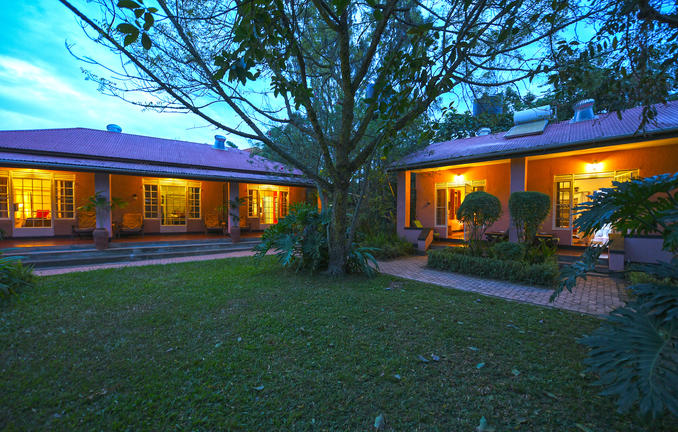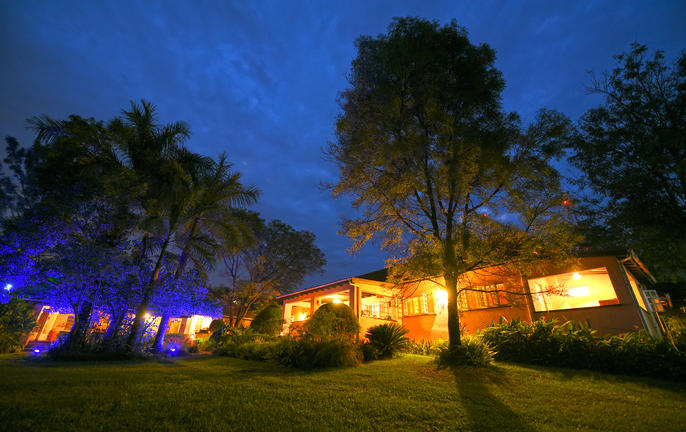 Your Stay
1 Night
Bed and Breakfast
Twiga Safari Lodge
| Murchison Falls National Park
Twiga Safari Lodge aims at providing clients with comfortable accommodation in the serene and relaxing environment of Uganda's wildlife. Twiga Safari lodge provides a scenic vantage point for viewing Uganda's wildlife lounging in the river during the day and grazing on land at night around the lodge. The accommodation design fuses camping tents with African thatched cottages elevated off the ground. This provides a heightened experience with nature in which clients are able to hear and view some animals all the while from the safety and comfort of their cottage.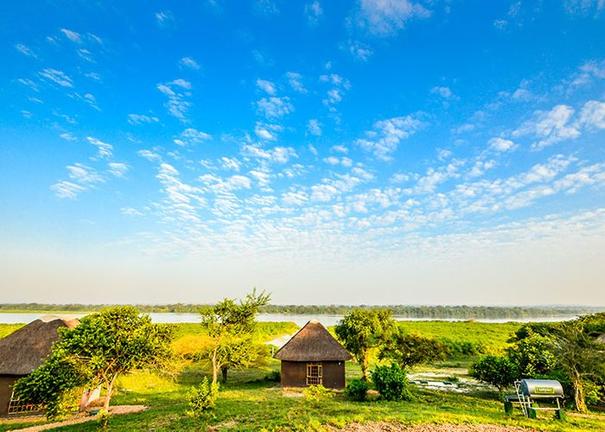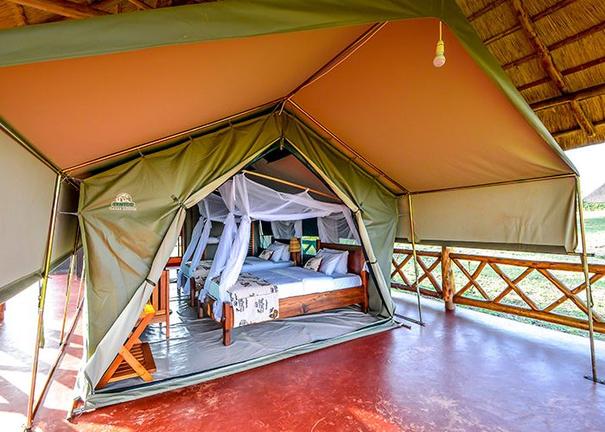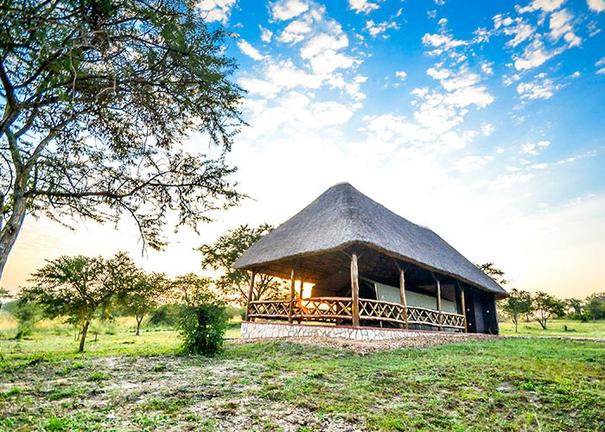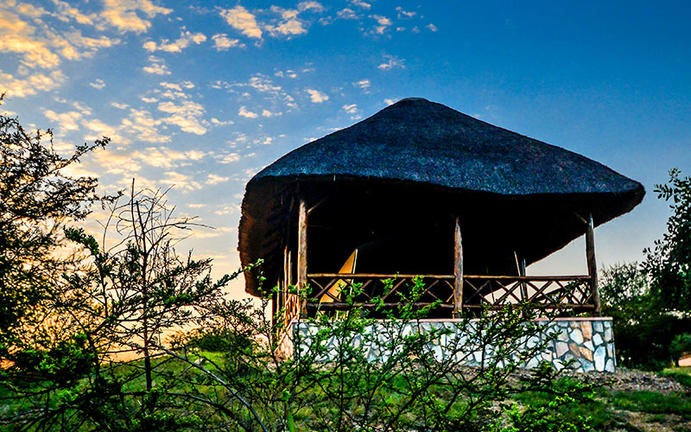 Your Stay
2 Nights
Full Board Plus - Dinner, Bed, Breakfast, Lunch and Activities
Hoima Cultural Lodge
| Hoima
Surrounded by beautiful vast gardens, the Hoima Cultural Lodge is situated in Hoima district, the northern part of Western Uganda opposite the Bunyoro Palace. Hoima Cultural Lodge is a perfect break from the 10 hour drive on the dirt road between Murchison falls and Kibale which helps travellers rejuvenate for the rest of their journey.
The lodge offers spacious en-suite grass thatched cottages ideal for couples and families with each room brightly colored and furnished with African art pieces which give guests an African feel. While at the lodge, visitors can partake in cultural activities such as visiting the palace, the Mparo Tombs, cooking local African cuisine, engaging in activities such as cultural dancing, interacting with the local community and talking to them about the Bunyoro culture. The Hoima Cultural Lodge has a kid's entertainment center with multiple bouncing castles, trampolines, slides and fun indoor activities, a well-stocked restaurant, sports center and internet facilities are also available.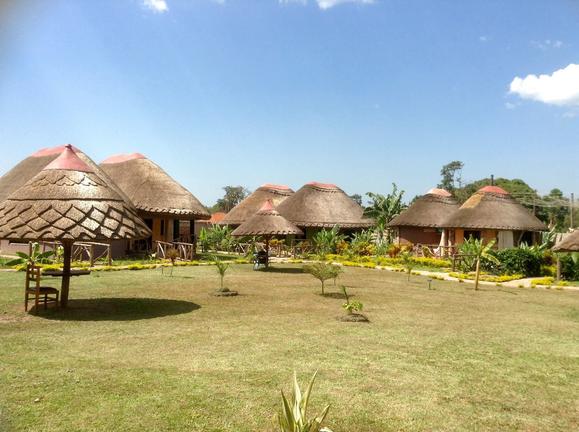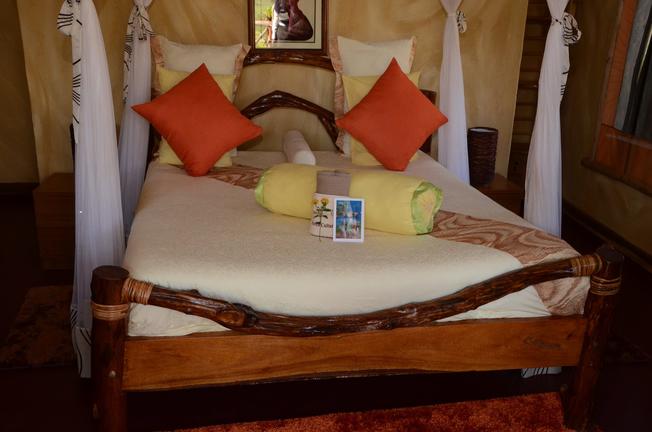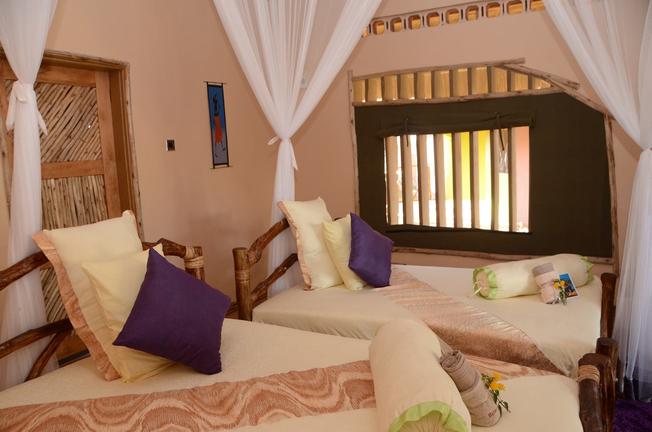 Your Stay
1 Night
Full Board Plus - Dinner, Bed, Breakfast, Lunch and Activities
Kibale Guest Cottages
| Kibale Forest National Park
Situated at Fort Portal, adjacent to Kibale National Park, Kibale Guest Cottages are private unique luxury cottages with a view of the tropical forest. Facilities include the internet, a restaurant, and a pub. Nearby attractions include the Swamp Walk Centre, the Chimp Tracking Centre, Kibale Forest Corridor Game Reserve and Lake Nkuruba Nature Reserve.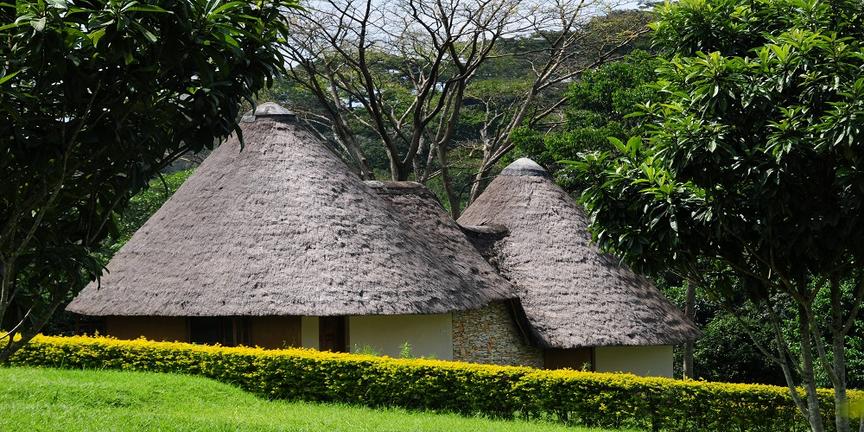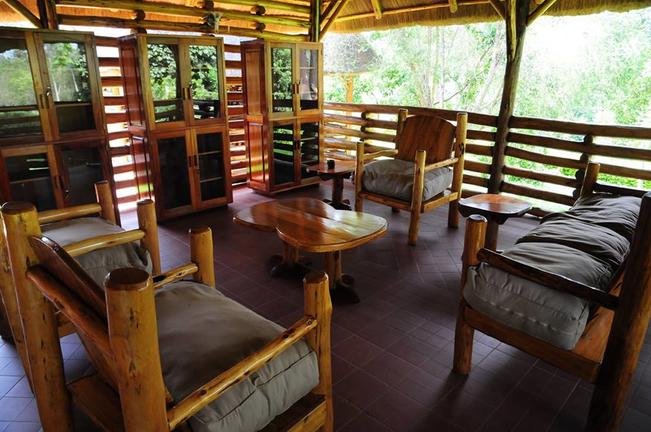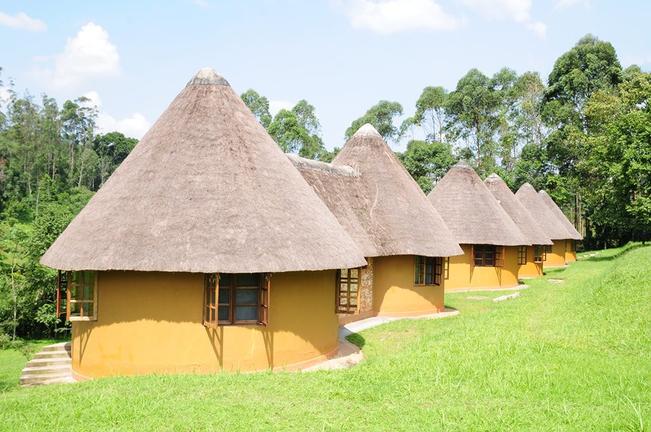 Your Stay
1 Night
Full Board Plus - Dinner, Bed, Breakfast, Lunch and Activities
Parkview Safari Lodge
| Southern Queen Elizabeth National Park
Parkview Safari Lodge is a Uganda safari lodge located in Queen Elizabeth National Park in the Kyambura area. The lush en-suite cottages are nicely placed in a natural ecosystem setting crafted using natural materials and fitted with canvas that blends with their surroundings. The cottages are thatched with local grass presenting a cool atmosphere suitable for relaxation while on safari. Equipped with both hot and cold running water, the bathtubs and showers overlook the wilderness while the private wooden decks offer uninterrupted views of the park Savannah when lit by electricity. Parkview Safari Lodge is considerably rich in facilities including a fully equipped conference hall, restaurant with an extensive menu providing both local and international cuisines, library and reading area where you can learn more about conservation and Queen Elizabeth National Park in general, sauna and steam bath, massage parlour, gift shop where one can secure a souvenir to commemorate the Uganda tour, extensive swimming pool offering a deep bath after an extensive game drive, laundry services, internet connectivity that keeps one connected in the outside world and a well stocked bar.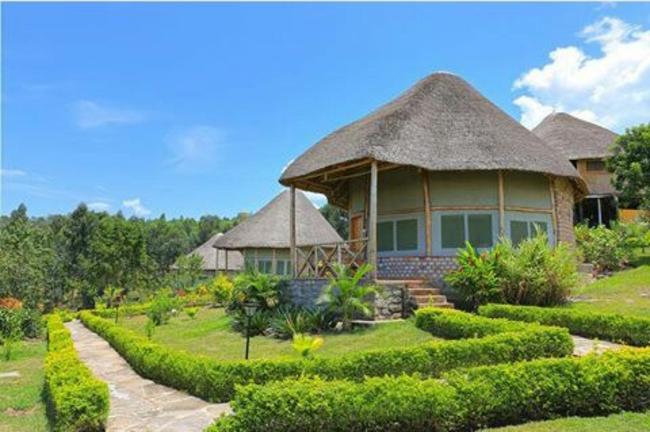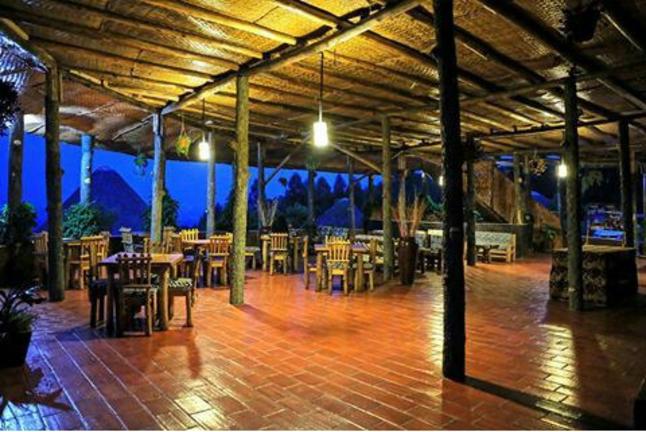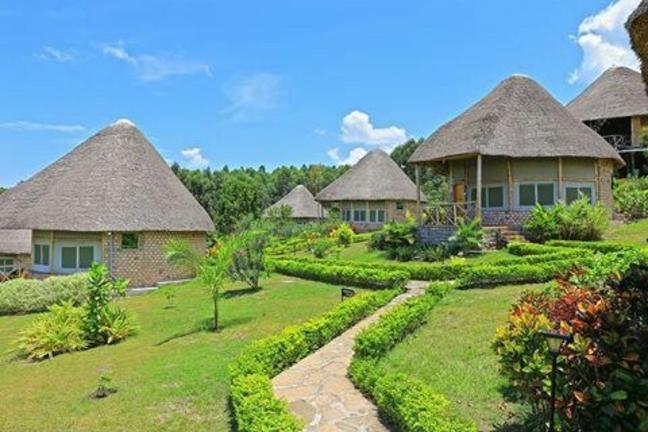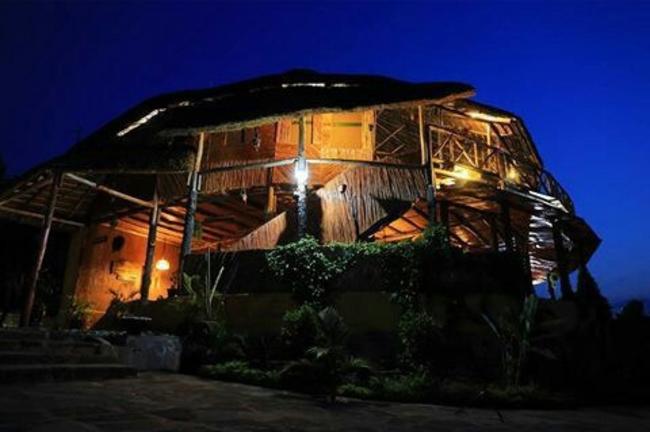 Your Stay
2 Nights
Full Board Plus - Dinner, Bed, Breakfast, Lunch and Activities
Ishasha Wilderness Camp
| Southern Queen Elizabeth National Park
Ishasha Wilderness Camp is an idyllic retreat for people who truly enjoy the wilderness, coupled with superb accommodation and exceptional service.
The thatched central lounge and dining area provides a cosy and relaxed space for guests, although meals are often served 'al fresco' beside the river. In the evening, the outdoor fireplace beside the river is the perfect place for guests to relax over sundowners and share their day's experiences.
Each of the ten spacious framed canvas rooms, privately nestled along the riverbank, is comfortably furnished and feature en-suite bathrooms. Wake to the delicious aroma of morning coffee served on your private verandah.
Resident troops of Black-and-White Colobus and Vervet monkeys abound and if you are lucky you'll spot Henry, the lone hippo, wallowing lazily below our viewing deck. Game roams freely through camp, with Elephant making frequent guest appearances.
Designed to respect and complement the environment, this low impact, eco-sensitive camp is really something special, and after a few days unwinding here, you may well not want to leave.
Images
Video
Rooms
Facilities
Activities and Services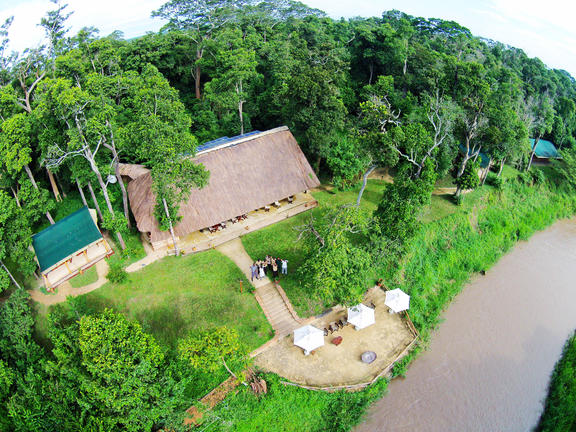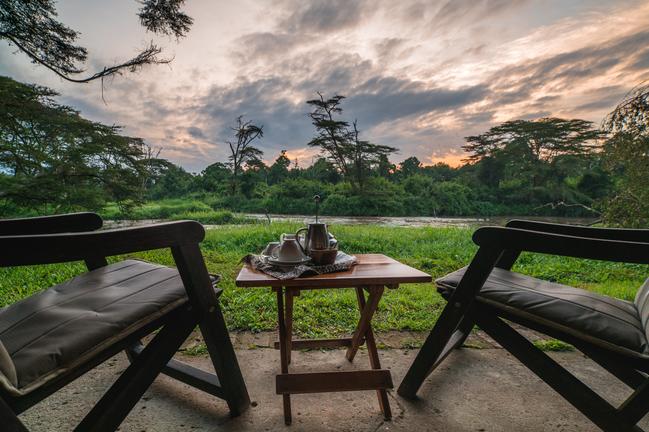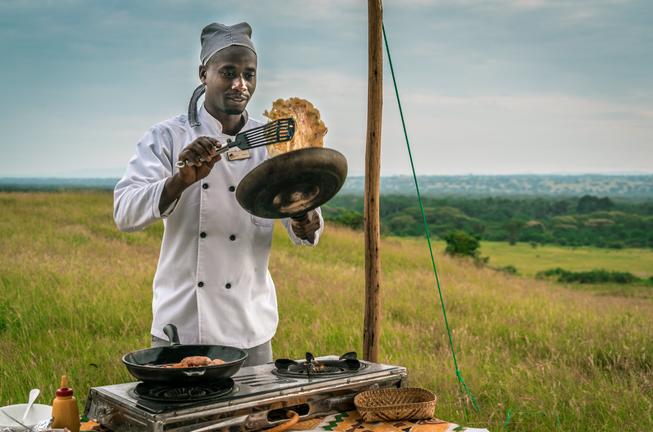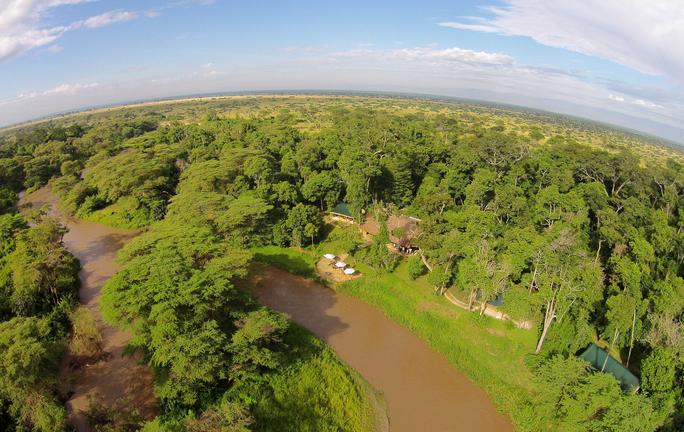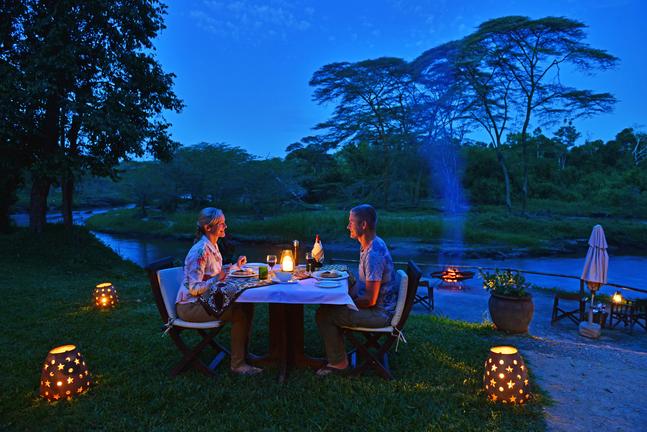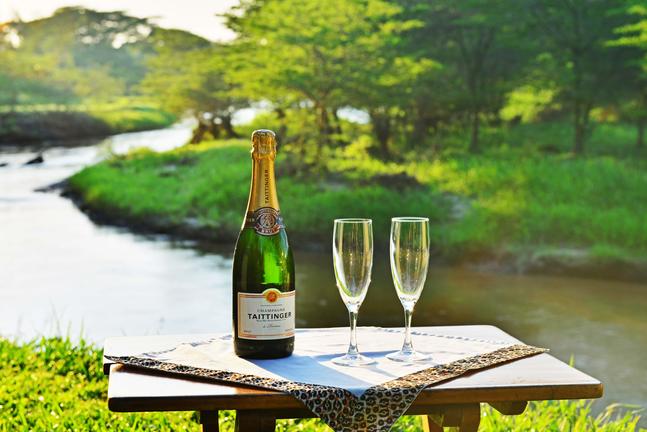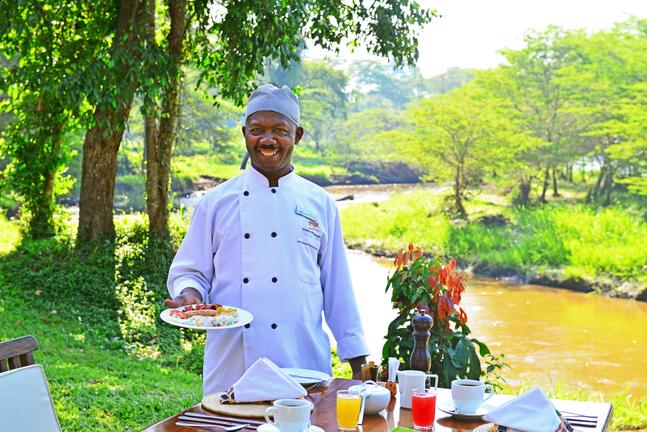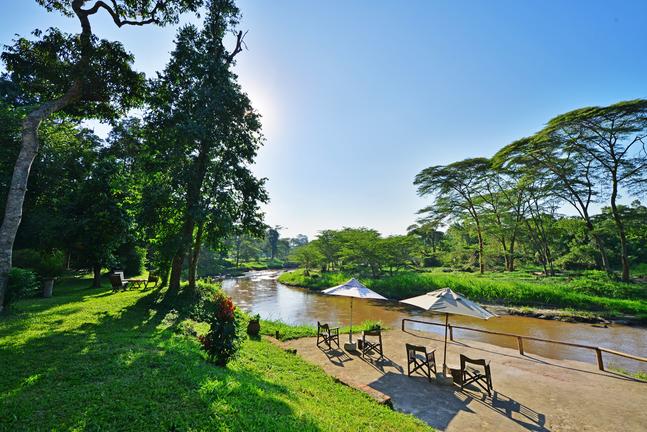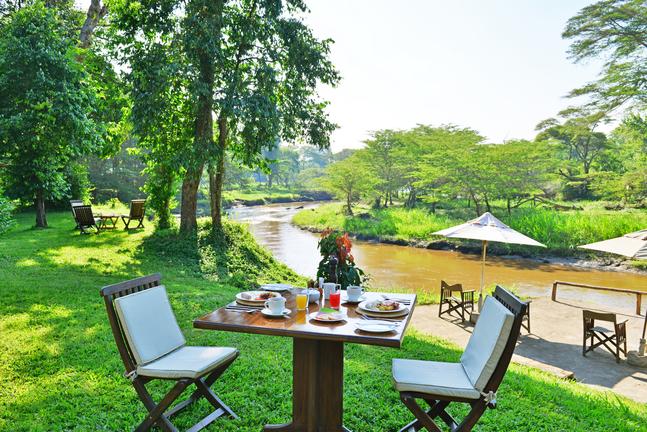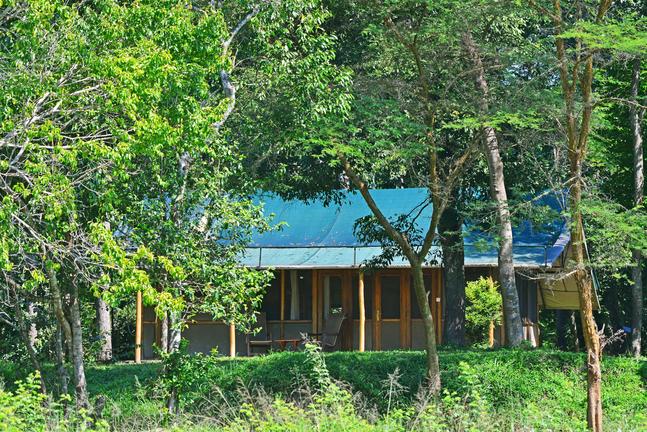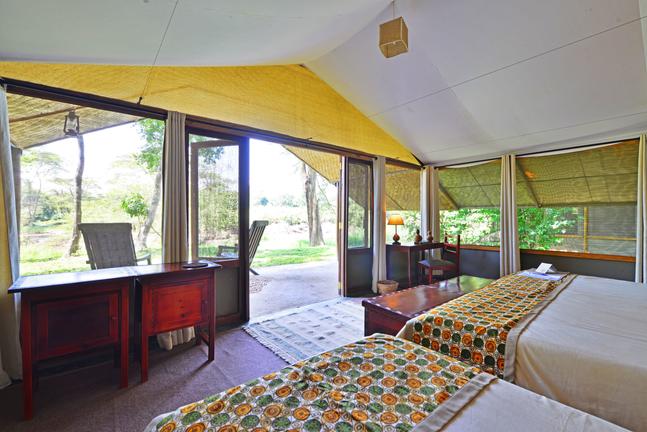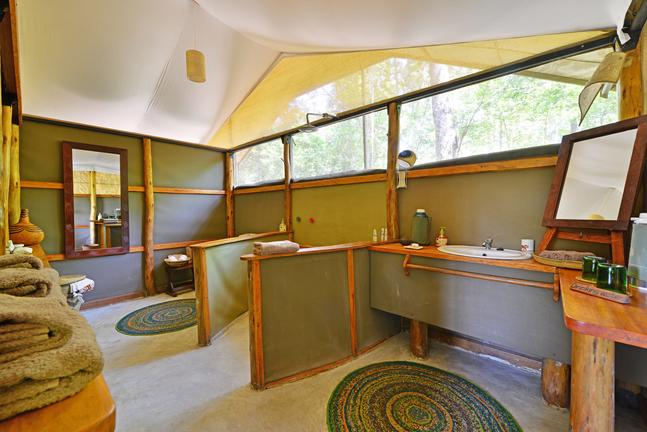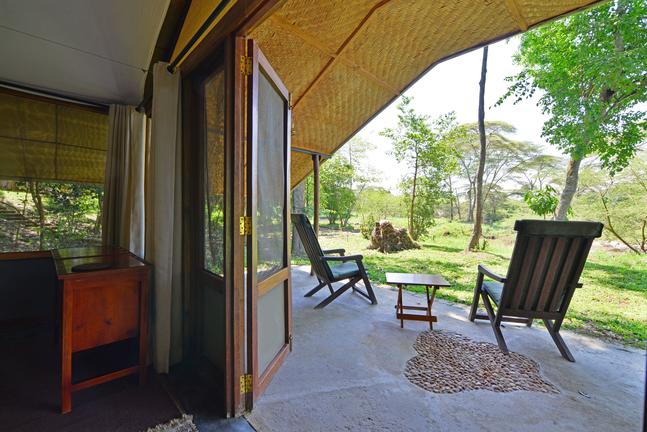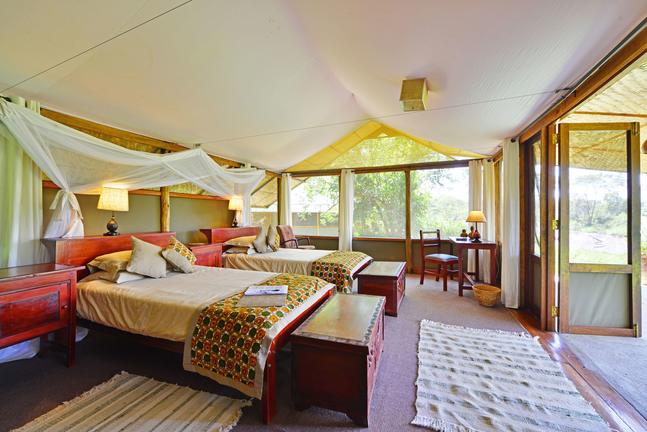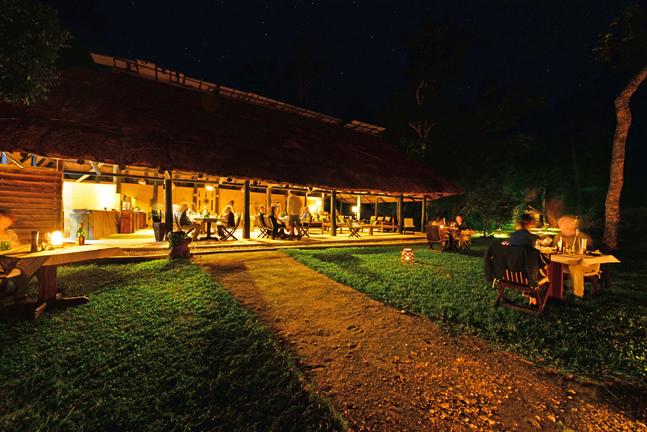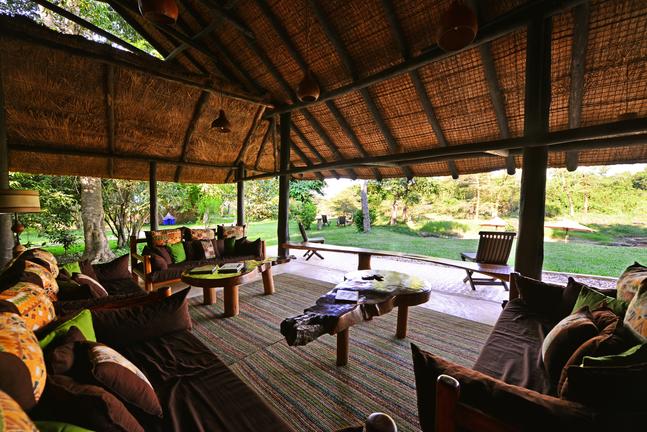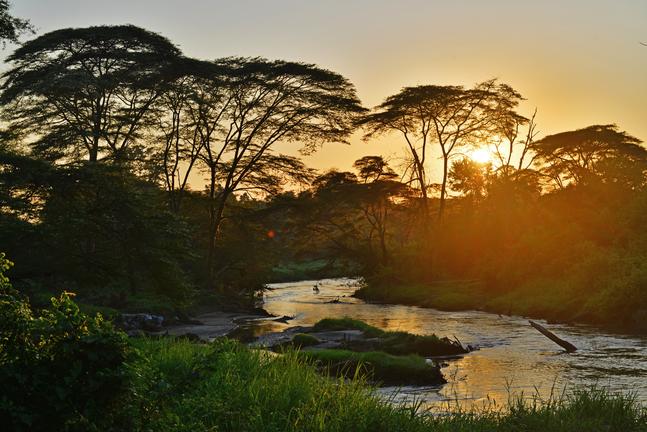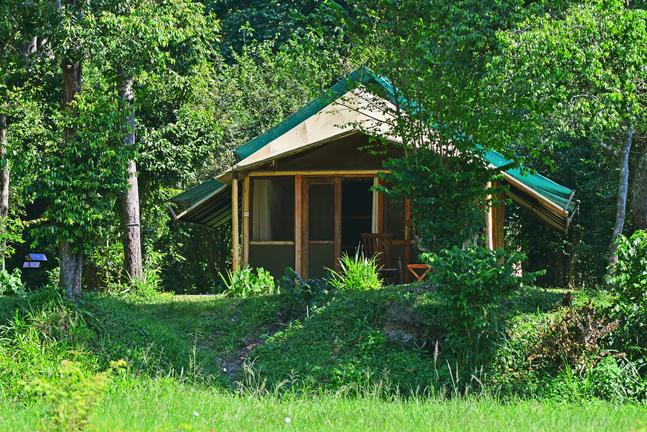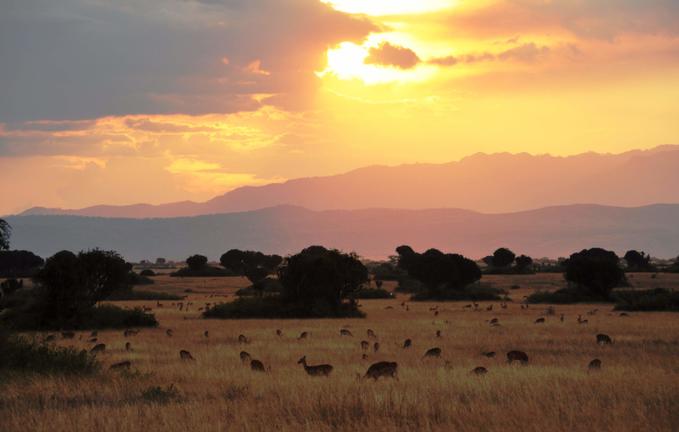 Your Stay
1 Night
Full Board Plus - Dinner, Bed, Breakfast, Lunch and Activities
Fast Facts
Lodge
No. Rooms: 10
Special Interests: Birding, Fishing, Nature, Relaxation, Wildlife
Mahogany Springs Lodge
| Bwindi Impenetrable Forest
Mahogany Springs is situated in one of the most intimate, secluded, beautiful and most importantly natural settings in the world and only around 2 minutes away from the Gorilla tracking starting point.
All the rooms at Mahogany Springs are high end suites. All Suites can be twin, double or triple. There is 24/7 power in all the rooms. All rooms have large en-suite bathrooms with a gorgeously designed open terracotta shower.
All 12 luxurious suites have their own private terrace with magnificent panoramic views over the grounds, river and surrounding areas.
The main dining area is exquisitely furnished and with panoramic views beyond the lodge's own gardens you will enjoy dining in a tranquil and unrivalled setting. The service provided is as much an art form as the food therefore, the staff are trained to very high standards. Within the main building there is a stunning bar where guests can sit all day and night trying one of the many cocktails or simply a bottle of fine wine. Most of the produce used at Mahogany Springs is grown on site to provide guests with the freshest ingredients.
Images
Video
Rooms
Units
Facilities
Activities and Services
Restaurants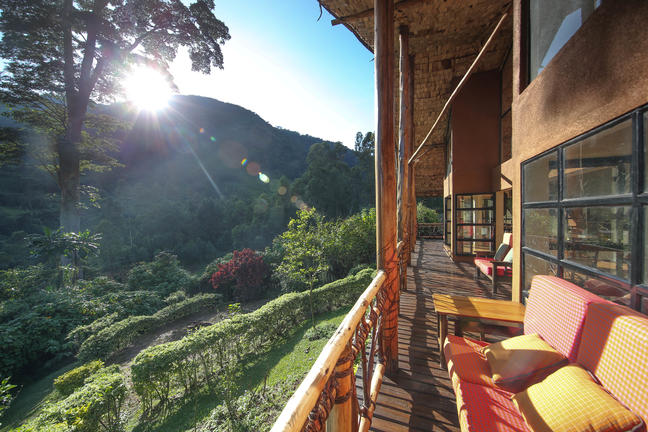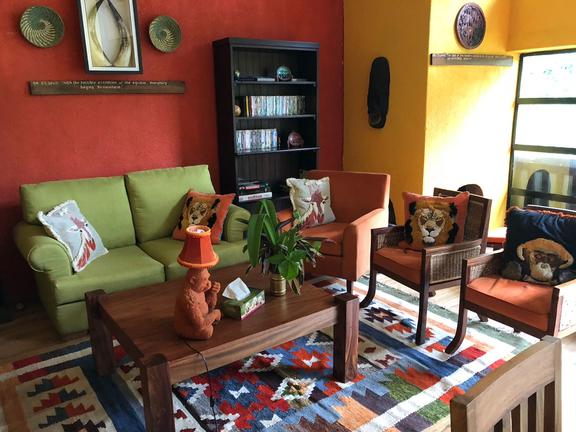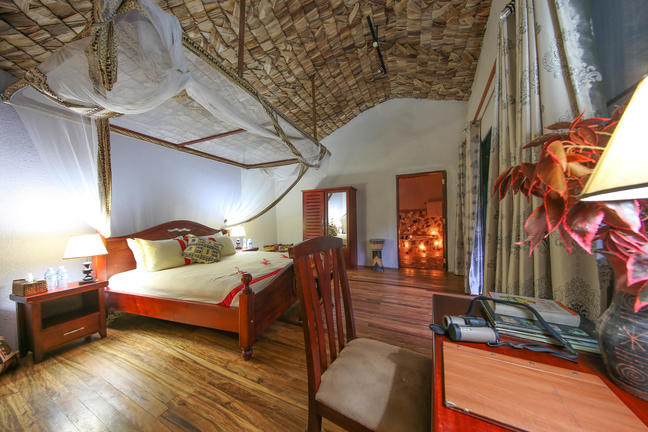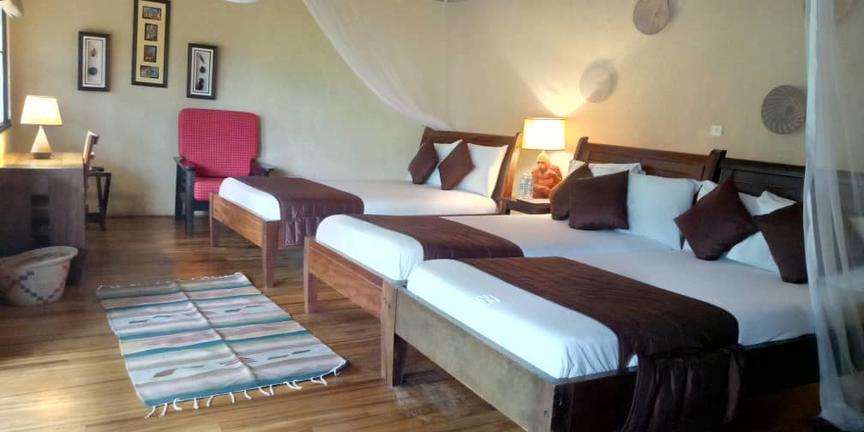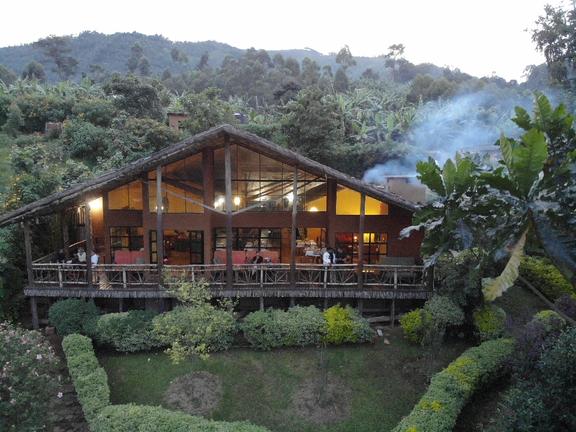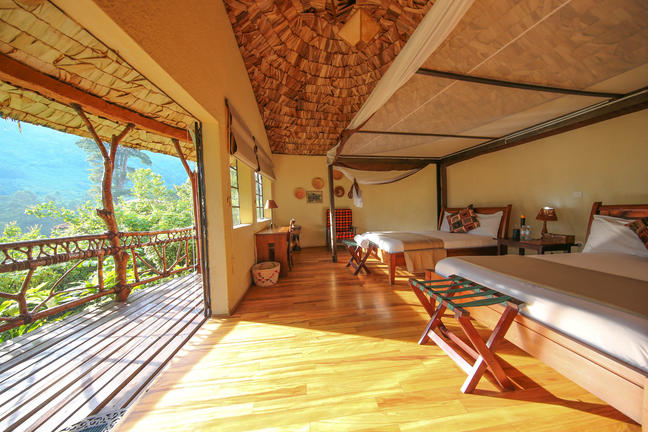 Your Stay
2 Nights
Full Board Plus - Dinner, Bed, Breakfast, Lunch and Activities
Fast Facts
5 Star
Lodge
Spoken Languages: Afrikaans, Chinese, Dutch, English, French, German, Indian, Italian, Japanese, Portuguese, Russian, Spanish, Swahili
No. Rooms: 12
Special Interests: Adventure, Big 5, Birding, Cycling, Flora, Gourmet, Hiking, Indigenous Culture / Art, Leisure, Nature, Relaxation, Star Gazing, Wildlife, Wine
Tiloreza Volcanoes Ecolodge
| Volcanoes National Park
Tiloreza Volcanoes Ecolodge is located in Musanze and serves as an ideal base on which to explore the Volcanoes National Park. The lodge offers 13 bedrooms and a VIP cottage, all comfortably furnished and feature modern amenities. To enhance the experience, guests can make use of the onsite restaurant, pool, traditional sauna and a steam sauna.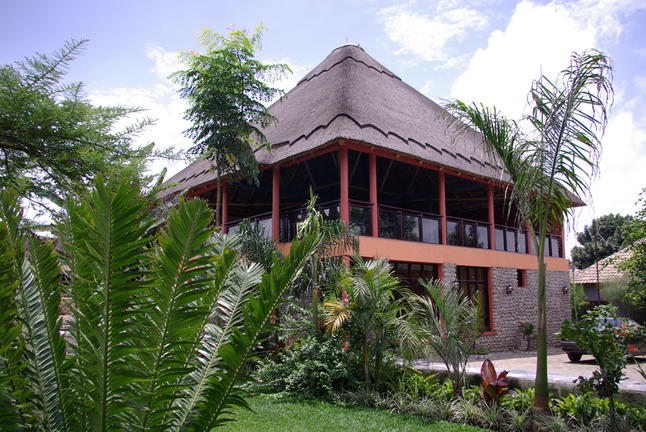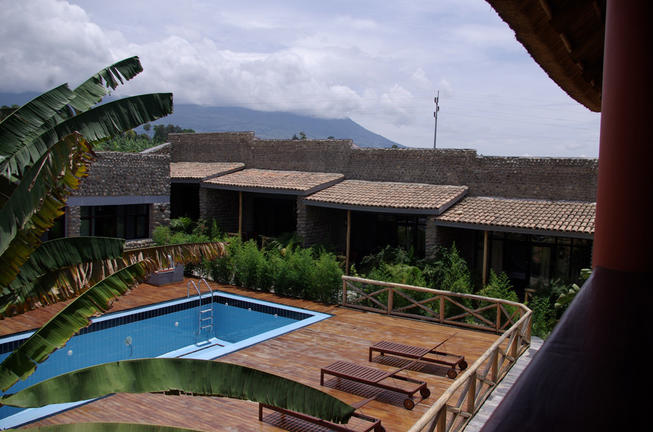 Your Stay
1 Night
Full Board Plus - Dinner, Bed, Breakfast, Lunch and Activities
Kisiwa House
| Stone Town
Kisiwa House was constructed in 1840 by Nassor ibn Abdullah Al Barwani. A rich and influential Omani merchant. The property was amongst one of the first buildings in Stonetown. It was built during the reign of the greatest 19th-century sultan of Oman, Said ibn Sultan, who made Zanzibar his main place of residence in 1837.
Kisiwa House has been in the same family for generations; it has been recently renovated into a luxury boutique hotel. The impressive wooden staircase and the brass-studded door date back to its construction 170 years ago. Faithfully restored and lavishly embellished with a private collection of antique furniture, brass fixtures, persian rugs and original photographs. The interior design concept is a fusion of authenticity and opulence that reflects the very essence of Zanzibar history.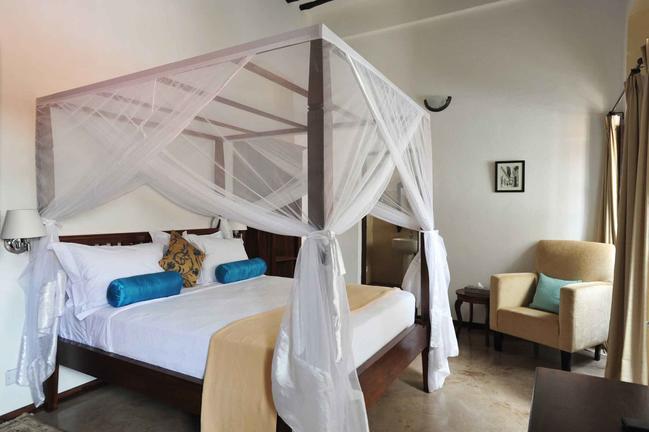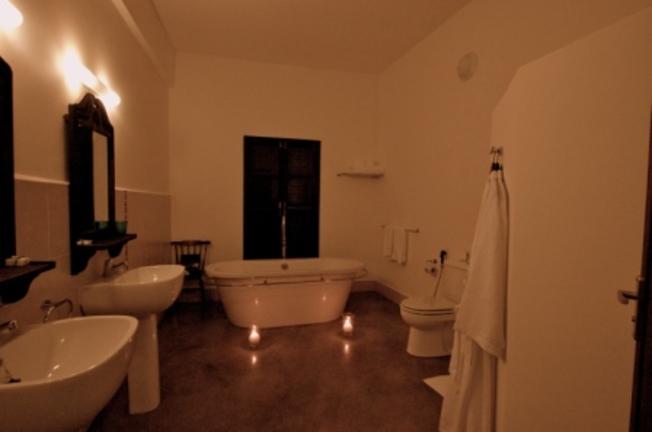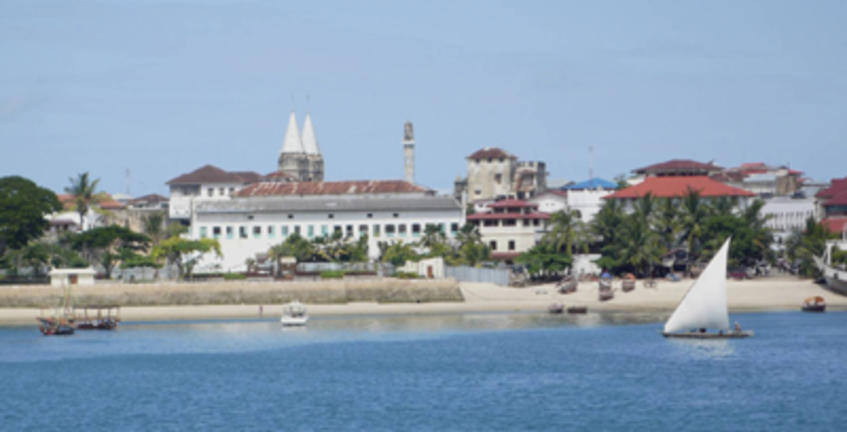 Your Stay
2 Nights
Bed and Breakfast
Villa Fleur de Lys
| Makunduchi
Villa Fleur de Lys is a remote boutique hotel located on Zanzibar east coast in Makunduchi. This newly built 7 rooms boutique hotel overlooking a wide expanse of the warm Indian Ocean as far as you can see, interrupted only by the barrier reef that surrounds the Island. The clean air and Mother Nature surround you as the local boats glide by and the fisher-women gather the daily catch. At night you can sit under a canopy of bright stars.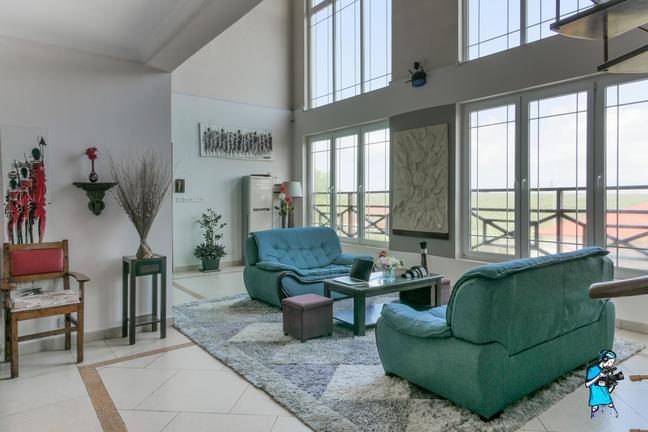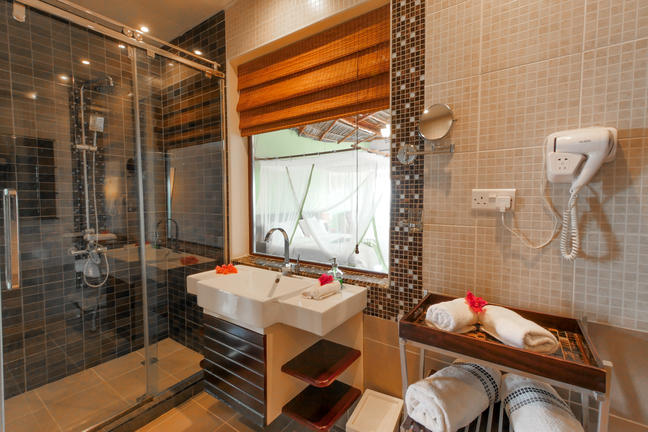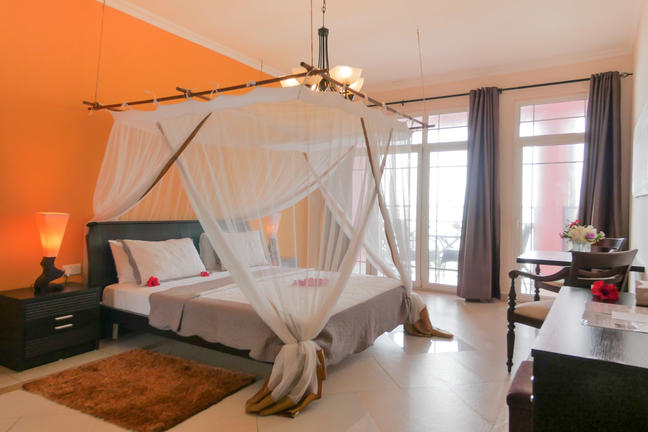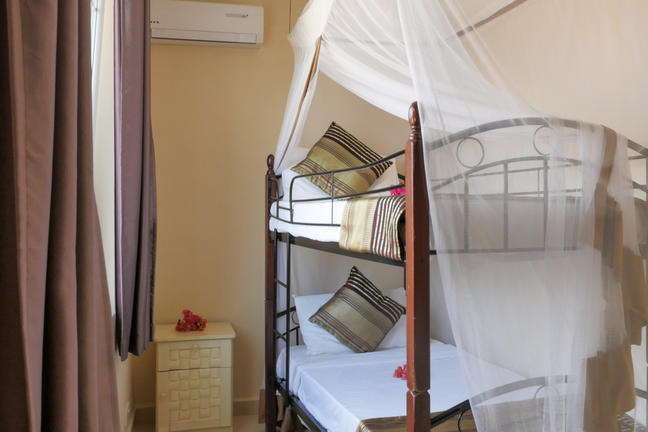 Your Stay
3 Nights
Bed and Breakfast