Etosha King Nehale Gondwana Collection Namibia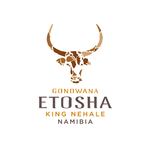 Etosha King Nehale Gondwana Collection Namibia
1:48


Découvrez le nord de la Namibie et passez la nuit à l'Etosha King Nehale
Strikingly set on the Andoni plains, one kilometre from Etosha National Park's King Nehale gate is Etosha King Nehale. The lodge effortlessly portrays the shape of an Nguni cattle head, with chalets stunningly furrowed to the north and south, from the central area like a bull's horns. Upon walking into the reception and curio shop, boma and dining areas, the Oshiwambo ethos is intriguingly evident from colours, fabrics, cutlery, chandelier, table engravings with impactful proverbs and other embellishments.
1:34


Etosha King Nehale
Top Namibian Destination - Etosha King Nehale: Welcome to the gateway to the northern reaches of Namibia. Our new property is just 1km north of the King Nehale Gate on the northern border of Etosha National Park. These 40 rooms pay homage to the rich cultural heritage of the various kingdoms across the world. Including the animal kingdom and Namibia's very own Aawambo Culture. Make your next booking at Etosha King Nehale.
3:09


Etosha King Nehale
Des développements passionnants sont en cours. Gondwana Collection Namibia ouvre un nouveau lodge à 1 km au nord de la porte "King Nehale", à la frontière nord du parc national d'Etosha. Etosha King Nehale accueillera 40 chambres, qui rendront hommage au riche patrimoine culturel de la région. Le lodge est situé dans le King Nehale Conservancy.
3:12


Etosha King Nehale
King Nehale/Gondwana Collection Goes North