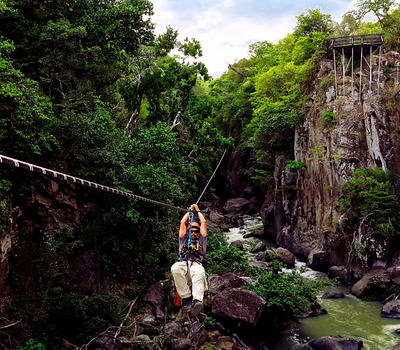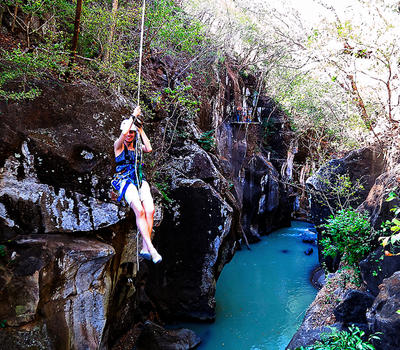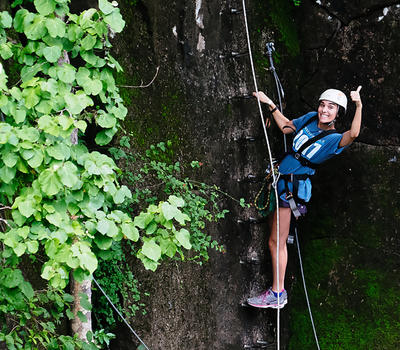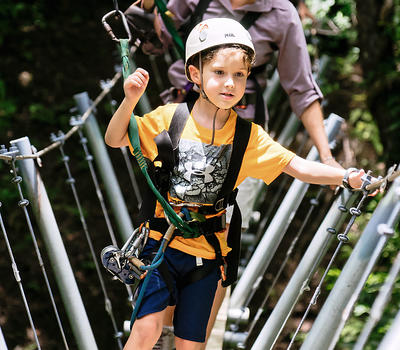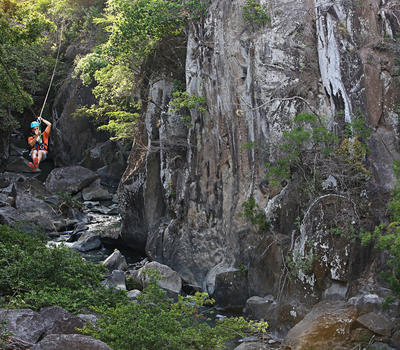 There are hundreds of zip line tours throughout Costa Rica, but none like the ones we offer at Rio Perdido. The main stage of any zip line tour is the view. Nothing compares to sailing through our Rio Blanco canyon. We sought the expert advice and guidance of renowned adventure designers resulting in zip line perfection! The sequences of our tour will both please and surprise you with delight. Our extraordinary-based adventure includes 15 platforms, including 6 rock-based platforms and 9 suspended from the canyon walls, a pendulum cable. a 15- meter ""Tarzan swing"", a 27-meter challenge bridge, 4 via ferratas with lengths varying from 5 meters to nearly 15 meters, and 5 zip lines with varying lengths from 80 meters to over 245 meters.
Minimum age: 5 yrs
Schedule: 9:00 am, 10:30 am, 1:30 pm, 3:00 pm
Mostrar más
Mostrar menos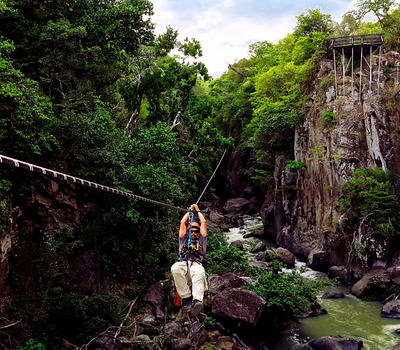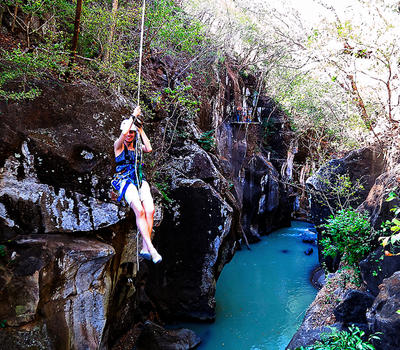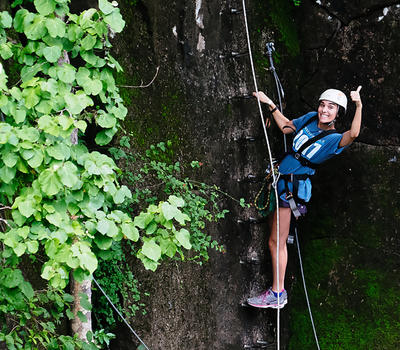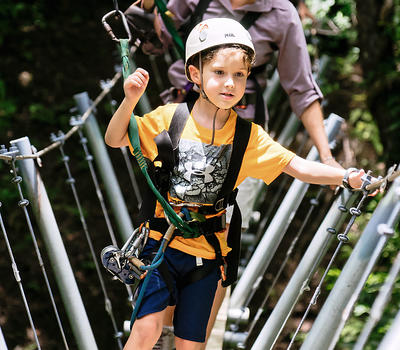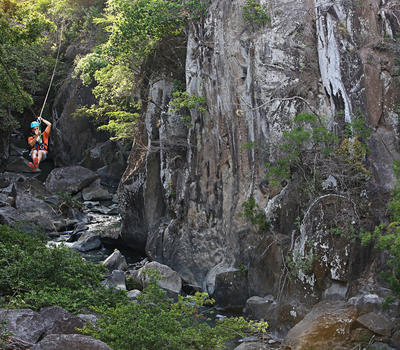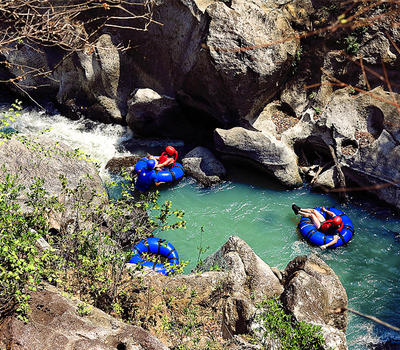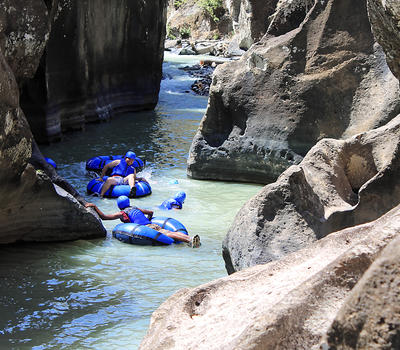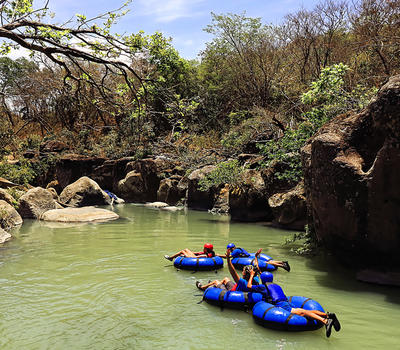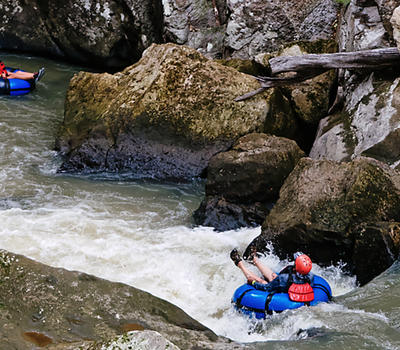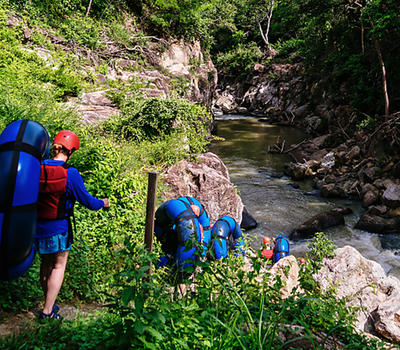 Rio Perdido's white water tubing is beyond compare! Picture yourself surrounded by our white canyon walls as you glide through the magical waters of Rio Blanco. We use the most modern equipment available to assist you in safely traversing the river while the magic of the canyon teases your senses with ultimate joy.
There are sections of the canyon where the rock walls narrow, and daylight is scarce for just long enough for your heart to race with excitement. Echoes grow louder as you continue through the canyon, and if you remain quiet for a bit, you will find that you are not alone. Birds, monkeys, and, occasionally, some larger mammals will announce their presence. This is a nearly indescribable and rare experience to be at one with nature.
Please note that this activity may not be suitable for everyone. While a slow float will take you through most of the trajectory, there are several intense rapids along the way. There is always a chance of making contact with some of the exposed rocks, resulting in bruising and even minor cuts. This is more likely to occur in the dry season, when the current slows and the water level drops, as more rocks become exposed.
Minimum age: 12 yrs
Schedule: 9:30 am, 11:00 am, 2:00 pm
What to bring: Sunscreen and mosquito repellent
Requirements: the use of closed-toe or sports shoes is mandatory
Mostrar más
Mostrar menos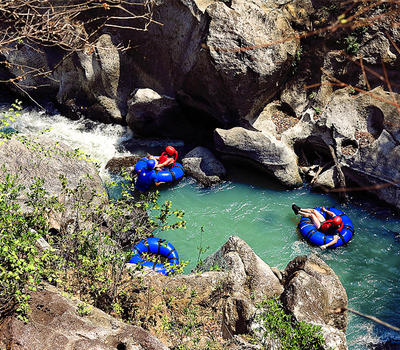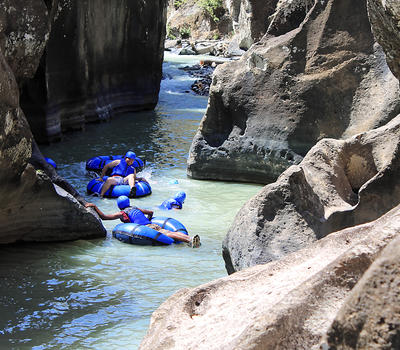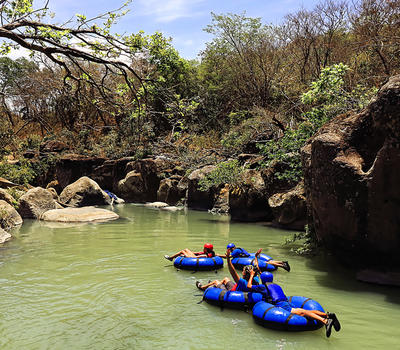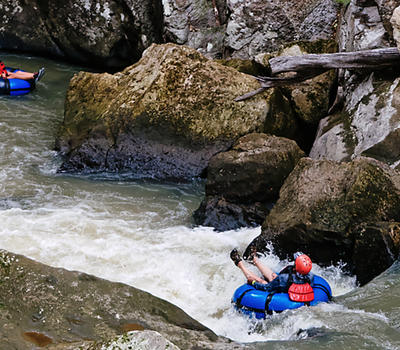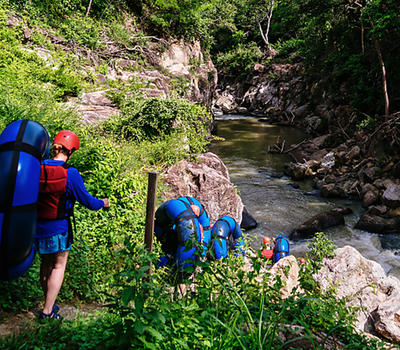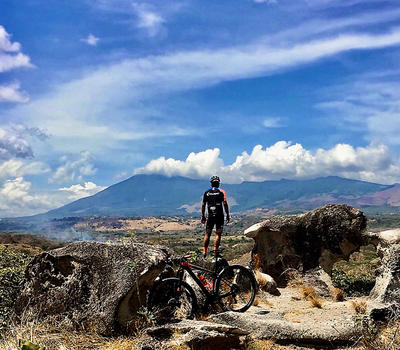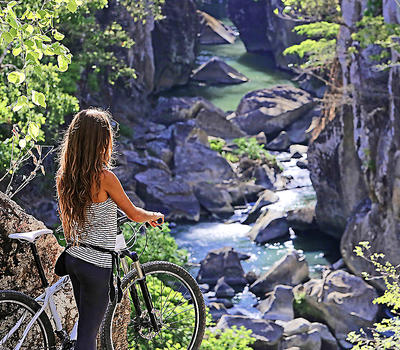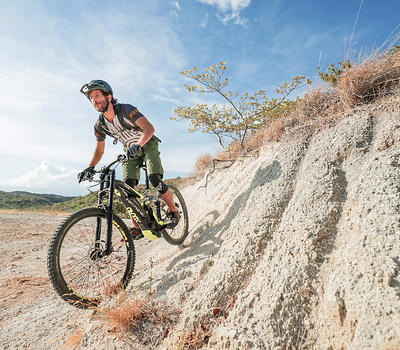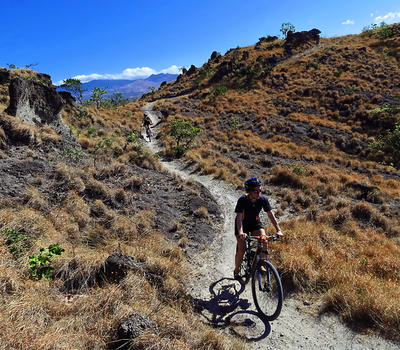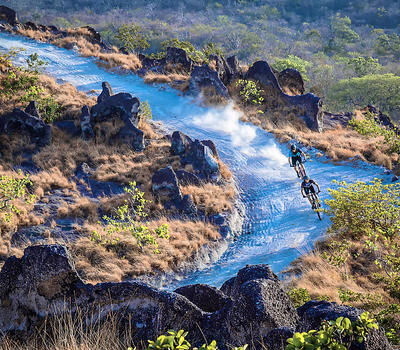 Mountain Biking Guided Excursion
Our MTB trail system is open for riders with their own bikes, runners, and hikers.
Mountain bike-guided experiences go from 1 hour to longer rides and including a sunset experience. Advance reservations are required for a guided experience
Rocks Trail Adventure
Costa Rica offers a varied trail topography that generally includes dirt, gravel, loose rocks, and some mud. At Río Perdido, the trail surface is quite different. Most of the terrain features solid rock, making the rides fun, fluid, and a good grip. Many visitors have referred to our trails as "tropical slippery rock" and to this specific area as South Moab.
The private MTB trails at Rio Perdido are located within a very unique 600-acre dry forest preserve. This is an even rarer form of the tropical dry forest where you will find many unique flora and fauna. On any trip, you can see all kinds of reptiles and mammals. You will surely see beautiful native trees such as the giant espavel, quebracho, guapinol and nance among others.
The trails will take you through the densest parts of a primary forest into the interior of the thermal canyons, and then upwards, to the rocky plateaus of the reserve, which offer impressive views of the Miravalles canyon. It is practically guaranteed that you will see the three main volcanoes of Guanacaste. Whether you choose a short route or go for longer adventures, you will traverse a varied landscape, which always makes for a great experience. First-time Rio Perdido adventurer, Be prepared to stop for a bit to soak up the scenery and snap photos if you like!
Includes: Guide, bike, helmet, hydration, basic insurance, seat adjustment, and instruction
Appropriate age: 15 - 65 years old, minimum height 5´5´´
Schedule: 7:30 am or 3:00 pm
What to bring: Sunblock and comfortable clothing
Requirements: Appropriate sports shoes. Clip-in shoes are not recommended unless you are an expert.
Level of difficulty: Intermediate to advanced
Epic Adventure
An option to share as a couple or family to end a day in Rio Perdido. We will take you on a gentler tour to appreciate the sunset from a viewpoint. During the tour, pictures are taken and will end with a toast at sunset or back at the hotel.
Duration: 1.5 hours
Includes: Guide, bike, helmet with LED flashlight, hydration, sunset toast with bubbly, photo pack, basic insurance, seat adjustment, and instruction
Appropriate age: 15 - 65 years old, minimum height 5´5´´
Schedule: 4:30 pm
Requirements: Appropriate sports shoes. Clip-in shoes are not recommended unless you are familiar with them.
Level of difficulty: Intermediate to advanced
Mostrar más
Mostrar menos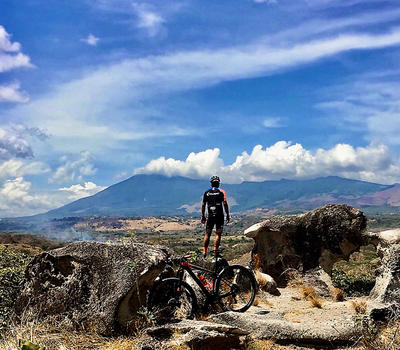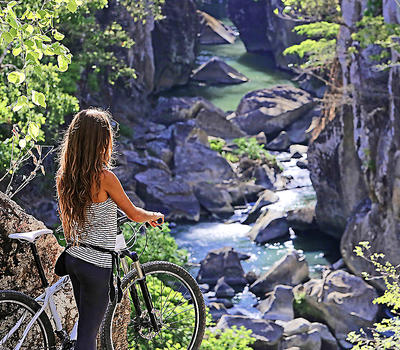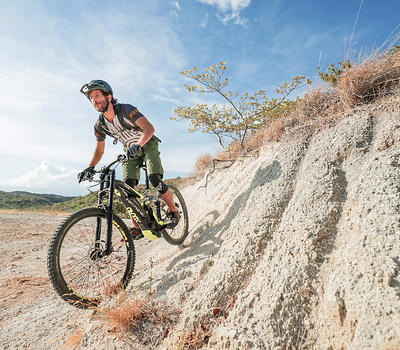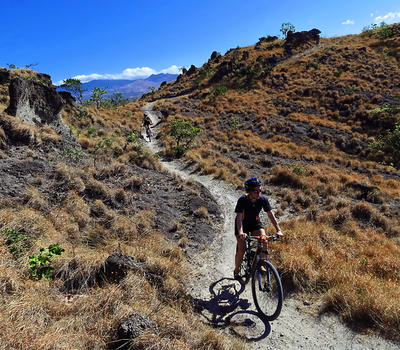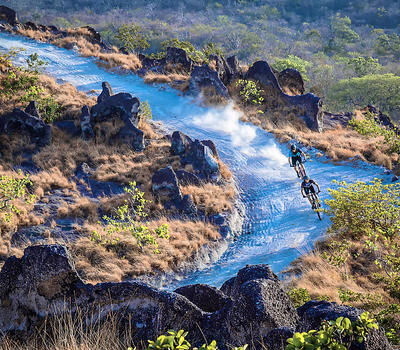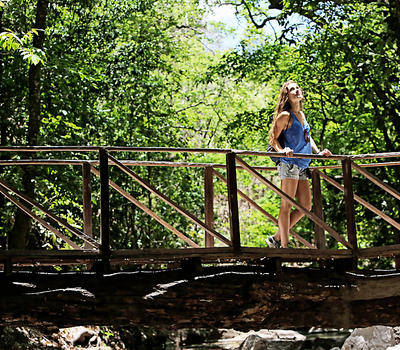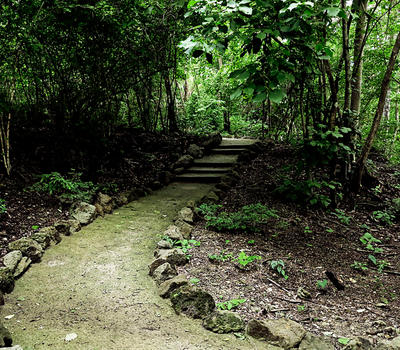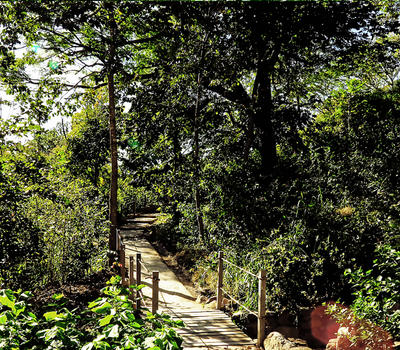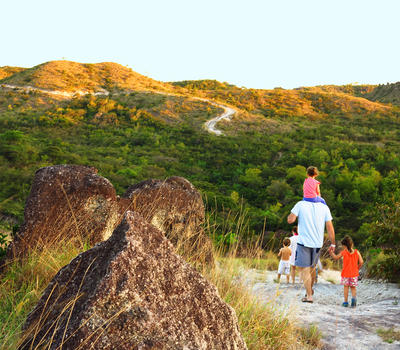 The Medicinal Spring
This hike is 2.5 kilometers out and back. This relatively flat trail takes you on a trek beyond the Yurro Waterfall, through the Miravalles dry forest and then to a denser and taller forest where the spring and streams are found. Long-time residents of the Montano and Santa Fe areas consider this water to have healing properties. The water tastes a bit like Alka-Seltzer, which is due to the high concentrations of diluted magnesium, according to our lab testing.
Mesa Norte - Panoramic Lookout
The total distance of this hike is 3.5 kilometers out and back. The walk begins with a gentle ascent through the woods, leading to an uncovered trail and then to a steeper climb for the last 250 meters before arriving at a small, flat mesa. From the top, you can see all of the Guanacaste volcanoes, including the Miravalles, the Rincon de la Vieja, and the Tenorio. Because of the complete absence of artificial illumination, this is a fantastic place to stargaze, to see the lit domes that mark the distant urban centers, and to appreciate 360 degrees of undisturbed nature under the moonlight. The view from here is heavenly!
Las Tumbas - Panoramic Lookout
The shorter version of this walk is 5 kilometers out and back, with the option of an 8-10 kilometer loop for those desiring a more challenging hike. The views are comparable if not more impressive than those you can appreciate from Mesa Norte. The eroded volcanic rock formations in this area are incredible to see. We strongly recommend that you request one of our well-trained guides to accompany you on this trek. Their experience is needed so that the timing of your hike gets you back to the hotel before dark.
Mostrar más
Mostrar menos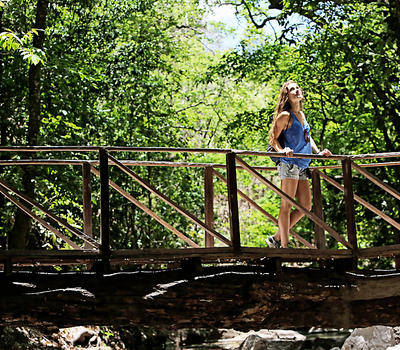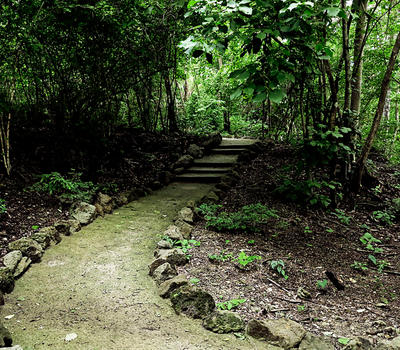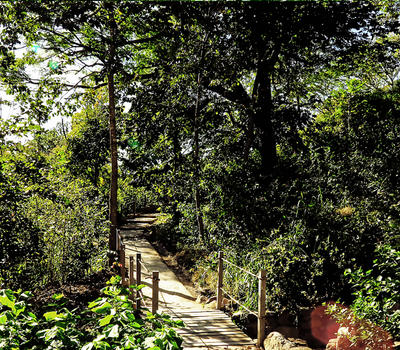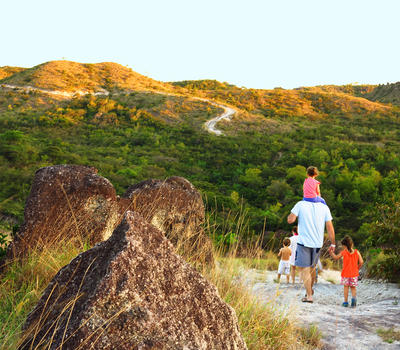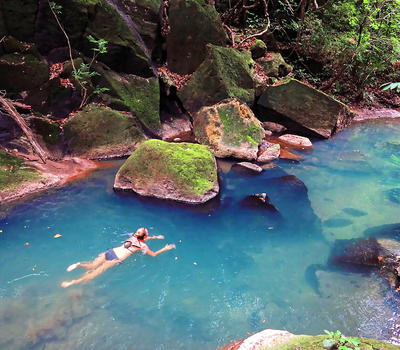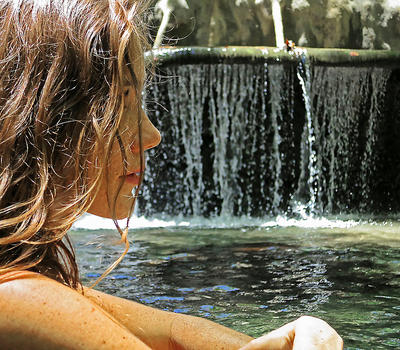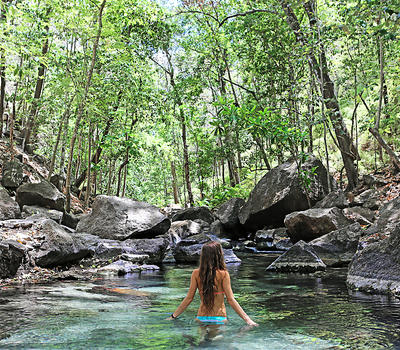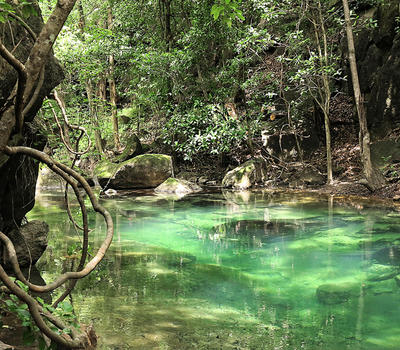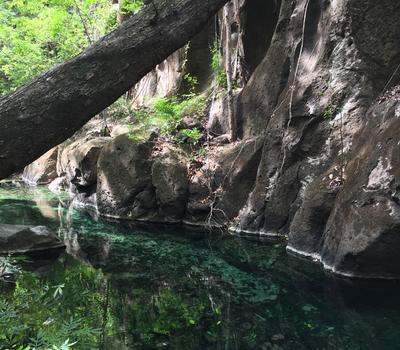 The centerpiece of the 600-acre private reserve is the Rio Perdido, which means "lost river". The 160-foot, thermo mineral gorge. Over 4000 gallons of hot water emanate from 8 registered springs, mixing with the river's cool flow. We have been blessed with dozens of soothing pools of varying temperatures - perfect for prolonged bathing - with cool swimming water just upstream.
Mostrar más
Mostrar menos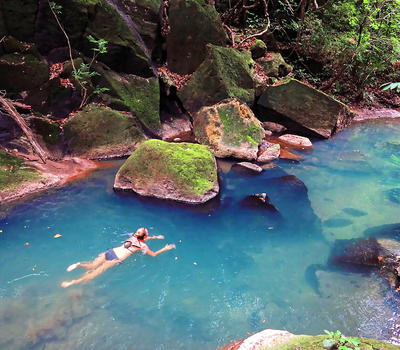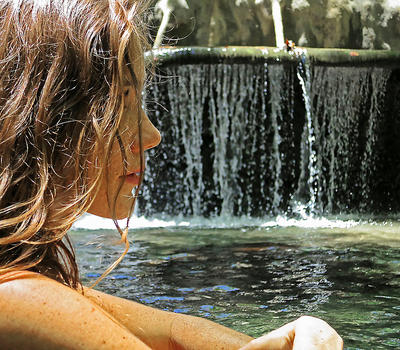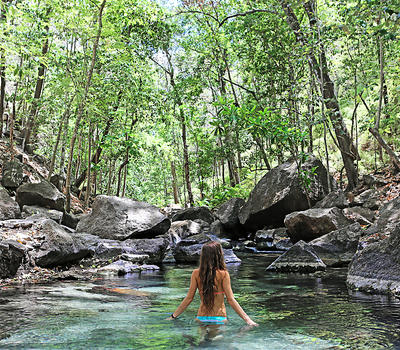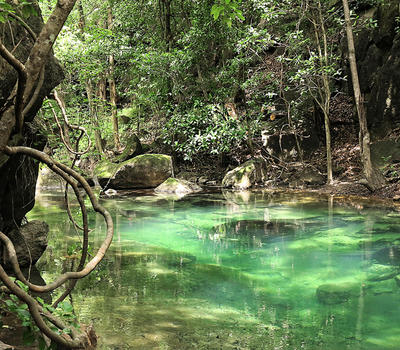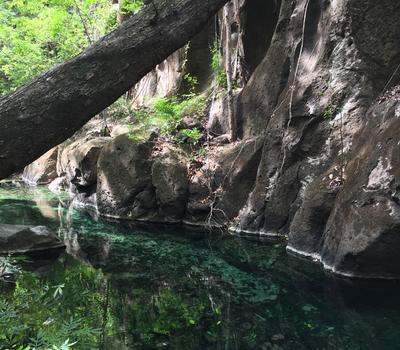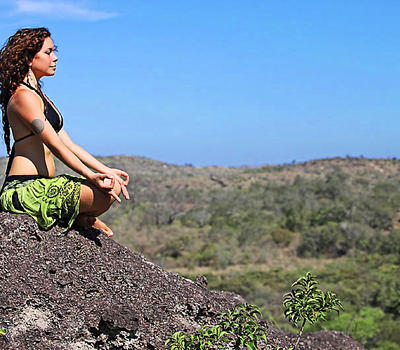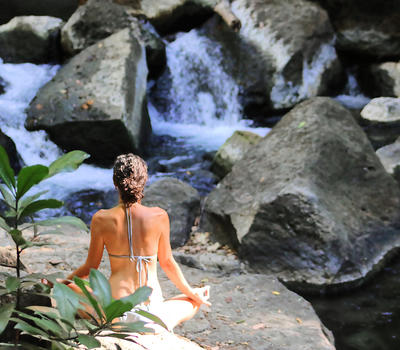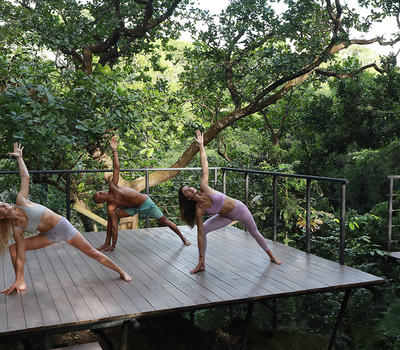 Our cliff-side pods are taking yoga to the next level as a part of our "meditation done right" initiative. The new feature is composed of three pods, nestled into the cliff side, 140 feet above the thermal river. With a maximum capacity of 7 plus our expert instructor, the pods allow for an intimate meditative experience. The cliffside capsules combine the mindful yoga practice with breathtaking views for a one-of-a-kind experience - yoga in the right setting.
Complimentary yoga classes every day at 8:15 am
Mostrar más
Mostrar menos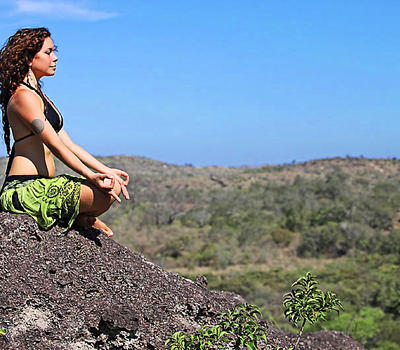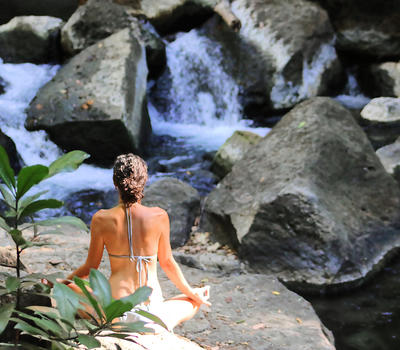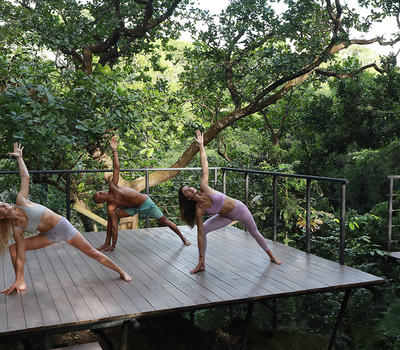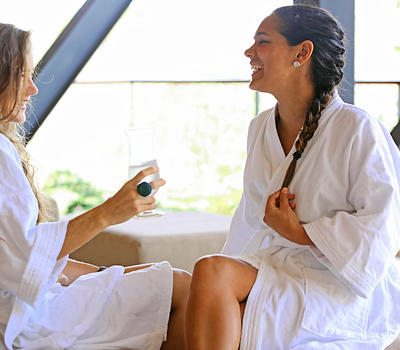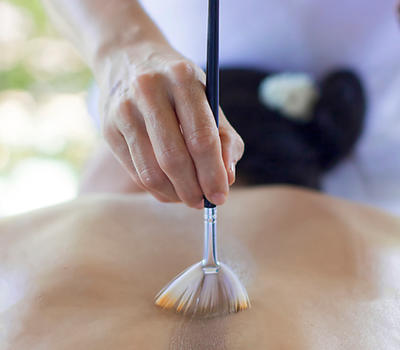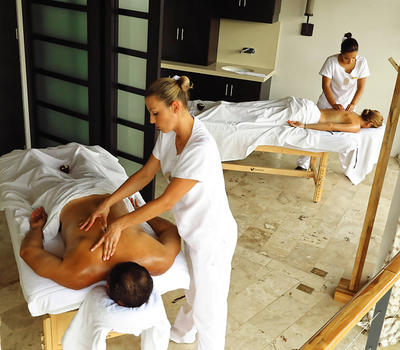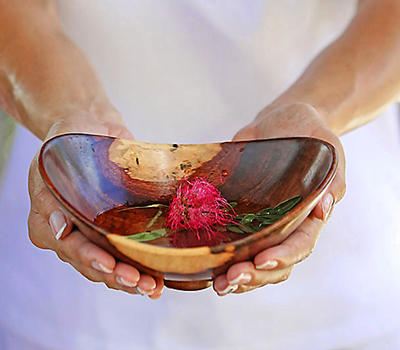 If you want to treat an old injury or just relax, a bath in any of the hot springs will be the ideal start to pamper your body. The newfangled Spa has three rooms for individual massages and a room for a couples massage, offering various treatments that are adapted to the needs of each client.
Choose from pampering, invigorating massages, and facial treatments. Allow our skilled spa therapists to ease tense muscles, refresh your skin, and help you achieve a greater sense of well-being.
Mostrar más
Mostrar menos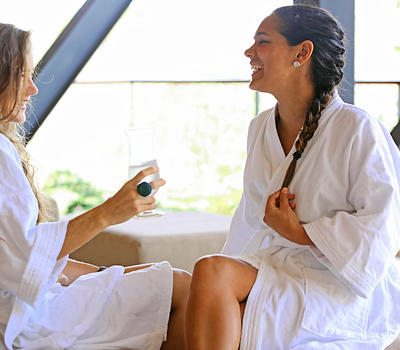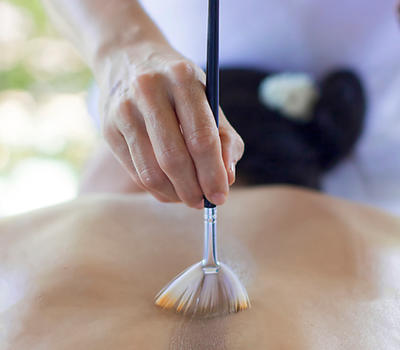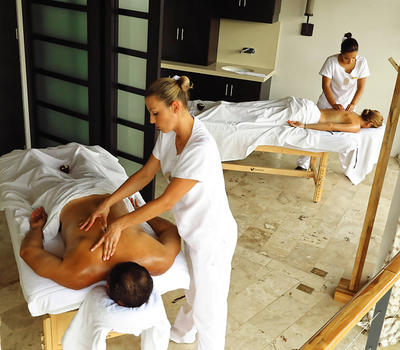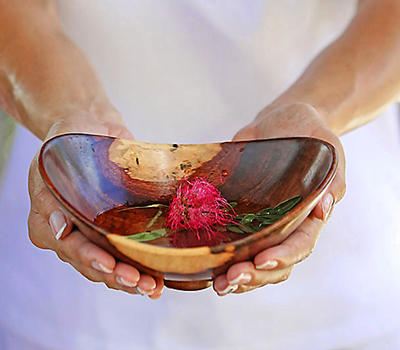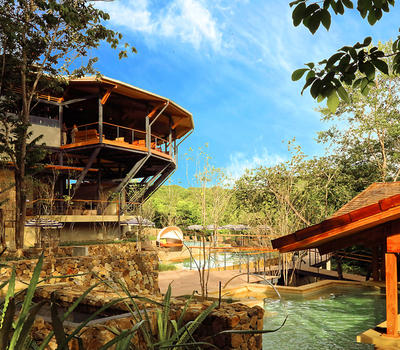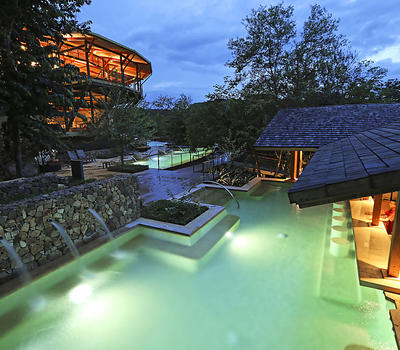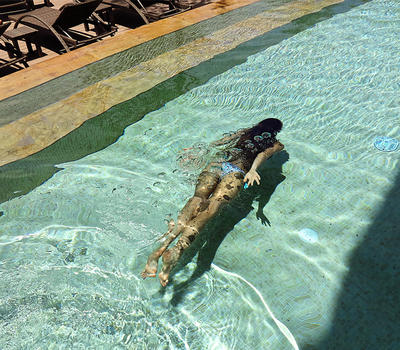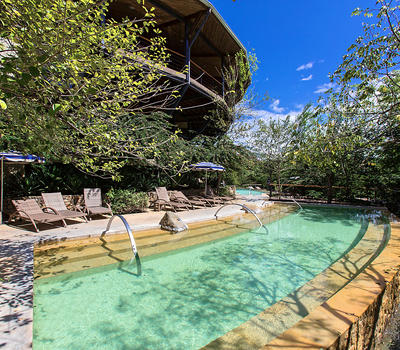 Our thermal canyon and springs allow guests to jump between hot and cold water. Now, our three mineral pools will provide a new space to explore the enchanting variations in temperature the setting allows. A gift from underneath the Earth's surface, the mineral waters are a calming therapeutic experience made possible by completely natural processes.
Mostrar más
Mostrar menos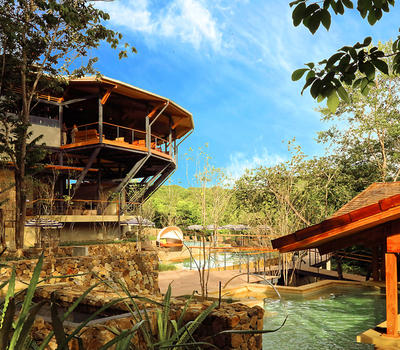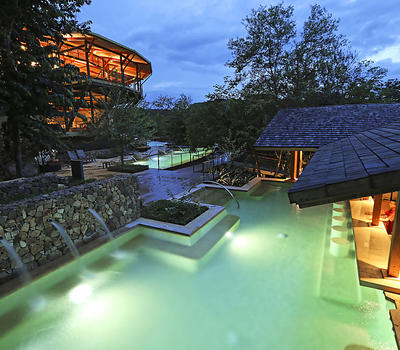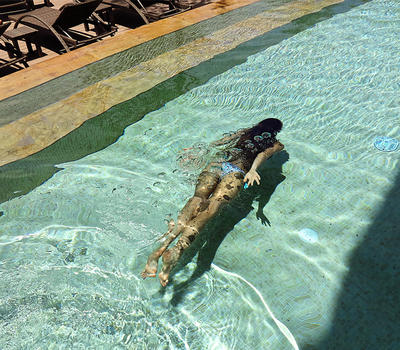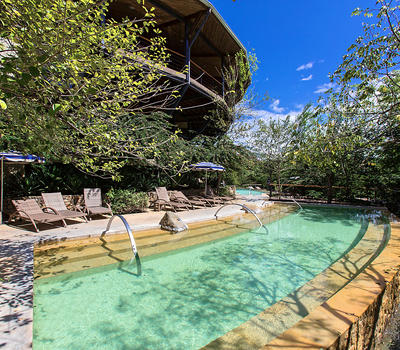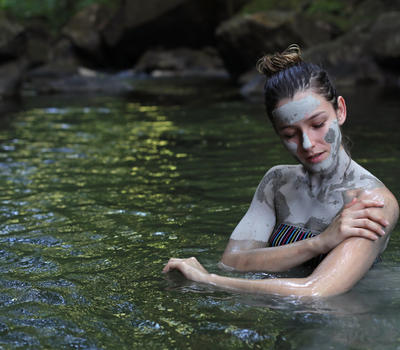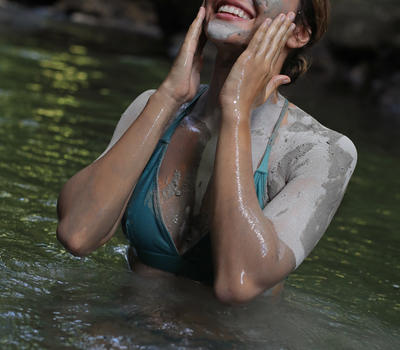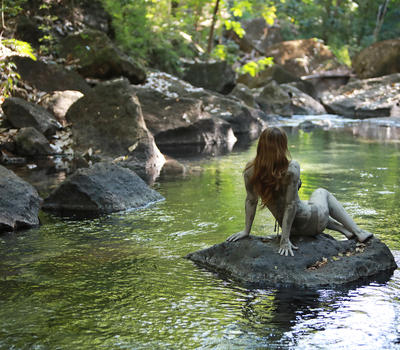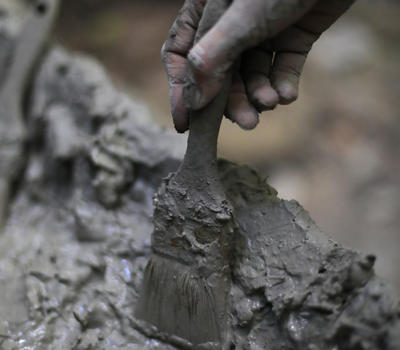 Volcanic mud body-painting
Just south of the main Rio Perdido thermal canyon access is a special hot river pool designated specifically for our signature volcanic mud treatment. The mud must be requested at reception, in advance. Guests are given the mud in natural, carved recipients and also given brushes. The mud is to be applied by your partner, yourself, friends, or anyone else up for the task. We recommend that you allow at least 10 minutes for the mud to properly dry prior to rinsing in the warm river. Please note that this particular, high-quality mud contains many natural compounds, including sulfur, which has a strong odor.
Mostrar más
Mostrar menos