Playa Nicuesa Rainforest Lodge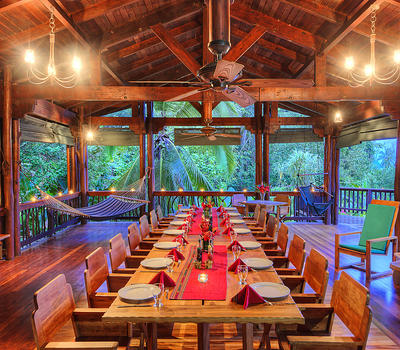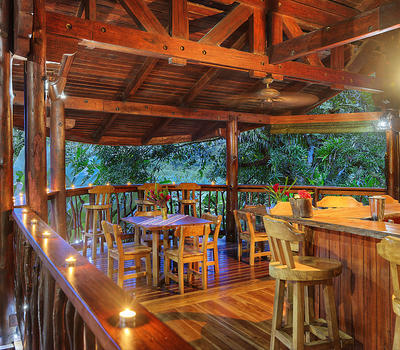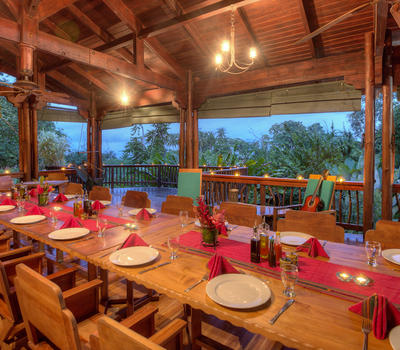 Experience a unique culinary adventure at Playa Nicuesa Rainforest Lodge. Enjoy family-style dining as you gather around the beautiful hand-carved table and share experiences of the day. Masterfully designed like a rustic treehouse, our open-air, canopy level restaurant showcases Costa Rican cuisine with an emphasis on fresh fish, tropical fruits and locally grown vegetables. Our 165-acre preserve abounds with fruit trees bearing mangoes, pineapple, oranges, lemons, papayas, water apples, bananas, and coconuts used to craft simple foods that celebrate the purity of the land and the bounty of the seasons.
Discover a tropical vacation experience with healthy, local cuisine paired with fresh fruit cocktails and sublime views of the ocean and coastal rainforest. You will enjoy three exceptional meals prepared each day by our talented chefs. Savor delicious local foods, such as coconut chicken and beef kebabs prepared with a mango and tamarind chutney. Catch your own fish from the Gulf and let our chefs create grilled creations of yellowfin tuna, mahi-mahi and red snapper. Savor fresh squeezed juices and salsas to enhance your food experience. Dive into desserts such as homemade pineapple pie and organic chocolate covered coconut, both ingredients sourced right here on the preserve! Vegetarian dishes and children's menus are available.
Mostrar más
Mostrar menos