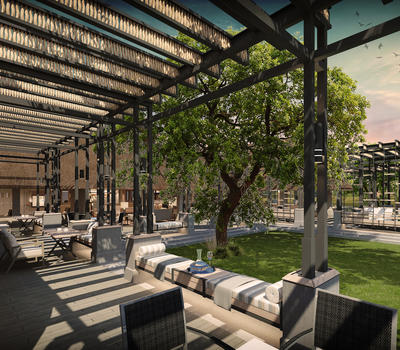 Under thatch and partially open to the gardens the Main Lodge, building overlooks the infinity pool and pool deck with Chobe River views. It features an intimate 36-seat Restaurant serving breakfast, lunch and dinner, a cozy Cocktail Bar & Lounge as well as private Library with its complimentary all day tea & coffee butler station.
Show More
Show Less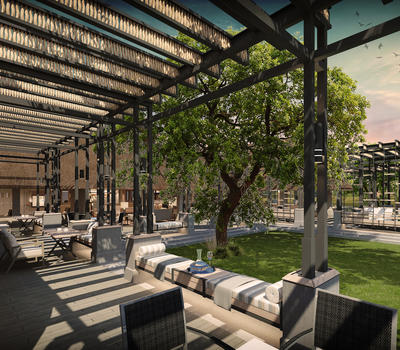 Nestling in the gardens and flowing seamlessly from the main lodge building is Chobe Water Villas' spectacular infinity pool and relaxing pool deck with its amazing and unobstructed views of the Chobe River, Sedudu Island and Chobe National Park.
The Pool deck is sculptured to feature areas for Dining, Lounging, Sunbathing or Socializing around open fires according to a true African tradition, the Safari Campfire, Breakfast, Lunch, Afternoon High Tea and sundowner drinks, dinner and night-caps or "one for the road" can be enjoyed outdoors whilst viewing wildlife along the Chobe River. Its special feature is Conversation Pits, each with an open fire and facing the Chobe River view.
Show More
Show Less
The African Boma is derived from an age-old African tradition . The Boma is an area protectively enclosed by a circular wall of tree trunks and / or tall reeds traditionally used to protect both man and livestock, especially at night, from marauding predators.
Today it has become a traditional "place of eating", open to the night skies where guests enjoy a traditional dinner consisting of a "Braai" (BBQ) prepared over coals and served around a large crackling open camp fire.
Show More
Show Less