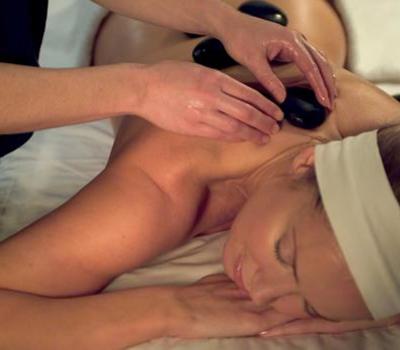 Enjoy the most distinctive spa experience at sea, the exquisite Canyon Ranch SpaClub, where you can enjoy the ultimate in pampering and wellness. The Canyon Ranch philosophy focuses on optimum health - learning how to feel your best every day. Indulge in signature Canyon Ranch massages, treatments and facials from the classic Canyon Stone Massage or Rasul Ceremony, to exotic Ayurvedic or Thai treatments.
Show More
Show Less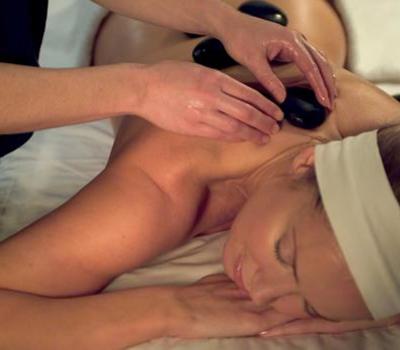 Queen Mary 2 is the only ship to host a planetarium at sea. Take a virtual tour into outer space, view the stars and journey to the moon or take a course on celestial navigation in Illuminations, Queen Mary 2's full-scale Planetarium! Each day sees a new show to tantalise your imagination.
Show More
Show Less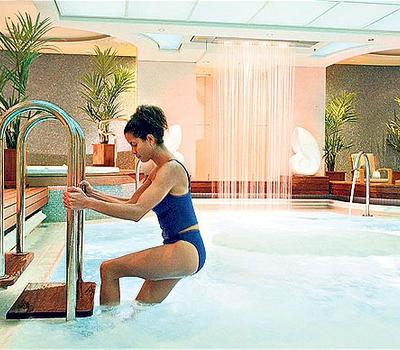 Swimming pools:
There are a total of five swimming pools on board Queen Mary 2, including the Terrace Pool on Deck 8, The Minnows Pool especially for children on Deck 9, the Sun Deck Splash Pool on the top of the ship and our most popular Pavilion Pool on Deck 12 which features a retractable dome for any weather!
Gymnasium:
Our Fitness Centre has views out forward to the covered promenade deck. Open from 6am, feel free to run the treadmill, take to the bikes or try the step machines all before a hearty and well earned breakfast.
Fitness Class:
Choose from a range of activities from relaxing Yoga and Pilates sessions to more energetic 'Funk Aerobics' and Spinning classes.
Show More
Show Less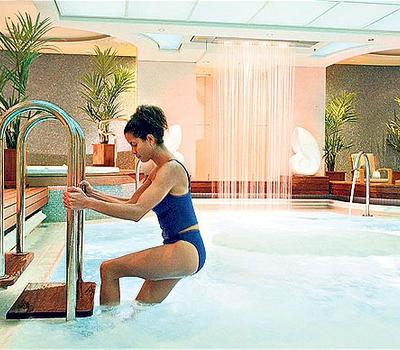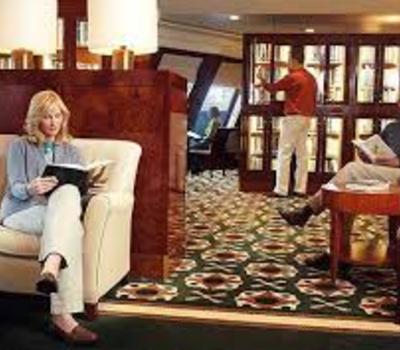 Queen Mary 2 boasts a magnificent library with stunning views over the bow. Settle down with a novel in this peaceful sanctuary. Elegant, lit bookcases, thick carpets and comfortable seating provide a sumptious setting for over 8,000 volumes.
Show More
Show Less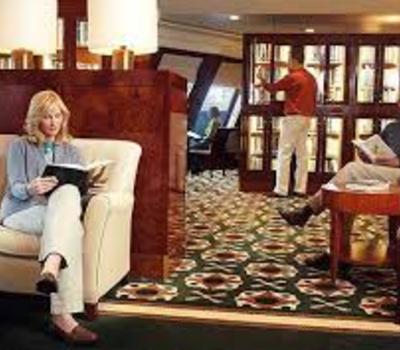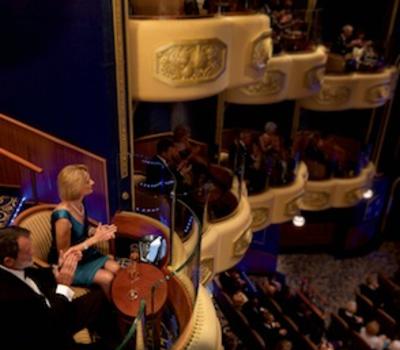 The 1,000 seat Royal Court Theatre, classically elegany in style, offers comfortable surroundings in which to enjoy the very finest award winning entertainment at sea, performed by the Cunard Royal Dancers and Singers.
Lavish productions and musicals are performed in this theatre. Cast your eye over the Martini menu before you take your seat for a thrilling music and dance extravaganza in the magnificent Royal Court Theatre.
Show More
Show Less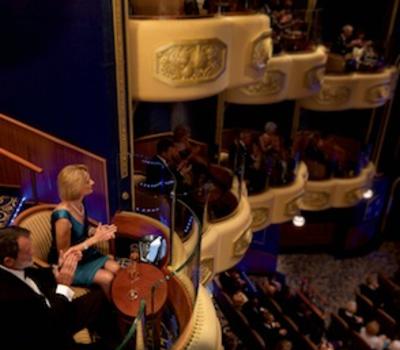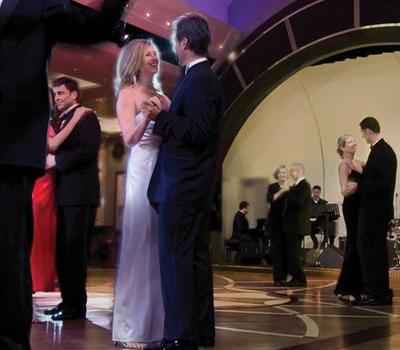 Here is your opportunity to foxtrot in the largest ballroom at sea - The Queens Room. There is no better place to hone your dancing skills than under the dramatic high ceiling with its beautiful crystal chandeliers. The breathtakingly beautiful Queens Room is the perfect venue to enjoy a glamorous Cocktail Party, Captain's Reception or Gala Ball and to attend dazzling affairs such as a Black and White Ball, Royal Ascot Ball or Buccaneer Ball.
Royal Night Theme Balls:
Royal night themed balls in the magnificent Queens Room Ballroom are your chance to don your formal dancing attire and take to the floor in a sea of glittering ball gowns and tuxedos accompanied by sounds from the marvellous orchestra.
Nightclub – G32:
Dance the night away to the sounds of our resident party band and DJ in our fabulous dual-level nightclub. Enjoy popular themed nights from the Sixties, Seventies and Eighties such as Saturday Night Fever and Shake Rattle and Roll.
Show More
Show Less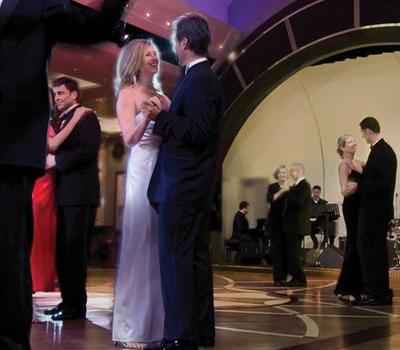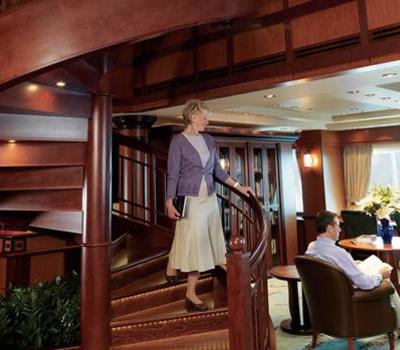 Enrichment & Speaker Programmes
Cunard Insights:
Explore a number of historical and contemporary issues presented by a wide range of speakers including explorers, academics, former ambassadors and politicians, historians and scientists, novelists, biographers and award winning actors and film makers.
Cunard ConneXions:
Cunard ConneXions offers a programme of activities all day every day from watercolour to computer lessons, wine tasting to ballroom dancing as well as bridge and board games.
RADA Acting Workshops:
The RADA actors offer guests the chance to share some of the training they received during their 3 years at this famous drama school. Each workshop lasts 45 minutes, and is creative, informative – and fun!
Show More
Show Less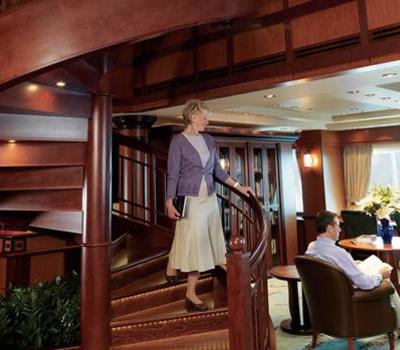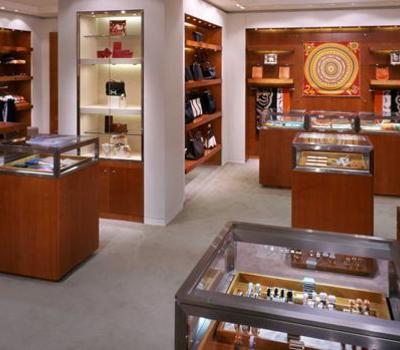 If you fancy a little shopping, fine boutiques centred around the ship's magnificent Grand Lobby, providing a range of products from tempting souvenirs and gifts to exquisite jewellery and designer clothing.
Clarendon Fine Art:
The Art Gallery features originals and lithographs by great 20th century masters such as Dali, Erte and Picasso as well as renowned contemporary artists such as Alexandra Nechita, Howard Behrens and Bill Mack among others. Our knowledgeable Art Director is available to provide information about the artists.
Maritime Quest:
Recall ocean travel's golden heyday at this unique exhibition located throughout the ship's corridors and stairwells. Unveil Cunard Line's proud history from Samuel Cunard's first venture across the Atlantic in 1840 to the building of Queen Mary 2.
Book Shop:
Shop at our beautiful bookshop and souvenir shop, specialising in nautical literature, posters, postcards, collectibles, and memorabilia. Many voyages feature book signings by renowned authors and lecturers on board.
Image Photo Gallery:
Browse the Images captured by our Photographers on your voyage in Images photo gallery. Whether a formal portrait session, at the Captain's Cocktail Party or at the gangway, these pictures of you and your fellow guests are all displayed here for you to view and purchase.
Mayfair Shops:
Enjoy extraordinary shopping from top boutiques and brands such as Harrods and H.Stern, in addition to exquisite jewellery, high fashion and further voyage souvenirs.
Show More
Show Less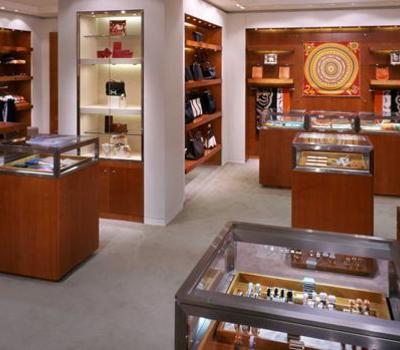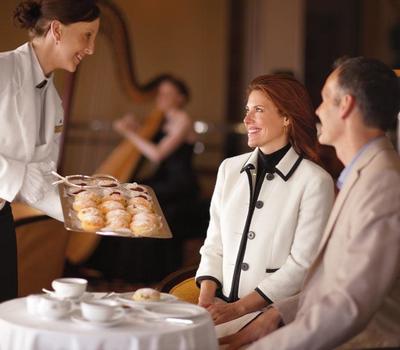 Indulge in this truly British tradition. White-gloved waiters serve decadent fresh scones with cream, finger sandwiches and premium tea in the Queens Room.
Show More
Show Less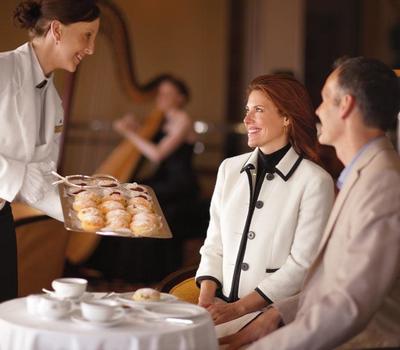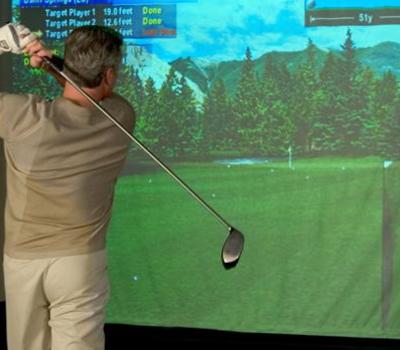 Golf Simulators:
For those with a passion for golf, a 'closest to the pin' competition on our state-of-the art golf simulator with its 51 golf courses to choose from is a must!
Deck Sports:
Master the traditional nautical games of shuffleboard and deck quoits. Challenge friends to a game or join in one of the tournaments advertised in the Daily Programme.
Sports Court:
Get your heart racing with a 'thwack'. Sports enthusiasts can enjoy an energetic game of tennis on the courts on deck 13.
Promenade deck:
Wake yourself up with a brisk walk or breezy jog around our promenade deck. Three laps make a mile.
There is a sports channel on all three ships - Sport24 - which offers coverage of major sporting events including Premier League, Wimbledon, Formula 1, Ryder Cup and many others. Sport 24 will be shown in selected bars and lounges.
Show More
Show Less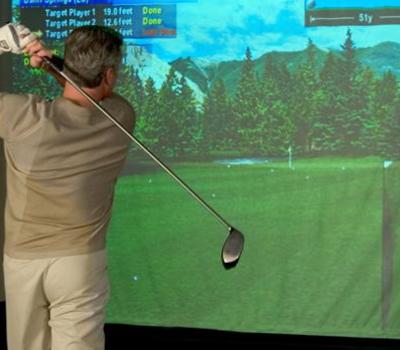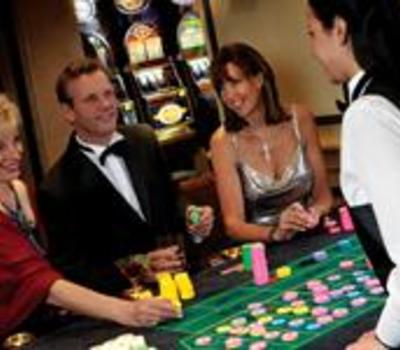 Step into the Monte Carlo-inspired Empire Casino that offers a full variety of opportunities to tempt Lady Luck. Gaming Tables, slot machines and even video poker. Not sure how to play? Then take part in our complimentary gaming lessons.
Show More
Show Less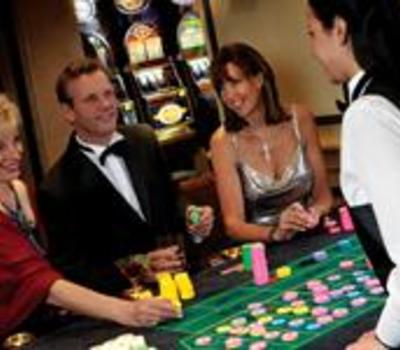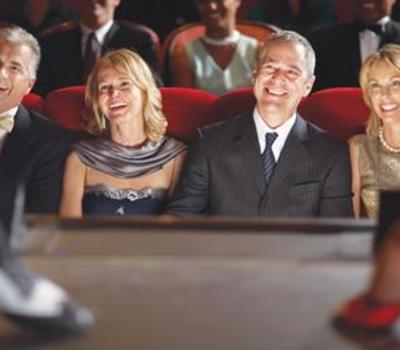 If you are seeking a quieter evening, sit back and relax with a superb collection of movies showing in Illuminations each afternoon and evening. You'll also find a selection of movies throughout the day on your stateroom television.
Show More
Show Less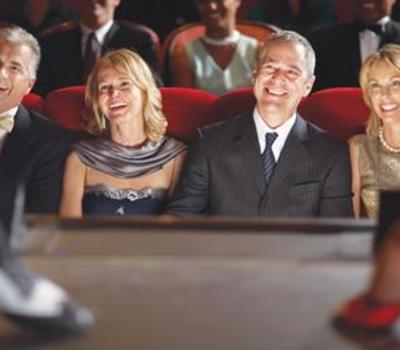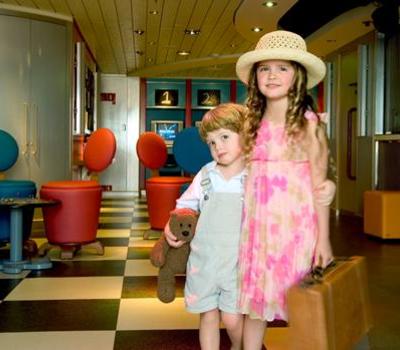 Night Nursery:
The Night Nursery is open from 6.00pm to 11.00pm. This facility is available to children aged 12 months to 23 months and operates on a first come first served basis.
The Play Zone:
The Play Zone is a permanently supervised play area, staffed by qualified early years staff, for children aged 6 months* -7 years. Activities include arts, crafts, books, puzzles and variety of toys and computer games. *Infants aged between 6 months and 2 years are welcome to participate in the Children's Programme with parental supervision.
The Zone:
Supervised by Youth Staff, The Zone is an area designed for 8-17 year olds providing games and activities such as games consoles plus sport competitions, arts and crafts and table tennis tournaments.
Show More
Show Less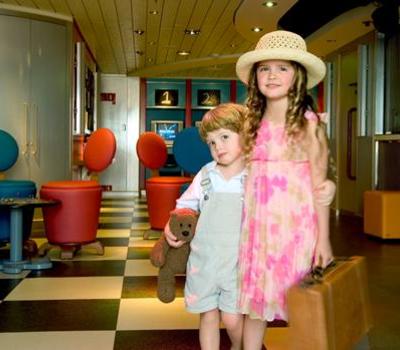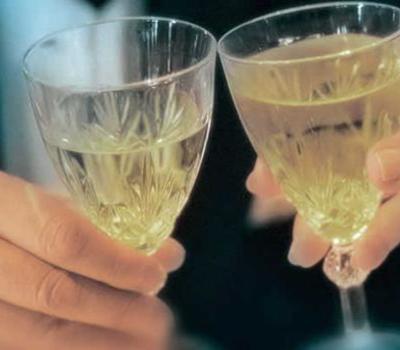 Wine Lectures and Tastings:
Leading winemakers from around the world will be aboard Queen Mary 2's World Voyage to lead fascinating complimentary lectures and outline the exciting wine-themed events due to happen on board. Joining our expert Sommeliers, they will also host tutored tastings (cover charge applies) offering their invaluable wine know-how.
Show More
Show Less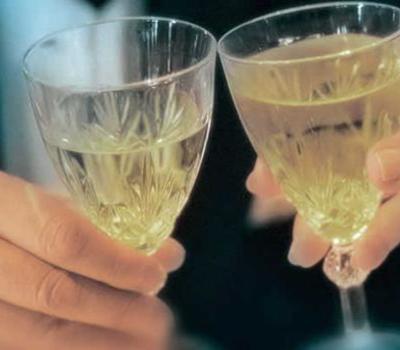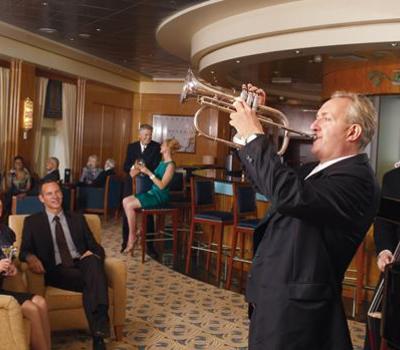 Pianist:
The Commodore Club welcomes you each evening with soft relaxing music from the beautiful ivory keys played by Queen Mary 2's talented resident pianist.
Jazz:
Relax to the sultry sounds of the Jazz band in the Chart Room while you savour pre-dinner canapés and aperitifs.
String Quartet:
The string quartet is the perfect accompaniment to white-gloved afternoon tea in the Queens Room and also sets the tone for the sparkling Royal Night Theme Balls.
Show More
Show Less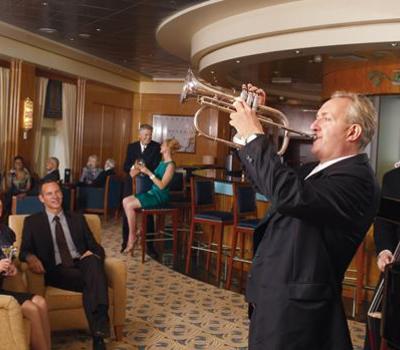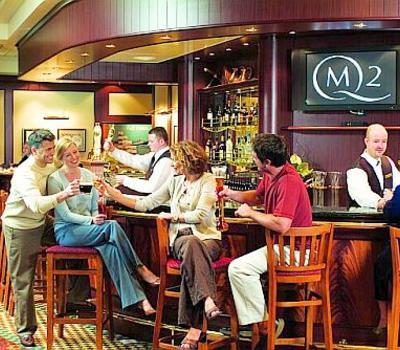 Karaoke:
Do you fancy yourself as an entertainer? In the traditional Golden Lion pub, the spotlight may be on you, as you interpret a track or two during a lively karaoke event.
Quizzes:
Settle down in The Golden Lion with a favourite drink and test your mind in all kinds of trivia in the nightly Pub Quiz.
Show More
Show Less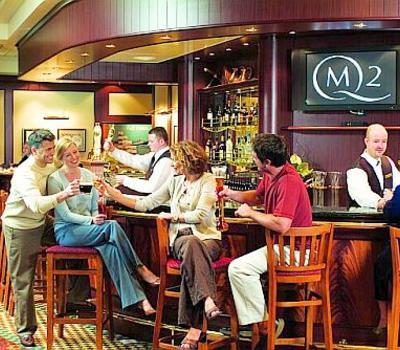 Whether you're looking for a celebratory glass of fine champagne, a post dinner cocktail or a light refreshment during the day, our wonderful bars and lounges are renowned as some of the most comfortable and stylish at sea.
Show More
Show Less