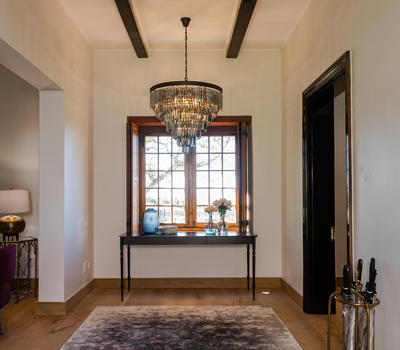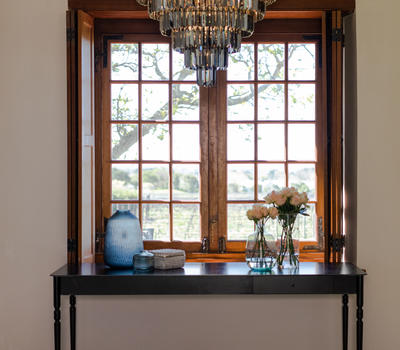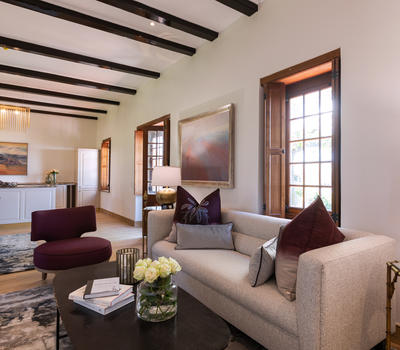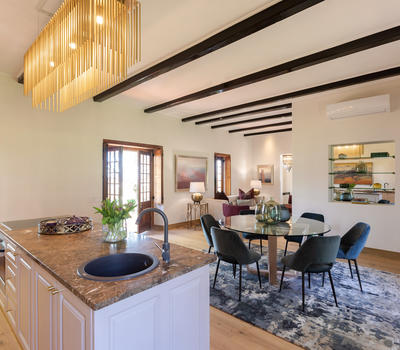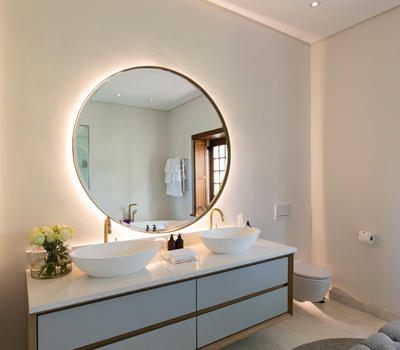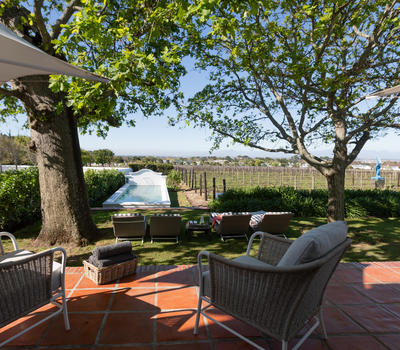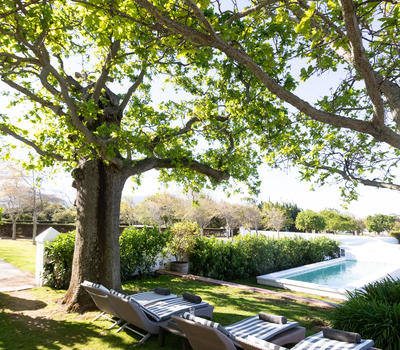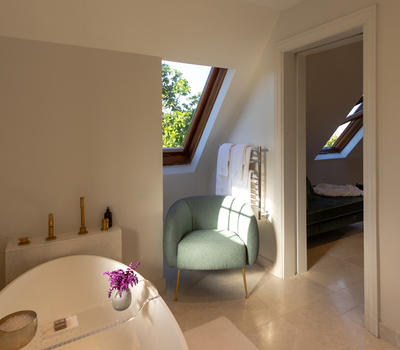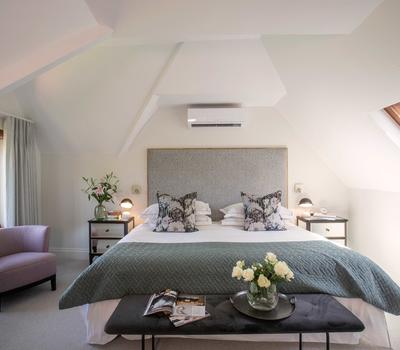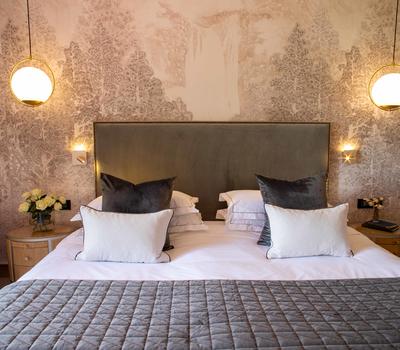 This suite is the only one in its category. It went under construction in 2019 when it was transformed from our Heritage Cape Colonial Suite to our modern Two Bedroom Suite designed in contemporary elegance with engineered wooden flooring. The suite sleeps a maximum of four guests and is ±160 square meters (±1722 square feet).
Each bedroom is designed with generous wardrobe and packing space, an en-suite bathroom with Hans Grohe sanitary ware, a free standing bath and frameless showers. The bed configuration is adjustable to twin or super king and there is underfloor heating in the bedrooms and bathrooms.
Fresh milk is replenished daily in your fridge. A bottle of complimentary still or sparkling water is placed in your fridge on your first day with us as well as a bottle of our Estate Sauvignon Blanc wine.
A large work desk overlooking the vineyards with a USB charging hub is available. The entrance leads onto a lavishly designed guest bathroom and an open plan kitchen, dining room and lounge, setup with a flat screen, smart television and the option of a satellite TV.
The dining room and kitchen is equipped with a selection of cutlery and crockery to make for the perfect in-room dining experience with friends, family or associates.
This suite is fitted with original artwork and makes for the perfect getaway from the rush of city life. It has French doors opening from the lounge onto a generous patio space overlooking open surroundings with the added feature of a heated private pool.

IN ROOM FEATURES AND SERVICES:
• USB charging hub
• Underfloor heating in bedrooms and bathrooms
• Open plan kitchen, dining room and lounge
• Smart flat screen television in living areas and bedrooms with the option of satellite TV
• Private patio
• Patio space fitted with a table, chairs and sun loungers
• Private heated pool
• Large work desk
• Original artwork
• Complimentary Wi-Fi
• Twin beds convert into a Super King bed configuration
• PC data and power outlets
• En-suite bathrooms with a deep bathtub and walk-in showers
• Bathrooms have a double vanity
• Bathrobes and velour slippers
• Digital safe
• A complimentary bottle of Steenberg Sauvignon blanc wine and a bottle of still/sparkling water on your first day with us
• Bottled still or sparkling water is available on turndown service
• Healing Earth Inspired by Africa Amenities
• Tea facilities and a Nespresso Coffee pod machine
• Air-conditioning
• Laundry, valet and dry cleaning service available
• Hairdryer
• Rain Umbrella's
• Heated towel rail
• Full fridge
• Electrically lit magnifying mirror

STEENBERG RATE INCLUSIONS:
• Breakfast in Tryn Restaurant, Bistro Sixteen82 or in-room dining from our breakfast menu
• Wi-Fi in all public areas and rooms
• Classic Wine tasting at Steenberg Vineyards (Subject to winery hours)
• Superb preferential rates for our guests that would like to play golf. Please book this with hotel reservations team in order to qualify for the discounted fees. All additional golf equipment to be pre-booked as these are subject to availability
• Transfer services are available to local Restaurants and Shopping centres within a 5 km radius of the hotel are complimentary, subject to availability and times from 07h00 until 22h00
• A non-exclusive shuttle service to the V&A Waterfront daily
• A business hub is available in our library located in the main building, with a twenty-four hour Hotel Reception service
• Embark on a trail route within our grounds to explore the surroundings, our manicured gardens and breath taking views
• Mountain bikes are available to discover the surroundings whether on or off the property
• A glass of Steenberg bubbly and mineral water, to celebrate your arrival
Show More
Show Less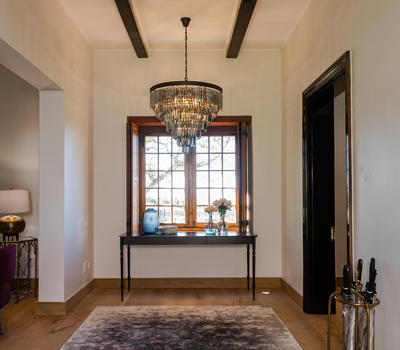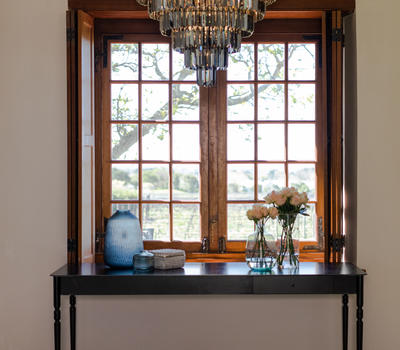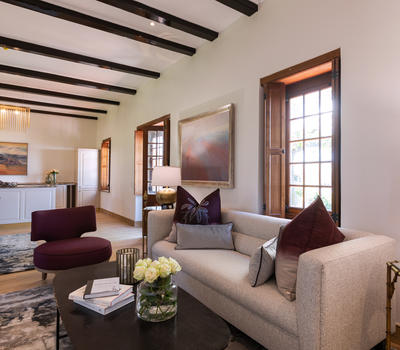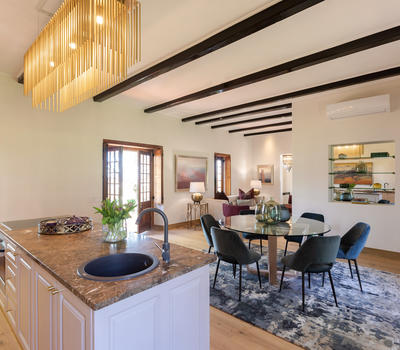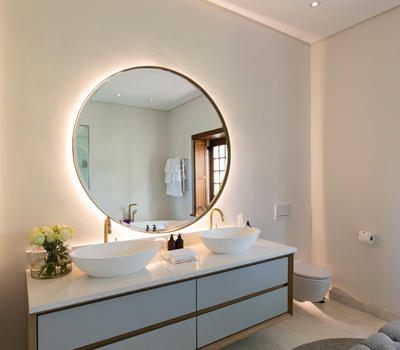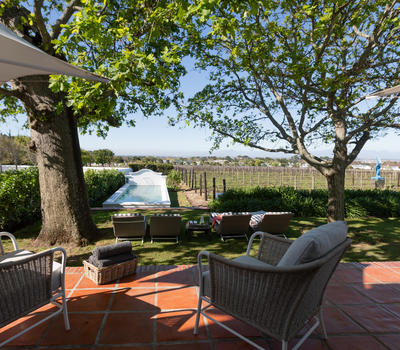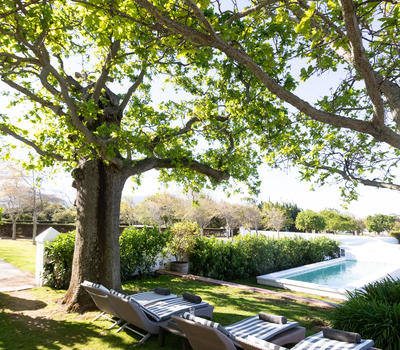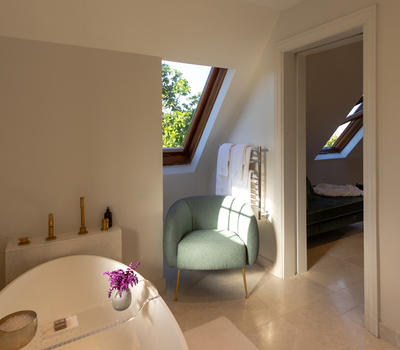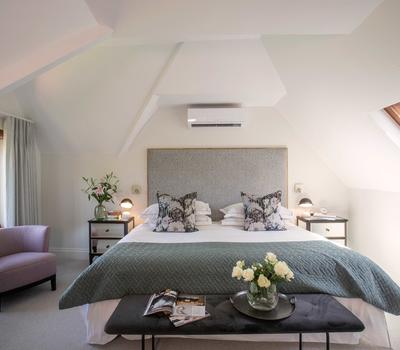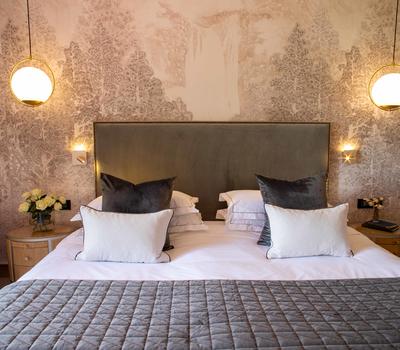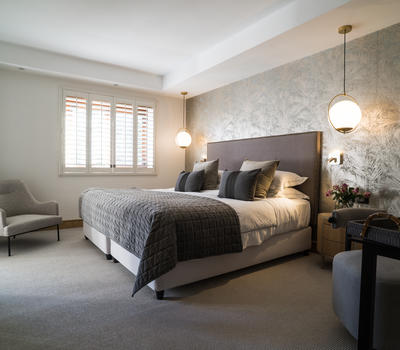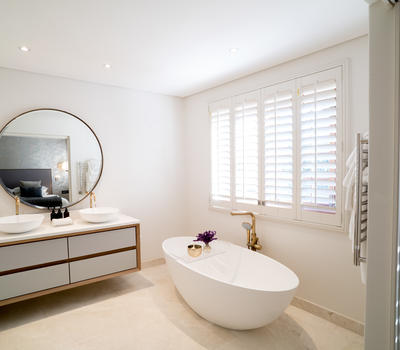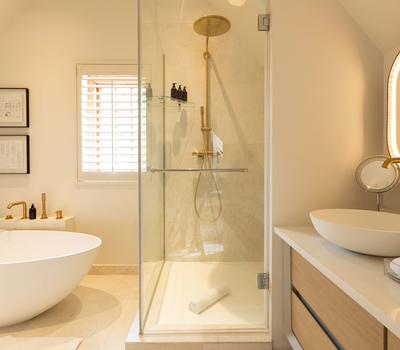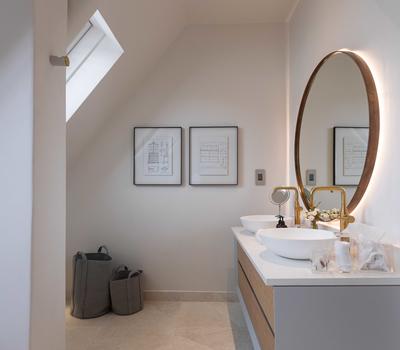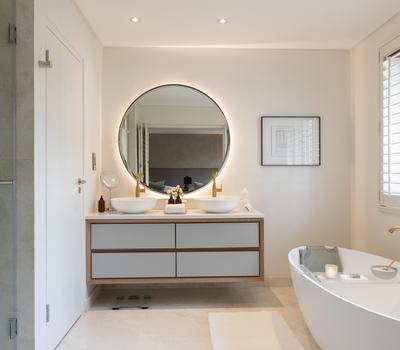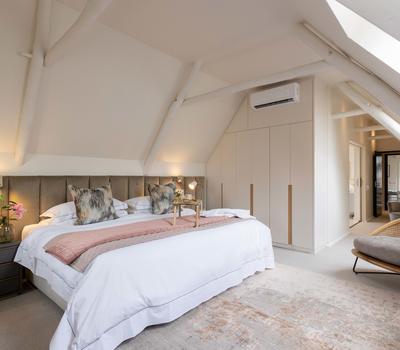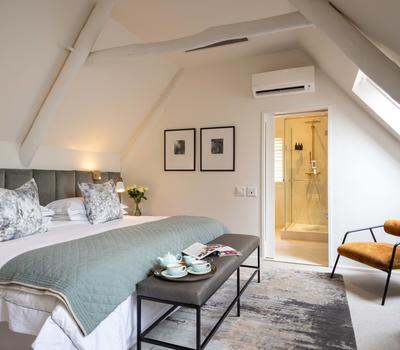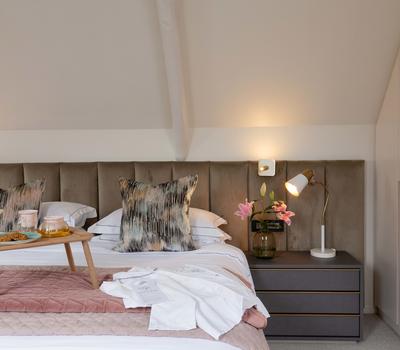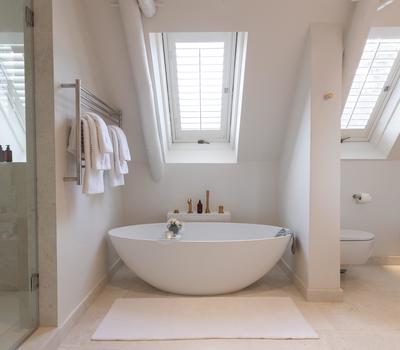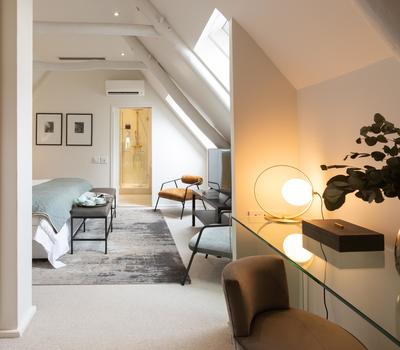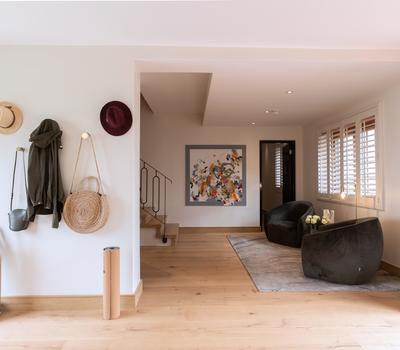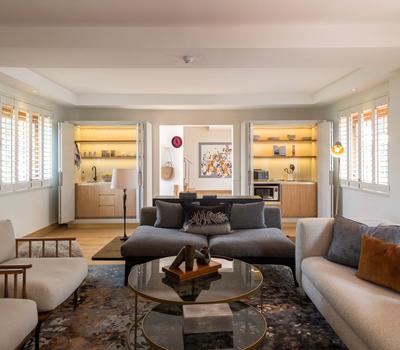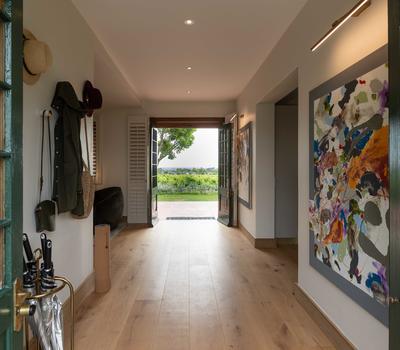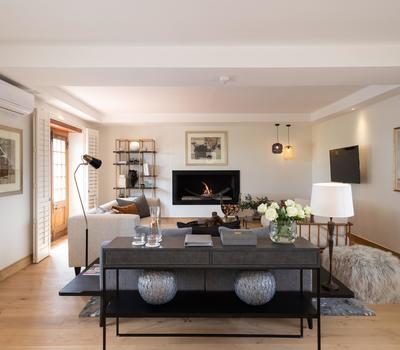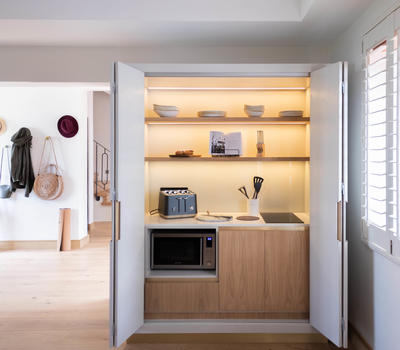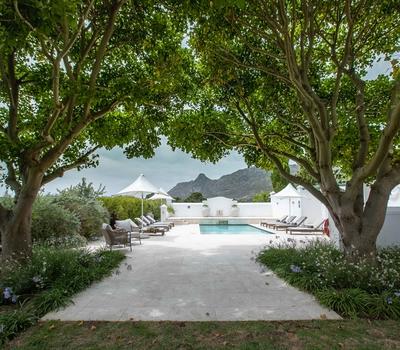 Our three bedroom suite is a double story room with underfloor heating in the bedrooms and bathrooms. Each bedroom has an en-suite bathroom with large free standing baths and walk-in showers and sleeps a maximum of 6 people. The suite is ±166 square meters (±1786 square feet). This suite was previously one of our heritage suites when it was renovated in 2019 to a tranquil and contemporary modern suite designed with original artwork and natural colours.
The entrance leads to the living room which has a fireplace and a kitchenette, equipped for you to enjoy preparing some snacks, making tea or brewing a coffee.
The mini bar fridge is replenished with fresh milk daily. To welcome you with us, we place a bottle of still / sparkling water and one of our Estate's favourite bottles of Sauvignon Blanc wine, in your fridge on your first day.
There is large desk in each bedroom to make for the perfect dressing table or work space. There is PC data and power outlets, plugs and USB points as well as a smart flat screen TVs with satellite. The suite is fitted with air-conditioning, complimentary wi-fi and amenities from Healing Earth Inspired by Africa.
The furniture was locally sourced by our team and create a personalised touch matched by our service to create the feeling of a welcoming home space. The suite is accompanied by a private patio, garden with memorable views and the chance to enjoy some of our African sun on the loungers at your heated pool, all encapsulated by natural surroundings.

IN ROOM FEATURES AND SERVICES:
• A complimentary bottle of Steenberg Sauvignon blanc wine and a bottle of still/sparkling water on your first day with us
• USB charging hub
• Underfloor heating in bedrooms and bathrooms
• Open plan kitchenette and lounge
• Fireplace
• Smart flat screen television in living areas and bedrooms with the option of satellite TV
• Private patio and a heated pool
• Patio space fitted with a table, chairs and sun loungers
• Outside patio dining area for an al fresco experience while absorbing the vineyard views
• Bathrooms have a double vanity
• Original artwork
• Complimentary Wi-Fi
• Twin beds convert into a Super King bed configuration
• PC data and power outlets
• En-suite bathrooms with a deep bathtub and walk-in showers
• Bathrobes and velour slippers
• Digital safe
• Bottled still or sparkling water is available on turndown service
• Healing Earth Inspired by Africa Amenities
• Tea facilities and a Nespresso Coffee pod machine
• Air-conditioning
• Laundry, valet and dry cleaning service available
• Hairdryer
• Rain Umbrella's
• Heated towel rail
• Minibar fridge
• Electrically lit magnifying mirror

STEENBERG RATE INCLUSIONS:
• Breakfast in Tryn Restaurant, Bistro Sixteen82 or in-room dining from our breakfast menu
• Wi-Fi in all public areas and rooms
• Complimentary Classic Wine tasting at Steenberg Vineyards (Subject to winery hours)
• Superb preferential rates for our guests that would like to play golf. Please book this with hotel reservations team in order to qualify for the discounted fees. All additional golf equipment to be pre-booked as these are subject to availability
• Transfer services are available to local Restaurants and Shopping centres within a 5 km radius of the hotel are complimentary, subject to availability and times from 07h00 until 22h00
• A non-exclusive shuttle service to the V&A Waterfront daily
• A business hub is available in our library located in the main building, with a twenty-four hour Hotel Reception service
• Embark on a trail route within our grounds to explore the surroundings, our manicured gardens and breath taking views
• Mountain bikes are available to discover the surroundings whether on or off the property
• A glass of Steenberg bubbly and mineral water, to celebrate your arrival
Show More
Show Less