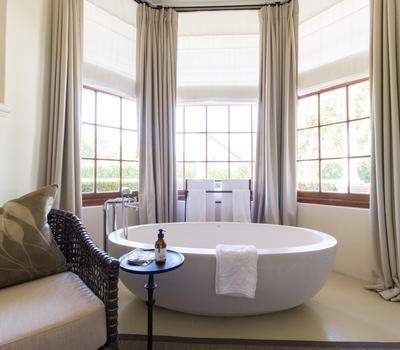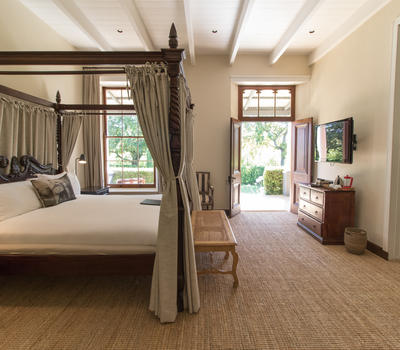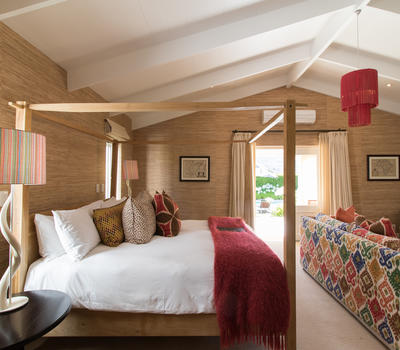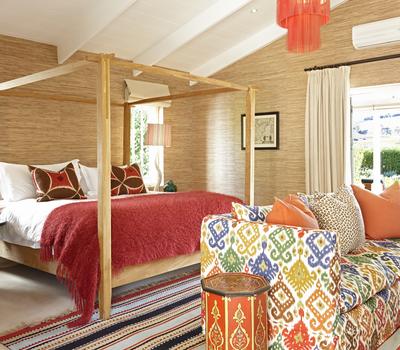 GARDEN SUITE - Village: Manoir 1 | Colonial 1
A collection of stylish rooms and suites across three Village houses and La Clé Lodge. Each Village house and the Lodge is complete with a private garden, ample living spaces and pool. Guests come together at Manoir at La Clé Village and the dining room at La Clé Lodge for exceptional meals hosted by our chefs to share in the valley's culinary heritage.
The refined elegance of the spacious Garden Suite at Manoir and Colonial is remarkable in its grandeur. Found in this, the heart of the farm's original manor house, there is an air of history redefined with nods to traditional style, yet modern finesse as a result of the design philosophy held by Jacques Erasmus.
Show More
Show Less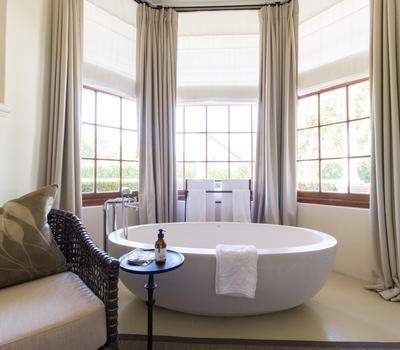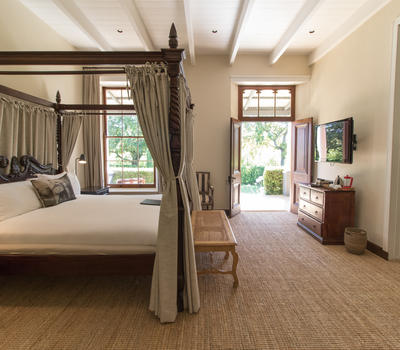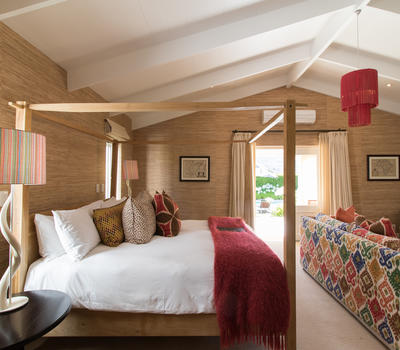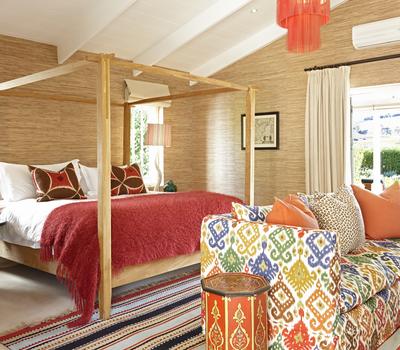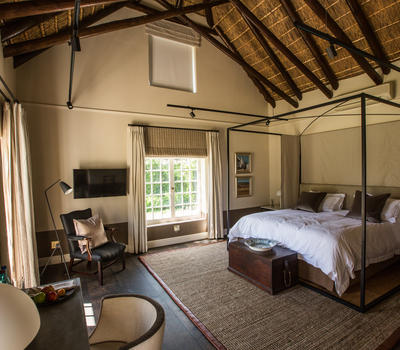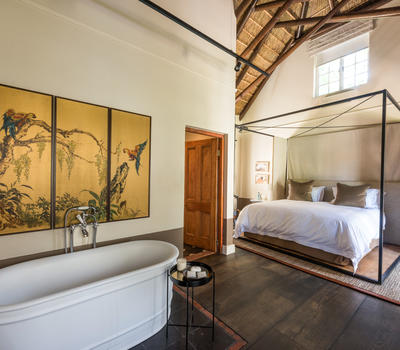 GARDEN ROOMS: Lodge: 2 | Village: Grange 2
Designed for elegant living with high ceilings and spacious interiors, the Gardens Rooms of La Clé
des Montagnes are a haven for those seeking out a Winelands retreat. All these en-suite rooms offer
guests the opportunity to escape into local history with antique accents collected from throughout
the Western Cape. Coupled with modern styling, the Garden Rooms are both rustic and refined.
Cocoon in luxurious bed linen or step outside onto the terraces which offer expansive views of the
gardens, vineyards and/or mountains beyond.
Relax in the refreshing pools or stroll through the acres of gardens. Join us for family-style dinners in the dining rooms of both the Lodge and Village prepared by our chefs, or relax over a private picnic in the grounds. At La Clé, we welcome you to enjoy the French-inspired lifestyle of Franschhoek.
Show More
Show Less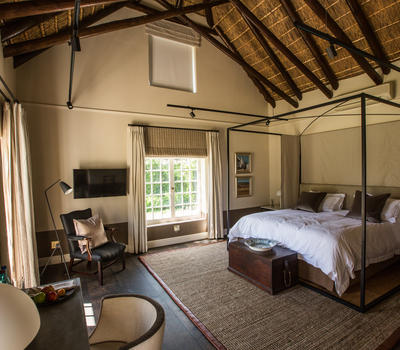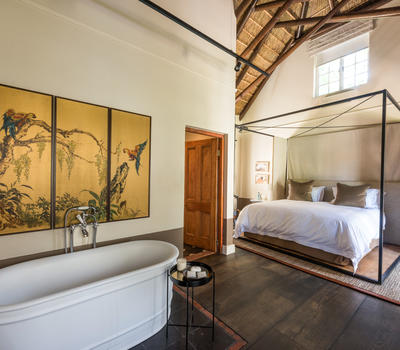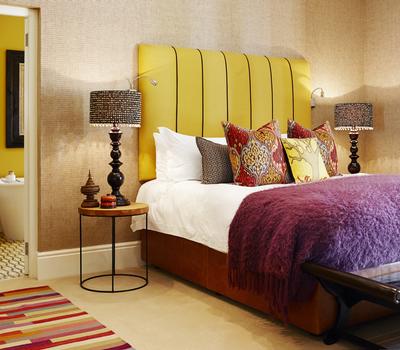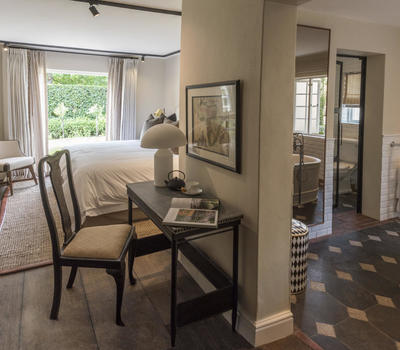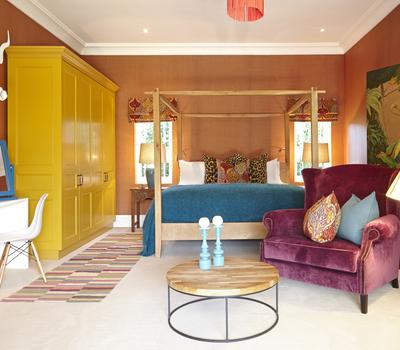 COURTYARD ROOM - Lodge: 1 | Village: Colonial 2 | Village: Grange 1
With luxurious linen, secluded locations, private access to the gardens and terraces of La Clé and
lavish bathrooms, the Courtyard Rooms are spacious retreats to while away the hours over a cup of
tea and homemade rusk. Step outside and into the lush grounds and explore the expansive estates,
or read a book in the sheltered garden just outside your door.
Great food is important to any journey, and with a team of professional chefs, dining at La Clé des
Montagnes is an exceptional experience. From freshly baked breads to spicy chutneys, gourmet
picnics and locally inspired menus, join us to capture the lifestyle of the valley and unwind in
comfort. Escape into the heart of the Franschhoek and discover a sense of the Dionysian lifestyle
found here.
Show More
Show Less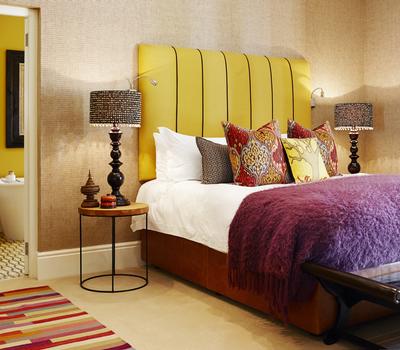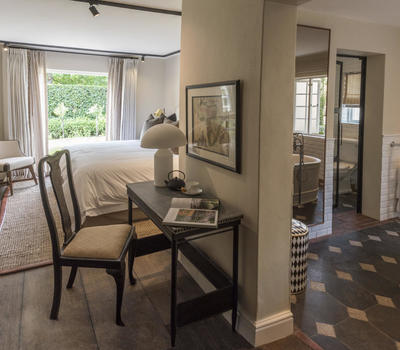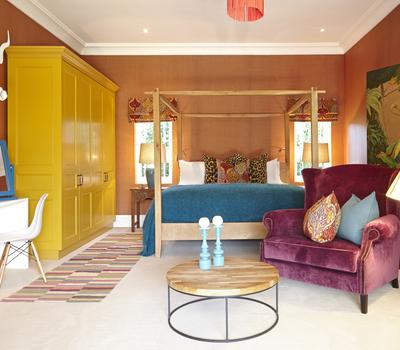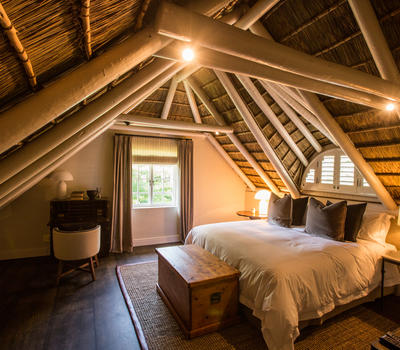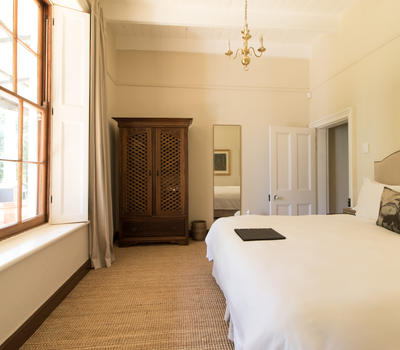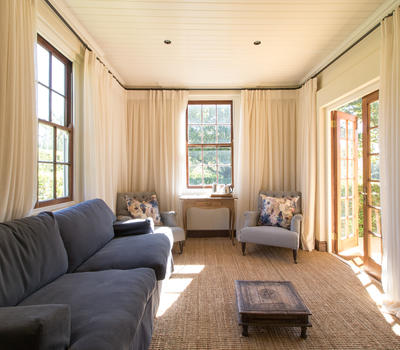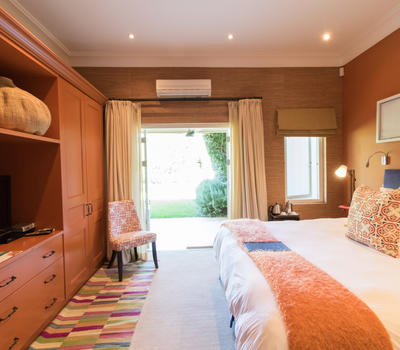 PETITE ROOMS - Lodge: 2 | Village: Manoir 1 | Village: Colonial 1
Secluded and refined, the Petite Rooms of La Clé are charming, cosy and comfortable. We offer more
than welcoming Cape Dutch-style homes at La Clé des Montagnes... Be immersed in the colourful
lifestyle of Franschhoek, steeped in history and brimming with cultural experiences. Take time to
explore the best of the valley with a stay in our Petite Rooms.
Enjoy a good night's rest in comfort before setting out on foot into the village, only a 4-minute walk
from either of our front doors. Spend the afternoon with a private picnic, freshly prepared in our
country kitchens, enjoy a game of tennis or simply explore the expansive grounds and vineyards.
A superb location complete with the finest amenities and culinary experiences, a stay in one of our
Petite Rooms is sure to leave your senses and soul full of joy.
Show More
Show Less