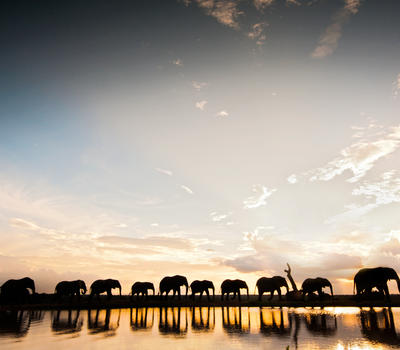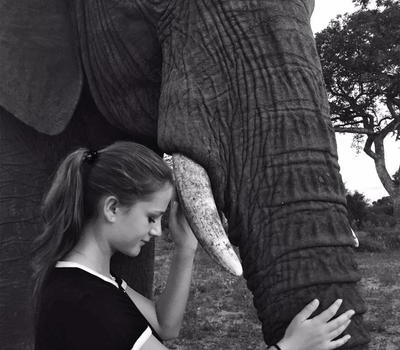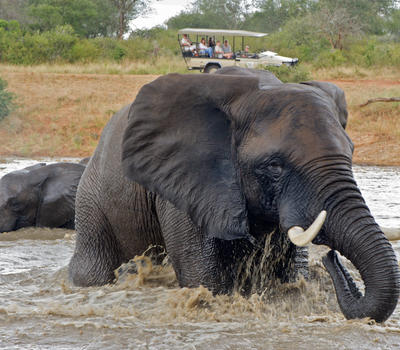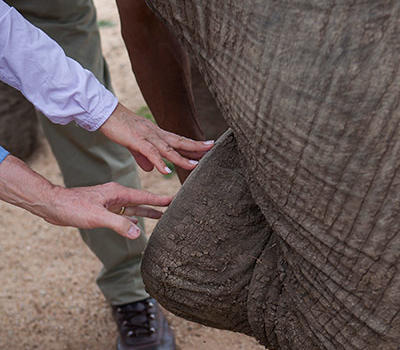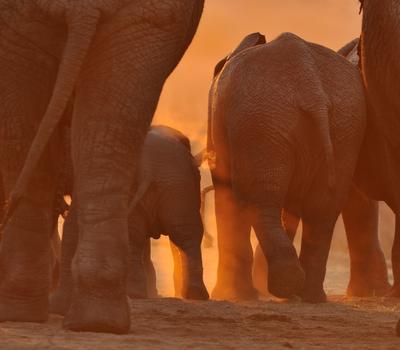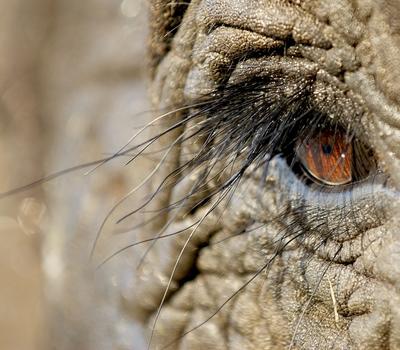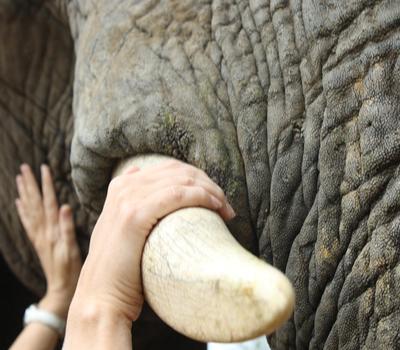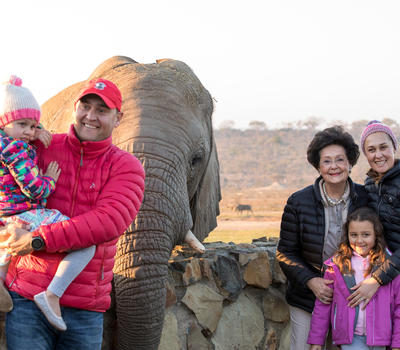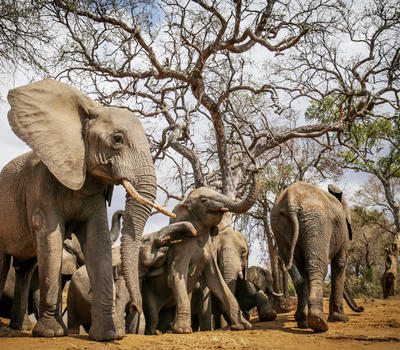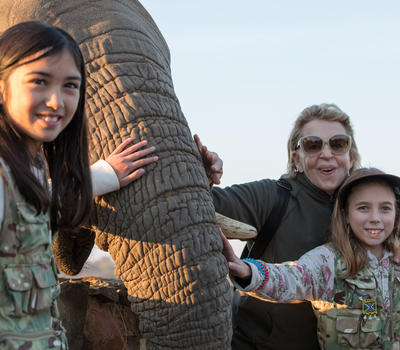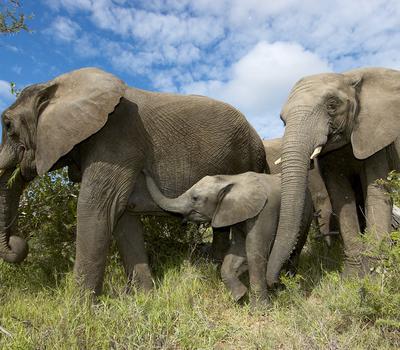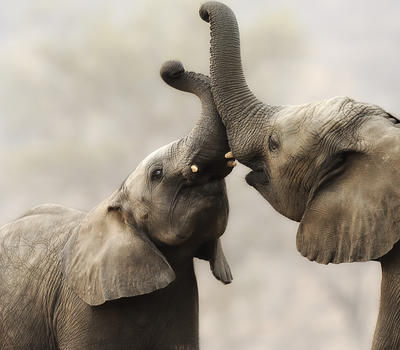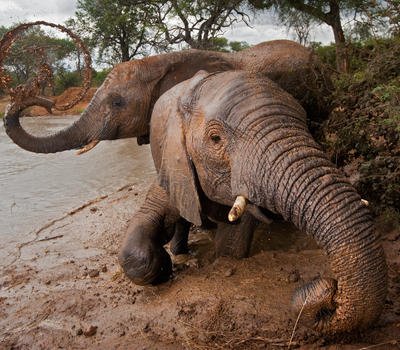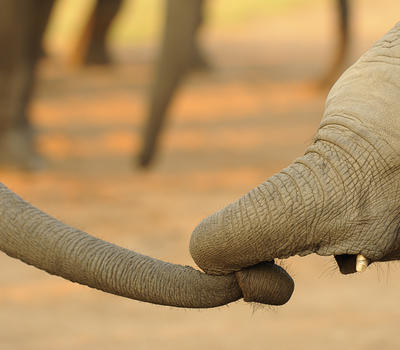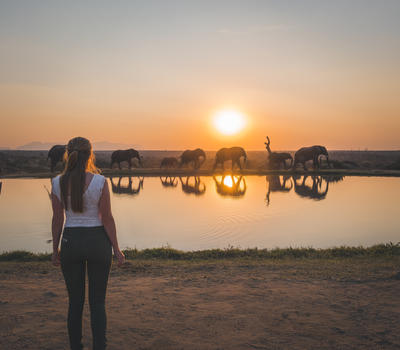 The Jabulani Elephant Experience is a very personal and highly immersive connection, where man and elephant meet one another on equal terms.
§ The First Meeting - This first interaction, directly at the Lodge, is always a very powerful one where emotive bonds are instantly made. During this interaction, visitors have the opportunity to touch and feed the elephants, and to have photographs taken in very close proximity.
§ Following Gigantic Footsteps: Elephant tracking - Guests will join a senior trails guide, a senior elephant keeper and their ranger to track the Jabulani elephants within the Big Five Kapama Private Game Reserve. Once the herd have been located, the afternoon is spent watching them and hearing more about the their individual stories, their personalities and how to identify them.
§ Getting In The Know: Elephant research in practice - Did you know that an elephant's stress levels can be established and monitored through its dung? During this unique part of the experience, guests get to participate in field research.
Show More
Show Less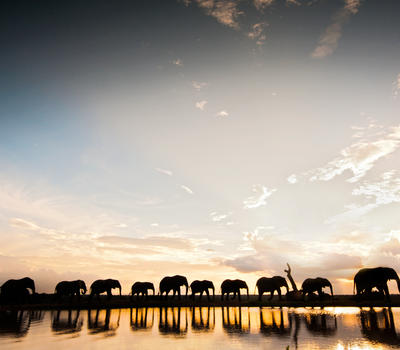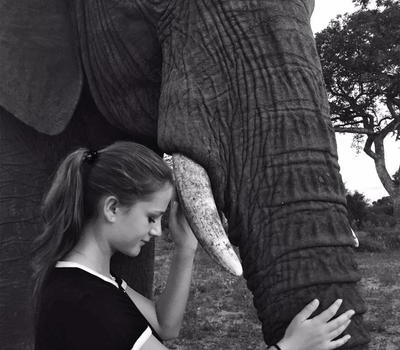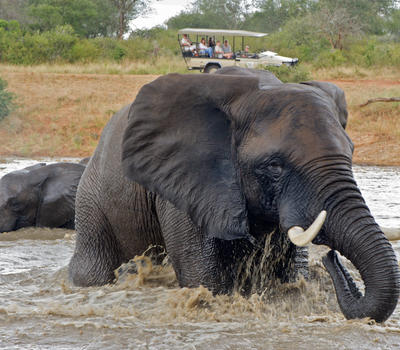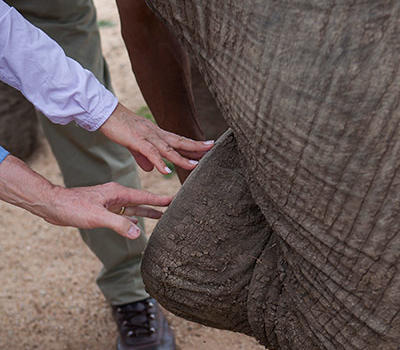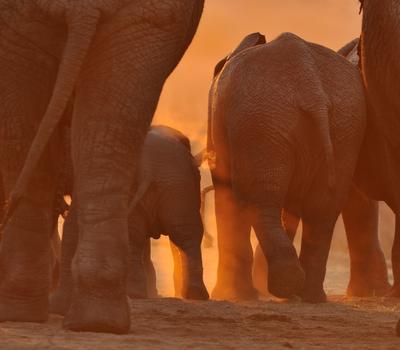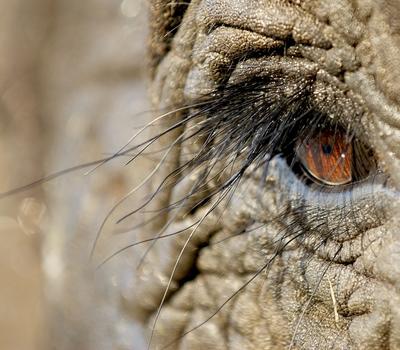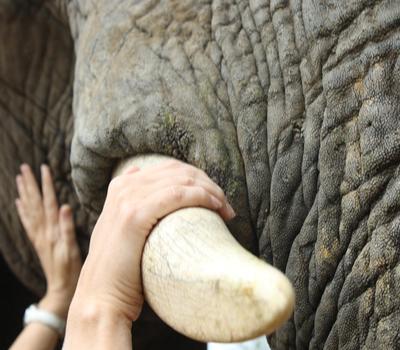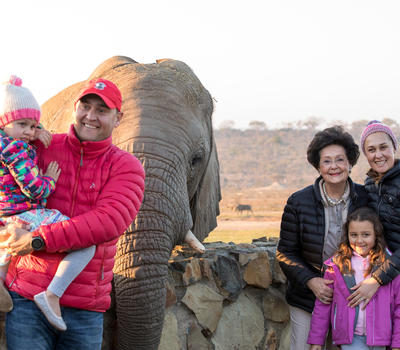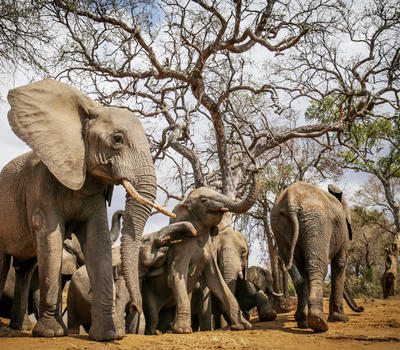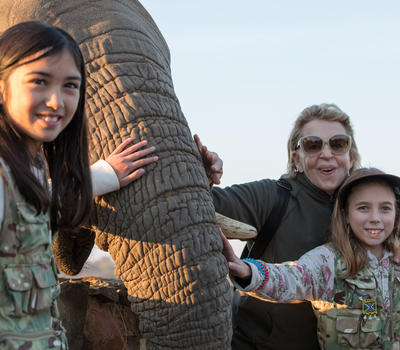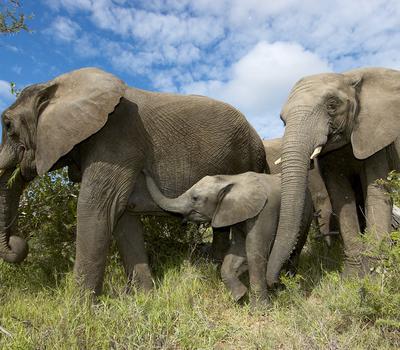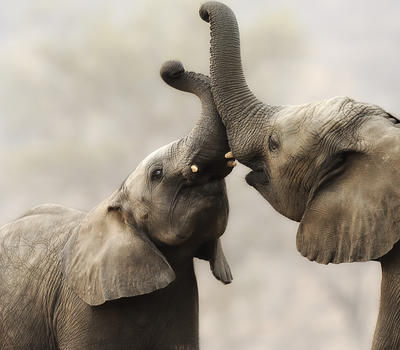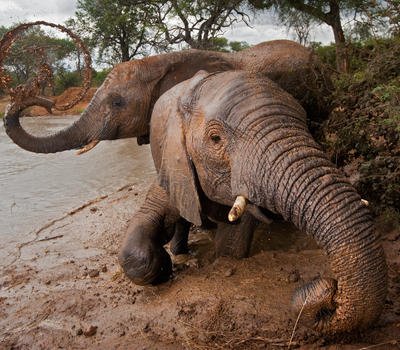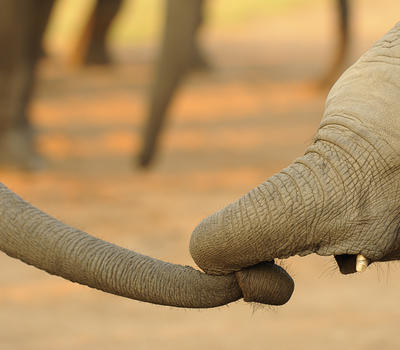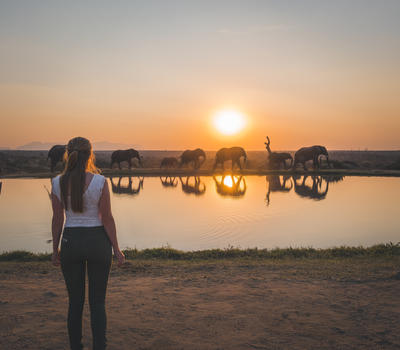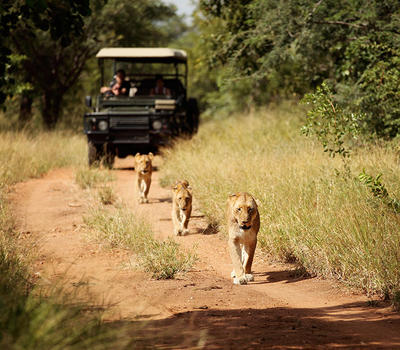 Game Drives on the Big5 Kapama Reserve
The Kapama Game Reserve is home to a wide variety of wildlife including elephant, buffalo, rhinoceros, and large populations of giraffe, impala, blue wildebeest and kudu. Predators include lion, leopard, cheetah, spotted hyena and many smaller species. Bird-watching is most rewarding and more than 350 bird species have been recorded, including the rare Gymnogeg and Knob-billed duck.
Guests join their ranger in his open safari vehicle for a game drive, and head out in search of The Big Five, and the smaller (but no less significant) creatures that are part of an African safari.
Jabulani Safari rangers are consummate professionals. Highly experienced in guiding, they are the perfect safari ambassadors while out in the African bush.
Safaris may be arranged at any time of the day. A word of warning though – the summer months are incredibly hot in the middle of the day! This time is best spent enjoying the cool respite of a private plunge pool, with a chilled refreshment in hand!
Show More
Show Less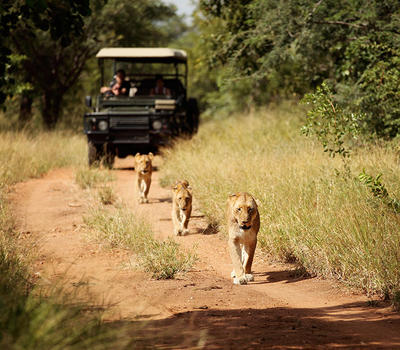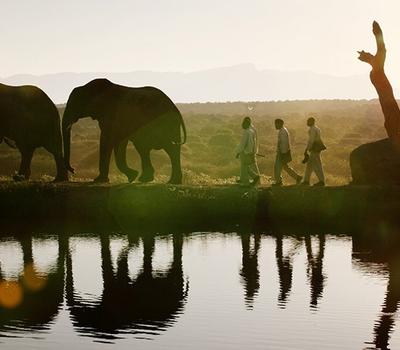 The intrepid walker will take pleasure in experiencing a guided walking safari. Heading into the bush with an armed ranger, guests can learn more about the many different facets of the bush. From tracking spoor (animal prints left in the ground), to touching and examining trees and plants, to sitting quietly and simply absorbing the many smells, sounds and sensations of Africa in its most primitive glory – this is a safari in its purest form.
The lucky may encounter animals in close proximity on the Kapama Game Reserve, although great care is taken to ensure safe and respectful distances are always observed from the larger and more dangerous animal species.
It is recommended that walking during summer months is restricted to early mornings before the heat of the day fully sets in.
Walkers need not be fitness fanatics, as the pace is set around the guest.
Show More
Show Less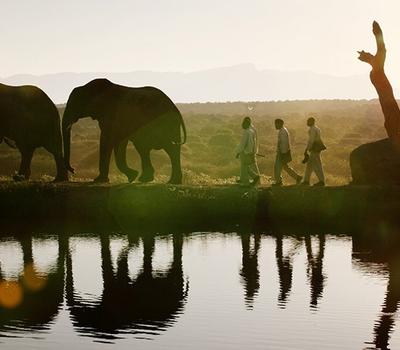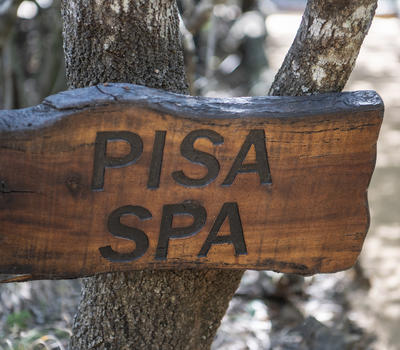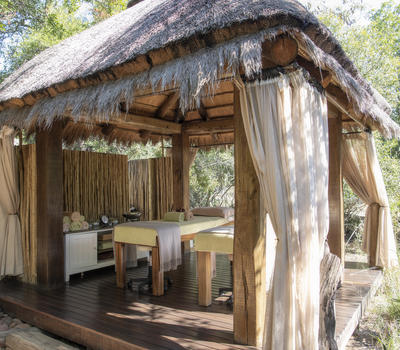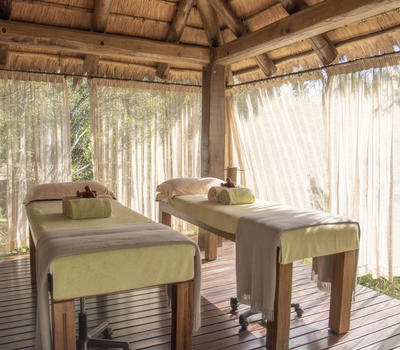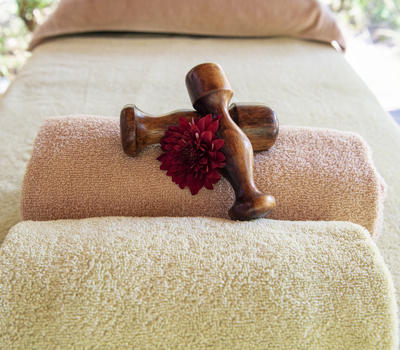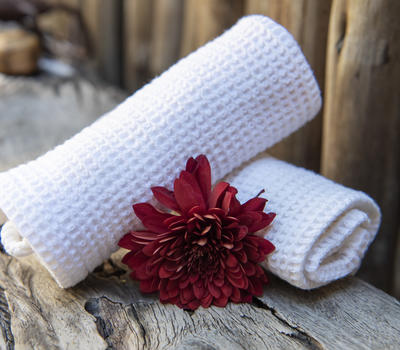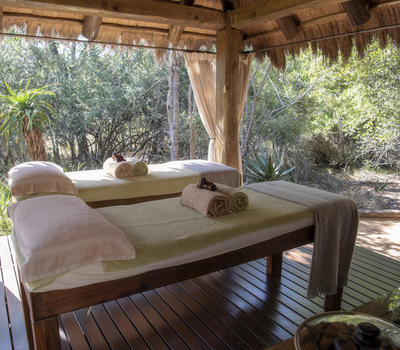 An on-site gym is available with experienced therapists that offer soothing massages in the outdoor spa or in the comfort of the suites.
A bush-gym is equipped with basic weights and exercise machinery for those who enjoy something a little more active.
Show More
Show Less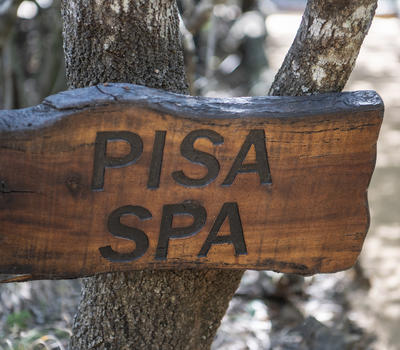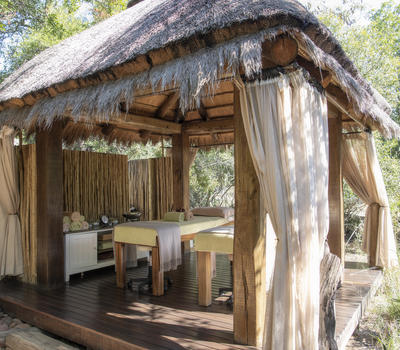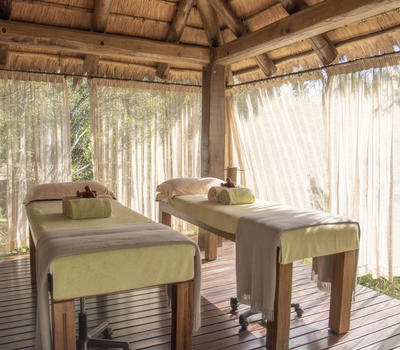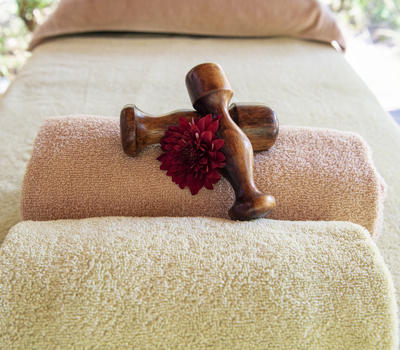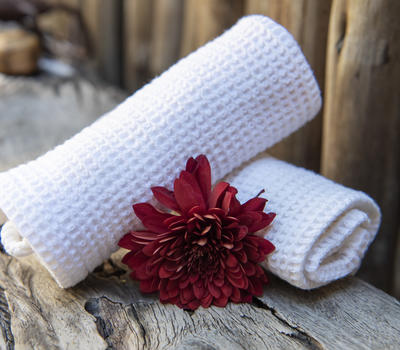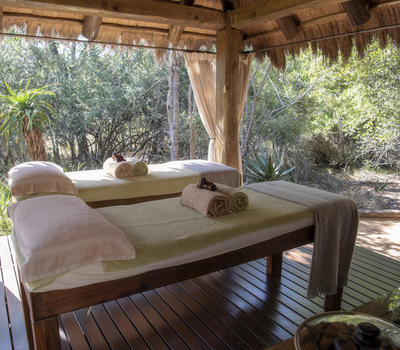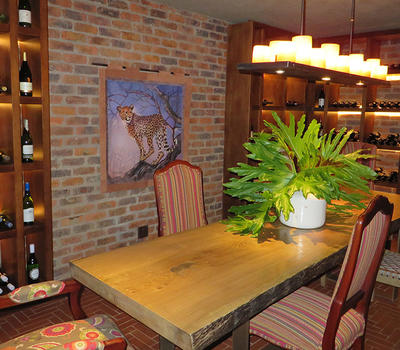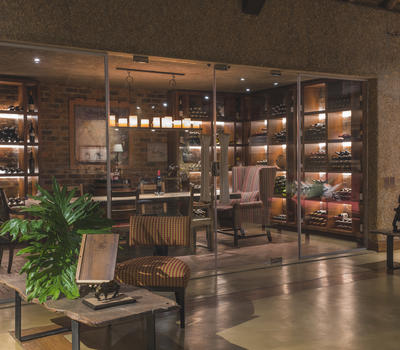 Private wine tastings and intimate dinners are offered in The Gallery in an effort to continuously enhance Jabulani's bespoke guest experience. Only South African wines are featured, and guests have the opportunity of selecting their own wine for dinners.
Guests may also choose from the boutique for gifts back home (or for themselves!). Stocked with a variety of art pieces, jewellery, trinkets, crockery, clothing and more, those who enjoy retail therapy will find their happy place here.
Show More
Show Less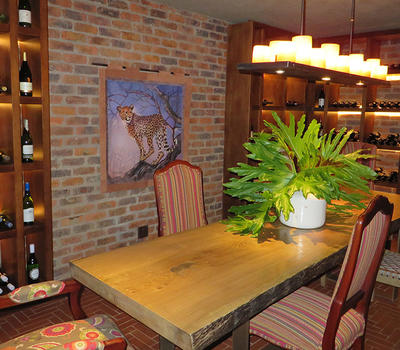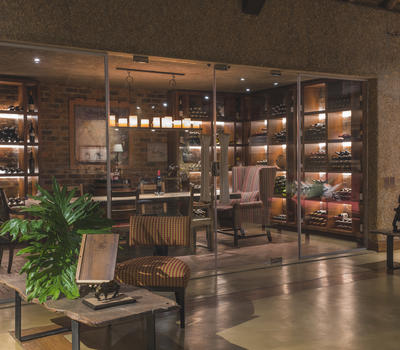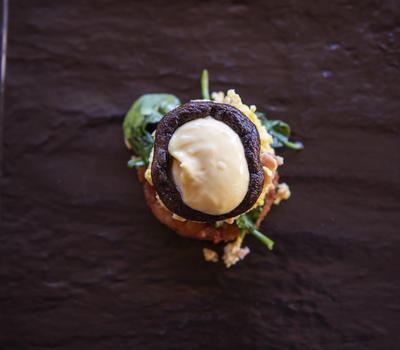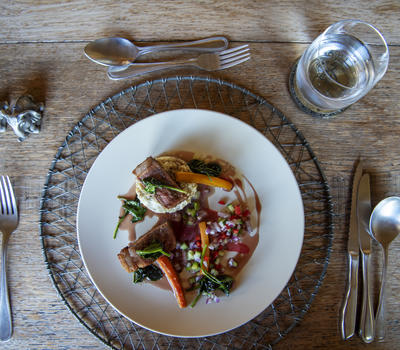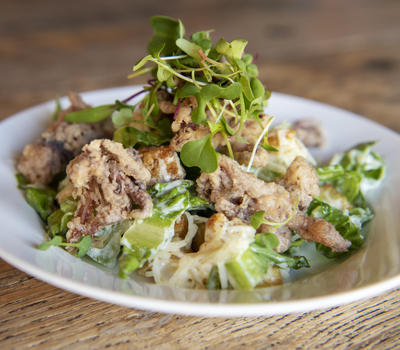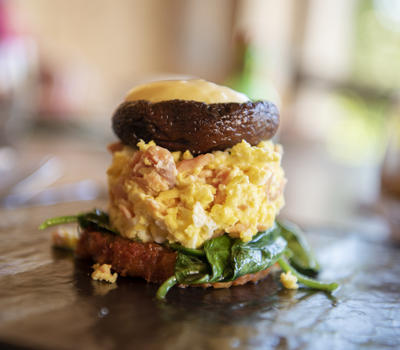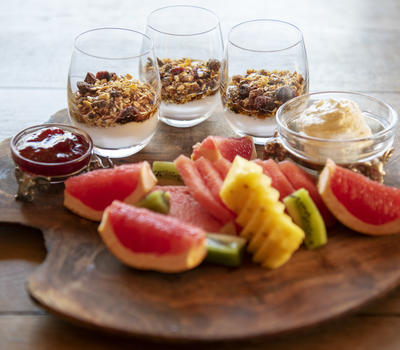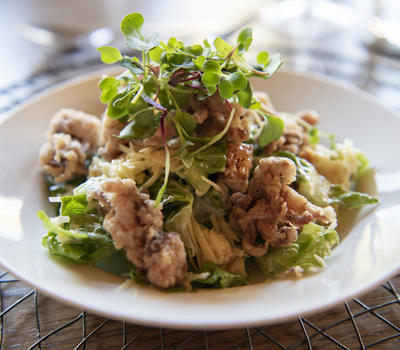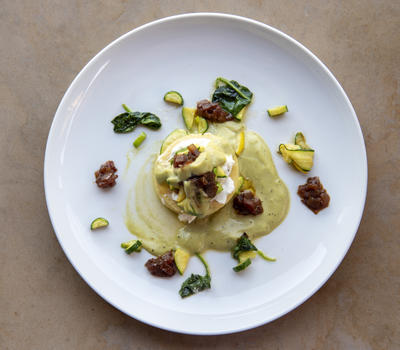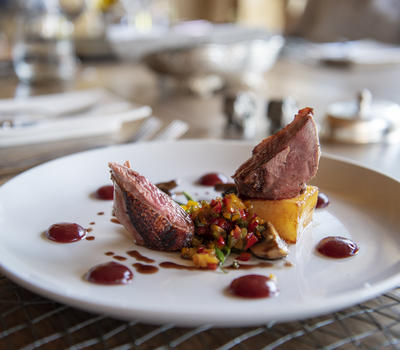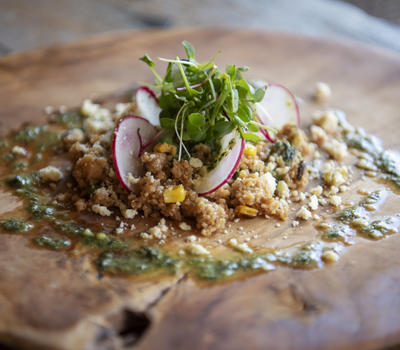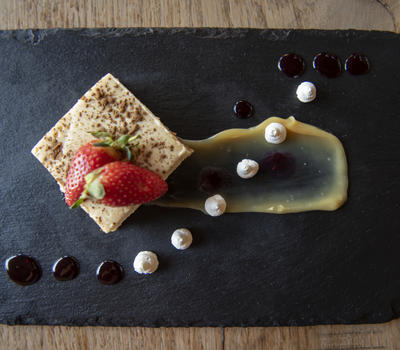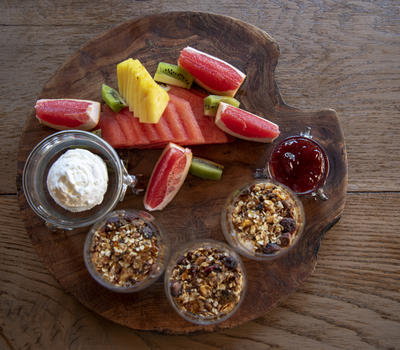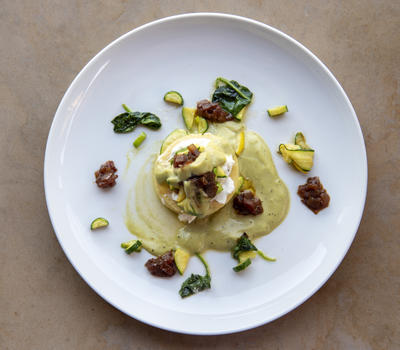 Jabulani's executive chef has trained in the kitchens of great chefs around the world, and takes pride in designing fusion creations with a South African twist – always with an artistic finish.
Menus change on a daily basis. As individual tastes are as unique as personalities, a range of dietary preferences and restrictions are catered for effortlessly (Kosher and Halaal meals are sourced by prior arrangement). Vegetarians or those who prefer lighter meals are well catered for, with inventive choices each day. Some may even prefer simple, hearty meals. At Camp Jabulani, everything goes.
The chefs like nothing better than to interact with guests at each mealtime, and will personally present their menus. They have also been known to share a special recipe or two.
The sub-tropical climate means that chefs are spoiled for choice with an abundance of delicious fresh ingredients produced in the surrounding region. Tastes are enhanced courtesy of our very own herb garden. Wherever possible, we support initiatives that promote sustainable local employment.
Freshly baked muffins, delectable teatime treats, and moreish sundowner snacks are baked daily. The chefs pride themselves on making as much as possible with their own hands. Through private cooking classes, guests may even be treated to 'insider' tips on making homemade breads, sauces and ice-creams.
A perfectly paired wine will transform a great meal into a sublime experience. Camp Jabulani has very carefully collected an impressive medal-winning collection of both red and white South African wines, sourced from the winelands of the Cape to be enjoyed in the bush.
Private tables are impeccably set for each guest, as we appreciate that time spent with close family and friends is all too precious. But some may prefer to share the company of new friends just met, and special arrangements will be made for a more social environment. The atmosphere, whether indoors or out, is always elegant yet relaxed with a friendly and professional team of service staff. Mealtimes are flexible, and venues tend to change (weather dependent). From private candlelit dinners, to traditional South African boma nights – there is no equal to the ambience of bonfires, lanterns and starry nights.
Show More
Show Less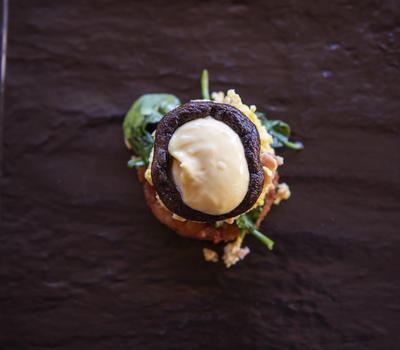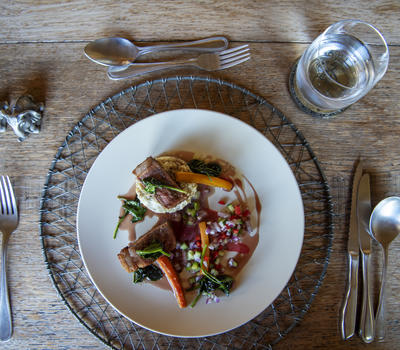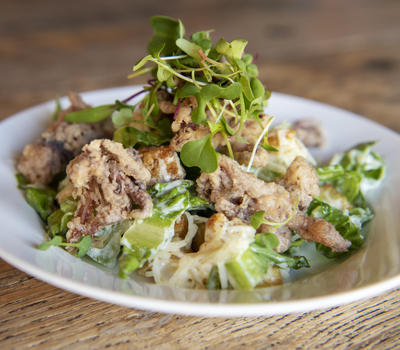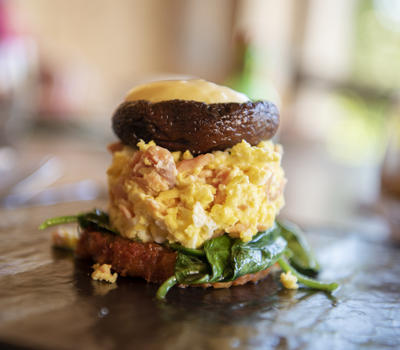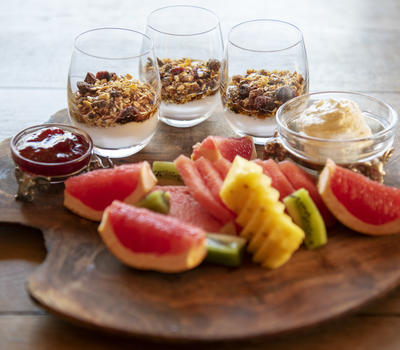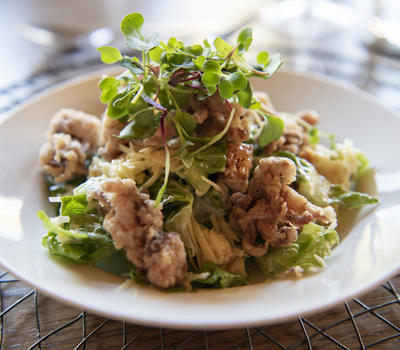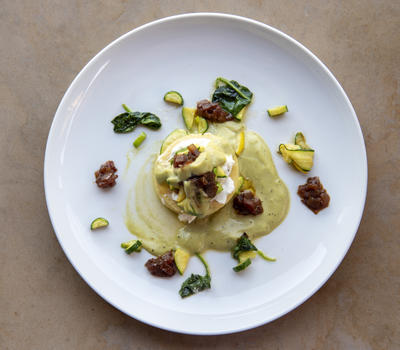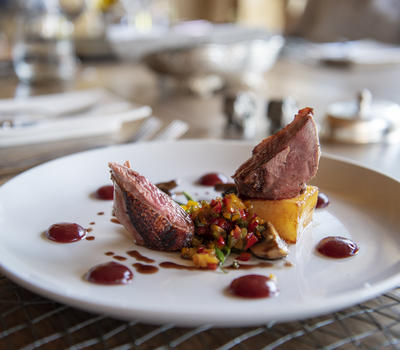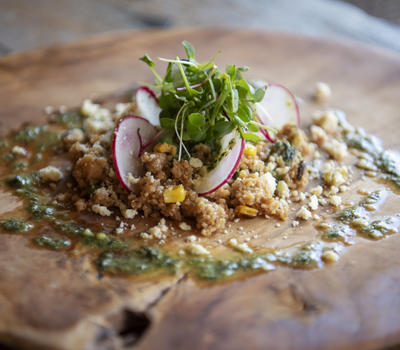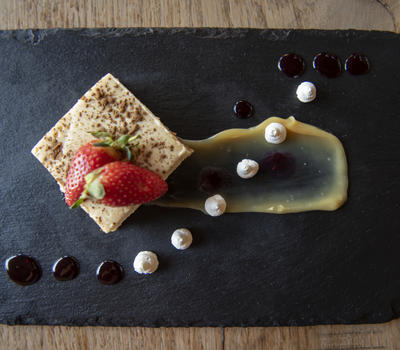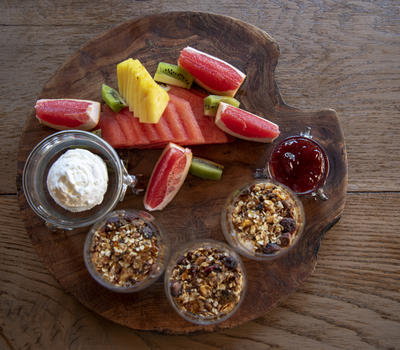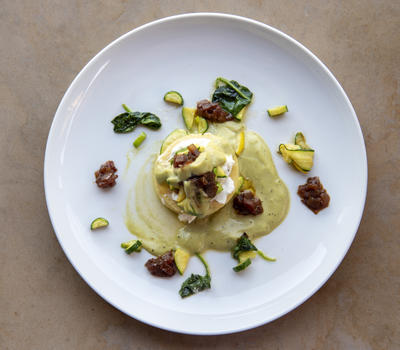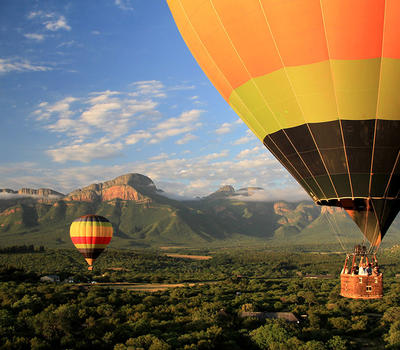 HOT AIR BALLOONING
Experience the magic of a lighter-than-air Hot Air Balloon experience as you glide over the vast landscape of our private game reserve below.
Meet before sunrise and enjoy a piping-hot cup of coffee while you watch your eight-storey high hot air balloon inflate in preparation for a flight you won't soon forget.
Watch the sunrise as you gently drift over the scenic terrain below stretching over part of the Blyde River, as well as nature reserves, wildlife estates and farmlands that all form part of the Greater Kruger region.
READ MORE
Whilst game viewing cannot be guaranteed, it is common to see giraffe, wildebeest, zebra, nyala, impala, bushbuck, waterbuck, duiker and even warthog, from the air. The big five are more difficult to find, but there is always the possibility that they too will be spotted
Sparkling wine and fruit juice are served after the flight that is approximately one hour long.
Passengers don't have to be physically fit but must be able to stand in the basket for at least an hour. Youngsters are welcome but should be at least 1.2 metres (4 foot) tall, to see over the rim of the basket. Regrettably, pregnant ladies are not permitted on balloon excursions.
Please note: Hot Air Balloon safaris are entirely dependent on weather conditions. This service is contracted out to a third-party supplier and while we delight in making the arrangements on behalf of our guests, we cannot be held accountable for changes or cancellations to schedules as dictated by the service provider.
Please contact us for further information, or to make a reservation.
Show More
Show Less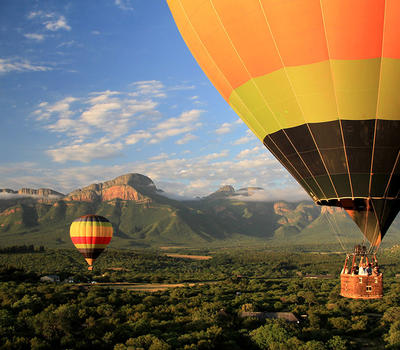 Blyde River Canyon Helicopter Flip
Compliment your luxury safari experience with an exhilarating helicopter flight.
Take to the skies in a Robinson R66 helicopter, and be swept away for 1.4 hours to the Blyde River Canyon, where you will stop for a picnic in the sky.
The flight can take up to four passengers and showcases the majestic landscapes of parts of Limpopo and Mpumalanga. Guests are picked up and dropped off at the nearby airstrip on the reserve.
Pre-booking recommended
Show More
Show Less