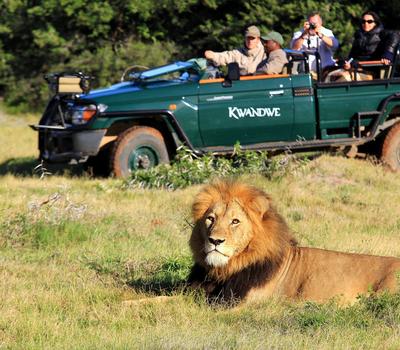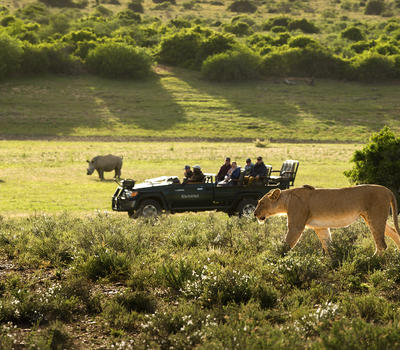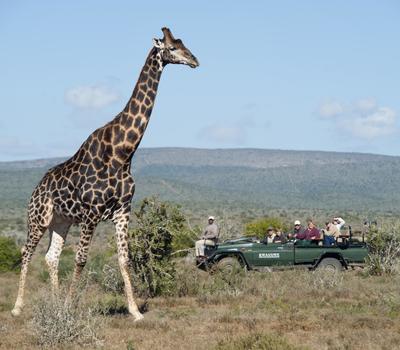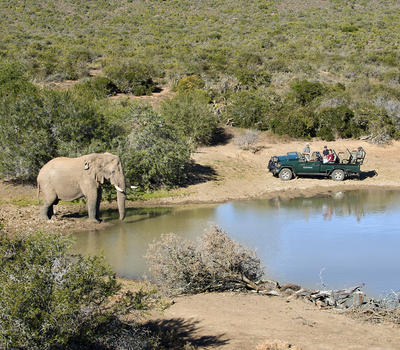 Game Drives: Twice Daily (Included)
Explore the natural splendour of Kwandwe on early morning and late afternoon / evening game drives in an open 4x4 safari vehicle. An armed ranger and tracker team share their extensive knowledge of the bush with you as you track the Big Five, as well as a variety of other wildlife.
Morning drives begin as dawn breaks over the Great Fish River, providing the opportunity to see predators winding up their nocturnal hunts and settling in for the day. Many animals take advantage of the cool morning hours to graze before the heat of the day. In the late afternoon wildlife can often be spotted coming down to the river to drink. Night drives produces some unusual sightings, including aardvark, aardwolf, bat-eared fox and porcupine.
Show More
Show Less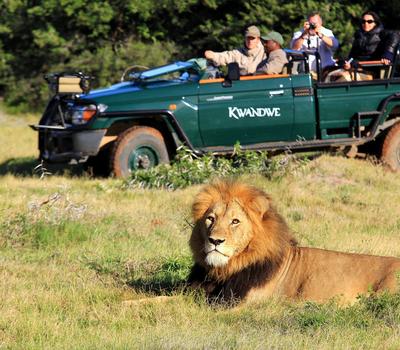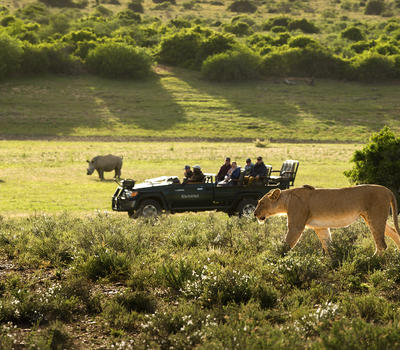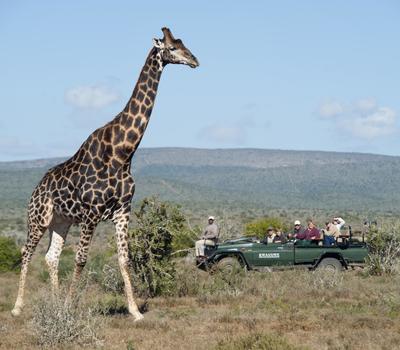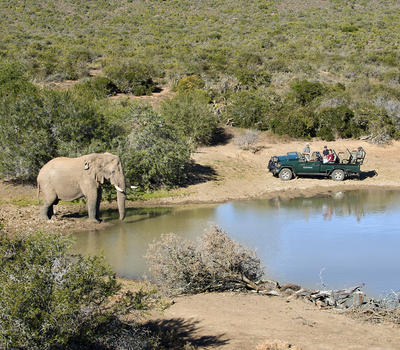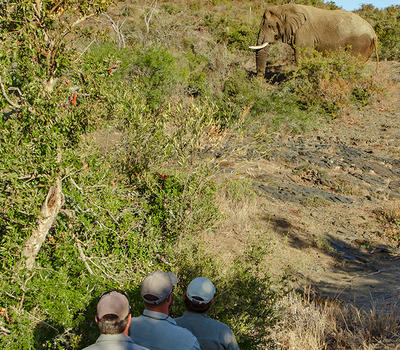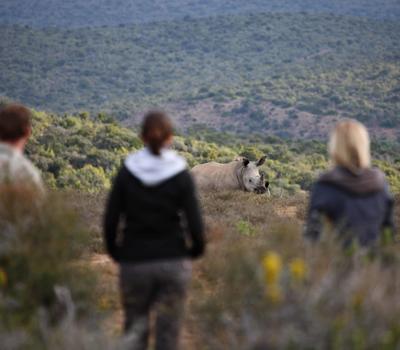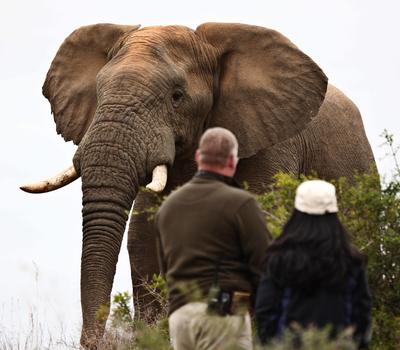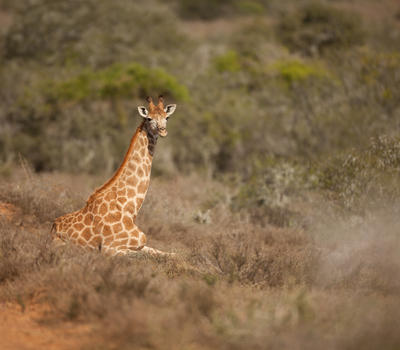 Big Game Walking Safari (Included)
Experience the thrill of tracking big game (white rhino, black rhino, elephant and buffalo) on foot, accompanied by an armed specialist ranger and tracker team. The walk lasts 3 to 4 hours and ends with a picnic lunch on the banks of the Great Fish River or at a scenic spot in the bush.Not suitable for children under 16 years of age.
Show More
Show Less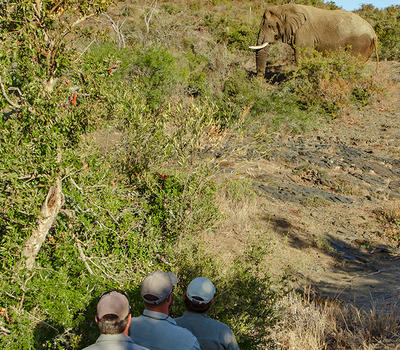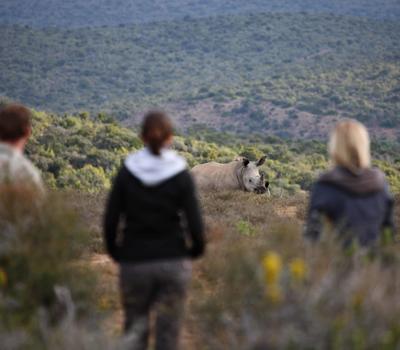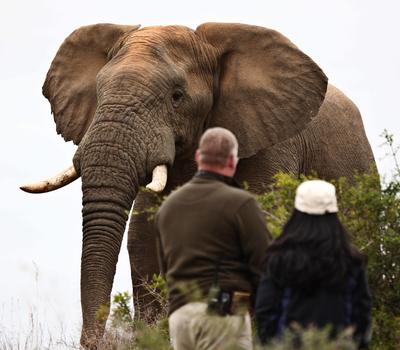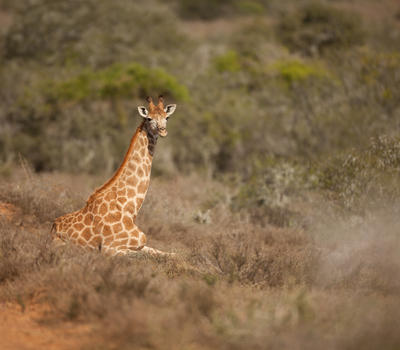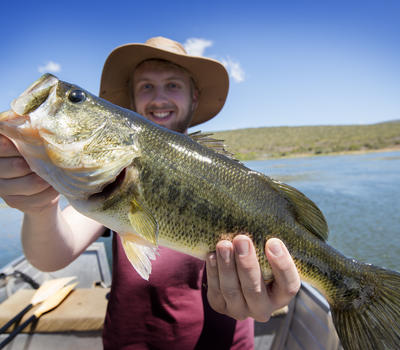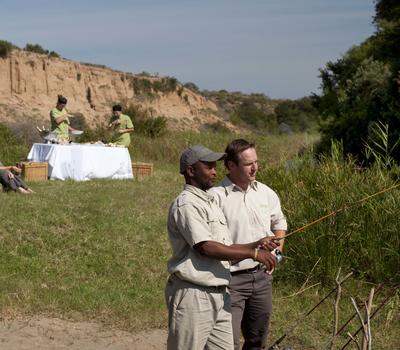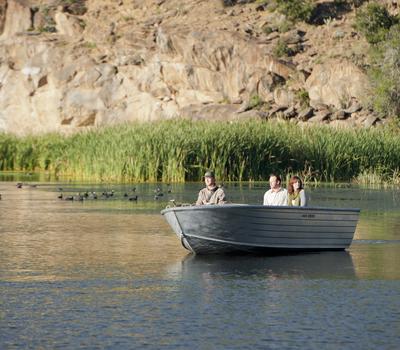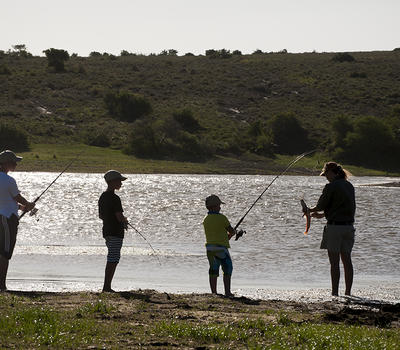 Fishing Safari (Included)
Kwandwe offers a variety of fishing options, either in still water or in the Great Fish River. Try your hand at catching Large Mouth Bass on artificial lures or fly rod in the reserve's largest dam. Coarse (bait) fishing can also be tried in either the Great Fish River or one of the other large dams to target Yellowfish, Carp, Sharptooth Catfish and more. A fun activity for children as well as for adults.
Show More
Show Less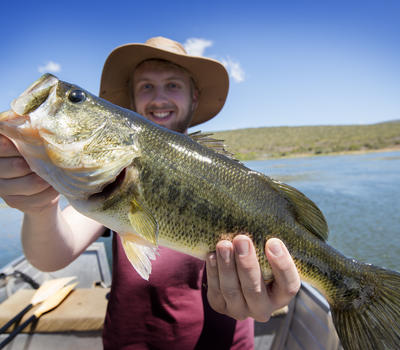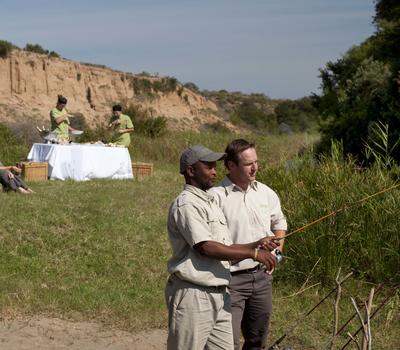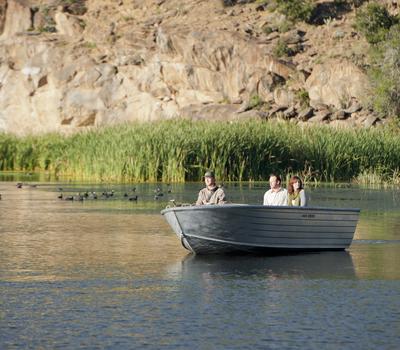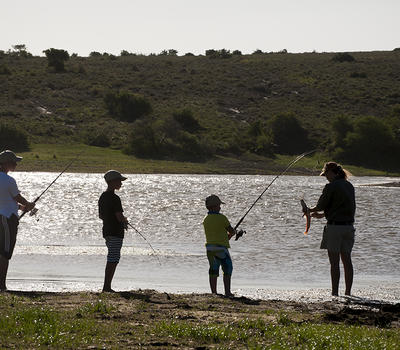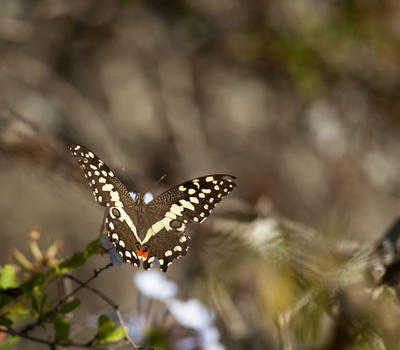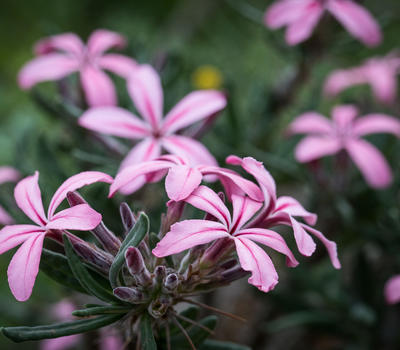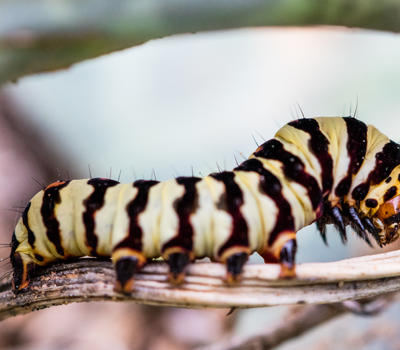 Interpretive Bush Walks (Included)
In between game drives, take a closer look at the subtle, unseen wonders of the bush on a leisurely walk within easy reach of your lodge. Dense euphorbia thickets are best explored on foot, revealing a secret world of lichen, mosses and ferns. Various birds of prey and other species nest in the taller trees or in the spiny canopy. An armed ranger guides guests through 'up close and personal' sightings of various antelope species, giraffe, warthog or zebra. Not suitable for children under 12 years of age.
Show More
Show Less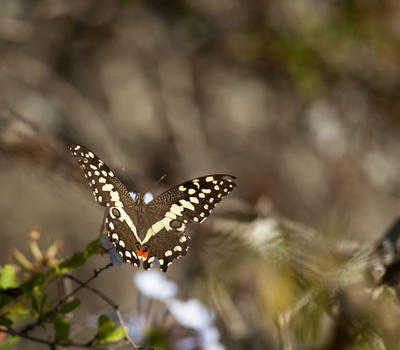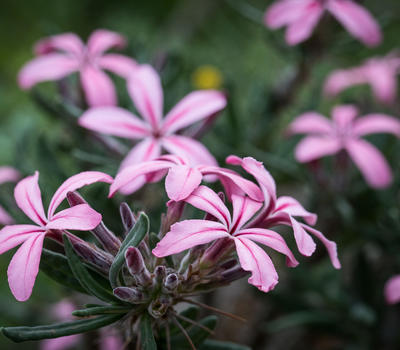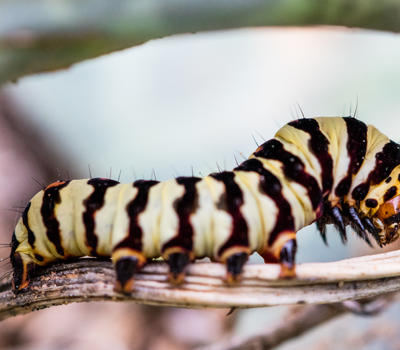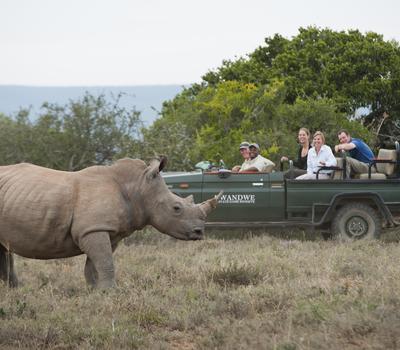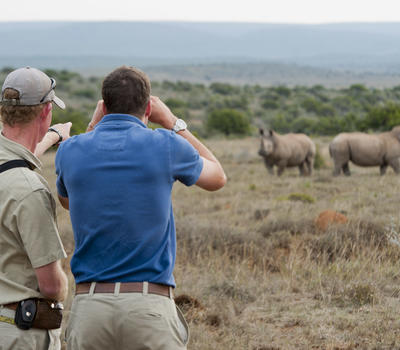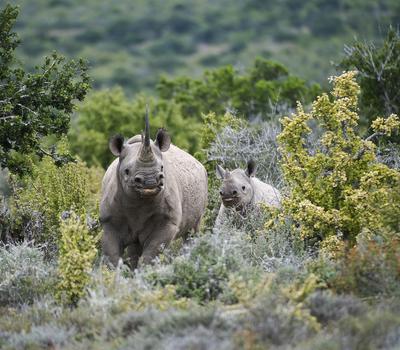 Rhino Monitoring Drive (Additional Rate)
Spend 3 - 4 hours tracking rhino with a specialist ranger and tracker team. Learn about the habits of this threatened species, the issue of rhino poaching as well as Kwandwe's own conservation efforts. The experience ends with refreshments at a scenic spot in the bush. All ages welcome.
Show More
Show Less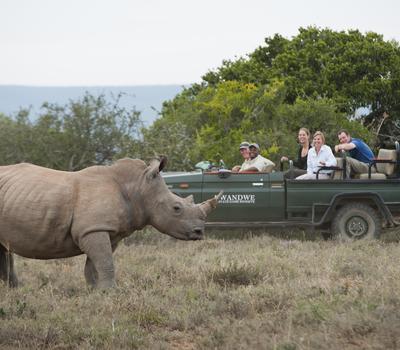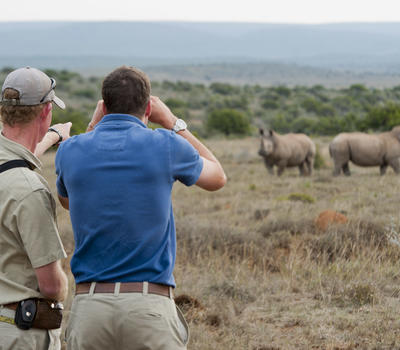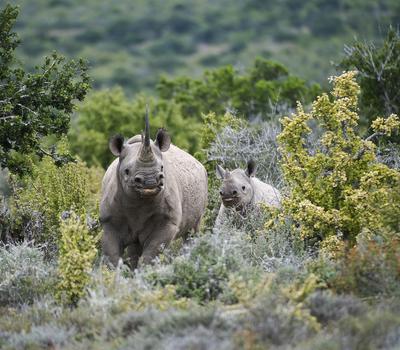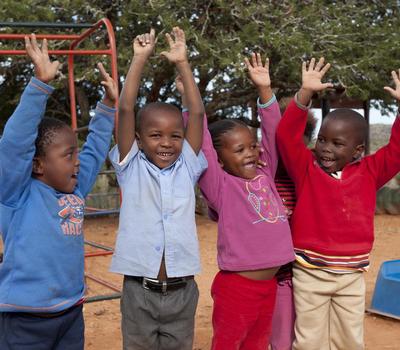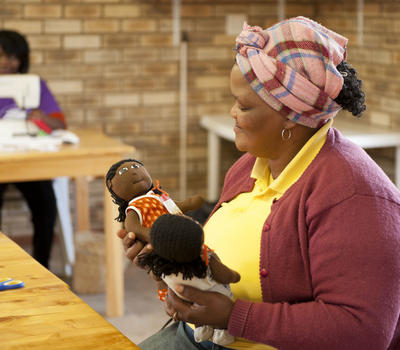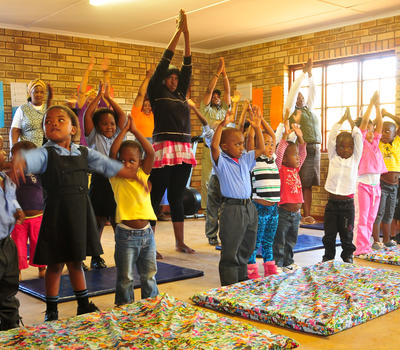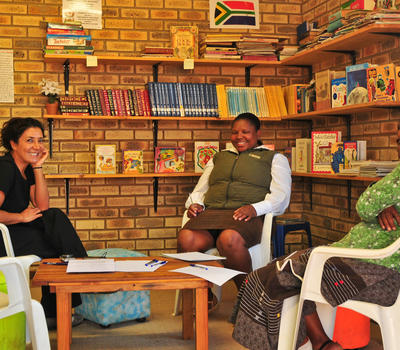 The Ubunye Foundation is our social development arm. Established in 2002, the Foundation is an independent, non-profit, charitable trust that currently invests in the development of nine rural communities, two of which are located in the Kwandwe reserve.
Guests at Kwandwe have the unique opportunity to participate in volunteering towards the Ubunye Foundation by donating items, getting involved in activities and/or financial donations.
Show More
Show Less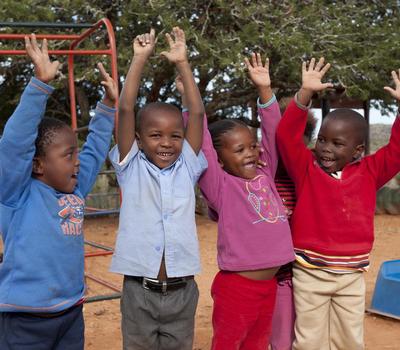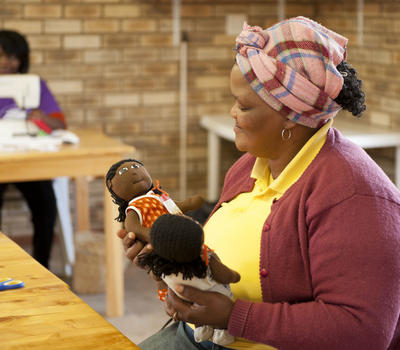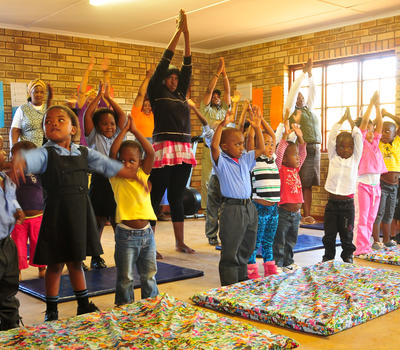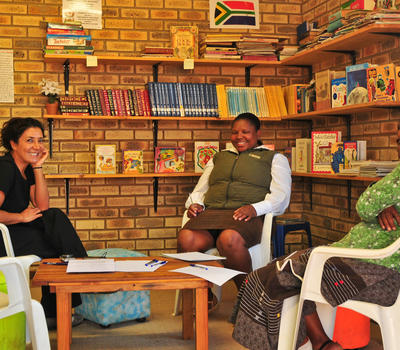 Private Campfire Cooking (Additional Rate)
Learn to master the art of barbequing while on safari! Kwandwe provides an exciting opportunity to learn about preparing and cooking authentic South African 'braais' and favourite dishes with local ingredients. A well established social custom and a traditional way of outdoor cooking in South Africa, a 'braai' involves barbequing meat over an open fire.
Show More
Show Less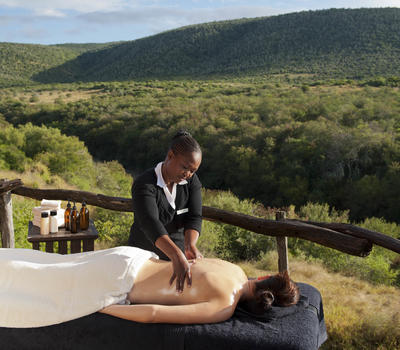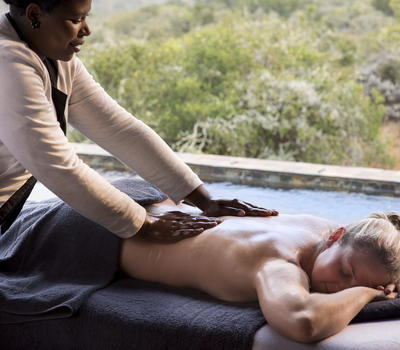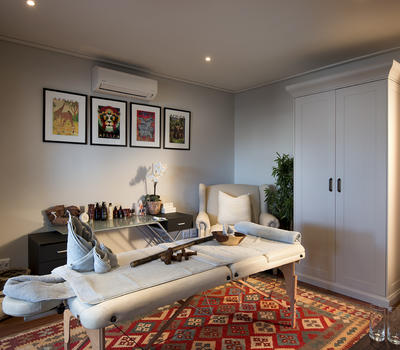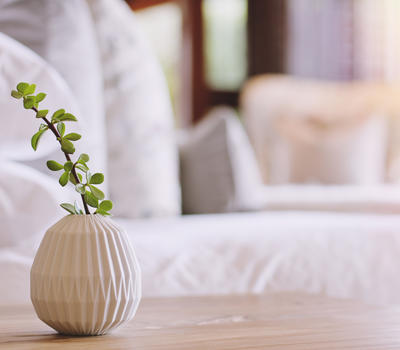 Spa Treatments (Additional Rate)
A variety of wellness treatments are available to be enjoyed in the privacy of your suite. Since the earliest time, Africa's original inhabitants lived in harmony with nature. Our treatments and rituals were inspired by, designed and based on Africa's rich heritage and created to celebrate mother earth and her connection with life. Only the finest natural ingredients available from nature are used in our products, including oil from the Marula fruit, Mongongo nut oil, healing Shea butter, oil from the Baobab tree, ointment from the African sausage tree and Mafura butter, to name but a few.
Show More
Show Less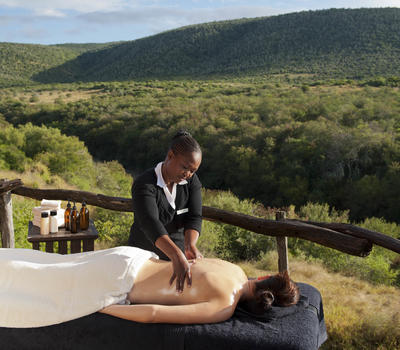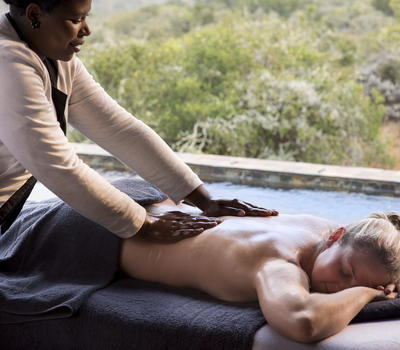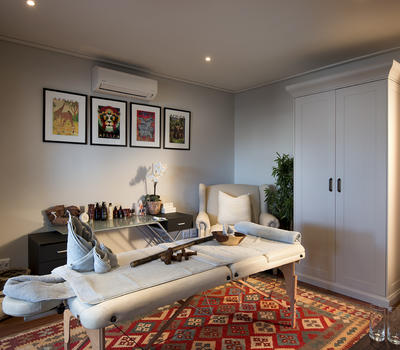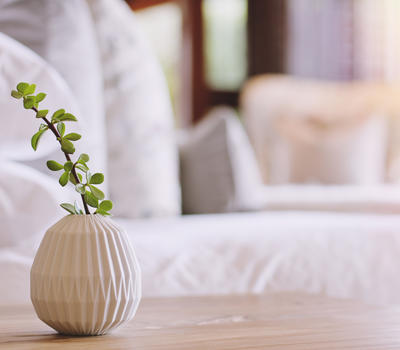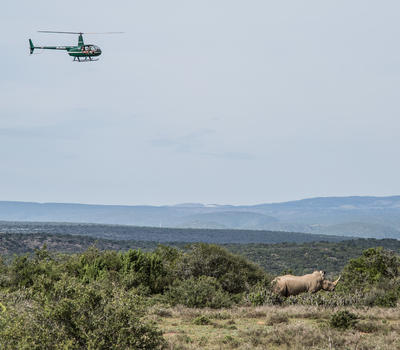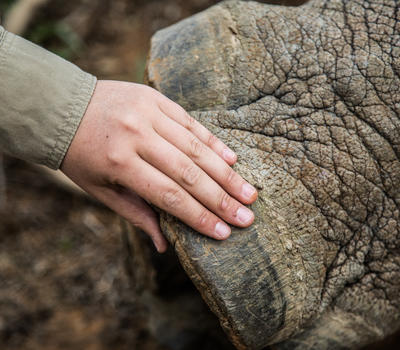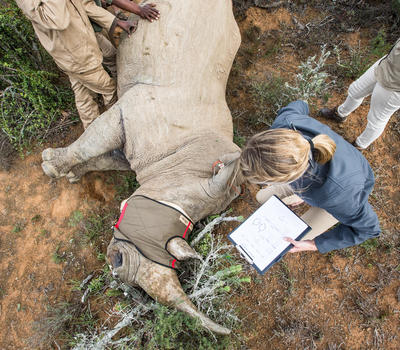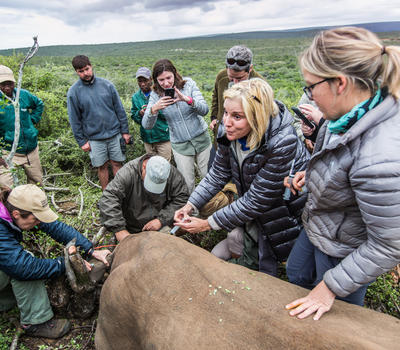 Rhino Conservation Safari (Additional Rate)
A recommended three night, four-day safari offers you the opportunity to participate in Kwandwe's exciting rhino-darting and notching programme. Under the supervision of experts, the rhino is darted in order to plant microchips into the horns and perform ear-notching for future identification - an essential task to ensure the preservation of this endangered species.
The best time is generally 1 May – 30 September due to cooler weather conditions, however it can be done all year. The procedure is always subject to the availability of the wildlife management team as well as the availability of rhinos that need to be notched for conservation purposes. Not suitable for children under 16 years of age.
Show More
Show Less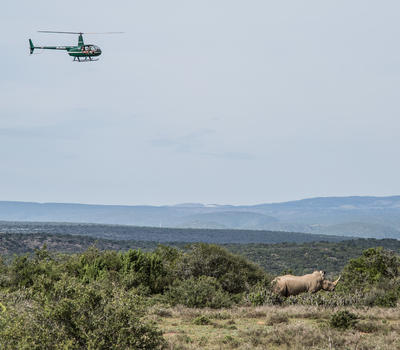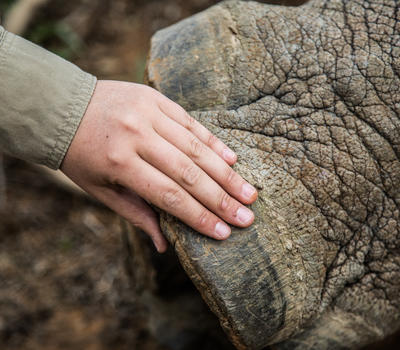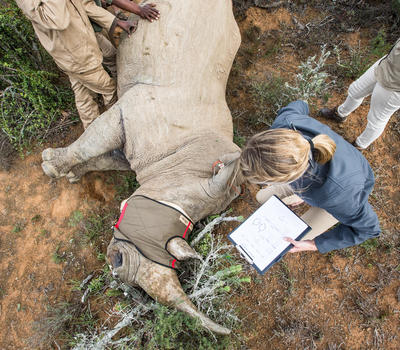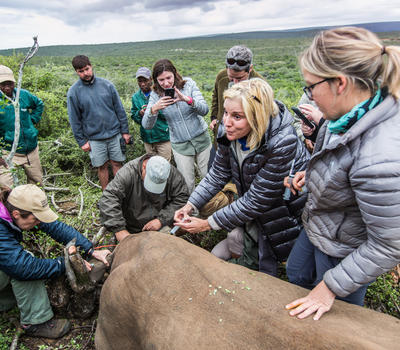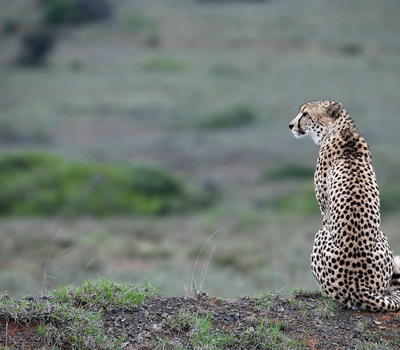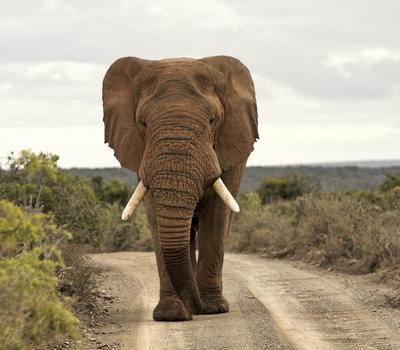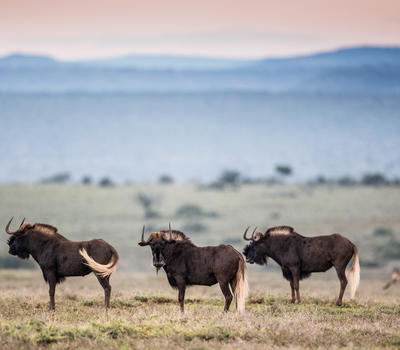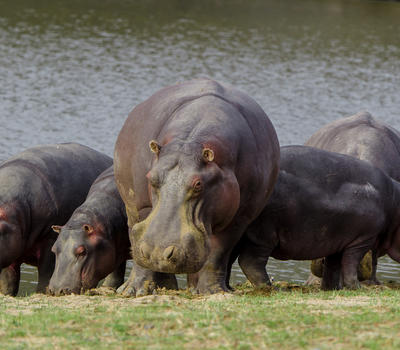 Private Photographic Safari (Additional Rate)
Tailor-made to suit the experience level of participants, the photographic guide advises guests of appropriate camera settings at different scenarios, providing compositional ideas and to answer any questions relating to photography. Alternatively simply sit back and enjoy the connected experience of your safari while your specialist guide takes the pictures for you. Includes a private vehicle, edited photographs in electronic format along with a complimentary Kwandwe digital photobook.
Must be booked for the duration of your stay and includes a private vehicle, edited photographs in electronic format along with a complimentary Kwandwe digital photobook.
Show More
Show Less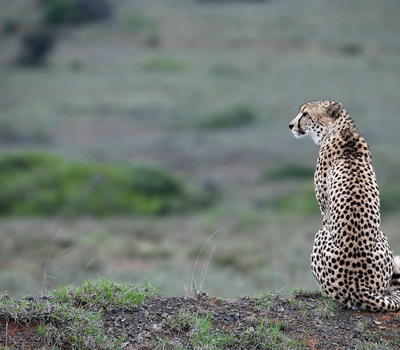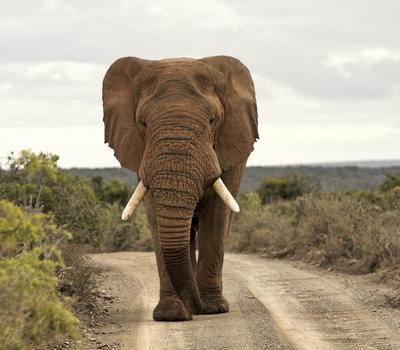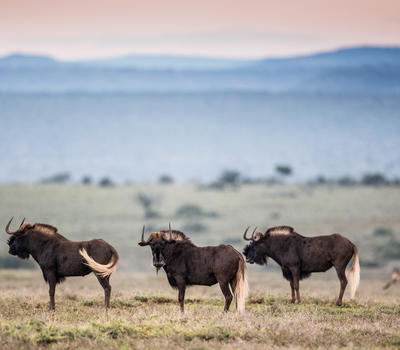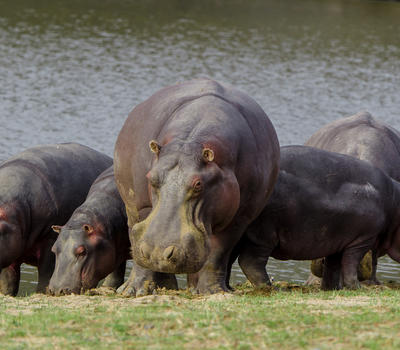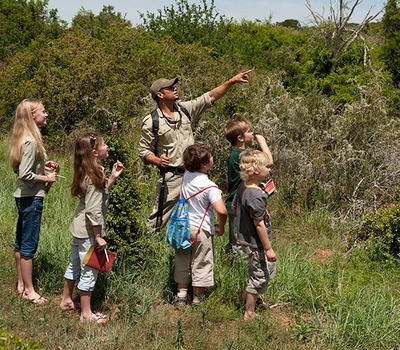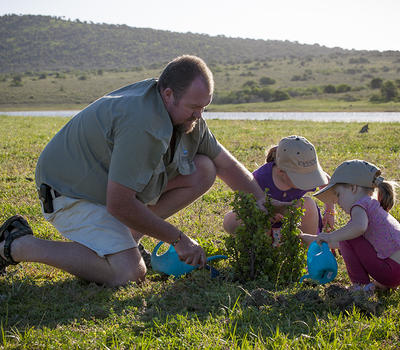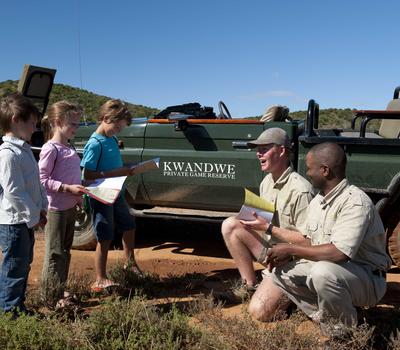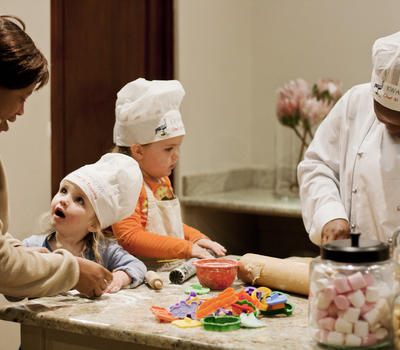 Children's Activities (Included)
We have a variety of children's activities at our properties:
- Children receive a welcome gift on arrival which includes an Eco-nect Guide comprising animal
checklists, themed games and activities, and a pledge to 'live green' ('Junior' for under 6's and
'Senior' for ages 6 and up), crayons/ pencils, and an age appropriate gift from our gift shop.
- Families can participate in fun and adventurous activities on the reserve, including kite building,
scavenger hunts across the reserve with thought-provoking clues to seek hidden items which will
help you in your next task... or treasure hunts during a game drive which teach basic navigation
using a sun-compass and how to use major landscape features in order to find the treasure!
- Giving back: families have the opportunity to plant Spekboom, a type of thicket vegetation that is
native to the Eastern Cape and prolific on the reserve, and one of the top five carbon-storing
vegetations on the planet. In this way they are encouraged to offset their carbon footprints.
Families can also participate in Kwandwe's voluntourism activities through the reserve's Ubunye
Foundation, which works with communities living in and surrounding the reserve.
- Activities are tailored according to individual and family interests and skillsets. For young guests
this includes assisting with gardening projects at the local Mgcamabele Community; participating
in arts and craft activities; and toddlers are invited to join in playtime at the pre-school.
- Children are also welcome to participate in Kwandwe's 'Knit a Bit' program. The knitted squares
are joined to make blankets and given to the Ubunye Foundation that distributes them the
communities surrounding Kwandwe.
- Other activities for children include 'crumpet creatures' (using a variety of coloured crumpet
mixtures in squeezy bottles, the ranger and kids will create animal shaped crumpets); sand art,
making moulds from Plaster of Paris, beading, Minnow's fishing trip with a ranger, baking and
pizza making with specially designed 'Chefs in Training' aprons and toques, DVDs and popcorn,
eco educational board games (learning about recycling and the how to care for our planet in a fun
way) and African bedtime stories.
Show More
Show Less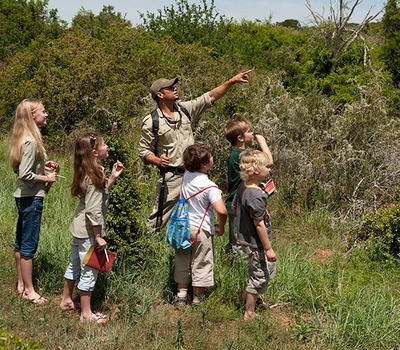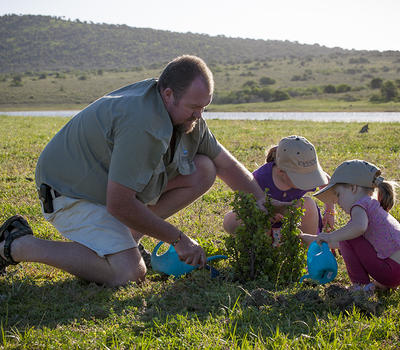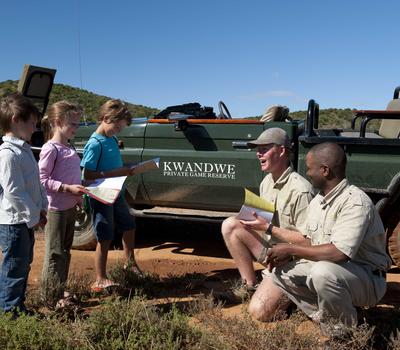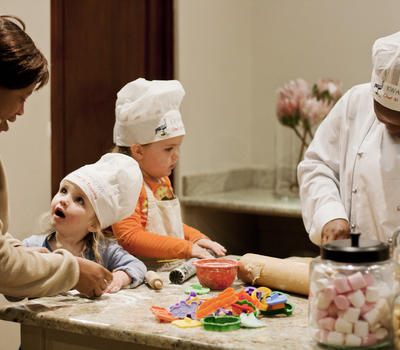 Wilderness Walking & Fly Camping Safari (Additional Rate)
Kwandwe's cooler months offer the perfect opportunity to connect to the wilderness whilst on foot. Walk out from your room at the lodge or villa and explore the vast expanse of Kwandwe's wilderness on a journey to a private fly-camp for the evening. Move through the dynamic landscape on foot alongside a private guide and be part of the land's story. Sit around the fire and cook a meal over the open flames, share stories and listen to the sounds of Africa. Spend evenings beneath the stars for an authentic bush camp experience.
A minimum stay of 3 nights is required at any of Kwandwe's private villas or lodges in order to book the Wilderness Walking & Fly Camping experience. Guests' rooms will remain available to them should they wish to return to the comfort of their suite at any time. Guests leave on foot and enjoy a picnic lunch in the wilderness before continuing to their private fly camp for the evening. A vehicle is available throughout the experience for guests to choose when to walk and when to drive.
Available May - 30 November | Maximum 4 guests
Show More
Show Less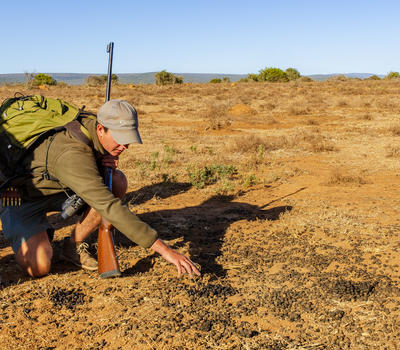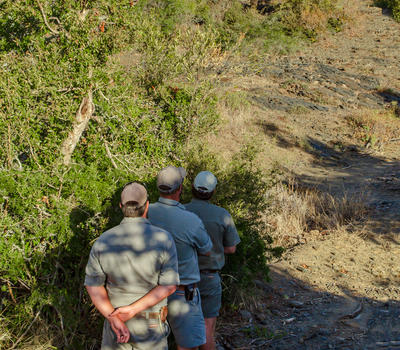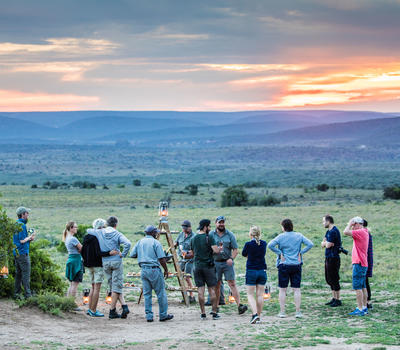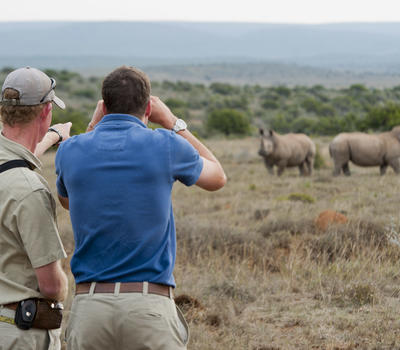 Private Walking Safari (Additional Rate)
A professionally qualified and experienced trails guide will enable you to experience Kwandwe on foot. Choose whether to view large game such Black and White Rhino, Elephant or Buffalo on foot, or simply absorb the beauty of nature while walking through the fascinating environments with your armed guide. You decide when to walk, or when to drive as your heart desires. For a fully private experience this must be booked for the duration of your stay. Not suitable for children under 16 years of age.
Image: Scott Ramsay
Show More
Show Less