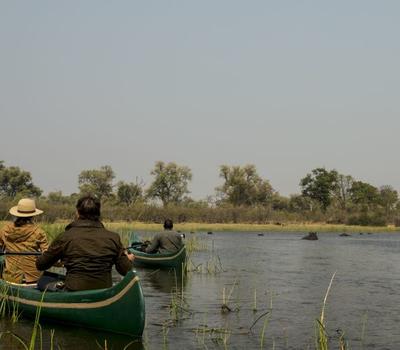 Canoeing the Selinda Spillway is one of the most unique experiences in southern Africa. The two person Canadian style canoes are situated in front of the camp for use at anytime. An ideal morning or afternoon trip would be to paddle down the spillway and to then walk back to camp, or be met by a vehicle for a game drive on your return. Canoeing is seasonal and dependent on water levels in the Selinda Spillway.
Show More
Show Less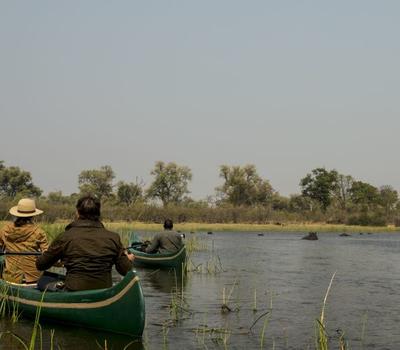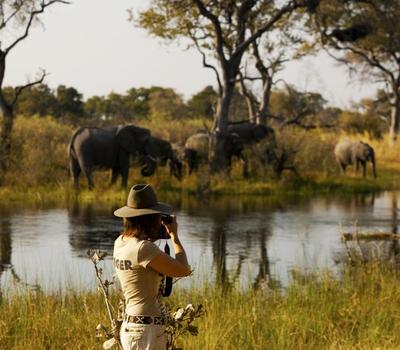 One of the core activities at Explorers is to enjoy a guided walk. It's also a huge benefit of staying within the conservancies. Walks allow you to appreciate the stunning landscape around us on foot, peacefully, without the noise of engines. Talk to the managers to arrange a good time and location for a walk. Usually early morning or evening is the best time, as the middle of the day is too hot to venture out of the shade. Wear good walking shoes, a hat, and neutral coloured clothing so as not to alarm the wildlife, and take binoculars. Your guide will have water for you.
Show More
Show Less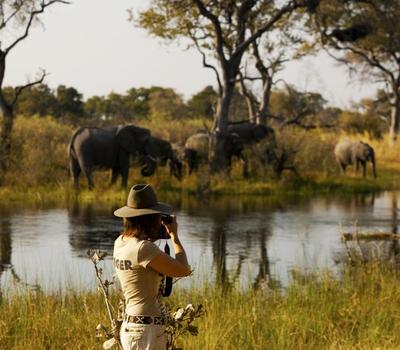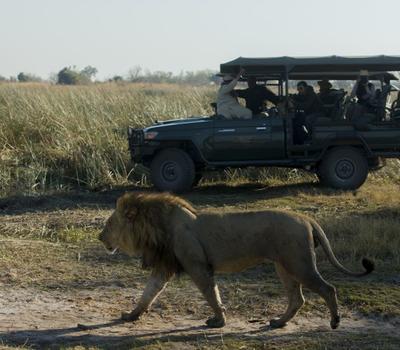 Game drives (day & night)
Selinda Explorers Camp focuses primarily on the traditional safaris of walking and canoeing. Game drives are offered, both day and night, but are a supplement to other activities as opposed to the emphasis.
Your drives will be planned for you so that you get the most out of your stay. The best times to be out are from first light for the morning drive, and in the soft light in the afternoon continuing until after dark. These are the times when most of the action is likely to happen and the photographic light is at its best.
Please remember that the cars are open and it can be quite chilly in the early mornings and evenings, so take very warm clothing with you on your drives. There are lined ponchos provided in the vehicles if you get cold while out, so just ask your guide to show you where these are if you need them.
Show More
Show Less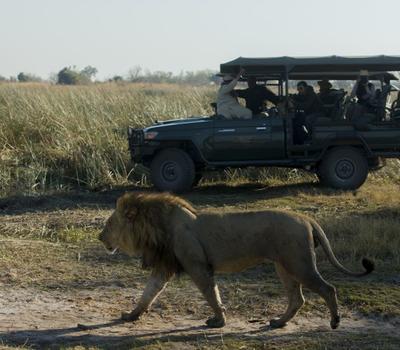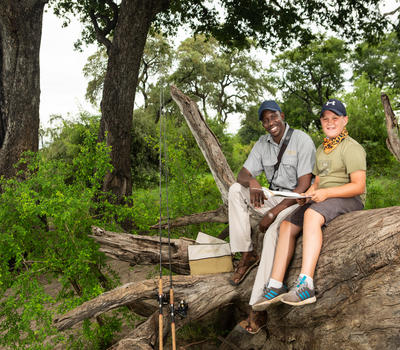 A full syllabus of bush craft skills for our young explorers. This is a complimentary program that follows in the footsteps of National Geographic Explorers-in-Residence, Dereck and Beverly Joubert. An extensive pack will be provided to eager children on arrival, so they can learn about animal calls, how to track wildlife, and other facts and figures about the wild. At the end of a child's stay, he/she will become a Young Explorer and Conservation Ambassador - ready to go out and tell the world about what they have learned and what they too can do to help protect this beautiful environment.
Show More
Show Less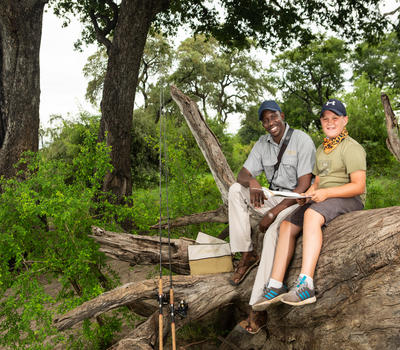 CULTURAL EXPERIENCE: Life With Elephants Tour
Tour includes scenic helicopter flight to Eretsha Village followed by visits to local businesses, farms, traditional transport & hear stories of day-to-day life alongside elephants and other wildlife. Tour structured to occur during day between camp-based wildlife viewing activities. Must be booked in advance and is subject to extra cost and availability.
Show More
Show Less
Catch-and-Release Fishing
Fly-fishing and rod/reel kit is available for those who want to try their cast at the local fish (except January and February when there is a moratorium on fishing).
Show More
Show Less