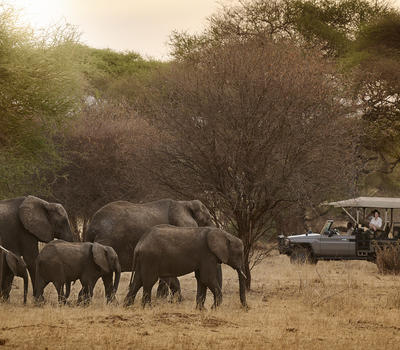 Sanctuary Swala is at the heart of Tarangire National Park, where Northern Tanzania's largest population of elephant makes its home, as does a rare white giraffe. Abandoned termite mounds become the sanctuary of dwarf mongoose. Drives out from Sanctuary Swala reward you with Big Five encounters, while herds of elephant, a crash of hippos and prides of lions all roam within sight and earshot of the camp. The low volume of visitors to the park offers a truly unique and private experience and our customised open safari vehicles offer unobstructed viewing and great photography opportunities.
Show More
Show Less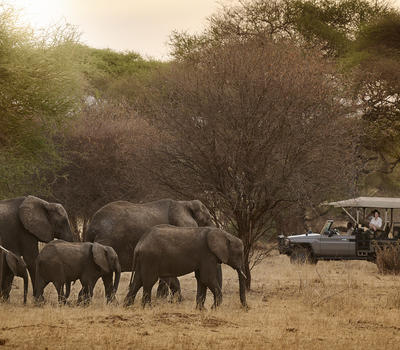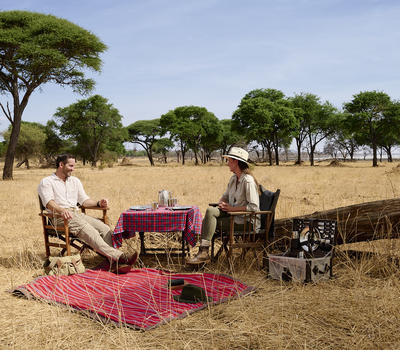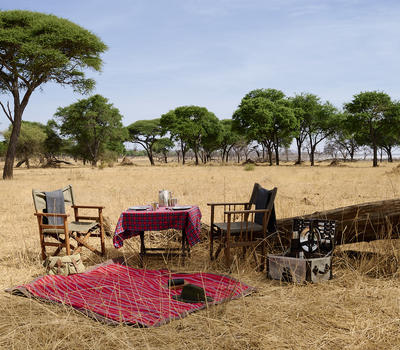 Bush Breakfasts, Picnic & Dinners
You may have decided with your guide to take a picnic breakfast or lunch with you but equally lovely in the evening is to enjoy a bush dinner. A secluded clearing is prepared for a traditional East African meal in the middle of the Tarangire bush. With a sundowner in hand watch as the sun swiftly sinks and your setting becomes illuminated by a magnificent log fire. Once you have settled into your surroundings let our chef introduce you to traditional Swahili fare and experience a memorable evening under the African night sky.
Show More
Show Less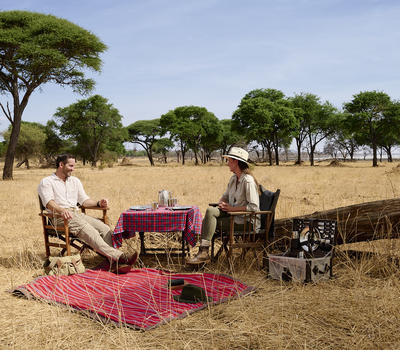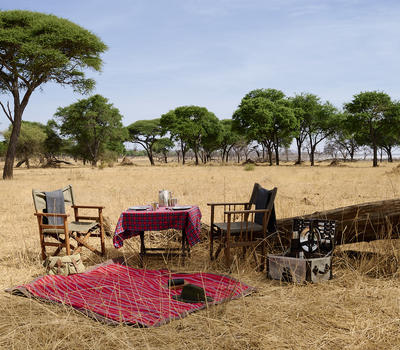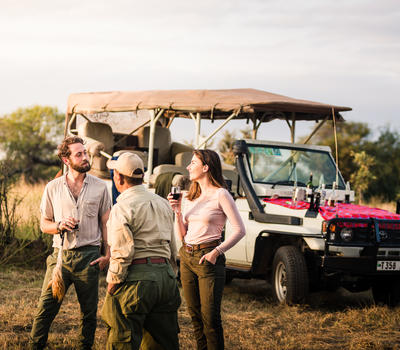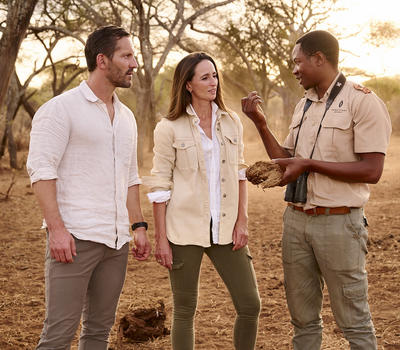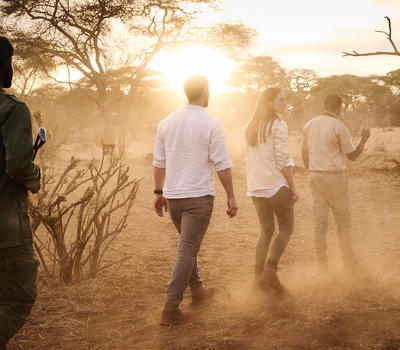 Put on your walking shoes and experience beautiful Tarangire National Park from a different perspective with a walking safari at Sanctuary Swala. With our professional walking guide and armed ranger, guests can now explore the grassland around camp in one of the most secluded areas of the park. Our qualified guide has a wealth of knowledge and will explain how to understand animal behaviour while tracking a variety of game. You may encounter zebra, waterbuck, impala, ostrich, elephant as well as a number of birds. Sanctuary Swala is one of only a few camps within Tanzania's Northern Park that is able to offer walking safaris. (Maximum 6 people per walk, please note that our Walking Safari activity is currently unavailable and will restart at the beginning of the next dry season (15th July 2018)).
Show More
Show Less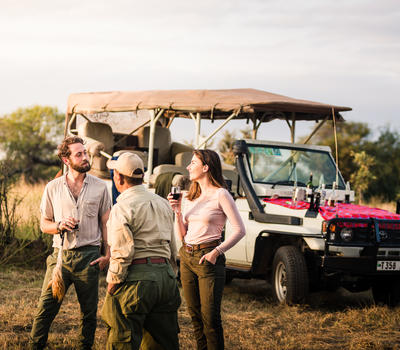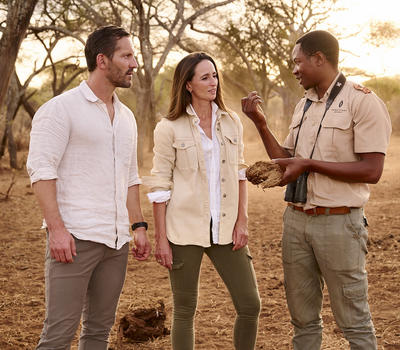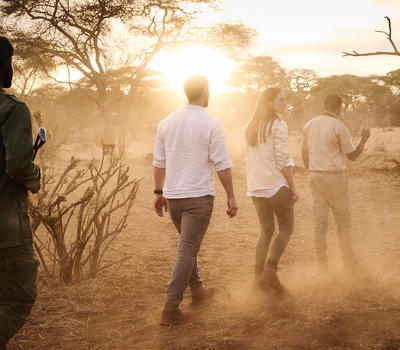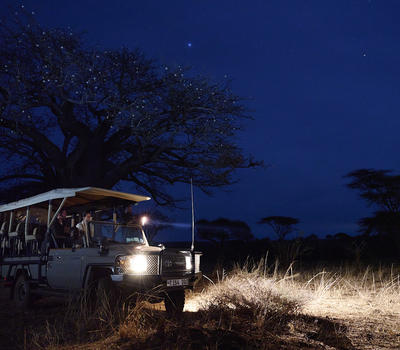 Experience the wonders of a safari at night in Tarangire. As dusk falls, relax in the comfort of Sanctuary Swala's customised safari vehicle as you venture into the park transformed by night. Search for nocturnal animals rarely seen as this is one of the few places in northern Tanzania where you can enjoy a safari by moonlight. At night, you may encounter an African wild cat, the elusive leopard or feel the round eyes of a bushbaby peering down at you as the moon rises into the sky. With specialised lighting you will be able to look for lion and hyena, as well as smaller creatures such as spotted genet, serval, bat eared foxes, owls and nightjars. (Maximum 5 people)
Show More
Show Less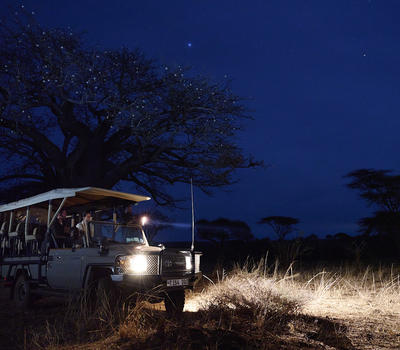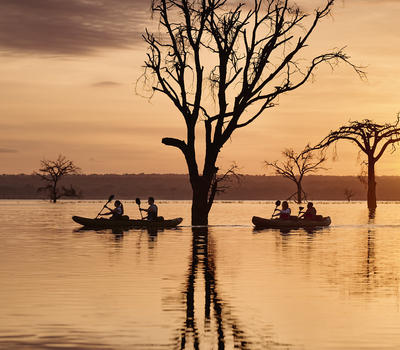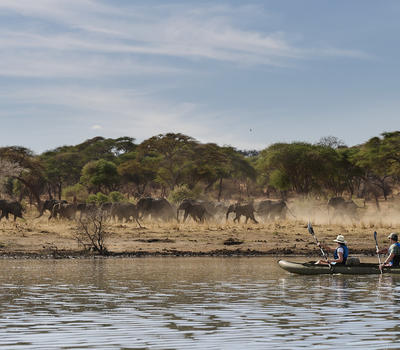 Experience the beauty of Tanzania from a unique perspective on a canoe safari on Lake Gursi. Just a short walk or drive from Sanctuary Swala, guests will participate in a safety and skills briefing before departing the lake shore in 2-man Canadian canoes for their 2-3 hour water based adventure. Paddling through the water is a magical experience, seeing elephants swimming and game drinking at the shore from your canoe shows the natural world from a totally different angle.
Show More
Show Less