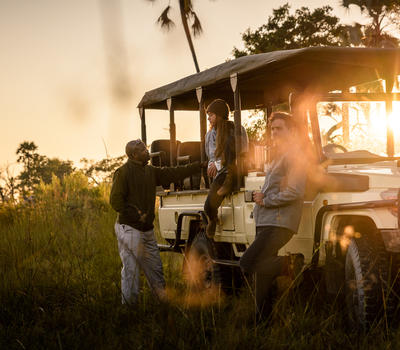 Game drives in this region are unique, as water crossings are part of the adventure, and watching zebra standing belly-deep in water, grazing, is a sight to see. Even giraffe will cross water up to their hocks. During higher water levels, game drives will be combined with motorised boating excursions and traditional dug out canoes called Mokoros. Sanctuary Stanley's Camp is set in a private concession which means we can also venture out at night on exciting game drives to see the many nocturnal animals that live here. The evening drive starts after sundowner cocktails, using a spotlight to identify nocturnal creatures including the ones that are easier to catch a glimpse of in the dark, like hyena and leopard. Tiny fireball eyes that seem to levitate through the air and reappear again in different trees are bush babies, just one of several different creatures to be found.
Show More
Show Less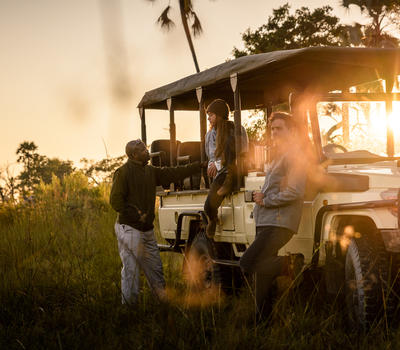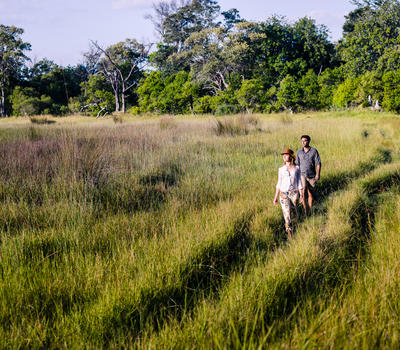 Our professional guides will show you the bush on foot. This is a chance to see the Delta from a different perspective, one that is up close and personal with the surrounding environment. Walks allow you to read the news of the night in the smooth sand of the road. Lion, leopard, elephants, genets and even millipedes are all part of the signs, each with their story to tell. A walking safari is about seeing the small five and the various flora in the area.
Show More
Show Less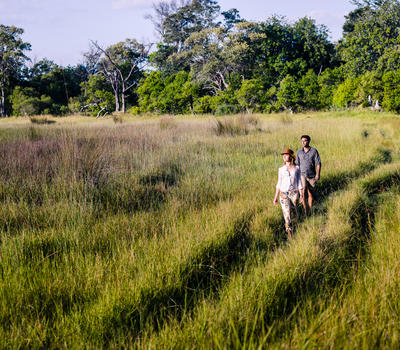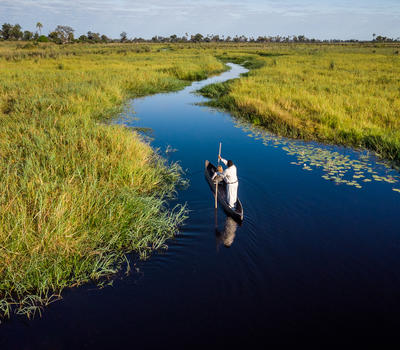 The Okavango Delta is of course flooded for much of the year and when it is, guests can experience serene silence at the gentle pace of a poled mokoro excursion along the narrow channels. Sit back and relax as you glide through lily ponds on local dugout canoes while seeing eye to eye with a buffalo as it laps water from the river, watch crocodiles sunbathe on the banks or cruise past a pod of hippos as they lie in a pool. Fish eagles, frogs and fabulous lilies form much of this experience, but more frequently it is the quietness and gentle pace that makes its impression.
Show More
Show Less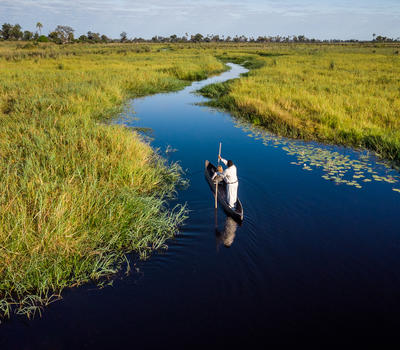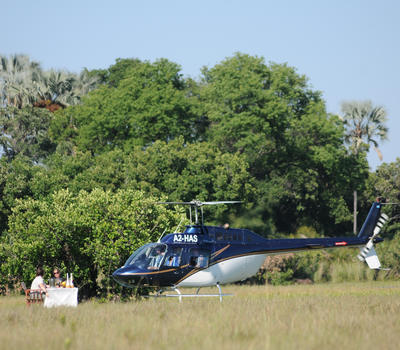 These scenic flights involve flying west towards the permanent delta, exposing areas which are unreachable by vehicle or boat and showcasing the sheer enormity of the Okavango Delta. There is the the option of the doors being removed for unrestricted photographic opportunities. Choose between 30, 45 or 60 minute tour in a one turbine Bell Jetranger helicopter with 3 seats. This activity is offered on a year round basis. Being a personalised activity, it's up to you what time of day you would like to do the activity, however we would recommend early morning and late afternoon as these times usually provide the best light for photography. Preferred flight times can be requested on booking.
Show More
Show Less